Figuring out the different types of Thai rice noodles for cooking can be overwhelming. Don't be. I've put together a guide to different types of Thai noodles with images to help you easily decipher the different types used in Thai cooking.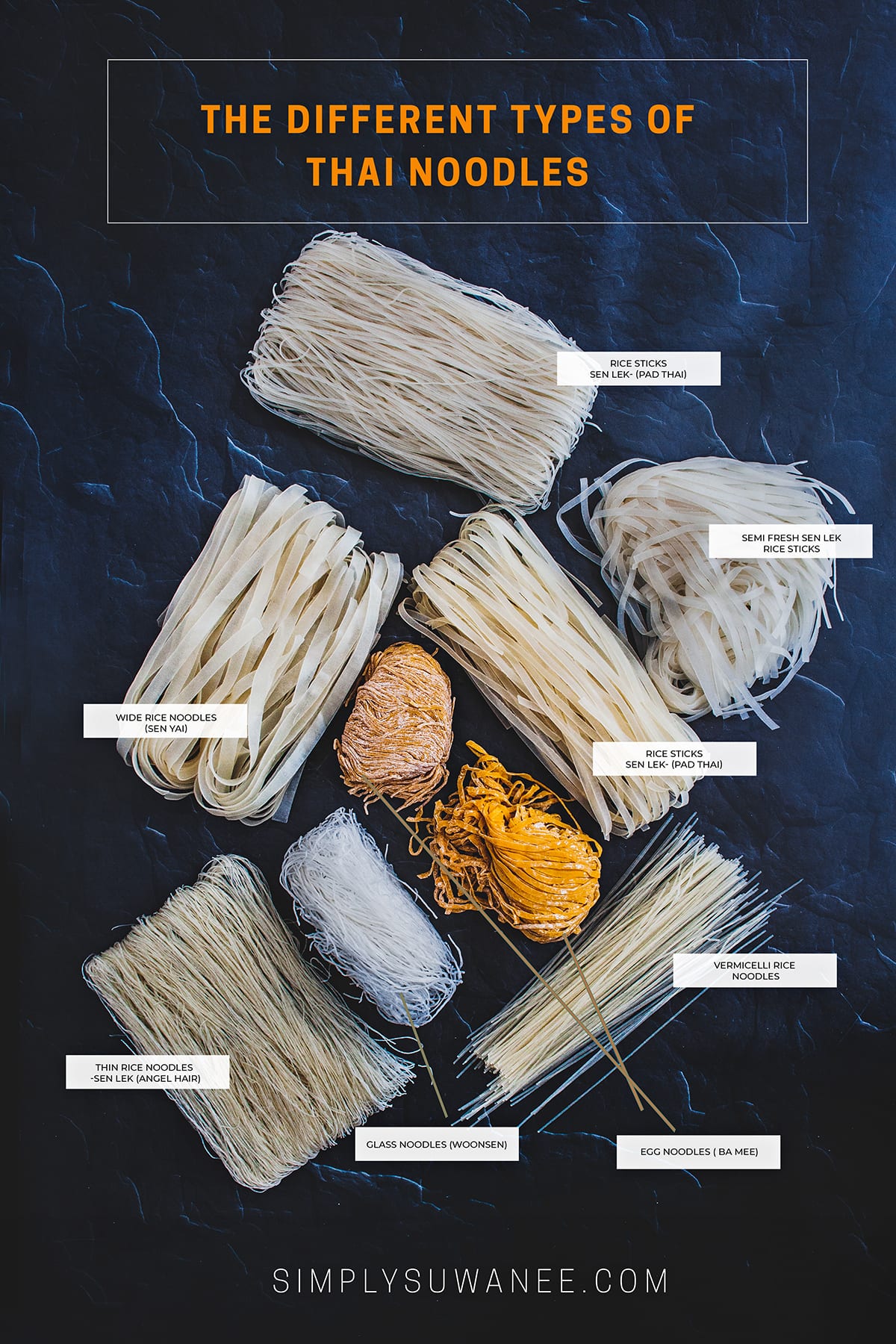 Learn more about Thai pantry essentials with this ultimate guide. For more useful information on Thai cooking, read about the 13 Essential Sauces for Thai Cooking, different types of Thai rice, Kaffir lime leaves and substitutes, and how to use Lemongrass in Thai cooking.
Jump to:
Keep this useful information and photos as a reference for your Thai cooking! They are handy when going to the Asian market and feeling overwhelmed by all the new things in front of you. Focus on this small list, and we'll go from there! (:
Most, if not all, of these noodles can be found at your local Asian market. If not, check the links for purchasing them online.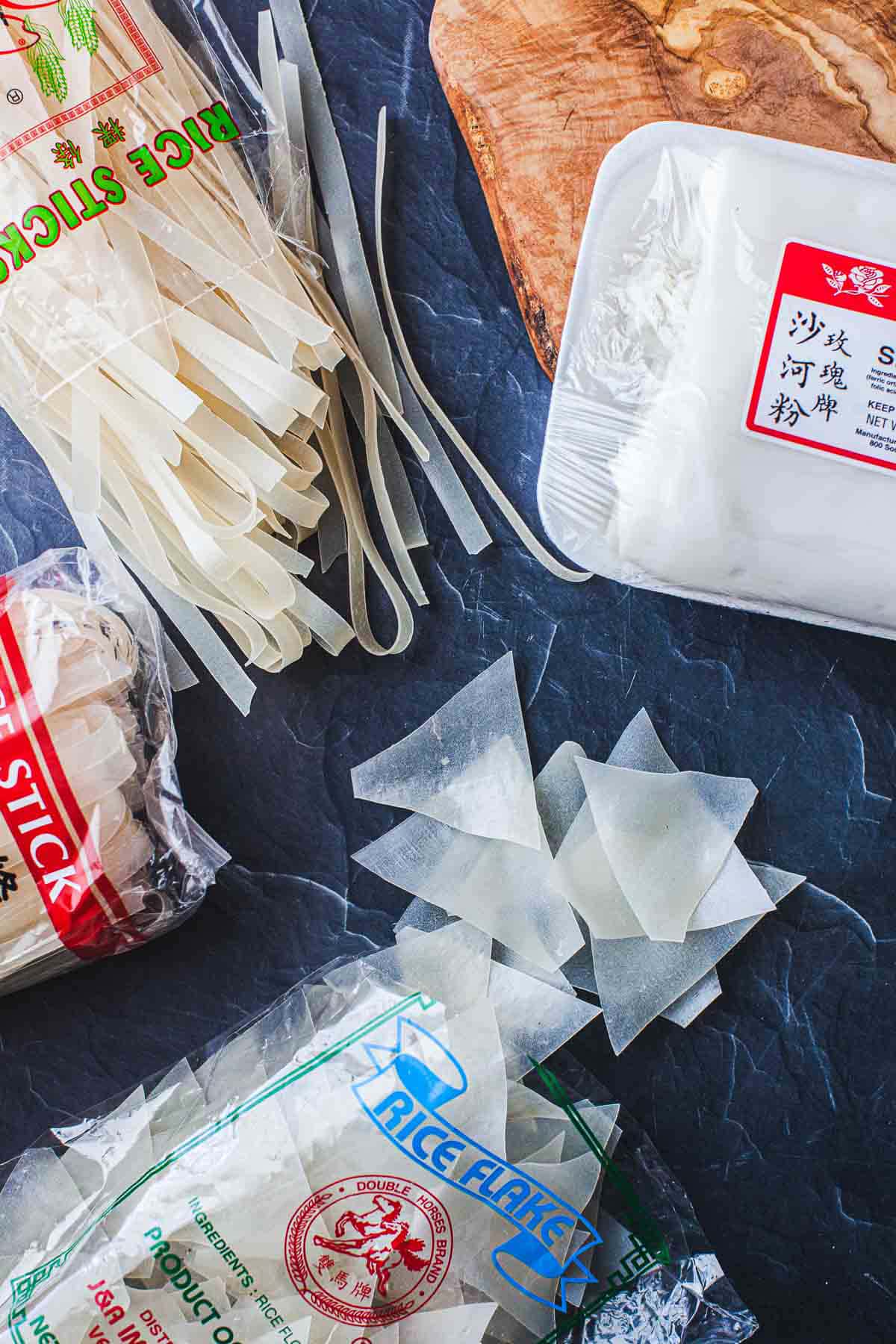 You'll also find recipes that include these noodles with each type mentioned!
Below are some of the most common noodles used in Thai cuisine. There is a world of Asian noodles, especially in fusion recipes influenced by other Asian cuisines. But these are the most used by Thai people in Thailand and Thai restaurants in the West.
Many of these noodles can be used interchangeably for different recipes. Even the classic dishes have a certain type of noodle. The noodles can be substituted and exchanged with another for a different variation of the same recipe.
1. Sen Yai, large rice noodles (เส้นใหญ่)
Sen Yai means "String Large" Or large strings or strains (of noodles.) These are the wider rice noodles (¼ inch wide). Fresh ones come in vacuumed sealed packets found in the refrigerated section of the Asian market. The dry ones are sold in 14-16 ounces packets with other dry noodles. Dry noodles must be soaked in water to rehydrate them back to softness before cooking.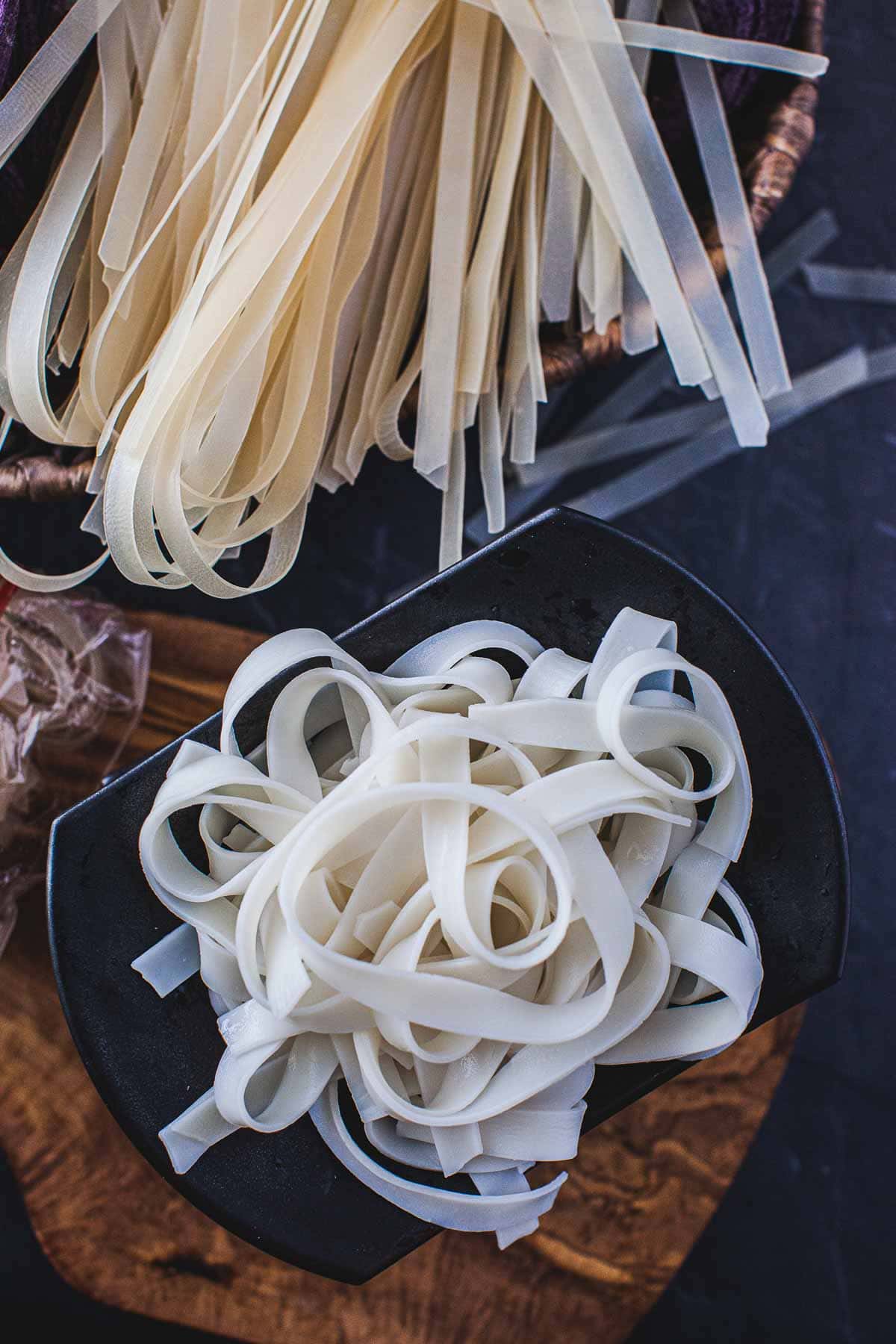 Recipes using Sen Yai Noodles
Drunk Noodles or Pad Kee Mao. A stir fry Thai noodle dish with fresh vegetables and Thai holy basil. A favorite spicy food dish that some consider is eaten to help with a hangover. Thus the name "Drunken noodles."
Pad See Ew. A stir-fry dish with sweet soy sauce and Chinese broccoli with your favorite protein. A very hearty and addictive dish.
Pad Thai. These wide flat noodles are typically not used in Pad Thai, but you can substitute these larger rice noodles in a pinch.
2. Sen Lek, small rice noodles (เส้นเล็ก)
Lek in Thai means small, and Sen means string or strands. Sen Lek = Small strands (of noodles. These flat rice noodles resemble the flat linguini Italian pasta that is ⅛ inch wide.
There's also the slightly smaller noodle variation, the same ones used in Pho soups. They also come in fresh or dry versions. Prepare them according to packet instructions.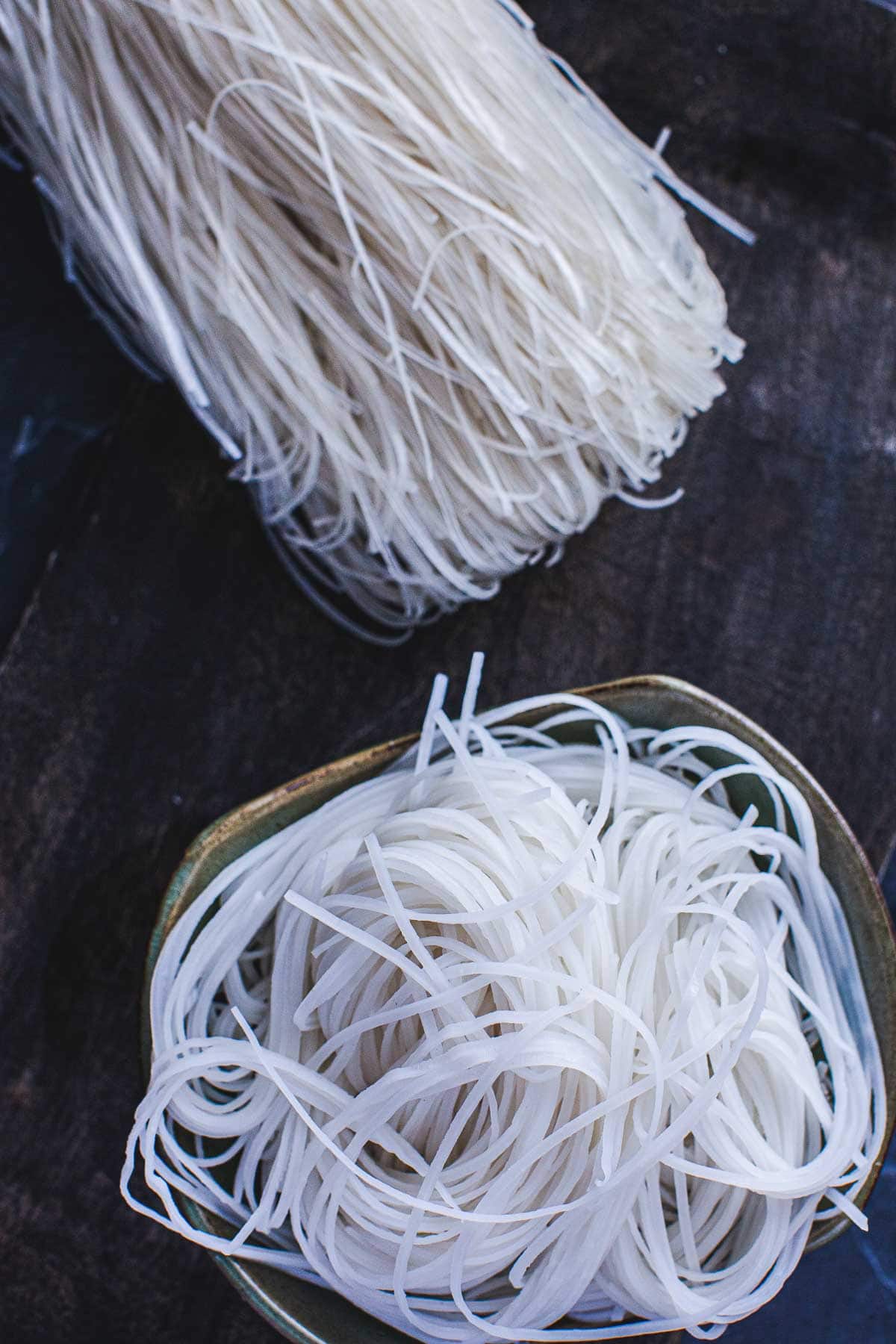 Recipes Using Sen Lek Noodles
Pad Thai. Everyone's favorite Thai noodles, or for many at least. Another version of a delicious Pad Thai recipe is here. More recipes using Sen Lek noodles also, Pad Mee Korat, Beef Pad Thai without Tamarind.
Boat noodles soup. A popular Thai street food soup with pork broth and fish balls.
Tom Yum with noodles. This is typically the first noodles option to pair with the famous Thai soup when replacing rice with noodles to eat with Tom Yum soups.
Pho. These noodles are often used in the popular Vietnamese noodles soup.
3. Guay Tiew or wide rice noodles (ก๋วยเตี๋ยว)
These are the widest rice noodles that are soft and supple and come in large, flat, and extra-wide noodles rolled up in sheets in a packet. They are also called Chow Fun, used in Cantonese Chinese cuisine. They also come in a packet of noodles cut into ½-inch strands in the refrigerator and the freezer section of your local Asian grocery stores.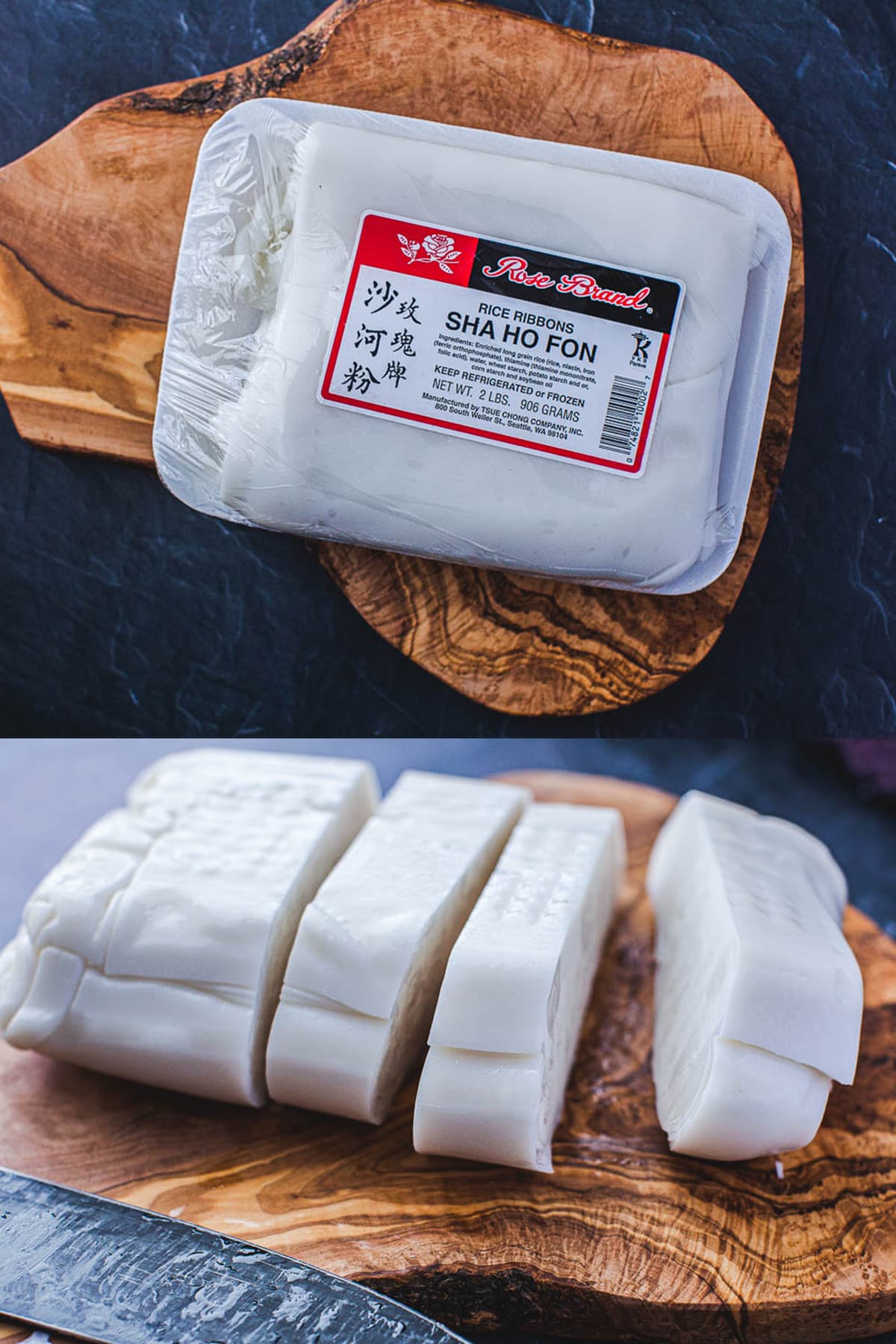 Recipes Using Guay Tiew Noodles
Pad See Ew. A famous and tasty noodle stir fry.
Rad Na. A gravy-based noodle recipe made with salted bean curd and soy sauce thickens with tapioca starch and Chinese broccoli as the vegetable option.
Guay Tiew Pad. Pad means stir-fries. So these wide and soft noodles are perfect for many different stir-fry dishes. Some can be as simple as a plain stir-fry dish with only oil, garlic, and soy sauce. Fresh rice noodles are also excellent as they are cooked with dark soy sauce, garlic, and chili pepper.
Noodle soups. These soft and chewy noodles are a great substitute for many noodles in soups. These recipes are perfect for Guay Tiew noodles too. Pad see ew, Pad Kee Mao, drunken noodles.
4. Ba Mee or egg noodles (บะหมี่)
These are yellow-colored noodles made from egg and flour. They come in fresh, dried form and have many shapes and sizes. They are used in Thai soups and stir-fried dishes. Lo Mein noodles are often used as substitutes if egg noodles aren't available.

Recipes using Ba Mee Noodles
Kao Soi. Or Khao soi, a popular noodle dish from Northern Thailand. This is also a wonderful version of Kao Soi used rice noodles.
Ba Mee Haeng. A dry noodle soup dish is referred to by the word "Haeng," which means dry. The dry part means no broth is added to the soup.
Stir-fries. Use Ba Mee in various types of stir-fried dishes. Here's an excellent recipe for Lo Mein noodles stir fry.
5. Ba Mee Yok, or Jade noodles (บะหมี่หยก)
There's also a green variation of Ba Mee noodles. They are also called Jade noodles. They are the same as the Ba Mee egg noodles with green food coloring added to them. You won't miss them if you see them. They'll most likely be the only green noodles in the refrigerator of an Asian market.
Recipes using Jade Noodles
Used in various types of soups.
They are also commonly used in Sukiyaki restaurants, a family hot pot, and a cook-it-yourself meal in Thailand as one of the main carbs for the hot pot set.
6. Woon Sen, or clear glass noodles (วุ้นเส้น)
They are also called bean thread noodles, clear glass noodles, mung bean noodles, or cellophane noodles. Like glass, they are clear and typically sold in dry packages wrapped inside a pink net. They need to be soaked in warm water to rehydrate before cooking. These noodles are made from peas, mung beans, or sweet potato starch.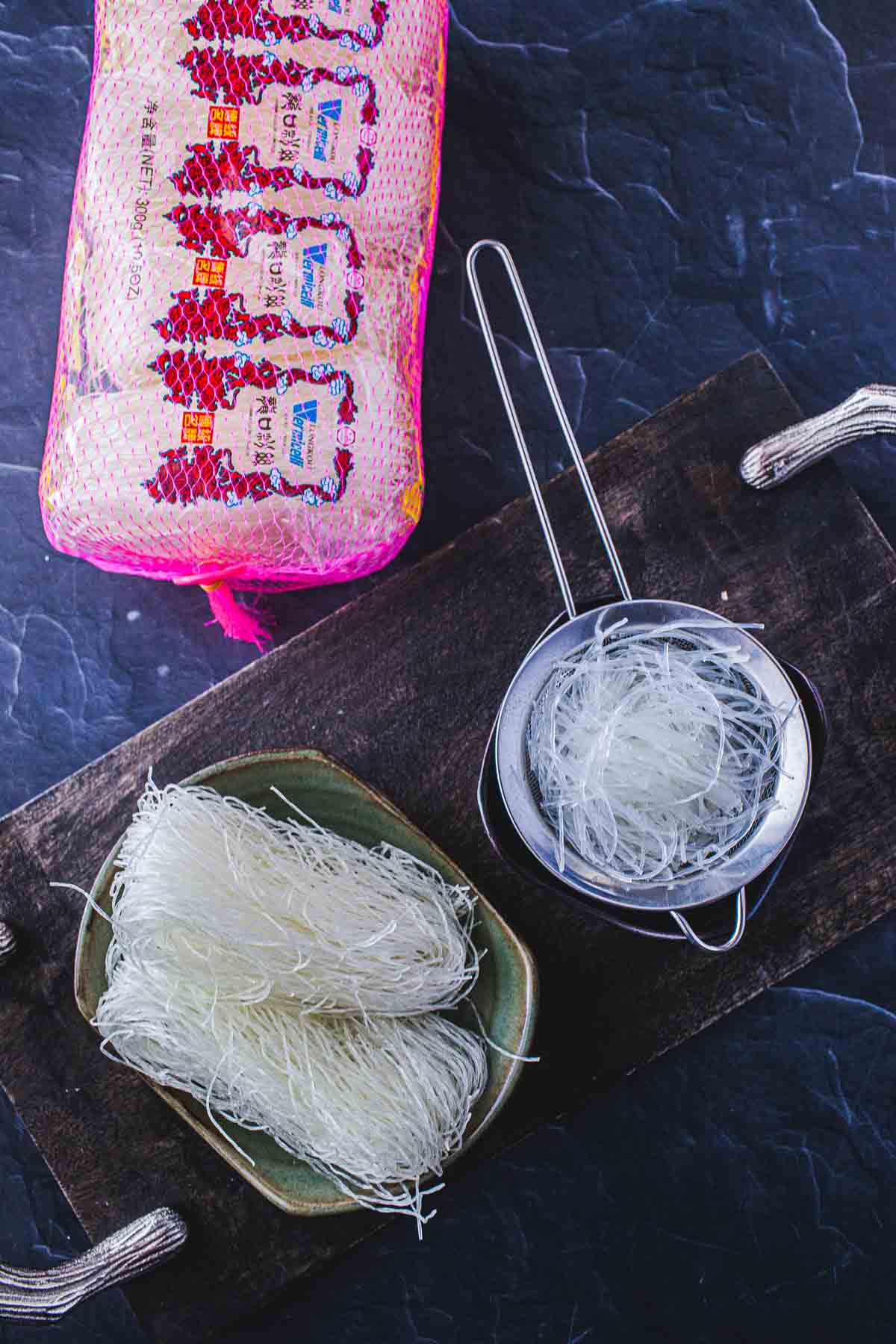 Recipes using Woon Sen Noodles
7. Sen Mee or very thin rice noodles (เส้นหมี่)
These are the angle hair-like vermicelli noodles. They are used in soups and stir-fries like this Pad Mee, a simple stir-fried noodles dish.

Recipes using Sen Mee Noodles
Pad Mee. A simple noodle stir fry using thin rice vermicelli noodles.
Mee Krob. Crispy fried noodles seasoned with sweet, sour, and salty sauce topped with lightly crispy fried nuts.
Soups. Use in soups like boat noodle soups,
Stir-fries. Sometimes used for Pad Thai noodles for lighter and thinner angel hair-sized noodles.
8. Kanom Jeen, fermented rice noodles (ขนมจีน)
These are near impossible to find outside of Thailand. I have never found any in the United States in the many Asian markets I've visited. They are small round fermented rice noodles used in delicious curries like Khanom Jeen or Khanom Jiin Namya, a very delicious and light curry.
I've used Vietnamese vermicelli noodles as a substitute. The same noodles are used in fresh Spring rolls. I've also used Japanese noodles and Korean buckwheat noodles as substitutes.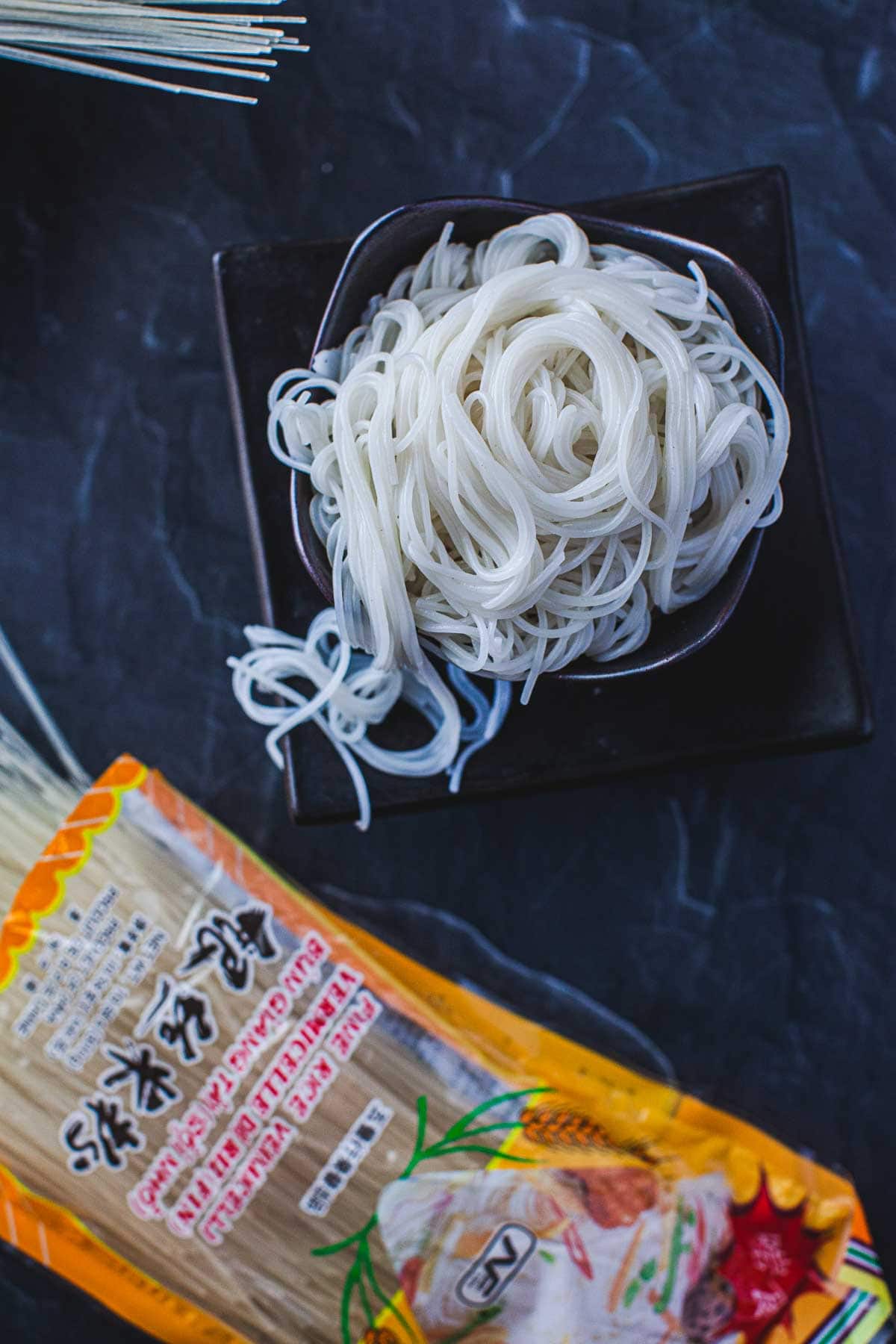 Recipes using Kanom Jeen Noodles
Kanon Jeen Namya. A tasty fish curry-based soup with or without coconut milk garnished with fresh crunchy vegetables.
Fresh spring rolls, Thai or Vietnamese versions.
Soups. They are great for soups like green, yellow, or red curry recipes. They are excellent cold salads but not recommended for use in stir-fries.
9. Sen Guay-Chap or Rice Flakes, (ก๋วยจั๊บ)
Though not as popular as other noodles, these thin opaque, triangular, or square-shaped noodles are used in Thai soups. Most famously in the pink soup, Yen Ta Fo soup. They are made from rice noodles and are rolled up into soft, thin rolls once soaked in warm water.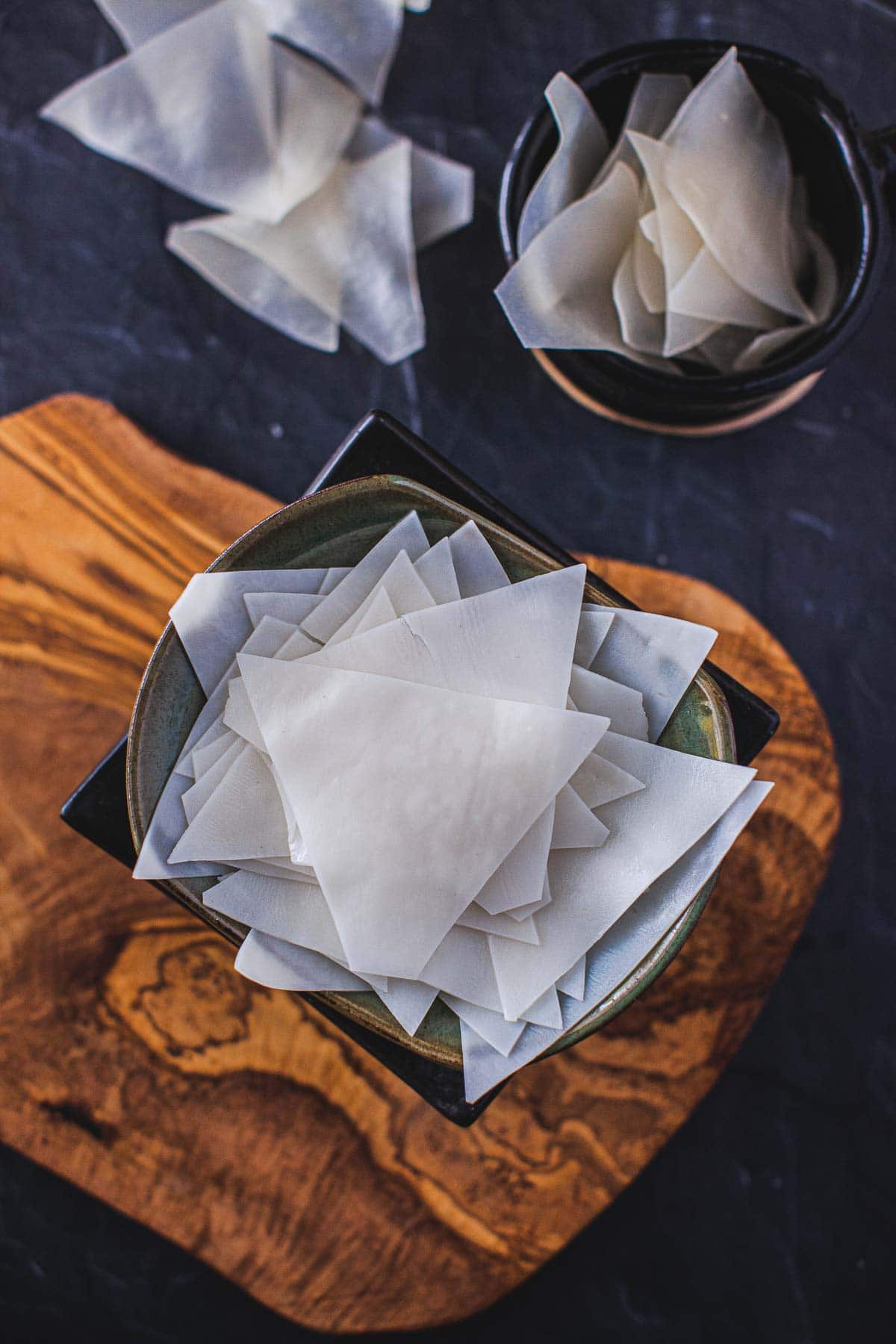 Recipes using Guay Chap Noodles
Yen Ta Fo noodle soup. A Thai pink soup with fried tofu, bean sprouts, and blood cakes. A dish with unique flavor and color is only found on the streets of Thailand.
Guay Chap Naam Sai. A clear broth soup with pork and crispy fried shallots.
Rad Na. Sometimes used as a substitute for this gravy noodle dish if wide rice noodles aren't available.
Stir fries dishes. They are not very common for stir-frying, but sometimes they can be used as a substitute for some wide noodles recipes
10. Thai Ramen Instant noodles
Thai ramen noodles are worth mentioning in the noodle category because they are iconic noodles that create fond childhood memories as well, as they are tasty. They are called MaMa Noodles and have several flavors and seasoning packets for each. The most common brands are MaMa, Wai Wai, or Yum Yum.
Not only are these Thai brands of ramen much tastier than the American ones, but they are also more crispy with many tasty seasoning flavors. They are often used in many Thai soups, homemade, and as street food dishes. They are also used in stir-fry dishes once they've been soaked to al dente texture in hot water.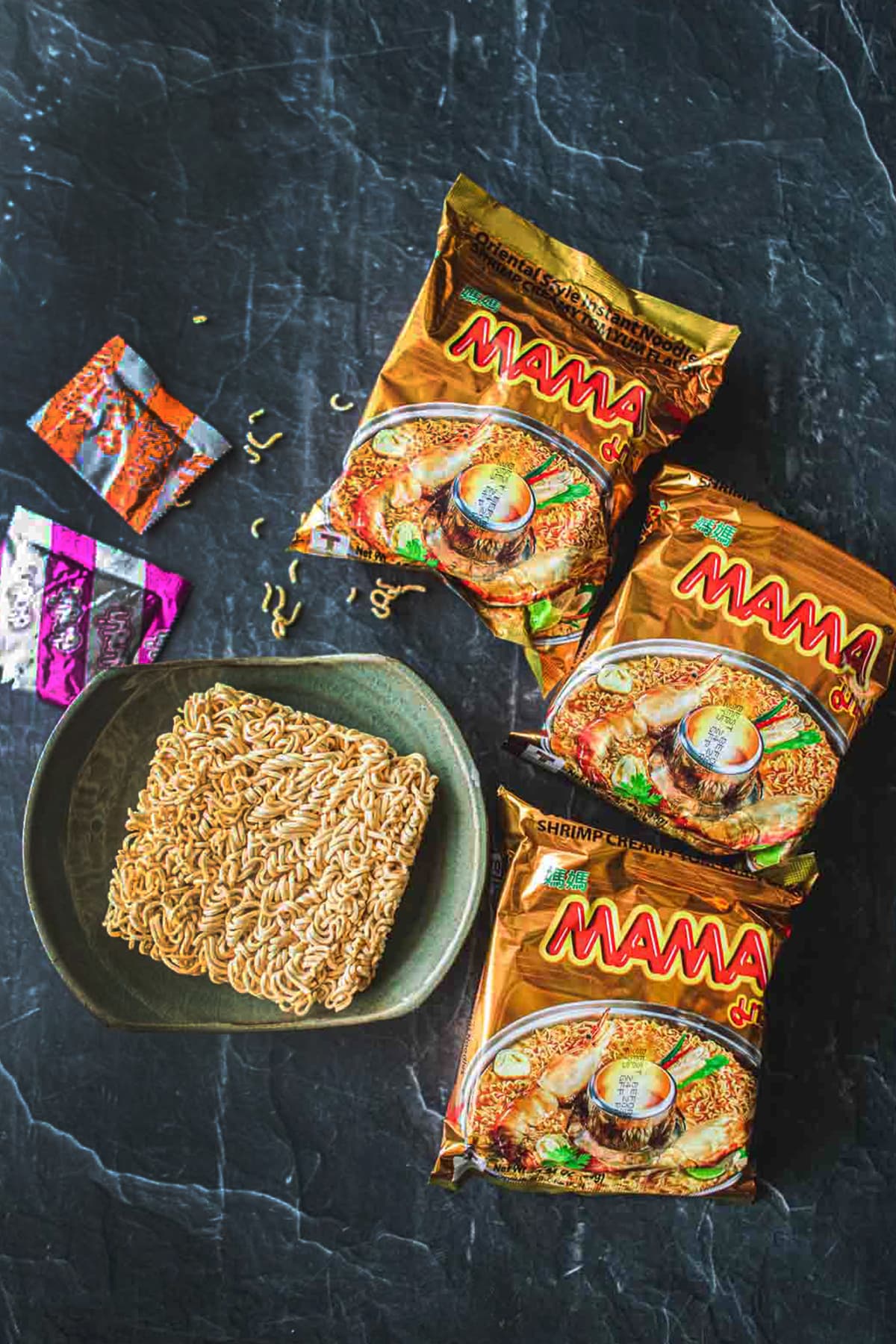 As many Thai children will tell you, my family included, they are perfect eaten raw as dry snacks. Like you'd eat crackers or rice cakes. They are excellent as toppings for salads as well.
Instant Ramen Noodles Recipe Ideas
Soups. These ramen noodles are often used in Tom Yum soups, boat noodles, or any noodles of choice. Also, season these noodles with bone broth with your favorite spices and sauces to fit your family's taste buds.
Stir-fries. Soften the noodles with hot broth, water, or stock and cook for 3-4 minutes. Drain and use the noodles for stir-frying.
Salads. These ramen are great for salads like Yum Mama, a salad with meatballs, fish cakes, or light protein like shrimp or tofu mixed with fresh herbs, fresh lime juice, and fish sauce. Cook them as you would for stir-fries, and use the tasty noodles in a salad. Save a handful of toppings for the extra crunch.
Snacking. Try these as fun, crunchy snacks. Throw away the seasoning packets and snack on the plain noodles. Try it with your kiddos. They are delicious!
Types of Rice Flour
It is only natural to mention the types of rice flour used in Thai cooking. Both are made from rice and are used as bases for rice noodles in many Thai dishes.
Jasmine Rice flour
Made from jasmine rice, the flour texture is extremely fine, like soft white sand. Rice flour is used for making homemade fresh noodles like wide rice and Kanom Jin noodles and for pastries and desserts. Look for the red-colored Erawan brand bags. See the image below.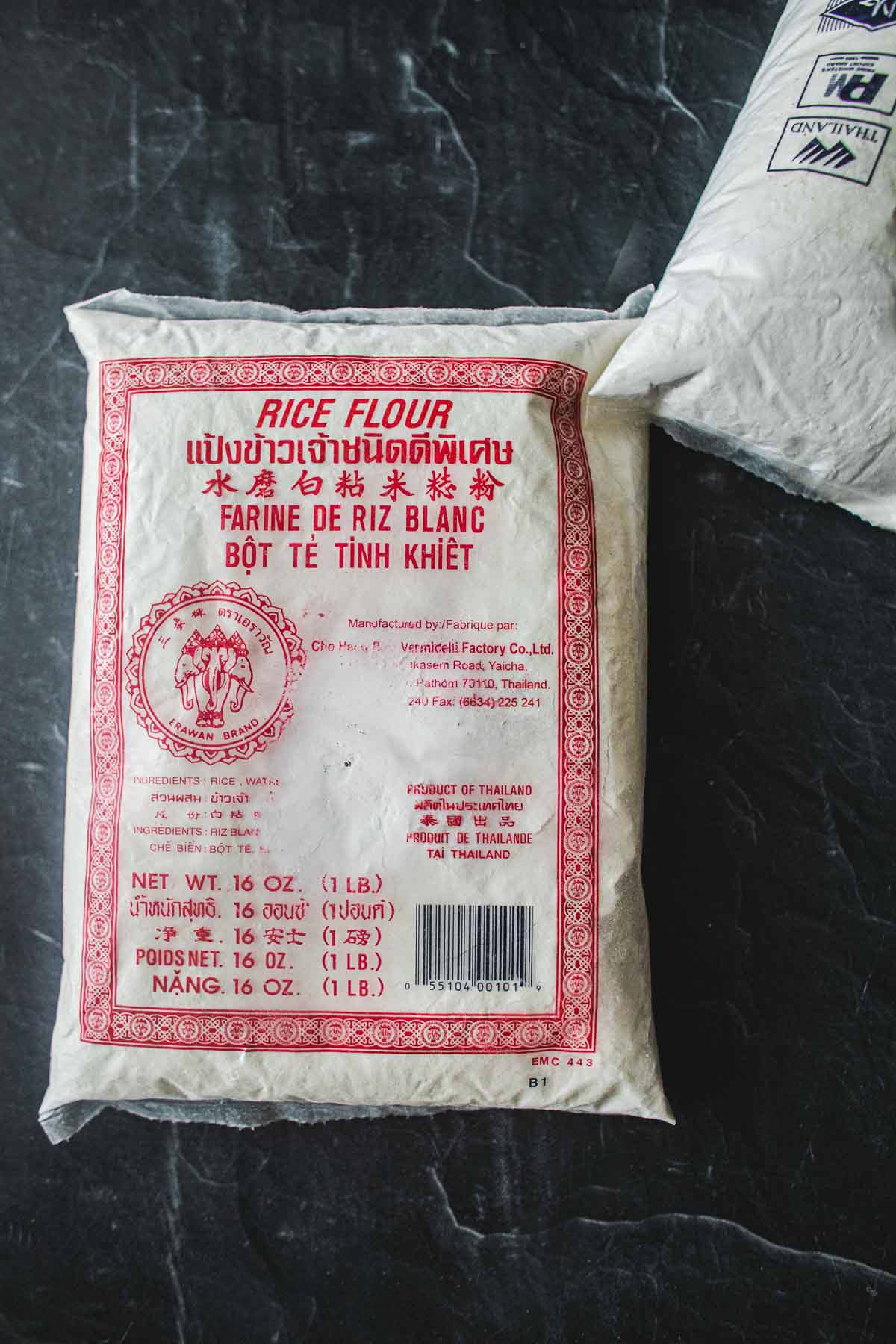 Glutinous Rice flour
Made from sticky rice or glutinous or sweet rice. It is similar to jasmine flour, but the texture of this flour is more starchy, and therefore, it is used mostly for making desserts and savory sweets.
Look for the green-colored Erawan brand bags. See the image below.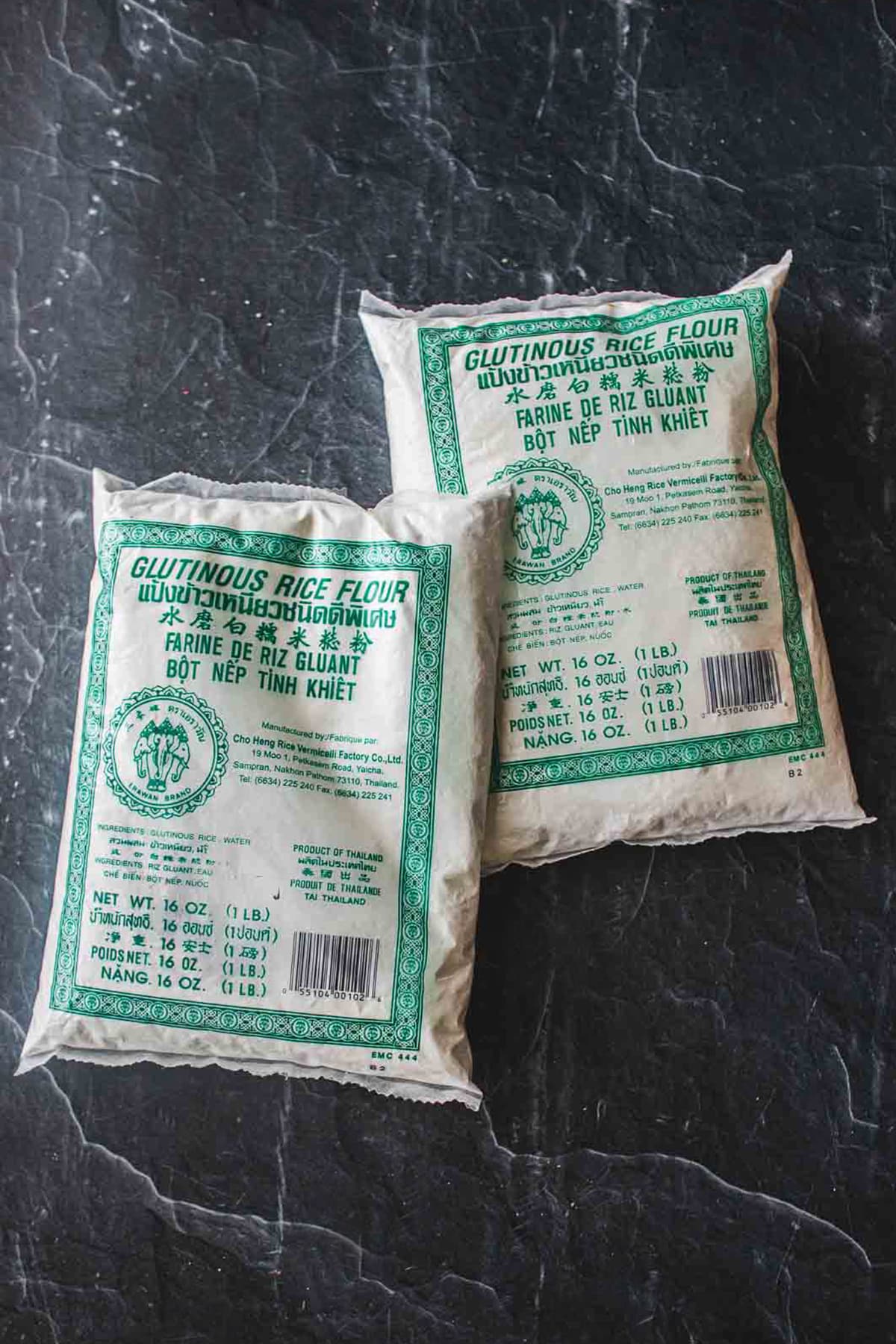 A note on cooking rice noodles
There are a few simple methods to cook rice noodles. Each one depends on the noodles, whether they are fresh or dry.
For soups or used in broth, the noodles should be on the soft side, while noodles for stir-frying should air on the al dente side. Read the instructions on the packets and use that as a guide.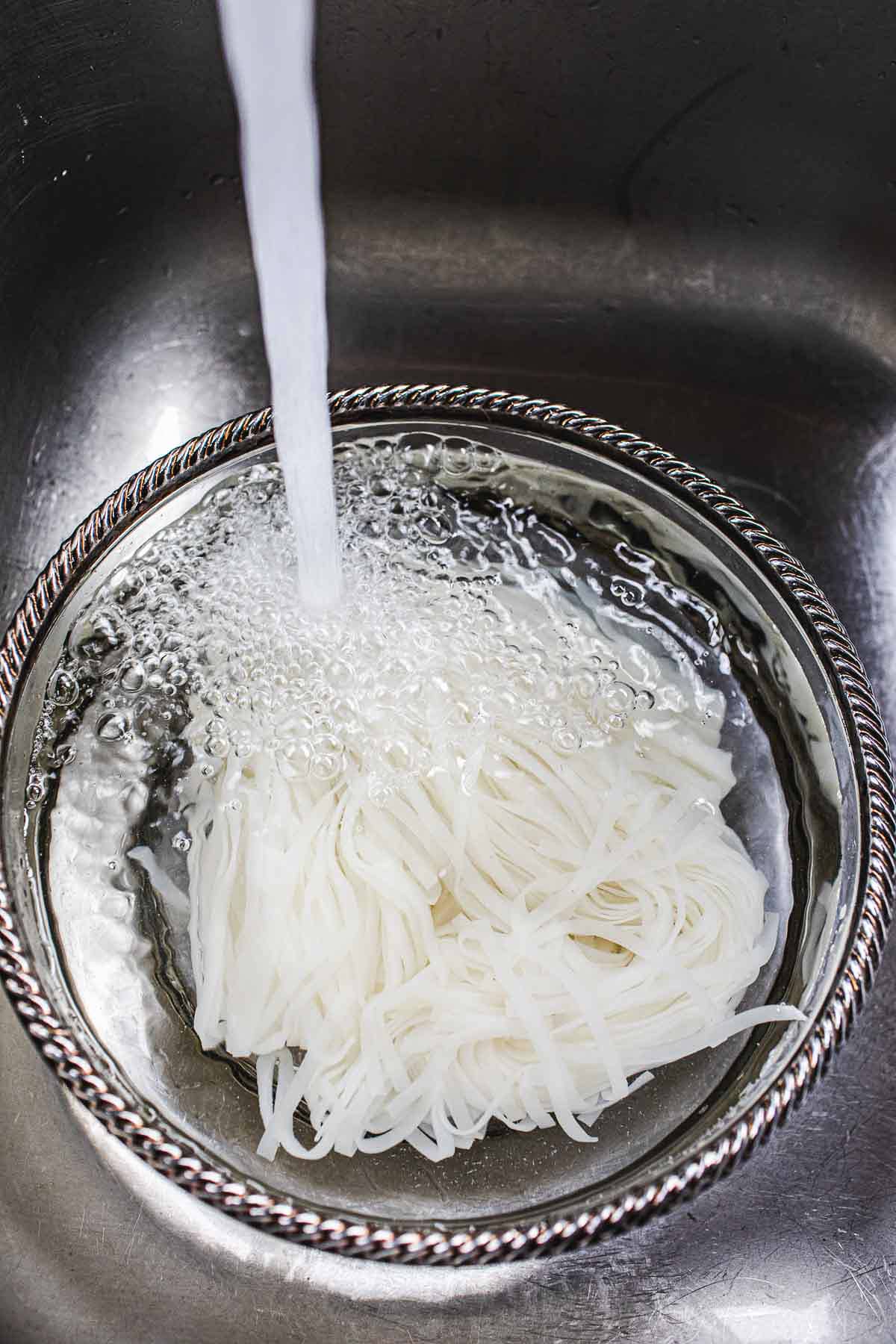 Fresh noodles, which you find in the refrigerator section, require some soaking before cooking. Use warm or room temperature water to soak the noodles for at least 15 minutes until the noodles are soft and separated from the folded strands. Drain and ready for use.
Cold water works, too, especially on semi-fresh noodles, which don't require hot water to rehydrate them. It may take a little longer to soak in cool water before the noodles are ready. Feel the noodles with your finger. If they are soft and curl up easily, then they are done.
Dry noodles require a little bit more preparation add attention. Most of the dry noodles have instructions on the side of the packet. Use that to help guide you to prepare the noodles correctly. Use hot to very warm water to hydrate the noodles back to life. You can boil them in a pan, but keep a close eye on them to avoid overcooking them.
I like to soak my dry noodles in a large heat-safe bowl rather than cooking them over the stovetop. I like this method the best because I feel I have more control of the heat and do not have to worry about over-boiling. It's one of those habitual things I've always done, and it's worked well for me. (:
The most important part about the noodles for stir-frying is not to overcook, or they will turn soft (like noodles in Pho soups.) We don't want that consistency for stir-frying. The noodles should be on the al dente side as they will get cooked a little bit more in the high heat of a pan or wok.
None-Thai Noodles
Though not as common, other Asian noodles may be used in Thai cooking, especially in restaurants. As Thailand has exploded with tourism, so has been a fusion of many cuisines mingled with Thai food. You'll see some of these noodles used in various recipes here and there throughout Thailand.
More Thai recipes you may enjoy
I recommend you find the closest Asian market and pick 1-2 noodle recipes to try and grab at least 2 packets of noodles suggested for the recipe and experiment in the kitchen. Once you become familiar with each type of noodle, cooking Thai food will become a breeze.
* Find this blog post helpful? If so, please leave a 5-star rating below in the comments section further down the page. And don't forget to follow me on Facebook, Pinterest, or Instagram. Please pin and share away too! *
FAQs
What is the most popular Thai noodle?
The most popular Thai noodle dish is Pad Thai—a sweet, tangy, and umami stir-fried dish using thin rice noodles.
What are sweet Thai noodles called?
The sweet Thai noodles are called Mee Grob or Mee Krob. The thin angel hair rice vermicelli rice noodles are either deep fried until crispy, then seasoned with a sweet dressing made with fish sauce, tamarind, or lime juice and topped with fried herbs and cashew nuts.
What are the thick Thai noodles called?
The thick Thai noodles are called Kouy Tiew or Gouy Taew. Flat, soft, chewy rice noodles are cut into smaller strands for cooking. They are called Chow Fun or Hor Fun noodles and are used in stir-frying and soups.
What are the most popular Thai noodles?
Some of the most popular Thai noodles are glass noodles, rice noodles, wide rice noodles, fermented Kanom Jin noodles, and various sizes, each with a different name in Thai.
That's it for Thai Rice noodles. If you doubt which noodles to buy when you head to your local Asian market, feel free to take photos of these noodles and ask for help at the store. Enjoy noodle hunting!
Thai kitchen resources
* Love a recipe you've tried? Please leave a 5-star rating in the recipe card below and a review in the comments section further down the page. Or follow me on Facebook, Pinterest, or Instagram! *