This easy Rad Na recipe, a Thai stir-fry recipe, is a delicious noodle dish that is ladled with tasty, thick, gravy-like broth. It is a full-flavored dish; usually eaten with some sort of leafy vegetables and your choice of protein.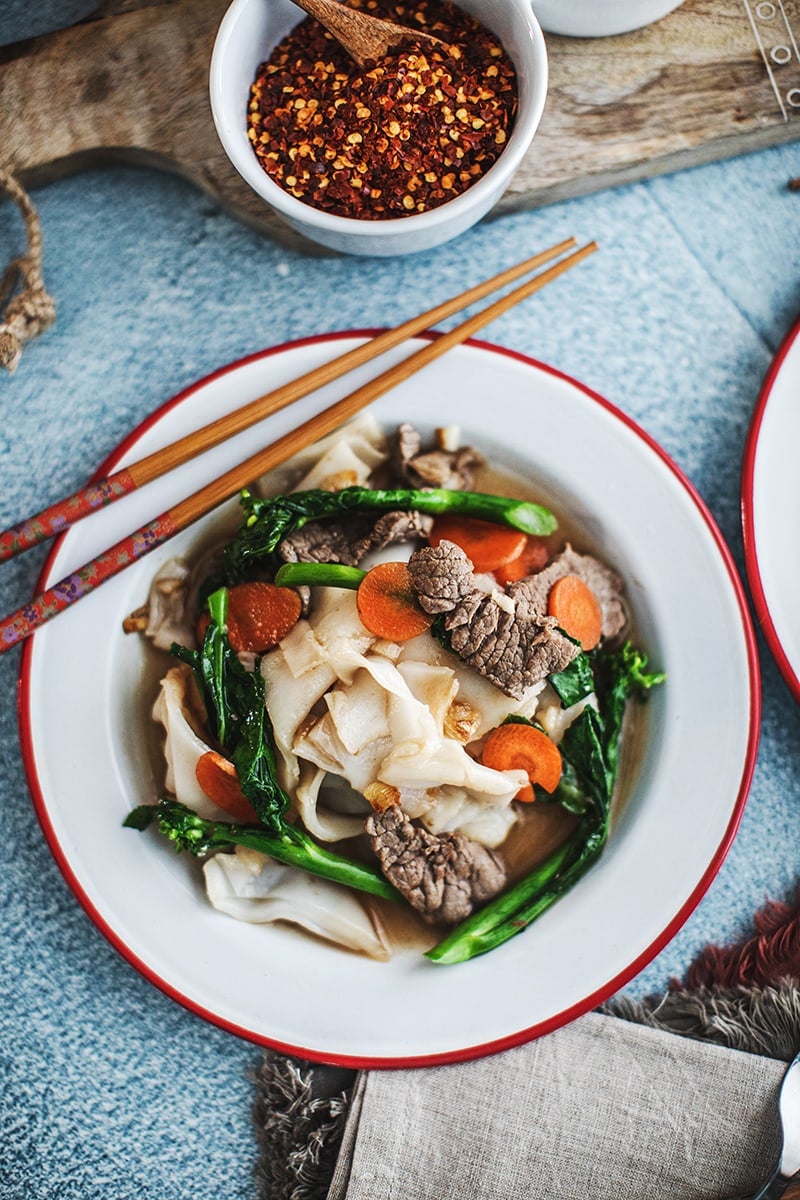 What is Rad Na?
Rad Na, a noodle in gravy dish, was one of my favorite stir-fry recipes growing up. There are three parts to this dish: the stir-frying part with vegetables and meat, the gravy part, and then lastly, the pan-fried flat noodles. When all these parts are combined right before consuming, it is a match made in heaven! The deliciously seasoned stir-fried fresh vegetables cooked in the light gravy then poured over pan-fried soft flat noodles… there's nothing tastier! With the wide rice noodles as a base for the gravy, this recipe is a very hearty dish. Perfect as comfort food, no matter what time of year.
Protein Recommendations for Thai Rad Na Recipe
I have tasted lots of Rad Na with different proteins used, but my favorites are beef and seafood! You can choose whatever meat you'd like to use but be mindful that seafood doesn't take as long to cook as the other types of meat. Here are my suggested options:
Chicken
Pork
Beef
Shrimp
Calamari
Or combine a few together if you can't decide! (:
Vegetables you can use for Thai stir-fry with gravy
This Rad Na recipe is so versatile in terms of what vegetables you can use. Ideally, Chinese broccoli is used, but if that's not possible, fret not, I have listed a few options for you. Since the dish is a very forgiving recipe, these are the recommended vegetables to use if Chinese broccoli is not on your radar.
Brocolini
Broccoli
Snow Pea Pods
Kale
Asparagus
Bok Choy
Carrots
Sweet Onion
Water Chestnuts
Fresh Baby Corn
You can add more than one vegetable in this dish, but be careful not to overdo it, as too many veggies can take away from the intended flavors of the dish.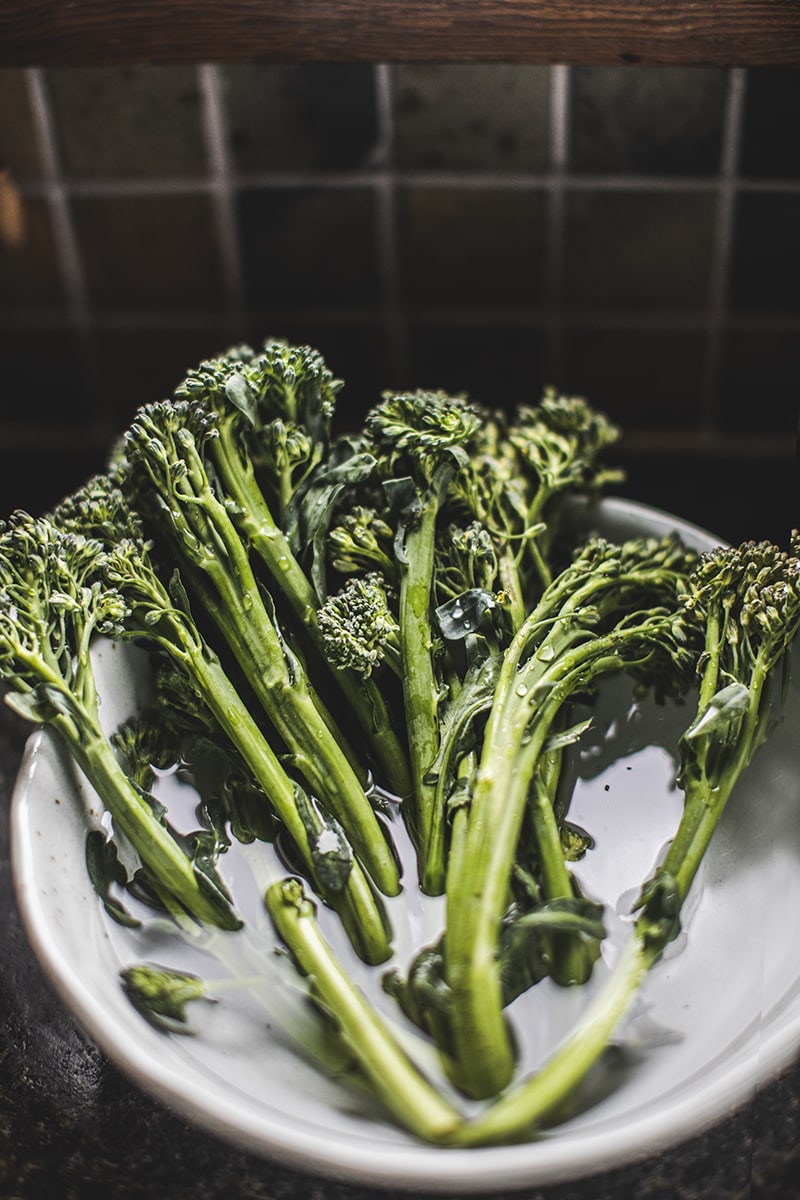 Potentially Hard to Find Ingredients for Rad Na Recipe.
Like most Thai dishes, there are many versions of Rad Na recipe out there. The traditional way of making this dish is with soybean paste. But for this recipe, I'm omitting it, considering the limited time and options out there during the quarantine. And guess what? It's still very tasty without the soybean paste! I'll have another traditional version for this recipe later on down the road, but for now, here's a quick and easy recipe. For this recipe, here are a few potentially hard to find ingredients: oyster sauce, tapioca starch, and Thai light soy sauce. The Thai light soy sauce can be substituted with less sodium soy sauce, but as for the oyster sauce, try to get that if you can. Plus, it's one of the staple sauces for Thai cooking, so you'll be using it again. As for the tapioca starch, you can substitute corn starch or cassava flour. You can check out a full post on tapioca starch here.
Garnishing Options for Rad Na:
When eating Rad Na in Thailand, you will usually have the garnishing options for you at your table. Listed below are what you'd normally find on your table. Sprinkle just a tiny dash of each on your plated Rad Na and enjoy!
-White granulated sugar
-Chili vinegar (mixed 4-5 finely diced chillis in ¼ cup rice vinegar for 1 hour)
So, let's gather your ingredients and make Rad Na together!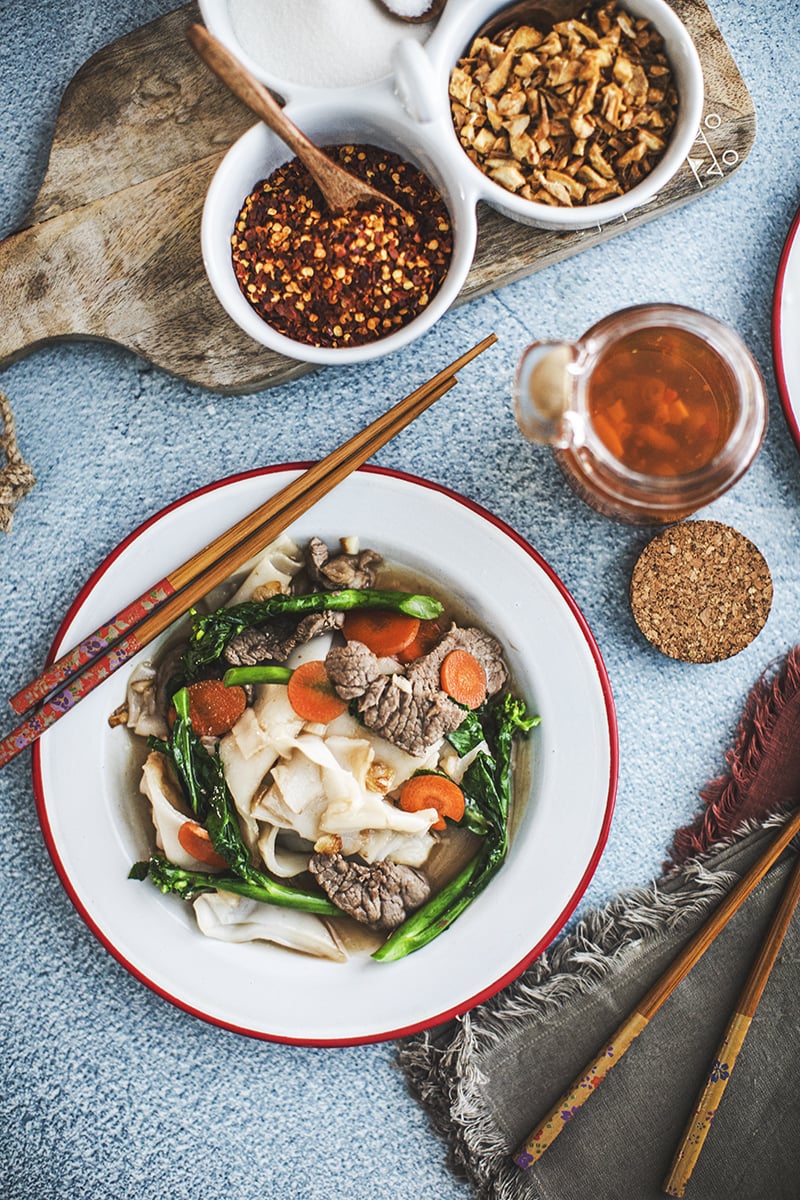 How to Make Thai Stir Fry with Gravy (Rad Na Recipe):
Here is the Step by Step Pictures of how to make my Rad Na Recipe.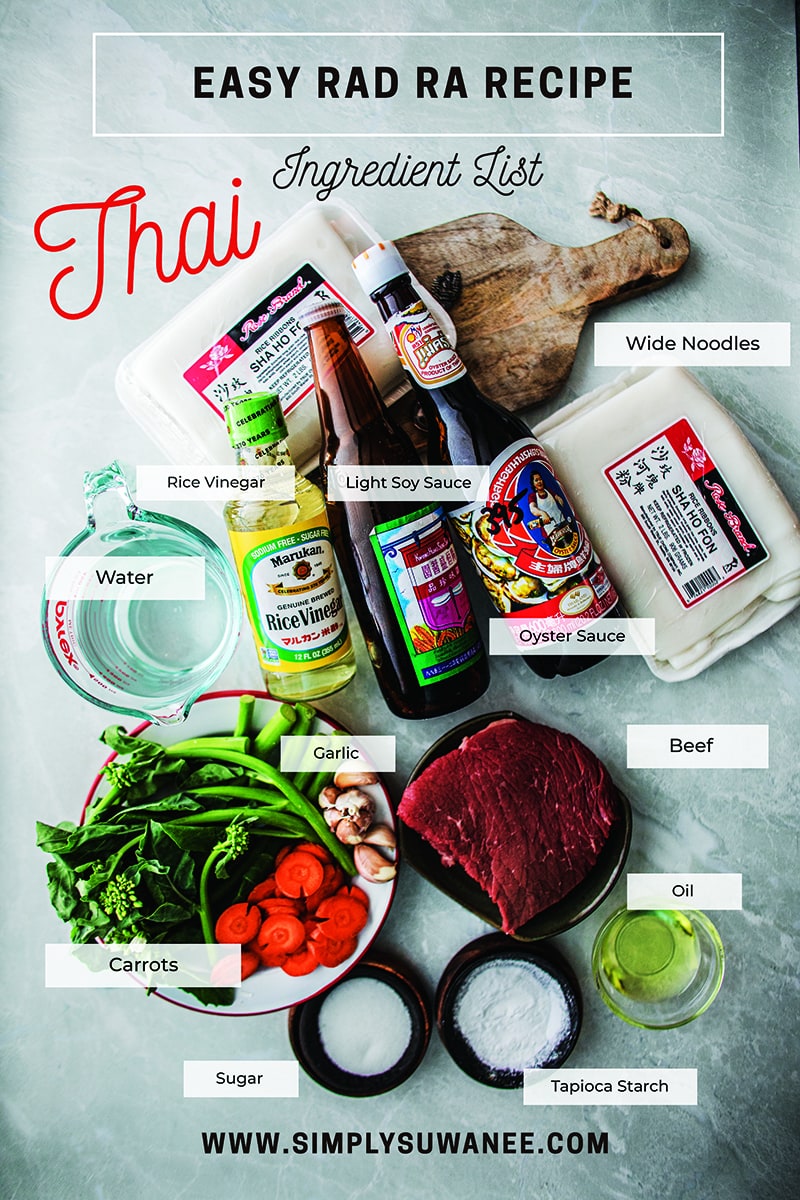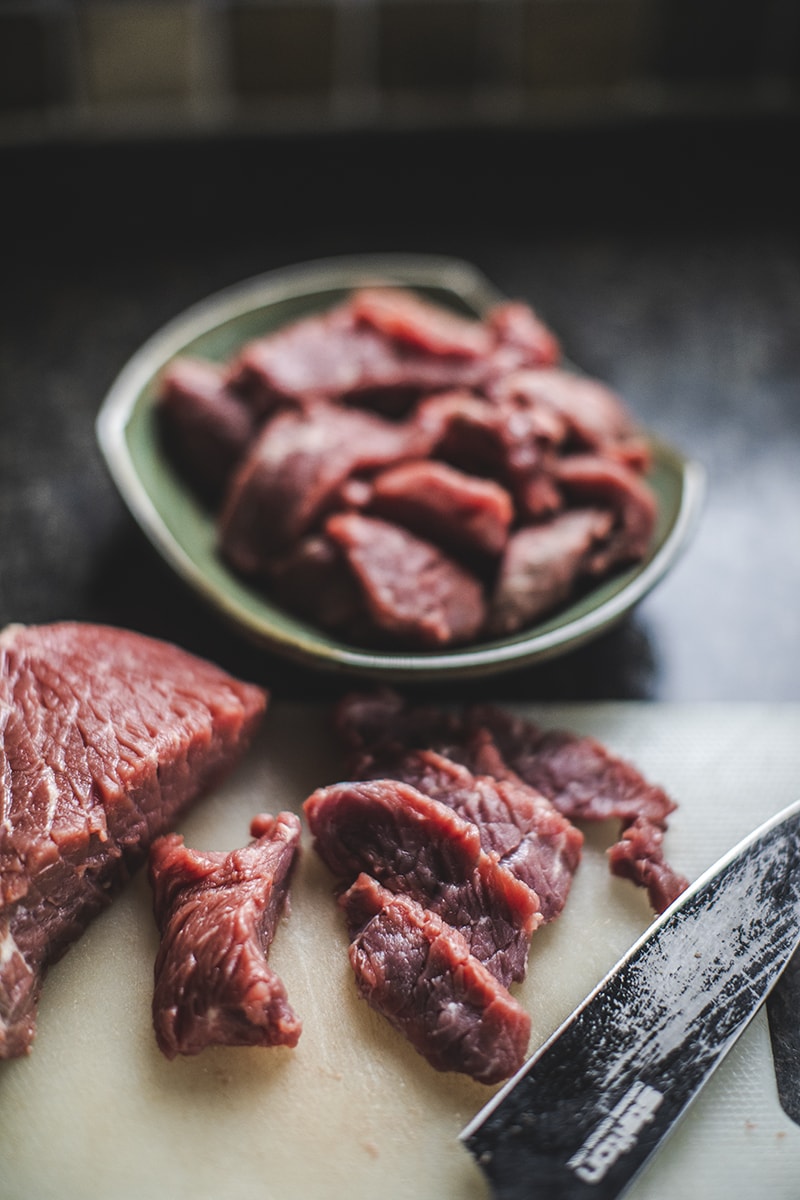 Choose your protein. I made this recipe with beef. Cut the meat into thin slices around 2 inches long.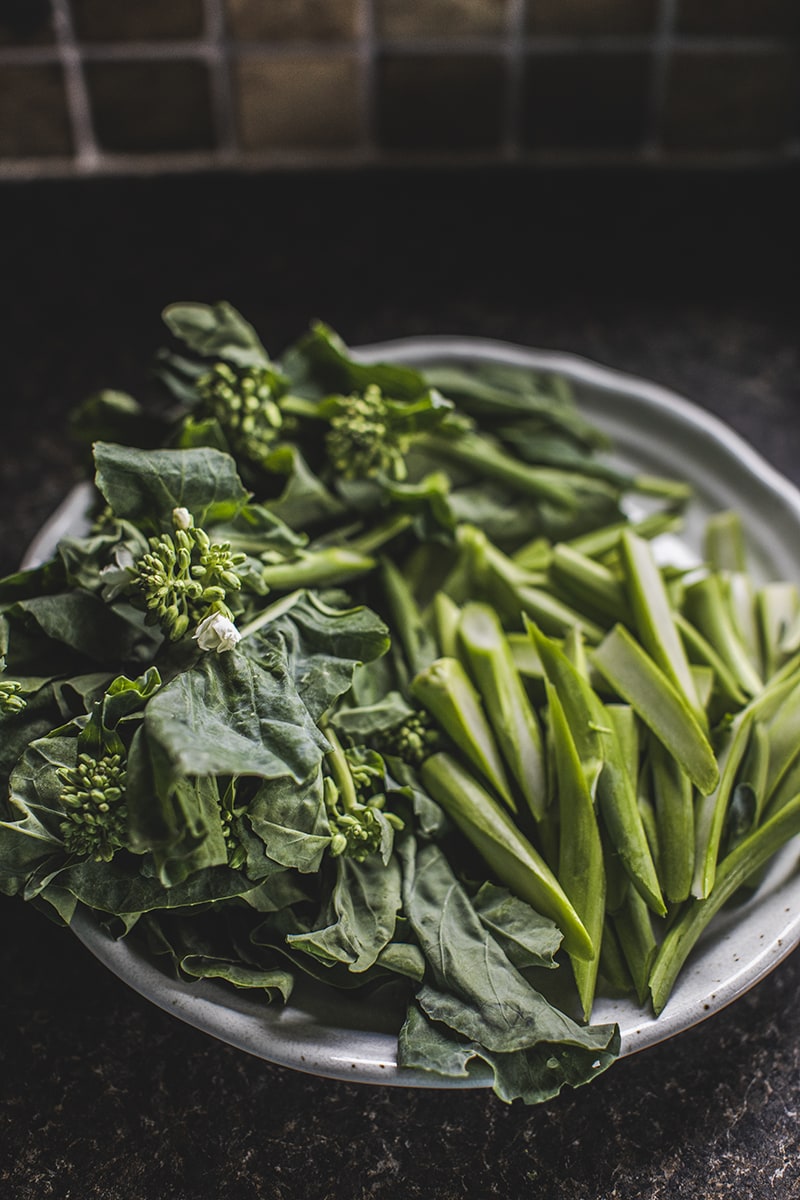 Cut the Chinese broccoli, separate the leaf from the stems as the stems take longer to cook than the leaf. Cut the stems into thin pieces like above picture.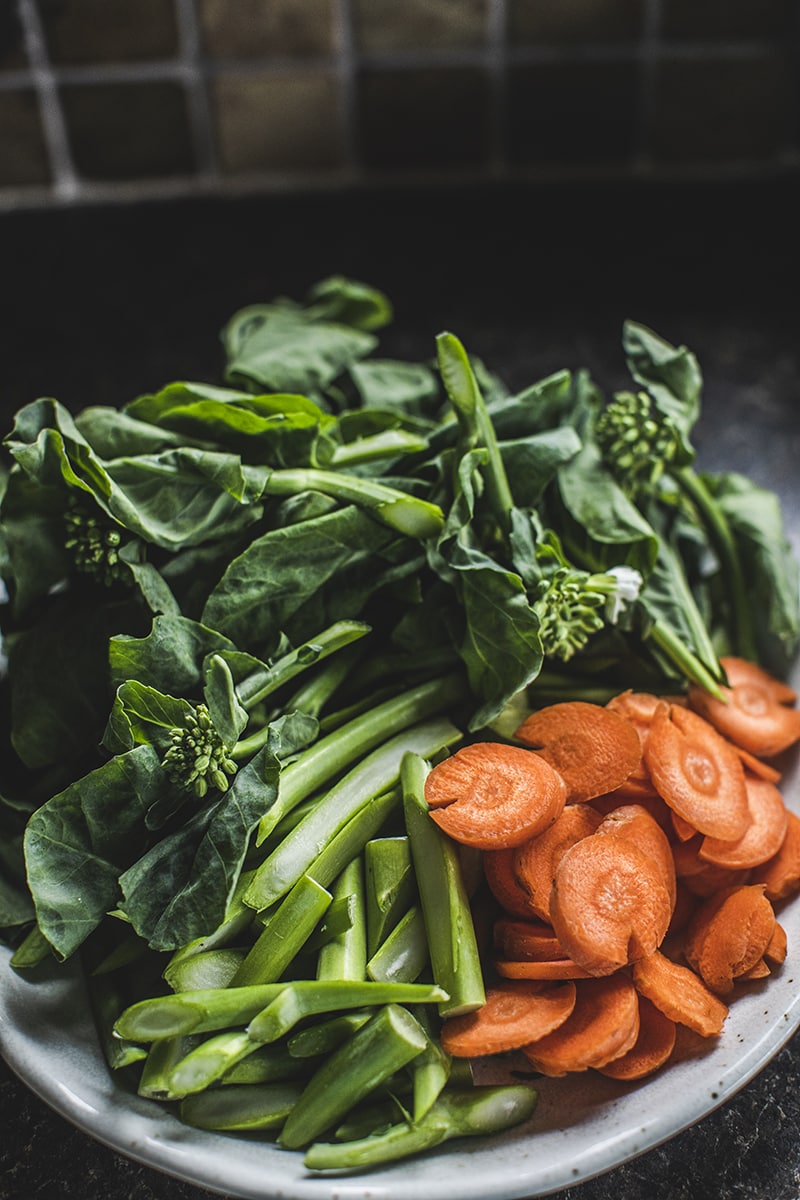 Cut the carrot into thin round pieces and set the vegetables aside while prepping the 2 separate sauces for the noodles and for the gravy.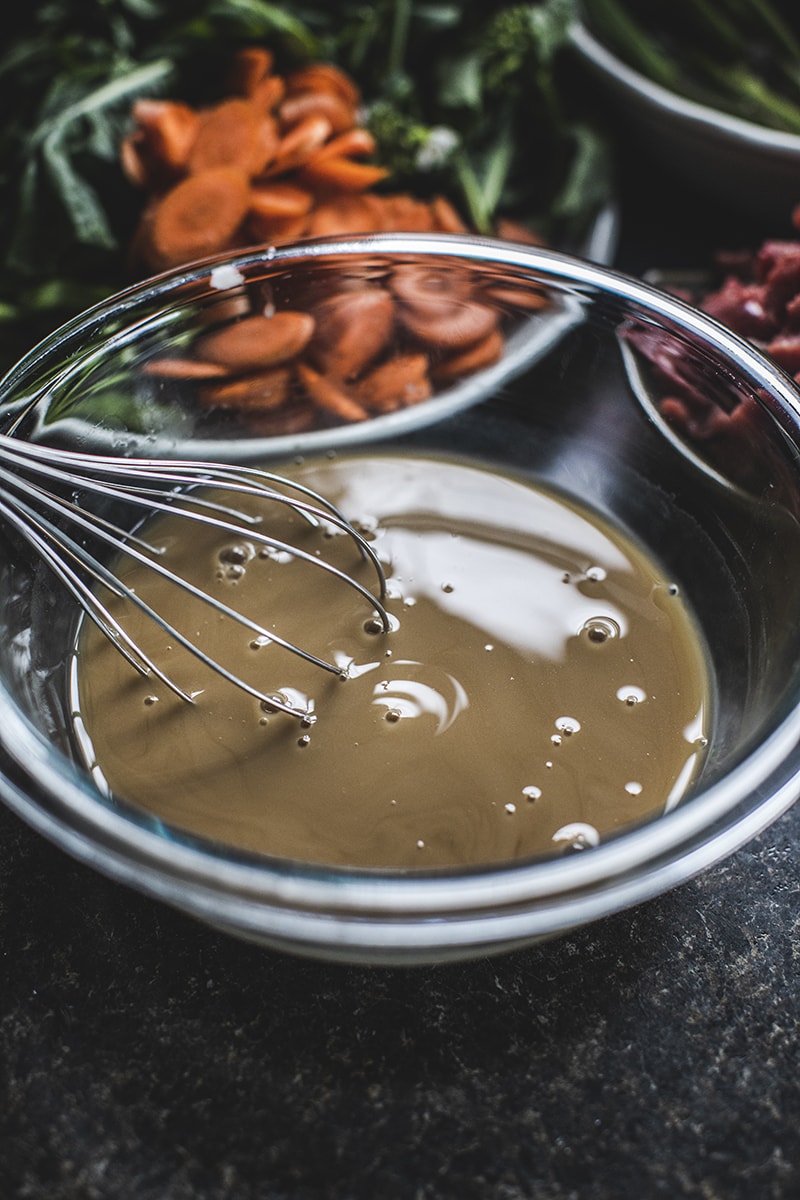 Pictured above, the sauce for the gravy using tapioca flour to help thickens the sauce into a gravy-like texture.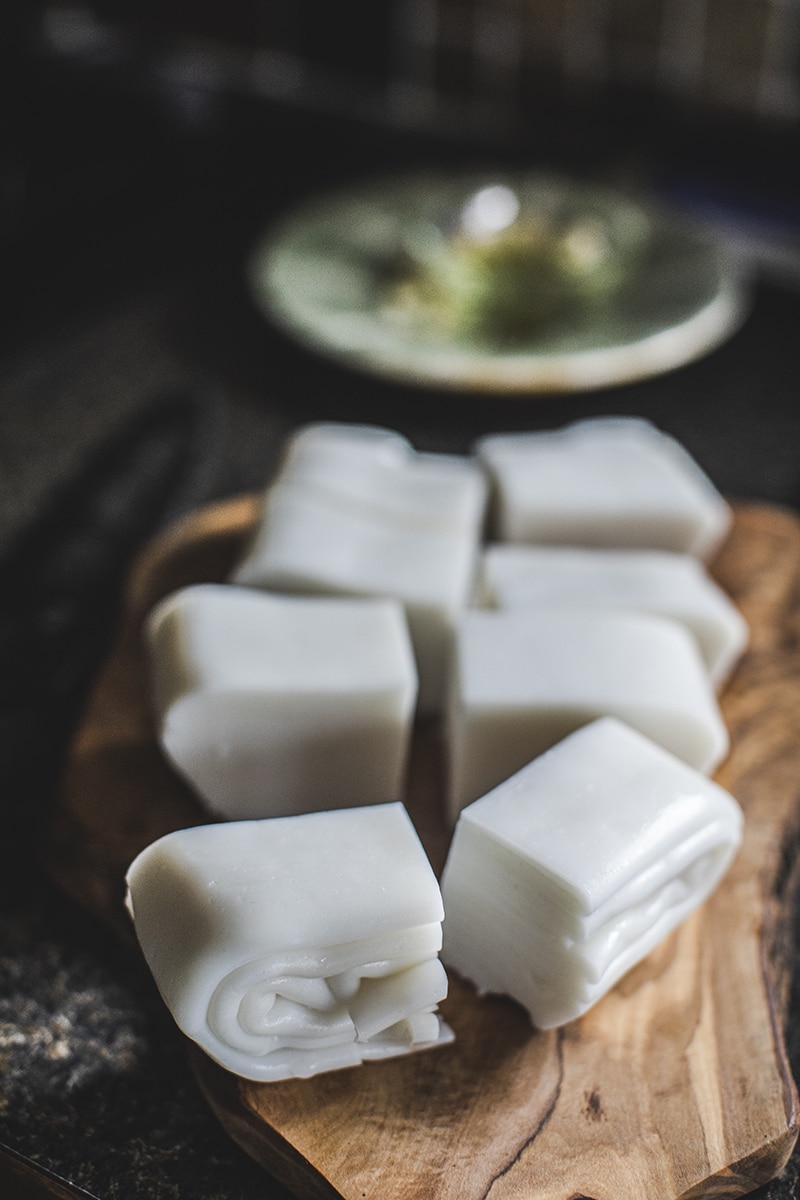 Prepare your wide rice noodles by cutting the sheets into long pieces, around 3-4 inches.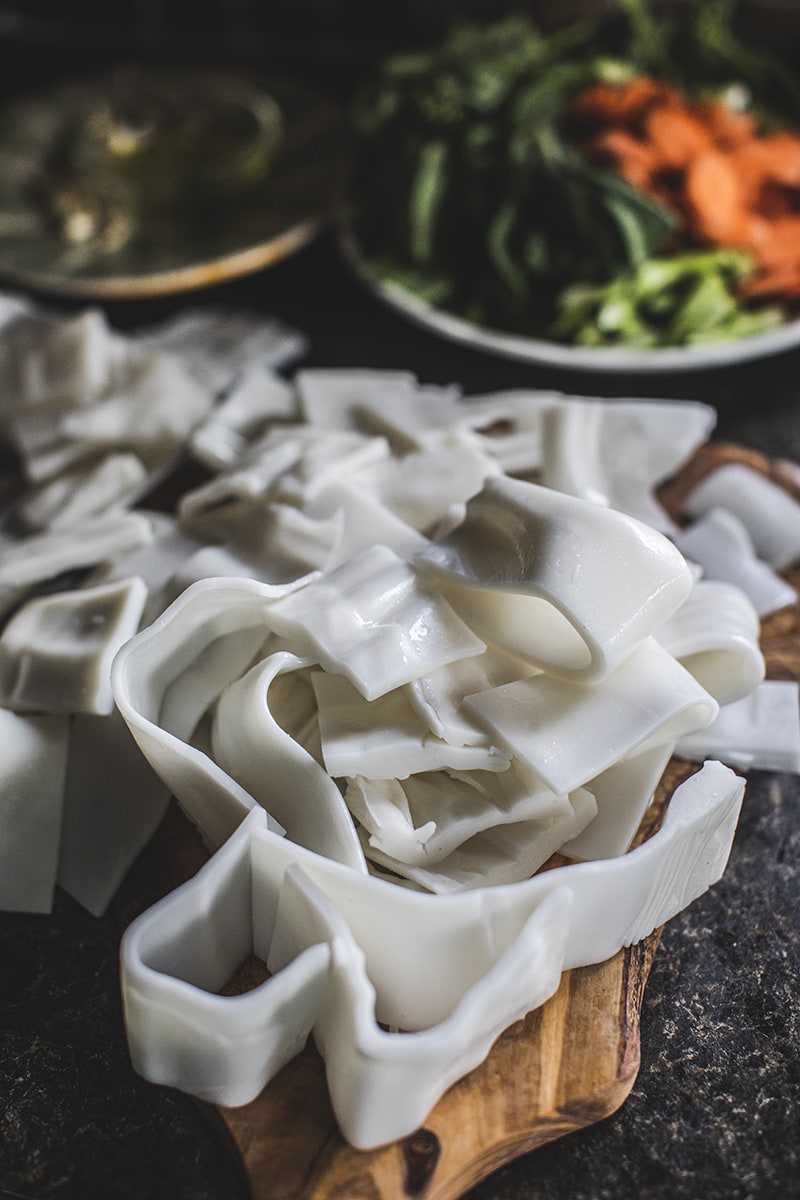 Separate the sheets using your fingers and be careful not to tear the noodle sheets too much. Do your best! (: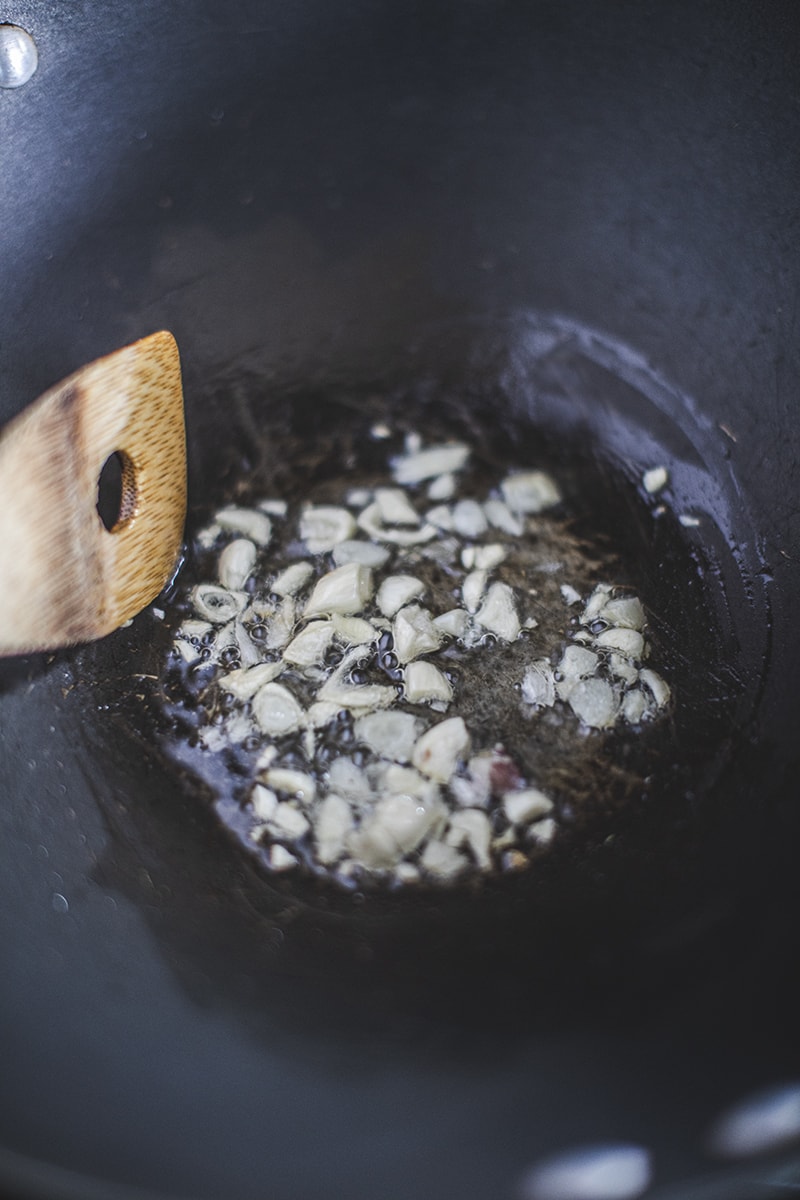 Fry the garlic just until very lightly browned in the oil in a wok or skillet.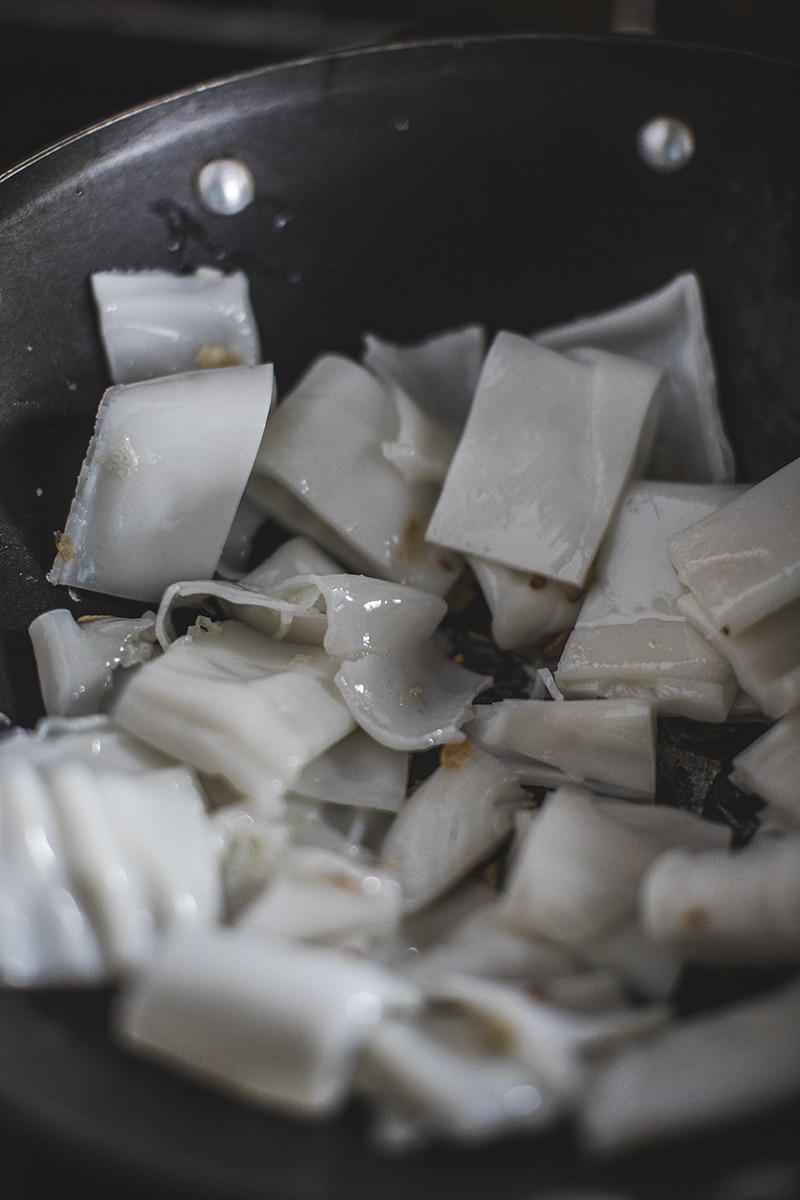 Add the noodles and lightly stir together with garlic in the wok. Be careful not to stir too much here as the noodles will break easily.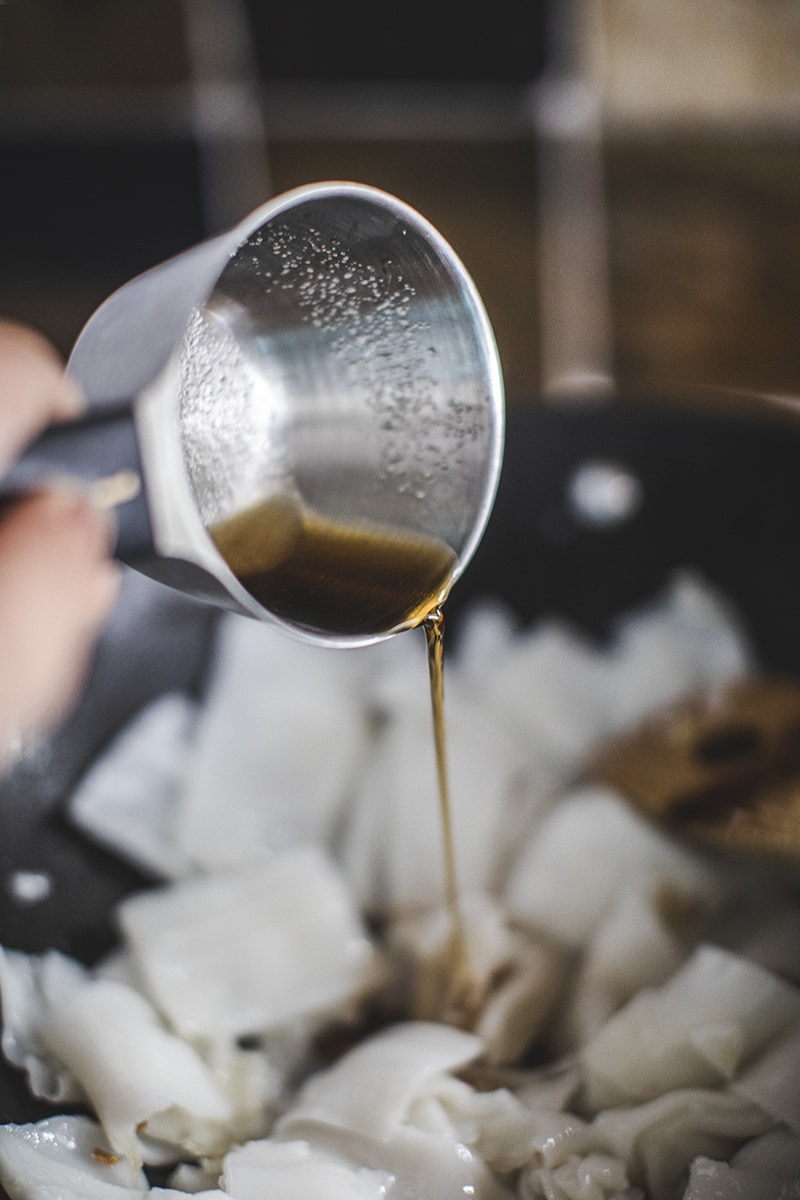 Add the noodles sauce, (see recipe card below) and again, very lightly stir the noodles, just enough to mix in with the noodles.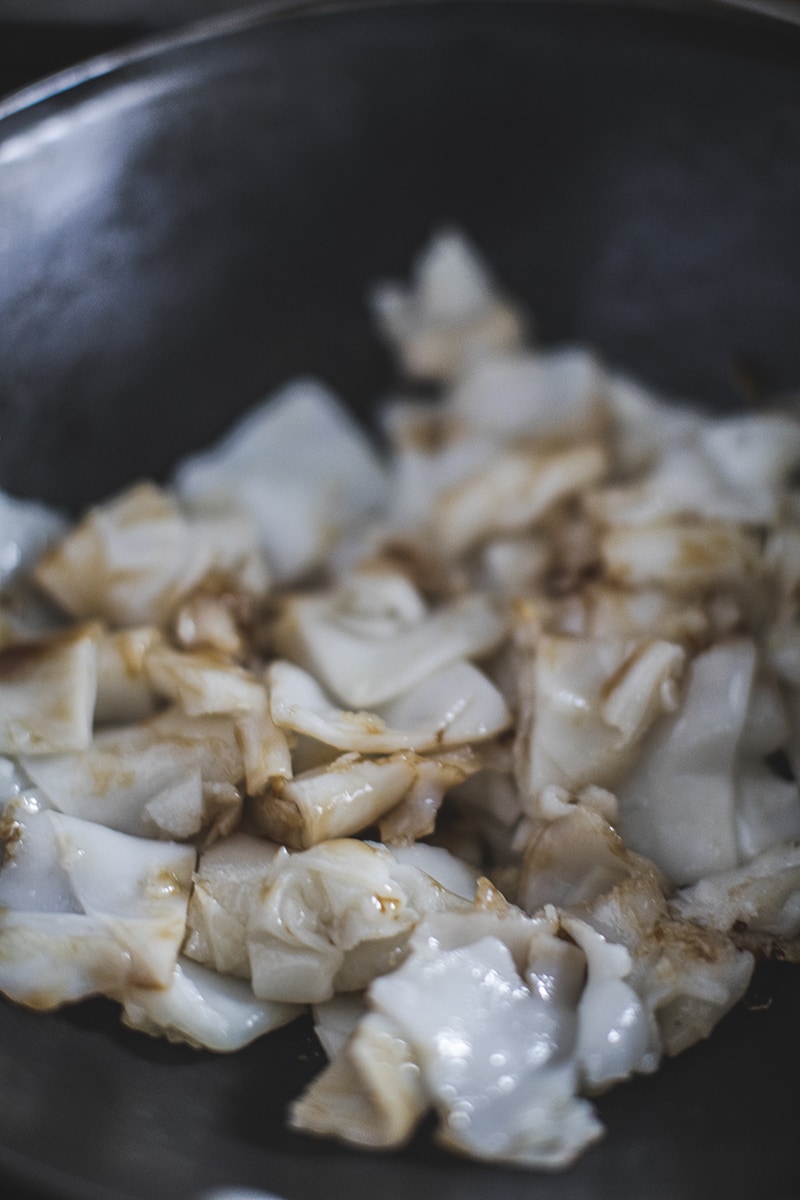 Once the noodles start to brown some, remove it to a large plate and set aside while you prepare the stirfry and gravy.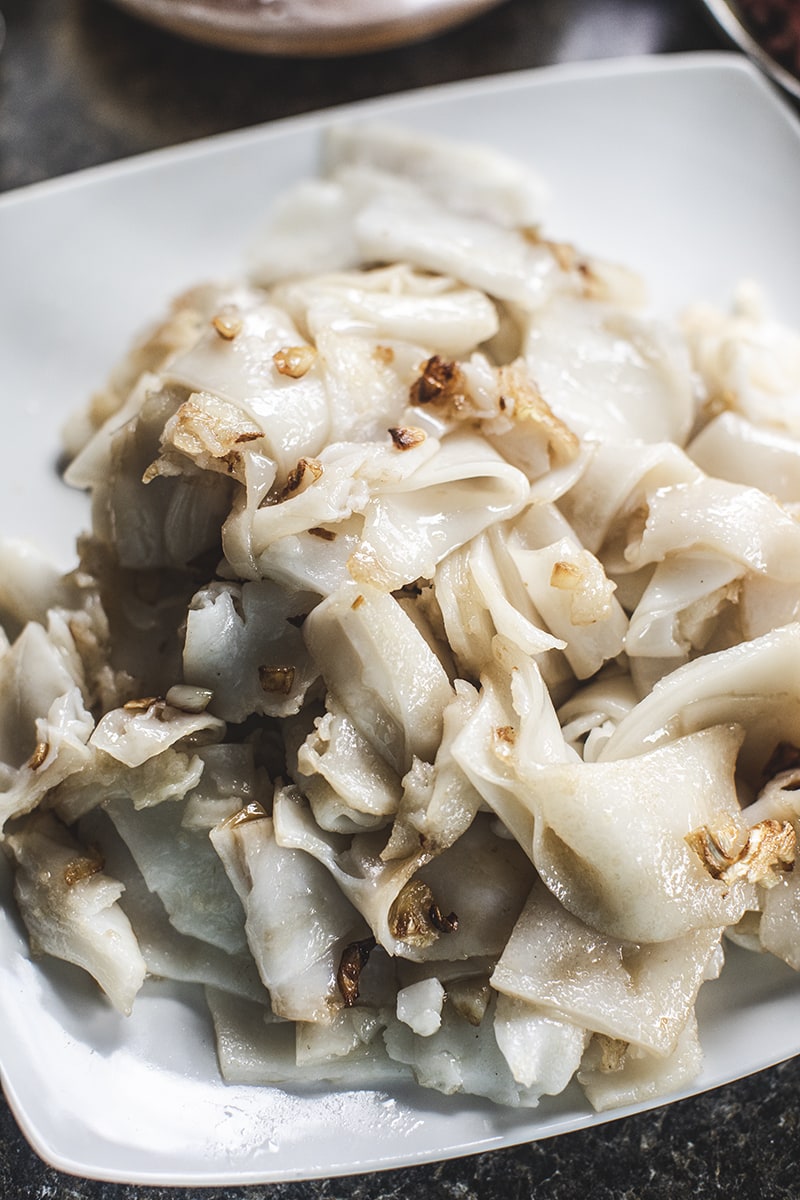 Taste the noodles and see what you think! I love eating the fried noodles plain too! Add a little chili sauce and it can be a meal on its own!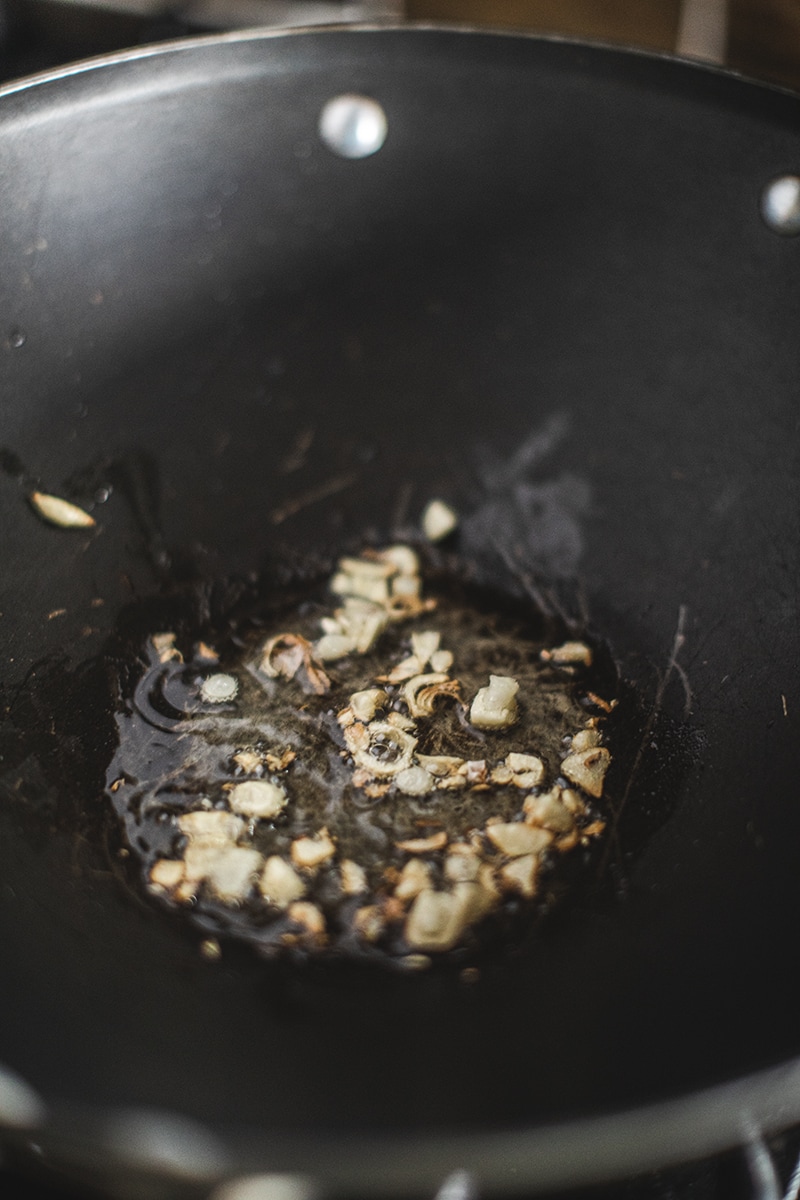 Clean up your wok or skillet for the 2nd and 3rd part of the recipe. On medium heat, add oil, once hot, add garlic until lightly browned.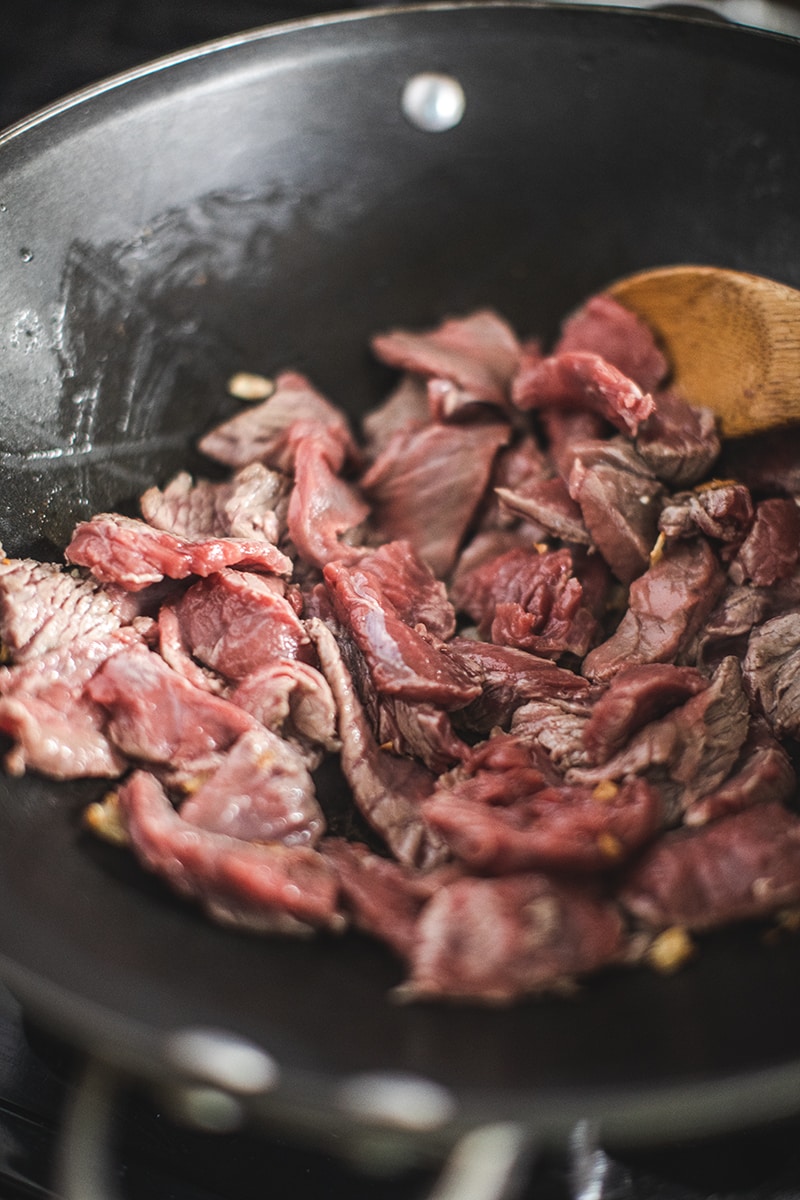 Add your protein and cook until done.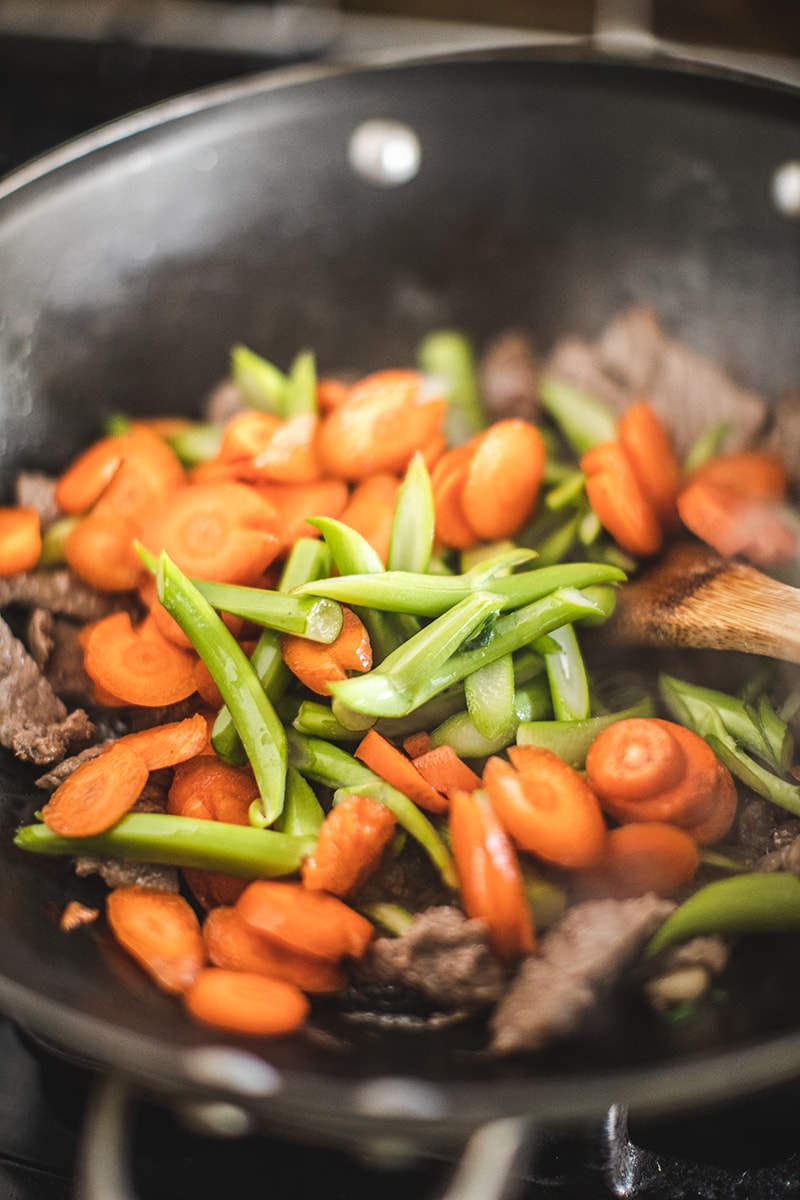 Add the carrots and the stems of the Chinese broccoli and stir together for a couple of minutes or until the vegetables are tender.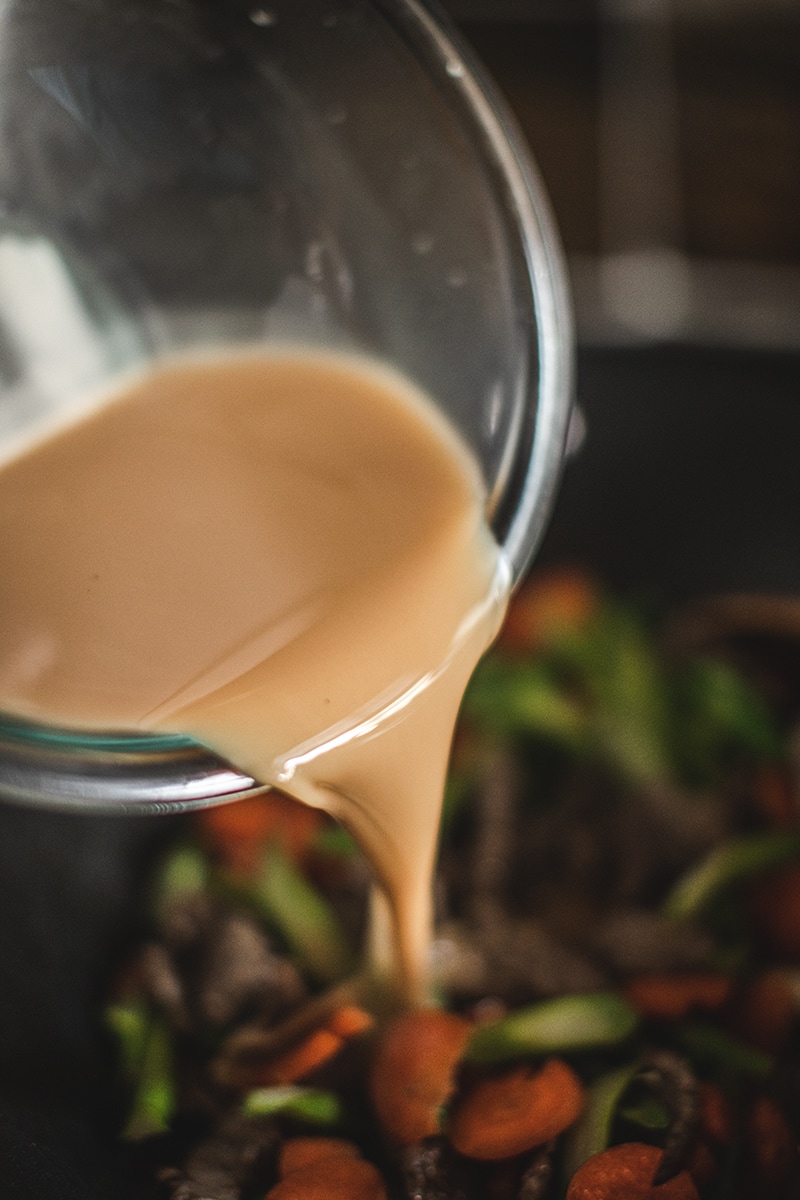 Add the sauce for the stirfry. Stir well together.
Cook until the sauce starts to thicken, stir as often as needed.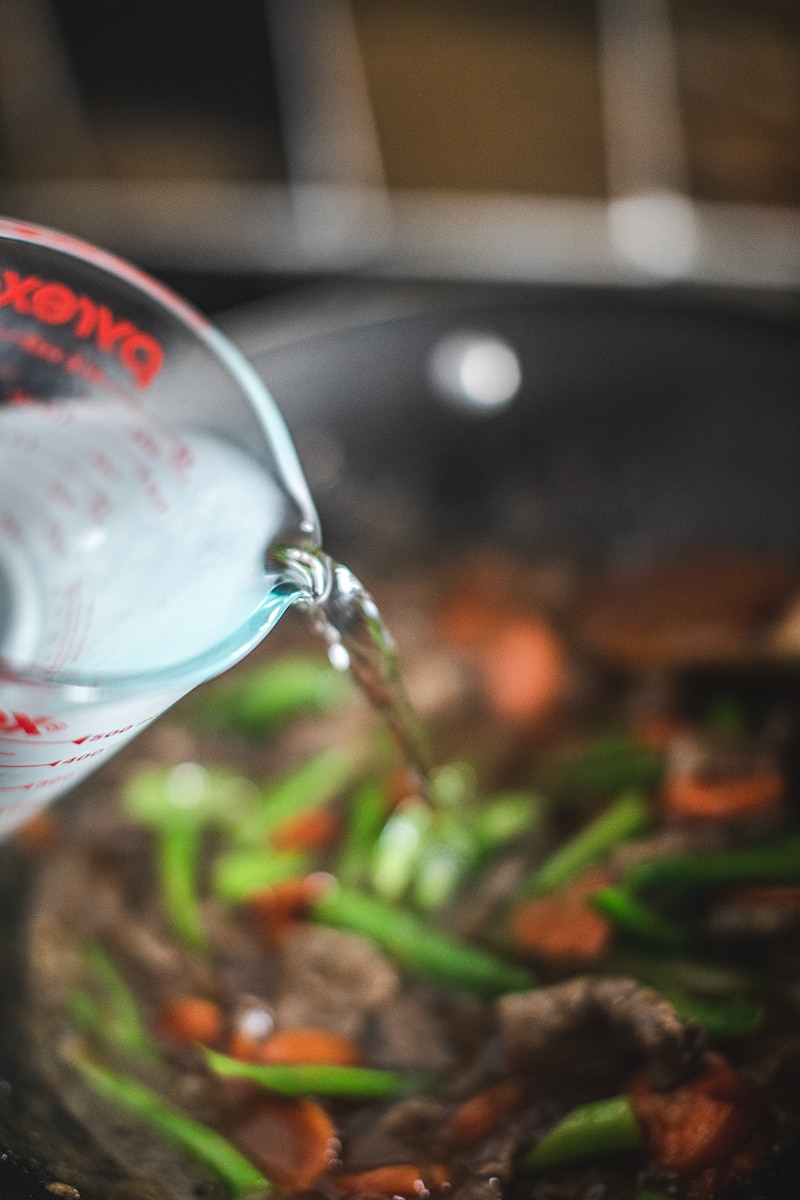 Once the thickens to your liking, add the rest of the water to the wok/skillet and stir all together.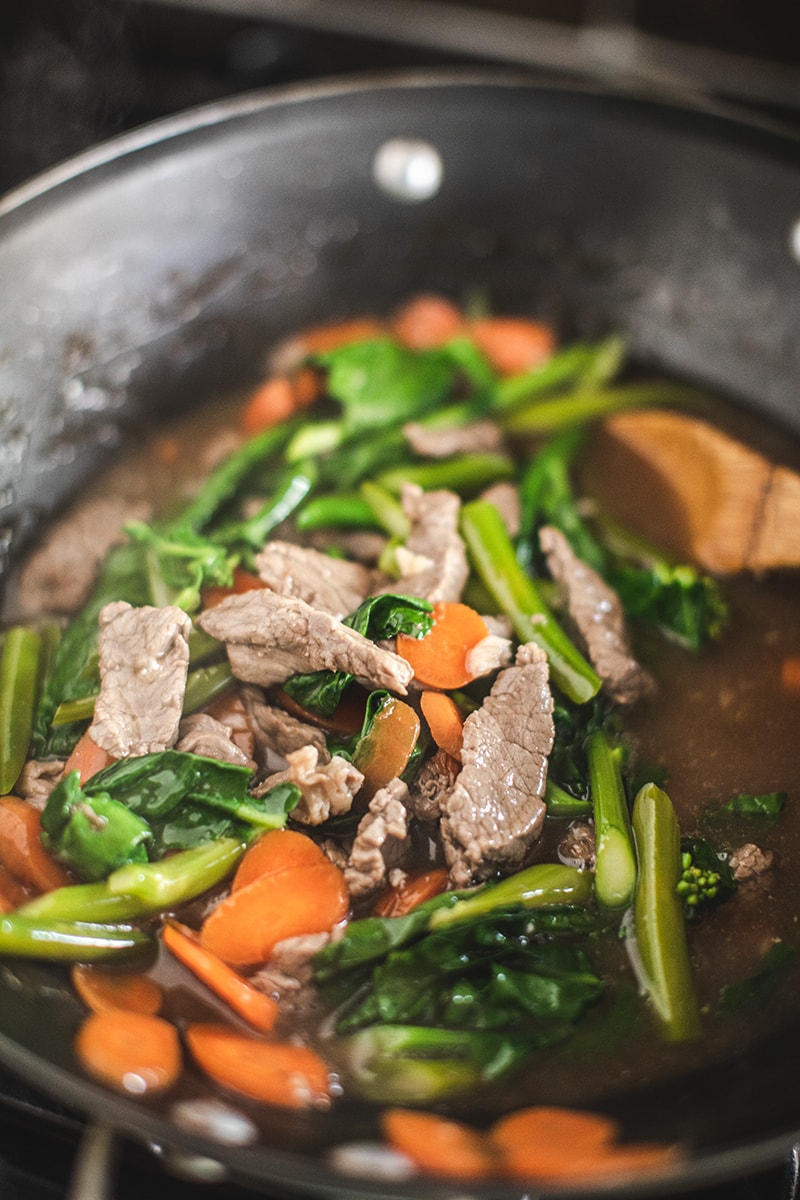 Add the leafy parts of the Chinese broccoli and cook for just 1 minute more and turn the heat off.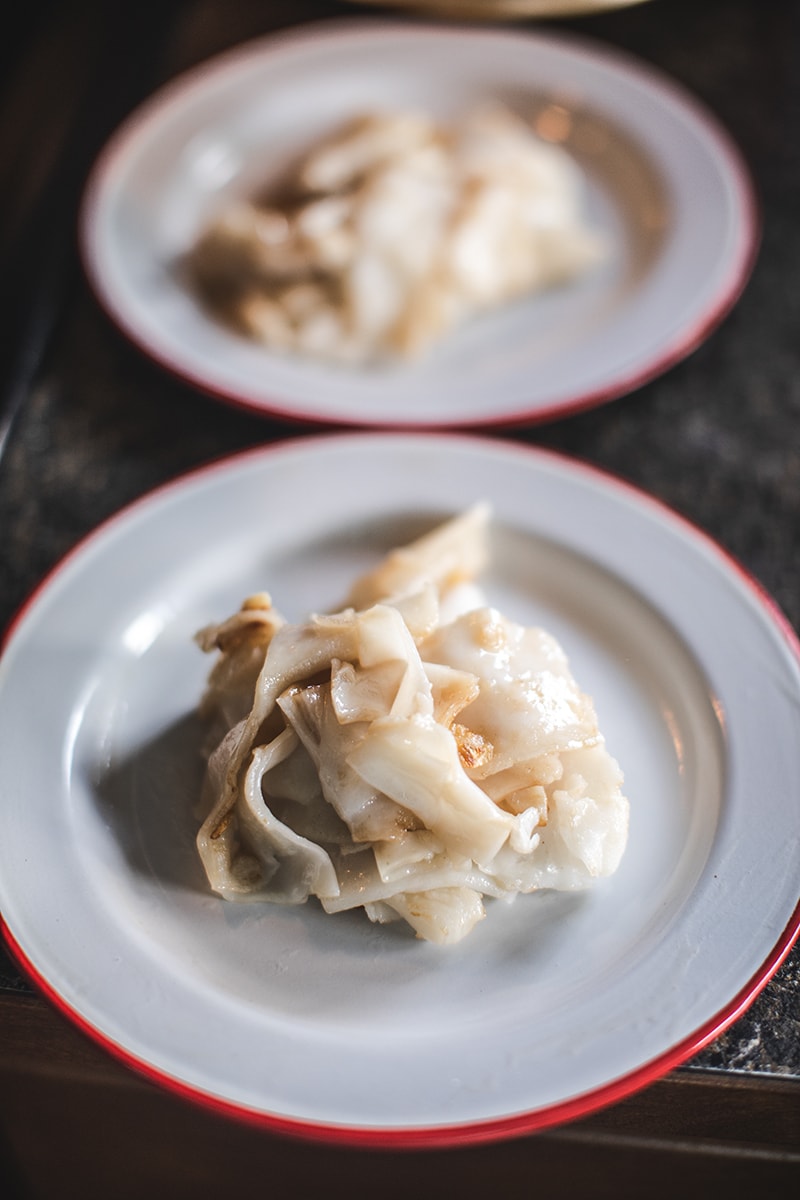 Plate the noodles on your plates and scoop the gravy into each plate over the noodles. Add the garnishing options to your liking and enjoy this mouthwatering dish!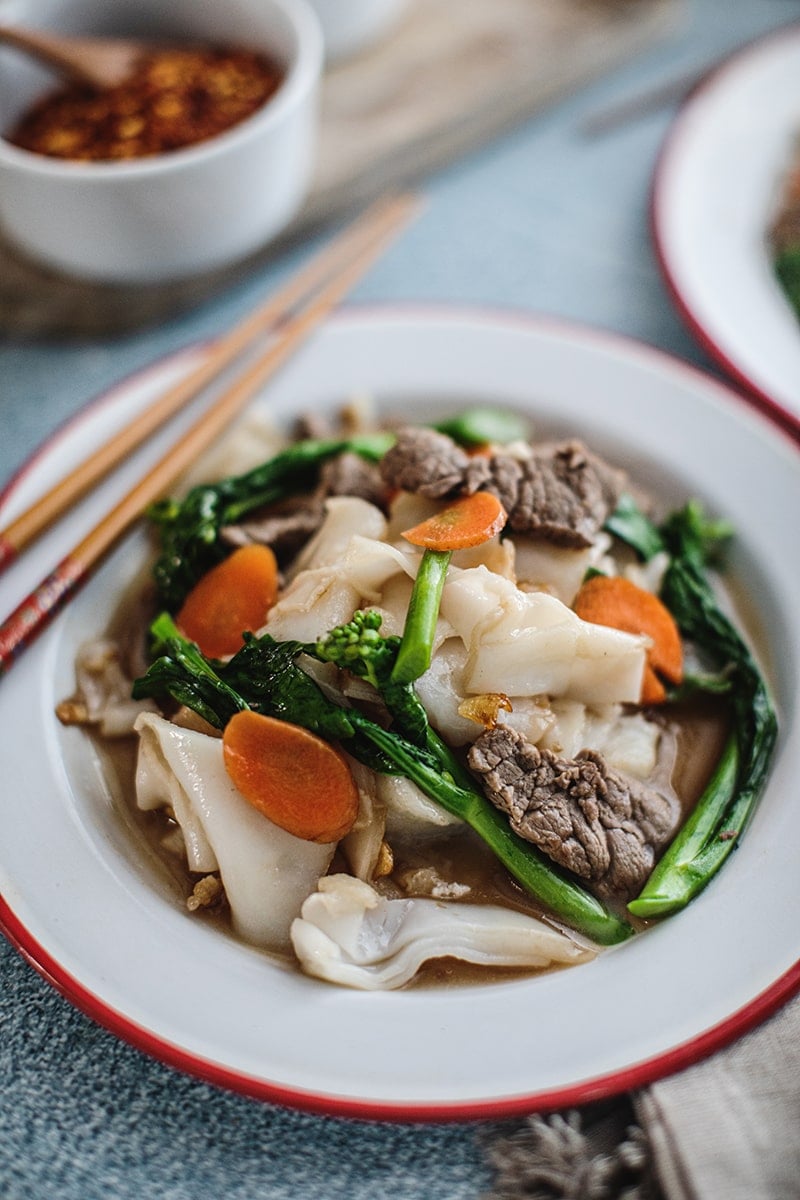 Print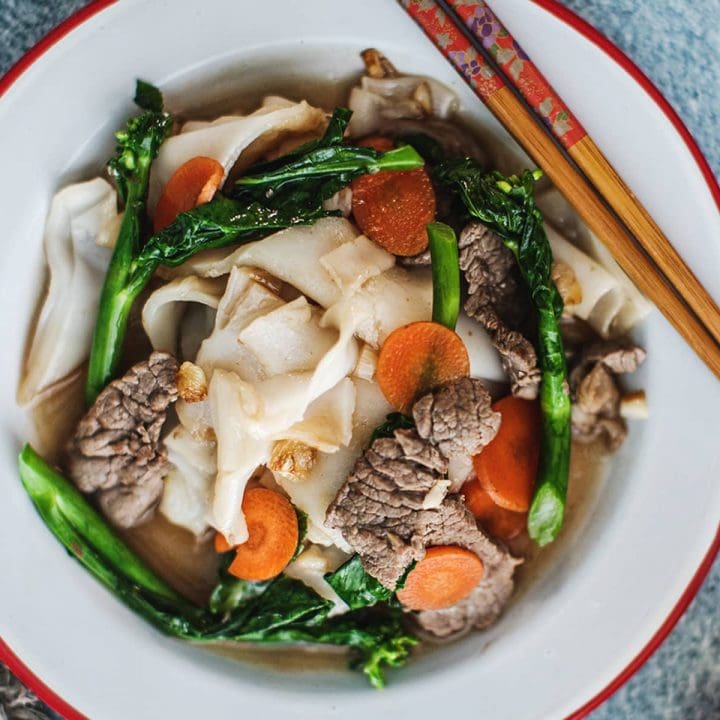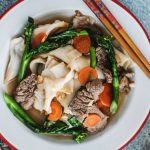 Thai Stir Fry with Gravy (Rad Na Recipe)
---
Author:

Suwanee

Total Time:

1 hour 15 minutes

Yield:

4

1

x
Description
This easy Rad Na recipe, a Thai stir-fry recipe, is a delicious noodle dish that is ladled with tasty, thick, gravy-like broth. It is a full-flavored dish; usually eaten with some sort of leafy vegetables and your choice of protein.
---
1 lb chicken, or protein of choice, cut into 2 inch thick pieces
10-12 stems of Chinese broccoli, cut 3-4 inches long. Also, slice the stems in half
1 cup white or sweet onions, chopped 1.5 inches wide
1 cup carrots, sliced thin
8 cloves garlic, minced; divide into 2 equal portions, one for the noodles, one for the stir-fry
3-4 Tbsp Oil
3.5 cups water, divided into 1 cup and 2 cups
Sauce for the Noodles:
1 lb wide flat rice noodles, see notes.
2 Tbsp oyster sauce
1 Tbsp light soy sauce
2 tsp sugar
Sauce for the Gravy:
3 Tbsp light soy sauce
4 Tbsp oyster sauce
1 ½ tsp rice vinegar
2 Tbsp sugar
3.5 Tbsp tapioca starch
1 cup water (for the sauce mixture)
---
Instructions
Part 1, The Noodles:
Mix the noodle sauce together in a small bowl, set aside while you cook the noodles.
After separating the noodles onto a large platter, heat a large skillet or wok on medium-high heat. Add 2 Tbsp oil, wait until it's warm, add minced garlic for 15 seconds, add noodles, stir lightly in the oil, and lightly spread the noodles out in the skillet. Flip slightly at around 4 mins or until the noodles are soft. Cook the other side until lightly browned.
Add the noodle sauce which is 2 Tbsp oyster sauce, 1 Tbsp soy sauce, and 2 tsp sugar.
Once the noodles are cooked, they should be lightly browned and soft but not completely broken apart. Gently remove from the skillet and set aside to cool and wait for the gravy to be completed.
Part 2 & 3, The Stir Fry and the Gravy:
Mix the sauce in a medium-size bowl by adding oyster sauce, soy sauce, sugar, tapioca starch, and 1 cup water. Mix together and put aside.
In a clean skillet on medium-high heat, add the rest of the oil, wait until hot, add the garlic for 20-30 seconds.
Add the chicken and cook until done 8-10 minutes.
Add the sauce mixture for the gravy with the chicken and stir well for 3-4 minutes until the sauce starts to thicken.
Add the stems of the Chinese broccoli and carrots, cook for 2 minutes. Add the rest of the water to the skillet, stir well until the sauce has a thick consistency. Turn the heat down and add more water at this point if it starts to get too thick.
Add the leafy part of the Chinese broccoli, stir well for 1 minute, turn the heat off and let the gravy cool while preparing your plates for serving.
Divide the noodles onto 4 platters, then scoop the gravy over each one and serve hot. Add suggested garnishes as needed and enjoy!
Notes
Wide Rice Noodles: cut the sheet into a 4-inch piece and separate it into single sheets as best you can. Divide into 2 portions for frying since 2 lbs are too much for one-skillet/wok.
Also for the rice noodles, if you can't find fresh wide rice noodles, try these noodles. LINK. But you must soak them in hot water until soft before pan-frying.
If you prefer your Rad Na spicy, add Thai chili flakes, as needed. Add at the end before removing from the stove.
Prep Time:

45

Cook Time:

30

Category:

Easy Recipe

Method:

Stir fry

Cuisine:

Thai
Keywords: Rad Na Recipe Thai Stir fry with gravy. Noodles in Gravy. Wide Rice Noodles with gravy. Rad Na Kuay Tiew. Flat Noodles with gravy