Thai cuisine is known for its bold and complex flavors, which use various herbs and spices. Here's an ultimate guide to fresh Thai herbs for your cooking that will help you understand their uses and what recipes you will use them in.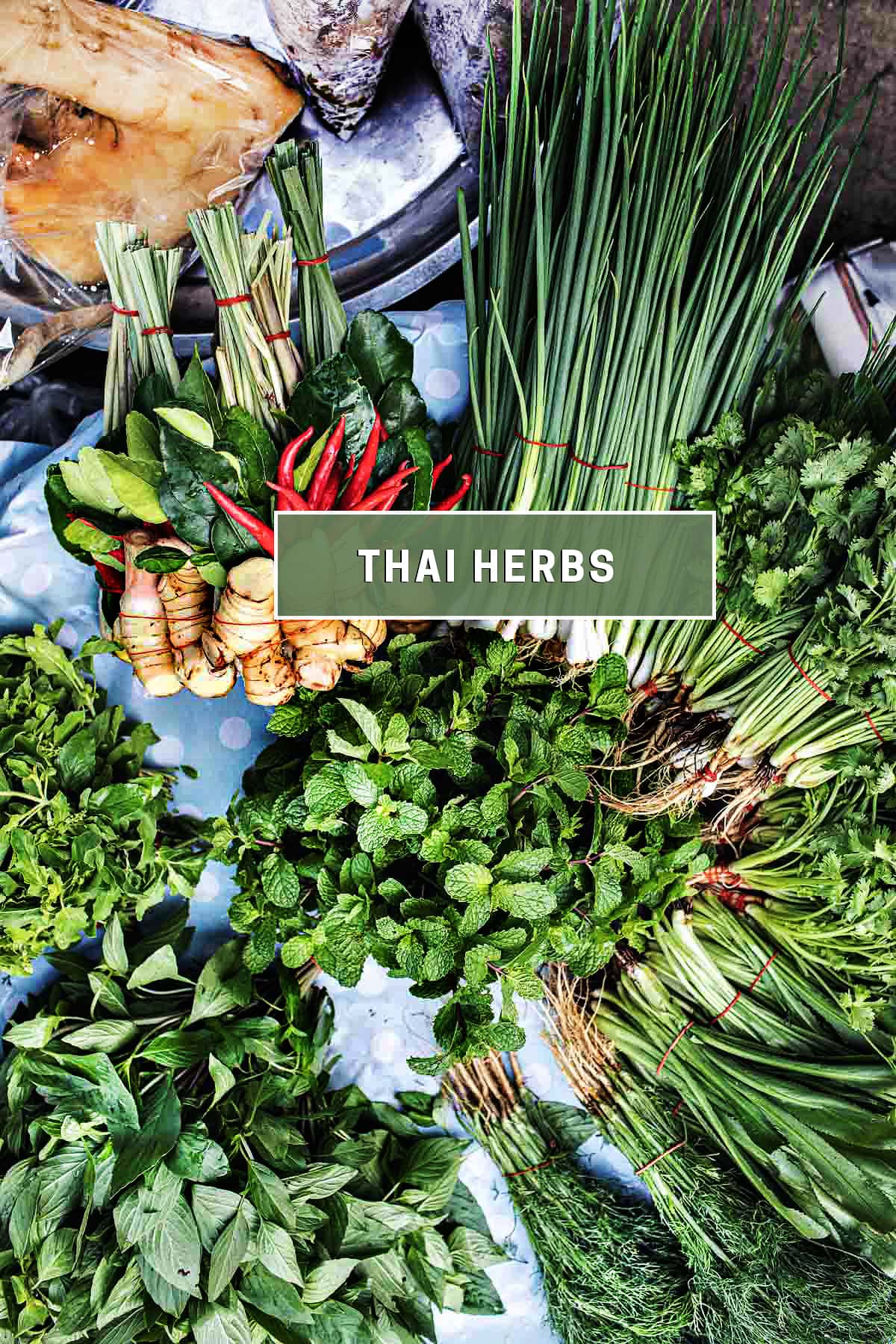 If you love Thai cooking, you'll want to familiarize yourself with a few essential Thai herbs. These herbs are the key ingredients in making Thai food extra flavorful. Most of these herbs can be found at your local Asian markets. Some may be found in the frozen section.
Use this helpful guide when shopping at your favorite Asian grocery store to help identify some herbs if necessary!
Jump to:
What are herbs?
Herbs are plants used for culinary, medicinal, or aromatic purposes. They are generally small, leafy plants that have a wide range of uses and benefits. Some common herbs in Thai cooking include basil, cilantro, chives, mint, and kaffir lime leaves. Fresh Thai herbs are used in cooking to add flavor and enhance the nutritional value of dishes. Dried herbs are uncommon in Thai cuisine since the country has abundant fresh herbs.
Very rarely will you see the dried version of Thai herbs Thai people use. Some recipes may have substitution suggestions, but using only fresh herbs when cooking Thai food for the best results is always a good idea.
Let's dig into this ultimate guide to fresh Thai herbs and how to use them in cooking.
1. Thai basil, Horapa (โหระพา)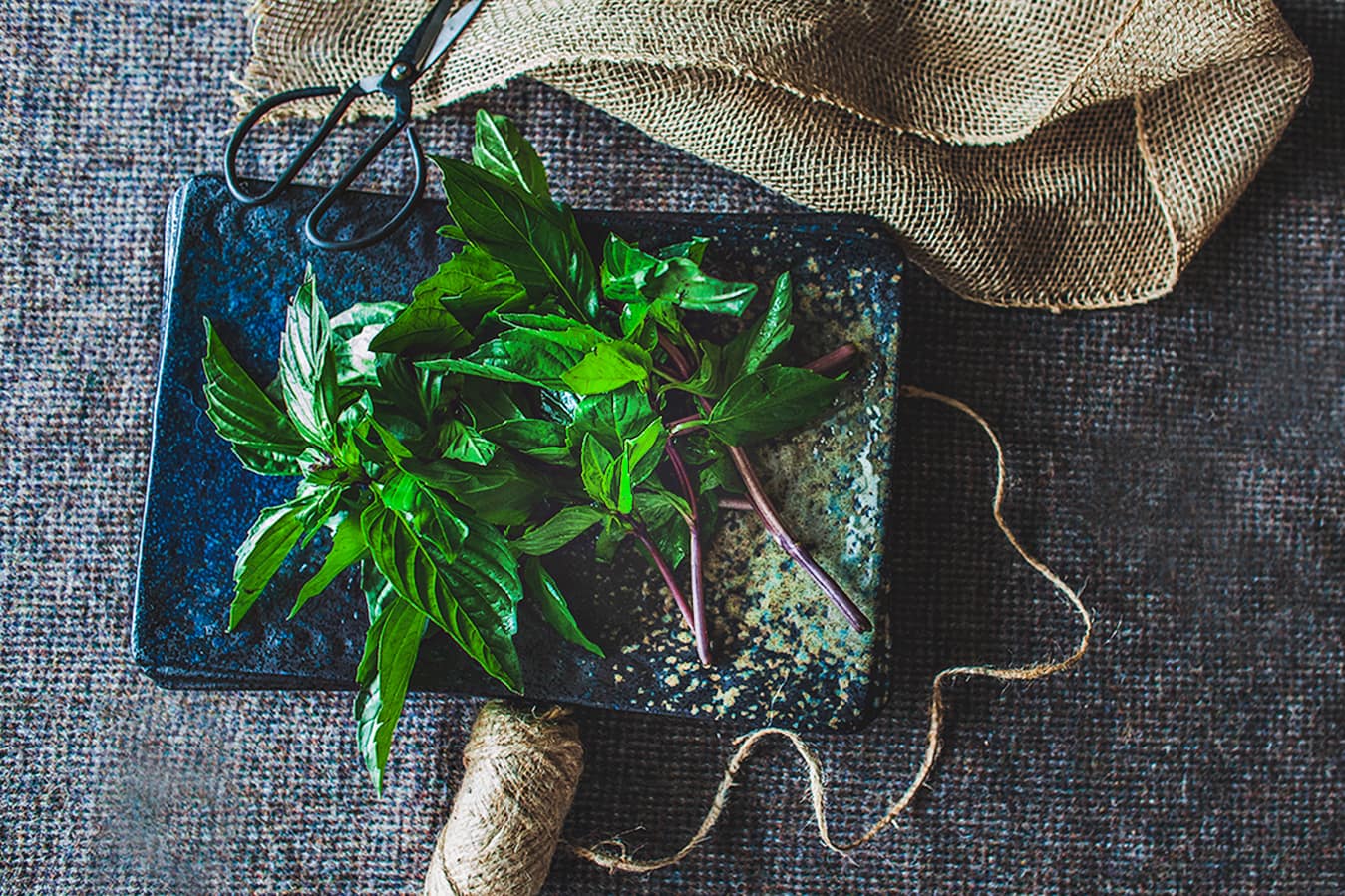 Thai basil, or sweet basil, is the most commonly used Thai herb in the United States. The purple basil has large leaves with sharp-looking edges and purple stems. Thai basil has a sweet, anise-like strong flavor, cinnamon-like, and slightly spicy taste. The aromatic basil leaves are often used in stir-fries and curries, and fresh basil is garnished with Vietnamese Pho.
Recipes using Thai basil
2. Holy basil, Bai Krapao (กะเพรา)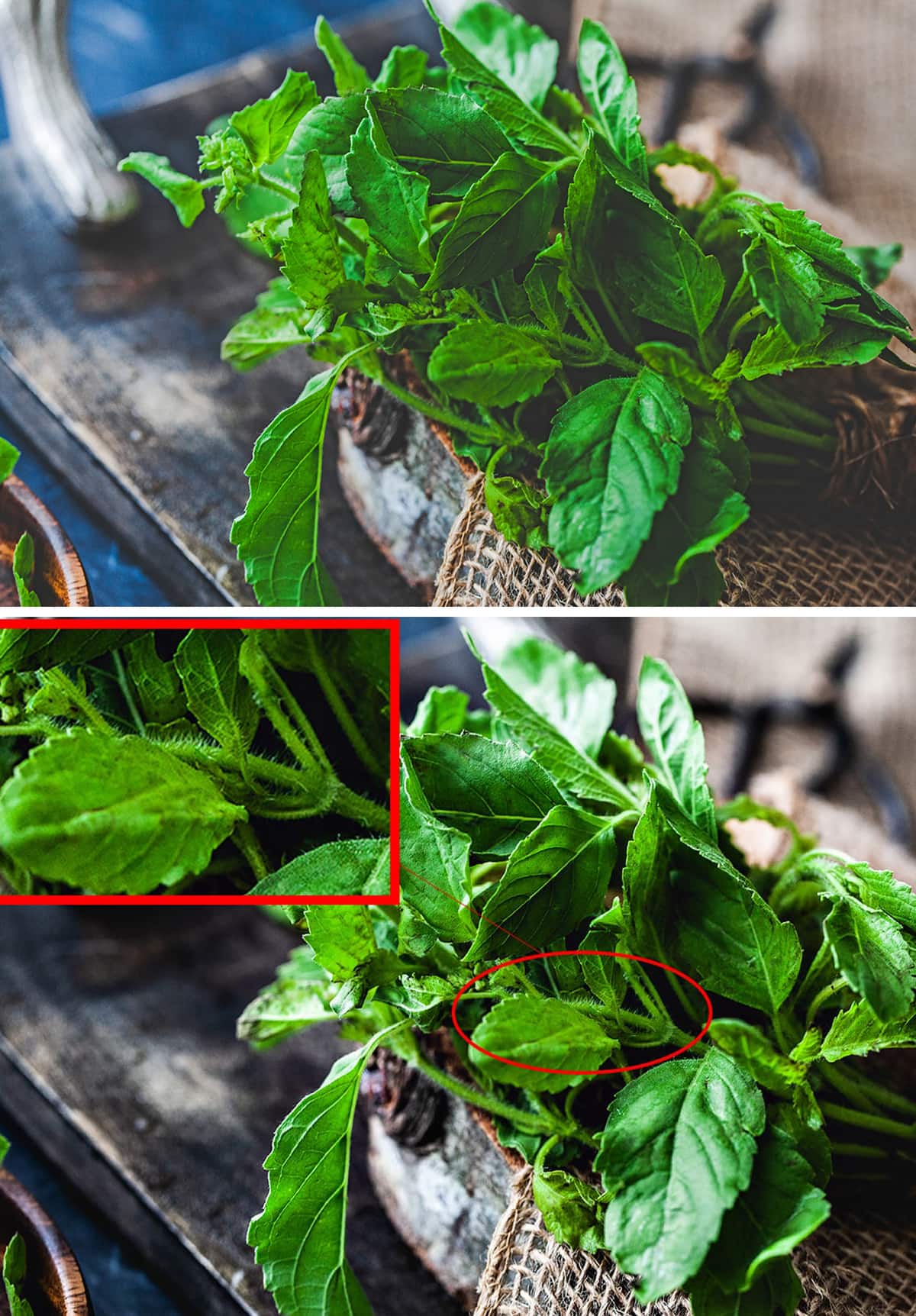 Thai Holy basil has a spicy, peppery flavor and is used in many savory dishes, including stir-fries, curries, and soups. Holy basil is used more extensively in Thailand than the Thai basil. It has a very distinctive taste that adds flavor and texture to many famous Thai dishes.
To identify holy basil, the way to find out is to check for the fuzzy stems in the branches if you are having difficulty identifying Holy Basil. (Check the highlighted image above).
Recipes using holy basil
Pad Krapao. Holy basil is the main ingredient in the famous Thai basil stir-fried Pad Krapao, where the dish gets its name from.
3. Lemon basil, Bai Maenglak (แมงลัก)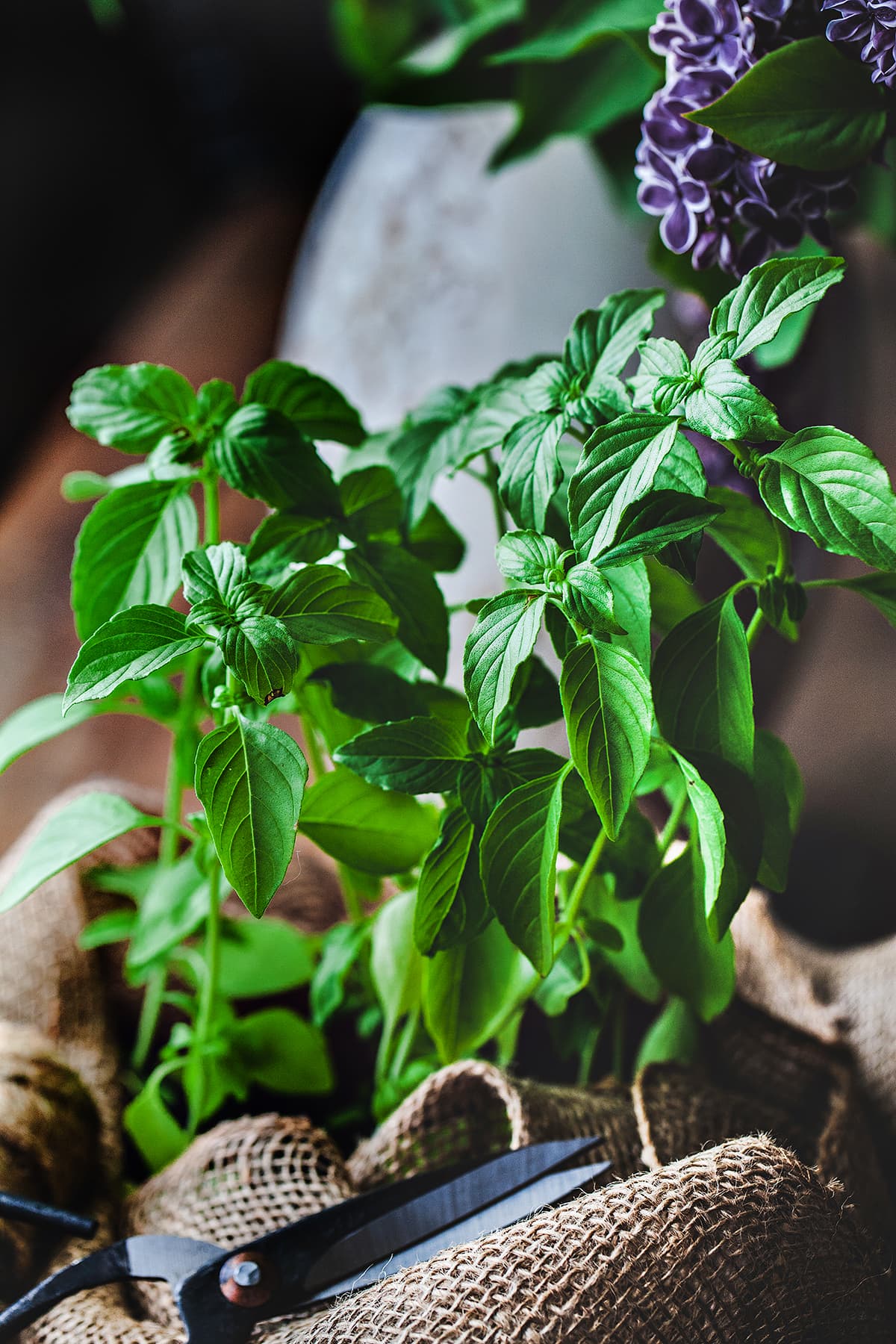 Lemon basil, also known as Thai lemon basil or hoary basil, is a type of Asian basil plant with a vibrant green color that has a strong lemony scent and flavor. It is commonly used in Southeast Asian cuisine, particularly Thai, Indonesian, and Vietnamese dishes. Lemon basil is one of my favorite herbs, especially as a garnish in Kanom Jeen Nam Ya curry.
The leaves of lemon basil are bright green, smaller than Thai basil, and have a smooth texture. They are often used fresh in salads, soups, curries, and stir-fries or as a garnish for cocktails and desserts. The plant also produces small white or lavender flowers that are edible and can be used to add a pop of color to dishes.
Recipes using lemon basil
Kanom Jean Namya
Lemon basil is great for tea.
The seeds are used for cooking and in desserts
4. Cilantro or Coriander, Pak Chee (ผักชี)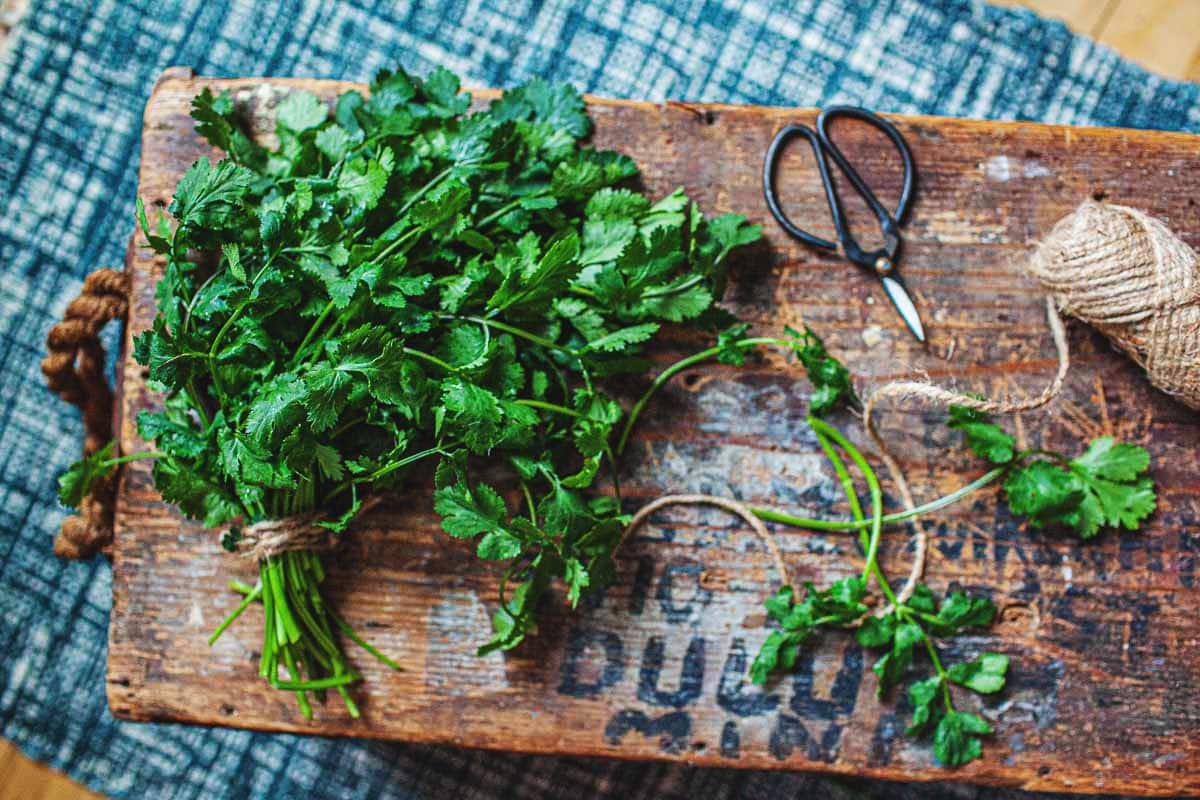 Fresh cilantro has a fresh, citrusy flavor and is used in many Thai dishes, including soups, curries, and salads. Coriander seeds, one of the most popular Thai spices, are from the cilantro. Though both are from the same plant, they have different uses in Thai dishes.
Here is a quick tip on keeping your cilantro fresh longer. Use small amounts of cold water to wet 2-3 sheets of paper towel. Then wrap your cilantro in a damp paper towel, place it in a large plastic bag, seal it tight, and keep it in the refrigerator for 6-7 days! I go through a lot of cilantro weekly, and This is the best way for me to keep my cilantro fresh longer in the fridge.
Recipes using cilantro
5. Cilantro roots, Raak Pak Chee (รากผักชี)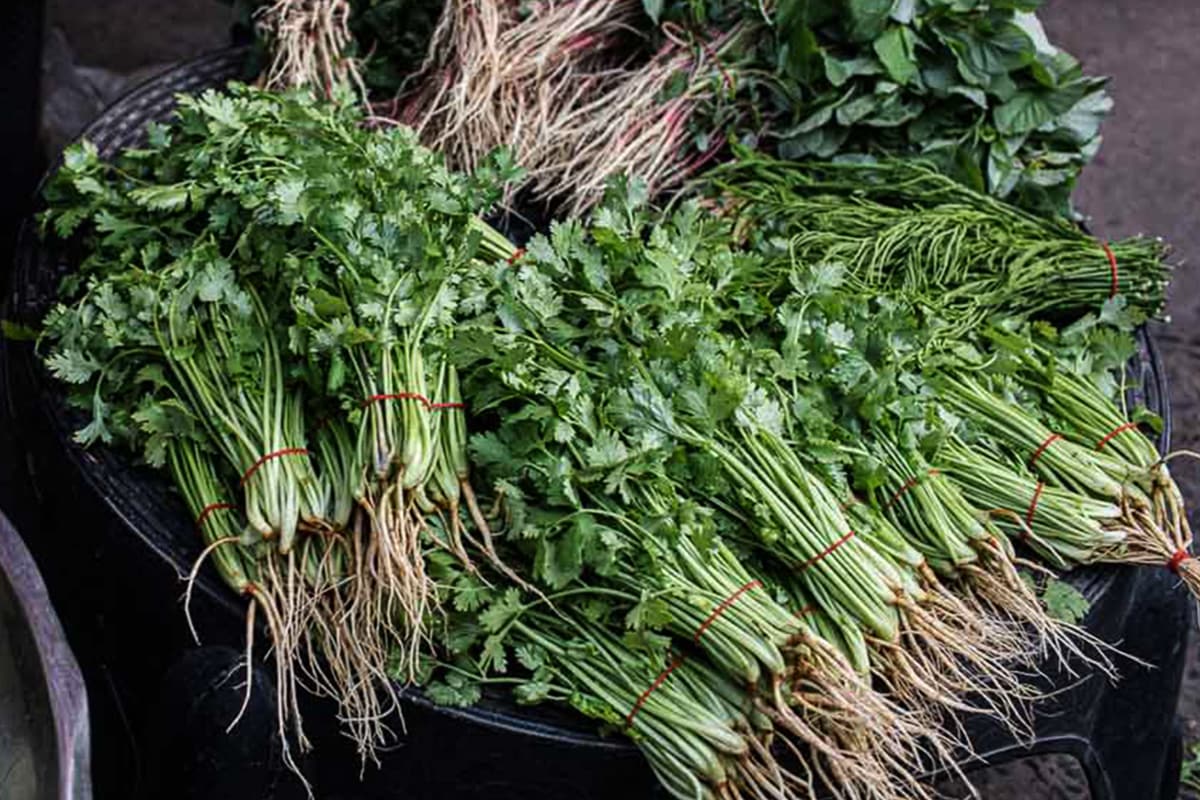 Cilantro or coriander root is an essential ingredient in Thai cooking. They are often used as a base for many Thai dishes, adding a unique and flavorful taste. Cilantro roots are commonly used in soups, curries, stir-fries, and salads in Thai cuisine.
The roots are the most flavorful part of the cilantro plant, and they have a pungent, earthy taste that adds depth to Thai dishes. They are also known for their medicinal properties and are used to treat digestive issues in traditional Thai medicine.
Recipes using cilantro
6. Culantro, Pak Chee Farang (ผักชีฝรั่ง)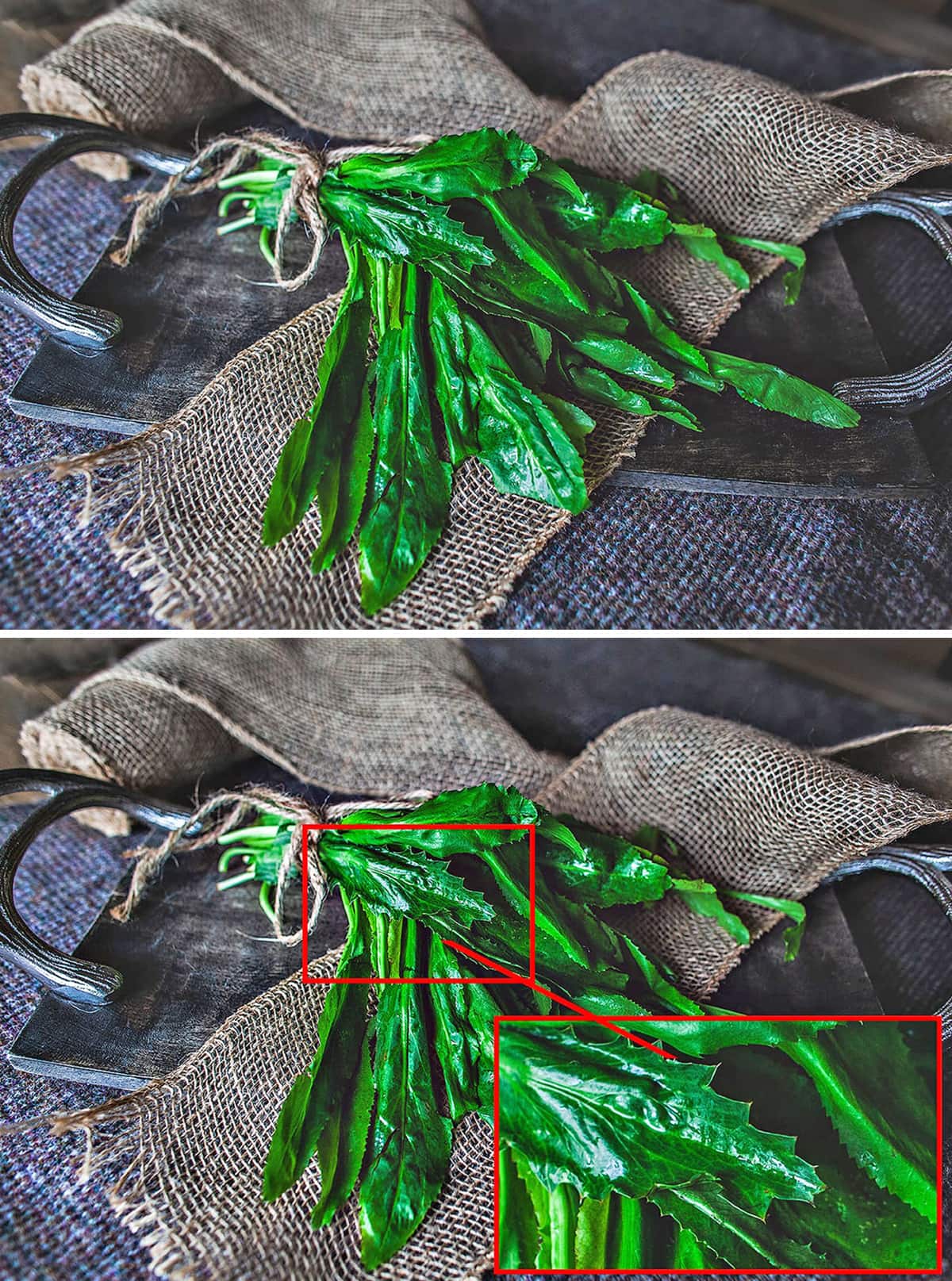 Culantro is a leafy herb commonly used in Caribbean, Asian and Mexican cuisine. It is also known as sawtooth or long coriander and has a similar flavor to cilantro but with a stronger and more pungent taste. It is often used in soups, stews, sauces, and marinades to add a unique and bold flavor.
To identify culantro, look for a bright green long-leaf herb with jaggery edges. See the highlighted image above.
Recipes using culantro
Laab recipe. If culantro is readily available, they would always be used instead of cilantro in all my laab recipes! (: They are also very popular in Lao dishes as salads, soups, and a fragrant garnished herb.
7. Mint, Saranae (สะระแหน่)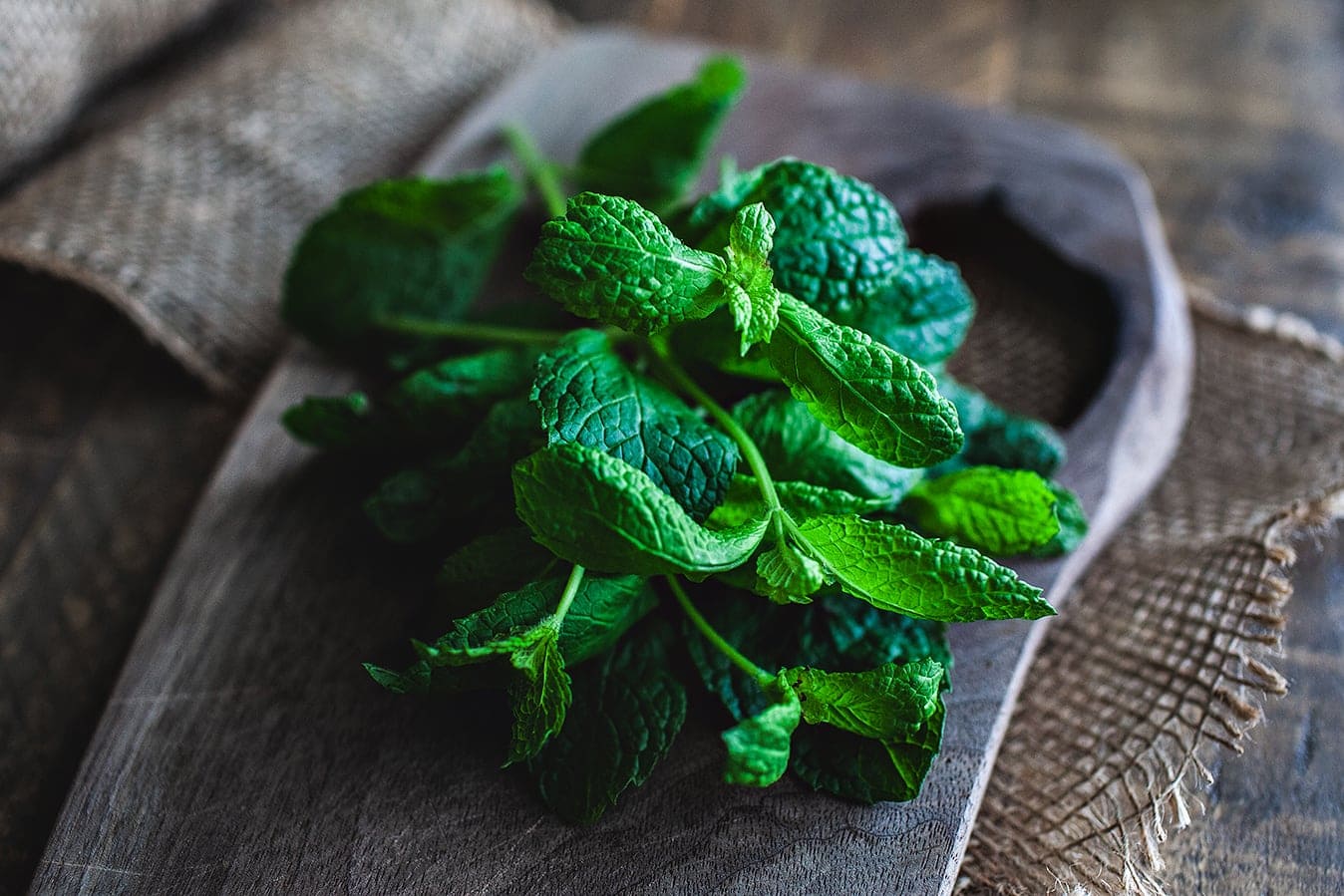 Mint is known as "Saranae" in Thai and is mostly used in cold salads. They are not as popular as other herbs in Thailand, but certain dishes are not complete without mint. Mint adds a peppery and fresh flavor and aroma to many of the country's most famous dishes like Laabs and Yum Neua (spicy Thai beef salads).
Recipes using mint
8. Dill, Pak Chee Farang (ผักชีฝรั่ง)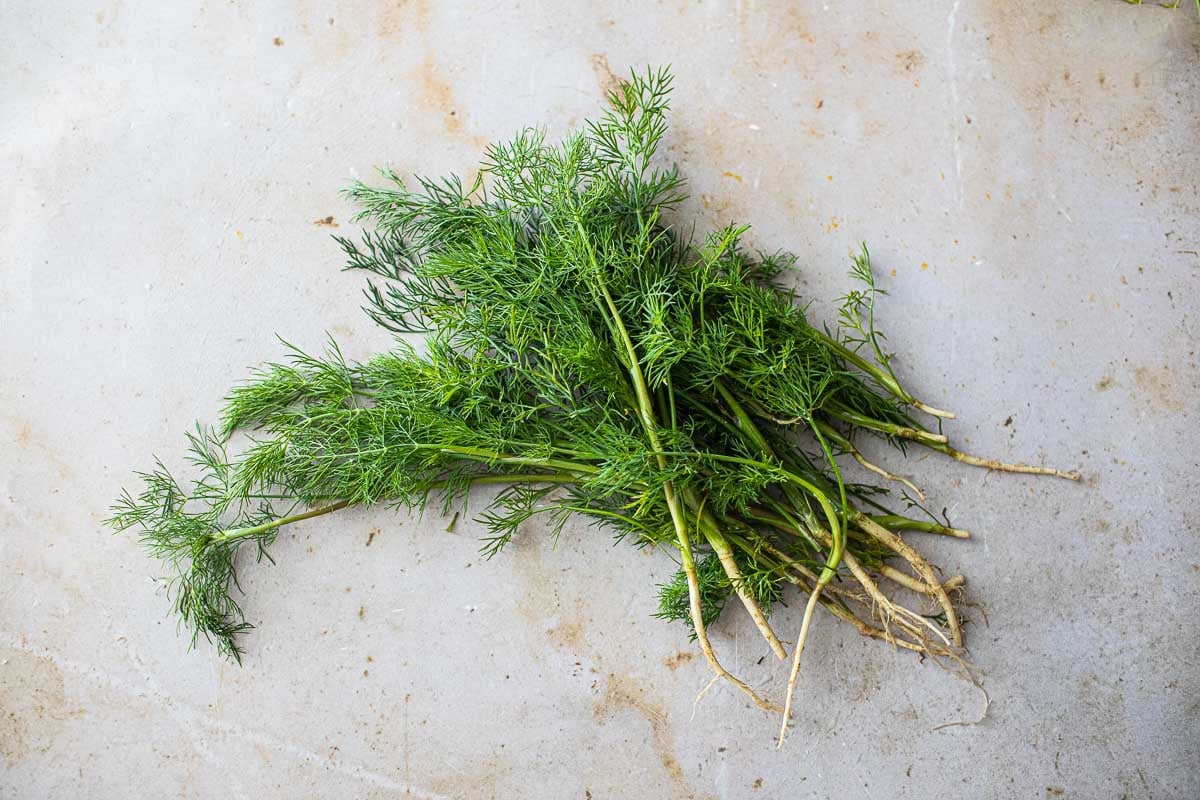 Dill, or "Phak Chee Lao," known in Thai, is a commonly used herb in Thai cuisine. It has a unique flavor that is slightly sweet and tangy, with a hint of anise. Fresh dill is often used in soups, stews, and curries and is particularly popular in seafood dishes. Whether used in soups, stews, curries, or salads, dill is a versatile herb that uniquely flavors Thai cuisine. It is the same dill weed used in the West for pickling cucumbers.
Recipes using dill
One of the most famous Thai dishes that use dill is "Gaeng Som Pla," a sour and spicy fish curry often made with mackerel. Dill subtly sweetness the curry and balances the sourness of tamarind and lime juice.
Another popular Thai dish with dill is "Yum Pla Duk Foo," a salad made with crispy fried catfish, shredded green mango, and herbs like dill, cilantro, and mint. The dill adds a refreshing and aromatic flavor to the salad, often served with a spicy and tangy dressing.
Dill is also used in Isaan Laab Pla, a Lao/Isaan fish salad.
9. Green onions, Ton Hoam (ต้นหอม)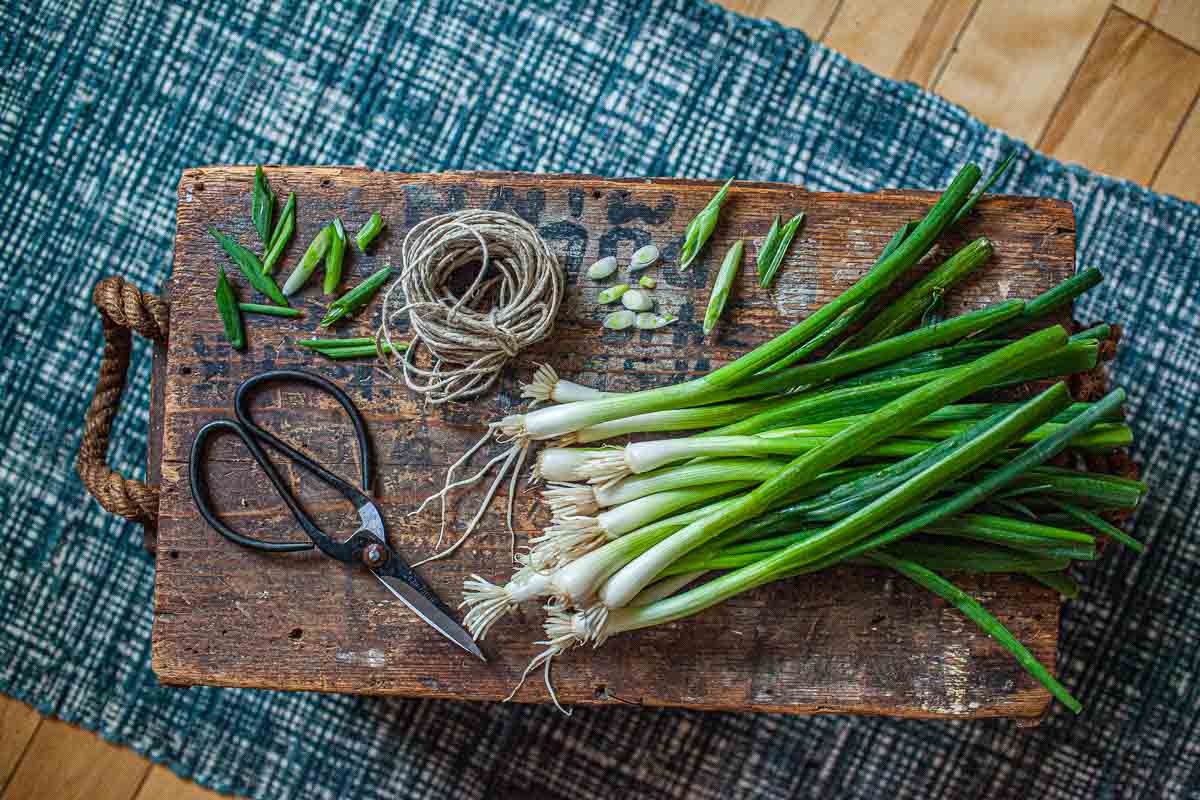 Green onions, also known as scallions or spring onions, are commonly used in Thai cooking to add flavor and texture to dishes. They have a mild, sweet onion flavor and a crisp texture, making them a versatile ingredient in many Thai recipes.
Recipes using green onions
One popular Thai dish that uses green onions is Pad Thai. Green onions are added to the dish to provide a fresh, oniony flavor that complements the other ingredients.
Another Thai dish that uses green onions is Chicken Tom Yum soup. Green onions are added to the soup to provide a savory flavor and a bit of crunchiness.
Shrimp Yum Woon Sen is a spicy glass noodle salad. In this dish, the green onions add a fresh, oniony flavor and a bit of crunchiness.
10. Chives, Toon Hom Jeen (ต้นหอมจีน)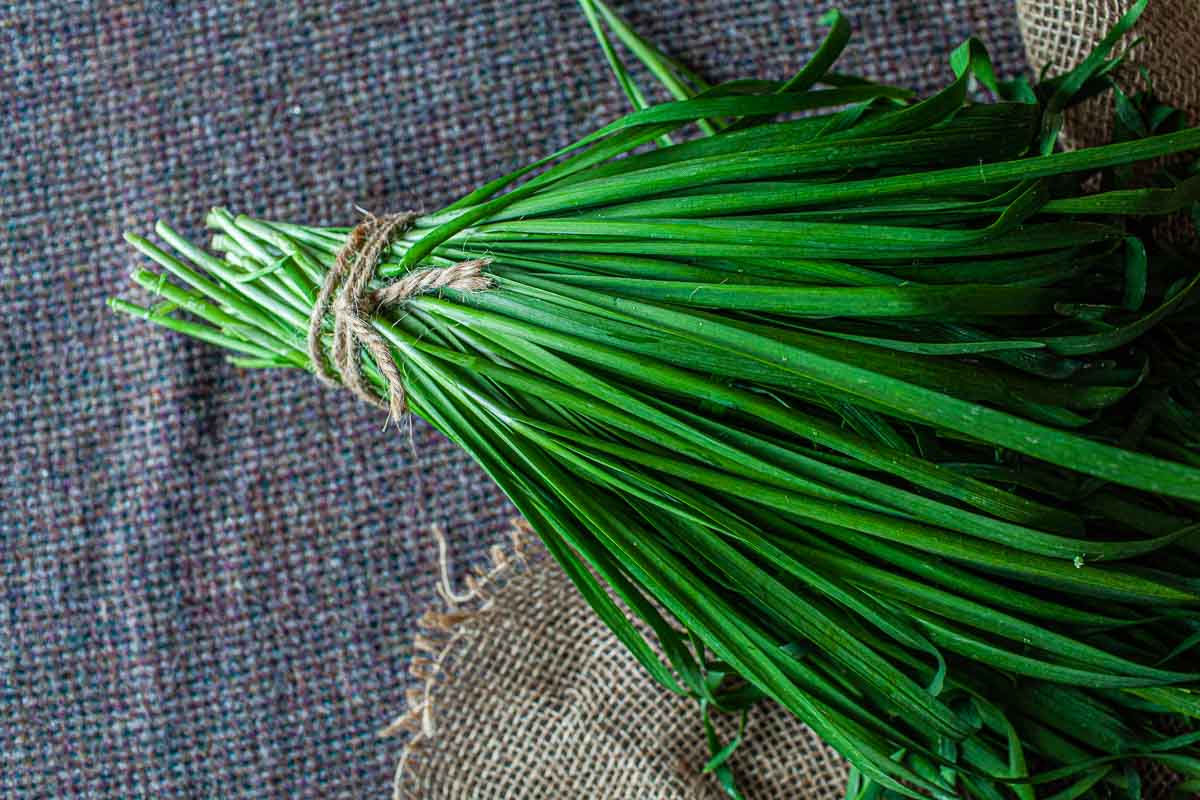 Chives, also known as "pak chee farang" in Thai, are a commonly used herb in Thai cooking. In Thai cuisine, chives are typically used with other herbs and spices, such as lemongrass, garlic, and chili peppers, to create complex and flavorful dishes.
Recipes using chives
Pad Thai. Traditionally chives are used in many Thai stir-fried dishes like Pad Thai, Pad Mee, and Pad Mee Korat. Since they are not always available, green onions have become the mainstream herb used as substitutes in these Thai recipes since they are readily available at most mainstream grocery stores.
One popular Thai dish that features chives is "Pad Kee Mao," also known as drunken noodles. This spicy stir-fry typically includes chives, other vegetables, and protein, such as shrimp or chicken.
11. Kaffir lime leaves, Bai Makrut (ใบมะกรูด)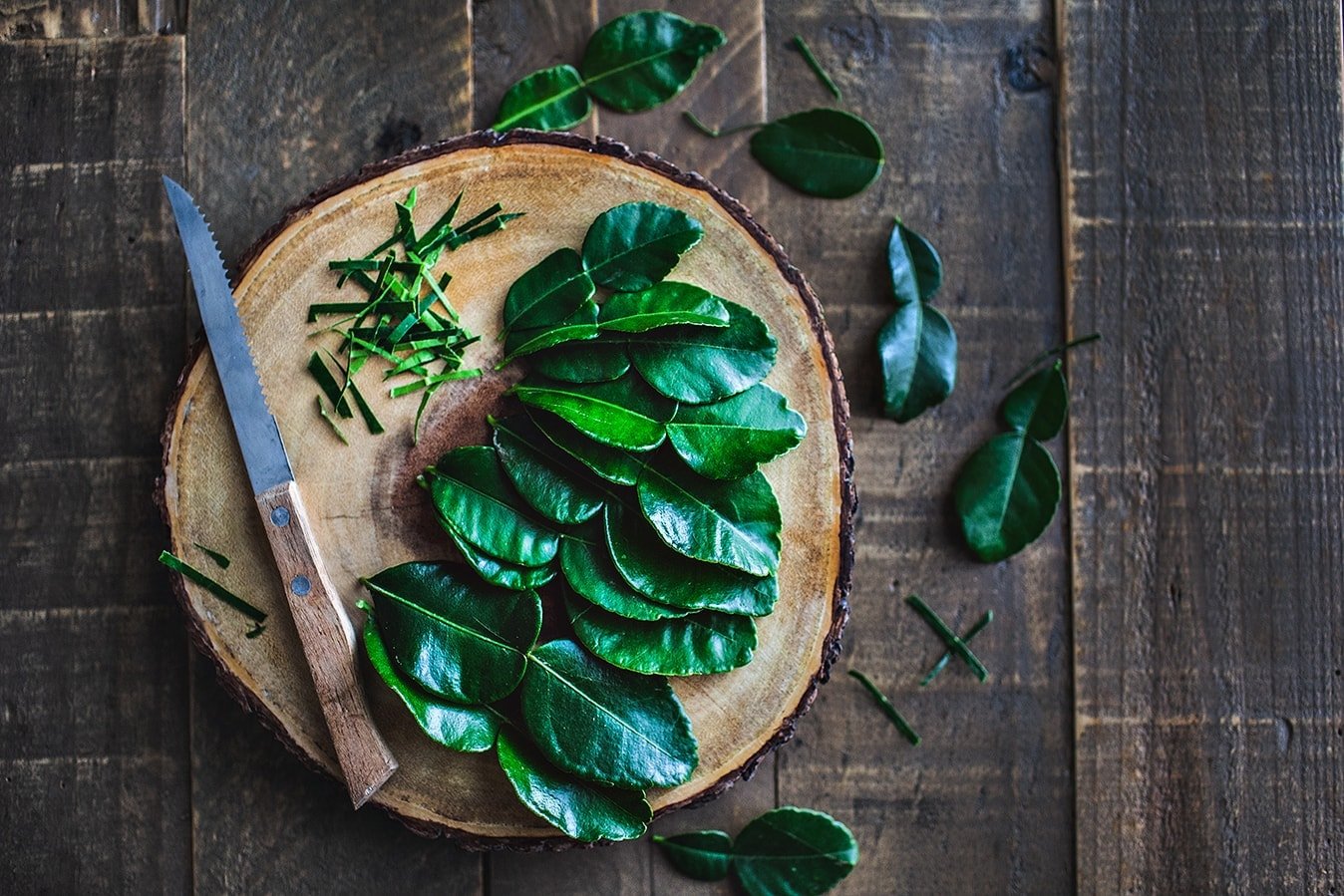 Kaffir Lime Leaves - Kaffir lime leaves have a distinct flavor that is a combination of lemon and lime. They are commonly used in Thai curries, soups, and stir-fries.
look in the freezer section in your local Asian Markets. If they have them fresh in summer, buy and freeze a few bunches. They keep well and can thaw out very quickly before cooking.
Recipes using kaffir lime leaves
12. Kaffir Limes, Luuk Makrut (ลูกมะกรูด)
Kaffir limes are an essential ingredient in Thai cuisine, used for their distinctive flavor and aroma. The strong citrus flavor and taste of the kaffir lime fruit is the key ingredient in various dishes, including curries, soups, salads, and stir-fries.
Several Thai curry pastes use kaffir lime zest in the paste. This one ingredient is difficult to find but adds an authentic flavor to Thai curry paste.
Recipes using kaffir lime
Thai curry pastes like Panang curry paste, Massaman curry paste, Prik Khing curry paste, authentic Thai Red curry paste, and green curry paste use kaffir lime zest in the paste.
The juice and zest of the fruit can also be used to add flavor to desserts, such as coconut milk-based custards and sweet rice puddings. Kaffir lime zest is packed full of aroma and punch that only a small amount if used in Thai recipes.
Kaffir limes are also used to make a variety of Thai sauces and marinades, including a sweet and sour dipping sauce commonly served with grilled meats and seafood.
13. Lemongrass, Takhrai (ตะไคร้)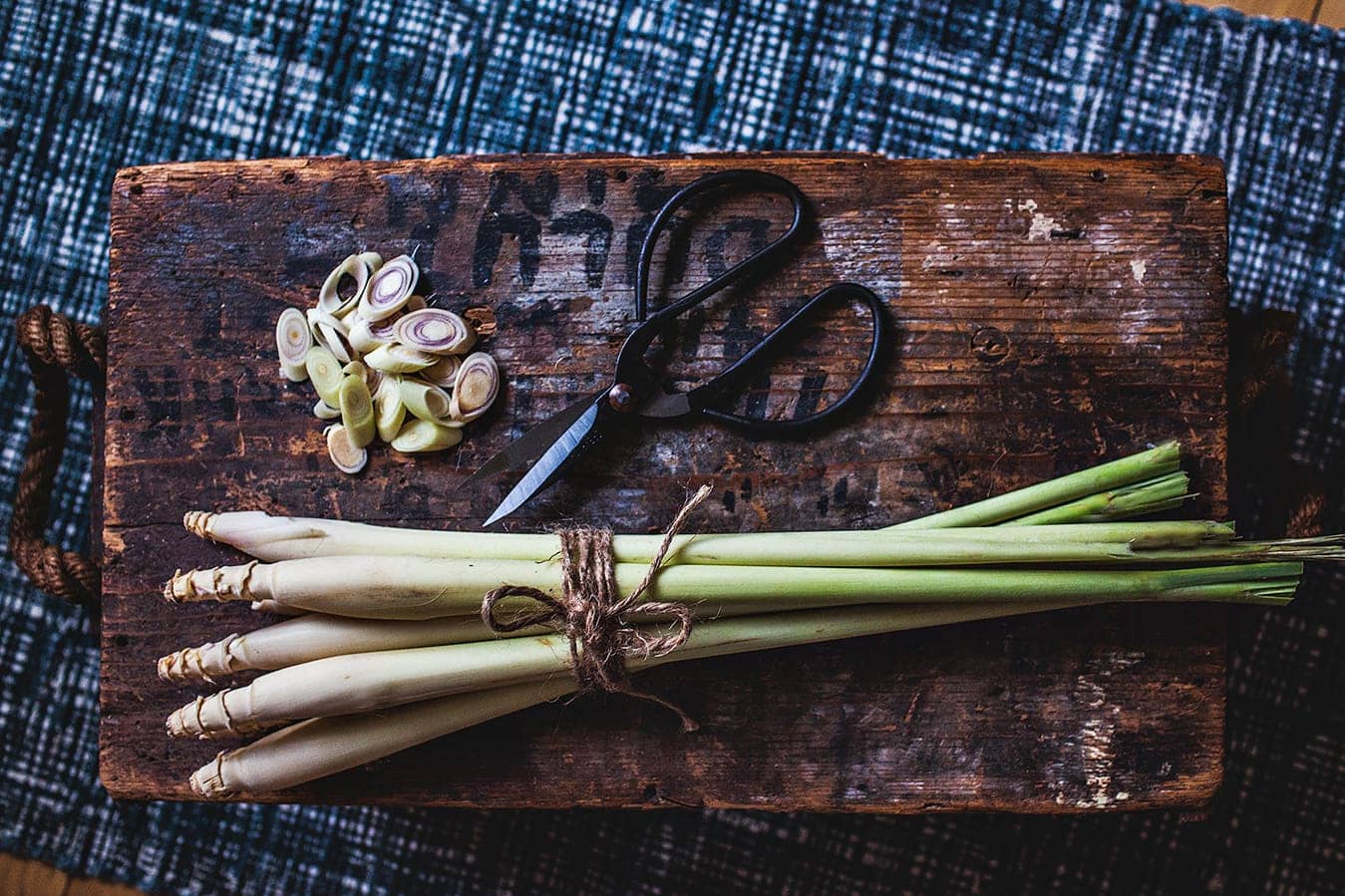 Lemongrass is a staple in Thai cuisine and has a citrusy and slightly sweet flavor. This fragrant herb with a woody stem, is often used in soups, curries, and marinades. As the name implies, these herbs look like long grassy plants with a fresh and soothing lemon smell. Use only the stems closest to the root with purple rings for cooking and leave out the green leafy top parts. I use that part as incense wands to scare off mosquitos and bugs in the summertime. Using a heavy kitchen tool to bruise the stems help release extra fragrance and oil in your cooking.
Recipes using lemongrass
Chopped-up lemongrass is often used in salad dressings.
14. Chinese celery, Koun Chai (ขึ้นฉ่าย)
Chinese celery, known as smallage, is popular in Thai cuisine. Fresh parsley is a flavoring agent in soups, stews, curries, and stir-fries and is also added to salads and dips. It has excellent flavor, texture, and nutrition. Italian parsley, also called curly parsley, can be used as a substitute if the Chinese parsley is not available.
Recipes using Chinese celery
Chinese celery and yam woon sen (glass noodle salad) are also added to Thai beef salads. In these dishes, the celery adds a fresh, crunchy texture and a subtle celery flavor that complements the other ingredients.
Goong Op Woonsen
Crab curry stir-fries
15. Rice Patty Herbs, Phak khayang (ผักแขยง)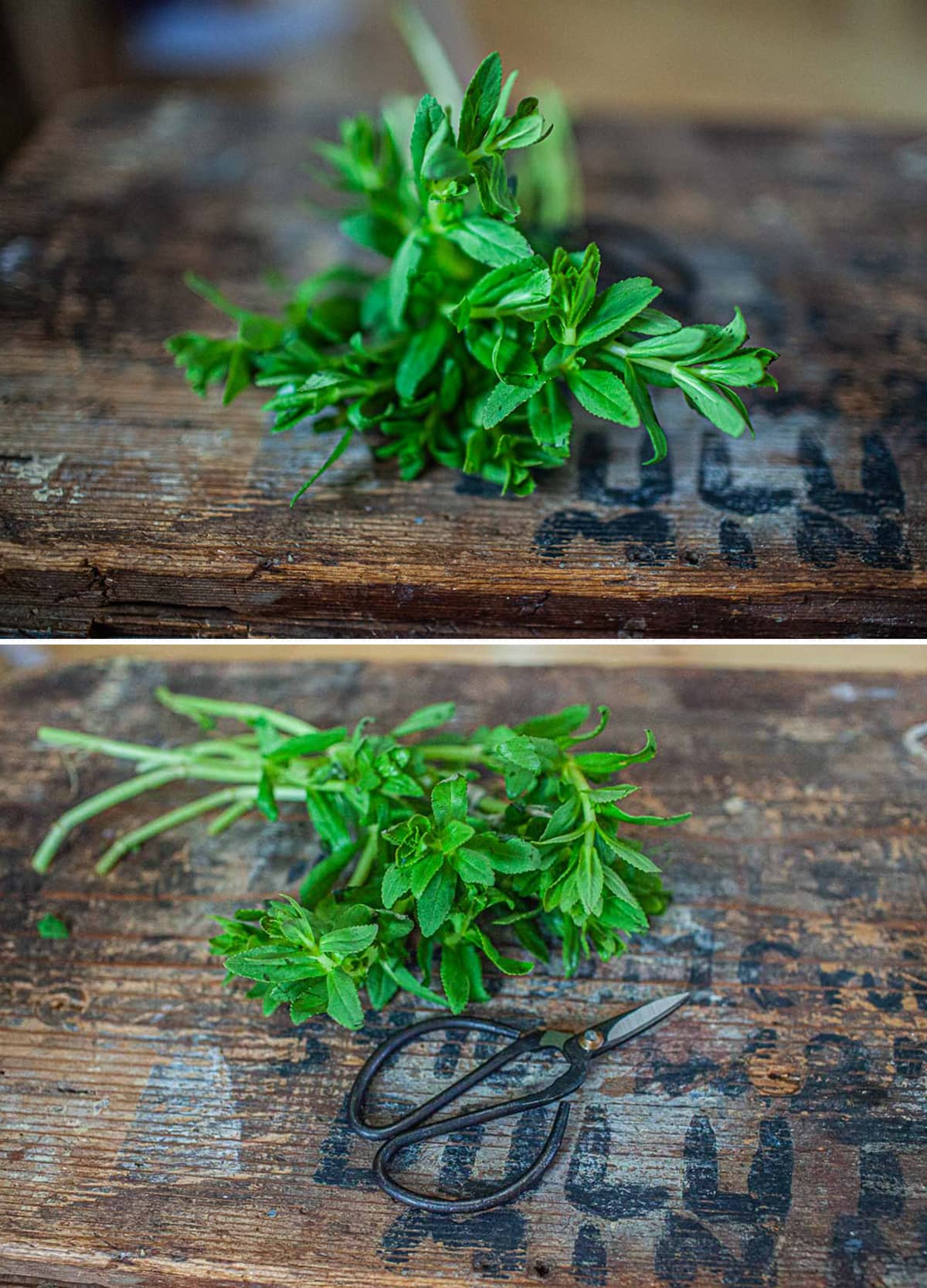 Rice patty herbs are a group of aromatic plants that thrive in rice paddies' wet and marshy conditions. The use of rice patty herbs not only enhances the taste of the food but also provides several health benefits due to their anti-inflammatory and antioxidant properties.
Recipes using rice patty herb
These green leaf herbs add a unique, delicate flavor and highly fragrant aroma to Isaan herbal soups, rice, and other dishes.
Rice patty is My mom's all-time favorite herb, and I fondly remember cultivating them from our rice fields during the rainy season! (:
16. Pandan Leaves, Bai Toey (ใบเตย)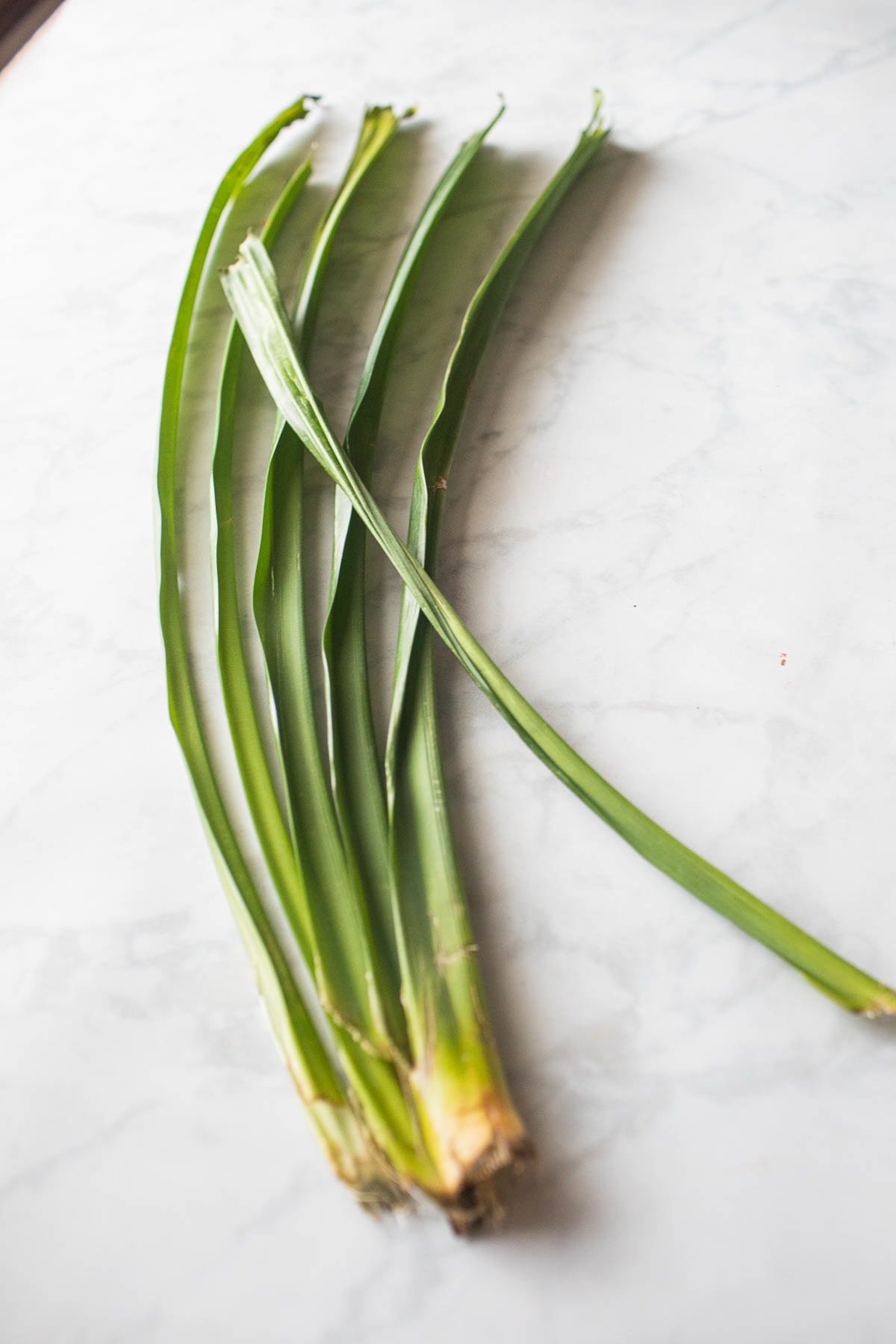 Pandan Leaves (Bai Toey) - These leaves have a sweet and vanilla-like flavor and are used in Thai desserts and drinks. They are also known for their antioxidant properties. Pandan is an extremely fragrant herb, and one of its popular uses is essential oils. It has a pleasant soothing aroma popular in spas and high-end massage parlors.
Recipes using Pandan Leaves
Helpful kitchen tips with your Thai herbs
If you're like me, you have a limited growing season due to the colder zone for planting. I like to grow my herbs in the summer months, freeze a bunch when they are ready, save some seeds for next year, and replant the same thing each spring.
I make curry pastes in the summer when fresh herbs are abundant and in season from my garden or the farmers' markets. This is especially true with making Thai curry pastes. Use fresh herbs to make curry pastes, then freeze a bunch for the winter months to make curries.
Propagate my herbs from the stems in the early Spring to get a head start on my short growing season. Thai basil, mint, lemongrass, chives, and green onions are the perfect herbs to do this.
I keep my chives fresh longer if I put them in a glass jar in the refrigerator. The top usually will wilt the fastest with chives, trim off as necessary.
Propagating my own Thai herbs
There are just a handful of herbs that I like to propagate or try to grow the roots ahead of its growing season. To do this, I use fresh store-bought herbs, mostly hardy herbs like Thai basil, mint, lemongrass, and green onions. I use the leafy parts and leave the bald stems or bottom parts near the roots to grow. Once the planting season starts, I transfer those propagated plants to my garden to grow! I've been doing this for a long time, and it's always been a fun project to see the roots grow!
How to propagate Thai herbs
Here's how I do it. Save the stems or the very bottom parts of an herb near the roots, and place them in a clear glass with a small amount of water. Place the glasses near a window with full sun sunlight, change the water 1-2 times a week, and watch the roots grow! Once the weather is warm enough and the roots are strong, transfer the plants to a plant pot or herb garden, and viola! With this technique, you'll usually have at least 2 months of growth ahead of the seeding or buying from a nursery!
Conclusions
That's it for Thai herbs. I hope this ultimate guide to fresh Thai herbs is helpful and helps you understand how fresh herbs have many culinary uses in Thai cuisine.
** Thank you so much for visiting my blog! This is truly a passion for me. If you have enjoyed these recipes and blog posts and appreciate the hard work I put into them, I would love it if you would share them with your friends! Your recommendation is the highest review I could hope for, and I'd appreciate it! **