If you love Thai cooking, there are a few essential Thai herbs you'll want to familiarize yourself with. These herbs are what the key ingredients in making Thai extra flavorful. Most of these herbs can be found at your local Asian markets. Some may be found in the frozen section so if you can't find certain items, always ask the workers there for help and you'll be on your way to make delicious Thai recipes in no time at all.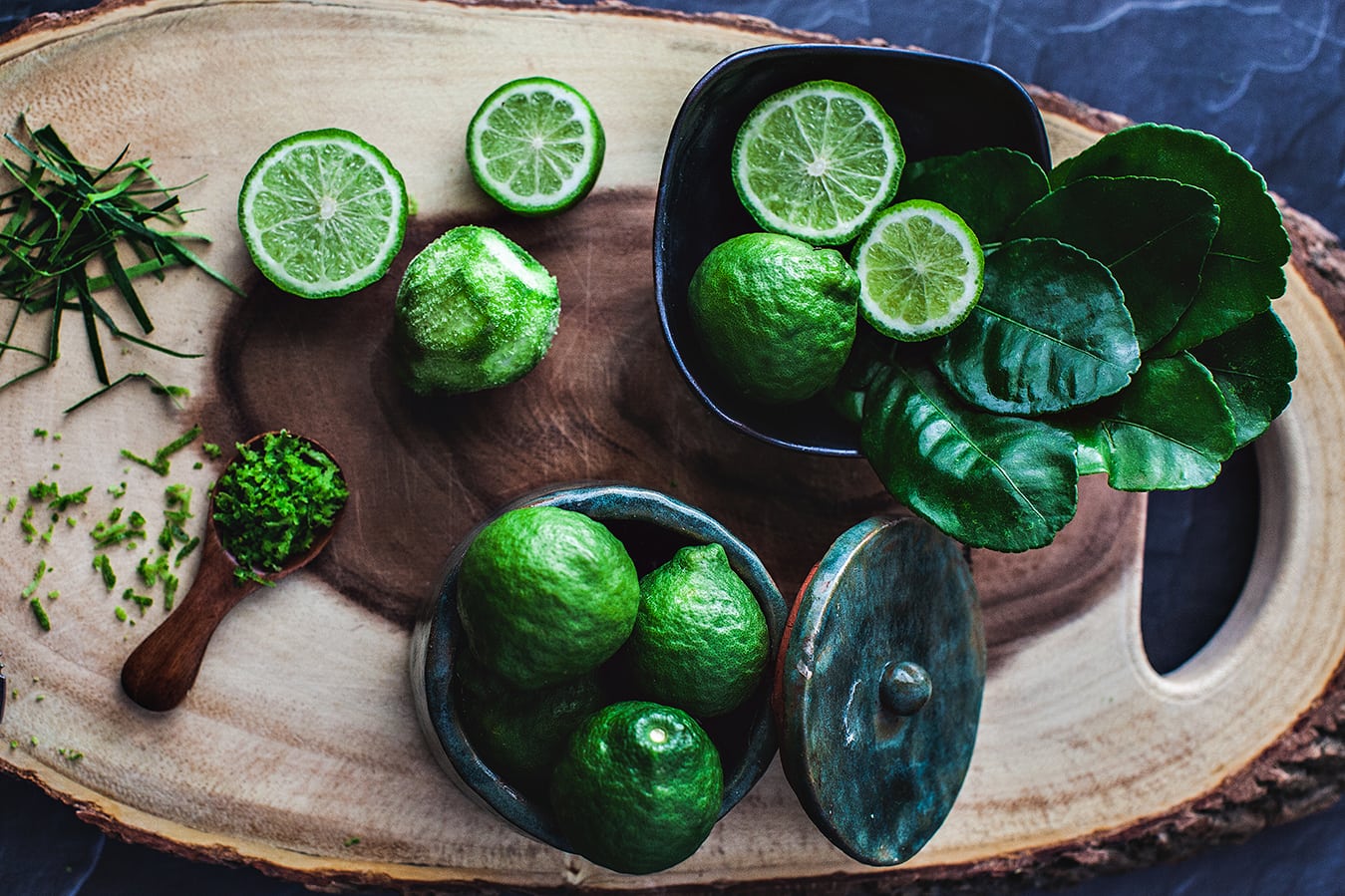 The most commonly hard-to-find fresh herbs for me are: kaffir lime leaves, culantro and Asian chives.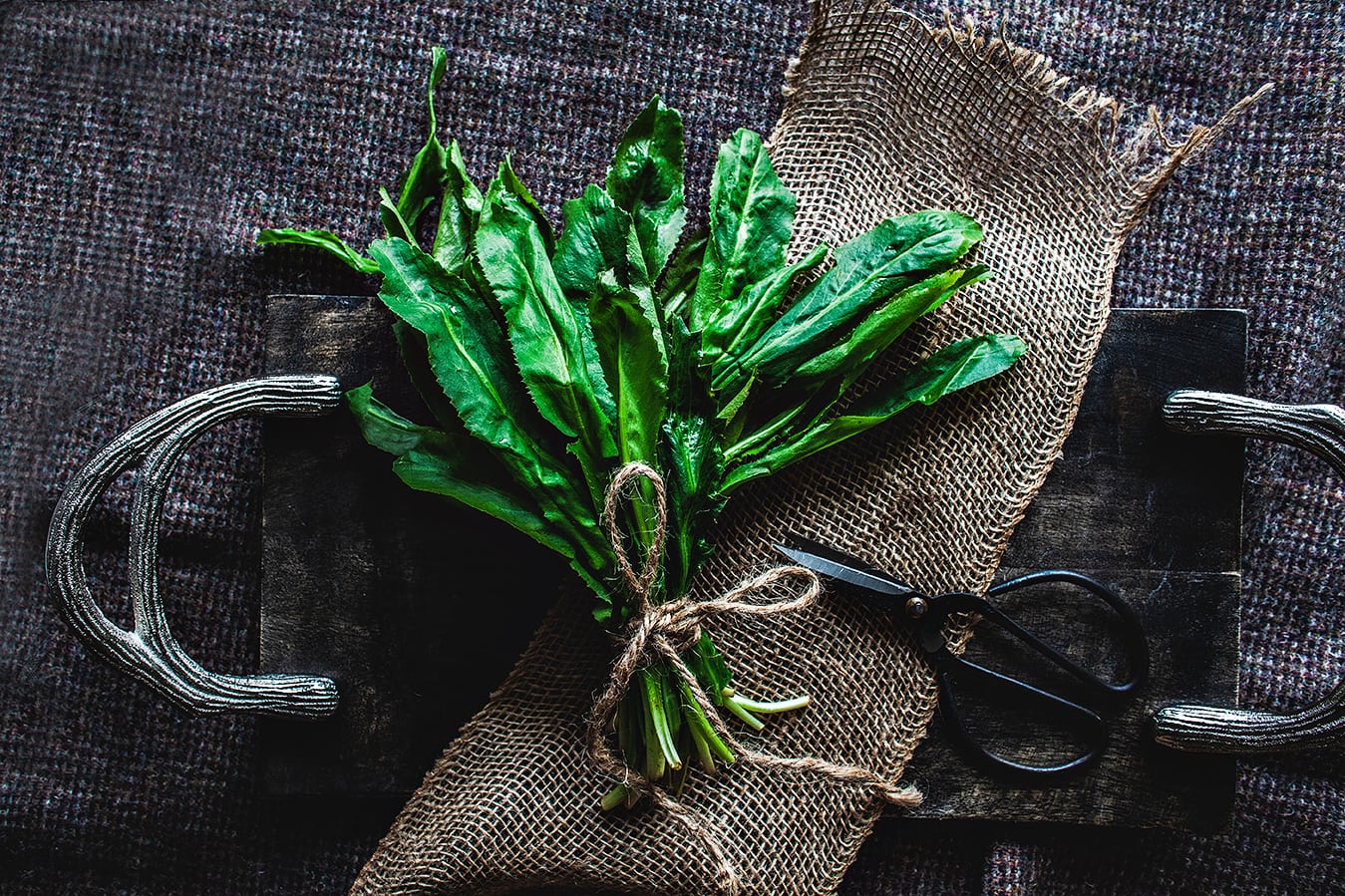 (Pictured Above: Culantro)
What I like to do is to grow my own in the summer months, freeze a bunch, save some of the seeds for next year and replant the same thing each spring. The other day, I posted about spices used in Thai cooking. It's a good article to read together with this one since they are both equally important. You can find the post HERE.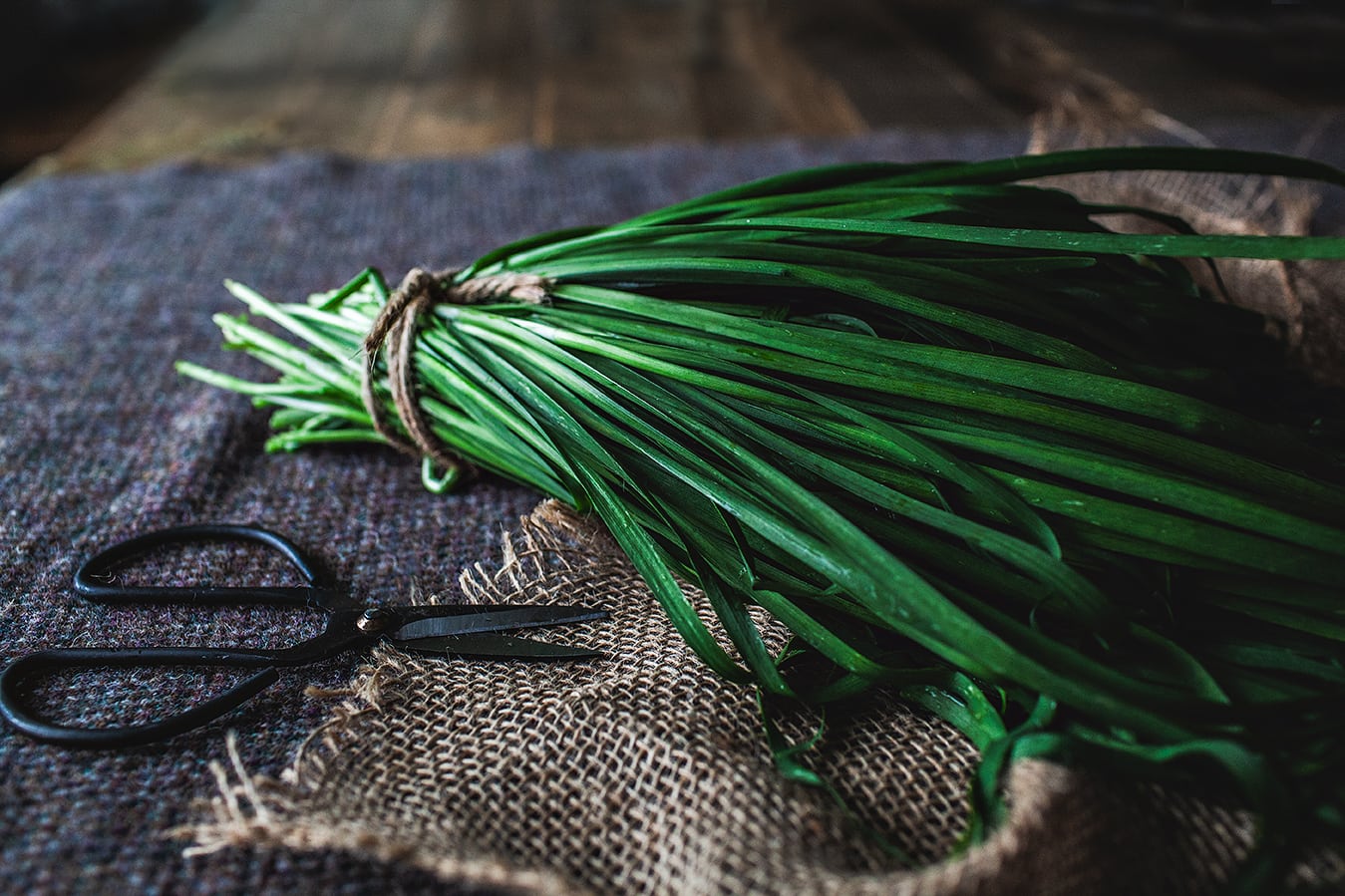 (Pictured Above: Flat-leafed Asian Chives)
For now, here are some herbs used for Thai cooking.
(Pictured Above: Kaffir Limes and their leaves)
Lemongrass
As the name implies, these look like long grassy plants but have a very fresh and soothing lemon smell. Use only the stems closest to the root for cooking and leave out the green leafy top parts. I use that part as incense wands to scare off mosquitos and bugs in the summertime. I almost always bruise the stems by pounding before slicing lemongrass to help release extra fragrance and oil.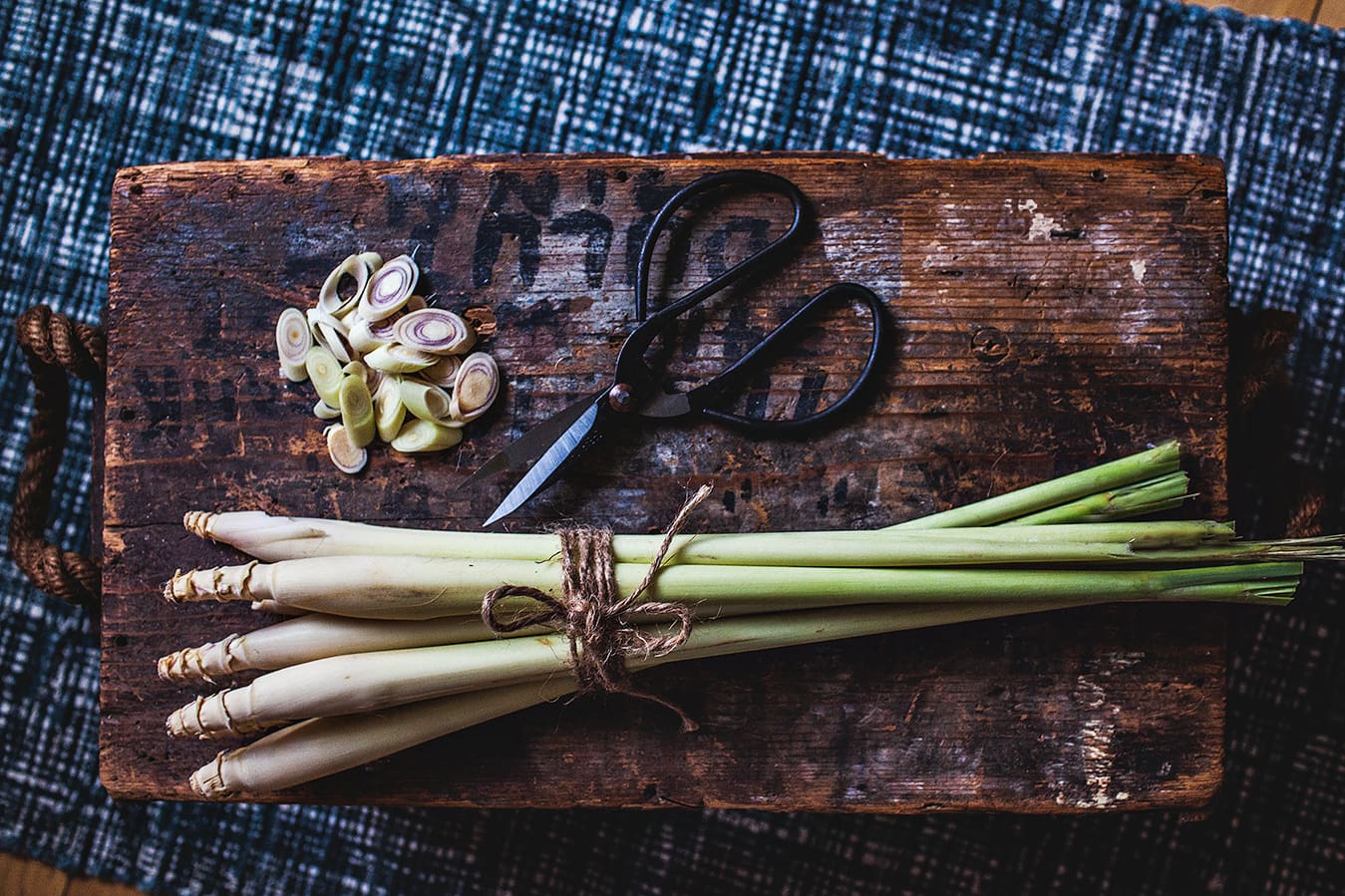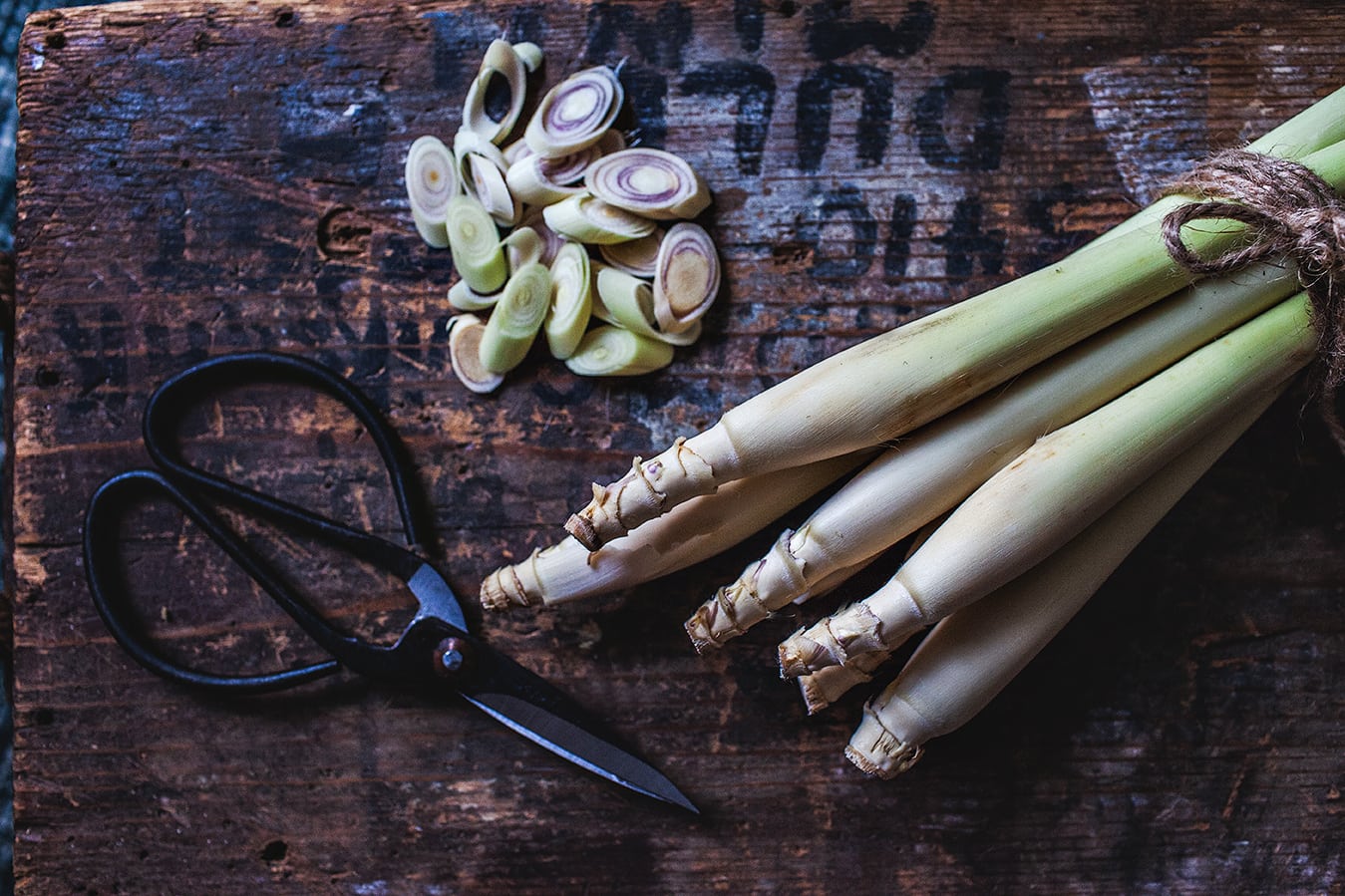 (Pictured Above: Lemongrass)
Kaffir Limes & Leaves
There's nothing like finding fresh kaffir lime leaves. It kills me every time I go to Thailand and see these small trees growing on every corner, knowing how much I would have to pay to buy just a few of the frozen leaves in America. My best solution to finding these lime leaves is to buy a couple of trees and hope one of them will make it. Otherwise, look in the freezer section in your local Asian Markets. If they have them fresh in summer, buy a few bunches and freeze them. They keep well and can thaw out very quickly before cooking.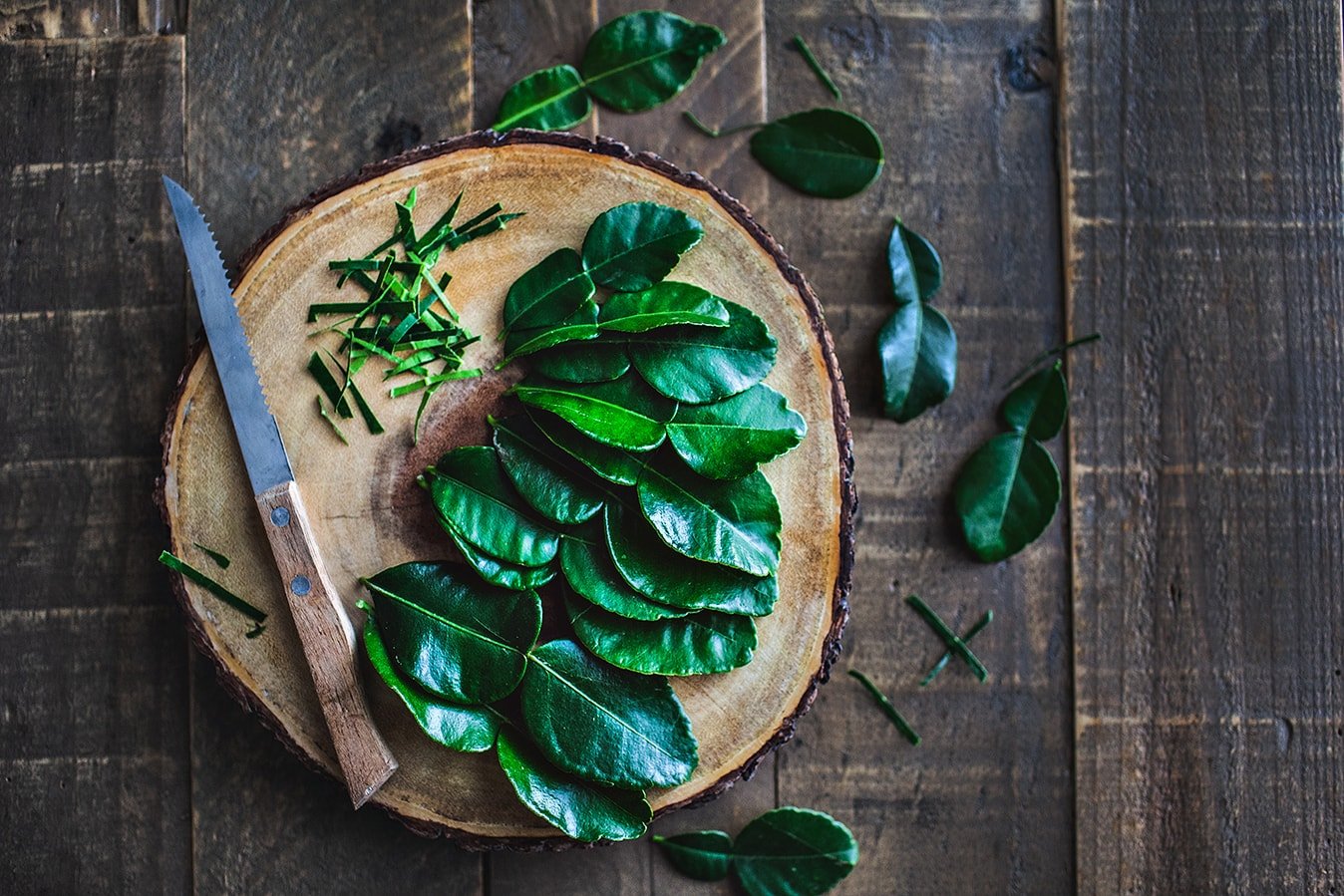 (Pictured Above & Below: Kaffir lime leaves, noticed the double leaves, a distinctive feature of this very special herb)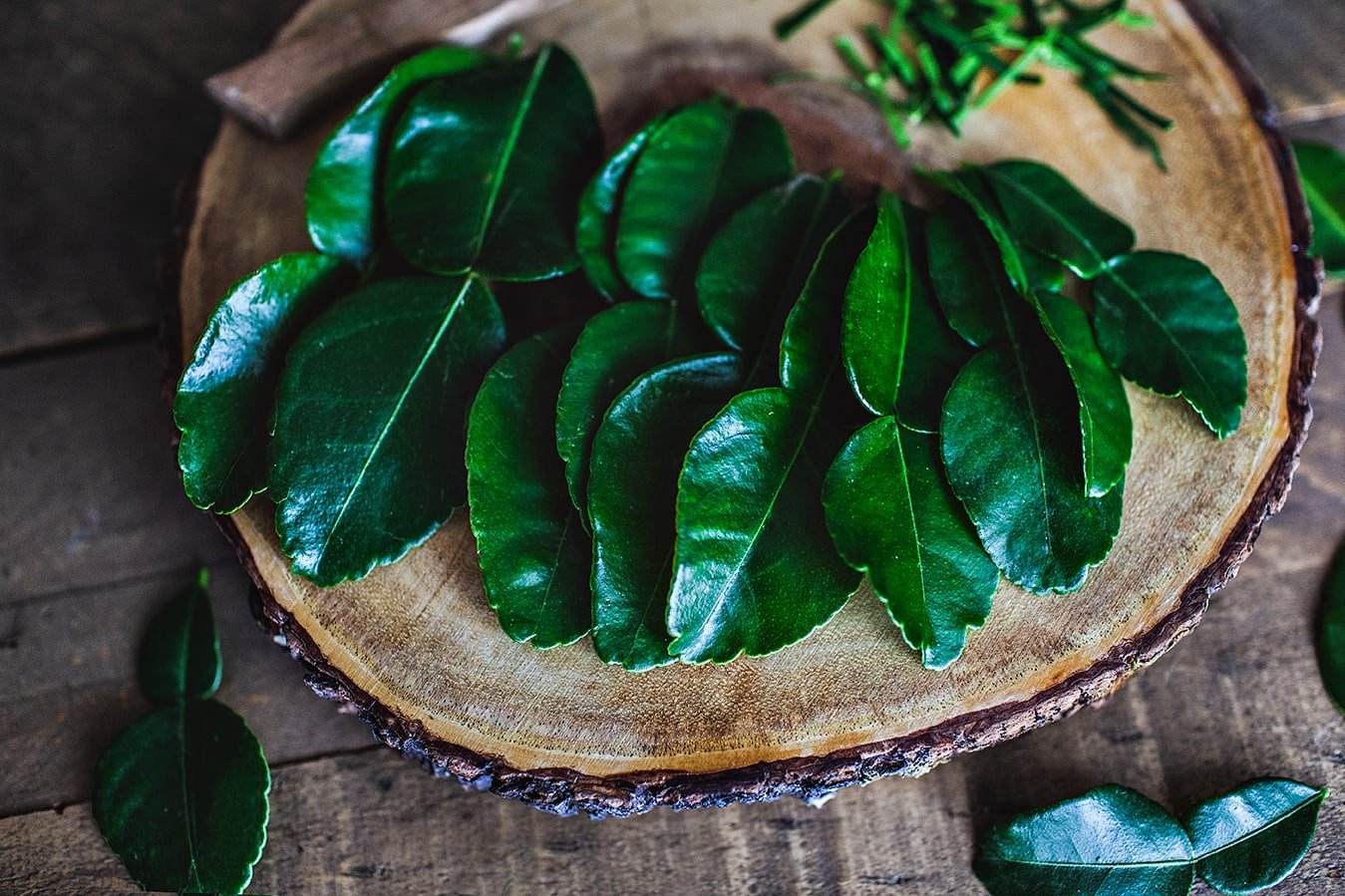 Cilantro
I can't recall having any luck with finding cilantro with roots on them in U.S. grocery stores. My solution for this problem? I grow them myself. And I do plenty of it when I get a chance to plant my own garden. I freeze them for the winter months in plastic bags. The roots can be stored up very easily in the freezer until Spring. The roots of the cilantro are where all the flavors are most concentrated and where the highest medicinal health benefits lie. If cilantro roots can't be found, use the lowest part of the stems as substitute.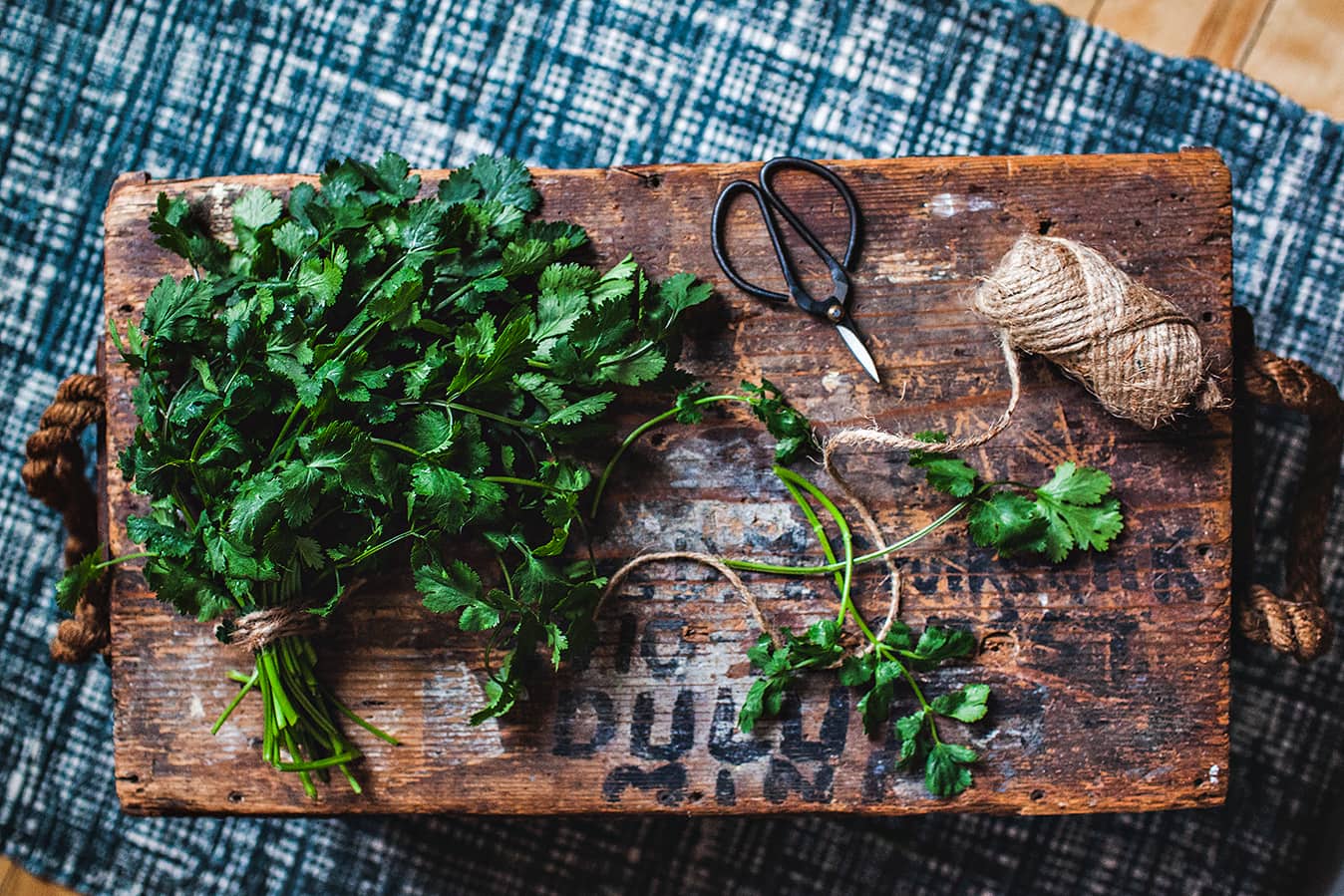 (Pictured Above: Cilantro)
Culantro
They are related to the cilantro family and I often substitute cilantro when culantro can't be found. It's also called saw-tooth herb, referring to the jagged and saw-like edges of the leaves.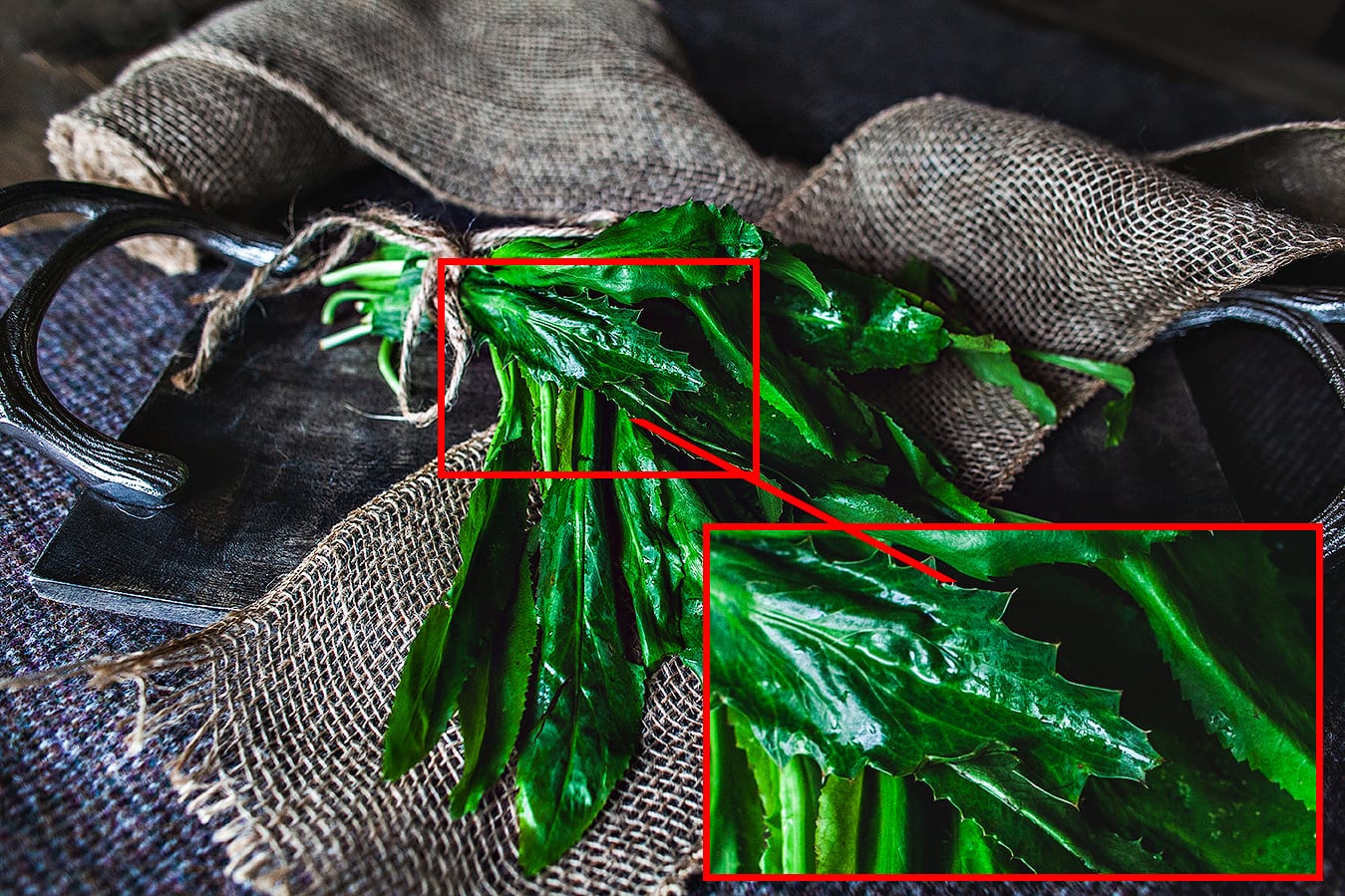 Laabs in Isaan is just not the same without using culantro. So if you find this herb the next time you go to the Asian store, make sure to make Laab with it. Culantro, a type of herb that has a taste and fragrant similar to cilantro. Look for long leafy herbs in the refrigerated produce section. They are usually sold fresh, never frozen. I grow my own from seeds when I get a chance since these are difficult to find. I order my organic seeds from Amazon.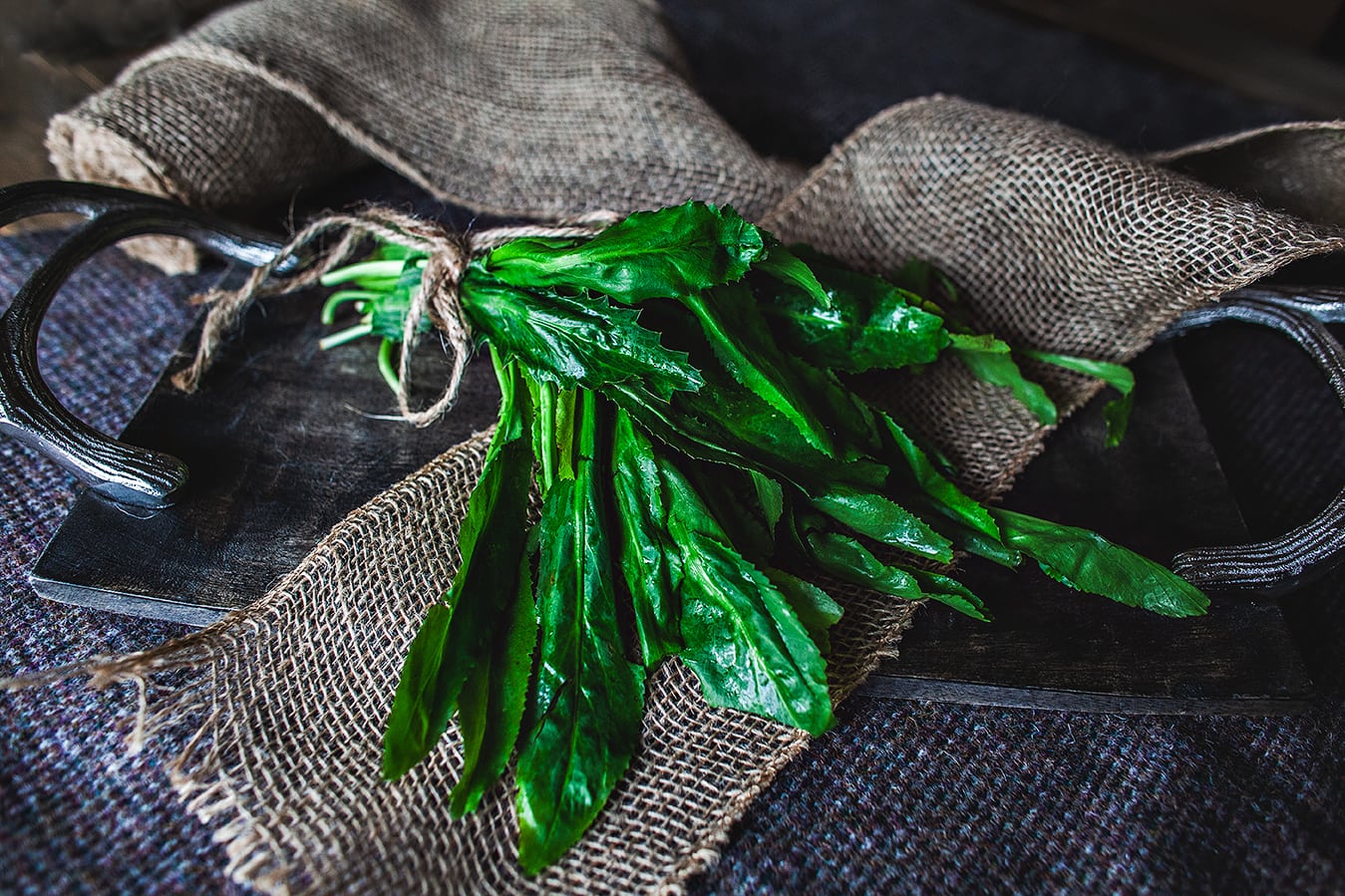 (Pictured Above: Culantro)
Basil
There are several dozen types of basil out there, but the commonly used ones in Thai cooking are the Thai Basil, Holy Basil and Lemon basil. Each recipe calls for specific types of basil as they will give a very distict flavor to the dish. Make sure to get the right kind. Please see pictures included if you need help identifying them. Italian Sweet basil or purple ruffled leaves basil are decent substitute when all else fails.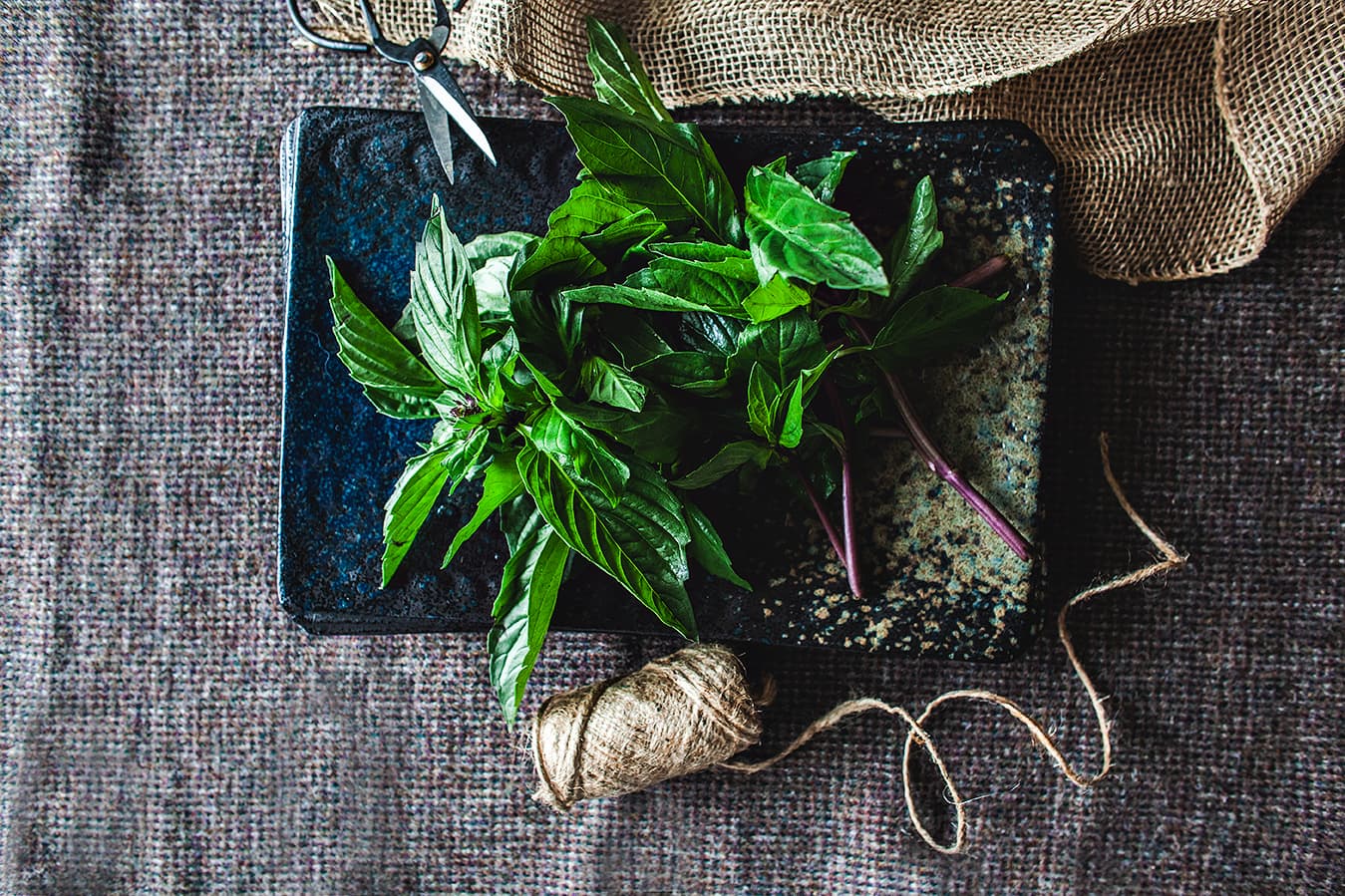 (Pictured Above: Thai Basil)
Thai basil
The most commonly used Thai herb. (Pictured above). The purple basil has large leaves with sharp looking edges and purple stems. It has a cinnamon-like tate with a slightly spicy taste to it.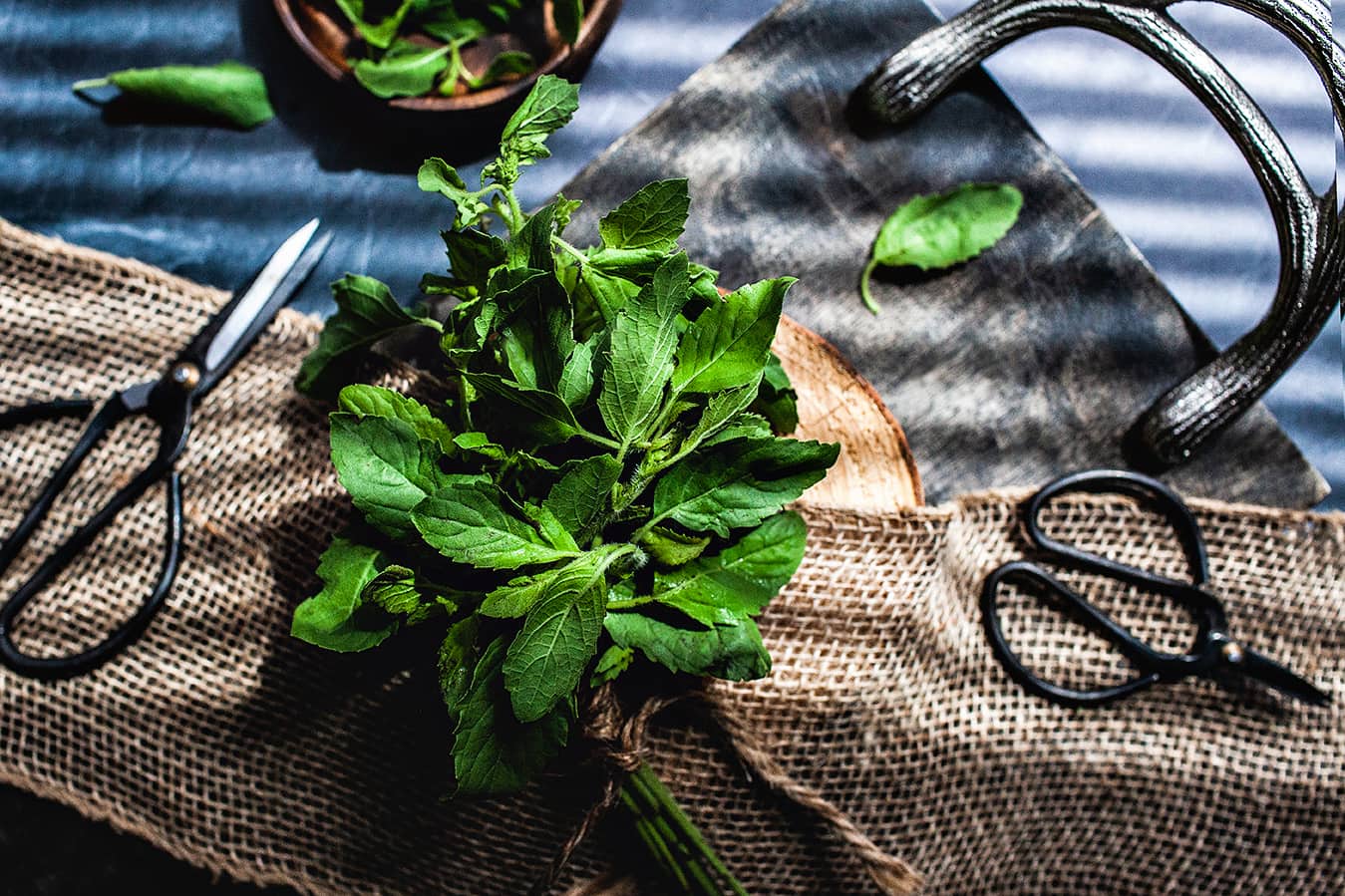 Holy Basil
Pictured above and below. Holy basil has smaller leaves with slightly ear drop shape with jagged edge. Holy Basil is ideal for dishes like Thai Drunken Noodle and Kra Pao.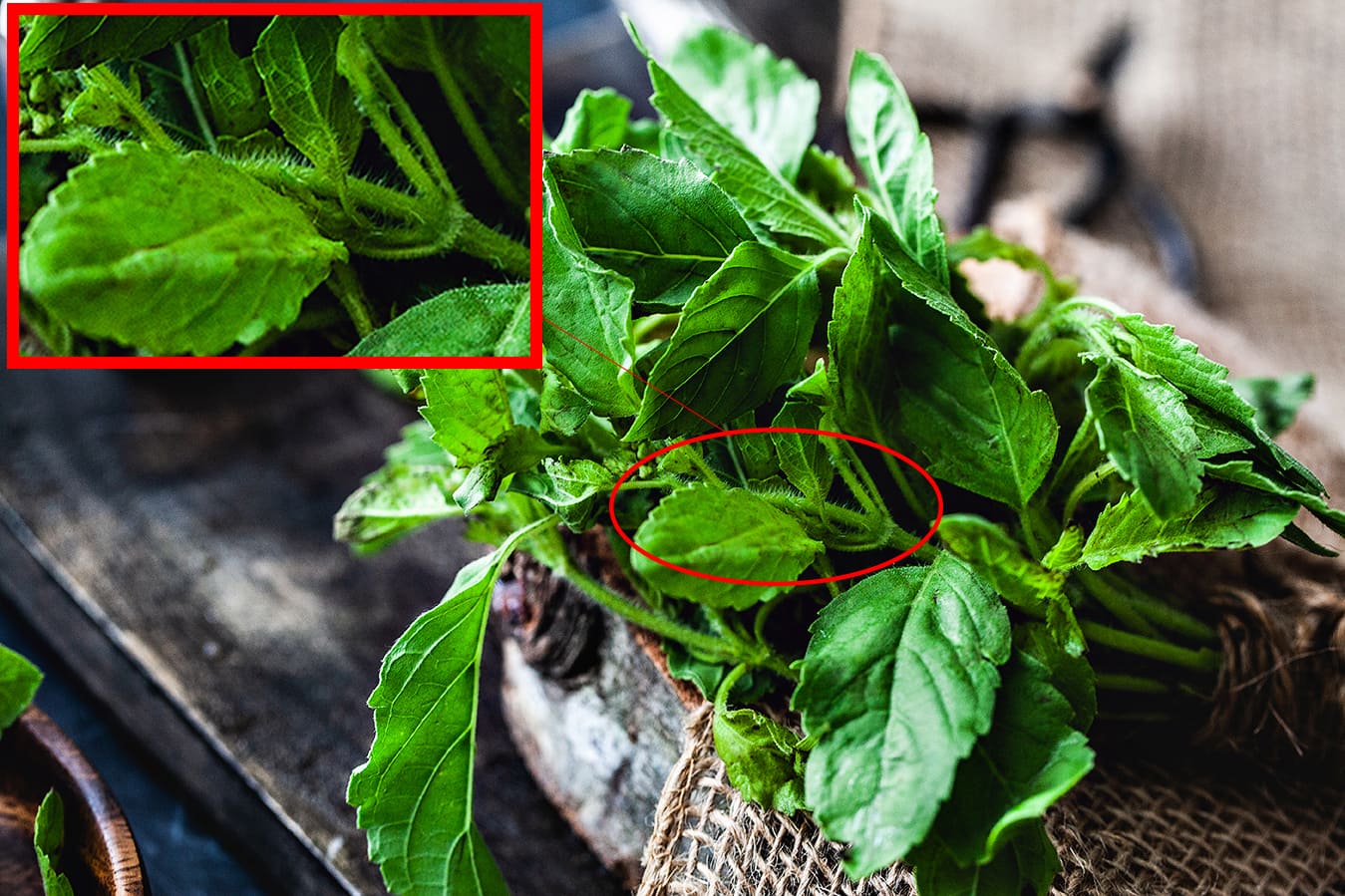 Also, check for the fuzzy stems if you are having a hard time identifying Holy Basil.(Check above picture).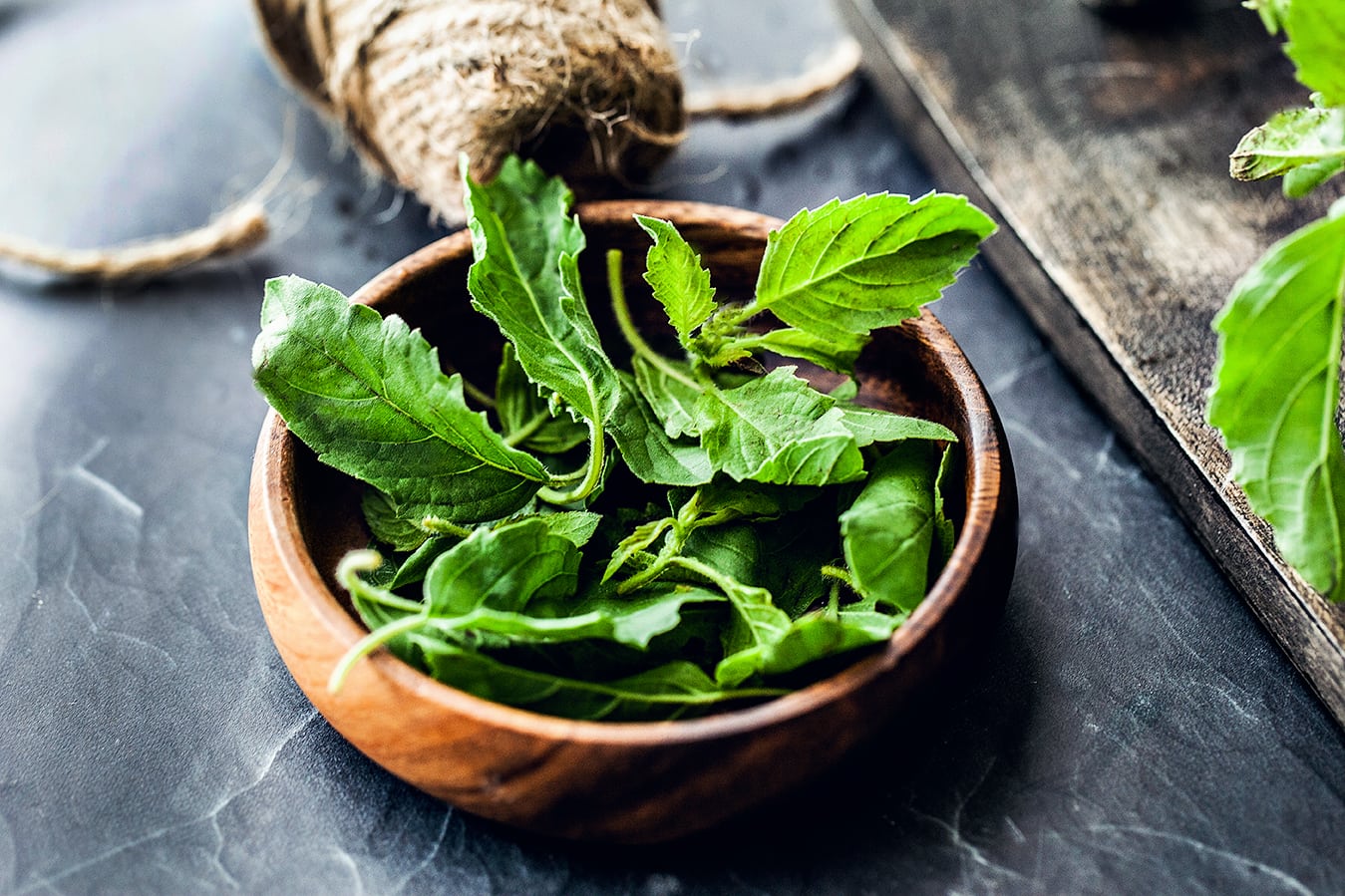 (Pictured Above: Holy Basil)
Lemon Basil
The third type of basil used in Thai cooking is Lemon Basil. (Pictured below). The sweetest and lightest of the 3 types of basil. Like the name imply, Lemon Basil has a lemon-like fragrance. You can leaves are light green with rounder edges than Thai and Holy Basil. When I see Lemon Basil, I immediately think of Namya Curry, a delicious and light curry salad very similar to Laksa.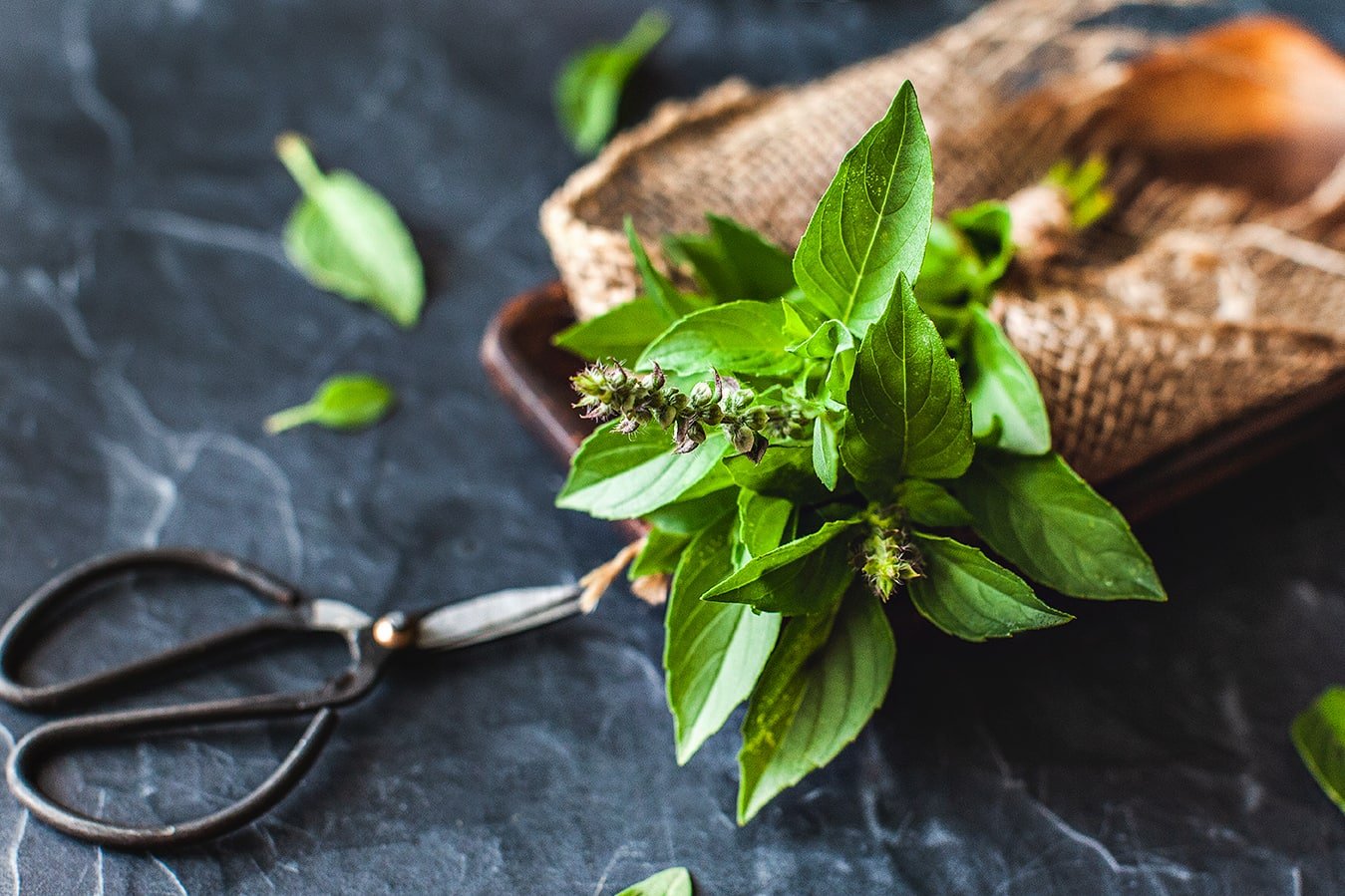 (Pictured Above and below: Lemon Basil)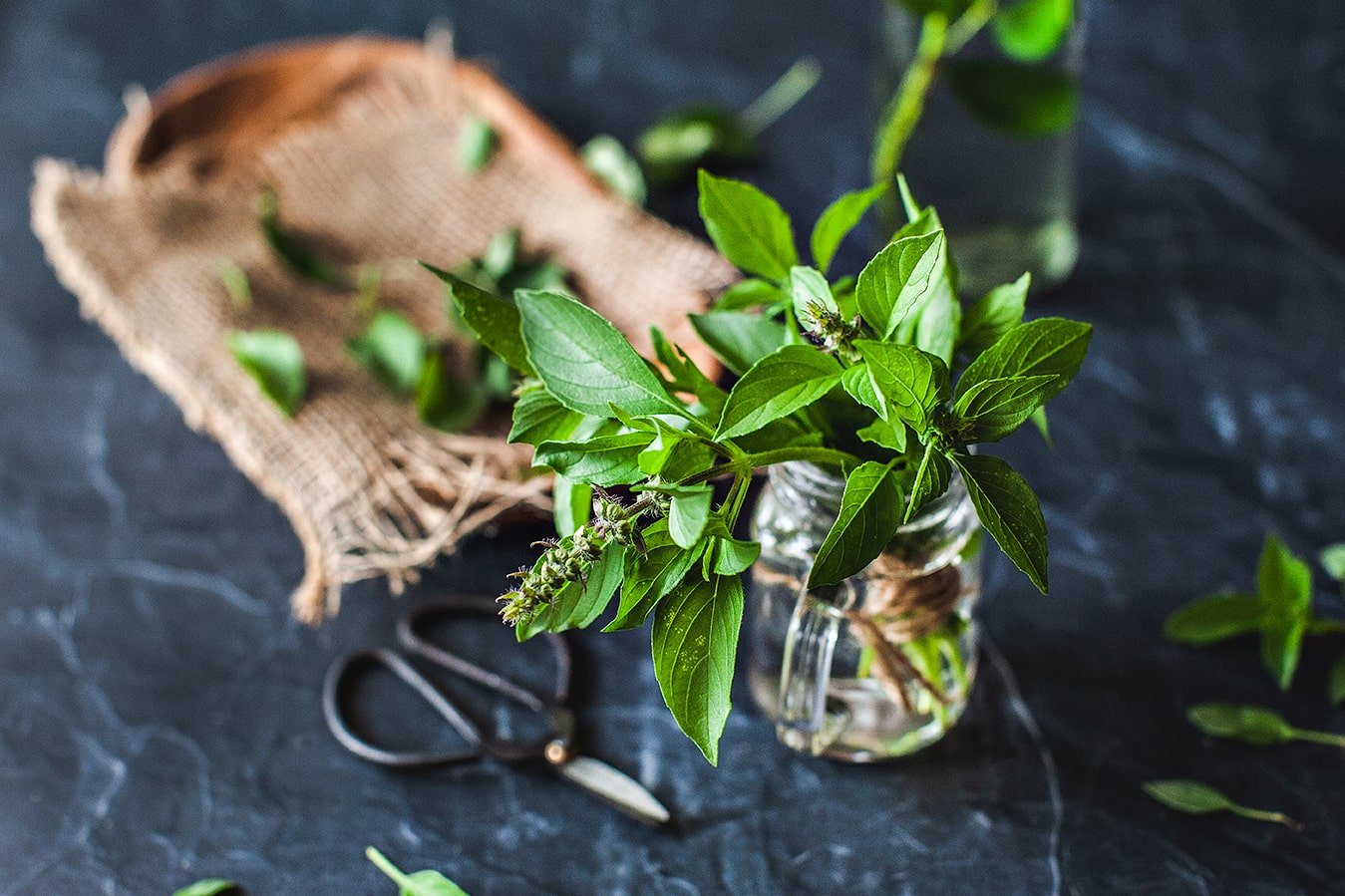 Mint
Mint is easy to find even in the winter months though they are not as fresh and tend to be more expensive in regular American grocery stores. I use mint generously in my salads like Thai beef salad, laab, fresh spring rolls and even in soups.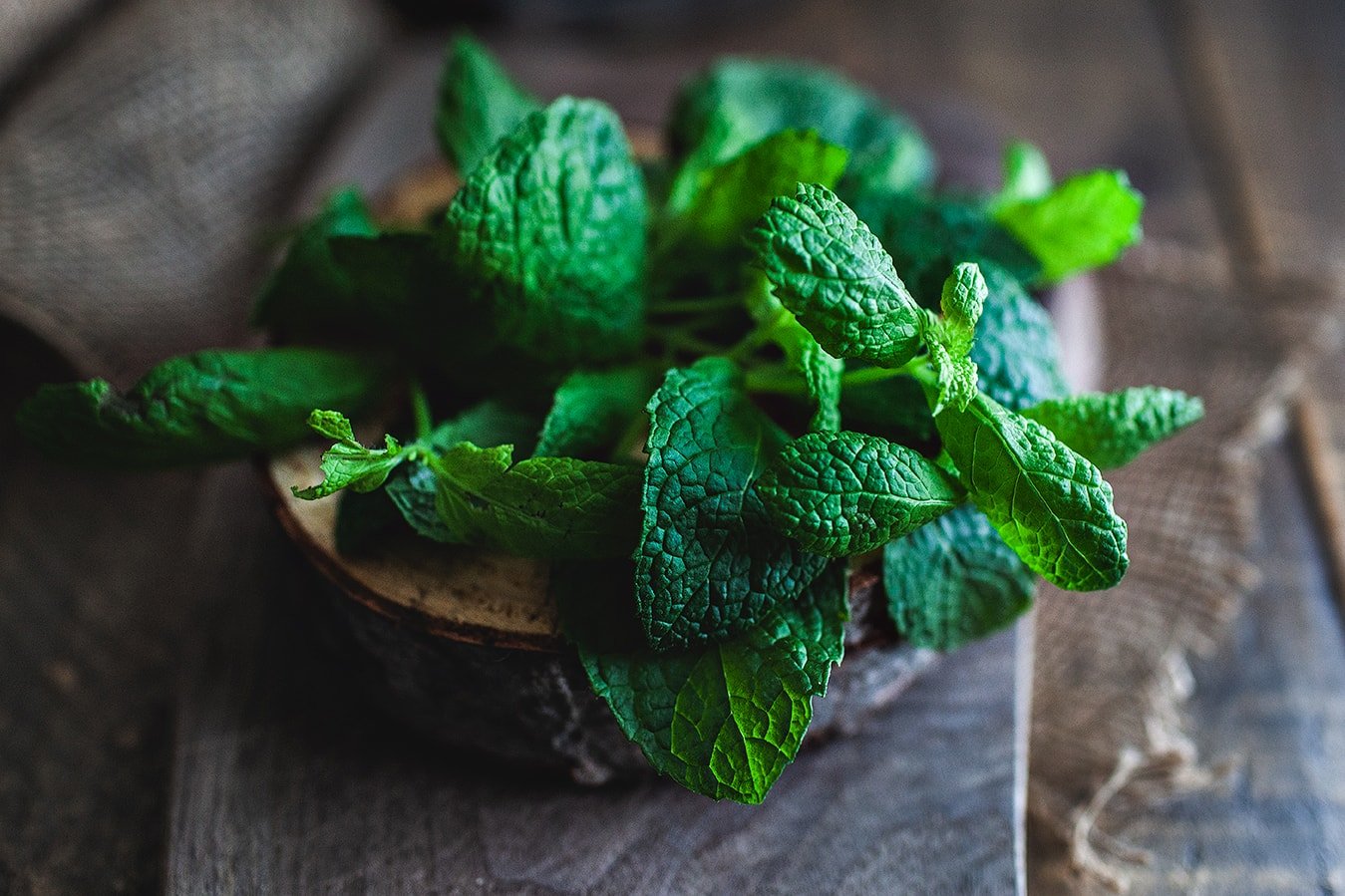 (Pictured Above Mint)
Here's a little trick to growing your own mint in the winter months. Find a large bunch of mint leaves, pick through and find the largest stems in your bunch, trim off the bottom leaves and leave about 2-3 inches of the branch free of mint leaves. Stick those stems in a clear glass or bottle with water in the bottom and watch the roots grow in just a few days! I either keep them in the large glass until the roots are pretty large then repot them in a planting pot and watch the mint grow into a nice house plant!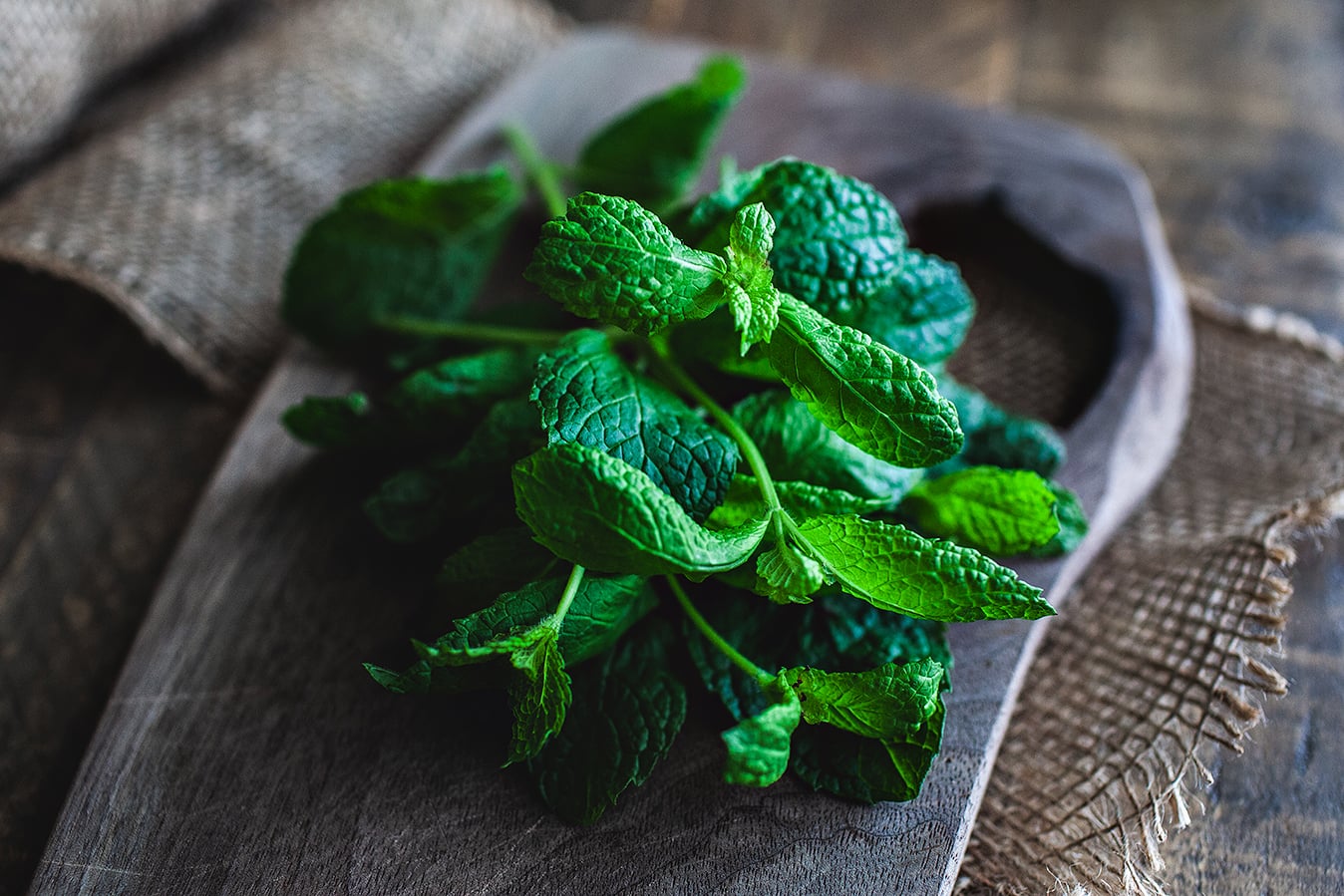 Green onions
These are not hard to find, the green onions. The chives, however, can be more difficult to find. The leafy part of the green onions are a good substitute when a recipe calls for chives.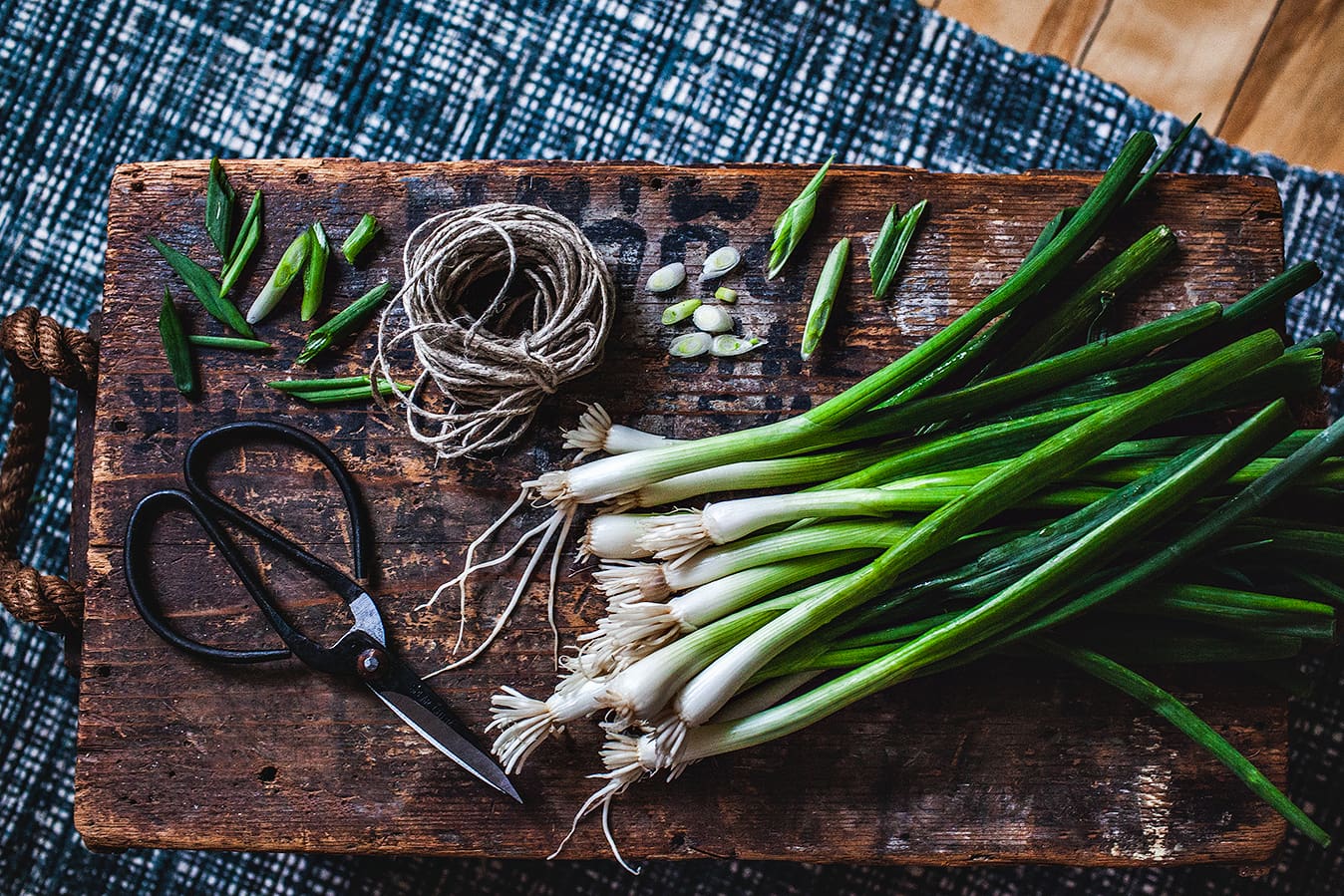 (Pictured Above Green Onions)
Chives
Chives can be hard to find. The flat leafy, Asian chives. They can be seasonal, depending where you live and where your local Asian markets get their produce from. Asian chives are different than the well known chives you can sometime find in your well-stocked grocery stores. Asian chives are flat leafed and has a garlicky taste and fragrant. While the more common chives found in the U.S. are rounded in size and shorter in length.
I find that I keep my chives fresh longer if I put them in a glass jar in the refrideratore. The top usually will wilt the fastest with chives, just trim off as necessary.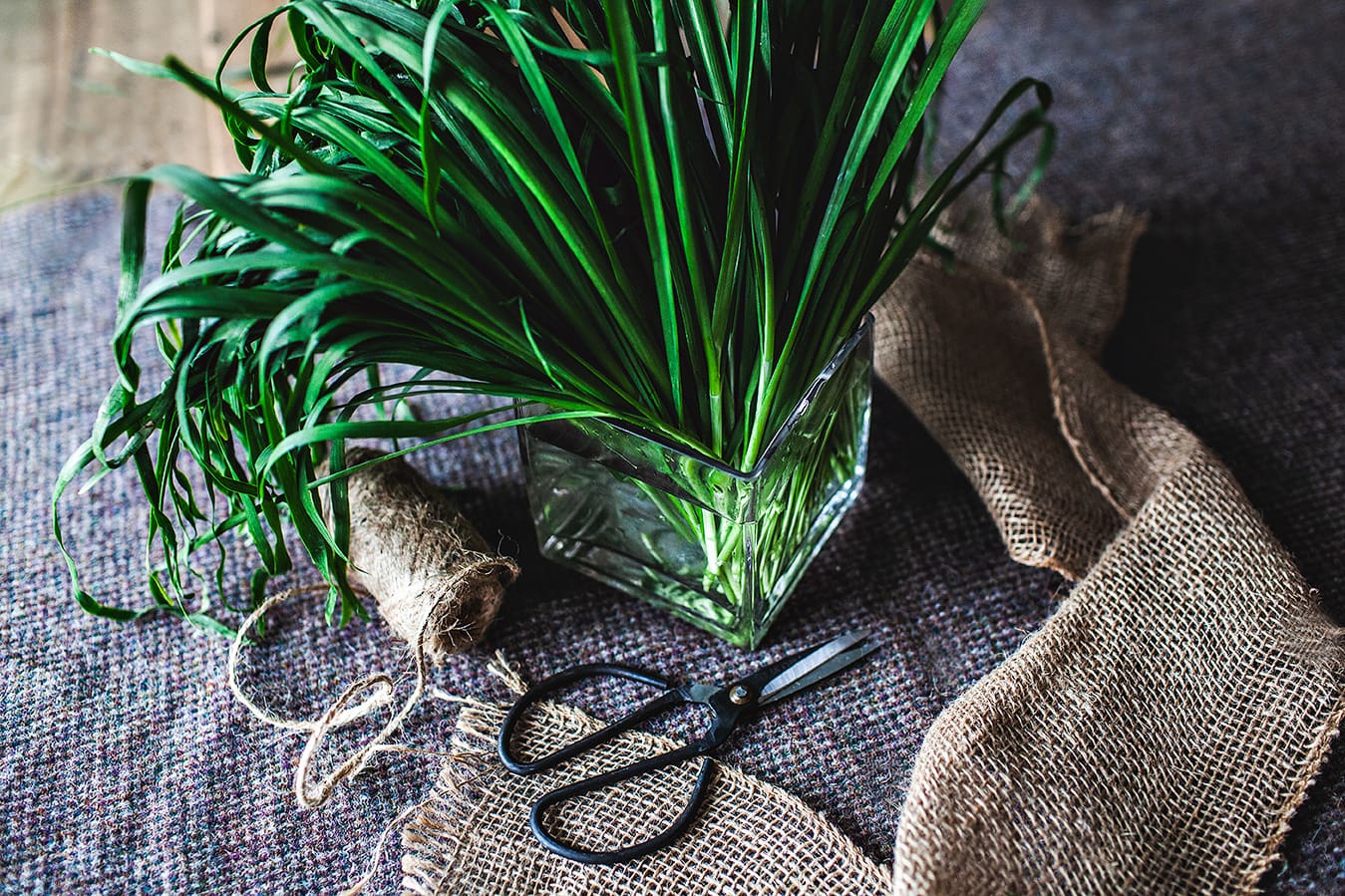 (Pictured Above: Mint)
Limes
Limes and lime juice are used almost exclusively in Thai cooking. In fact, I never once saw any of my Thai friends or family use a lemon for cooking. Limes just add more bold and intense flavors to all recipes that call for it. Key limes are a good choice as well if you can find some in your markets.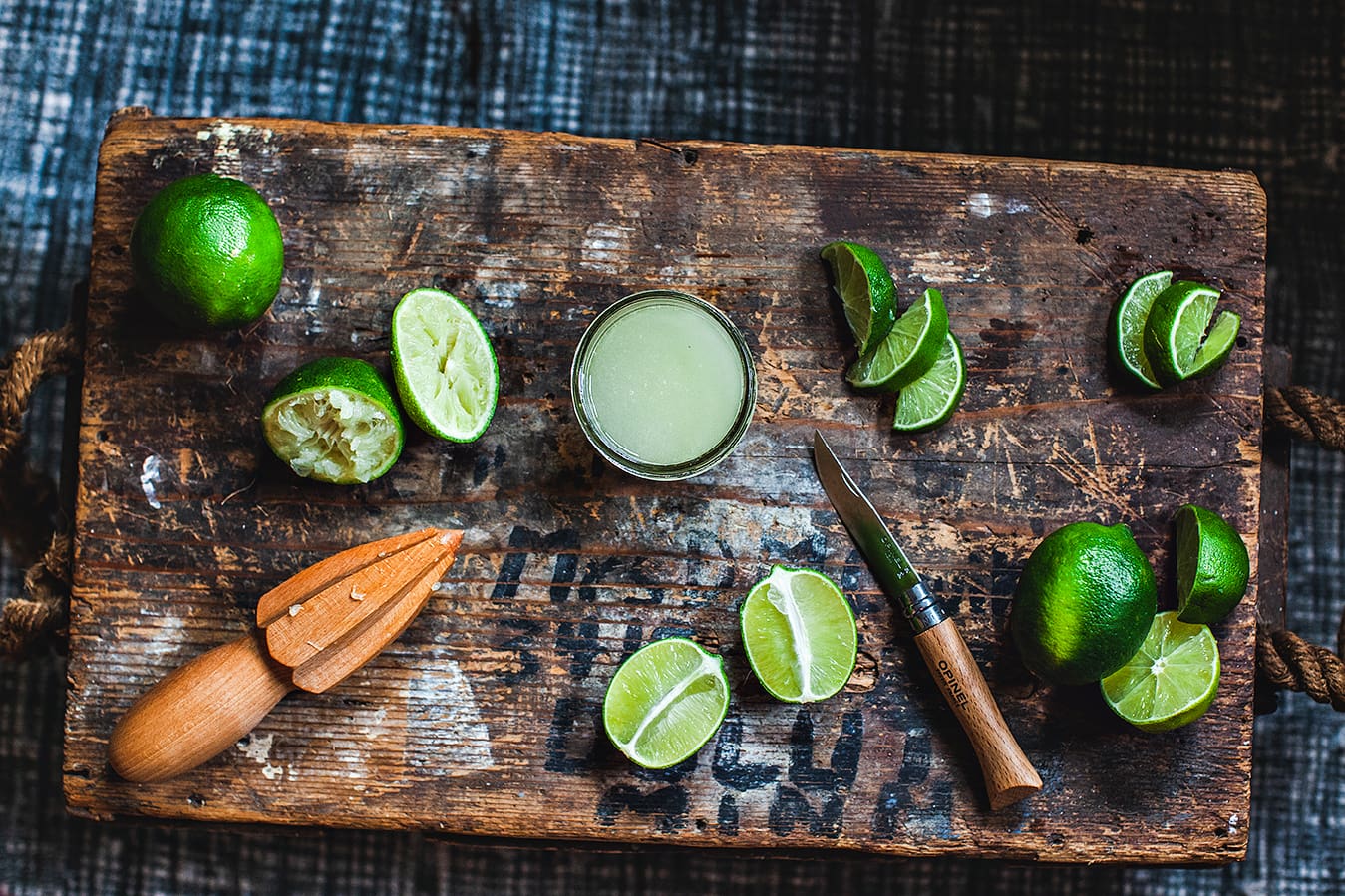 (Pictured Above: Limes)
These herbs listed are just few that I regularly use, when I can find them. There are so many more out there. Would you add anything else to this list? Please let me know!
I hope you venture out and try new recipes with these herbs. Be careful, as you may become addicted to them. That's my only warning.