Kaffir lime and kaffir lime leaves are important ingredients in Thai cuisine. They play important roles in Thai cooking, especially in making traditional curry pastes. Learn about kaffir lime leaves and substitutes and how to use them for your favorite Thai dishes.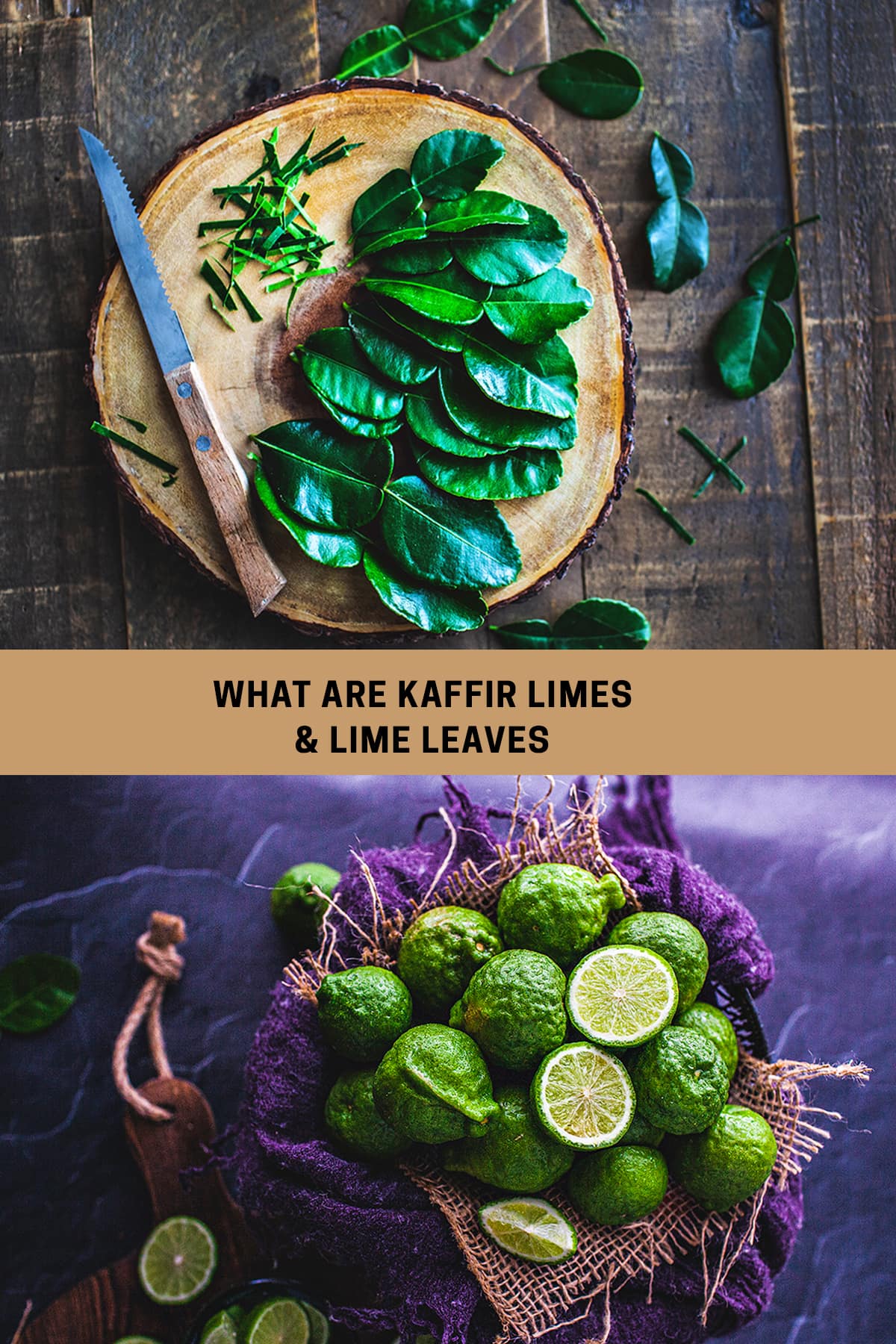 For more helpful blog posts about Thai cooking, read the 13 essential sauces for Thai cooking, A guide to different types of rice noodles, Galangal in Thai cooking, and how to use lemongrass in Thai cooking.
Jump to:
What are kaffir lime leaves?
Kaffir lime leaves, known by these common names as Makrut or Bai Makrut in Thai, (ใบมะกรูด) are a green leaves citrus herb commonly used in most Asian cuisine. The Makrut lime leaves have a strong flavor, making them a common ingredient in many Thai soups. The kaffir lime zest is used almost exclusively for making Thai curry pastes.
Kaffir lime leaves have a dark green color with double leaves that resemble two small leaves attached. When a Thai recipe calls for kaffir lime leaves, it usually means a whole leaf with two leaves connected in the middle. PIX
Kaffir limes are an even rare ingredient outside of Thailand. The lumpy-looking dark green fruit is the size of a small lime and has many culinary uses in Thai, Cambodian, Lao, Malaysian, and Indian curries.
They are used extensively in many Asian recipes. The juice of kaffir lime is next to non-existence, but the most valuable part of the fruit, the skin, is full of essential oils and is used for making authentic Thai food like curry pastes and sauces.
For a scientific term, they are called Citrus Hystrix, a member of the citrus family. They love to grow in warm climates with humid temperatures, especially in Southeast Asian countries, where they thrive effortlessly. It's extremely common to see Makrut lime trees throughout Thailand and Southeast Asia in people's yards and gardens.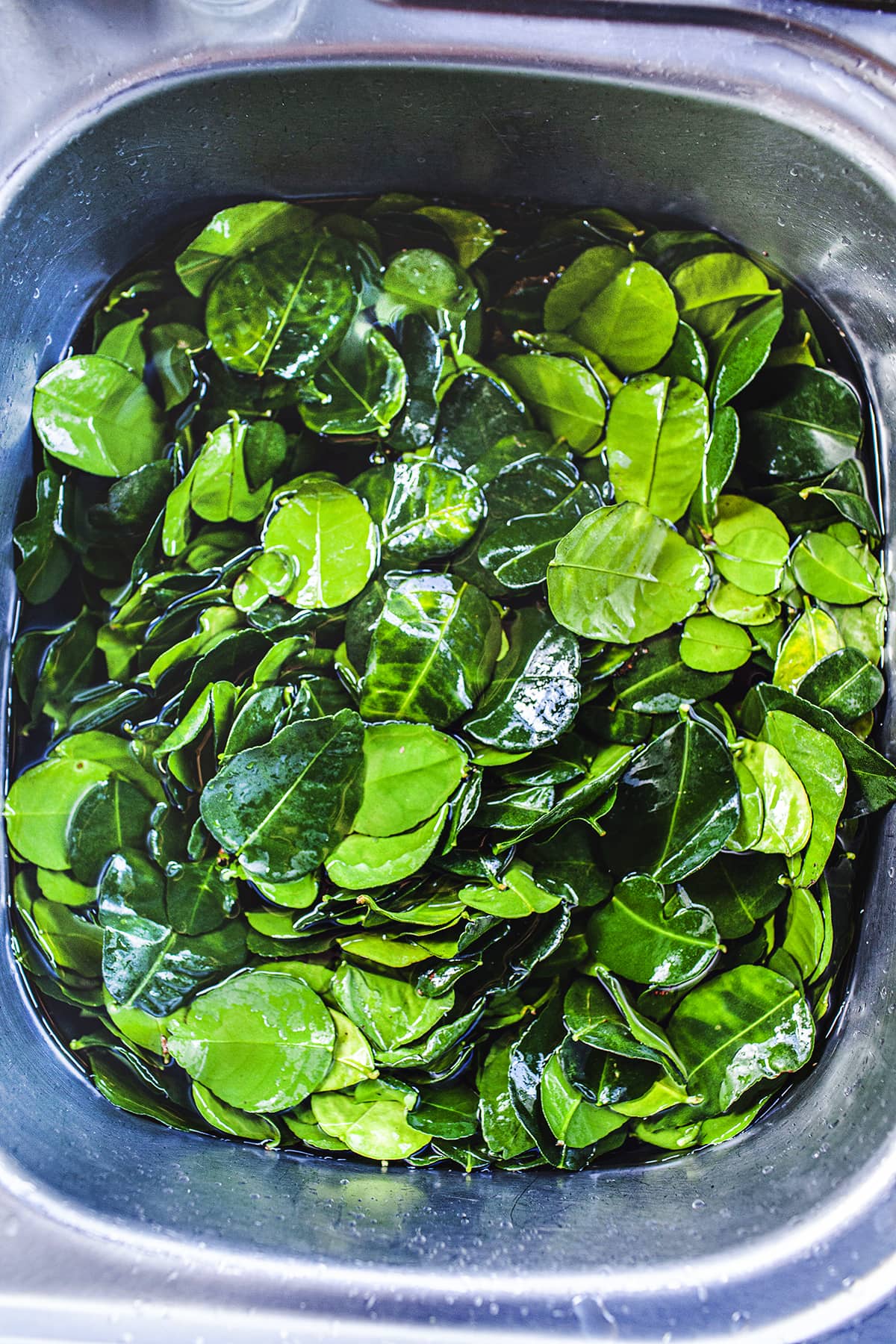 Makrut lime leaves vs. kaffir
In South Africa, the word kaffir is an insulting term implying a racial slur. Though there have been attempts at changing the herb's name to Makrut, the actual Thai name for it, there's been very little success.
The word "kaffir leaves" has been used for generations in Asian cooking to describe the herb. Most people do not know that the new word Makrut is the same as the kaffir lime leaves. Even labels at most Asian markets still call the citrus leaves by their original name.
My intentions here are never to insult anyone with my words, as I've known firsthand what it's like to have many labels given me from early on in life.
Let me quickly explain. I'm half Thai-half white. In Thailand (and in the United States by my Thai friends), I'm called "Farang," even by my closest family and friends. Some consider the word Farang a derogatory term to describe foreigners in Thailand. The word means "a white foreigner," implying you're an outsider or someone who doesn't belong in the culture.
When I hear that word used towards me, most of the time, I know the intentions are not from a negative place. Offenses are not taken because there are no other words to be used to describe me in Thai culture. It's fruitless for me to fight against something that's been around for a long time when I know the intentions are not to insult or hurt.
My point in sharing that personal story comes back to my beloved herbs, Kaffir lime leaves. I use the term for food, so most people know what I'm talking about, and it will never be meant to label or insult anyone.
The flavor of kaffir lime leaves
Kaffir lime leaves have a very distinctive flavor and fragrance. They have a strong citrusy aroma similar to lime or lemon zest. The leaves have a tinge of peppery taste and a slightly bitter and semi-tart flavor. It's a unique, bold taste that makes it a refreshing tropical herb to use in cooking. If you're not used to cooking with kaffir lime leaves, it might take some adjustment to get used to.
How do you use kaffir lime leaves?
Each dish cuts the lime leaves differently depending on what you are making. In stir-fries, salads, and sauces, the leaves are chopped, sliced, or julienned very thinly for cooking to prevent the flavor from overpowering each bite.
For curries, the lime leaves and lime rind are cut small enough to pound into a fine paste. The leaves are roughly torn or used whole for soups so the diners can remove the leaves before eating. 
Can you eat the leaves of kaffir lime leaf in soups?
Absolutely. The fragrant leaves have a strong citrus flavor that is important in giving Thai curries and soups a distinctive taste and fragrance. The leaves can be eaten raw or cooked.
Can you use kaffir lime leaves in tea?
Yes! Use 4-5 fresh kaffir lime leaves and add to 6 cups of water and bring to a boil. Turn the heat down to low and let the tea steep for 30-60 minutes. Add honey for some sweetness.
Keep leftovers in the fridge for up to a week. Add ginger, lemongrass, or pandan leaves for extra health benefits and flavors!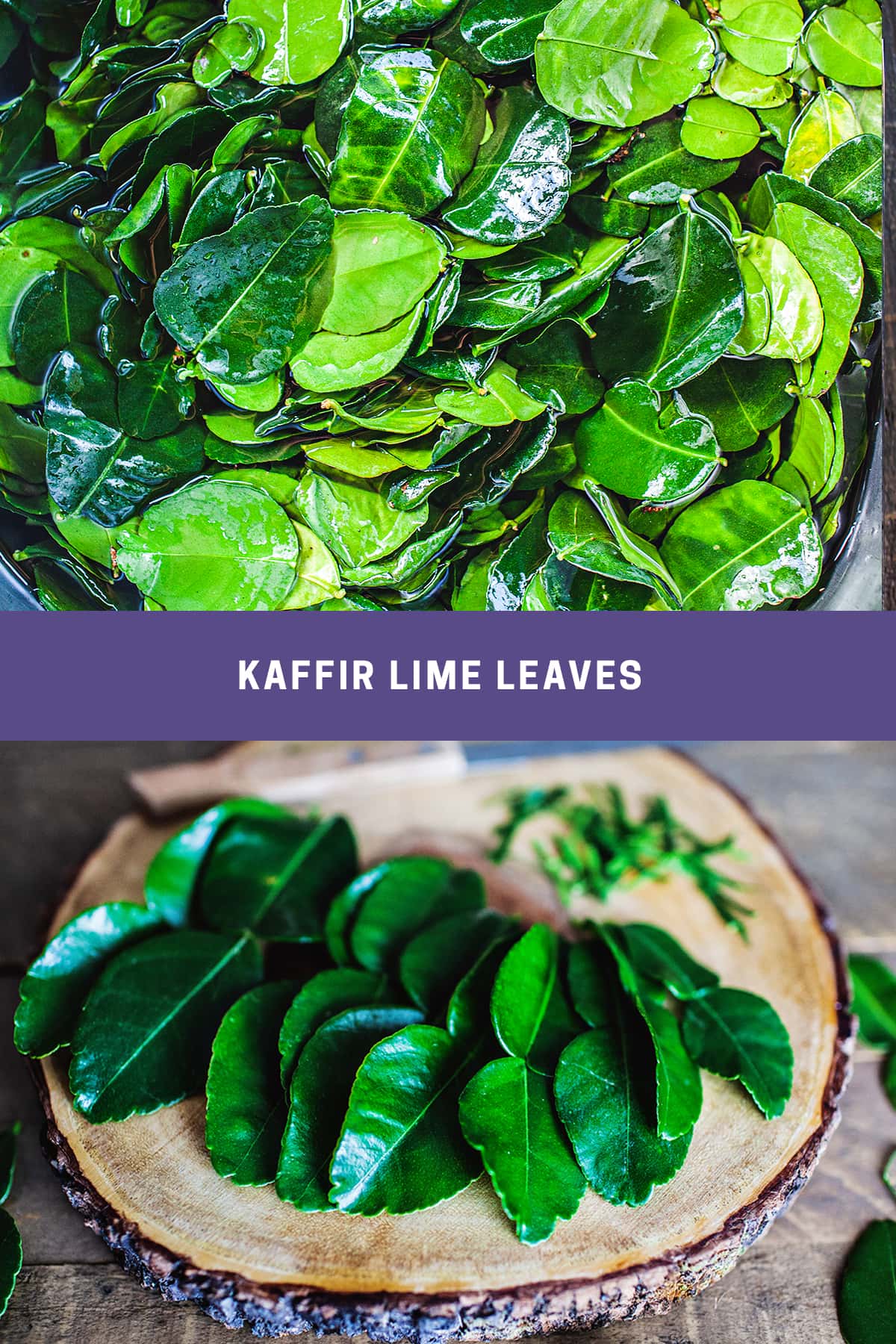 Health benefits of kaffir lime leaves
Kaffir lime leaves have endless health benefits that are good for the body. The essential oils in the leaves have high amounts of vitamins A and C, which are great antioxidants that fight inflammation and harmful bacteria.
They are excellent as a natural detox if used in tea or drinks. They help improve circulation, encourage hair growth nail growth, prevent bad breath, and help reduce stress.
Substitute for kaffir lime leaves
Due to the unique flavor and fragrance of kaffir lime leaves, a good substitute for them is difficult. I've seen a lot of creative attempts at trying to replicate the flavor and fragrance of the herbs, but most are not good substitutes as they are completely different from the Kaffir.
I've seen people suggesting bay leaves, curry leaves, lemon, regular thyme, lime juice, lemongrass, mint, and other herbs. I'm sorry, I can not agree with any of them. There, I said it. It's like me suggesting you use oranges instead of apples for an apple pie. It (; Just not a suitable substitute at all.
The best kaffir lime leaves substitute
Below are my recommendations for the best substitutes for kaffir lime leaves and lime zest.
Use regular lime leaves of other citrus fruits when you can find them. Freeze the ones you find during the summer months for later use.
Substitute the kaffir lime leaves with a small amount of regular lime zest plus one or two leaves of the kaffir leaves. This will get you close.
Key limes or regular limes are great options. Pick organic ones if possible.
Try other citrus fruits like pomelo, Persian limes, rangpur limes, and Meyer's lemons for the lime zest. Combine the zest with lime leaves, and you'll come closer than curry leaves or thyme. (:
Use dried leaves, and hydrate them first in water before use. Better than nothing, right?
Skip it entirely if you can't find it.
Where to buy fresh kaffir lime leaves
Kaffir lime leaves are typically available at your local Asian grocery stores. They are sold fresh or frozen. Check with the clerks if you have a hard time identifying them. You can also buy fresh leaves online from sources like Amazon and Importfood.
Kaffir lime fruit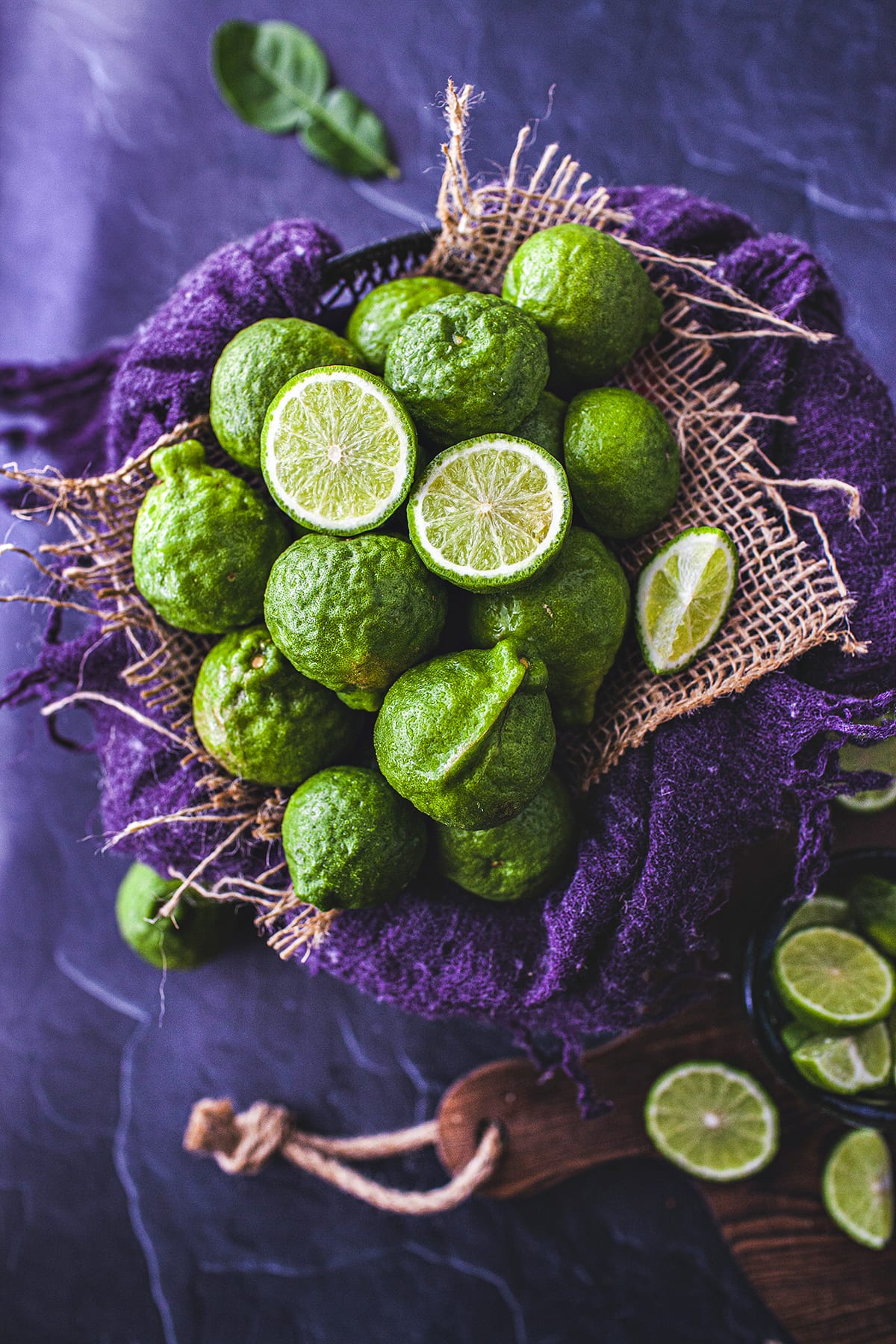 Can you use the limes of the kaffir lime fruit?
Yes! Kaffir limes have very little juice, but it's the rind of the limes is the prize ingredient that is being used to make traditional Thai curry pastes. Outside of Thailand, they are not as commonly found as the leaves unless you are in the Southern states with high humidity.
I've ordered my fresh kaffir limes from friends in Florida since they grow more easily in that part of the country. If you come across some fresh kaffir limes, snag a few extra and read on for tips on what to do with them!
The fruit of the lime is visibly bumpy skin about the size of large key limes. See the image below for the knobby-looking skin of the kaffir limes.
Can you use kaffir lime for baking?
Yes. Use only the rind of the limes, not the white pith, the white part underneath the skin of the limes. The pith is very bitter and will ruin your dish if you mix too much while peeling or grating your kaffir lime rind. Typically, there's not much juice from the limes, so don't count on using them for your cooking.
If you come across a bunch of kaffir limes, snag a few, grate the rind and freeze them in a small zip lock bag for future uses. Try substituting it in your baking instead of your typical lemon, limes, or key lime rind. It has a stronger flavor, so use just slightly less than what the recipe calls for.
Read below for tips on how to preserve and freeze kaffir limes.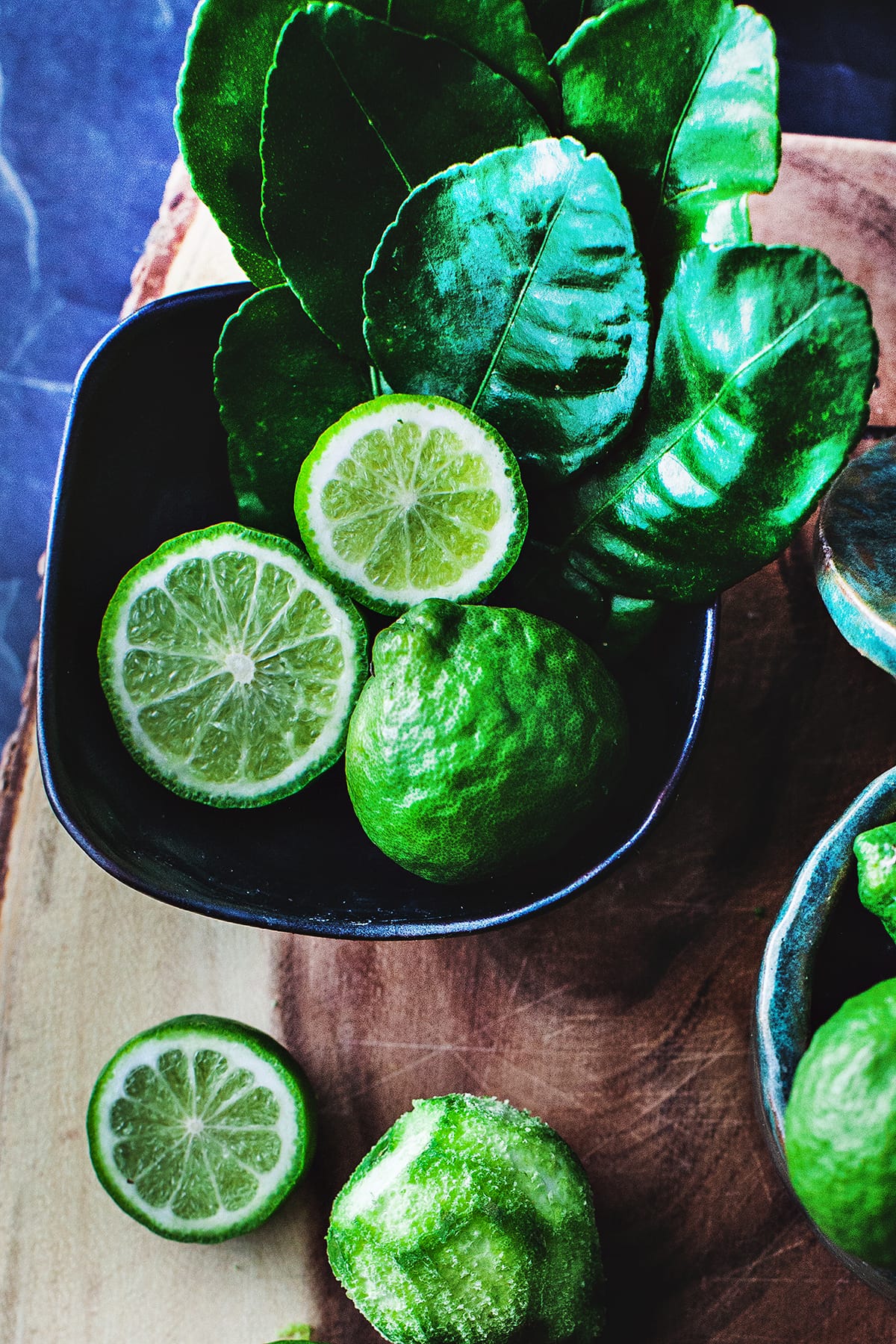 Can I freeze fresh lime leaves and limes?
Yes. You can freeze kaffir lime leaves. They freeze well for up to 6 months in a sealed glass jar or an air-tight plastic bag. You can also freeze the grated rind of the kaffir limes for later use.
How to freeze kaffir lime rind?
If you come across this unicorn ingredient, grab as many as you can, then go home and follow these steps immediately. (;
To freeze a kaffir lime rind, first, wash the limes well with water, then pat dry with paper towels.
For the zest, use a grater to carefully grate the rind. Avoid the pith, the white part. Use in your baking where lime zests are called for, or save the zest for making authentic Thai curry pastes. Recipes below.
Use a small sharp knife to carefully slice the skin for a larger rind piece to avoid the white pith. Store these in small increments of 1 tablespoon of lime zest for easy thawing.
Not freezing, but this is another way to preserve your precious kaffir limes. Make candied or dried kaffir lime wheels for cakes, drinks, or baking.
Using small ice trays, you can freeze the finely grated zest in a small portion of around one teaspoon of lime zest at a time for the best freezing result. Once frozen, remove into an air-tight container or bags and freeze for up to 3 months in the freezer. Before using the zest, leave it at room temperature for 5-10 minutes to thaw out before use.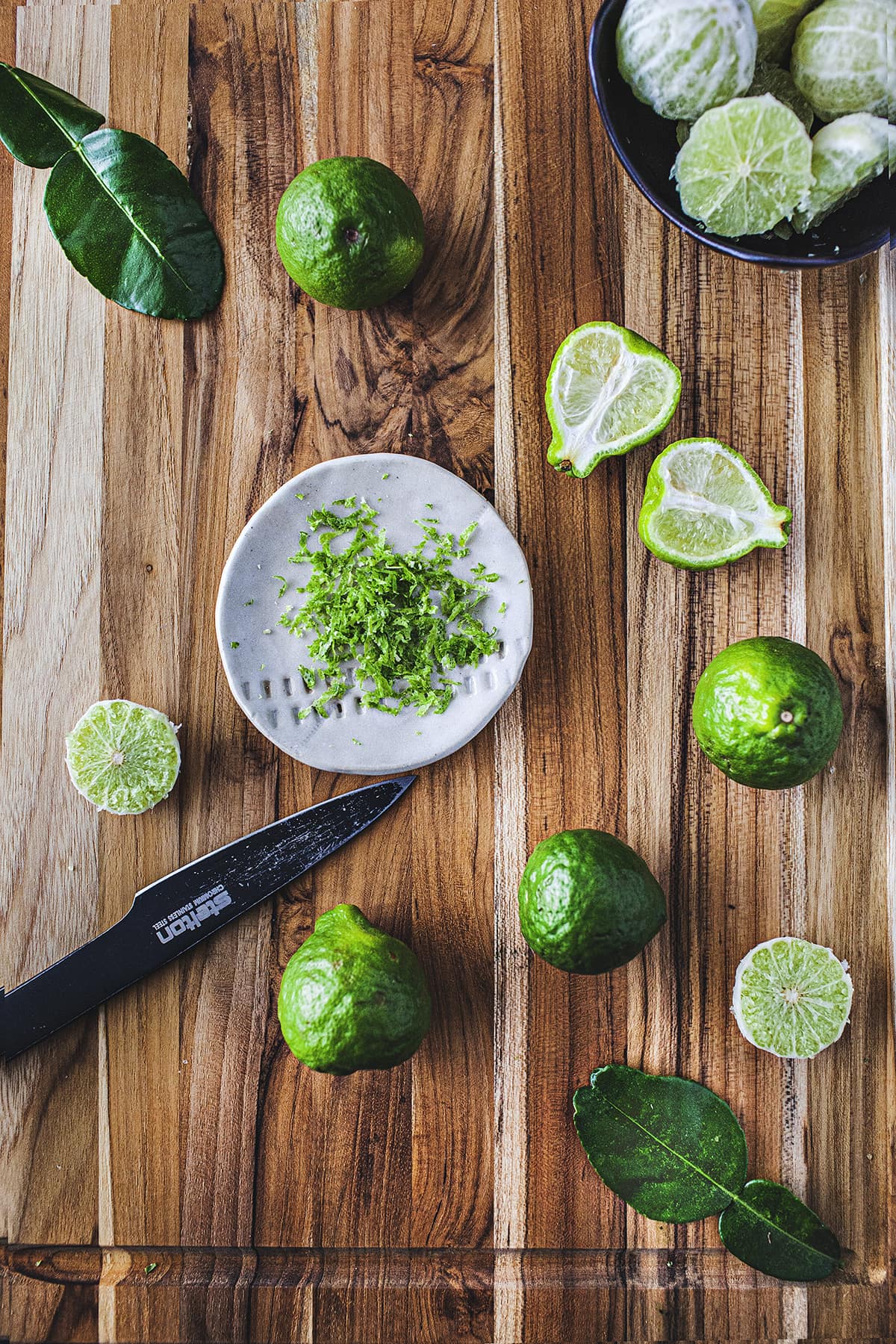 Thai Recipes using Makrut lime leaves
** Love a recipe you've tried? Please leave a 5-star ?rating in the recipe card below and a review in the comments section further down the page. Or follow me on Facebook, Pinterest, or Instagram! **