Lemongrass is a fragrant spice used extensively in Asian cuisine. It is used in sauces, salads, soups, stir-fries, marinating, and making Thai curry pastes. Read on to learn how to use lemongrass in Thai cuisine!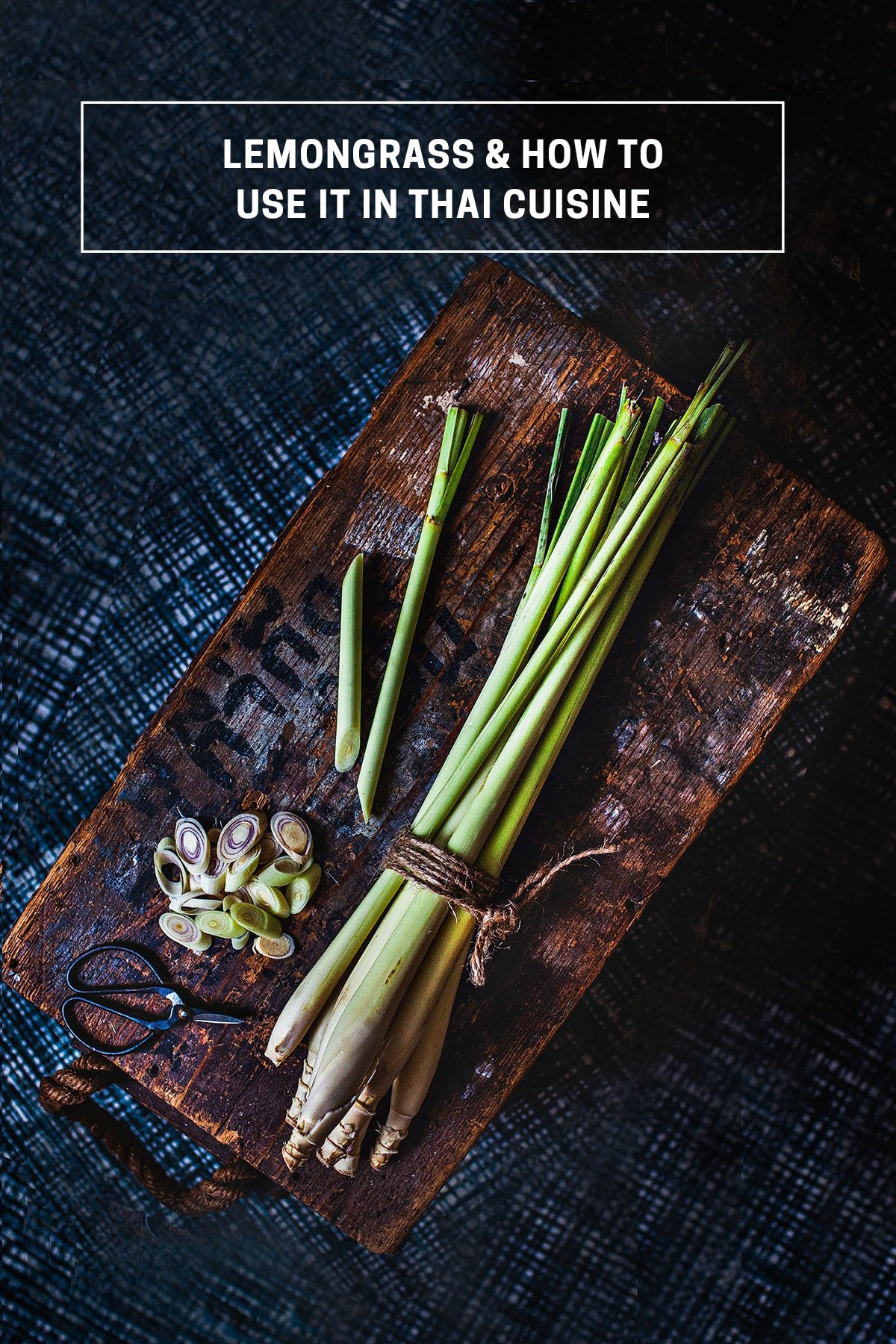 What is Lemongrass?
Lemongrass is a fragrant herb used extensively in Thai and many Asian cuisines. It has a very citrus- and lemon-scented fragrance that seasons food beautifully. This medicinal spice has light yellow circular stalks with long green leaves.
Is lemongrass Used in Thai Food?
Yes—they are used extensively in Thai cuisine! They are a staple in so many dishes, in fact, it would be shocking for you to not run into lemongrass in Thai food. You will find lemongrass grown in almost all homes with any land attached to it, like the homes in my village of Surin. Also, you won't walk far before spotting an abundance of fresh, beautiful stalks of lemongrass sold in most Thai outdoor markets.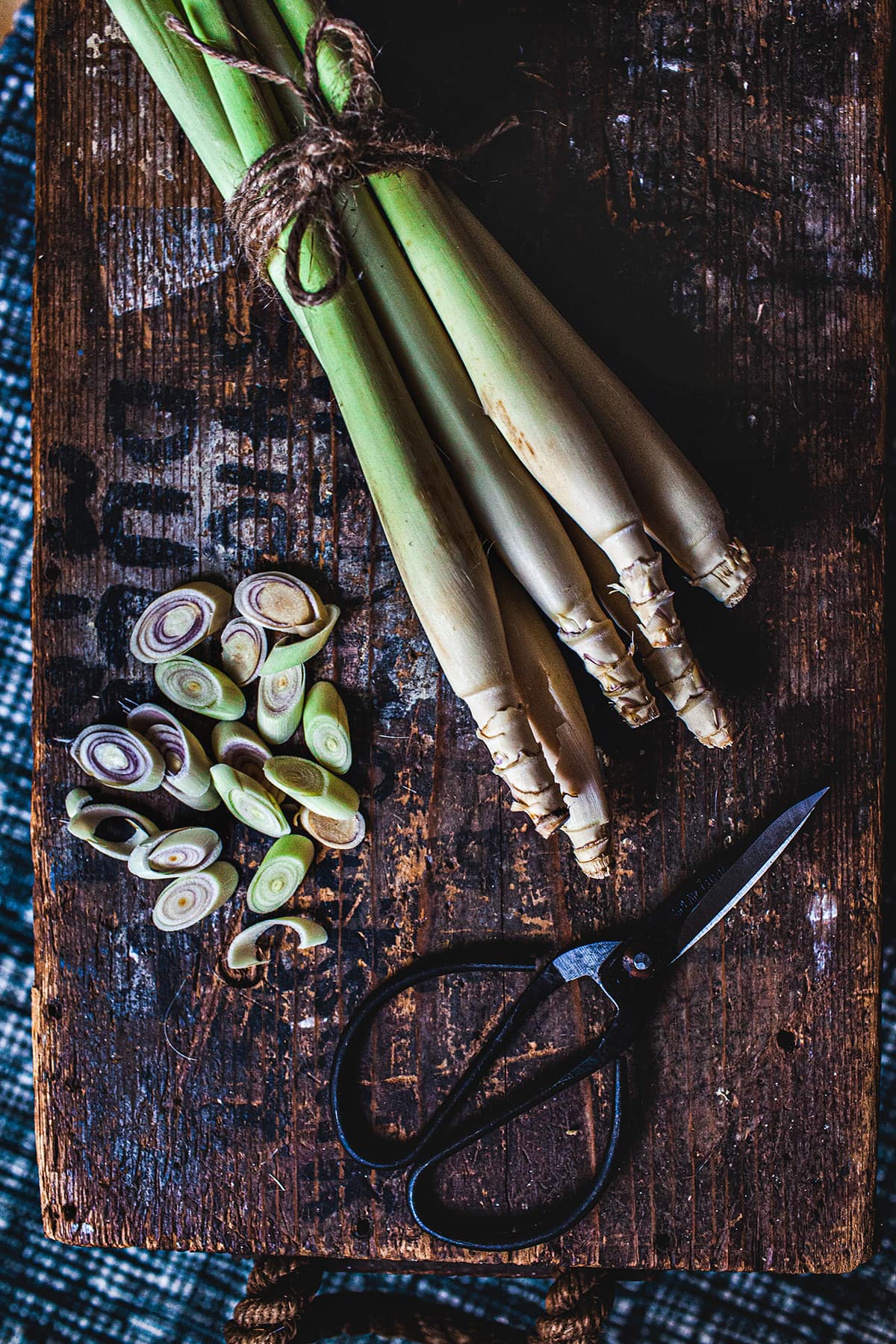 How do You Use Lemongrass in Thai Cuisine?
Lemongrass is used in making curry pastes, sauces, soups, and salads. Each recipe calls for different ways of cutting and prepping the stalks for a different dish. For example, for salads and sauces, you want to chop the stalks, the bottom 3-5 inches very finely for easy digestion. For soups, you want to keep the stalk long but you'll need to smash it first with a heavy object to help release the oil and fragrance from the lemongrass. For curry pastes, you chop the stalk into small pieces first then pound or process into a fine paste texture for making curries.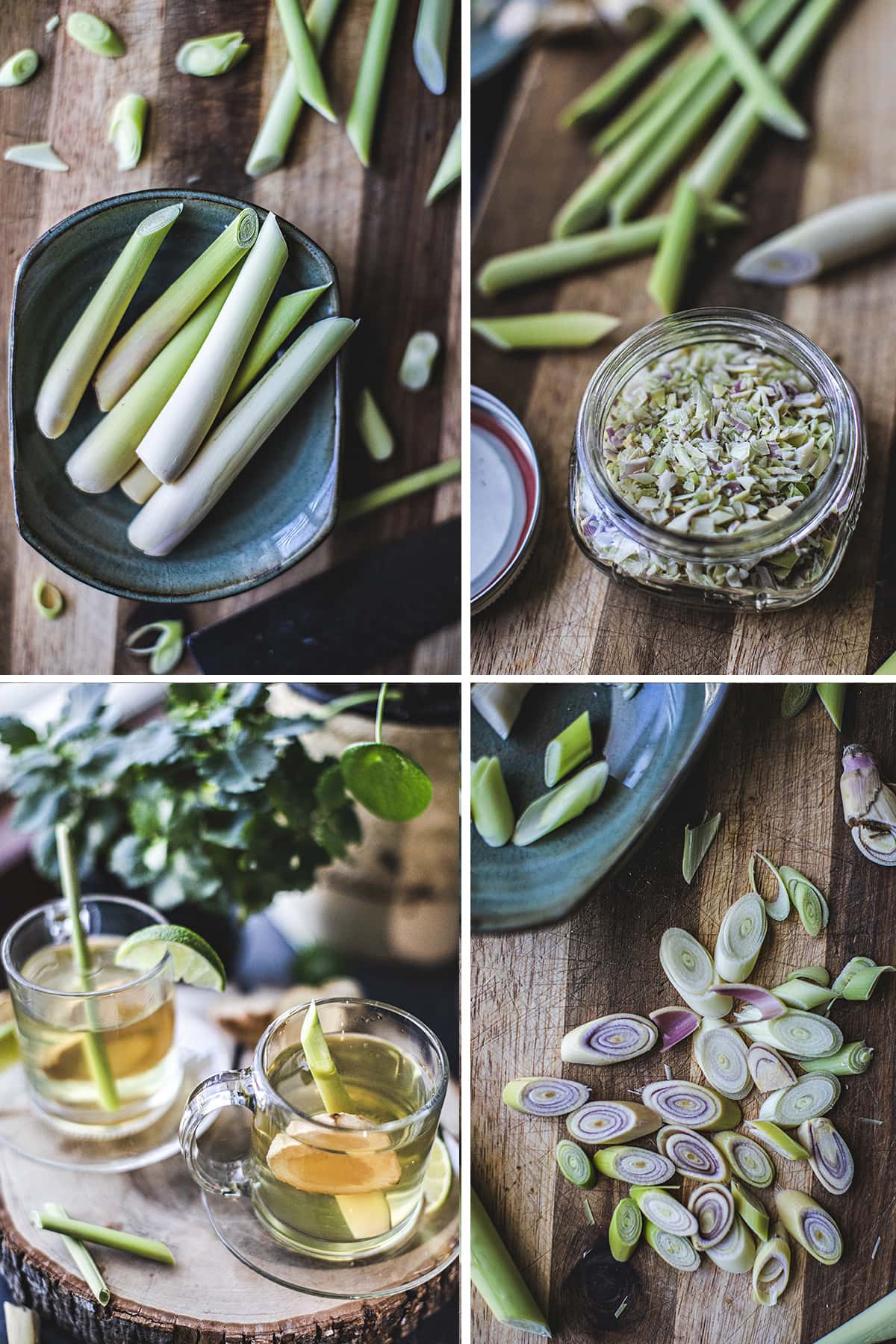 What does Lemongrass Taste Like?
Lemongrass eaten by itself is quite…unpleasant. Especially when you haven't sliced it small. Lemongrass stalks are very tough and fibrous and almost impossible to chew. But once they are chopped into tiny fine pieces, when tasting, they are the most pleasant fragrant, refreshing and semi-crunchy taste with a strong taste of lemon or lime flavors. It's such a citrusy and refreshing herb.
Where to Buy Lemongrass?
Lemongrass is sold in most Asian markets. They are usually sold fresh, frozen, dried, or in powdered form. I have never used dried or powdered lemongrass so I will only suggest finding fresh or frozen if possible. Frozen lemongrass is sold whole in stalks, 5-6 inches long. They also have the roughly or finely chopped option. Both are great for using for making curry pastes, sauces, or use in salad. They don't take very long to thaw, so those are better options for your Thai or other Asian cooking. You can also purchase fresh lemongrass on Amazon
How to Harvest Lemongrass?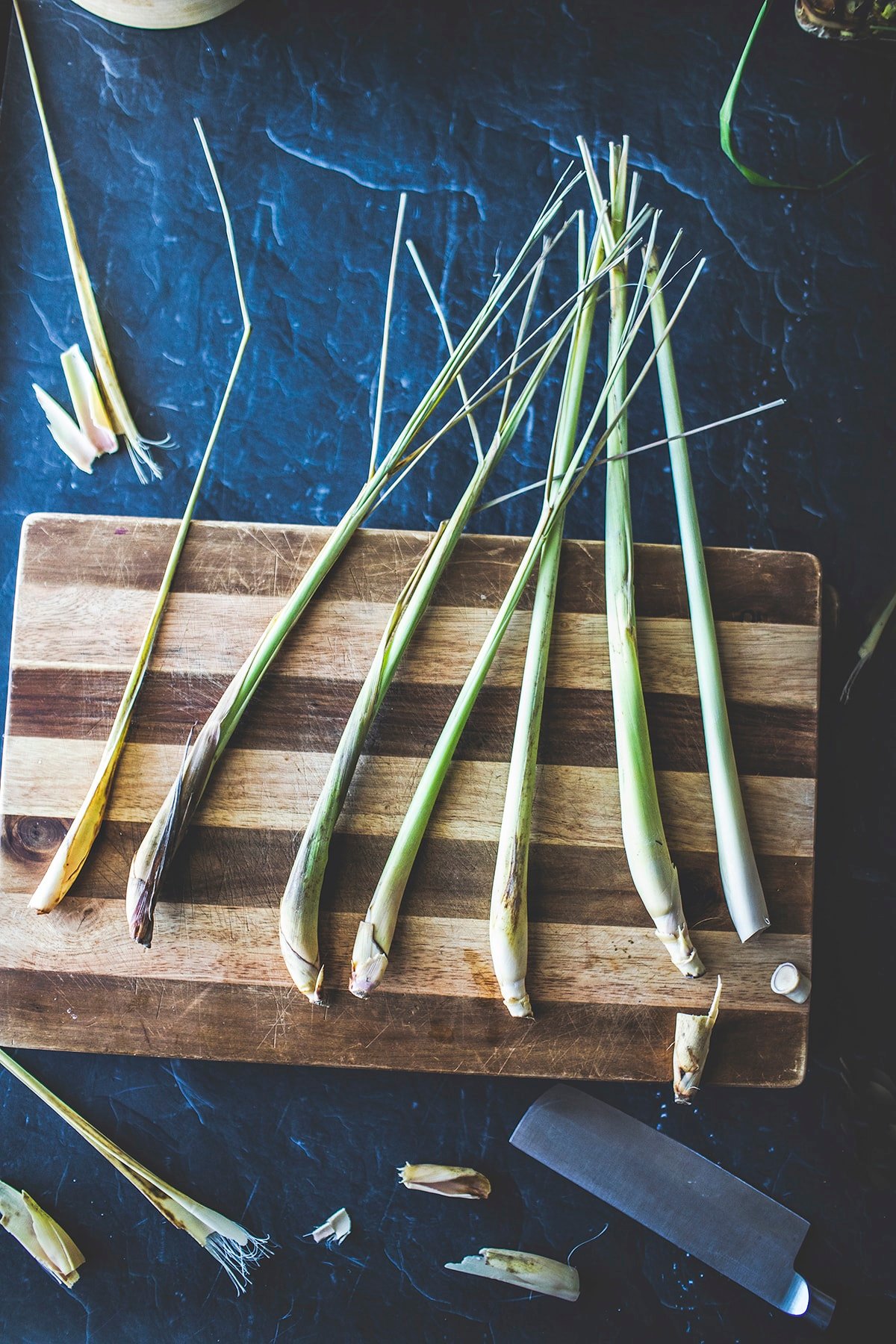 If you are lucky enough to have a bush of lemongrass to harvest, you have made me a very jealous food blogger! (: I will, however, rise above and share a few tips on how to harvest your precious herb. Lemongrass leaves are long with sharp blades on the edges of the grass-like leaves. The bigger and older they are, the tougher and sharper the blades. I've had a few very unpleasant scratches with my fight to separate the fresh lemongrass from its clump of the plant.
Please trust me on this and wear long sleeve shirts and garden gloves to prevent the cuts. Also, use sharp and heavy scissors or knives to cut the stalks. They are tough to separate since they are grown together almost as one big clump. Once you are done cutting, trim the leafy parts, leave about 10-12 inches of the stalks, wash the lemongrass, and put them in a clear glass vase with water or put them in the refrigerator for cooking.
How to Freeze Lemongrass?
Can you freeze lemongrass? You absolutely can. Lemongrass freezes well actually. There are 3 ways I will show you how to freeze lemongrass.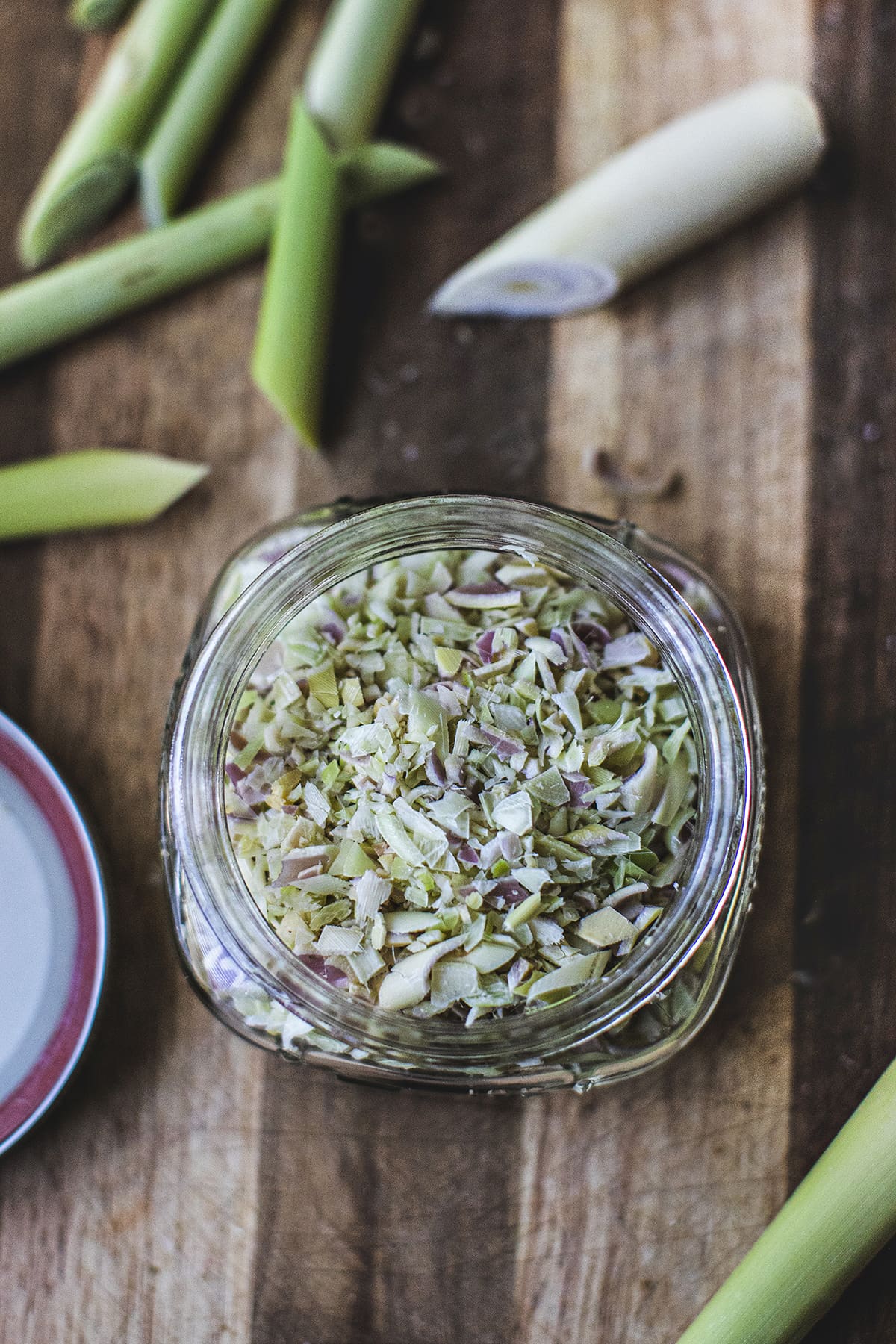 1. Freezing lemongrass-as long and whole stalks
First, you must clean and wash the lemongrass with water, pat dry with paper towels and find a steady knife and cutting board to use for cutting. Chop the stalks into long baton-like pieces using only the bottom 3-5 inches of the stem, use the rest of the top part of the stem for tea if you don't want to waste it. Store the pieces in medium zip lock bags and store them for up to 6 months in the freezer.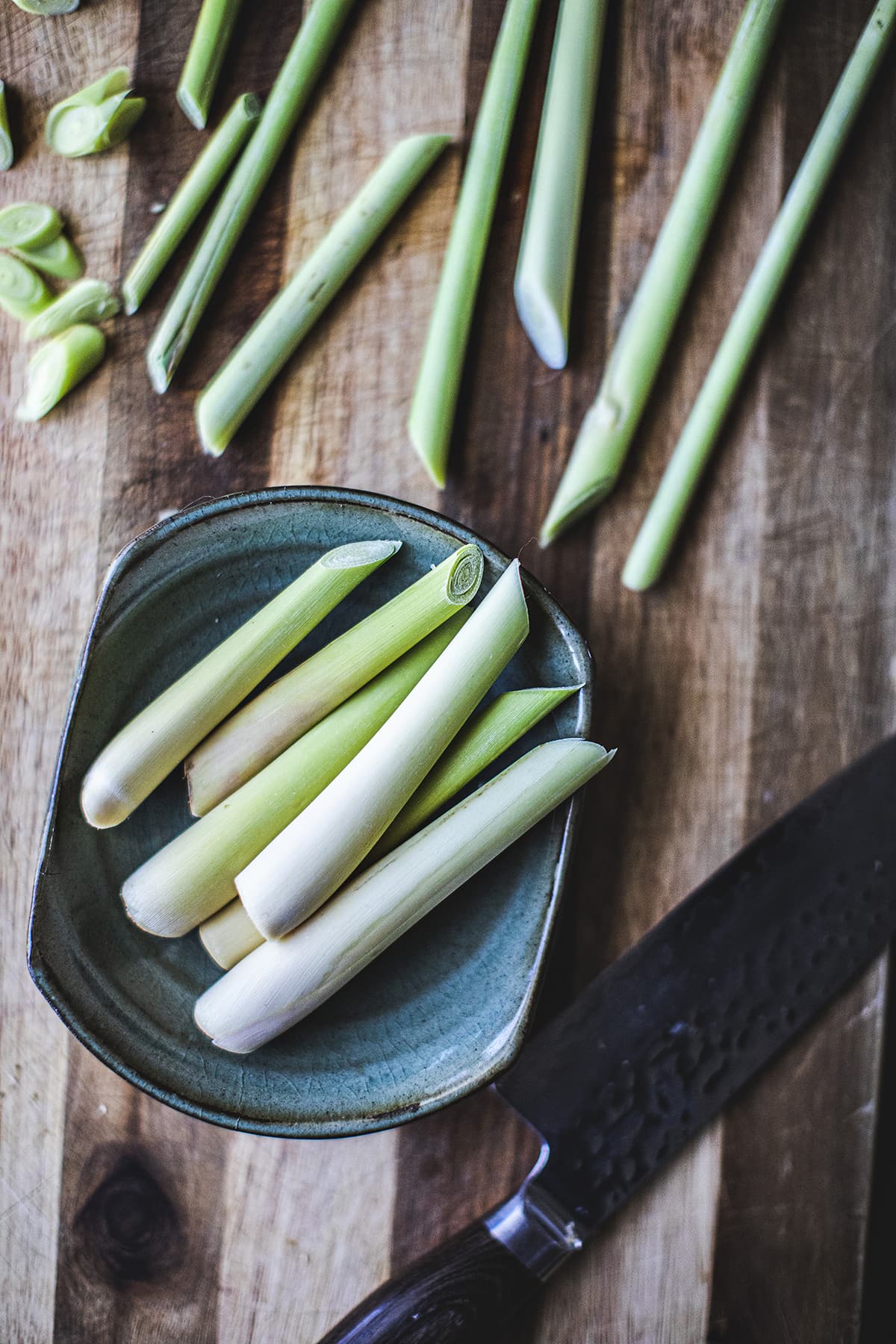 2. Freezing lemongrass-chopped into circular chunks
Same as step 1, wash and clean the lemongrass, then with a sharp and somewhat heavy knife and sturdy cutting board, chop the bottom 3-5 inches of the lemongrass into ¼ inch pieces. Use a glass jar to store the pieces for up 4-6 months in the freezer.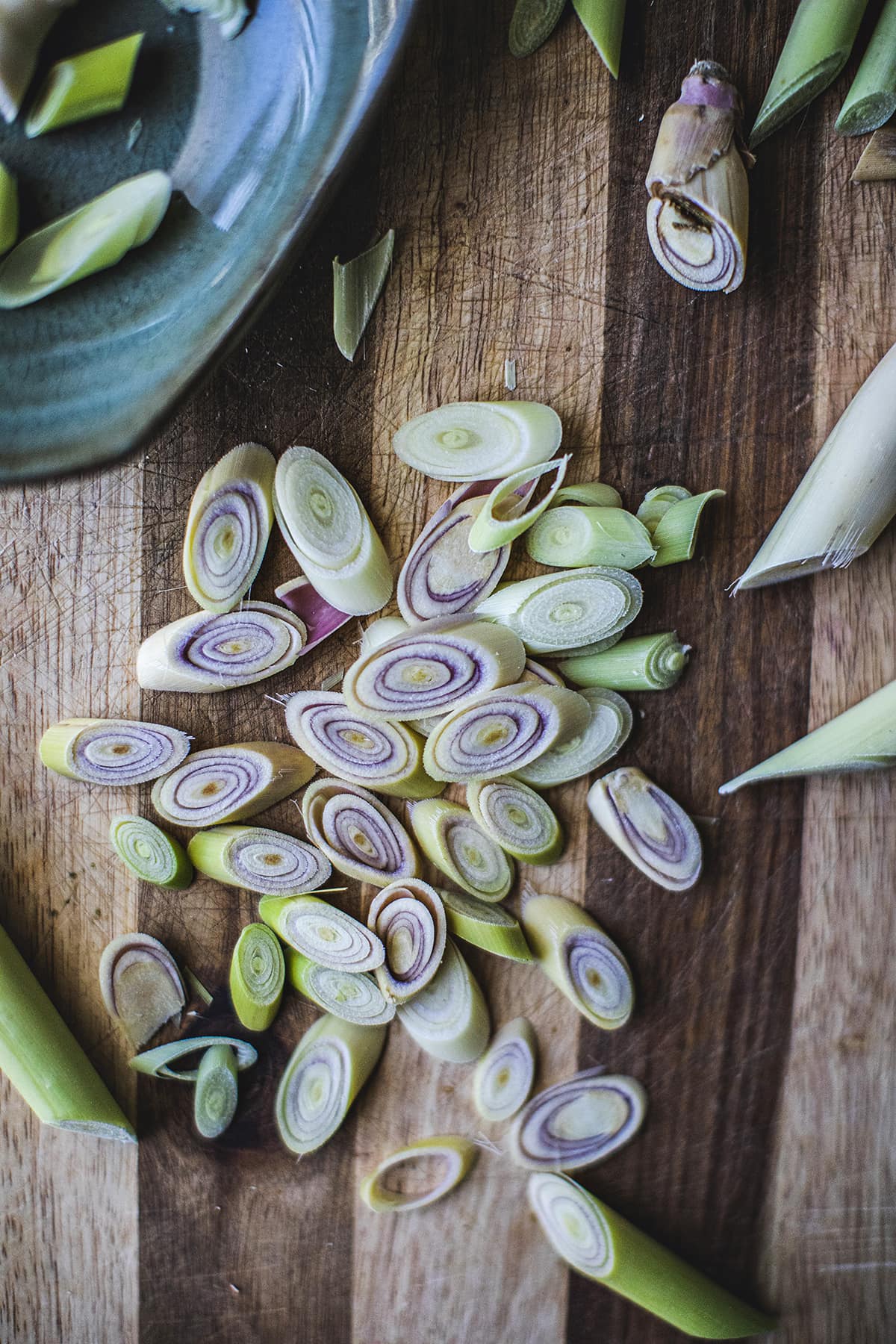 3. Freezing lemongrass-as fine minced pieces
Finely chopped lemongrass is so convenient when you want to make homemade curry pastes, add to salad or sauces! Be sure to always wash your lemongrass, and pat it dry. On a cutting board, use a sharp kitchen knife and chop the bottom 3-5 inches of lemongrass stalks into small pieces from ¼ - ½ inch long. Then use the knife to chop those pieces into smaller pieces like how you would mince garlic over and over again until the pieces are fine.
You can also use a spice grinder or small food processor to do this. Just add a tiny bit of water to help turn the blades. Store the lemongrass in a glass jar, zip lock bag, or ice cube trays in the freezer for up to 6 months.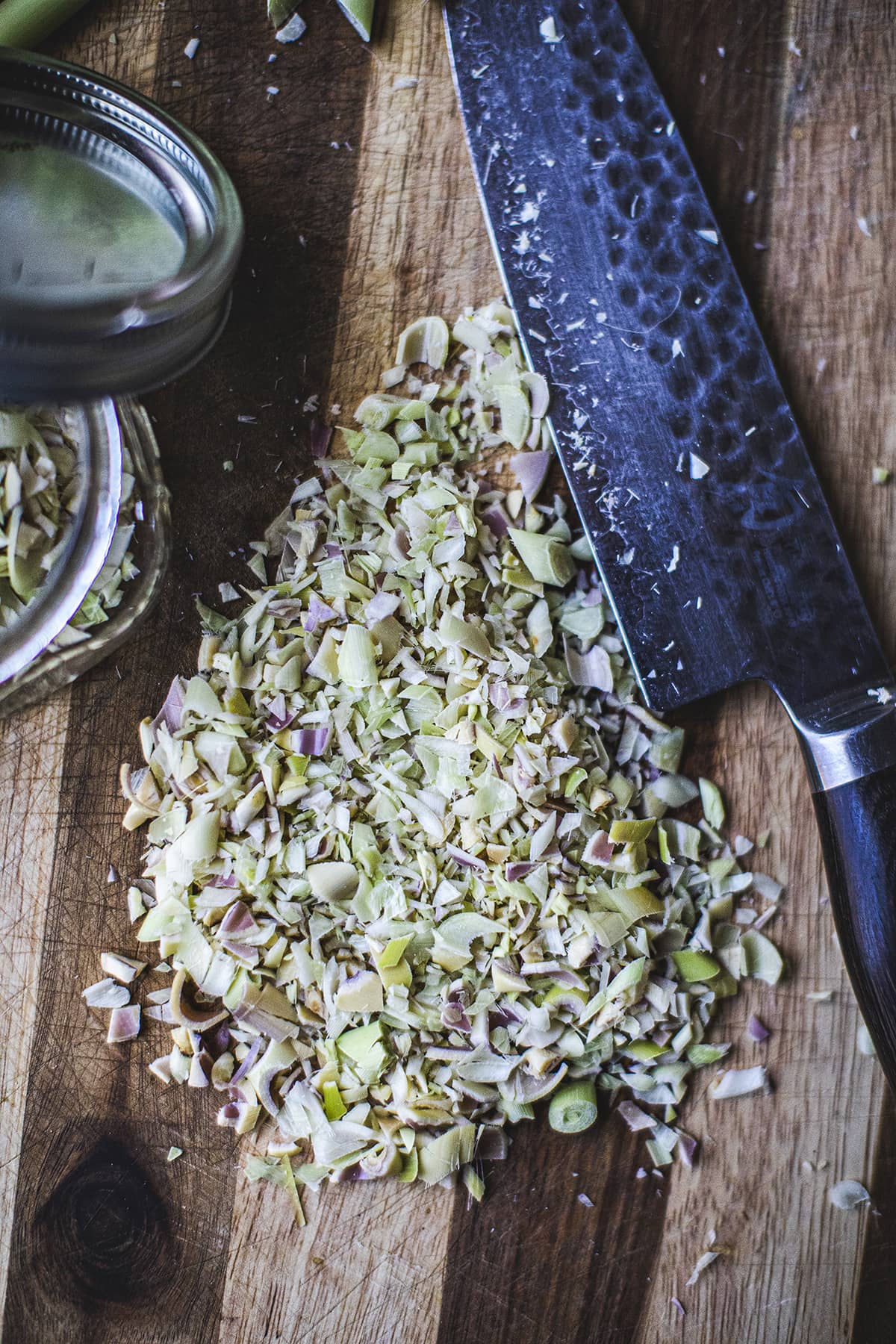 How to Make Lemongrass Tea?
Lemongrass tea is a delicious, healthy, and invigorating tea. Home-made lemongrass tea is super simple. I will give you a quick tutorial for making lemongrass hot tea and sun-dried lemongrass tea.
1. Lemongrass hot tea
Combine 8 cups of water with 2-3 stalks of lemongrass (leafy parts are ok to use for tea) and a thick slice of ginger. Smash both ingredients to release the fragrance but do not crush the ginger. Bring water to a boil then let the tea simmer on low for 20 minutes. Longer if you want a stronger taste. Strain out the herbs and enjoy this simple and extra healthy soothing lemongrass tea! Option of adding a squeeze of fresh lemon or lime juice with a drop of honey or sweetener for a sweet and tangy taste.
2. Lemongrass sun tea
In a large pitcher, combine 10 cups of water, 3-4 stalks of lemongrass (leafy parts are ok to use for tea), and a thick slice of ginger. Smash both ingredients to release the fragrance but do not crush the ginger. Cover the pitcher with Saran wrap and let the pitcher of tea steep in the sun for at least 6-10 hours. Before serving, add a few sprigs of mint and squeeze half of a lemon or lime into the pitcher. Remove the herbs and pour over ice and serve! You can add sugar or honey for sweetness to the pitcher if so desired. I sometimes add just a drop of honey to my glass before drinking. Whatever you prefer!
Recipes using lemongrass:
Find this blog post helpful? If so, please leave a 5-star rating below in the comments section further down the page. And don't forget to follow me on Facebook, Pinterest, or Instagram!