What is lemongrass and how to use it in Thai cooking. Learn more about this popular and important ingredient used in many dishes in Thai and other Asian cuisines. Read on!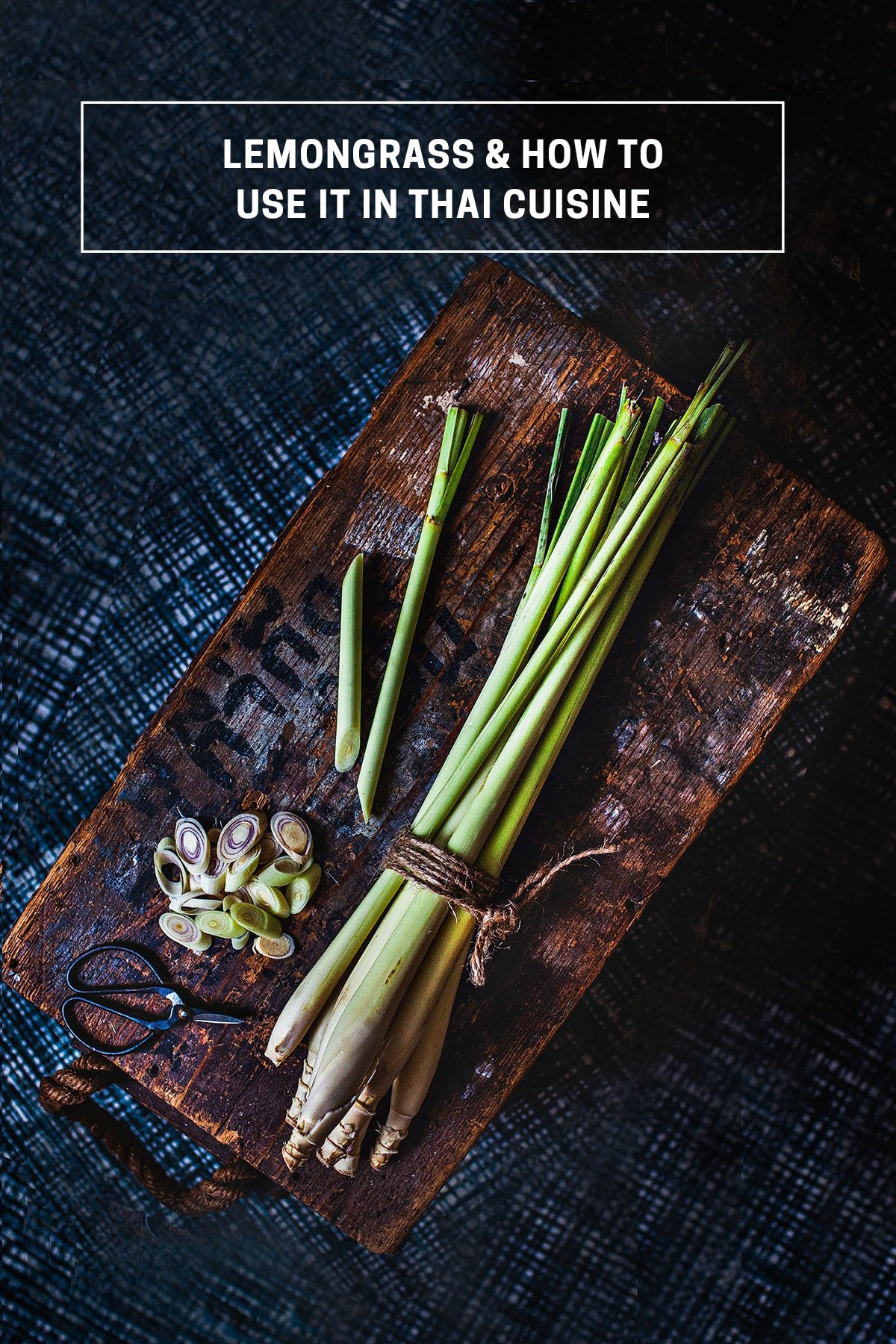 Jump to:
The importance of lemongrass
Lemongrass is a fragrant herb used extensively in Thai and many Asian cuisines. It has a very citrus and lemon-scented fragrance that seasons food beautifully. This medicinal spice has light yellow circular stalks with long green leaves.
Because of its intense flavor and aroma, lemongrass is used for essential oil, tea, and drinks. The flavor of lemongrass is wonderful for added lemony flavor in drinks and cocktails.
Its aromatic smell and citrusy flavor are used in many savory dishes in Asian cooking. Though not as common in desserts, lemongrass oil is used more as a flavoring extract in sweet dishes. Lemongrass extract is a perfect substitute for your baking extracts. Just need a small amount if used for baking.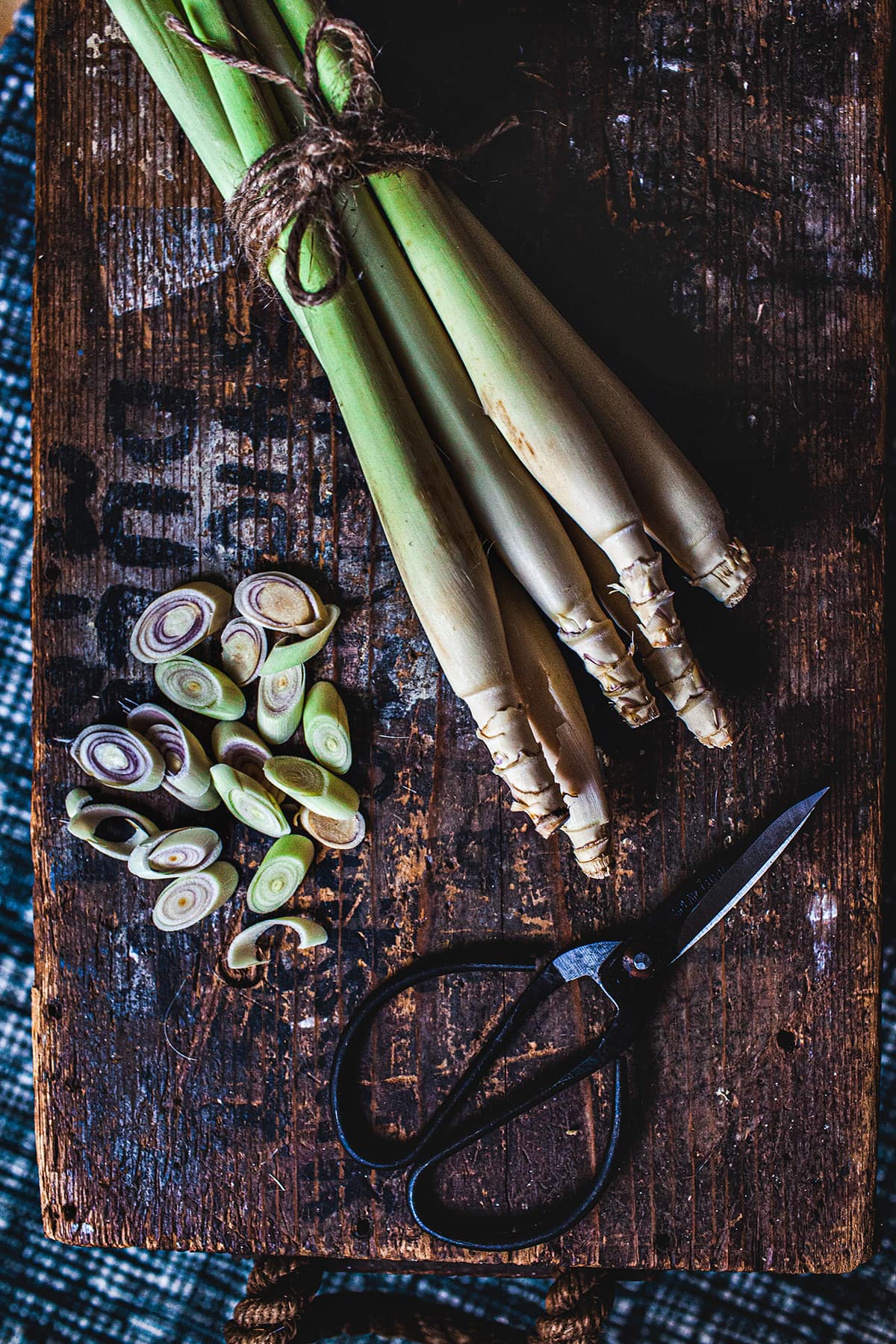 What is Lemongrass?
Lemongrass (Cymbopogon citratus), fever grass, is a tropical herb popular in Southeast Asia. It is an aromatic herb used extensively in Southeast Asian cuisine. It has a deep citrus flavor, fragrance, and fibrous texture, making perfect seasoning herbs in savory dishes. Lemongrass is used in sauces, salads, soups, stir-fries, marinating, and Thai curry pastes. Read on to learn how to use lemongrass in Thai cuisine!
What does lemongrass taste Like?
Lemongrass, when eaten just by itself, is quite unpleasant. Especially when you haven't sliced the stalk of lemongrass into small pieces. Lemongrass stalks are tough, fibrous, and stringy, making it difficult to chew raw. They must be chopped into small pieces before being used in food. Once they are chopped into tiny fine pieces, the intense flavor of lemongrass is quite refreshing, with a citrusy flavor and semi-crunchy taste. Its earthy, herby flavor and strong lemon flavor make it popular in many light Asian dishes like salads, soups, and meat.
What does lemongrass smell like?
Lemongrass has an intense aroma like citrus fruit, fresh lemons, or freshly squeezed lime juice. When used for cooking, it sends an inviting aroma that smells pleasant.
Is lemongrass used in Thai food?
Yes! Absolutely! Lemongrass is used extensively in Thai cuisine! They are a staple in so many dishes that it would be shocking not to run into lemongrass in Thai food. You will find lemongrass grown in almost all homes with any land attached to it, like the homes in my village of Surin. Also, you won't walk far before spotting an abundance of fresh, beautiful stalks of lemongrass sold in most Thai outdoor markets.
How do you use lemongrass in Thai cuisine?
Lemongrass is used in making curry pastes, sauces, soups, and salads. Each recipe calls for different ways of cutting and prepping the stalks for a different dish. For example, for salads and sauces, you want to chop the stalks, the bottom 3-5 inches, very finely for easy digestion.
You want to keep the stalk long for soups, but you'll need to smash it first with a heavy object to help release the oil and fragrance from the lemongrass. For curry pastes, you chop the stalk into small pieces first, then pound or process into a fine paste texture for use later.
The best lemongrass substitutes
The best substitute for lemongrass is...lemongrass...in different forms! There are different ways lemongrass can be bought and used. But I do not recommend using other ingredients for lemongrass substitute. Use the real ingredient and not lemon juice, Thai lime, lemon balm leaves, or kaffir lime leaves. These are not good substitutes to use in place of lemongrass.
The different forms of lemongrass
You can find lemongrass in many different forms. Most, if not all, can be found at your local Asian grocery stores. These are the best ways to use lemongrass.
A word of caution!
I see a lot of popular posts about the number of ways to substitute lemongrass. Let me say lemongrass can not be substituted. It is a unique herb with a complex flavor and incomparable textures, taste, and fragrance, making it hard to find any suitable substitute. The fragrance can have a slight scent of ginger, with a fresh lemon aroma, but cilantro with added leaves of lemon balm isn't just going to cut it. I'm sorry.
Please visit your local Asian market and grab the real thing instead of finding these different lemongrass replacements that will ruin the flavors of your dish. See below for online places to buy if you don't have an Asian market nearby.
Where to buy lemongrass online
And if you don't have an Asian market near you, I have good news. Many buy online at one of the stores I've used for years.
Options are endless. So please don't be fooled by substituting bay leaf, Japanese Yuzu, preserved lemon, or a single arugula leaf will make great lemongrass substitutes. Not at all a good idea, and you will ruin your Thai dishes using these other suggested substitutes.
Where to buy fresh lemongrass
Lemongrass is sold in most Asian markets. They are usually sold fresh, frozen, dried, or powdered. Here are some places you can buy fresh lemongrass.
Check with your local Asian markets. They typically carry fresh lemongrass. Check the produce or the refrigerator section for fresh stalk of the lemongrass plant.
At your nurseries. More and more nurseries are carrying tropical plants and herbs each year. Check here to see if they sell them.
Farmer's markets with your local farmers. If you live in a community with farmer's markets, check with the local farmers to see if some might have lemongrass plants. I've requested specific flowers, herbs, and plants from my local farmers before, and it's great establishing a friendly relationship with my farmers' community.
At home improvement stores. Check at places like Home Depot and Lowes or other stores like those. Since they are larger, the more chances of them carrying exotic herbs and plants.
Health benefits of lemongrass
Lemongrass has a myriad of health benefits. They are used as medicinal herbs, in essential oils, and makes delicious lemongrass tea. They are used to season food and drinks and so much more.
The following are just a few of the health benefits of lemongrass.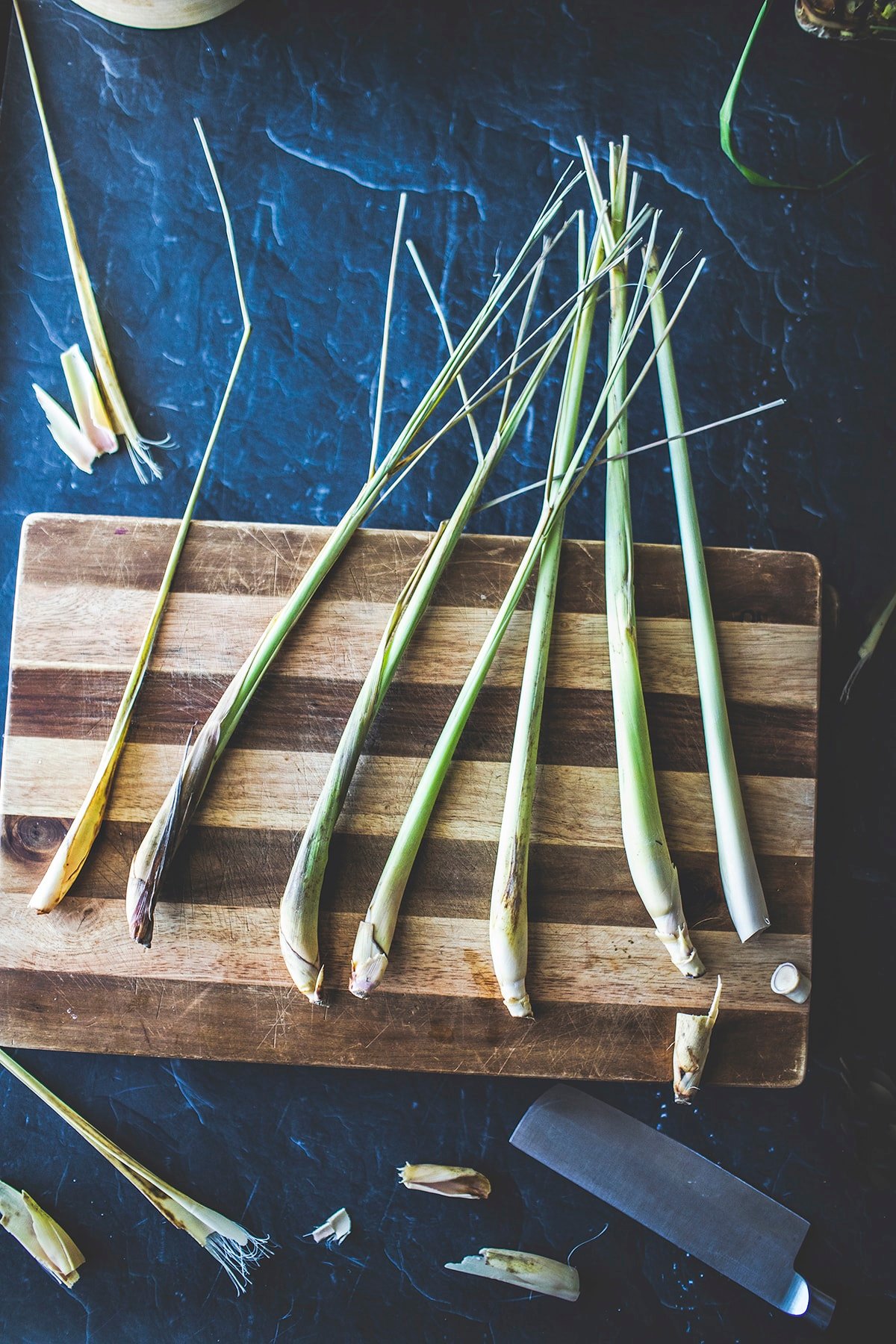 How to harvest lemongrass
If you are lucky enough to have a bush of lemongrass to harvest, you have made me a very jealous food blogger! (; Here are a few tips on how to harvest your herb. Lemongrass leaves are long with sharp blades on the edges. The bigger and older they are, the tougher and sharper the blades. I've had a few unpleasant scratches with my fight to separate the fresh lemongrass stalks from their clump.
Wear long sleeve shirts and garden gloves to prevent cuts. Also, use sharp and heavy scissors or knives to cut the stalks. They are tough to separate since they are grown together as one big clump. Once you are done cutting, trim the leafy parts, cut any straggly roots, and leave about 10-12 inches of the stalk from bottom to top. Wash each stalk of fresh lemongrass well, then put them in a clear glass vase with water or put them in the refrigerator for cooking.
They are beautiful as a decorative plants at room temperature too. Change the water every 2-3 days to prevent the roots from rotting.
How to freeze lemongrass
Can you freeze lemongrass? You absolutely can. Lemongrass freezes very well. Below are here are three ways to freeze lemongrass.
1. Freezing lemongrass as whole stalks
First, wash the lemongrass with water, pat dry with paper towels, and find a steady knife and cutting board. Chop the stalks into long baton-like pieces using only the stem's bottom 3-5 inches. Use the rest of the top part of the stem for tea if you don't want to waste it. Store the pieces in medium zip lock bags in the freezer for up to 6 months.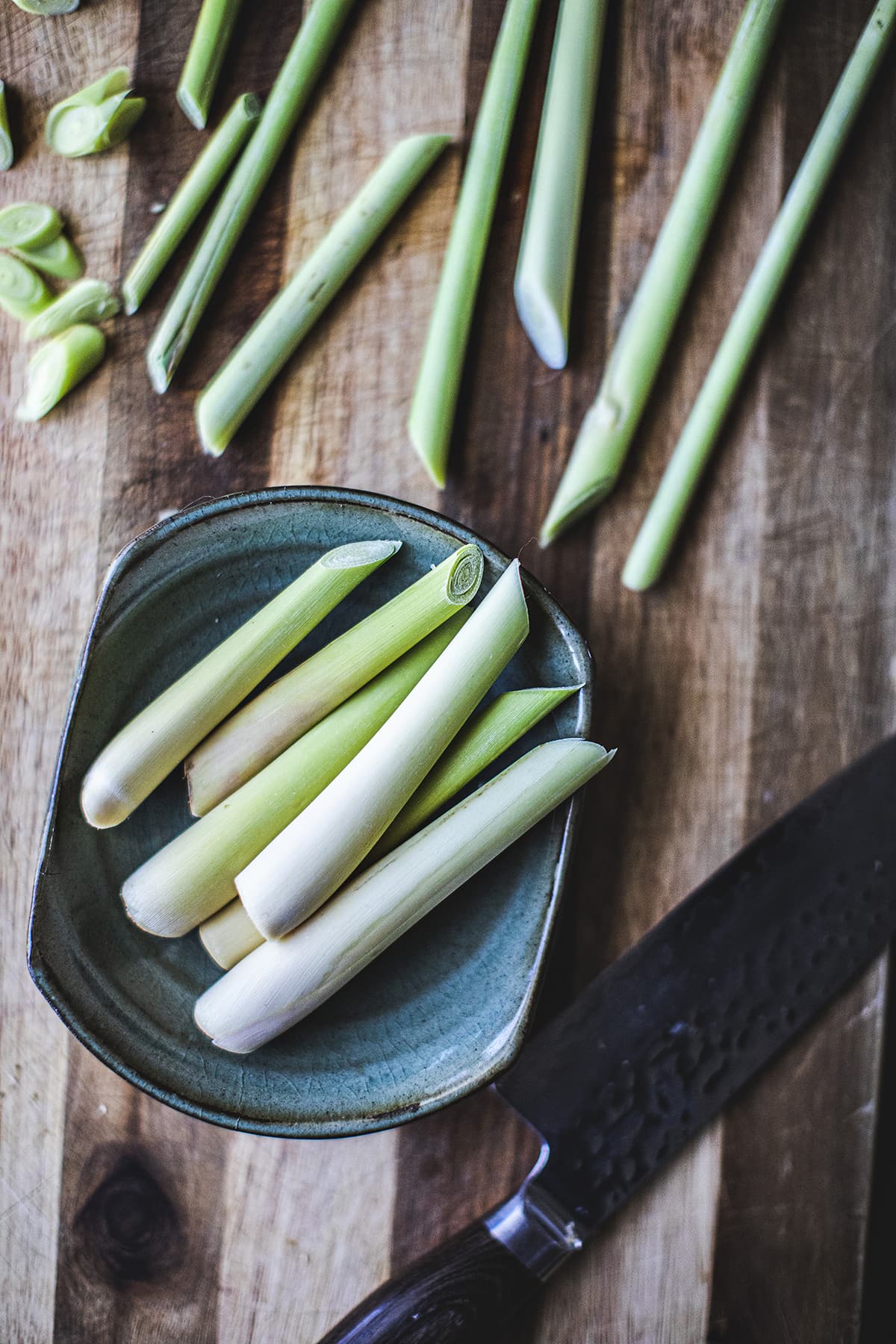 2. Freezing lemongrass in circular pieces
Same as step 1, wash and clean the lemongrass, then with a sharp and somewhat heavy knife and sturdy cutting board, chop the bottom 3-5 inches of the lemongrass into ¼ inch pieces. Store in an airtight container in the freezer for up to 4-6 months.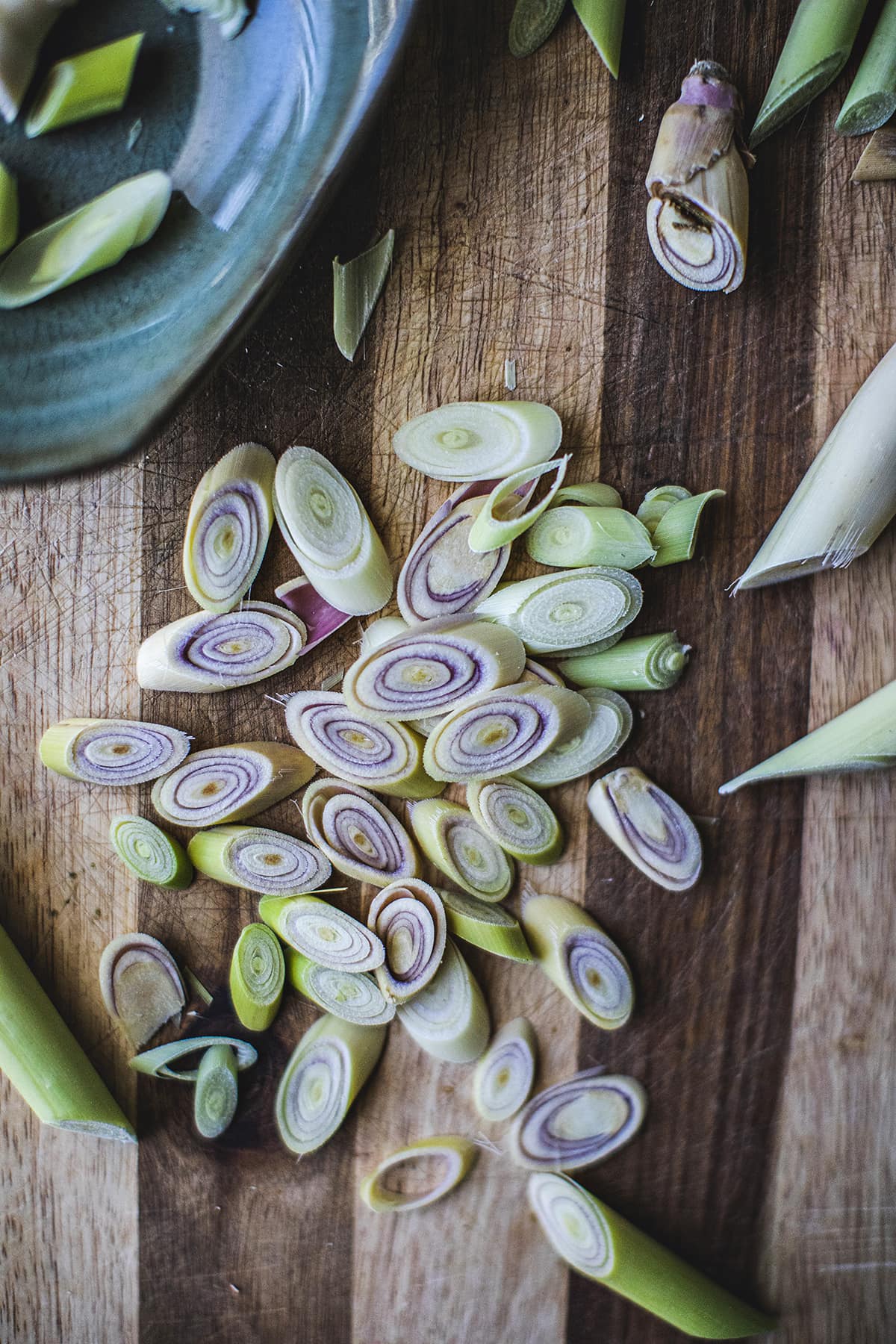 3. Freezing lemongrass in finely minced pieces
Finely chopped lemongrass is so convenient to make homemade curry pastes or add to salad or sauces! Use a sharp kitchen knife on a cutting board and chop the bottom 3-5 inches of lemongrass stalks into small pieces from ¼ - ½ inch long. Then use the knife to chop those pieces into smaller pieces, like mincing garlic repeatedly, until the pieces are fine.
You can also use a spice grinder or a small food processor. Just add a tiny bit of water to help turn the blades. Store the lemongrass in a glass jar, zip lock bag, or ice cube trays in the freezer for up to 6 months.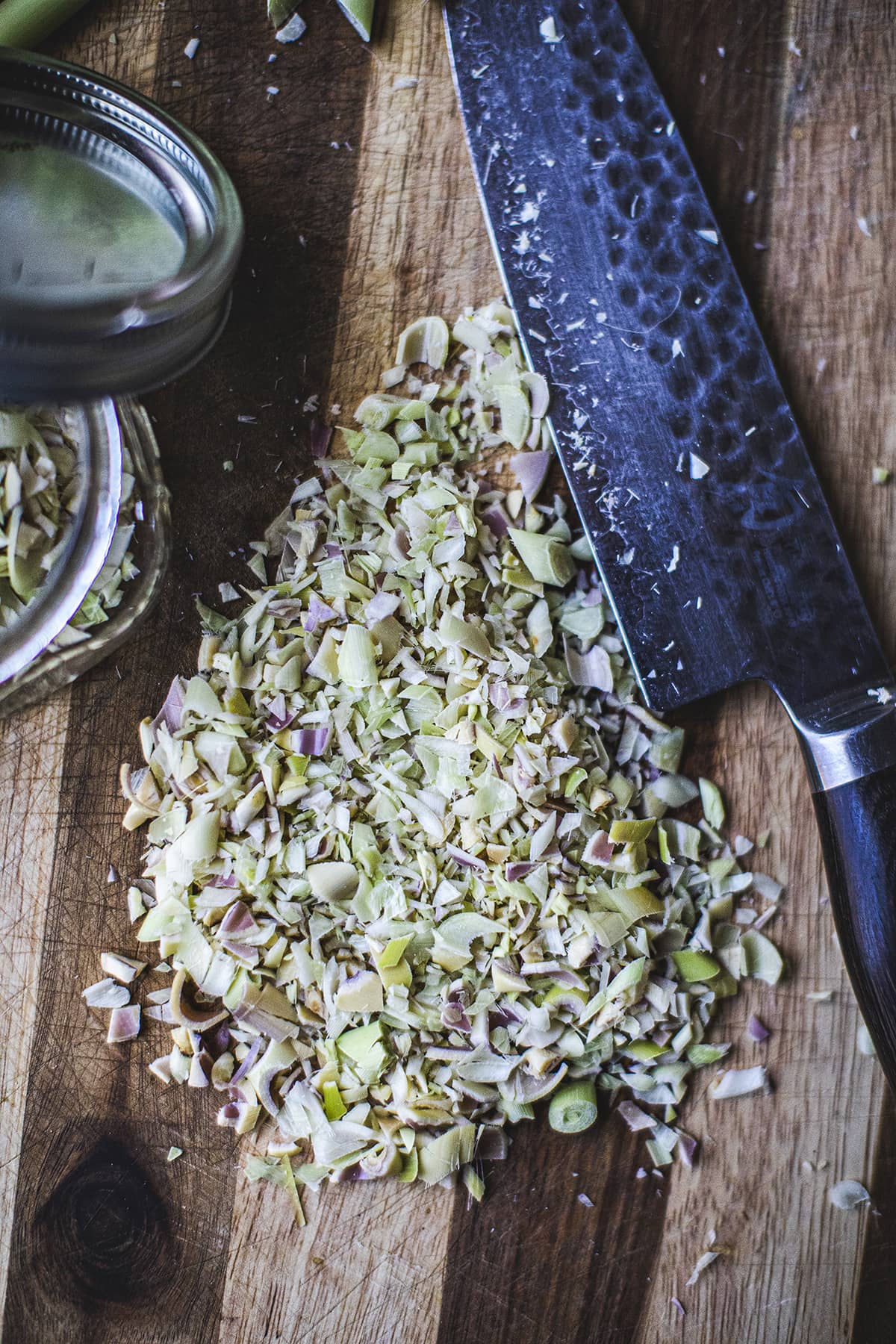 More helpful Thai ingredients and resources
Want to learn more about Thai ingredients? These helpful blog posts let me know what you'd like to know more!
Recipes using lemongrass
Find this blog post helpful. If so, please leave a 5-star rating below in the comments section further down the page. And don't forget to follow me on Facebook, Pinterest, or Instagram!