Do you get overwhelmed with all the sauces available for making Thai recipes? In this blog post, I will break down 13 essential sauces for Thai cooking, complete with pictures, to help you get the right one for your favorite Thai dishes!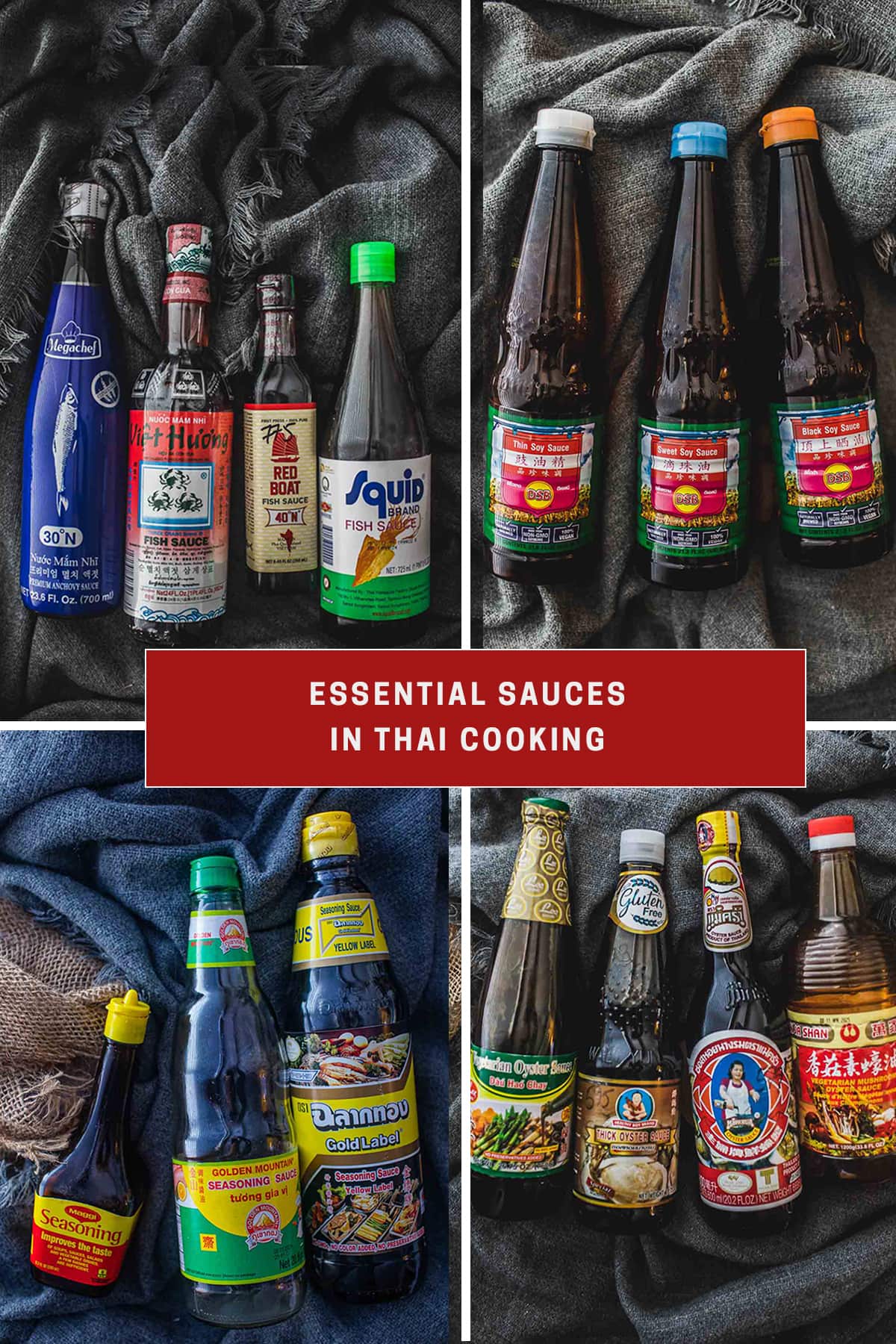 The popular sauces listed below are the most common for Thai cooking. They are typically the ones you'll find here at most Asian markets in the US.
Once you learn these sauces, use them in recipes like this easy Nam Prik Pla chili sauce, Nam Prik Pao, and Thai sweet chili sauce.
Jump to:
How to use this guide
There are a few other sauces, pastes, and seasonings used in Thai cooking, which I will cover in another blog post. This post concerns the most used sauces, usually in bottles, at your local Asian grocery stores.
The best part, many of these sauces for Thai cooking are also easy to find in most American grocery stores. My most used sauces are listed below.
Under each sauce, I will suggest substitutions for them if there are any. A couple of these sauces, though, are nearly impossible to substitute due to the uniqueness of the sauce. It's always a good idea to use the sauce specified in the recipes unless otherwise stated.
I'm willing to bet, though, if you go visit your local Asian market, you will be able to find most of these sauces to stock up for your pantry.
Essential Sauces for Thai Cooking
These sauces are packaged in large bottles for repeated use for months. Make sure to refrigerate the ones that are labeled so on the bottles. My most used sauces are listed below.
1. Fish Sauce, Nam Pla (น้ำปลา)

If you know Thai food, you know fish sauce. Imagine eating Thai food without rice! It's that important. Don't be turned off by the pungent smell. Chances are, if you've had Thai food before, you've had fish sauce—lots of it. So really, you are a veteran fish sauce consumer even without realizing it. (:
Fish sauce is made from salted tiny anchovies and krill then it's fermented for several months or years. Some brands are seasoned with salt and sugar. I have a few brand favorites. Most are from Thailand and Vietnam.
Below are pictures of brands I've used most often in Thai and South East Asian cooking.
Substitutes for fish sauce
Thai fish sauce, an essential ingredient in Thai cooking, is a pantry must. It's one of those unique ingredients you can't omit or substitute.
In some recipes, soy sauce can be used as a substitute, but I don't recommend changing it for most Thai recipes that call for fish sauce. Either omit it completely or use salt instead.
Fish sauce brands
There are countless brands of fish sauce out there in the Asian and American food markets right now. They serve the same purpose, to add saltiness to a recipe, but each has different flavors, smells, salinity, and ingredients used to make them all slightly different.
Different brands of fish sauce
These brands below are my go-to fish sauces for Thai and Asian cooking.
Squid brand fish sauce. It has one of the strongest or smelliest fish smells of other brands. (; But the strong flavors lend themselves to the tastiest Thai meals. The smell will dissipate when cooked, but the taste is umami and tasty. You will also use less of it because it's saltier than most fish sauces.
Tiparos fish sauce brand. They are not as common in the US as they are in Thailand. These usually come in plastic bottles. It's my second option if I can't find the squid brand fish sauce.
Three crab brand fish sauce. My favorite fish sauce for making sauces or dressings and in cold salads like Green papaya salad, dipping sauces, etc.
Red boat. My go-to brand when I want to eat healthier, as the brand has all-natural ingredients with no preservatives. It's pricey, but I use it minimally for special occasions.
Megachef fish sauce. An actual product of Thailand with minimal preservatives. Great tasting fish sauce with a sweetness from the sugar syrup. A brand I would choose next to the three crab brands.
I will add more to this list as time passes, as I'm sure more great brands will come out and make a mark in the fish sauce market.
2. Oyster Sauce, Hoy Nang Rom (หอยนางรม)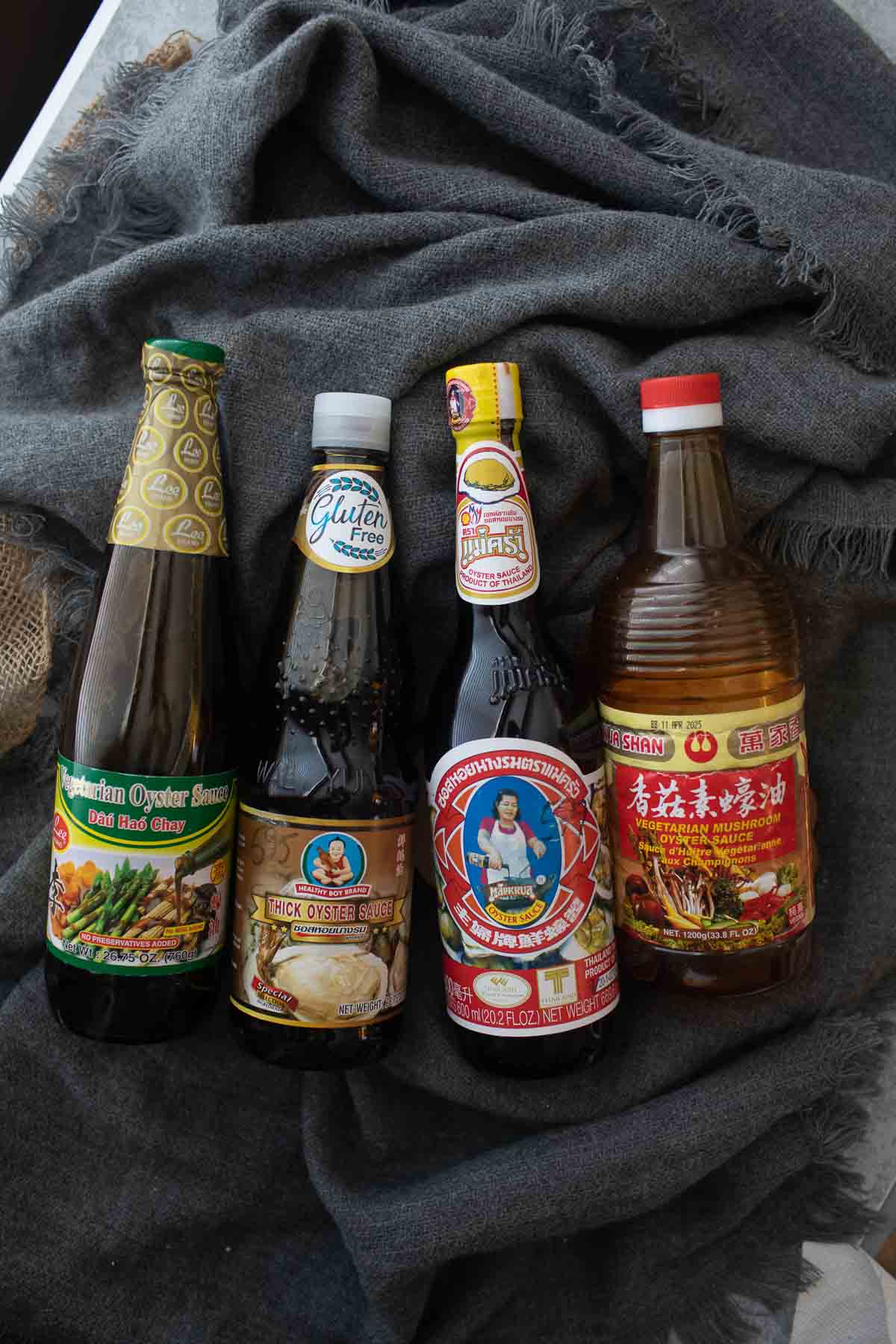 Made from oyster extract, sugar, and cornstarch, oyster sauce is a thick, flavorful dark sauce great for stir-frying or marinating meat. The mildly sweet taste and slightly thick texture round out any stir-fries perfectly.
Look for Thai brands if possible, as the flavors are less intense than other brands from the US.
Substitutes for Thai oyster sauce
Sometimes soy sauce can be used as a substitute for oyster sauce. Oyster sauces are now readily available at most mainstream groceries stores. It is best to grab a bottle as it is handy for many Thai and Asian recipes.
3. Thin Soy Sauce, See Ew Kao, (ซีอิ๊วขาว)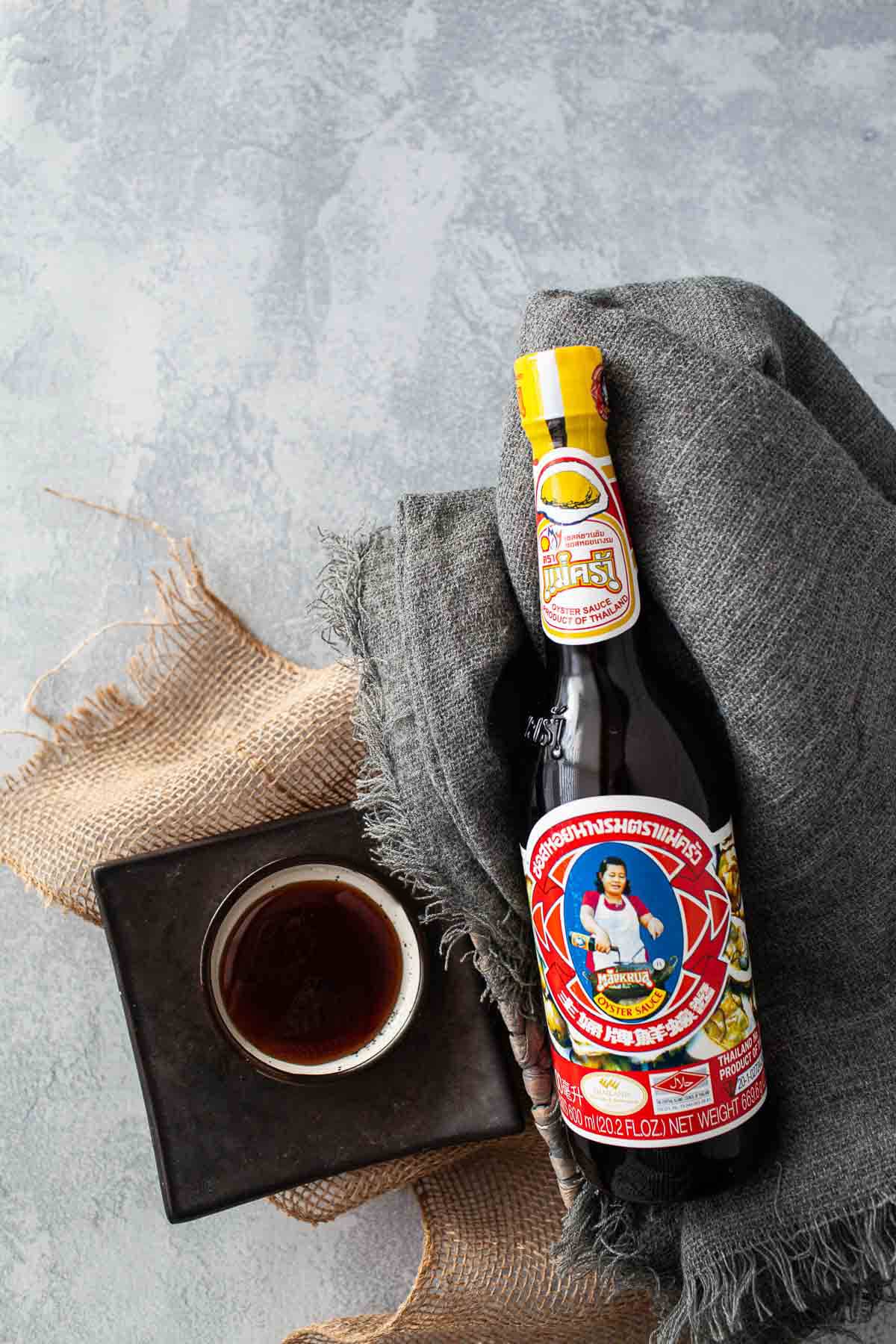 Also called light or white soy sauce. Three different Thai soy sauces often confuse those unfamiliar with Thai food. Those three sauces are thin soy sauce, dark soy sauce, and sweet soy sauce.
I can see where the confusions happen here. Each soy sauce's name is sometimes mixed or switched up with each brand. And some of these brands do have the names of the sauces labeled Chinese or Thai, making it hard for English readers to decipher the sauces in Asian grocery stores in the West. If these sauces are new to you, it can seem overwhelming.
This soy sauce is comparable to the typical soy sauce that most people are familiar with in the West. However, it is lighter and slightly sweeter in flavor. All the different types of soy sauces can be overwhelming, especially when there are so many brands for each type.
My best suggestion is to read the label carefully and look for brands from Thailand. I will also include links for each sauce with this post for your convenience and to help reduce the confusion and frustration.
Substitutes for Thai thin or light soy sauce
Some Chinese soy sauces are ok as a substitute. Japanese soy sauce is also a great substitute for noodles and stir-fried dishes and is used in Japanese ramen soups as seasoning.
Soy sauce found at regular grocery stores is fine for certain recipes but not all. Check each recipe for potential substitutes, as the flavor can greatly make or break a dish.
4. Sweet Soy Sauce, See Ew Wan (ซีอิ้วหวาน)
Pictured below. Two different brands of sweet soy sauce. Both are highly recommended.
This thick, rich, dark sauce made with soy, starch, and palm sugar molasses will surely add a distinctively sweet flavor to many noodle dishes like Pad Kee Mao and Pad See Ew.
If you didn't notice, the name See Ew is the same as the famous Pad See Ew recipe, which uses this soy sauce as one of its seasoning sauces.
Thai stir fries are heavily influenced by Chinese cuisine, with a large Chinese migration to Thailand decades back. That's why you'll see a lot of soy sauces used in stir-fried dishes.
Helpful tips for different bottles of Thai sauces
Before the bottles were clearly labeled, I used to tip the bottle over on its side and see the sauce slowly move from one side of the bottle to another to make sure it was the right soy sauce. It should be thick and black.
Now, there's writing in both Thai and English on the bottles, making it easy to distinguish the different sauces.
Substitutes for Thai sweet soy sauce
If you can, add honey or molasses to a Thai or regular soy sauce as a substitute for the sweet dark soy sauce.
5. Black Soy Sauce, See Ew Dum (ซีอิ๊วดำ)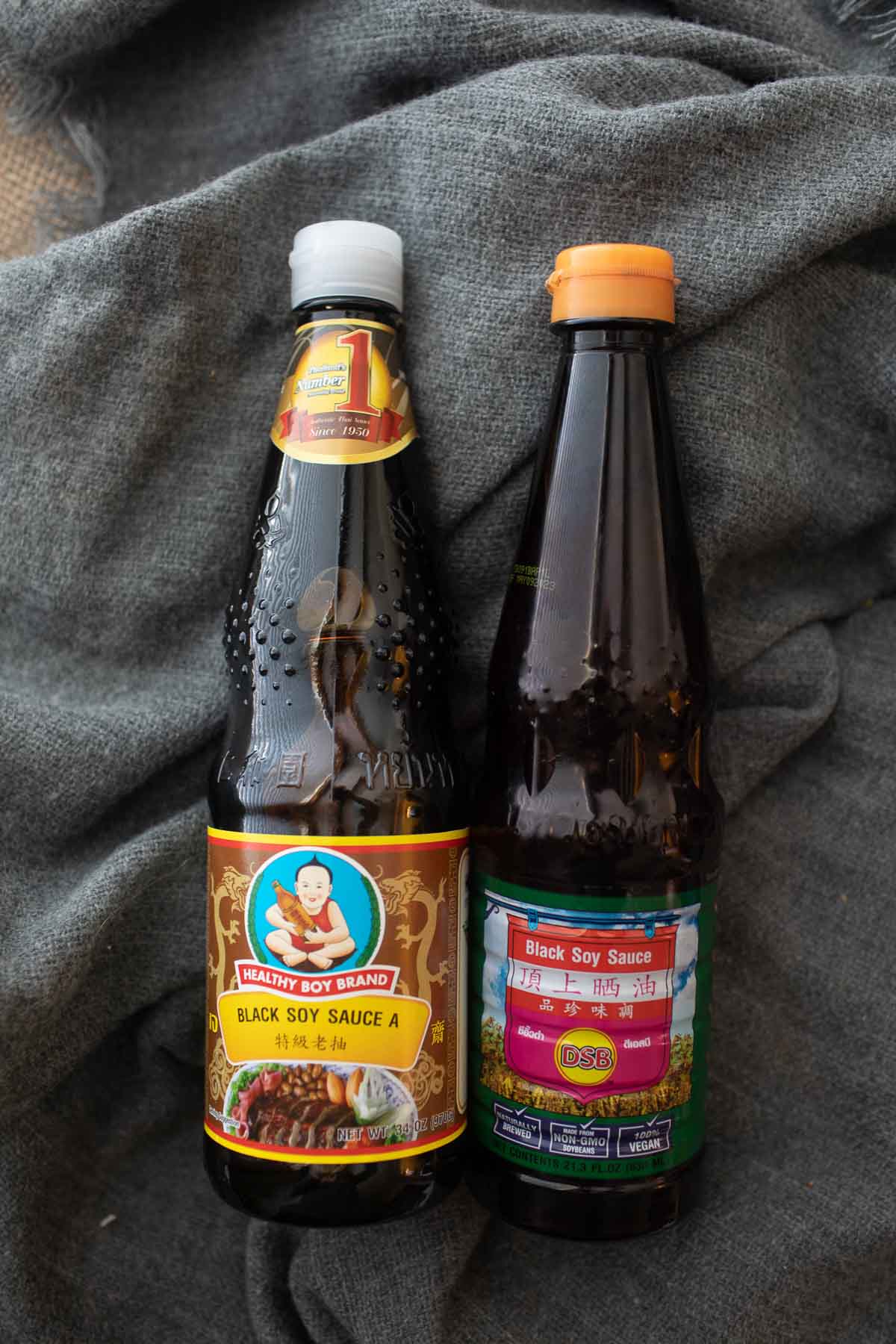 Also called dark soy sauce, referencing the dark brown color of the sauce that adds a caramel color to any recipe calling for this sauce.
It's easy to confuse this dark soy sauce with the sweet dark soy sauce. The color and texture are very similar, thick and dark. It's quite different. Black soy sauce has a deeply distinctive salty flavor without the sweetness of molasses in it.
This sauce is used mainly for the golden brown coloring and an almost bitter and salty flavor in many noodle and stir-fry dishes. Sometimes black soy sauce can be substituted for sweet soy sauce but has a different flavor.
Black soy sauce doesn't have the sweetener in the sweet soy sauce. Honey, molasses, or agave can be used to add to the black soy sauce if in a pinch for sweet dark soy sauce.
Substitutes for Thai black soy sauce
Use sweet soy sauce or molasses but in a smaller amount than the recipe called for. Add a little extra salt or soy sauce to help tame the sweetness of the sweet soy.
6. Tamarind Concentrate, Nam Ma Kham Peak, (น้ำมะขามเปียก)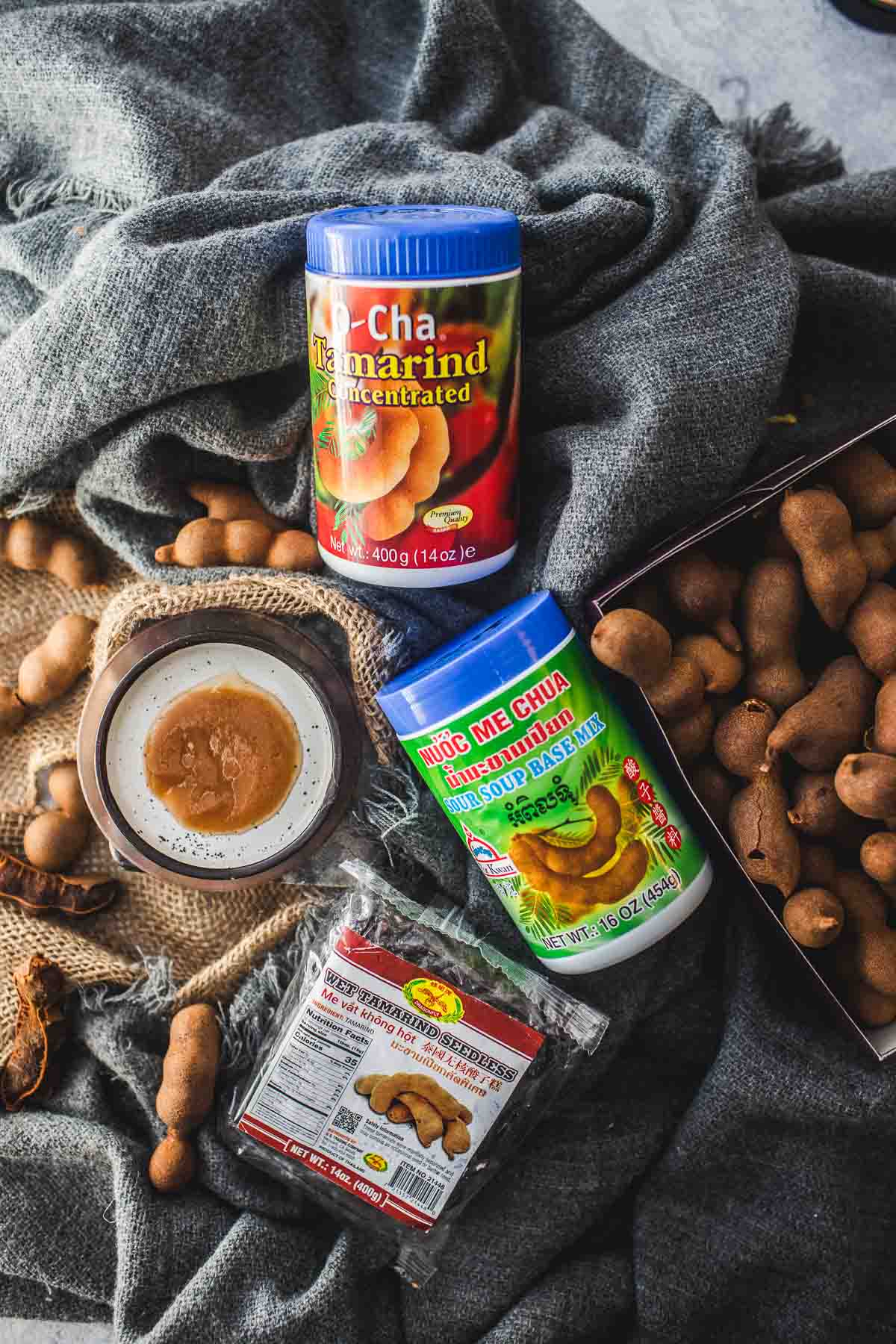 Sometimes they are called or labeled tamarind pulp, tamarind juice, tamarind paste, or tamarind sauce. Use this paste to add a deep, sour taste to Thai dishes like Tom Yum soup, Pad Thai, Nam Jim Jaeow, and fish sour soup.
Use tamarind in a salad dressing instead of lime juice. It's a perfect substitute to use as a souring flavor.
Tamarind comes in plastic-wrapped, 6-inch square chunks. These must be added to water to soften the paste and make your tamarind sauce. Or you can buy pre-made tamarind in a plastic tub. These will work fine, especially when you are short on time.
Please see a recipe for extracting tamarind juice using the pre-podded tamarind pulp. You can find the link HERE.
Substitutes for tamarind concentrate
In certain recipes, lemon, lime juice, or rice vinegar can be substituted. Do note that tamarind is not as sour or acidic as lime juice or vinegar. It has a slight sweetness that buffers the sourness. Do use less lime juice and vinegar than the recipe asked for.
7. Sriracha Sauce, (ซอสศรีราชา)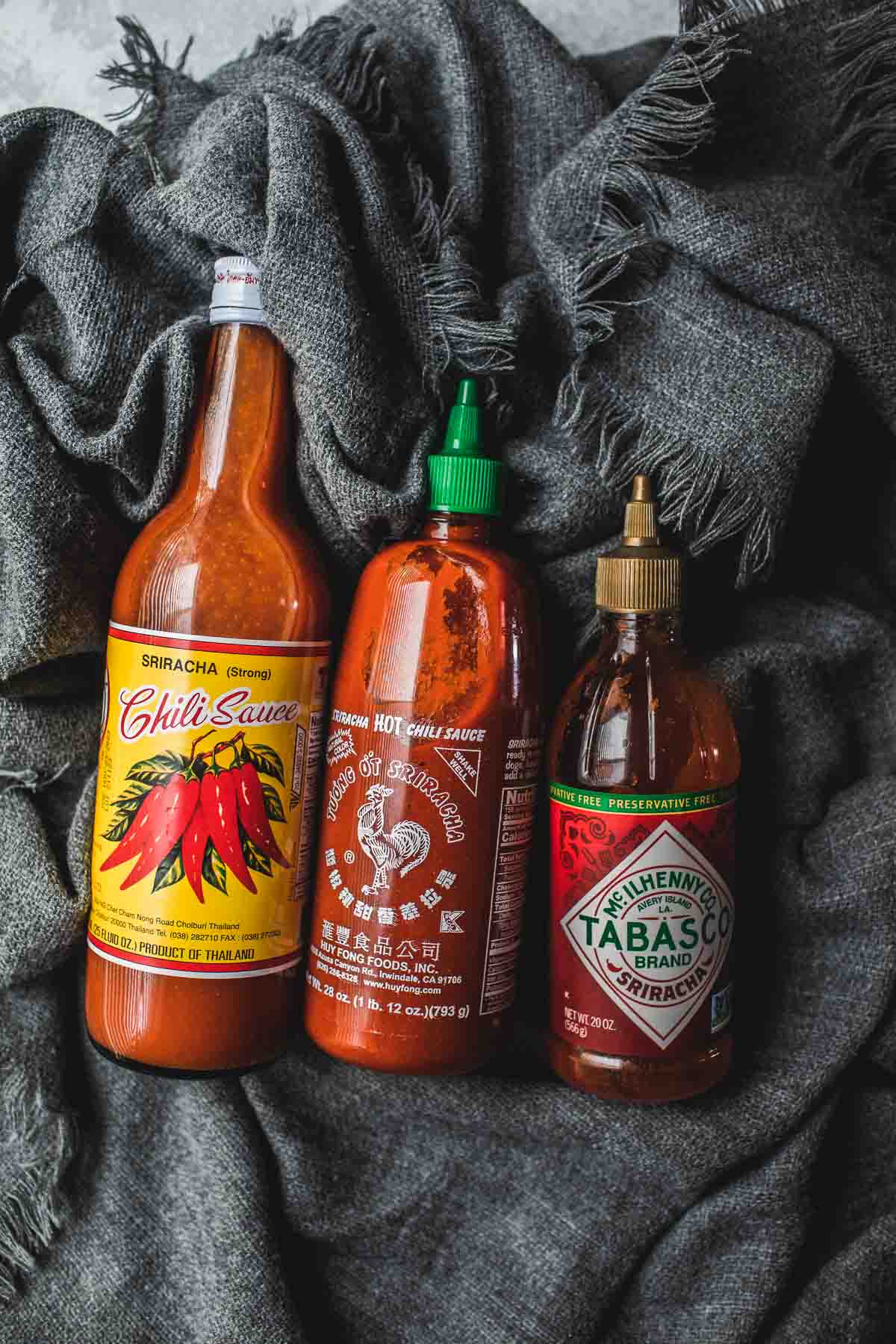 When most people think of Sriracha sauce, the Rooster brand is the number one go-to hot sauce brand in almost all Asian markets, American grocery stores, and on the tables of many Asian restaurants.
The original Thai Sriracha sauce, or Nam Phrik Siracha, is the Shark brand sauce used for Thai dishes in Thailand. Each brand tastes slightly different than the other. For authentic flavors, find the Shark brand Sriracha sauce from your local Asian grocery stores.
Sriracha sauce has been all the rage for several years, and I don't think it will go anywhere anytime soon. I concede and must admit. I use it interchangeably between the two sauces. People seem to put it on every dish and call it a Thai recipe, just like how peanut sauce used to be.
It's easy to see the appeal and popularity. The spicy, sweet, tangy flavors enhance and elevate a spicy kick to any dish for spicy food lovers. You can find Sriracha at most U.S. grocery stores in the Asian section.
Substitutes for Thai Sriracha sauce
Though they are slightly different in texture and flavor, these brands will work as a substitute for a spicy sauce for recipes calling for it. If able, try to find a Thai brand and taste the original hot sauce from the Sriracha province of Thailand, where the sauce originates from.
8. Fermented Fish Sauce, Pla Ra (ปลาร้า)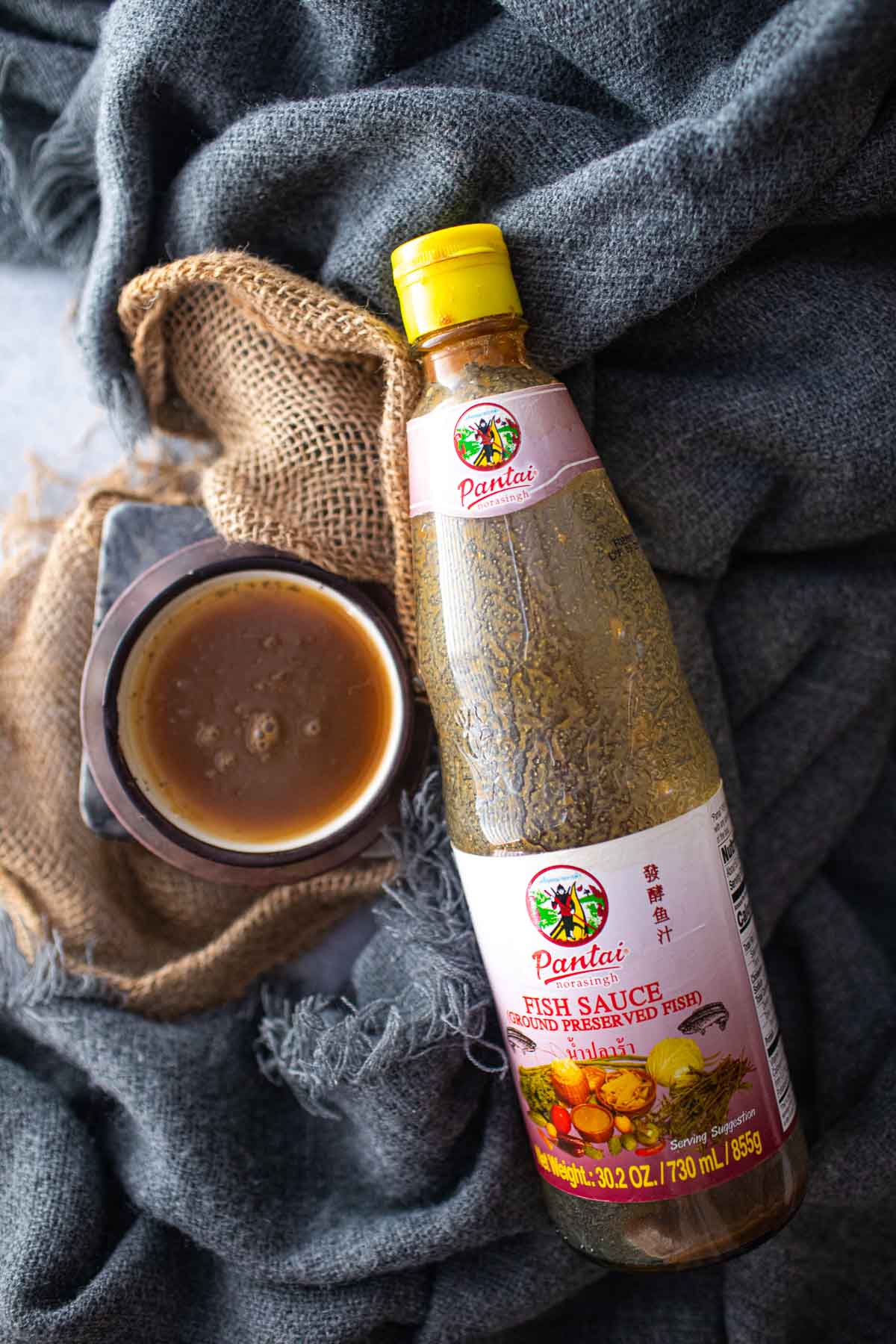 It is known in Thailand's Isaan Region (Northeastern Part) as Pla Ra but is not the same as regular fish sauce. Pla Ra is made from fermented fish (4-6 months) mixed with roasted rice bran, giving Isaan Som Tum its distinctive flavor that any other sauce cannot replicate.
You know you are eating authentic Isaan food if you have Pla Ra Sauce in your dish. The smell, though, is even worse than the fish sauce, if you can imagine. I tend to be very careful when using it for my American friends and family who are not accustomed to the more fermented sauces like this one.
Their stomachs may be more sensitive to the probiotic-like bacteria (good bacteria) they are not used to. A restaurant friend once told me to boil it first before using it. Brilliant! Just boil a small amount of light incense, and open all your windows to air out the smell. (:
There are two types of fish used for the fermented fish sauce. The Mudfish and the Gouramis fish. It's truly a personal preference. The difference is the texture of the fish. The mudfish is more meaty and chunky, whereas the Gourami is more flaky and dry.
Substitutes for Pla Ra, fermented fish sauce
There's no substitute for Pla Ra. I invite you to be adventurous and embrace it. (: But there are other brands of fermented fish sauce that you might like more. Try these brands and see what you like best. E Pim fermented fish sauce, Zab Mike's Pla Ra
10. Soy Bean Paste, Tao Jeaow (เต้าเจี้ยว)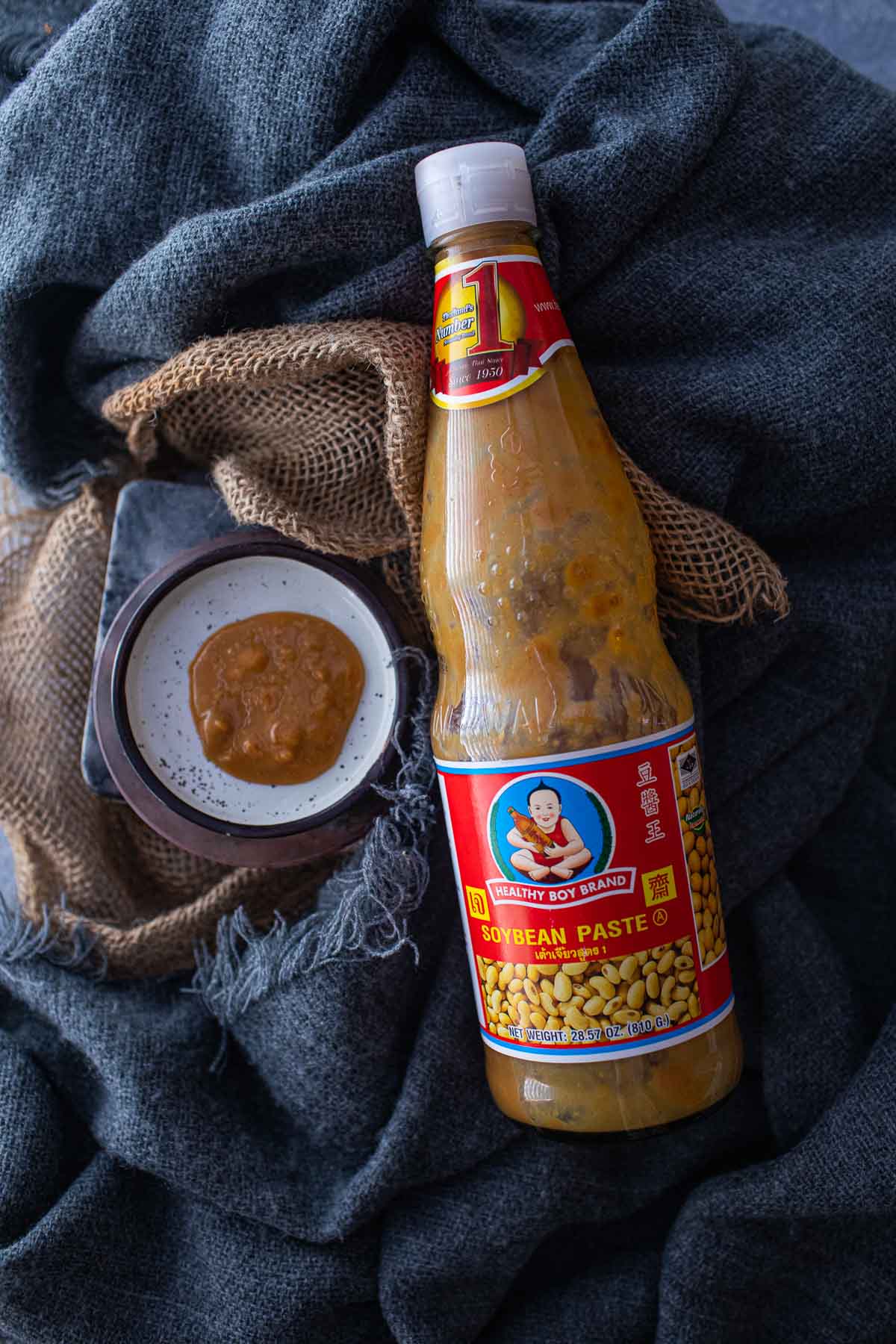 This is the salty sauce made with fermented soy beans mixed with flour, salt, and water, and then its made into a velvety yellow paste and is often used in stir-fries dishes like Rad Na, water spinach, Kao Mun Gai dipping sauce, amongst many other delicious Thai dishes.
Substitutes for Thai soybean paste
Soybean paste has a unique flavor that is hard to find substitutes for. They can be easily found at most Asian grocery stores. Miso paste is a good substitute for this soybean paste in a pinch.
11. Thai Seasoning Sauce, Sod Proung Rod, (ซอสปรุงรส)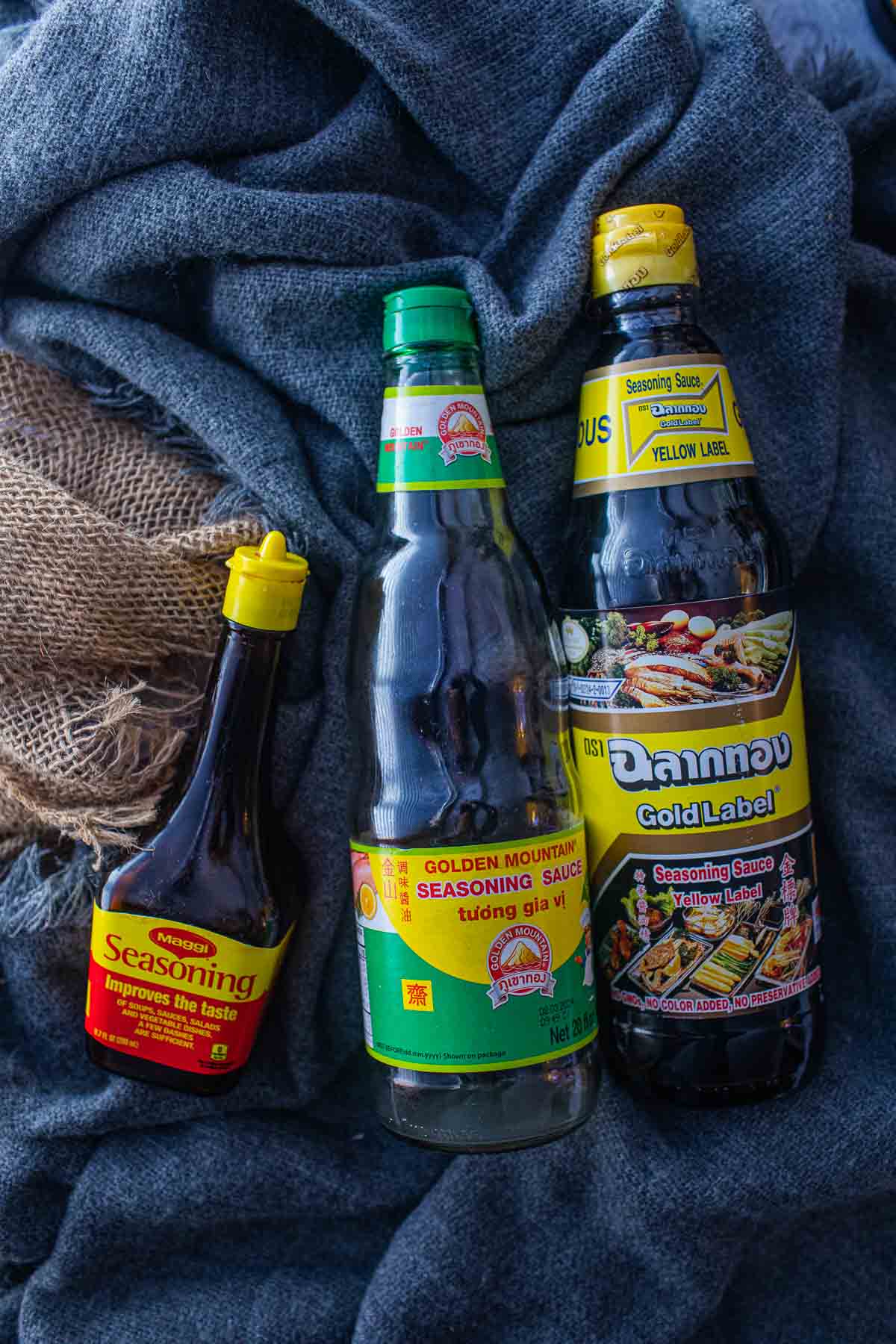 These Thai seasoning sauces are a staple in many kitchens all across Thailand. They are used almost exclusively for stir-frying and oftentimes are used as a shortcut instead of combining the different soy sauces needed for Thai stir-fries.
There are limits, though, as this seasoning sauce can't be used exclusively in a few classic dishes like Pad Thai, Pad See Ew, or drunken noodles.
Substitutes for Thai seasoning sauce
Maggie golden seasoning sauce is a perfect substitute for this sauce.
12. Vinegar, Nam Som Say (น้ำส้มสายชูข้าว)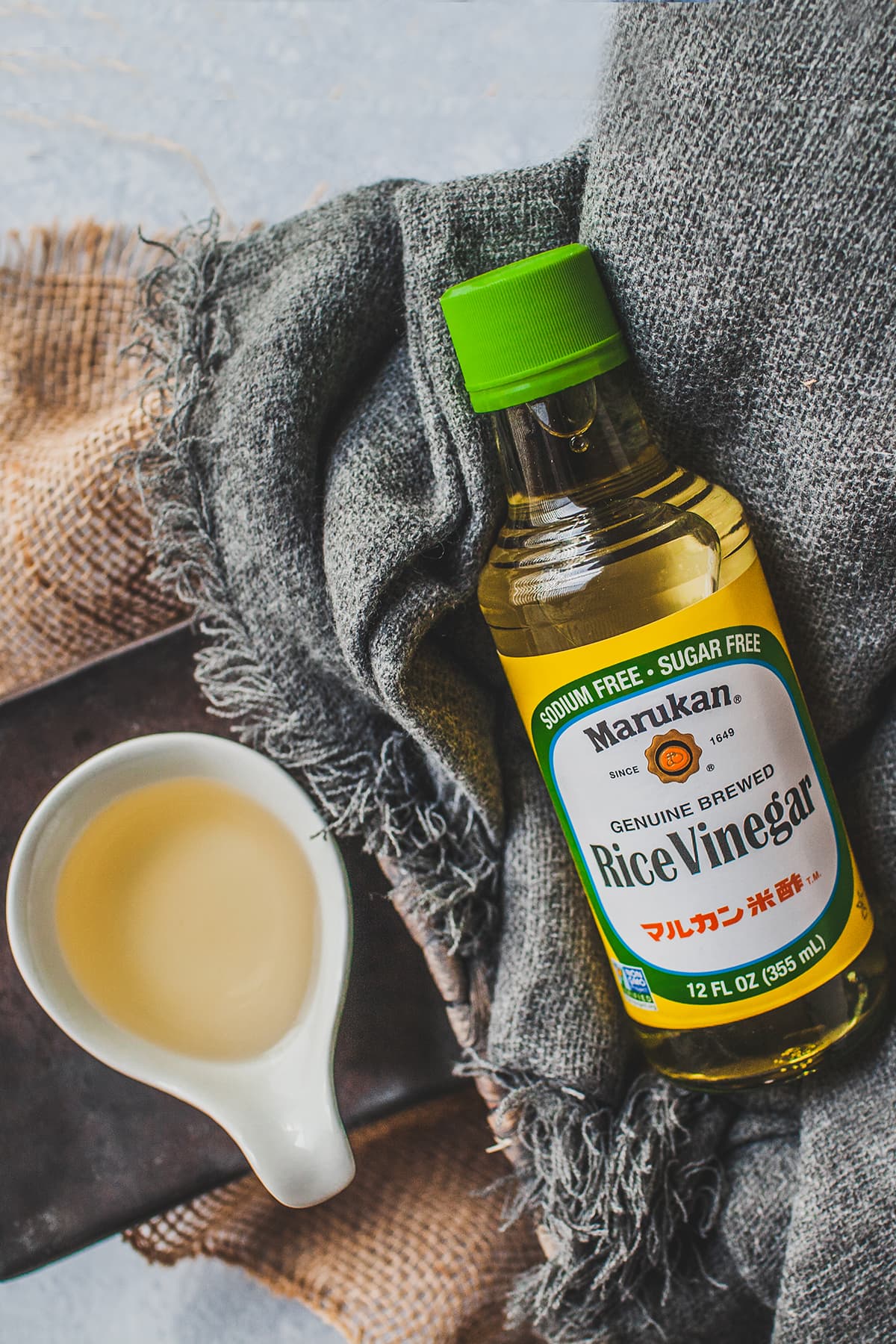 Thai cooking doesn't use much rice vinegar, but I've seen it becoming increasingly common in different dishes. It adds a tangy taste of sour and sweet in one dash. Rice Vinegar ferments the sugars in the rice that has been turned into alcohol-like water.
Over time, the liquid becomes an acidic sauce that gives it a tangy flavor. The delicate, citrusy rice vinegar flavor makes it more palatable to cook than the distilled vinegar.
Rice vinegar keeps for a long time and can be stored at room temperature after opening. Just make sure to tighten the seal well. You will find several Asian recipes call for rice vinegar of some sort. I hope that was helpful!
My best suggestion in gathering these sauces is to make a list, take pictures of the sauces, then find your nearest Asian market and ask for help if needed. They will last 3-6 months. I've also included links to purchase these sauces online if you don't have easy access to an Asian store. I will add to this list as I add to my recipes. These essential Thai sauces should keep you well-stocked for several dishes!
Substitutes for rice vinegar
Fresh lime juice, apple cider vinegar, and lemon juice can be used as a substitute for Rice vinegar. Tamarind sauce can be used as a substitute, but since tamarind has a sour mixed and slightly sweet flavor than vinegar, using it more than the recipes requested will get you close.
13. Sweet Chili Sauce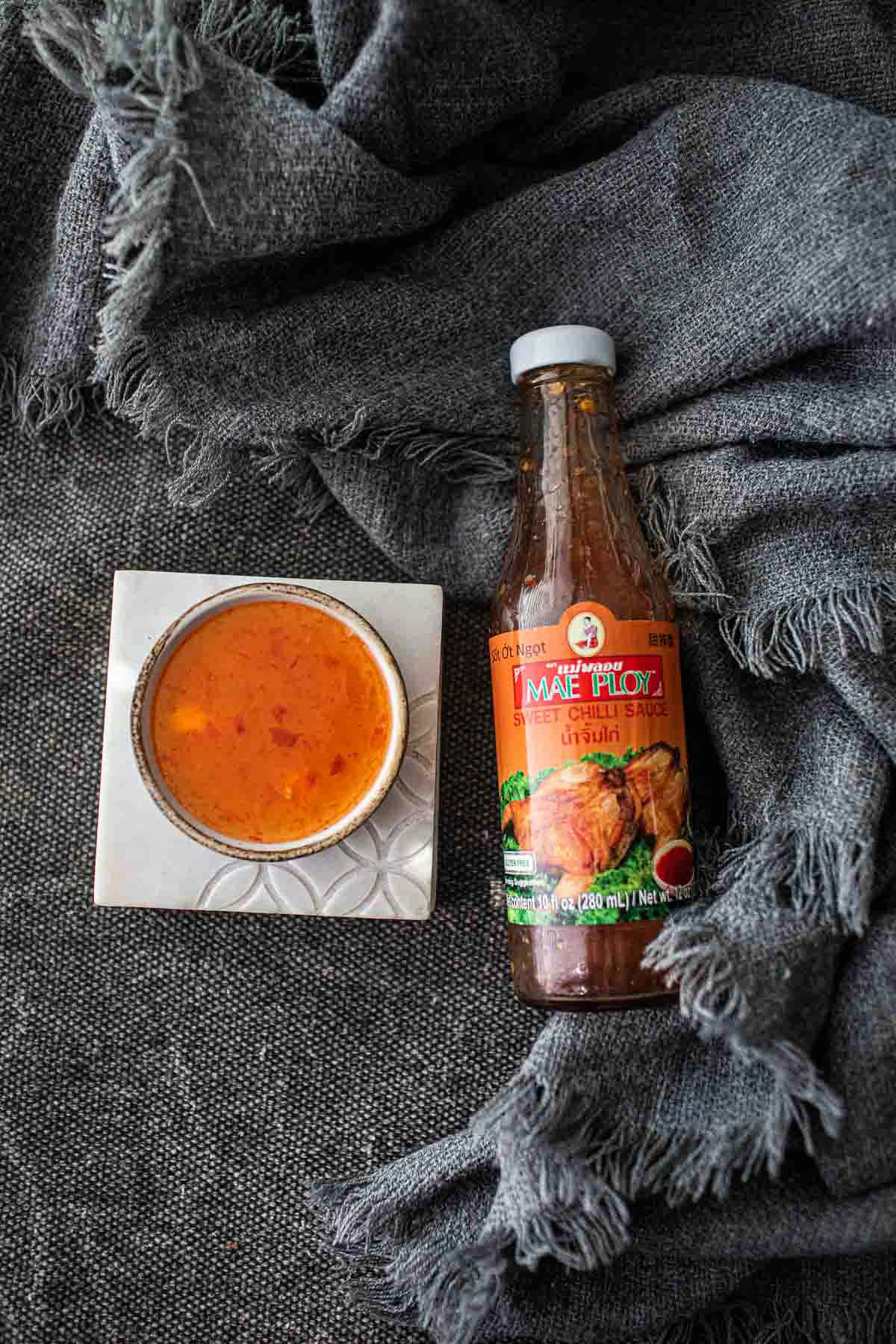 The Thai sweet chili sauce is often paired with the famous Thai grilled chicken, Gai Yang. The bottled version is uncommon in Thailand because most people buy or make the sauce themselves. Here's a great recipe for making your own Thai sweet chili sauce.
Substitutes for Sweet chili sauce
Vietnamese dipping sauces are great substitutes, especially in spring and egg rolls.
That's it for the sauces. For now, I will add more as Thai cuisine evolve and change. I will post another post about other sauces, pastes, or ingredients like shrimp paste, coconut milk, Nam Prik Pao, stir-fry sauces, curry pastes, and other popular Thai sauces and condiments used in Thai cooking.
Final words!
I hope that was helpful! My best suggestion in gathering these sauces is to make a list, take pictures of the sauces from this blog post, then find your nearest Asian market to get the right sauces for your pantry. Ask for help in the Asian market if needed.
These essential Thai sauces last a while and should keep you well-stocked for several dishes! Be sure to read about storage once the bottles are opened. Most of the sauces will need refrigeration unless used quickly, within one week.
More Thai recipes you'll Love
Learn more about Thai pantry essentials with this ultimate guide. For more useful information on Thai cooking, read about the Different types of Thai rice, Thai herbs, Thai spices, What is tamarind, and what is palm sugar.
** Thank you so much for visiting my blog! This is truly a passion for me. If you have enjoyed these recipes and appreciate the hard work I put into them, I would love it if you would share them with your friends! Your recommendation is the highest review I could hope for, and I'd appreciate it.**