Do you love Thai food? Do you want to learn how to cook Thai food more from home? If so, this post is a good one for you to print out and have handy for your pantry. These are the Thai pantry essentials that I highly recommend you have or stock up on if you'd like to cook Thai food on a regular basis. Please note some of these items will last you a long time and will serve you many delicious recipes over the next few months. Just make sure to read the instructions on how to store them properly.
Thai Pantry Essentials
Below are important Thai pantry musts that you should have in your pantry if you love to cook and eat Thai food. These pantry items are also essential to many other Asian cuisines and you will be able to use them for many recipes. Stock up on these and you'll be on your way to many delicious Thai meals!
Rice
There are minimum of two different types of rice to have in your pantry for Thai cooking. Those two kinds are Jasmine and Sticky Rice. Please check out a more extensive blog post about the types of rice used for Thai cooking HERE.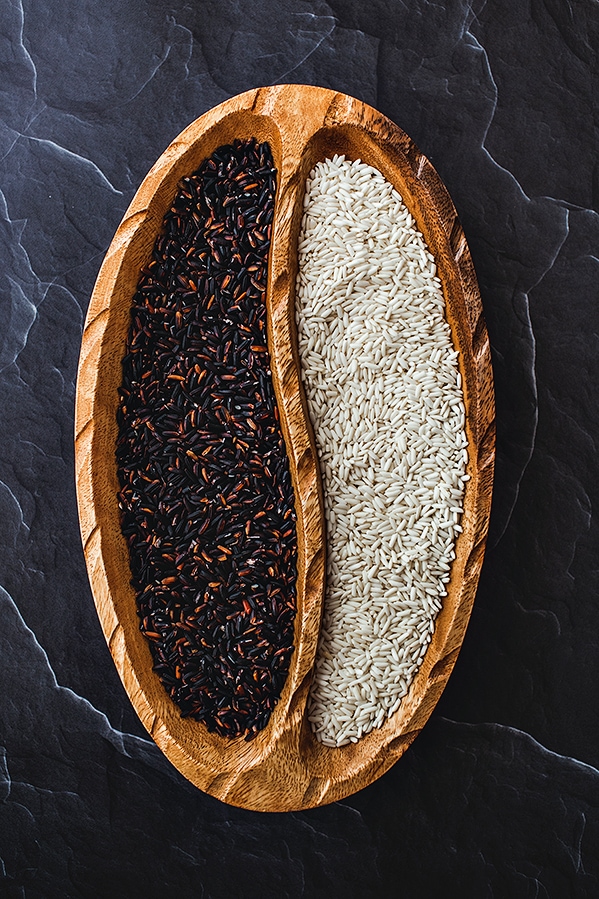 Noodles
Thai food has many delicious noodle dishes. Some crowd favorites are Pad Thai, Drunken Noodles, Boat Noodles and Kao Soi. You should almost always have a minimum of 2-3 different noodles in your pantry. More specifically the packaged dry noodles of many different sizes. Although fresh noodles are best, dried rice noodles can be stored for a longer period of time. Check out my blog post about the different rice noodles here.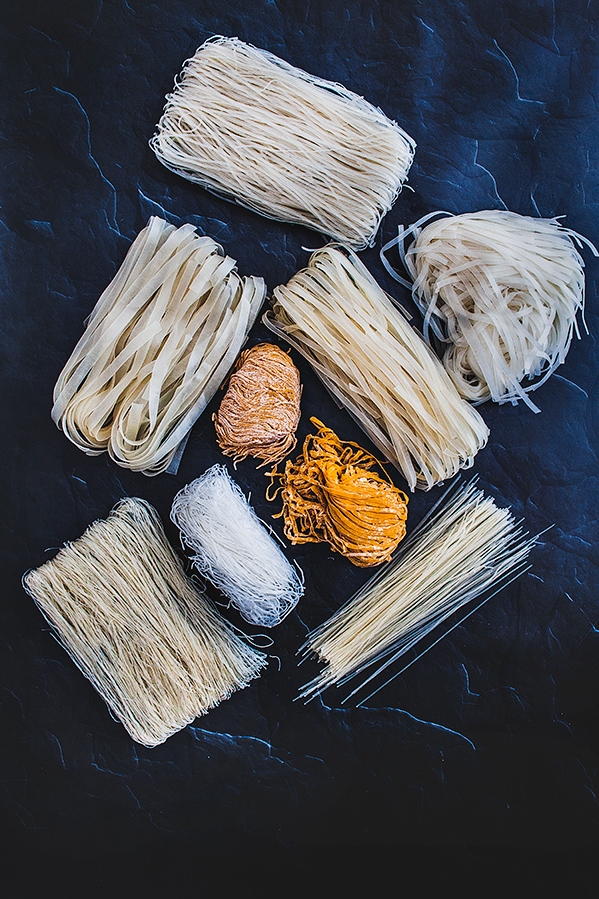 Coconut Milk and Coconut Cream.
Coconut milk and coconut cream are used extensively in many Thai curry dishes and Thai desserts. The difference between the two types of coconut milk/cream is the consistency in the milky liquid. The coconut milk has equal amount of water mixed in while the coconut cream has a larger amount of coconut than the water, making the coconut cream extra creamy and thick. The milk is used mostly for curries while the cream is popular for desserts. You can choose the carton or canned option, though the carton is preferred for better taste since the canned milk can have a metal taste to it sometimes.
Sauces
Thai food has bold flavors and a large portion of the flavors come from the different types of sauces used. I highly recommend having at least fish sauce, light/white soy sauce, sweet soy sauce and oyster sauce in your pantry. Check out the recommended different sauces HERE.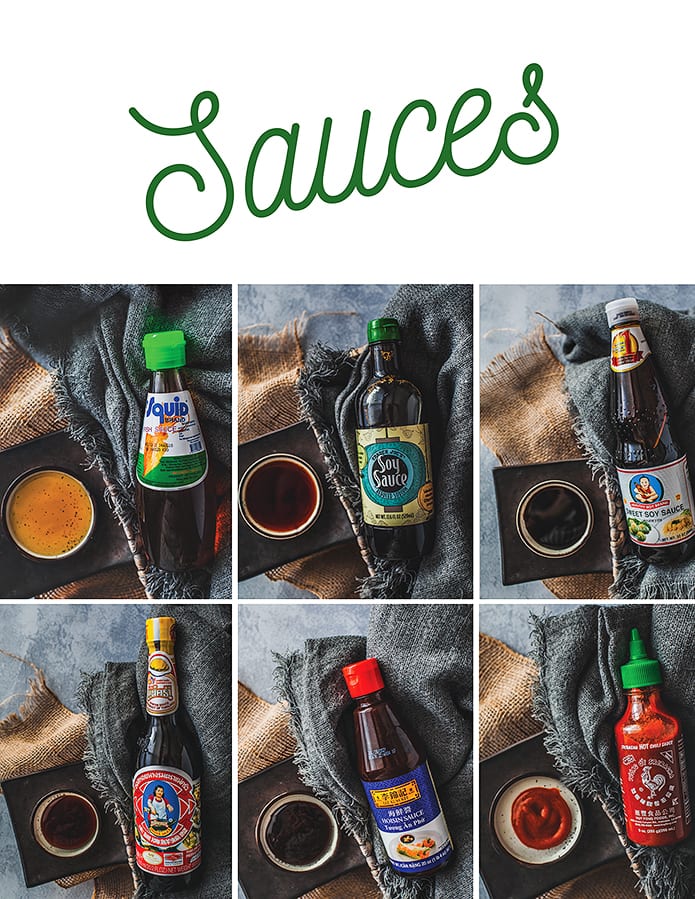 Thai Peppers
Many, if not most Thai recipes call for some types of peppers for seasoning. Having peppers at hand is a must. Stock up on fresh chili peppers during the summer time, then wash and freeze them for later use. You can store frozen peppers up to 6 months or longer in the freezer. You should also have dried chilies and dried chili flakes in your pantry all the time since many recipes and chili dips call for these.
Shrimp Paste
Thai food calls for shrimp paste more often than you realize. The smell can be potent if you are not used to it. My advice, after opening the container, is to seal it in a plastic bag in the fridge to help contain the smell. Shrimp paste is used in several dishes such as Thai relishes, curry pastes, stir fries, and so forth.
Dried Shrimp
These are tiny dried-out shrimp, pinkish/salmon color that have been dehydrated with salt and preserved for cooking. They are usually kept in the refrigerated section of the Asian store. Dried shrimp is used often in many Thai dishes. Those dishes are Som Tum (green papapa salad), curry paste, shrimp paste, spicy dipping sauces and Pad Thai. They taste great as a side snack as well as they are a good source of protein.
Palm Sugar
I loved palm sugar as a kid. I ate them as treats whenever I could and always had a finger licking good time at it. My kids love it now too! So what is palm sugar? It's sugar made from the sap of the flowers from palm trees. They usually come in half circul or rectangular blocks requiring you to shave off the sugar first before using. Palm sugar is not the same as coconut sugar. Coconut sugar is usually packaged as chunky dried brown sugar. I don't recommend substituting coconut sugar for palm sugar.
Curry Pastes
I always have at least a small container of premade curry paste in my pantry/fridge. I don't recommend those in tins, again as the metal flavor can take over the curry paste. I do make my own paste and freeze them, but sometimes I just want to make something quick for lunch or dinner. There's no shame in this. I use Thai brands always.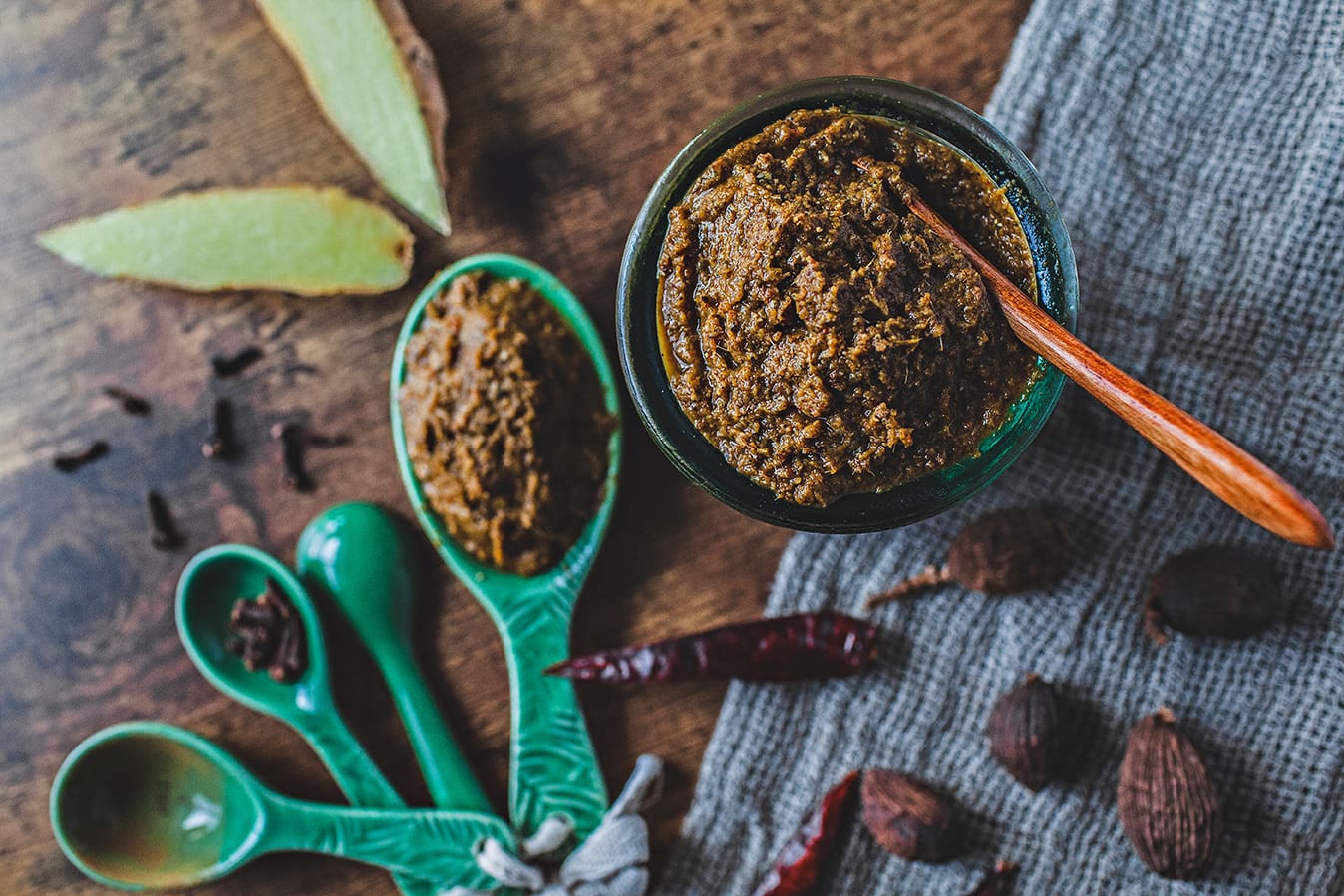 Oil
I use vegetable, grape seed, coconut or palm oil for my Thai cooking. Olive oils are never used.
Tamarind
I buy the tamarind in blocks to make my own tamarind paste/juice, sauce. They store well in the fridge in sealed bags after opening. I highly recommend making your own tamarind paste. Here's my recipe for it.
Spices
And of course a few dried spices are always in my pantry. I use both seed and powdered spices. I highly recommend at least these: cilantro seeds, cumin seeds, white peppercorn seeds and turmeric powder. You can always grind the seeds into powdered spices yourself. Also, stock up on shallots and garlic as these two keep for a long while. For more recommended spices check out this blog entry.
Herbs
Herbs are harder to keep around for a long period of time. A few herbs I recommend having in your freezer are: kaffir lime leaves, cilantro roots, chopped up galangal and chopped turmeric. You can check out this blog post for more herbs used in Thai cooking.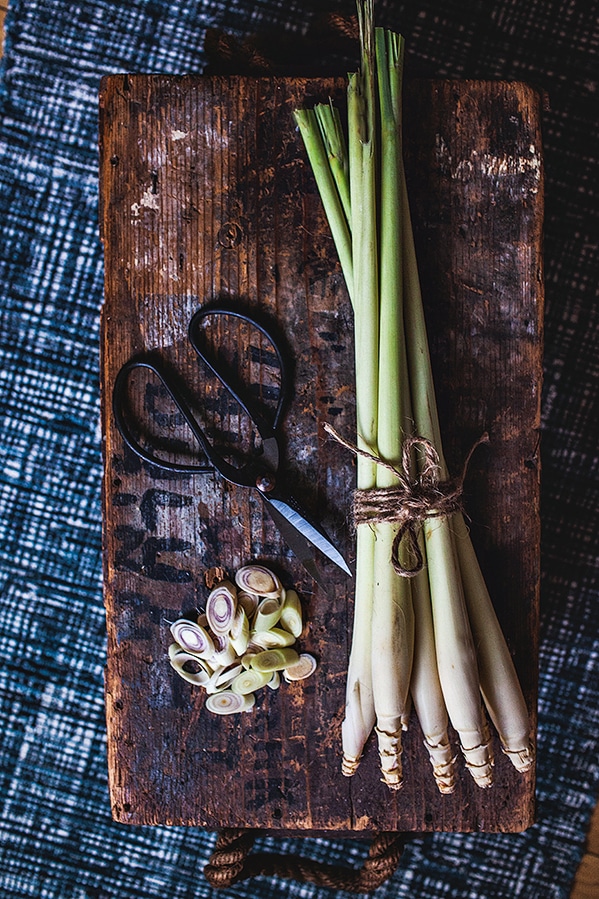 Toasted Rice
Dry roasting rice in a pan over a low heat stove top until the rice is golden brown is how you make toasted rice. I recommend making fresh toasted rice if a recipe calls for it. Plus, you want to infuse your home with the earthy and heavenly aroma of the toasted rice every time. You can make it ahead but I find that the aroma and flavor aren't strong after a while.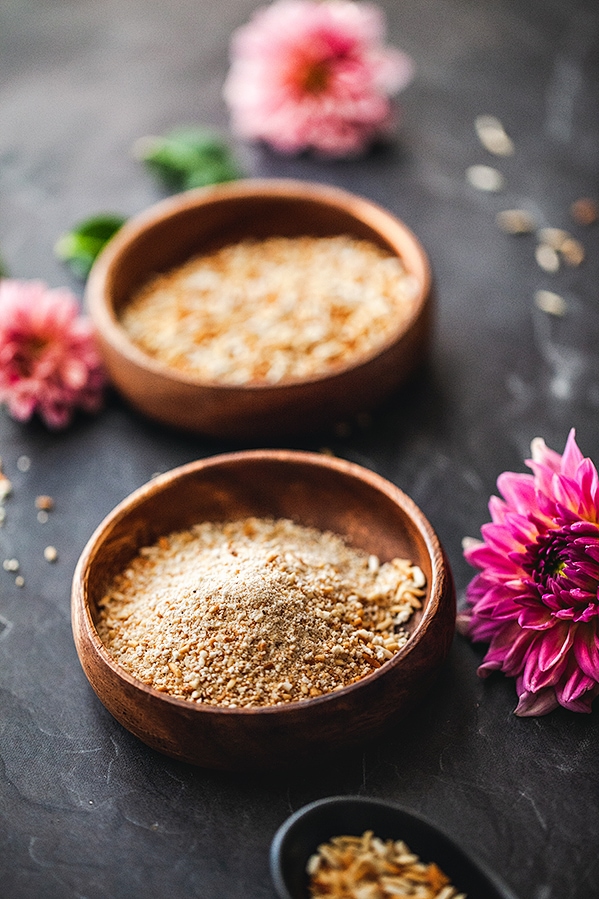 Flour
A few starchy products I have in my pantry are rice flour (jasmine rice), sweet glutinous flour and tapioca starch. A few recipes will call for these items and they store well in a sealed bag.
Pla Ra
An Isaan kitchen should never be without this sauce! A fermented sauce made from fish over a long period of time. Don't freak out about the smell, you'll live through it, I promise. Cover it nice and tight with saran wrap and rubber bands to prevent the smell sneaking out. Once you taste food made with it, you won't mind having this your fridge. At least the fridge in the garage anyway. (:
Kitchen Tools
There are a couple of specific kitchen tools that will help make Thai cooking easier for you. I highly recommend in a couple of them if you are able. More specifically, invest in a rice cooker of some sort, a large to medium sized mortar and pestle, a wok and spatula and a steamer. Check out this blog post fora more extensive list of helpful kitchen tools.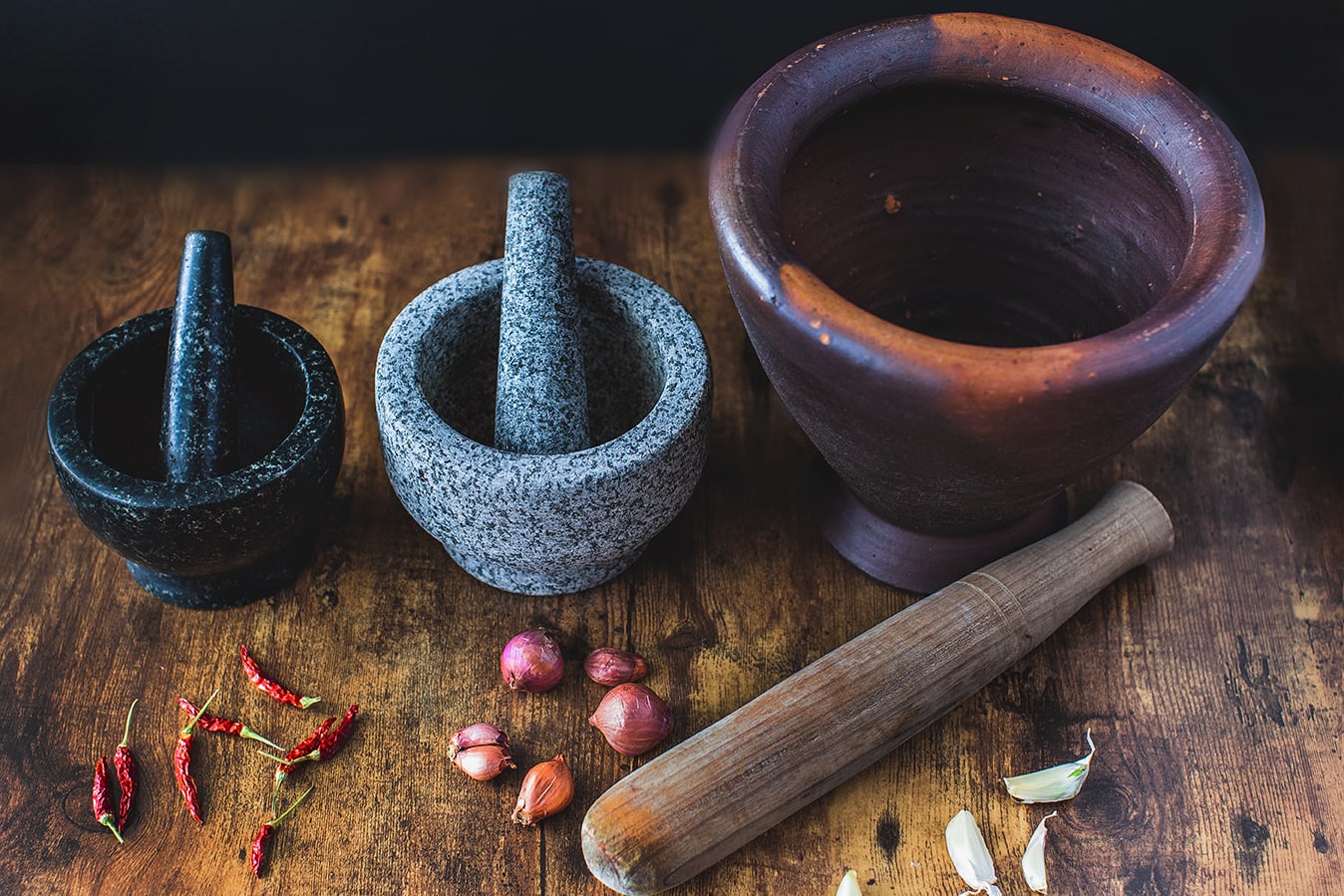 I can go on and on with this list. For now though this is a good, solid list that will keep you busy with many delicious Thai recipes! I will add more as we journey along on this food blog. For now, here are some recipes you can check out using some of the mentioned ingredients above. Also, here is a blog post recommending places you can find these ingredients.
Also And Plus….(: Check out the links at the very bottom of this post for recommended ingredients you can purchase from my Amazon store. It's convenient and easy to purchase if you prefer to have a few things shipped directly to you.
Happy pantry stocking! It's like a whole new world out there isn't it?!