Do you love Thai food? Do you want to learn how to cook Thai food more from home? Learn about the key ingredients for everyday Thai cooking with this complete guide to Thai pantry essentials for home cooking.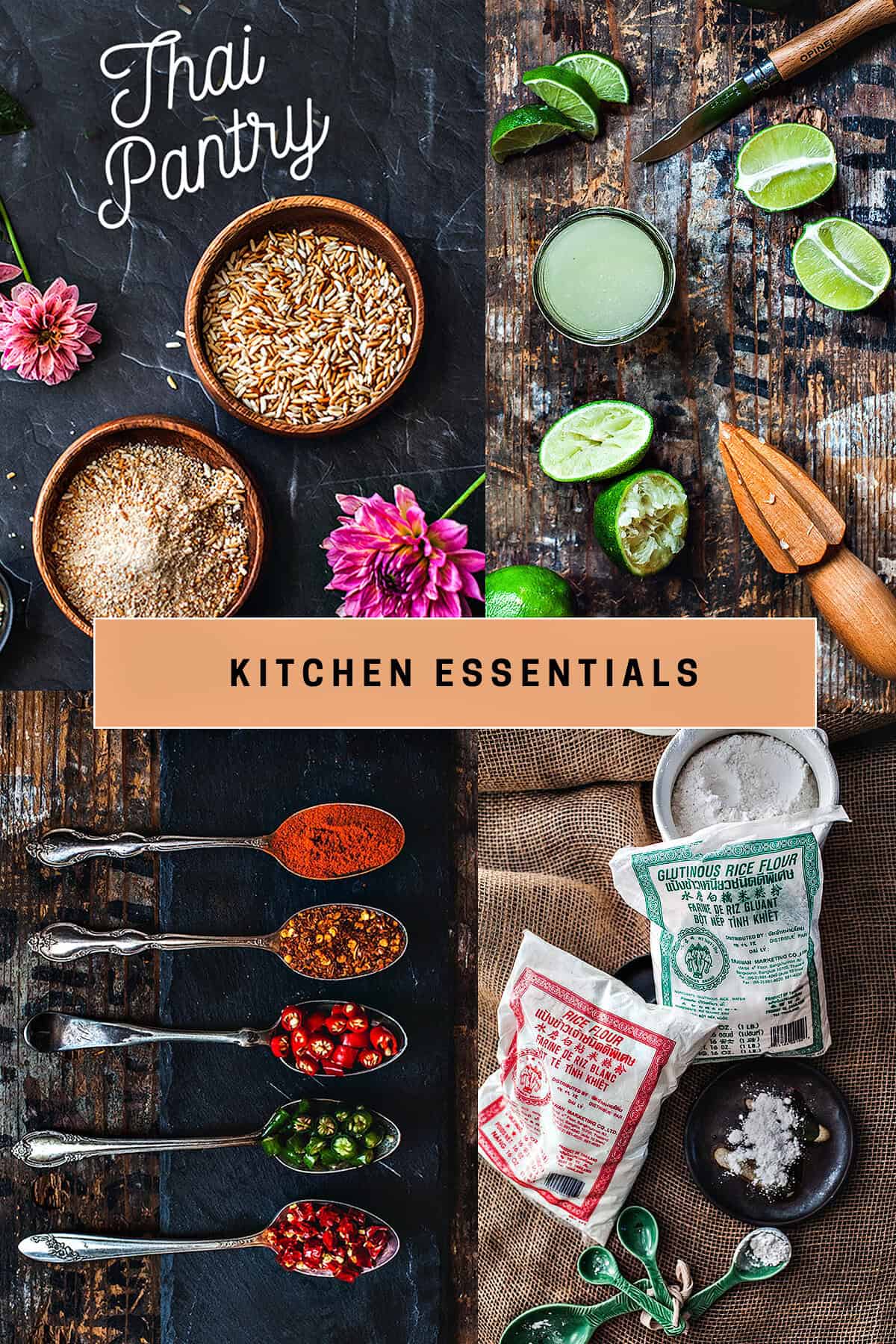 This list has all the things you need for Thai recipes. The good news is you can use many of these things for other Asian food too. Some will last a long time, and you can use them for many tasty recipes in the next few months. Just remember to store them right so they don't go bad.
For more Thai kitchen resources, check out these helpful resources: essential Thai kitchen tools, rice in Thai cooking, the different types of noodles in Thai cooking, Sauces in Thai cooking, and so much more on this Thai kitchen resources page.
Jump to:
Rice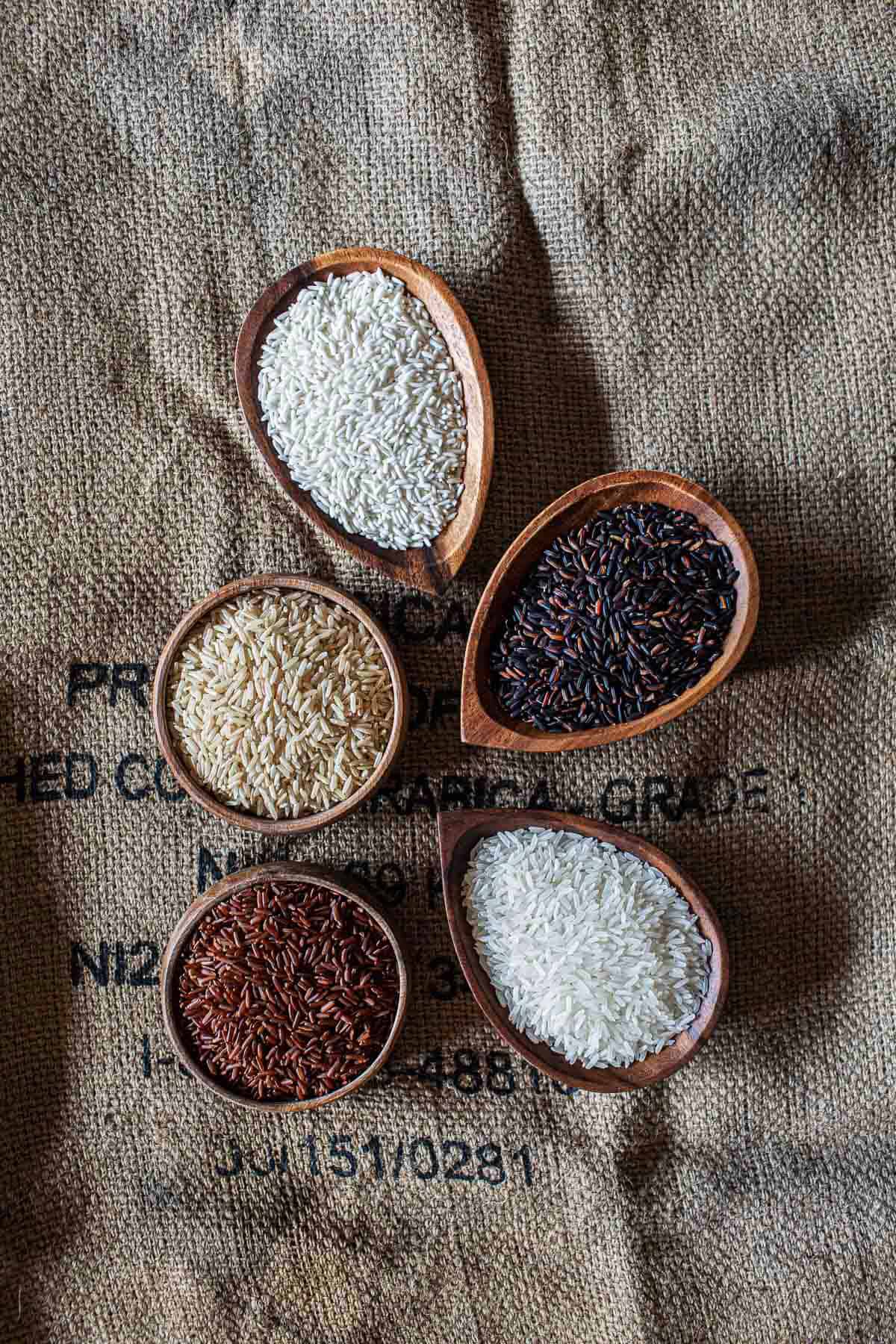 Keeping at least two types of rice in your pantry is important for Thai cooking. These are Jasmine rice and Sticky Rice (glutinous rice). Jasmine rice is a must-have, while Sticky Rice is a fun option to pair with a refreshing Thai salad like Som Tum Thai.
If you enjoy cooking Asian food, I suggest getting a rice cooker to make jasmine rice easily. They are fast, simple to clean, and don't require you to do anything while the rice cooks so that you can work on other dishes.
Check out a more extensive blog post about the types of rice used for Thai cooking here.
Noodles
Thai food has countless noodle dishes. Some popular ones are Pad Thai, Drunken Noodles, Pad See Eww, and Pad Mee. I suggest keeping at least 2-3 types of dried noodles in your pantry. Wide rice noodles, Pad Thai noodles, and glass noodles are essential for a Thai pantry. Dried noodles last a long time and are great when you want to make a Thai stir fry noodle dish. You can learn more about the different types of rice noodles in my blog post.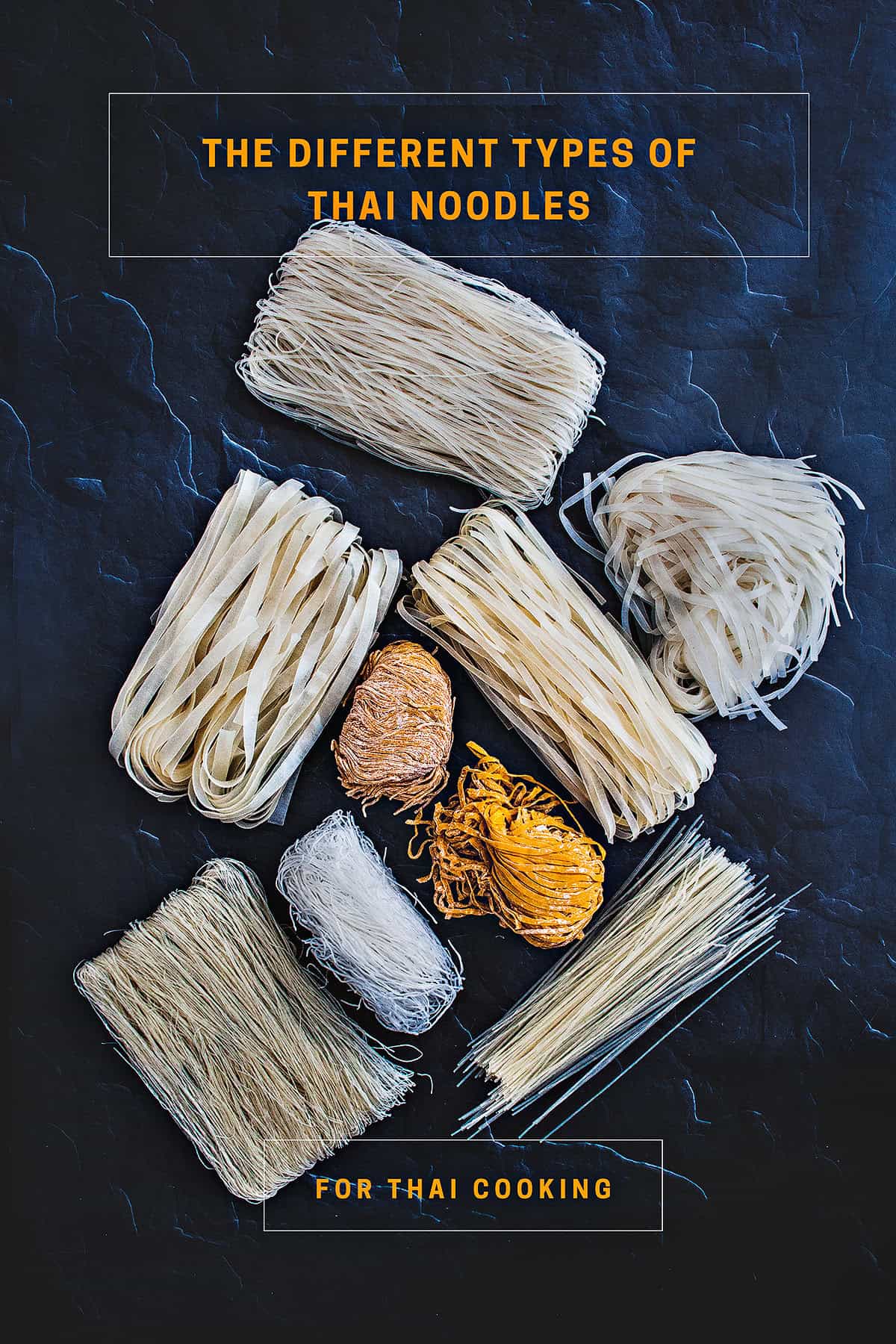 Fish sauce
Fish sauce, or Nam Pla, is an important ingredient in Thai cuisine and one of the basic ingredients needed for your kitchen. In some recipes, you can substitute soy sauce. However, soy sauce is not a great substitute for authentic Thai food.
I mostly use Thai fish sauce for cooking, but I also love Vietnamese fish sauces for certain dishes. Some recommended brands of fish sauce are Squid, Tipparos (Thai brands,) Three crab, Red Boat, and Megachef (the last 3 are Vietnamese brands.) Find these at your local Asian grocery stores.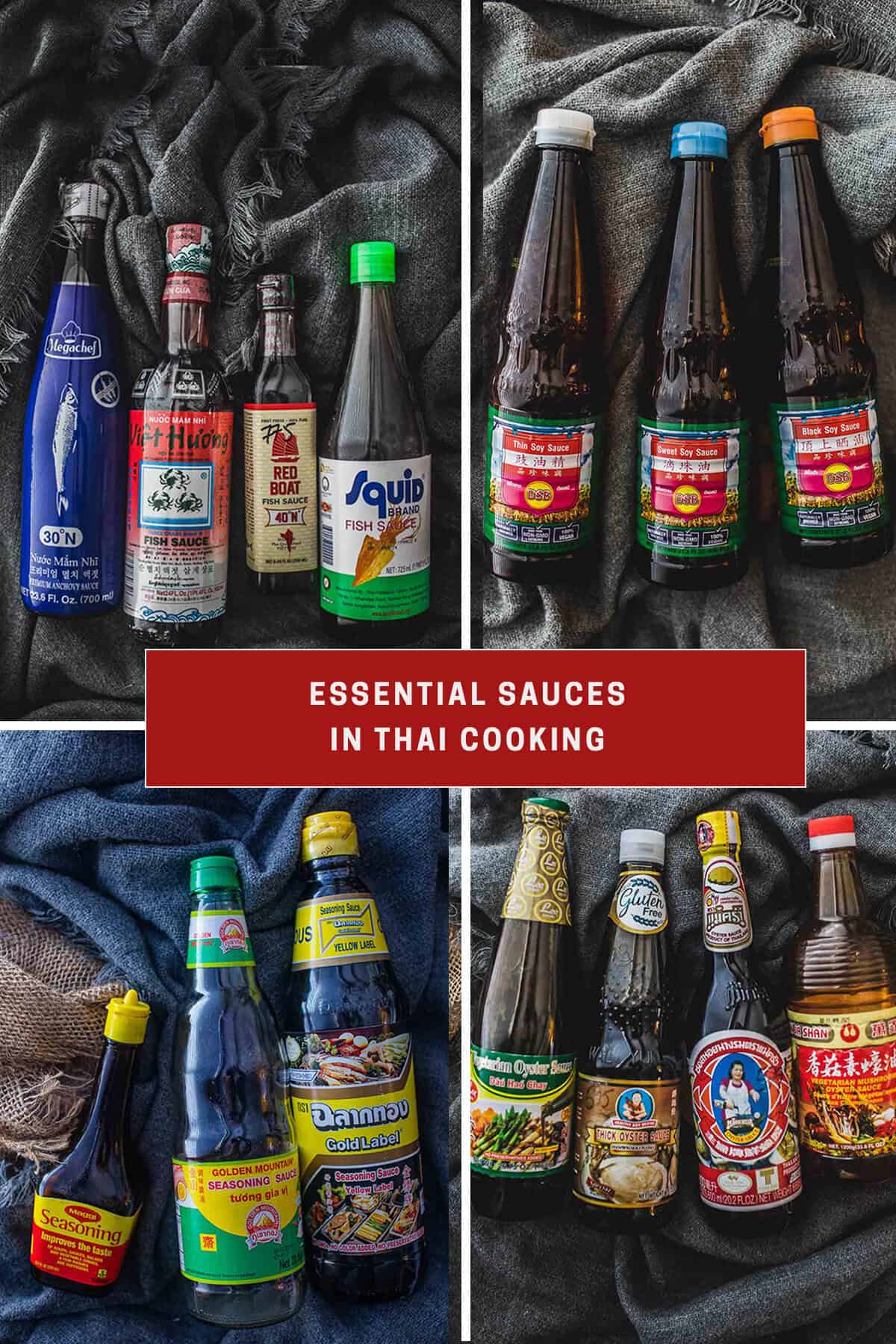 Light Soy Sauce
Light soy sauce, or thin soy sauce, is one of the essential Thai ingredients for your favorite recipes. You can find it at Asian markets, in the sauces section, next to fish sauce and oyster sauce. If you can't get Thai soy sauce, regular soy sauce from your local grocery store can substitute some recipes.
There are two other types of soy sauce sweet and dark soy sauce. They are not the same as the thin soy sauce and should not be used as substitutes. Read more about the different sauces used in Thai cooking here.
Oyster Sauce
Oyster sauce is essential for stir fry dishes. It adds a delicious umami flavor to your stir fry and can also be used to marinate meat. Some of my favorite dishes using oyster sauce are Thai chicken wings, Thai grilled BBQ shrimp, and Easy Thai cashew chicken. Read more about the different types of sauces used in Thai cooking here.
Pla Ra
Pla ra is a popular ingredient in Isaan kitchens in the Northeast region of Thailand. It is a fermented sauce made from fish that is aged for a long period of time. Don't be alarmed by the smell. I promise you'll survive. (; Make sure to tightly seal it with plastic wrap and rubber bands to prevent the odor from escaping. Pla ra is used in dishes like Lao green papaya salad, sauces, curries, and soups. Read more about the different types of Thai sauces here.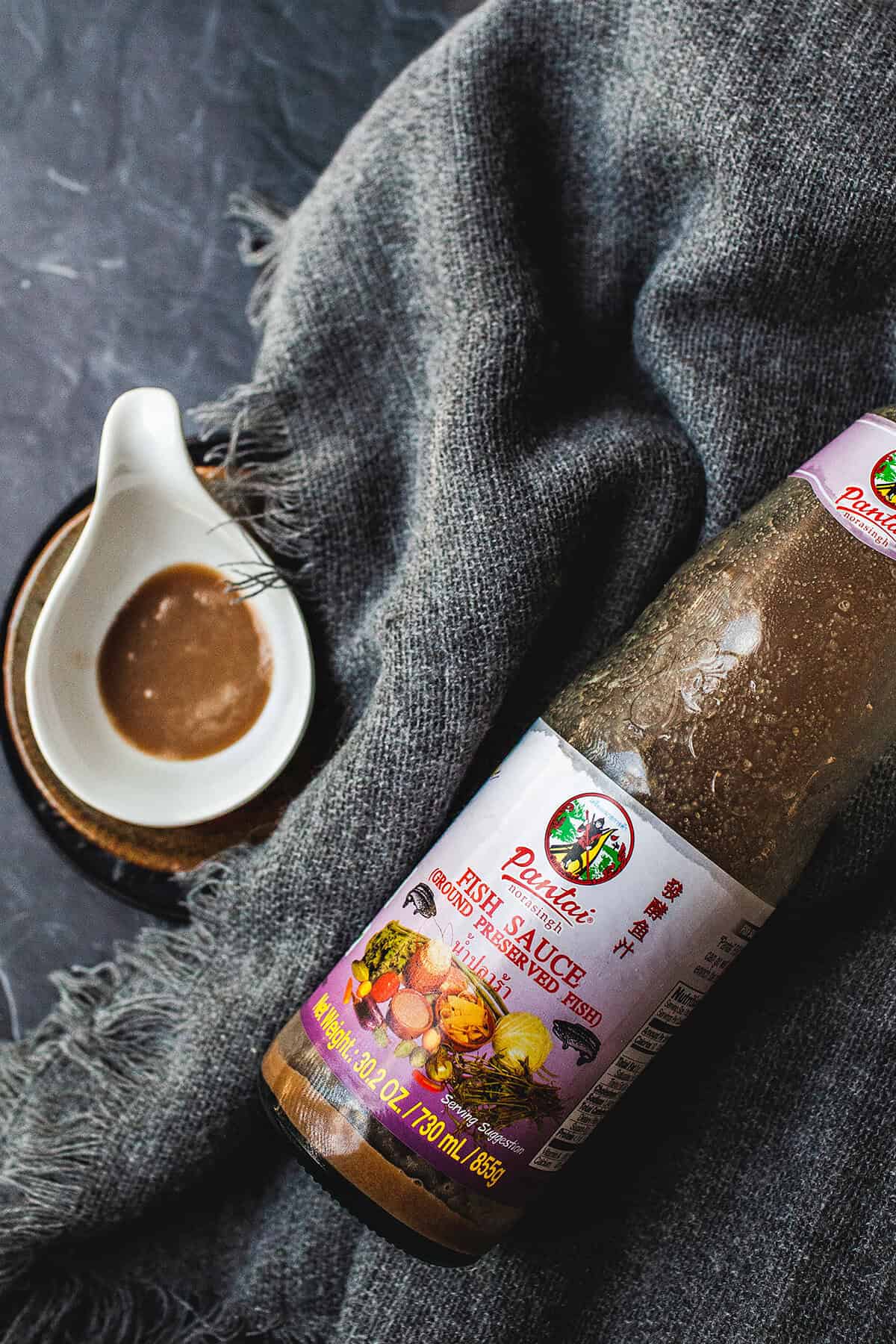 Tamarind
When it comes to tamarind, I buy it in blocks to make my own paste or juice. After opening it, I store it in sealed bags in the fridge, which stays good for a long time. I suggest making your own tamarind paste. Here is a helpful blog post explaining what tamarind is and how to use it. Then make your own tamarind paste from pulp using this recipe here.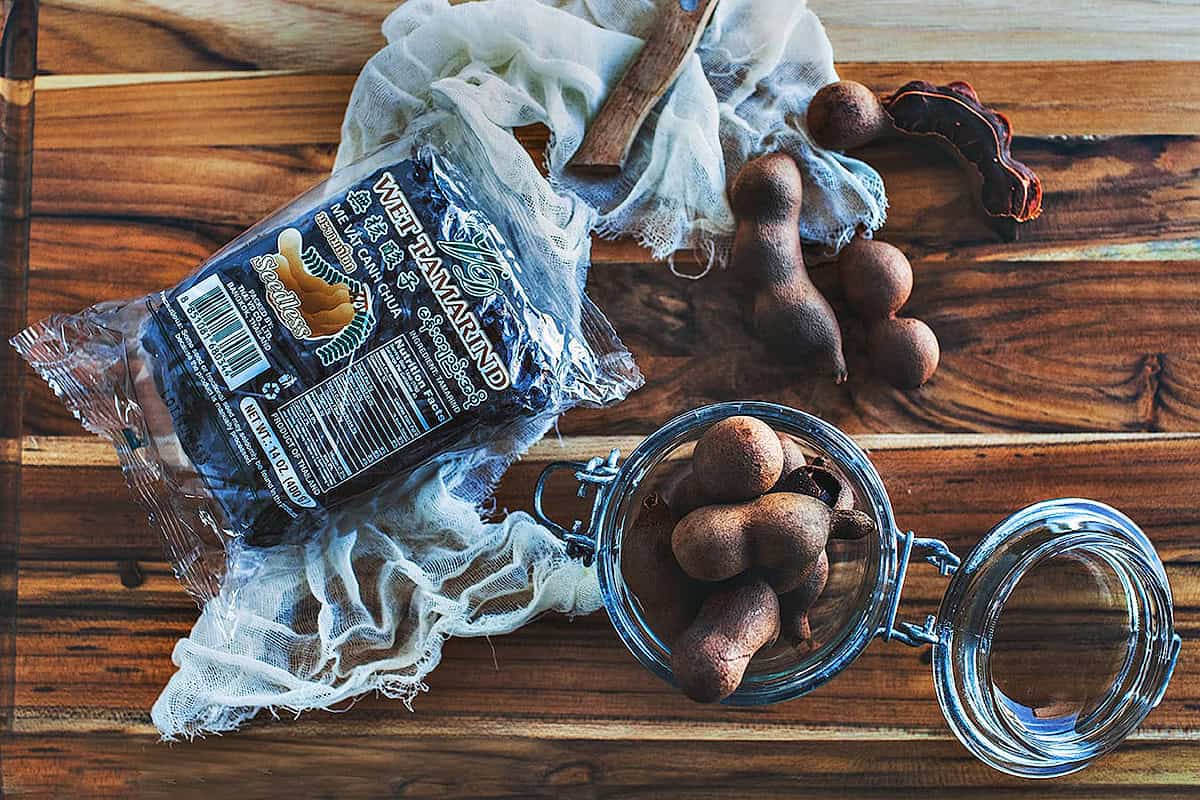 Fresh Thai Bird' Eye Chili
Thai peppers are a crucial component in Thai cuisine, cherished by the Thai people for their fiery flavor. Keeping a ready supply of peppers on hand is a good idea. During the summer, it's wise to stock up on fresh chili peppers, which can be washed and frozen for future use. Frozen peppers can be stored in the freezer for six months or longer.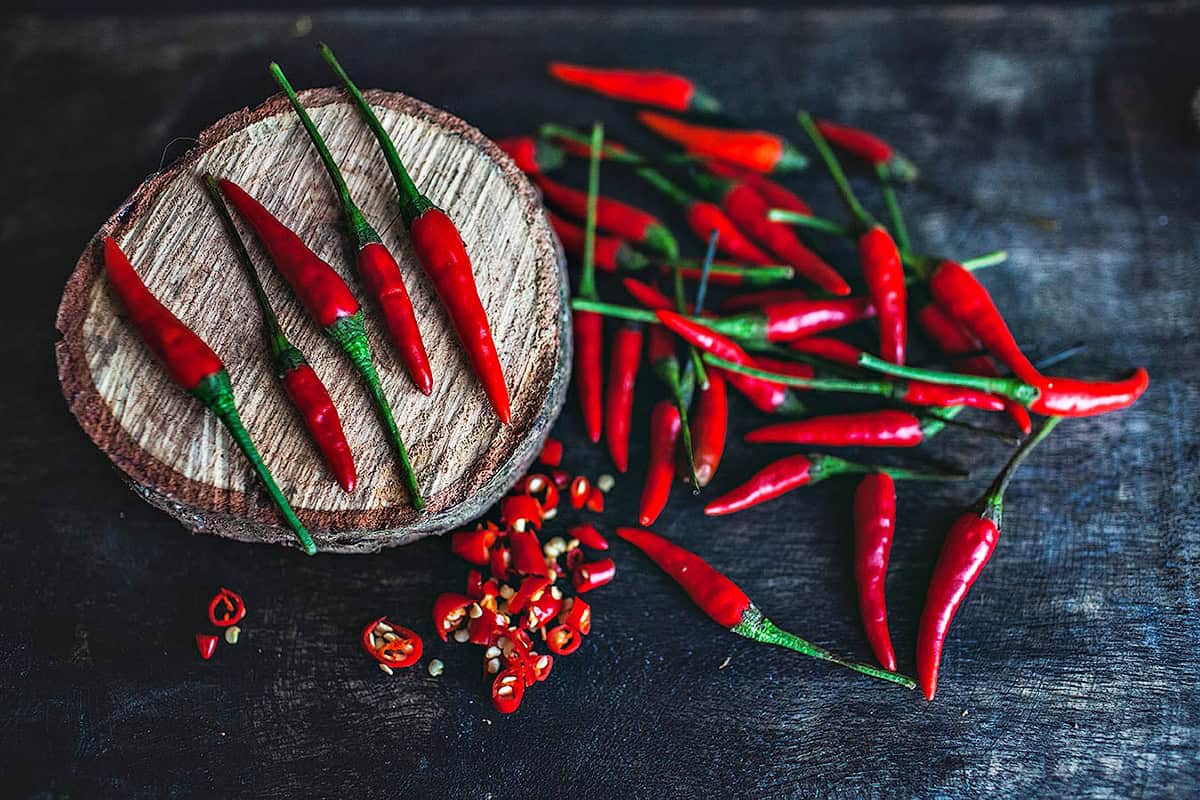 Dried Chili & Chili flakes
Dried chilies are one of the most basic Thai ingredients in your pantry, as they are frequently called for in various recipes and chili dips. They are versatile and can be used in different ways. They can be used whole or ground into powder or flakes for Thai recipes. They also add heat to your family's spicy Thai food lovers.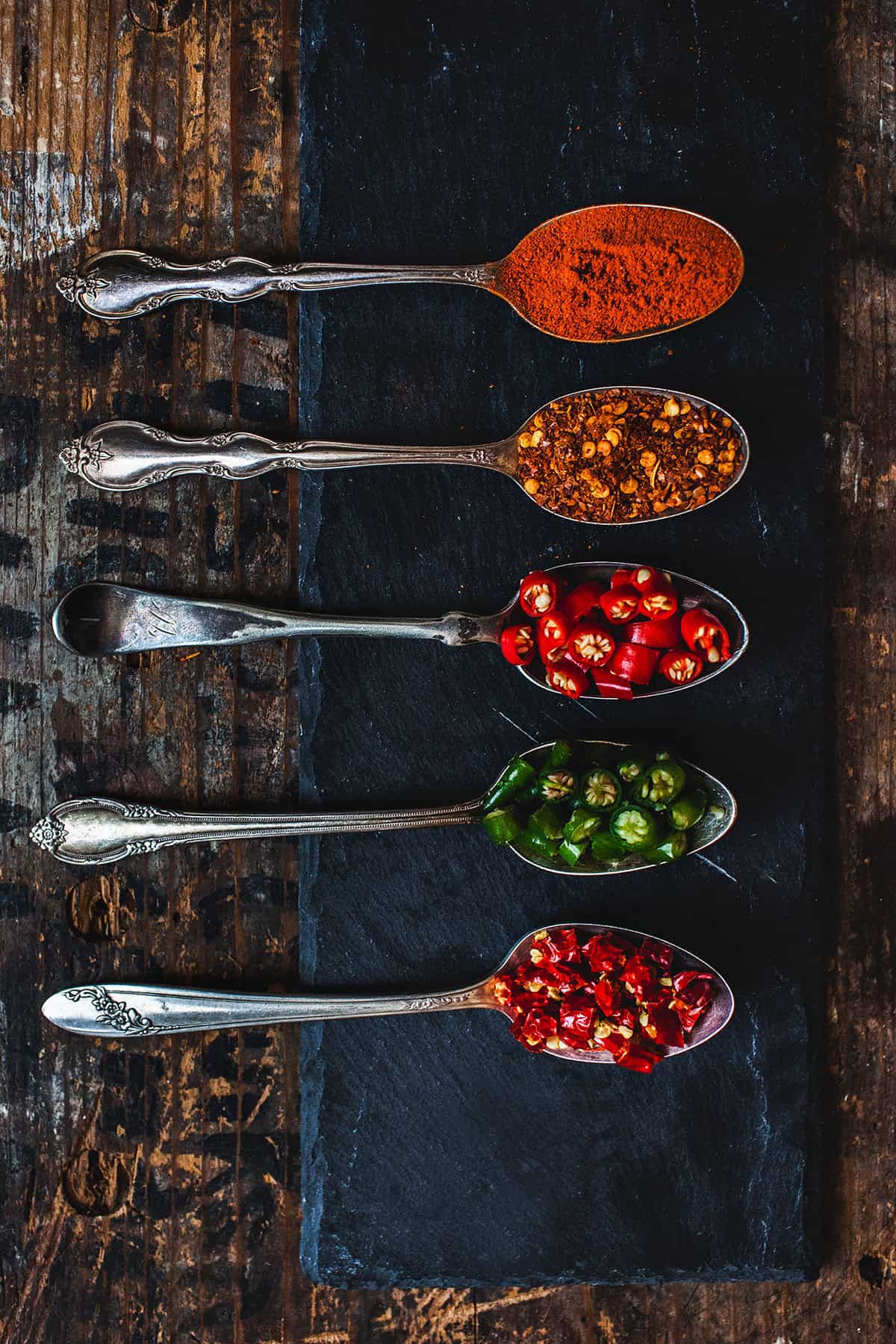 Palm Sugar
What is palm sugar? It's a sweetener made from the sap of the flowers of palm trees. They are packaged and sold in circular discs or rectangular pugs, requiring you to shave off the sugar before using. They are also sold as a soft paste, which is easier to use by simply scooping the paste with a spoon. Palm sugar is not the same as coconut sugar. I don't recommend substituting coconut sugar for palm sugar. Read more about palm sugar, how to use it, and its substitutes here.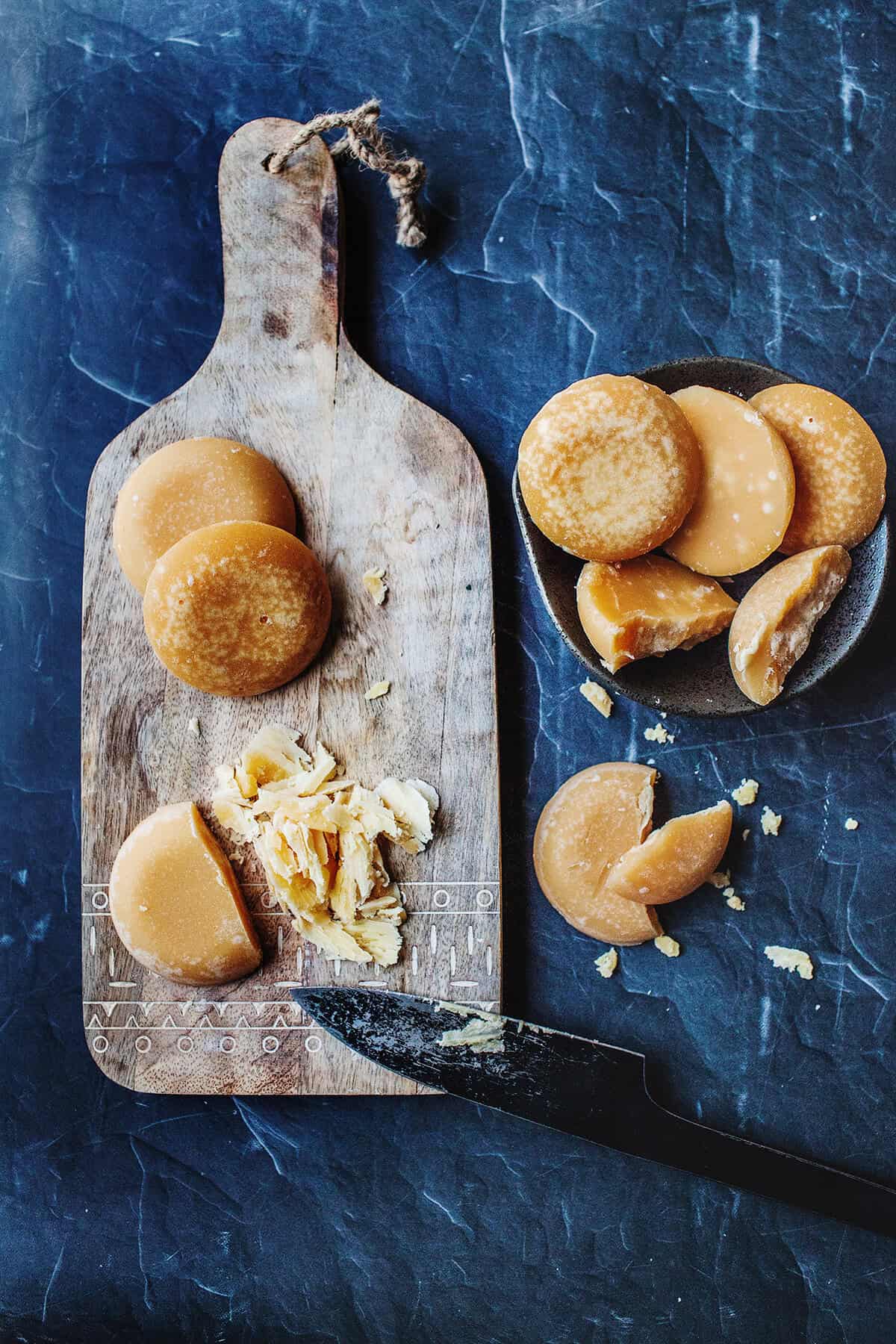 Curry Pastes
Curry pastes are super important in Thai cooking. Red and green curry pastes are a must-have for making Thai curries. I always keep a store-bought curry paste in my pantry and fridge for when I want to make a quick and delicious Thai curry. With these popular recipes, you can make your own red or green curry paste. Easy homemade Thai red curry paste recipe and homemade green curry paste recipe.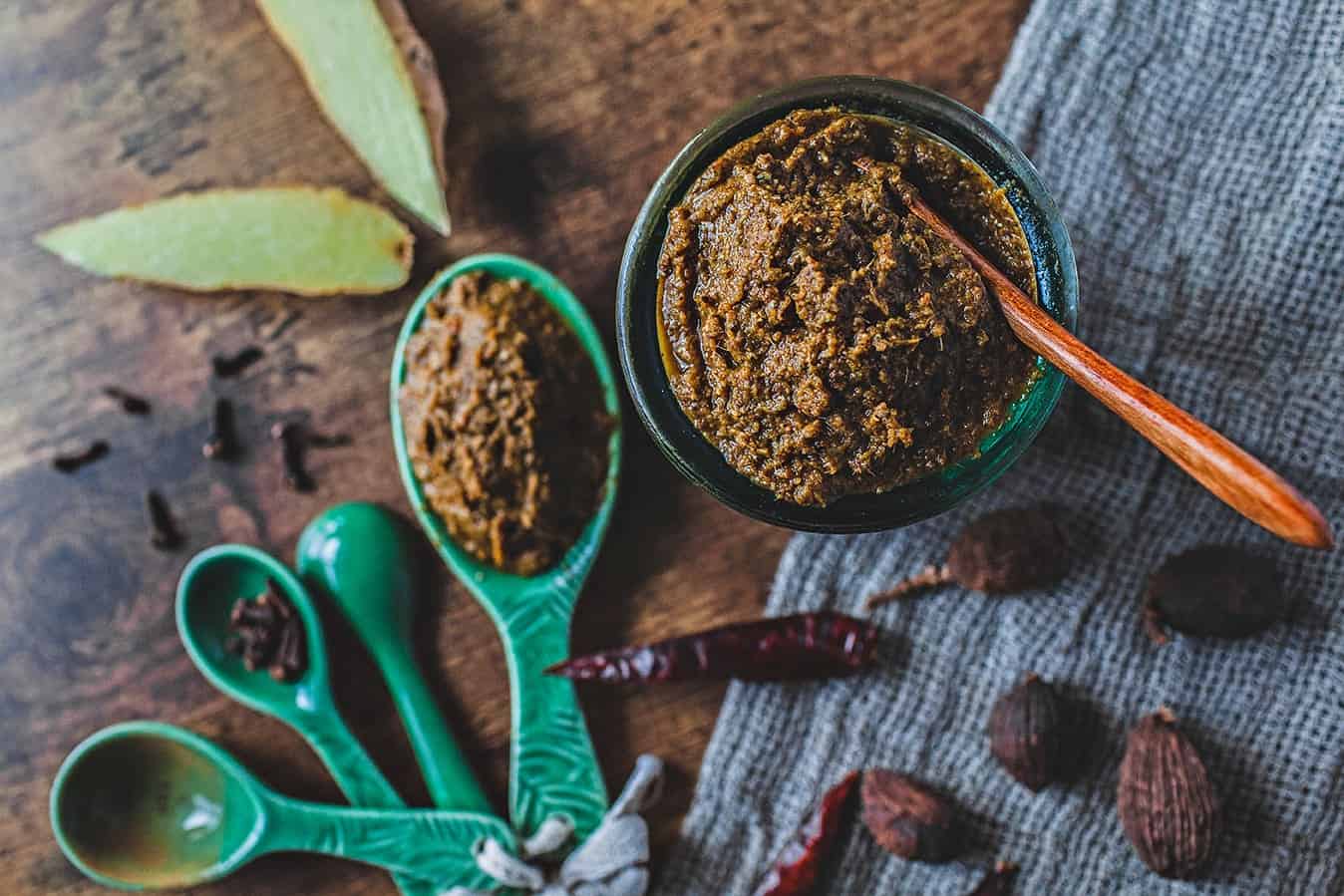 Coconut Milk and Coconut Cream
Coconut milk and coconut cream are commonly used in Thai curry dishes and desserts. The main difference is the thickness of the liquid. Coconut milk has mixed water, while coconut cream is thicker and creamier because it has more coconut and less water.
Coconut milk is mainly used for curries, while coconut cream is popular for desserts. You can choose between carton or canned options, but a carton is preferred for better taste, as canned milk can sometimes taste like metal.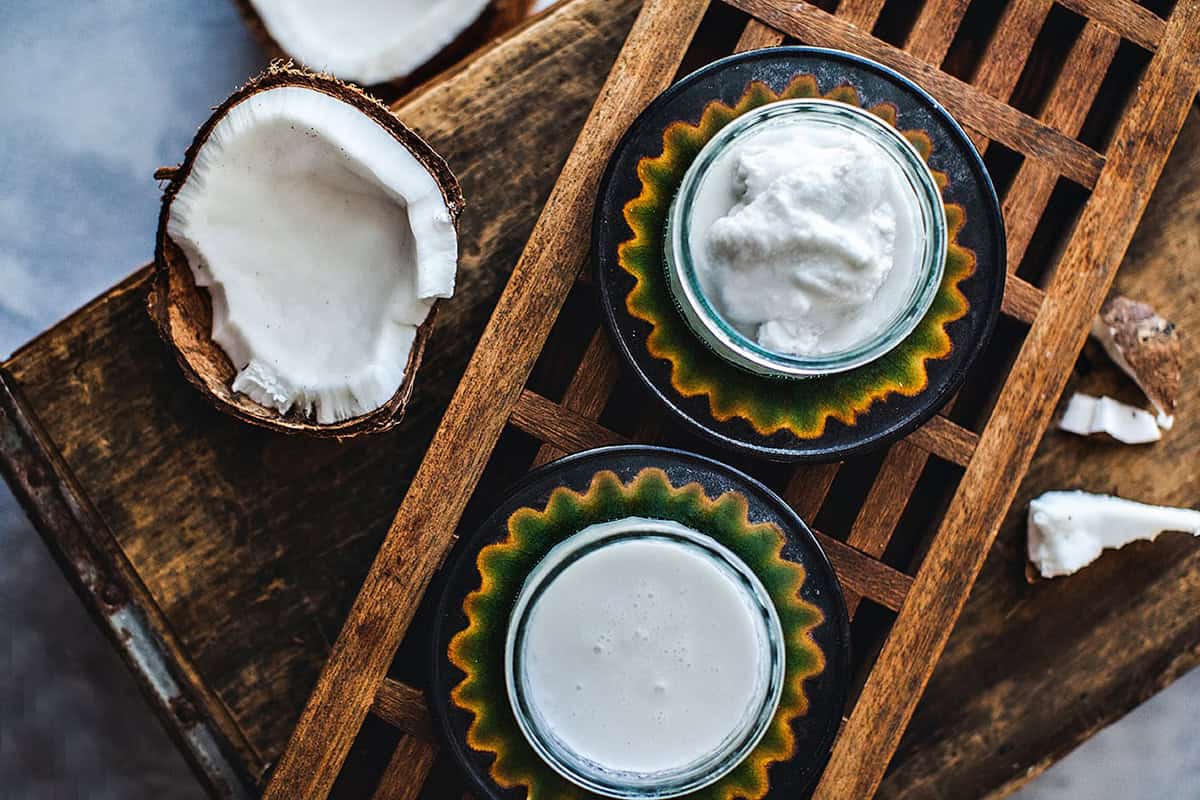 White peppercorn
In Thai cooking, we use white peppercorn a lot. Black peppercorns are used too, but not as often as white. If you can, buy whole peppercorns instead of powder. You can grind them up in a spice grinder for a fresher and more flavorful taste. Read more about spices in Thai cooking with this helpful blog post here. Read more about spices in Thai cooking with this helpful blog post here.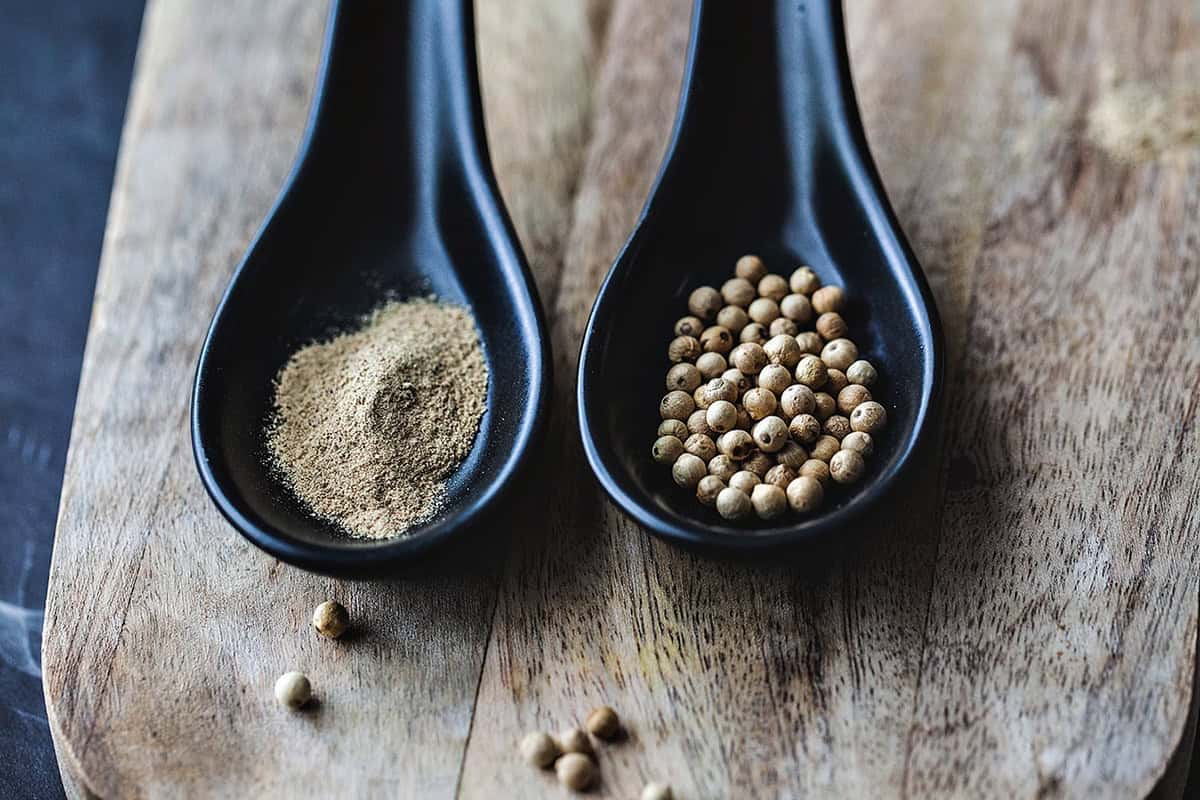 Fresh Herbs
There are a few fresh ingredients that I always have in my refrigerator. Fresh lemongrass, Cilantro, green onions, garlic, and shallots are essential. A few herbs I recommend having in your freezer are kaffir lime leaves, cilantro roots, galangal, and chopped turmeric. You can check out this blog post for more herbs used in Thai cooking.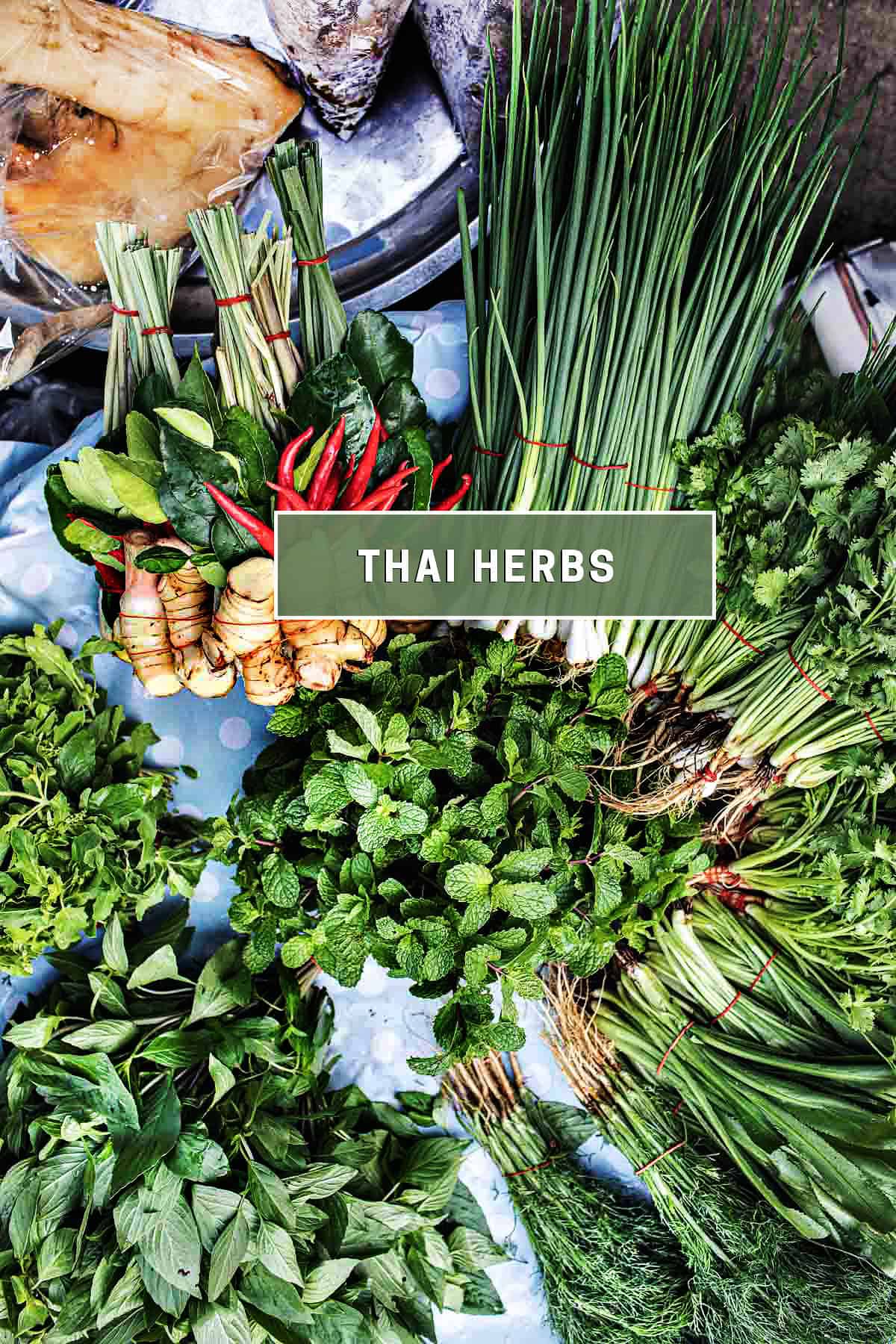 Fresh lemongrass
Lemongrass is a common ingredient in Thai cooking. It is a fragrant herb with a citrusy flavor that adds a refreshing and zesty taste to dishes. Its stalks are often bruised or chopped and added to curries, soups, and stir-fries, infusing them with a unique and distinct aroma. Lemongrass is a key element in creating the vibrant and flavorful dishes Thai cuisine is known for.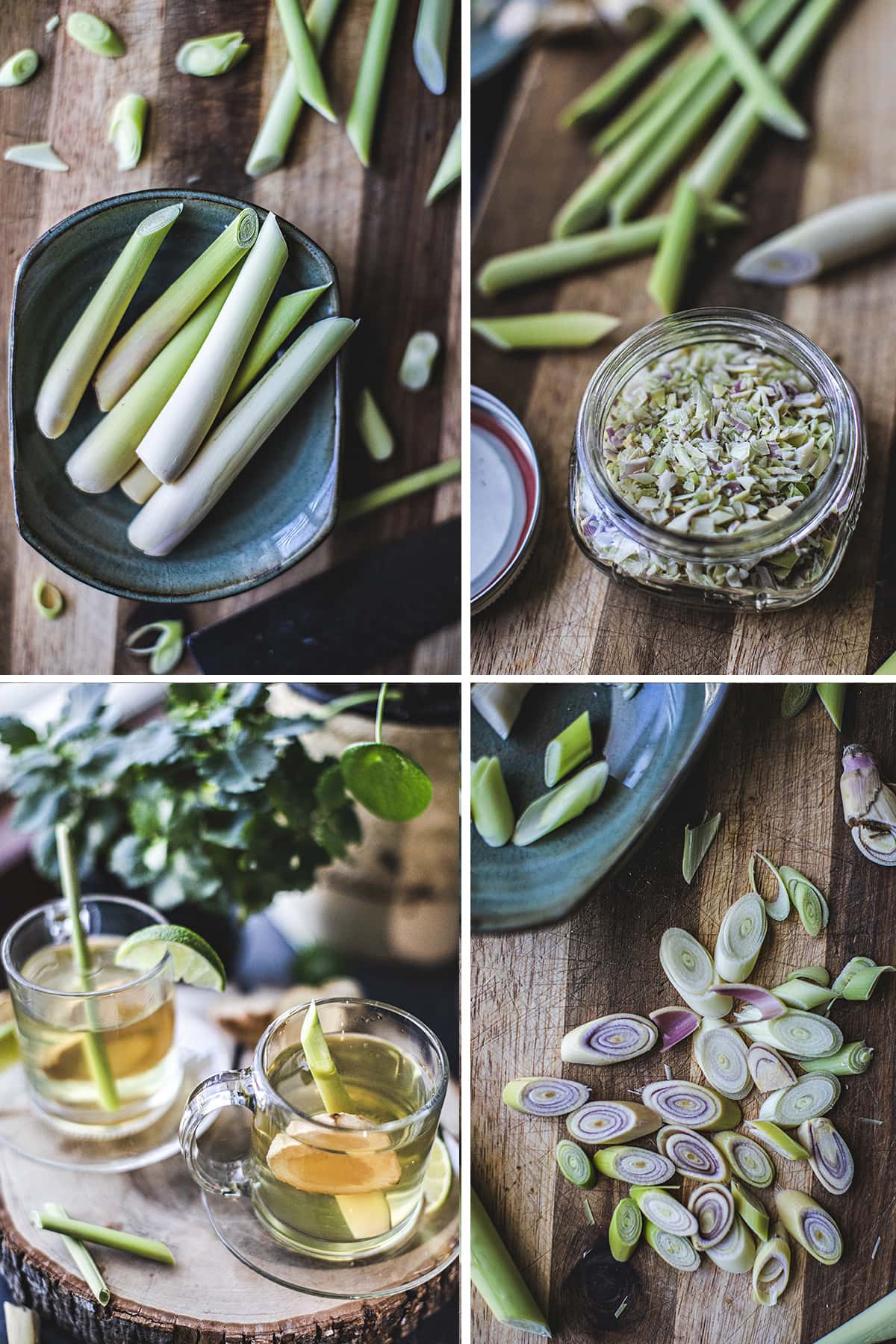 Kaffir lime leaves
Kaffir lime leaves and their limes are common Thai ingredients in Thai cooking. Their distinct citrusy and floral aroma adds a unique flavor to dishes like curries, soups, and stir-fries. Just a few leaves can elevate the taste of a dish, giving it a refreshing and zesty twist. The lime zest is used to make authentic Thai curry pastes.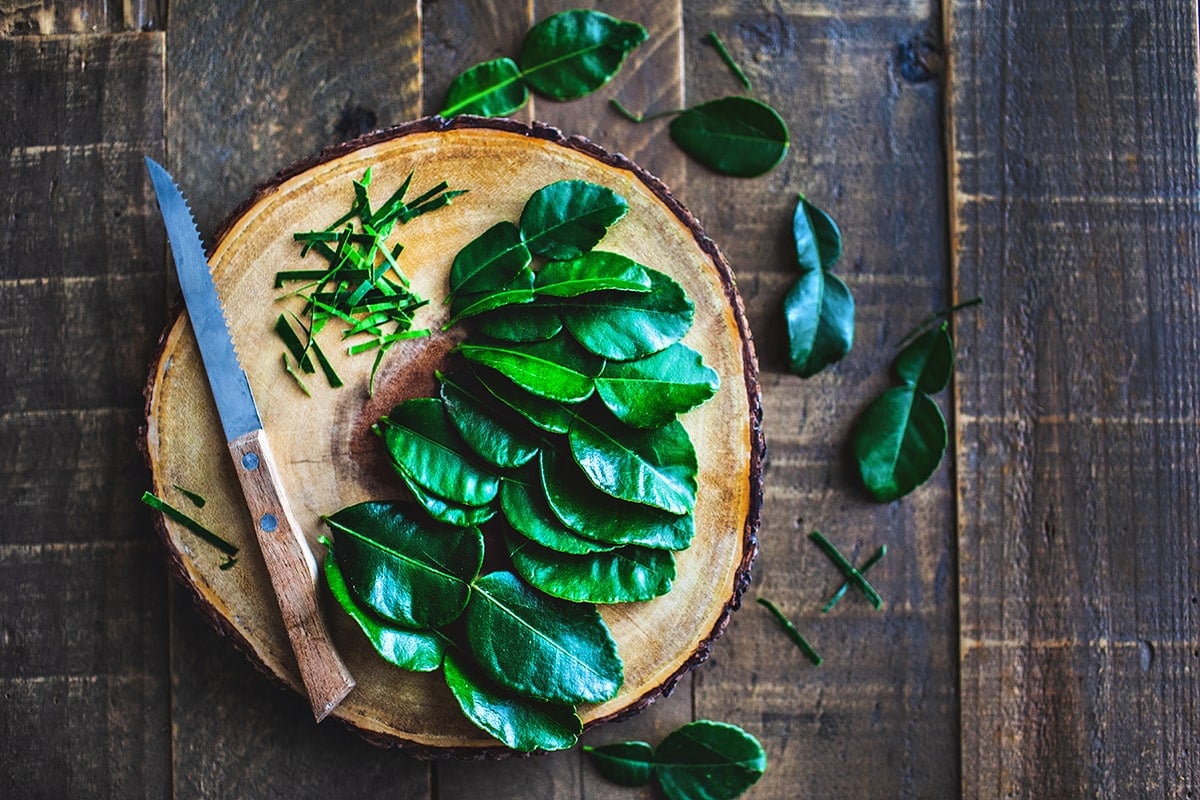 Fresh basil
Basil is a herb that is commonly used in Thai cooking as well as in other Asian cuisine. It has a strong and fragrant aroma, adding a delightful flavor to dishes. You'll need Thai and holy basil for your Thai cooking. Each type serves a different purpose for Thai recipes.
Thai basil
Thai basil has a slightly peppery taste with hints of sweetness, making it a popular ingredient in soups, stir-fries, and curries. It is often added toward the end of the cooking process to preserve its fresh and vibrant flavor. Thai basil leaves are also used as garnishes, adding color to the dish.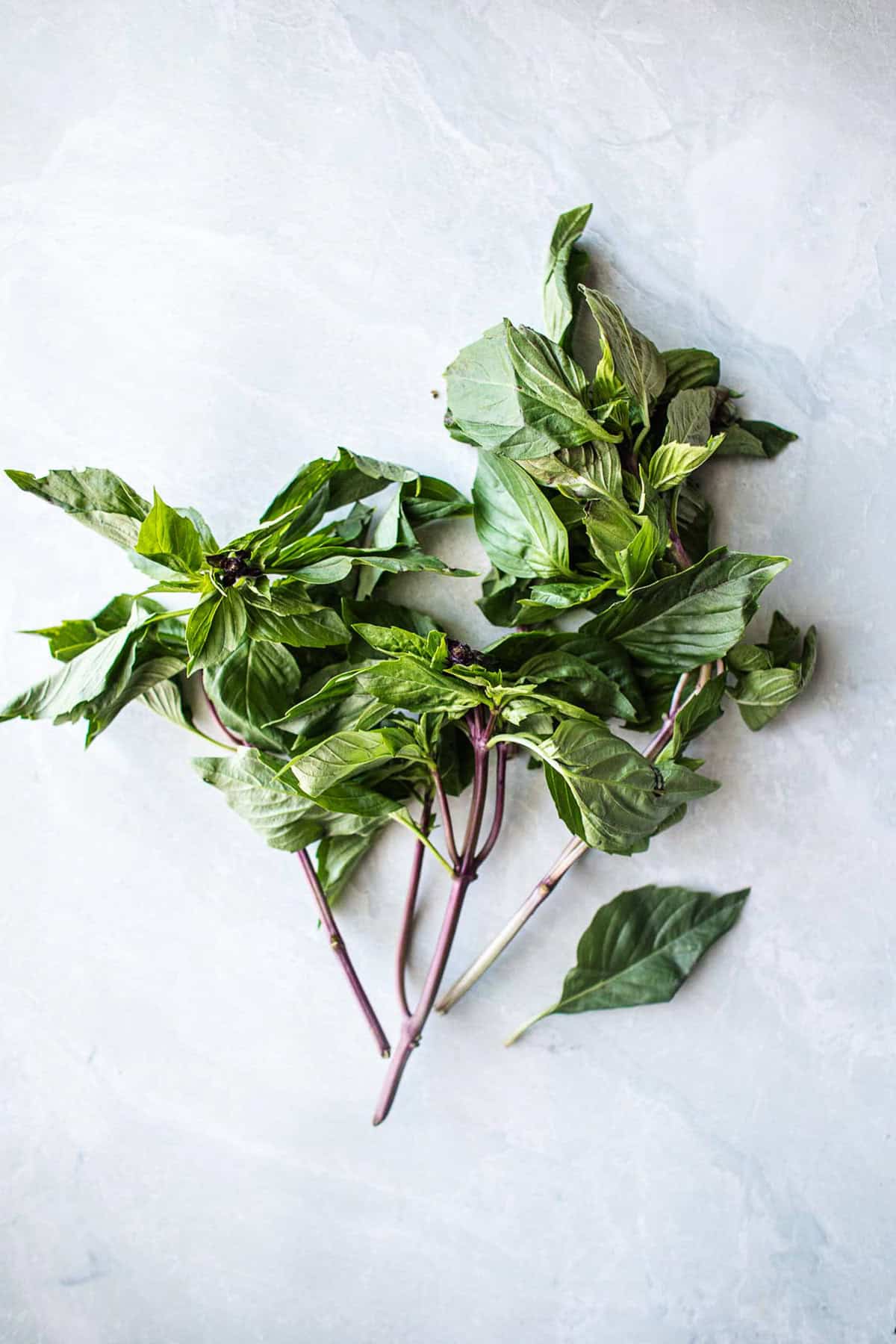 Holy basil
Holy basil, also known as "bai krapao" in Thai. It has a distinct peppery and slightly sweet flavor, adding a wonderful aroma to Thai dishes. It has fuzzy stems (in the image below) with light green colored leaves. Holy basil is commonly used in stir-fried dishes, curries, and soups, providing a delightful freshness and a hint of spiciness. 
Holy basil can be difficult to find in some parts of the United States. Check with your local Asian market. They are more readily available in the summer months. Read more about Basil and other herbs used in Thai cooking in this blog post.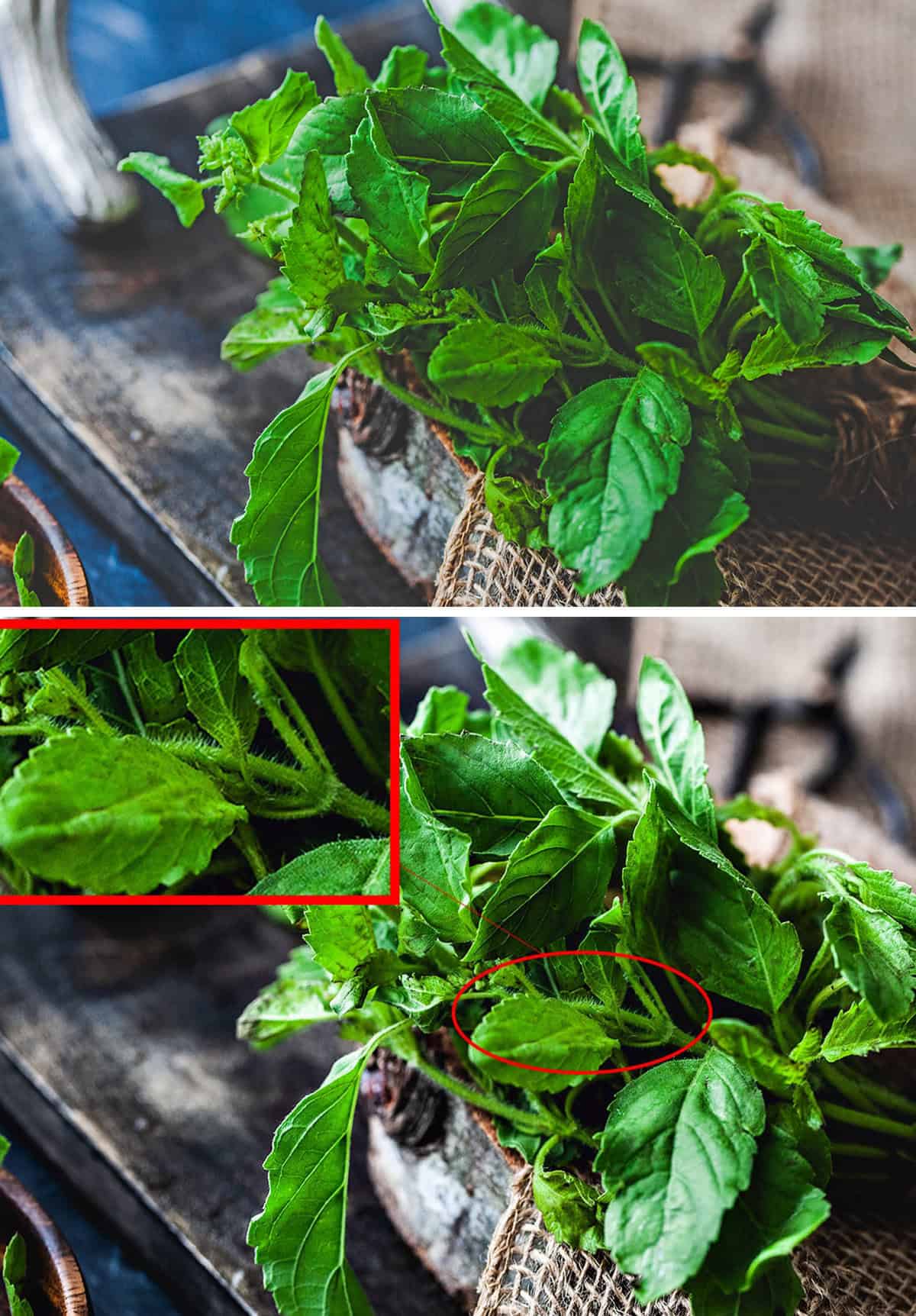 Cilantro
Cilantro, also known as coriander, is a popular herb in Thai cuisine. It is used in many dishes like salads, soups, and sauces. In addition, coriander roots are used to make curry pastes, marinate meat, and enhance the flavor of soups. While coriander roots are less commonly used in the US, cilantro stems can be a good substitute in certain recipes.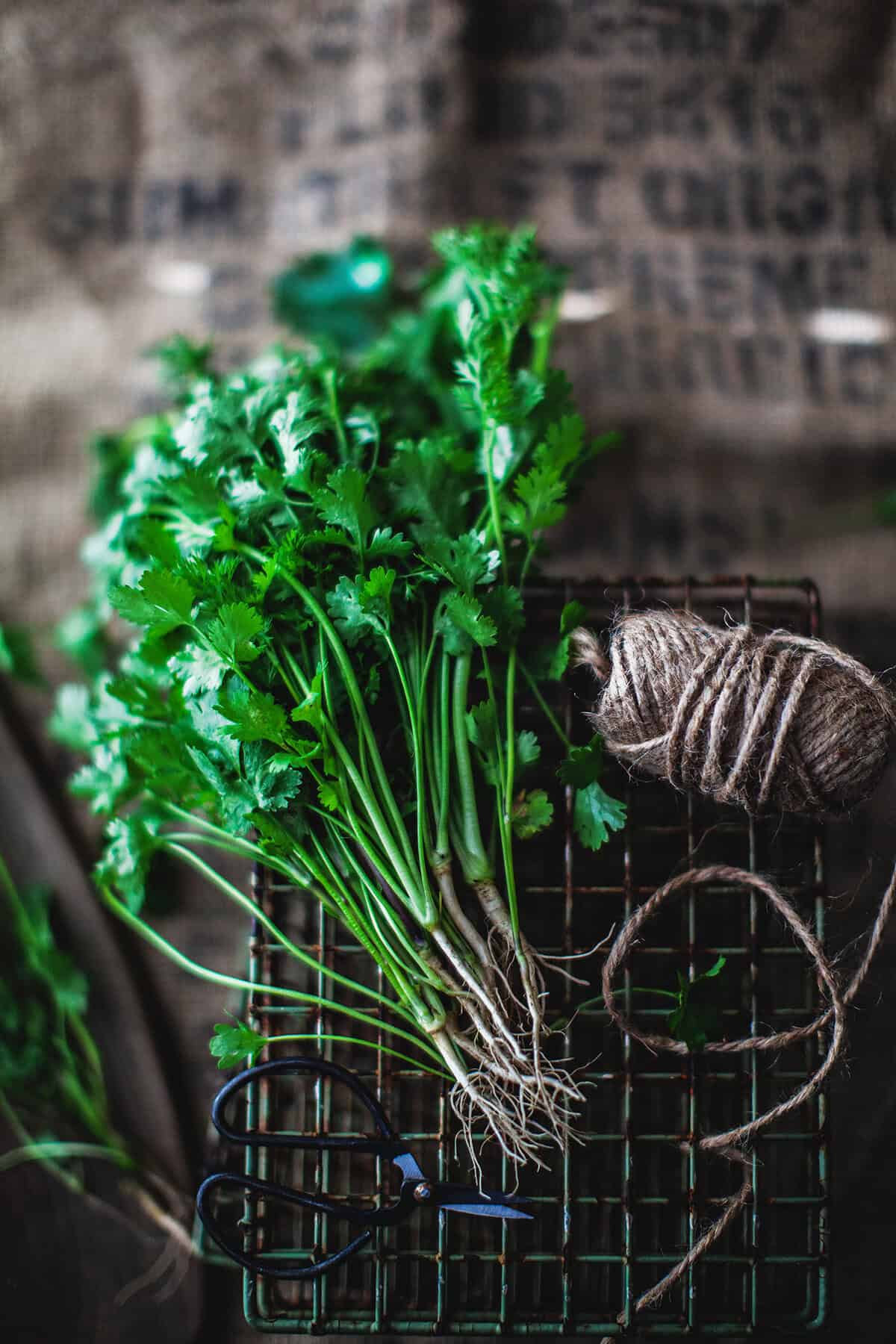 Garlic and shallots
Garlic and shallot are two essential ingredients in Thai cooking. They add incredible flavor and aroma to dishes, enhancing the overall taste. Combining garlic and shallot brings a delicious depth to traditional Thai recipes, whether fragrant curry, stir-fry, or spicy soup.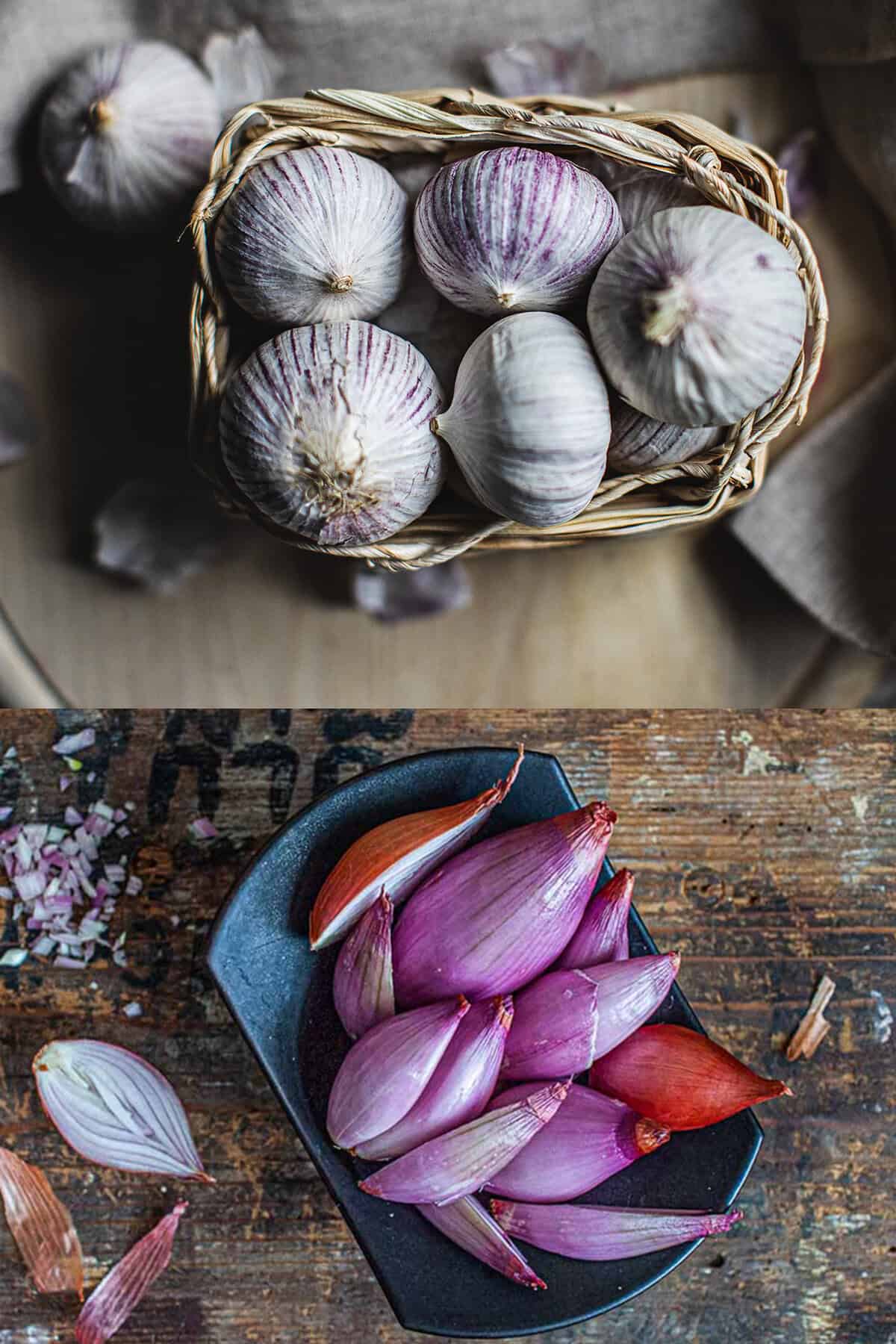 Fresh Limes for lime juice
Fresh lime juice is used extensively in Thai cooking. They are one of the essential ingredients for making salads, sauces, and condiments and adding flavor to dishes like fried rice, grilled meat, and soups.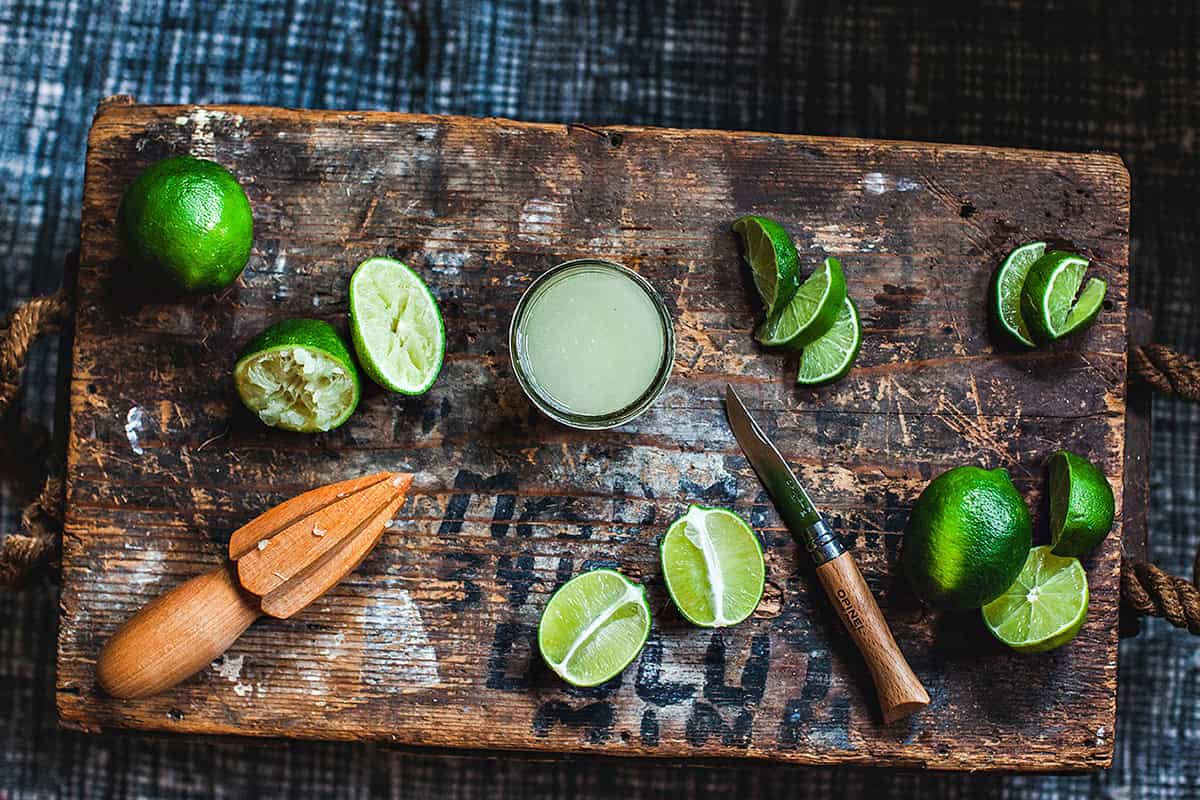 Rice vinegar
Rice vinegar is a good substitute for lime juice or tamarind when those two are not available. They are great for adding stir-fries, marinating sauce, or sauces for a sour taste.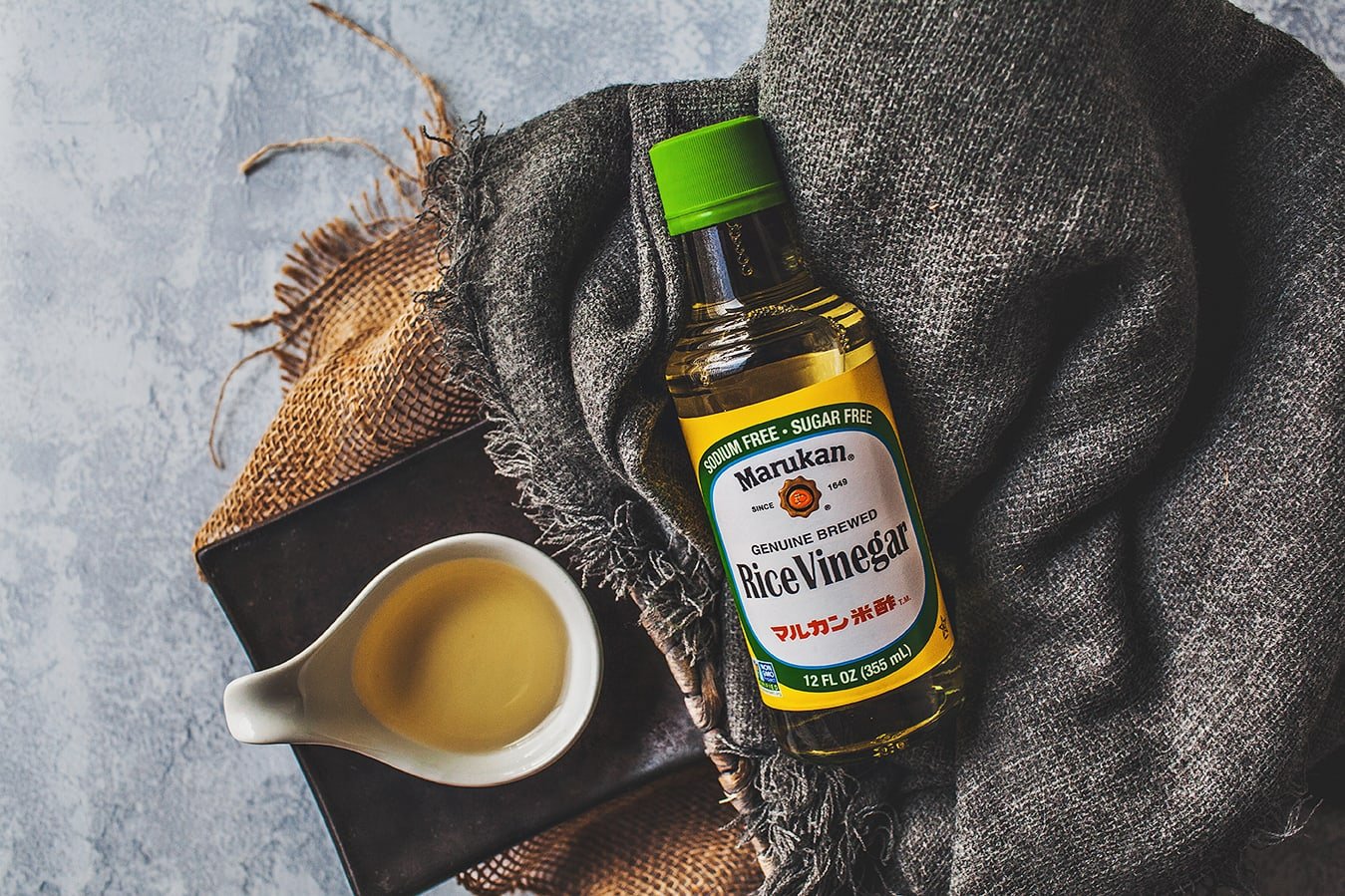 Toasted Rice Powder, Khao Khua
To make toasted rice powder, roast it until golden brown. It's best to make it fresh for recipes, as the aroma and flavor aren't as strong if you make it ahead of time. The smell of toasted rice is nice and can make your home smell good too. Make your own Khao Khua using this easy recipe.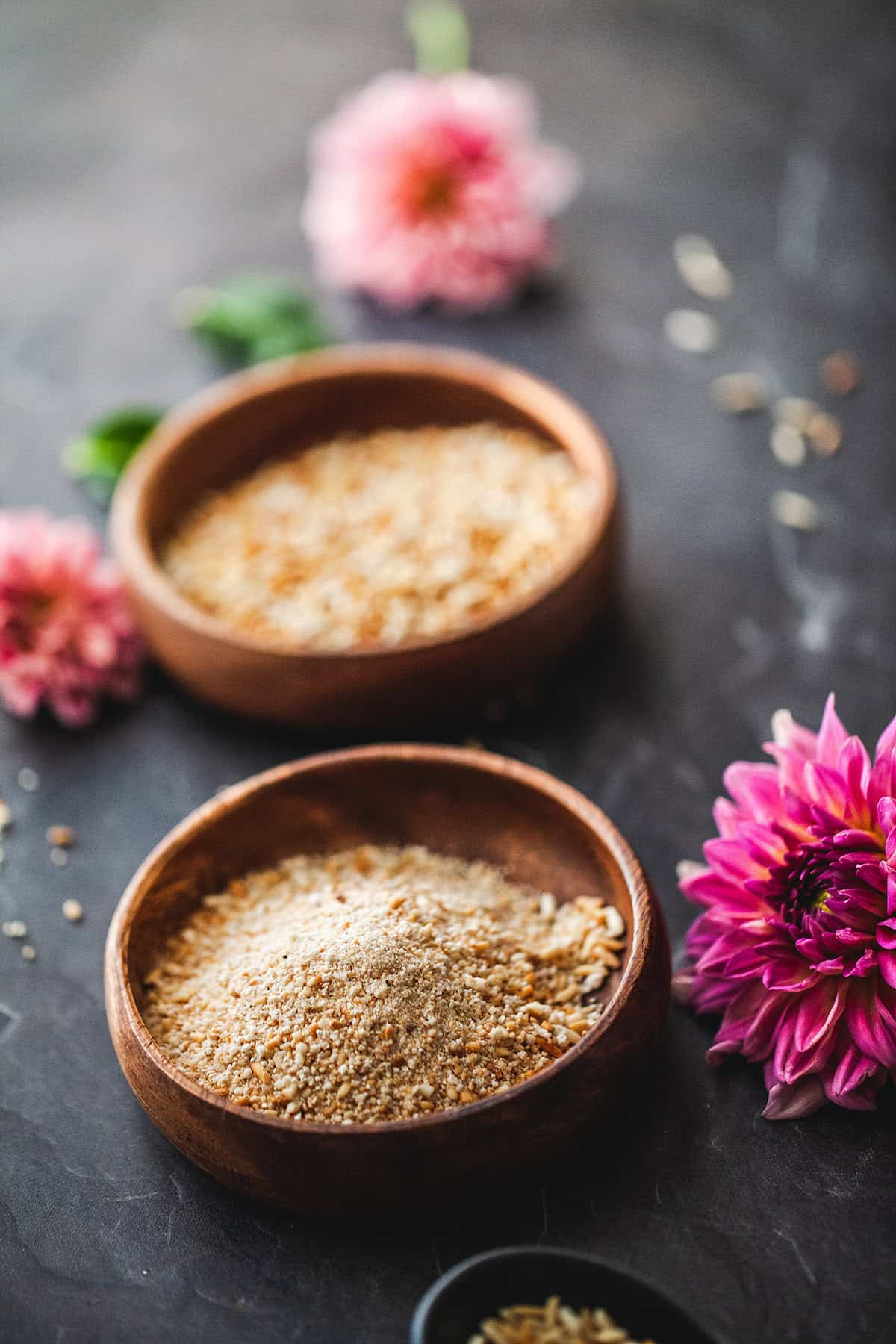 Rice Flour
Rice flours are an essential ingredient used in Thai cooking. They are made by grinding rice into a fine powder, resulting in versatile and gluten-free flour. In Thai cuisine, rice flour is commonly used to make various dishes such as noodles, dumplings, and Thai desserts. They provide a light and delicate texture, adding a subtle sweetness to the dishes.
Rice flour can also be a thickening agent in soups and sauces. Whether crispy Thai pancakes or savory dumplings, rice flours are crucial in creating authentic Thai cuisine and textures.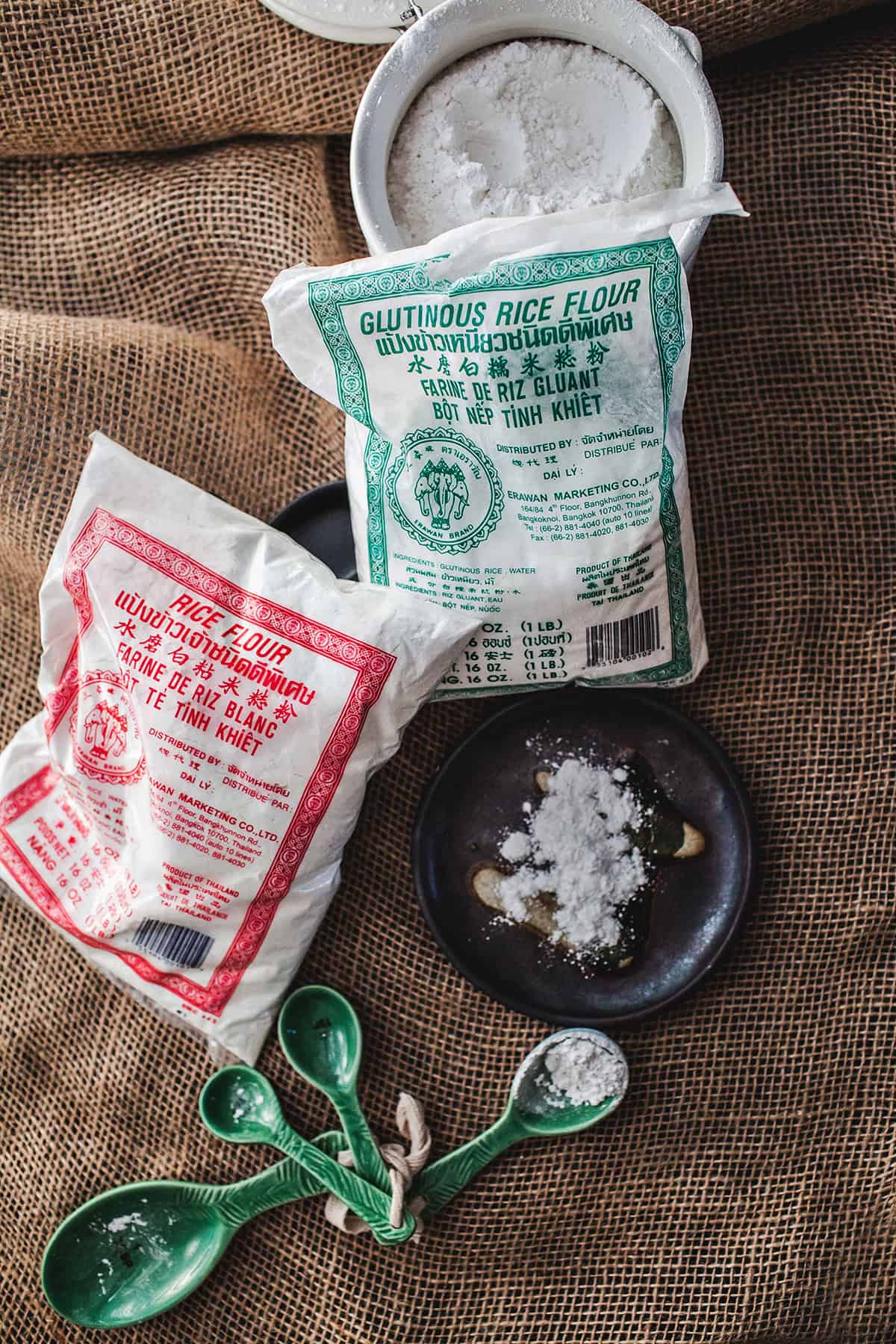 ​Tapioca starch
Tapioca starch is a common ingredient used in Thai cooking. It is a white, powdery flour made from the cassava root. It is a thickening agent in various dishes, such as soups, sauces, and desserts. Tapioca starch helps to create a smooth and silky texture, adding a pleasant chewiness to dishes like tapioca pudding or the popular Thai dessert, mango sticky rice, and also in Rad Na, a gravy-like stir fry recipe.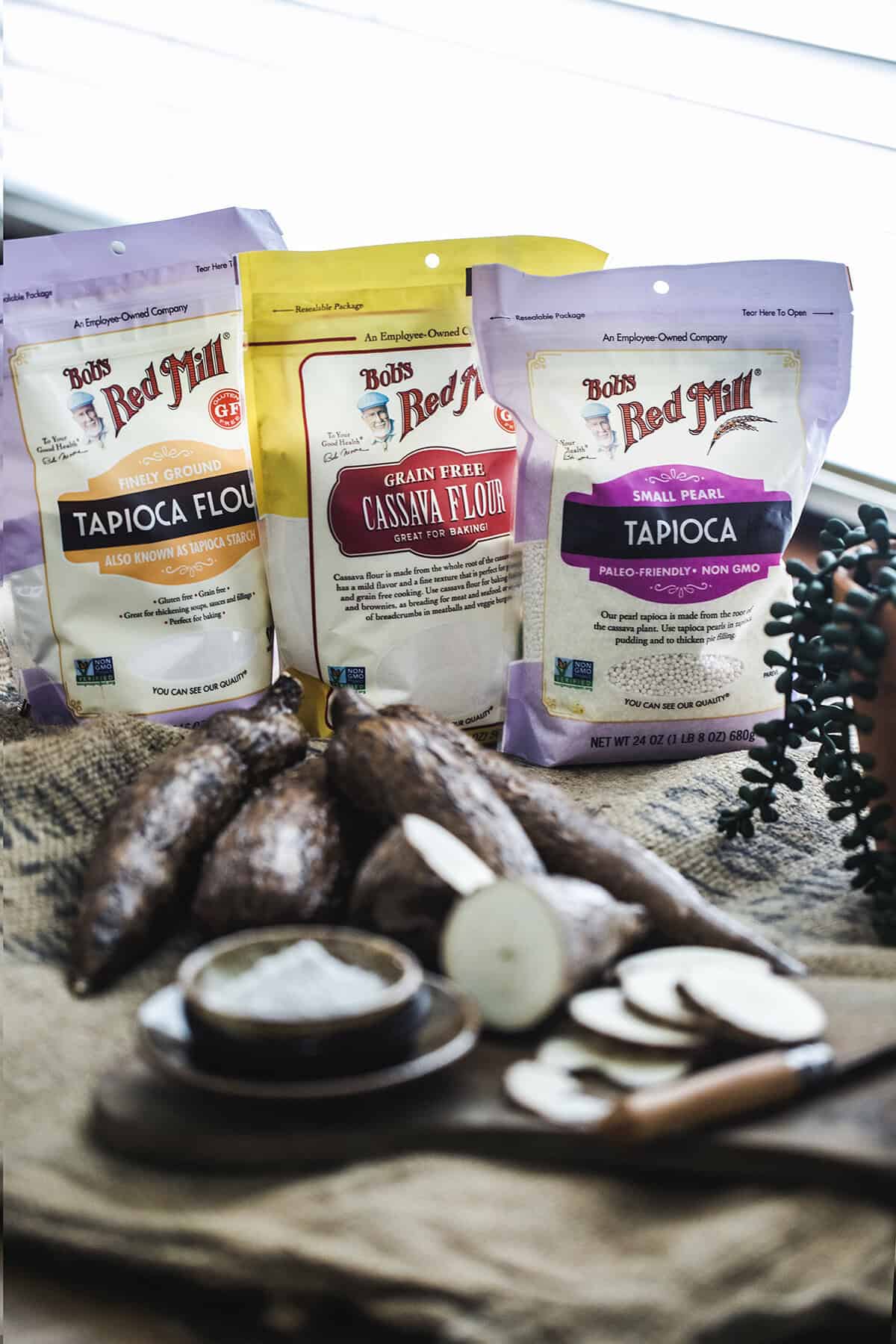 Shrimp Paste
Shrimp paste is made from small, fermented shrimp and dried in the sun. Shrimp paste is used in several dishes, such as Thai relishes, curry pastes, stir-fries, etc. Thai food calls for shrimp paste more often than you realize. The smell can be potent if you are not used to it. After opening the container, I advise sealing it in a plastic bag in the fridge to help contain the smell.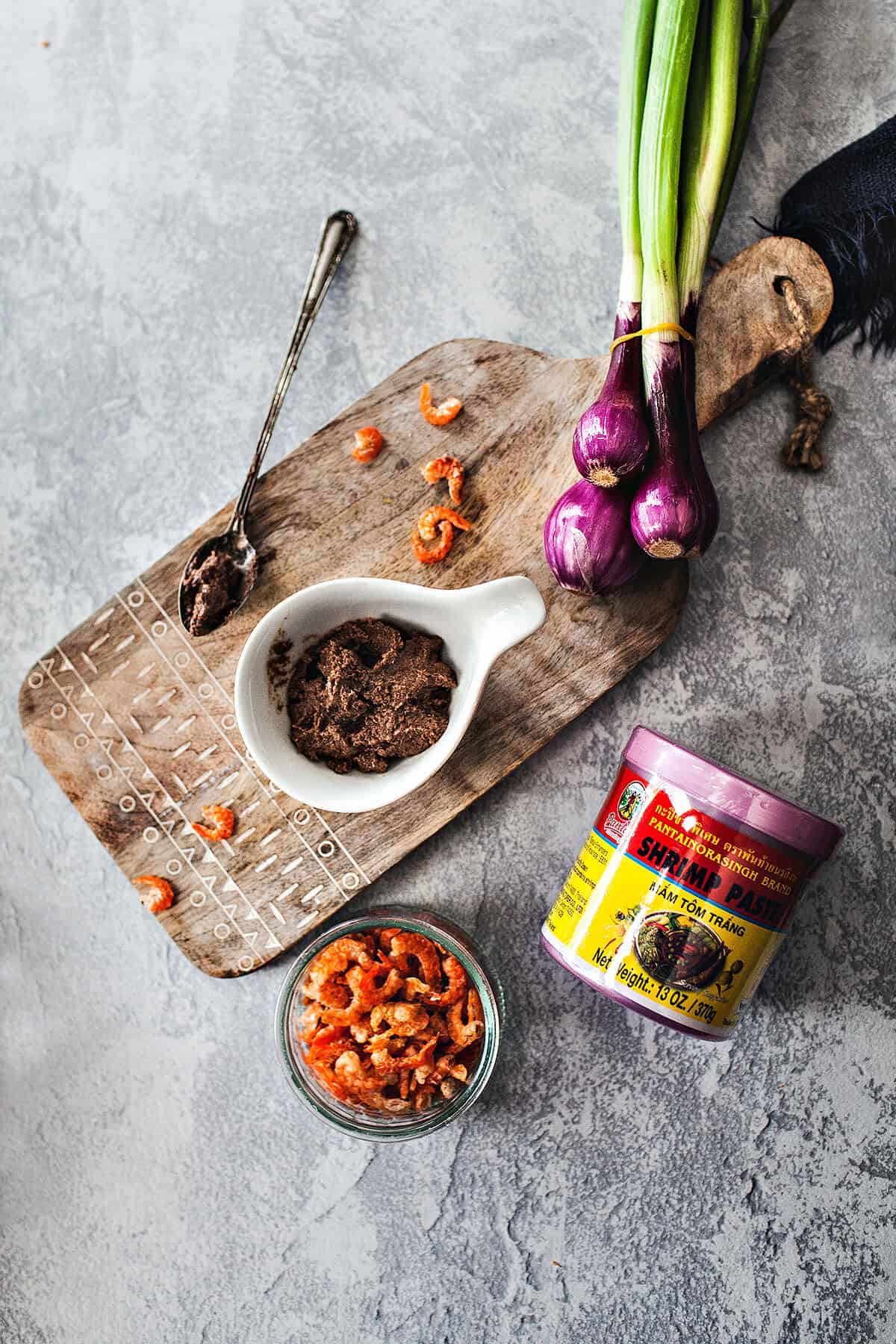 Dried Shrimp
These small shrimp have been dried and preserved with salt, giving them a pinkish/salmon color. You can usually find them in the refrigerated section of Asian stores. Dried shrimp is common in many Thai dishes, including salads, curry paste, spicy dipping sauces, and Pad Thai. They also make a tasty side snack and are a good source of protein.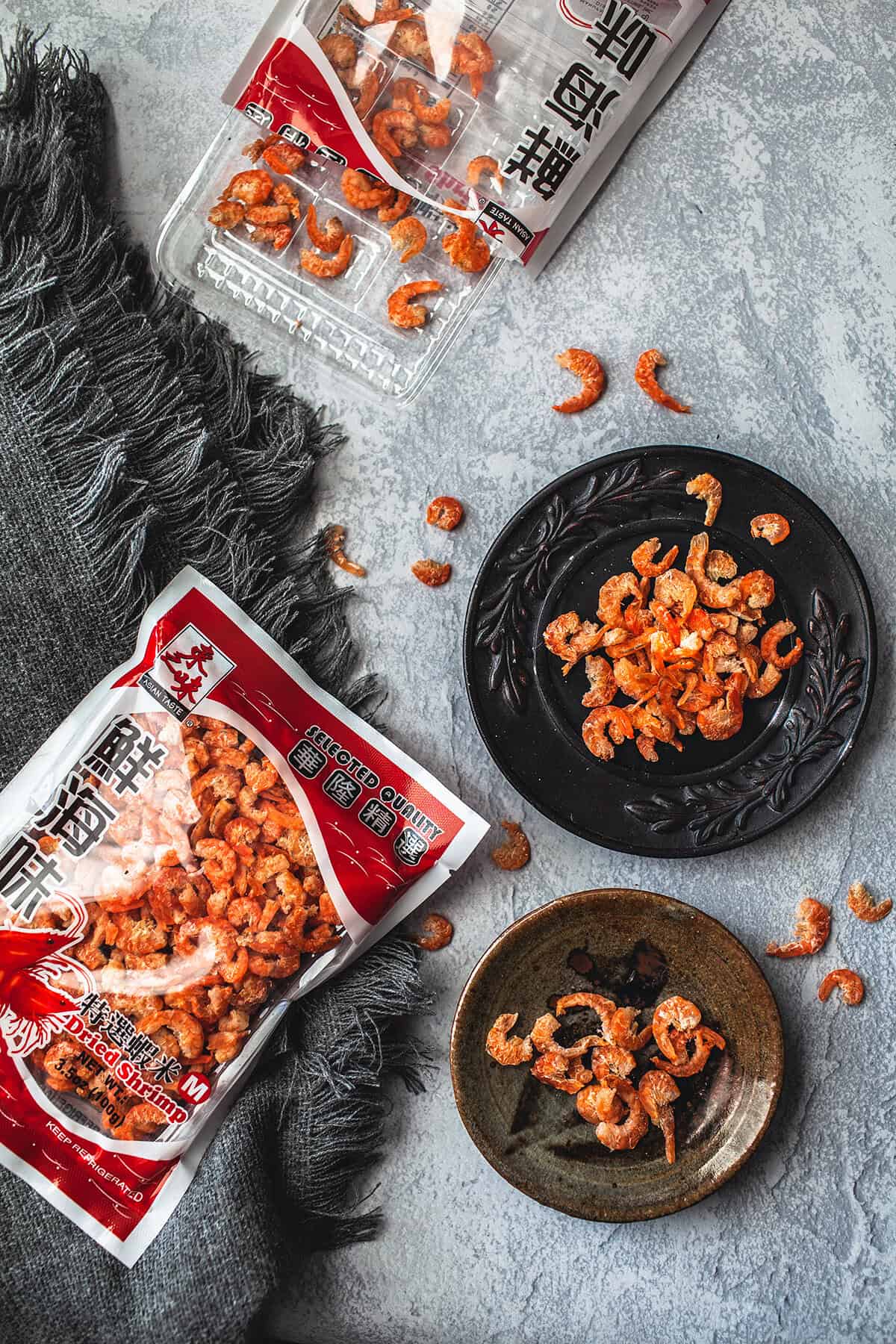 Oil
Some oils commonly used in Thai cuisine are vegetables, coconut, and sesame. Vegetable oil is used for frying and cooking ingredients because it doesn't taste strong. Coconut oil is used in curries and stir-fries to add a tropical flavor. Sesame oil is used at the end of cooking to make the dish taste better. These essential oils are important for making Thai food taste authentic and delicious.
There you have it, a complete guide to Thai pantry essentials for your home cooking! Pick and choose what works for your own kitchen.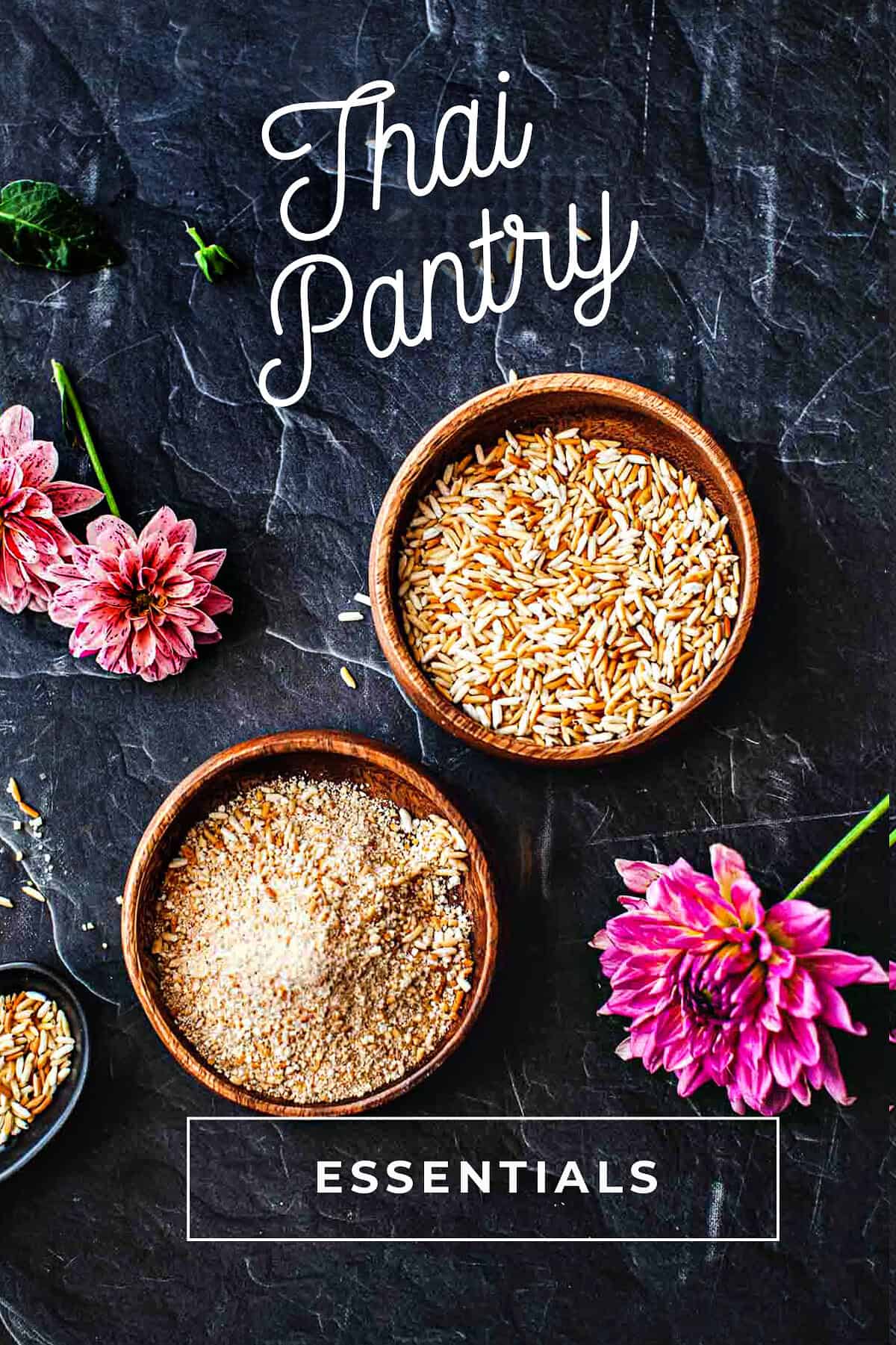 ​By keeping these essential ingredients in your pantry, you'll be well-equipped to create many delicious Thai dishes and other old and new recipes. Experiment with different combinations and flavors to discover your favorite Thai recipes!
More Thai kitchen resources
If you love cooking Thai food, check out my Thai kitchen resources with these blog posts below.
**Find this blog post helpful? Please share, like, and follow me for more Thai food and yummy recipes! Find me on social media platforms at Facebook, Pinterest, or Instagram!**
Thai recipes You'll love