If you are familiar with Thai Cooking, you know there can be a few essential Thai kitchen tools that can help make your cooking life so much easier.  Today, I'm going to share with you my favorite Thai kitchen tools that I use regularly in my cooking.
Rice Cooker
If you cook and eat a lot of Asian food, I highly recommend investing in a good quality rice cooker. I will not be recommending cooking rice from your stove top in a pot here. I did it for 13 years of my life and it was a messy and strenuous process. (: You can find a decent rice cooker starting at $30 and most of them will last for a very long time.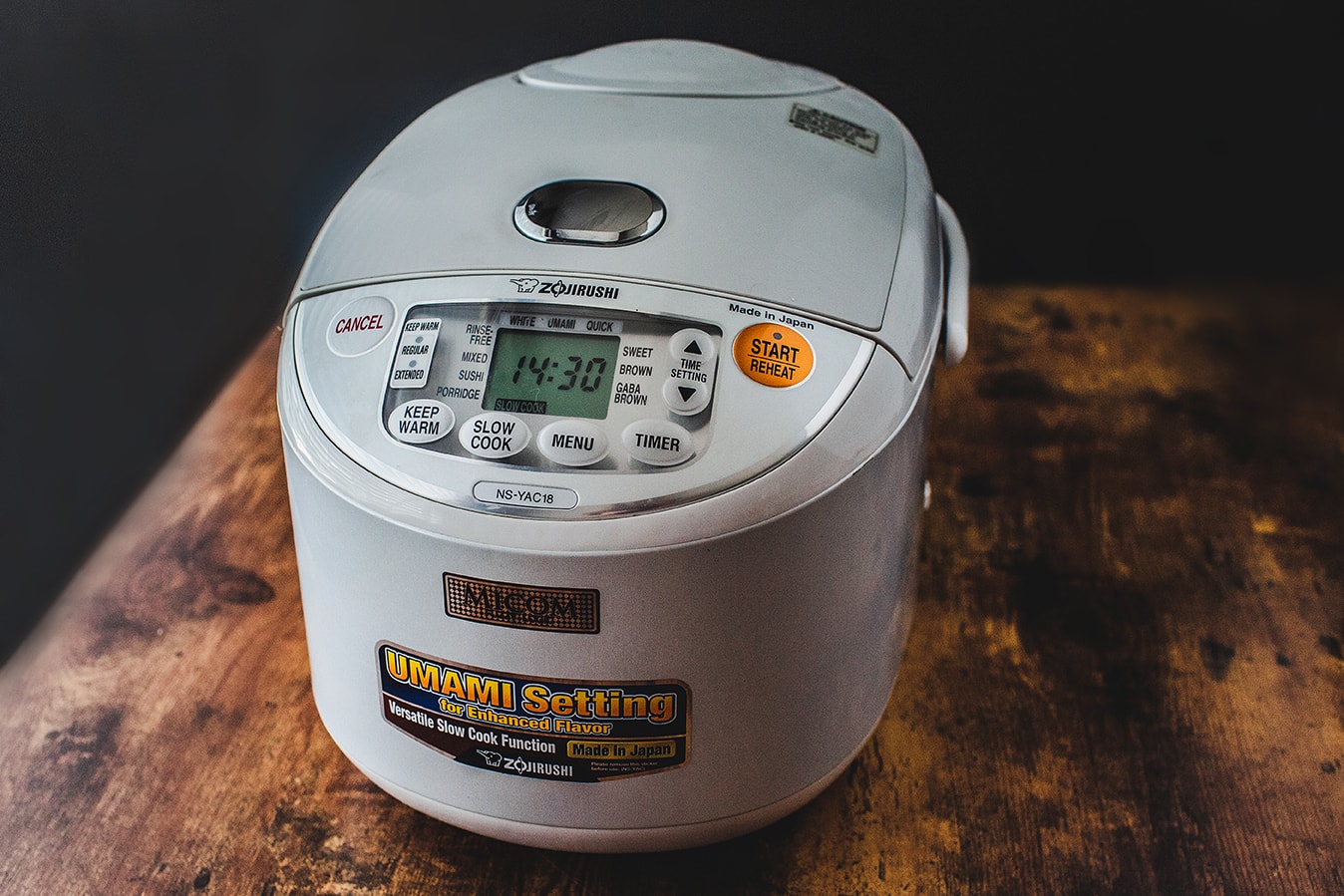 A Good Wok
Having a good wok is important. There are many different types of woks out there. I will briefly talk about a few favorites here. The four types of woks I own are: stainless steel, carbon steel, cast iron, and a non-stick cephalon wok. I love them all. Carbon steel and cast iron woks require proper seasoning before their first usage. Most brands will have care instructions with their products. It's important to read and follow them diligently. In reality, if buying a wok is not in your budget, any large frying or sauté pan will get the job done, too.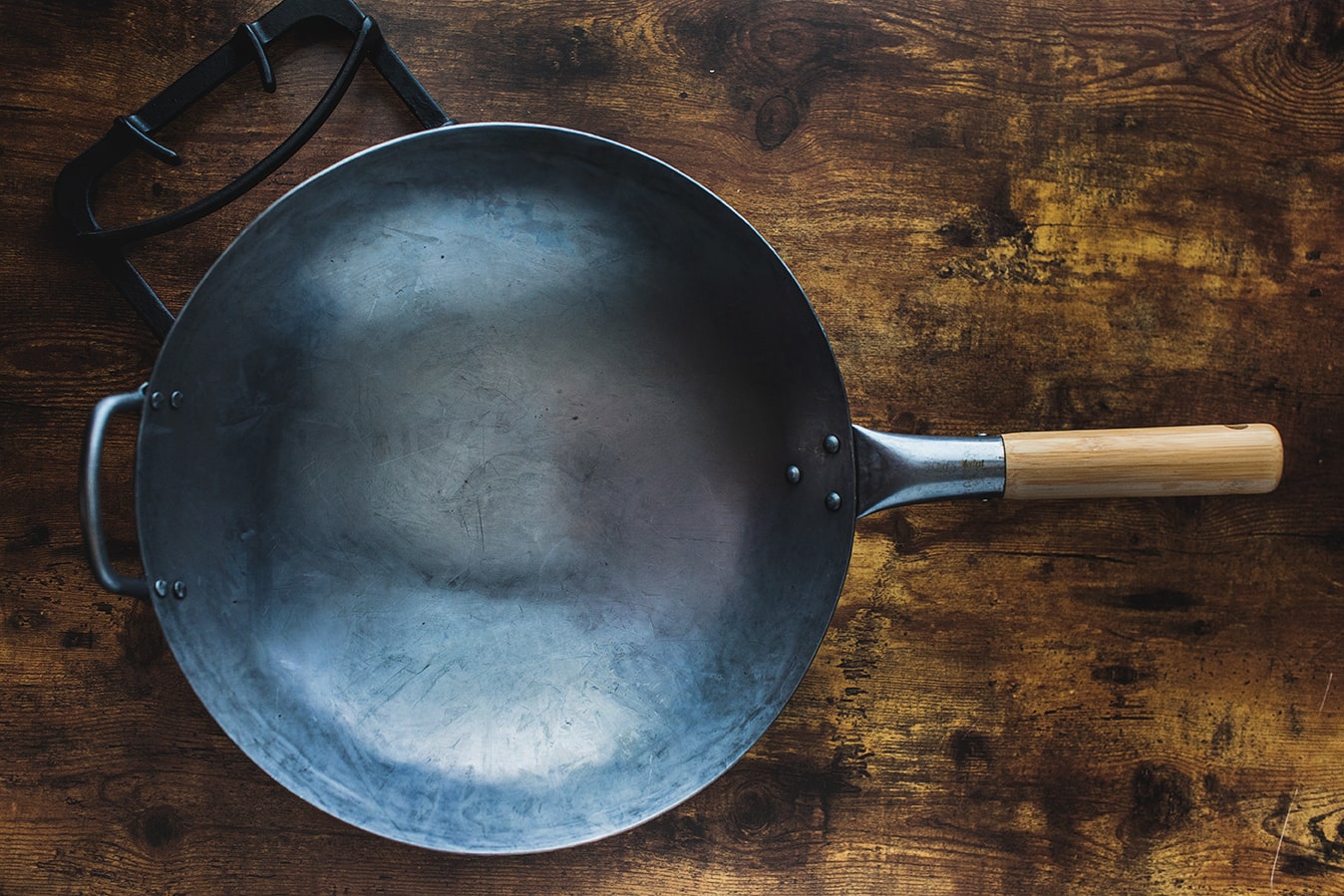 Mortar and Pestle
Mortar and Pestle conjures up childhood memories of Thai women in my village gathering around and sitting on straw mats on an outdoor detached kitchen. They would pound spices and herbs while catching up on village gossip.  If any piece of kitchen tool can depict the old ways of cooking for me, the mortar and pestle set is it.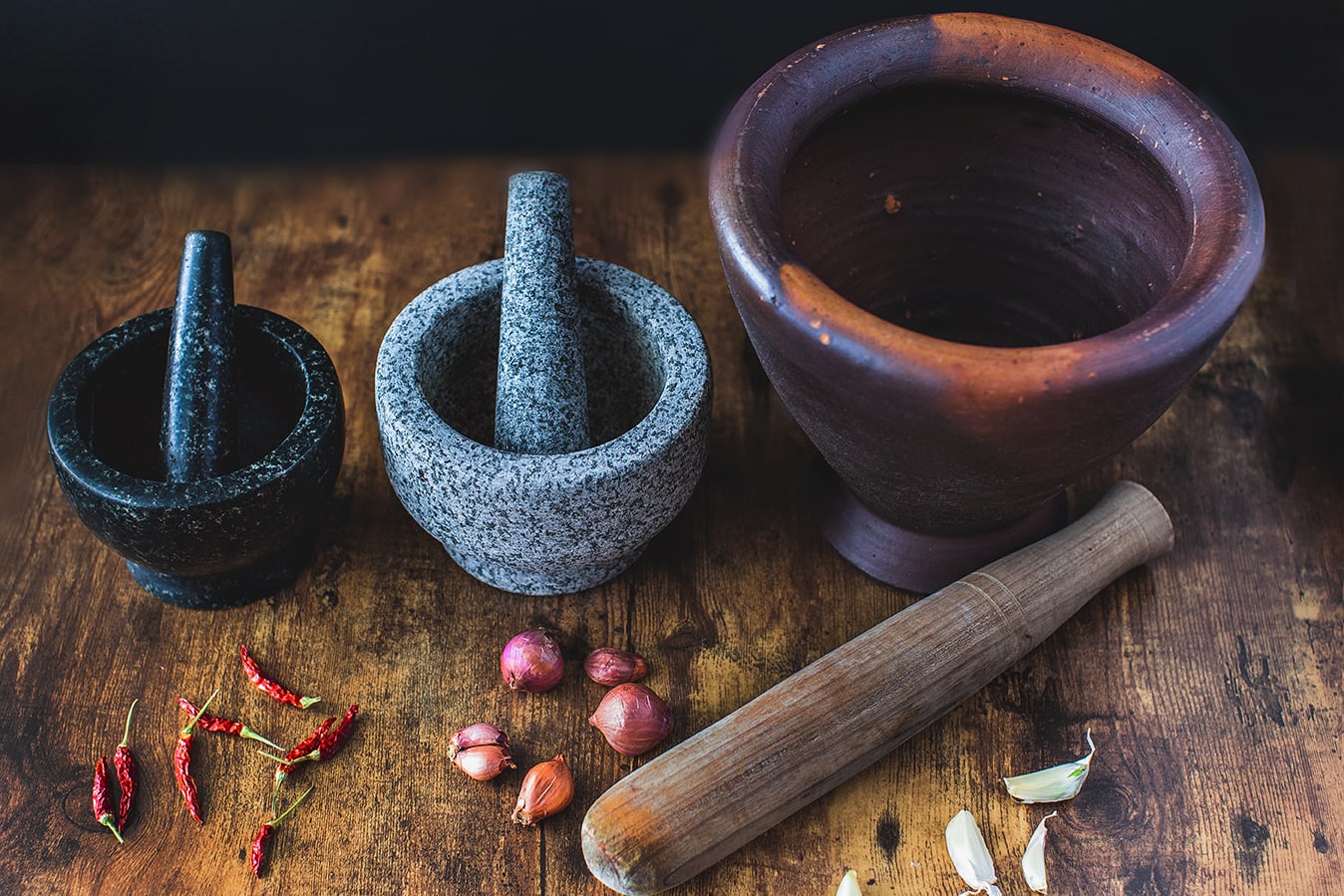 There are two types of mortar and pestle I love and recommend. The granite mortar and pestle for ground spices and herbs for dishes like curry or making dipping sauces. The clay and wooden sets are used most often for making salads. The pounding process in the mortar and pestle slowly releases the aroma and flavor of the ingredients unmatched by the blades of the food processor. If you don't have the patience nor budget to spend on this kitchen tool, a food processor will do.
Sticky Rice Steamer
This single purpose tool and its set up can seem a bit intimidating. There are two parts to this Thai kitchen tool. A cinched top stainless steel pot and a woven bamboo basket that sits on top of the pot. It is used mainly for steaming sticky rice. It is a large set and storing it can be cumbersome. A simple steamer can be used as a substitute for this kitchen tool. Just make sure to use a piece of cheesecloth to hold the rice.
Vegetable Peelers
I love my vegetable peelers. I use mine often for many different fruits and vegetables. The best part? They are less than $8 each! My most favorite food I use this tool for is the green papaya for making papaya salads. These tools can  also be used to peel carrots, zucchini, cucumber, daikon, mangos, etc. Since they are so cheap, I usually have 2 or more of these in my kitchen drawer.
Fine Mesh Strainers
A very handy essential Thai kitchen tool. Especially useful for deep frying, scooping out large chunks of veggies from stock, straining broth into jars, blanching veggies, or for dipping rice noodles inside a steaming hot pot of broth. You can choose different sizes and depths of the scoop, it's up to your preference. I like one of each size, small, medium or large depending on what I'm cooking.
Spatulas
Make sure you have a couple of good, solid spatulas in with your Thai kitchen tools. I don't recommend plastic ones for Asian cooking as many dishes require high heat and could melt the plastic. I recommend rounded-edged stainless steel ones with wooden handles, and strong wooden spatulas work great, too.
There you have it, the essential Thai Kitchen Tools. If none of these tools are in your kitchen right now, do not fret! Honestly, you can use almost any kitchen vessel you already have in your kitchen. As the saying goes, "having a nice camera doesn't make you a good photographer".  Neither does having a great stove top, or owning fancy kitchen tools, make you a great cook. (:  Be creative with what you have and improvise where you can. I did for years and it will help you be a better cook!