Today, I'm going to share with you a delicious recipe that is very similar to the Pad Thai recipe I shared 3 weeks ago. I'm sharing a dish called Pad Mee, a light and delicious Thai Rice noodles recipe. Pad Mee is what I grew up eating as a child. I would even dare say that the Pad Thai recipe evolved from the simple and delicious Pad Mee noodles. Here's the best part, this Thai Rice noodles recipe is so MUCH more simple to make! It requires less ingredients and less time hunting for those ingredients that may be hard to find.
This recipe is from my dear friend and sister, Yupa, whom I've worked/traveled with in Thailand for decades. She's one of the best cooks I've ever known! I was in Washington DC this past weekend for a little reunion with my friends and Yupa made this dish for a potluck at her Thai church. It was so popular, the dish was gone in a heartbeat! I'm excited to share this recipe with you.
Also, I'm introducing you to a new sauce in this recipe. I didn't grow up using it very often but again, I wasn't in the kitchen much either as a child. The sauce is made from fermented soybeans with added sugar and salt to give the sauce a delicious but not overpowering taste. A few of my Thai friends have told me they use the sauce in many of their stir fry dishes to add that extra little something to their dish. I agree, it just has a special flavor that is different than all the other sauces I've ever used. (You can find the list of different sauces used in Thai cooking here.) I highly recommend you try out this sauce, too. Start with this tasty Pad Mee noodles recipe.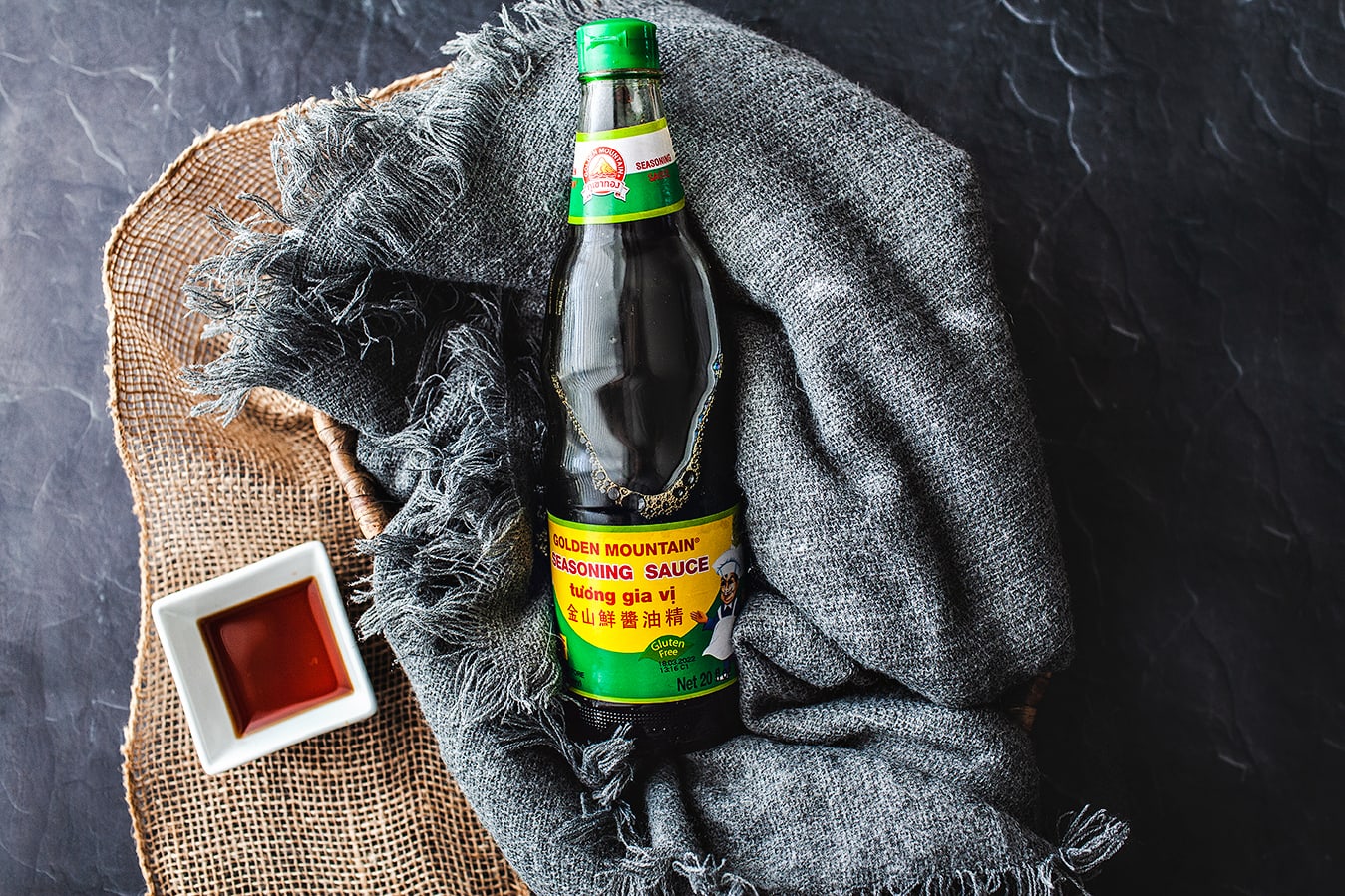 Are you ready to give this a try? Let's do it. Make sure to grab angel hair rice noodles as it is the main ingredient for this dish. Check out this post to see the different kinds of rice noodles used in Thai cooking. (It's the thin noodles listed as #3 on the post)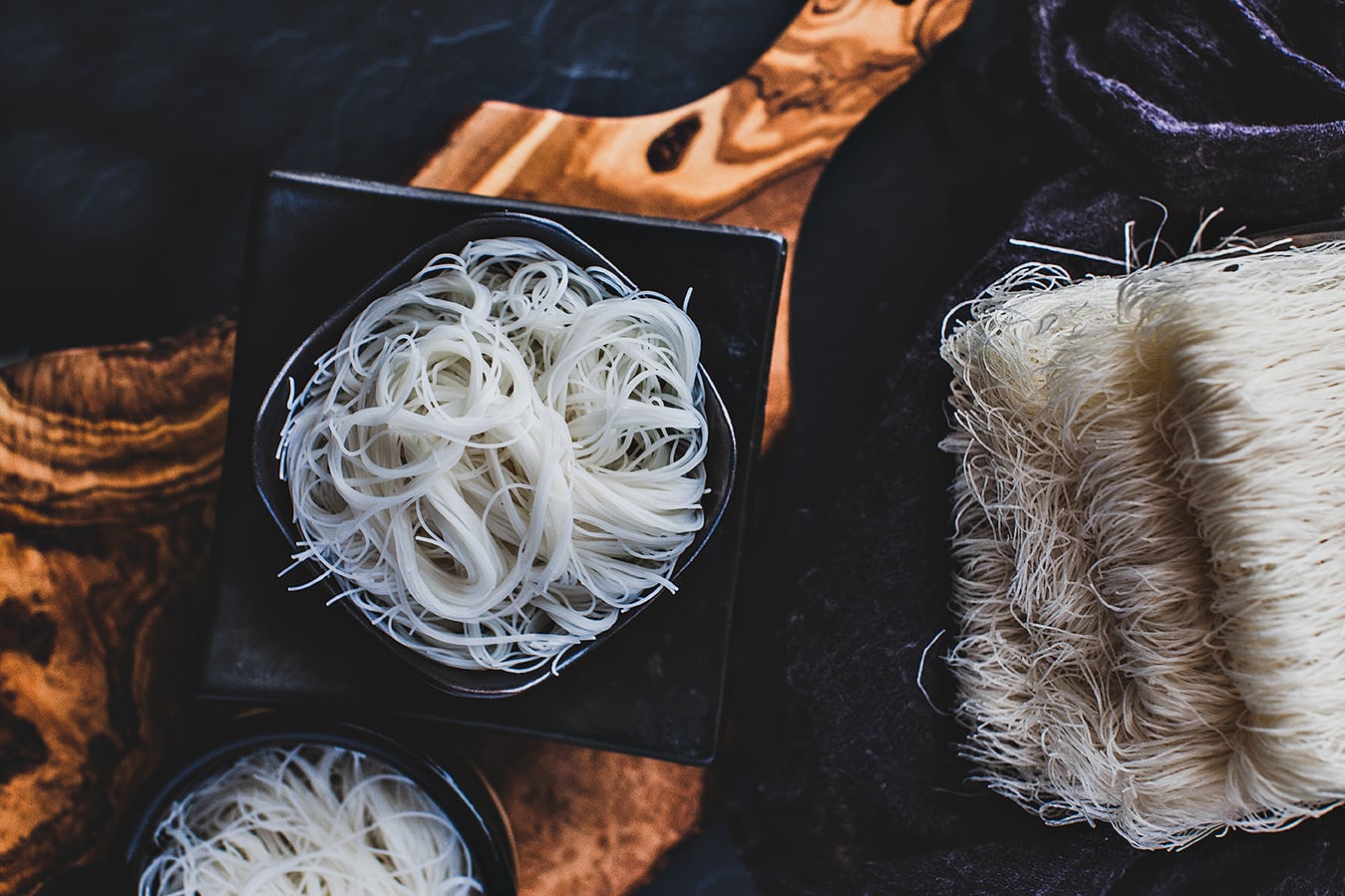 Look at this lovely and simple ingredient list! (Minus the 1 Tbsp of sugar not pictured here!) Please don't forget like me* (: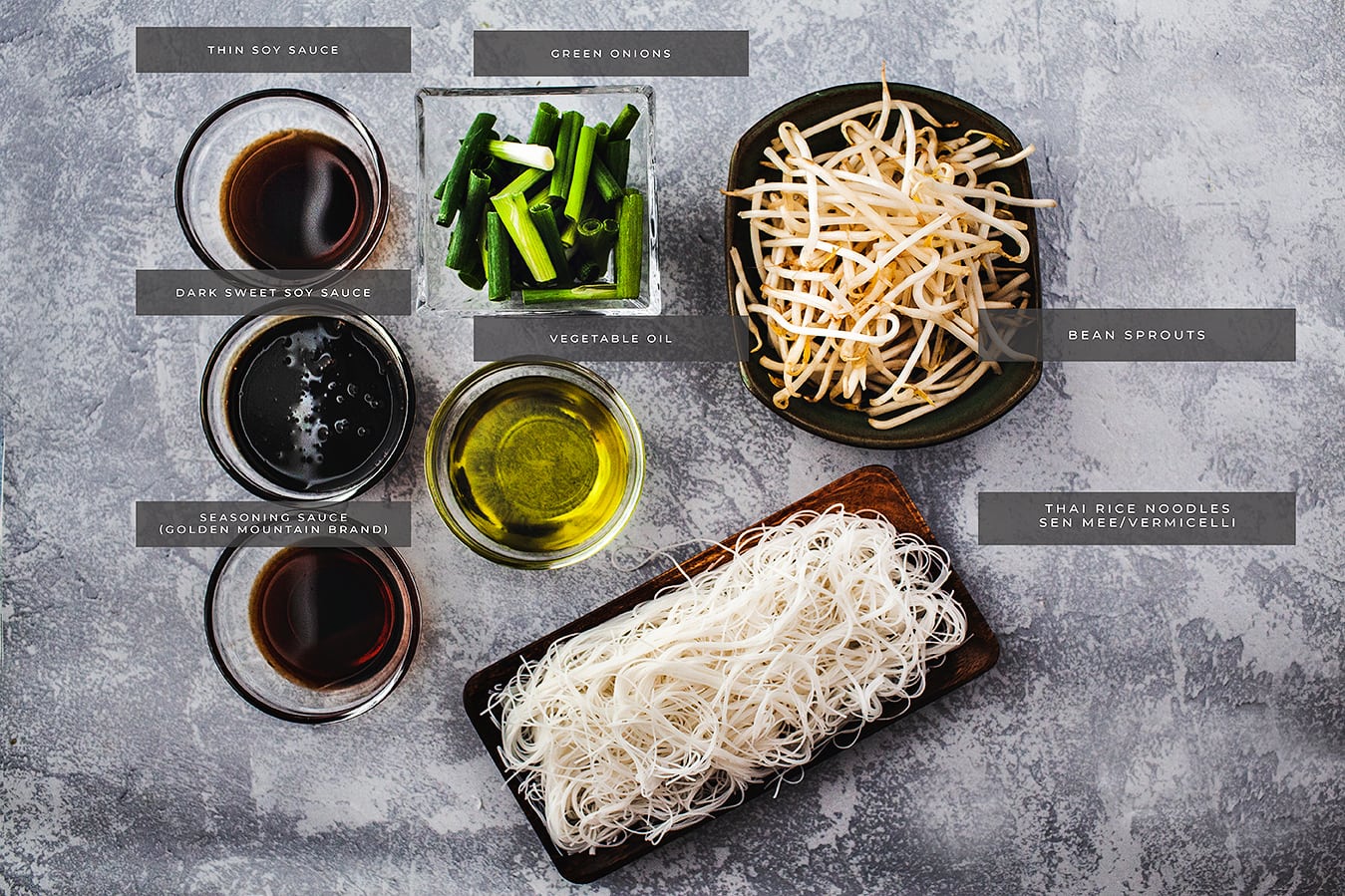 First thing to do is to prepare the main ingredient. The star of the show, the Vermicelli Rice Noodles. Soak it in hot water (not boiling) for 10-15 minutes. Drain and let sit until it's time to cook.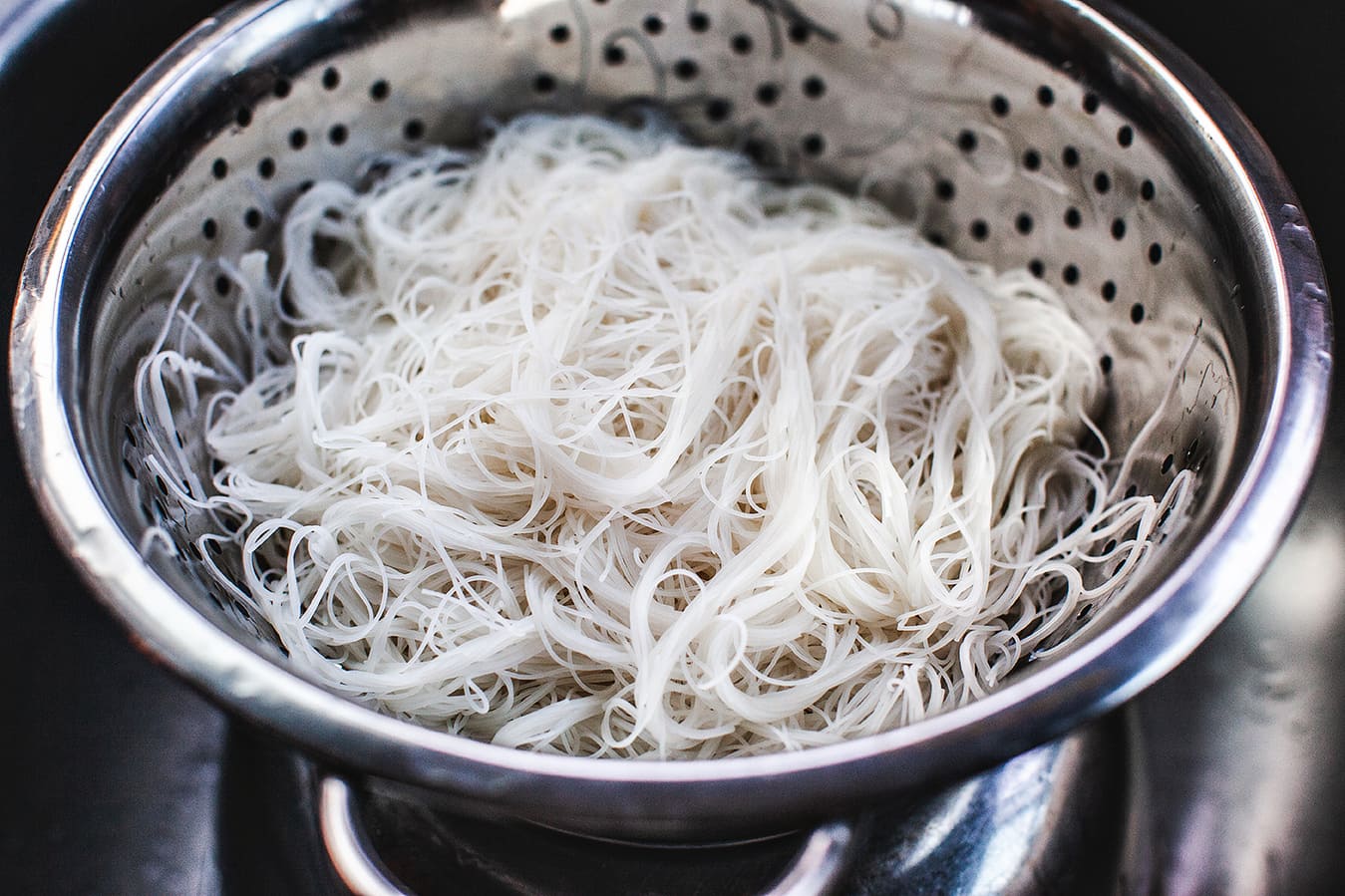 You can also choose to loosely cut the noodles into shorter strands, using kitchen scissors. Be careful not to cut it too short or the noodles will turn to mush when cooked. I'd aim for 6-8 inches long at least.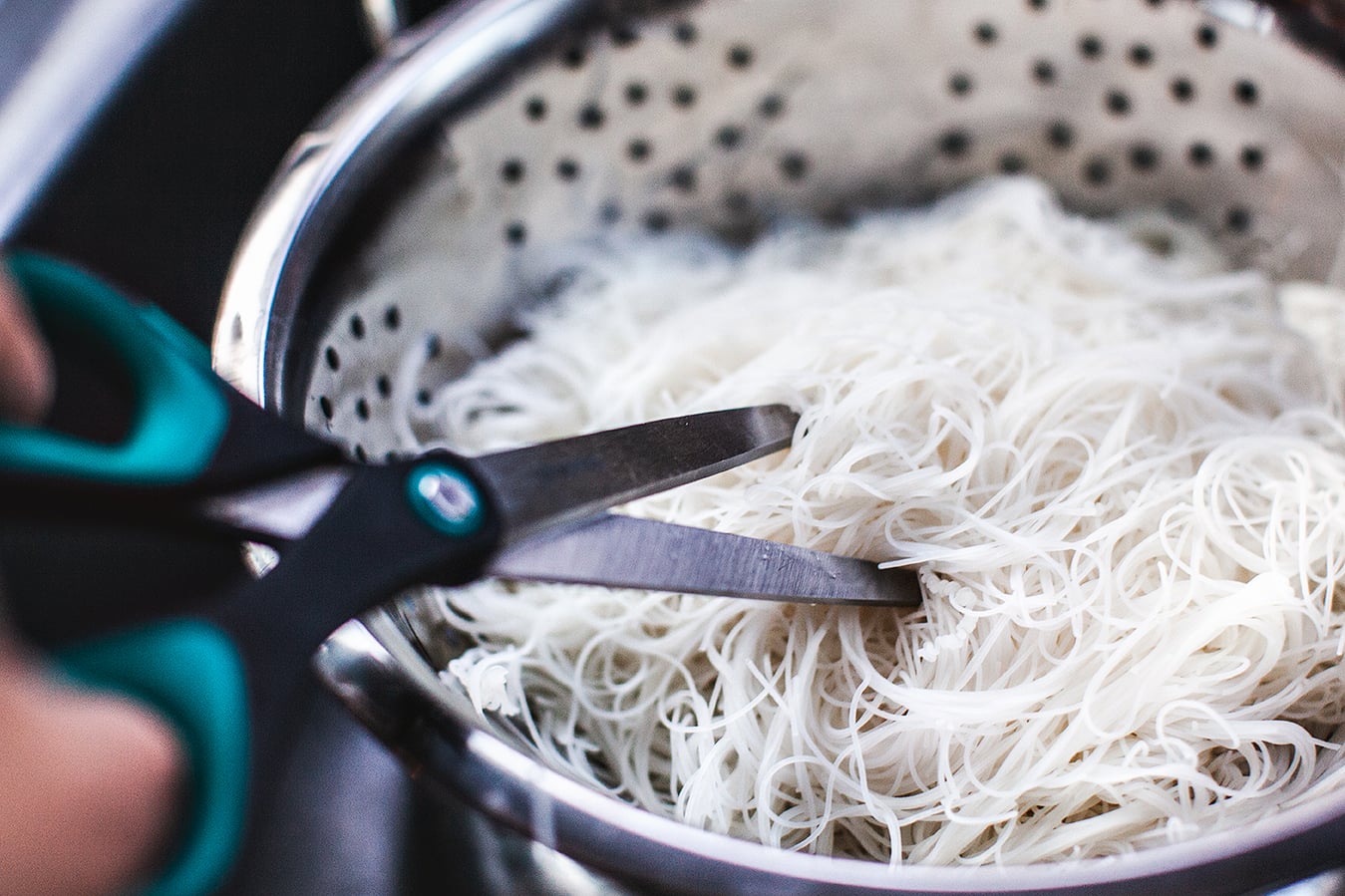 The 3 sauces you'll need for this recipe are: Seasoning Sauce, Thin Soy Sauce and Sweet Soy Sauce.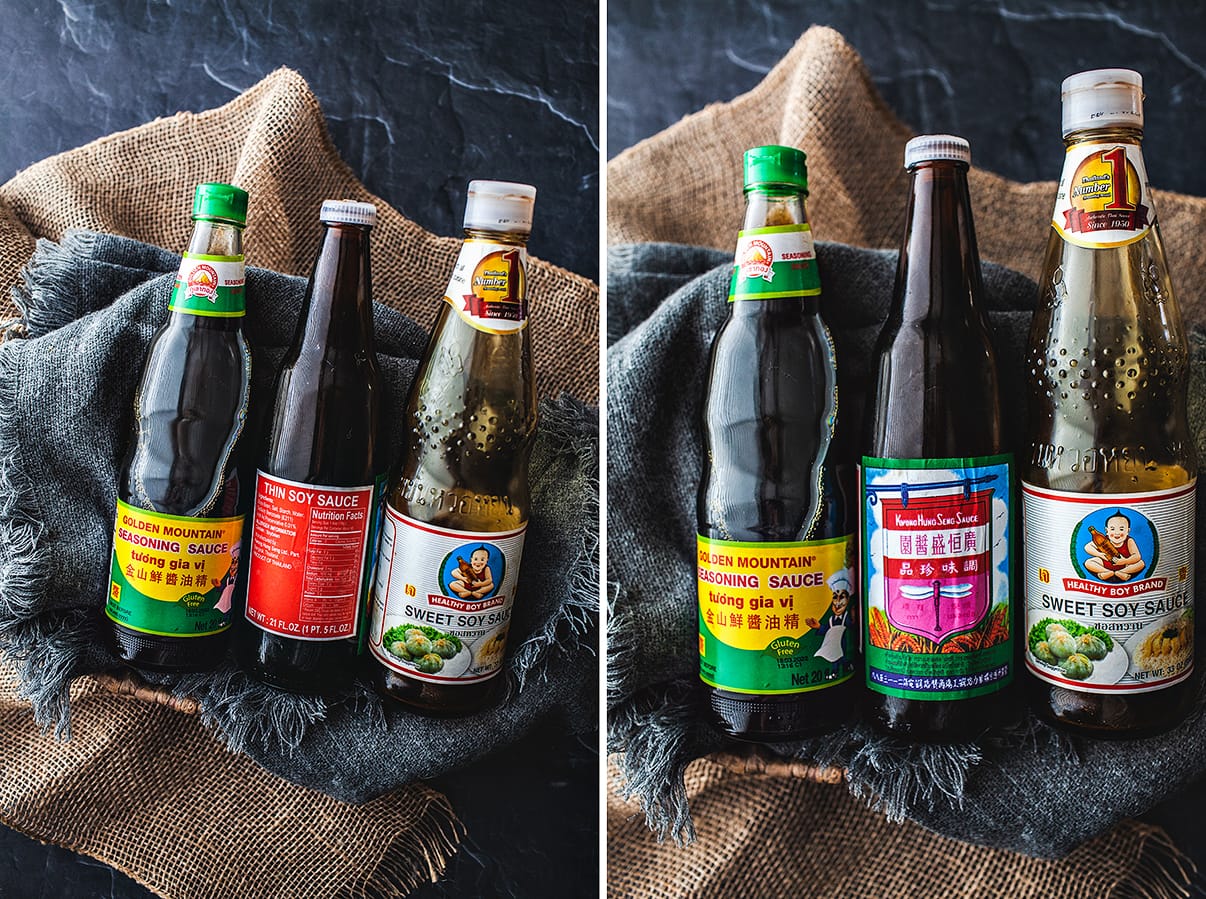 Next: Mix all the sauces together in a small bowl and pour over the rice noodles.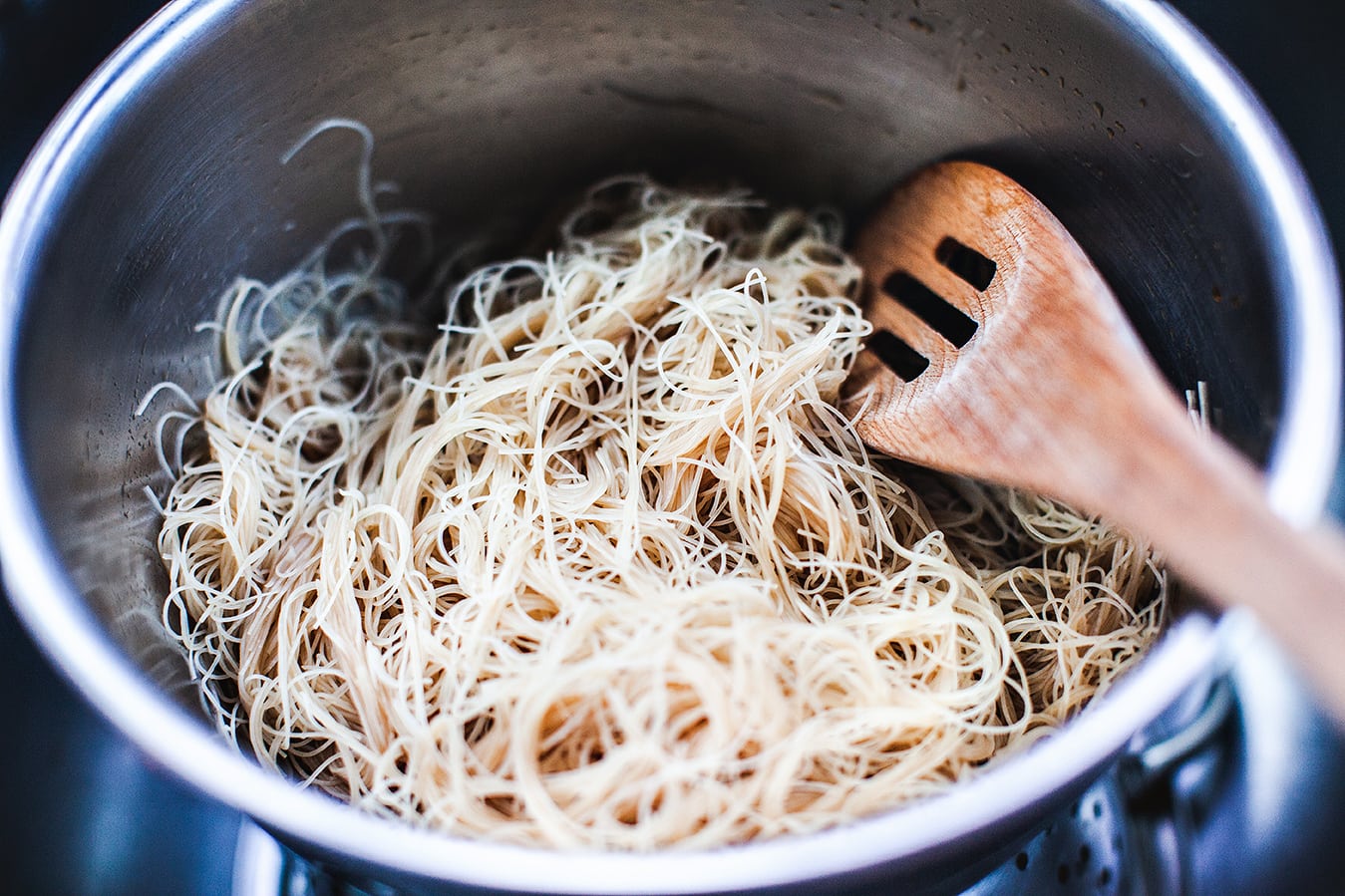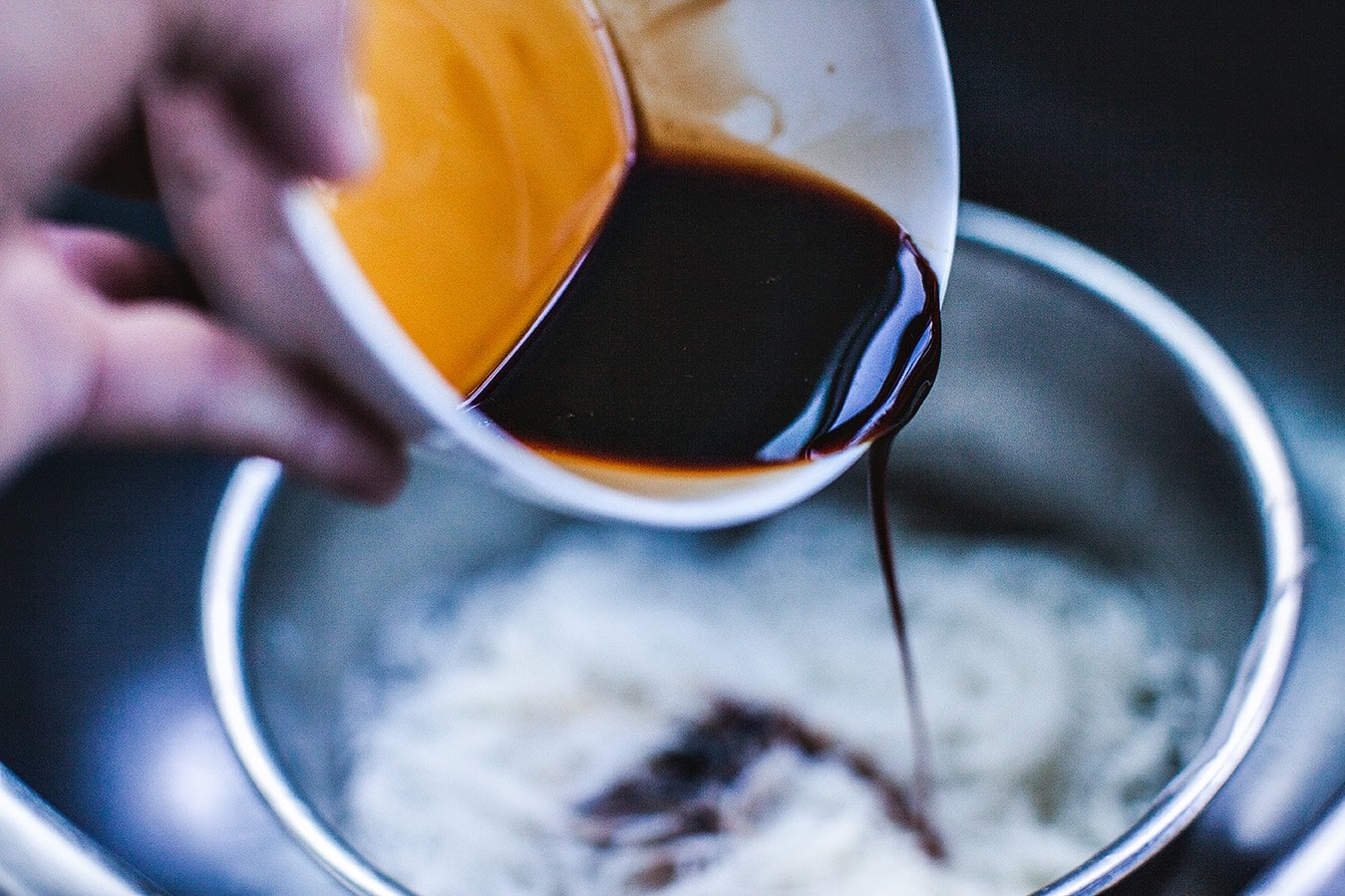 You will need to massage the sauce and the noodles together in a bowl and let it sit and marinate for at least 30 minutes.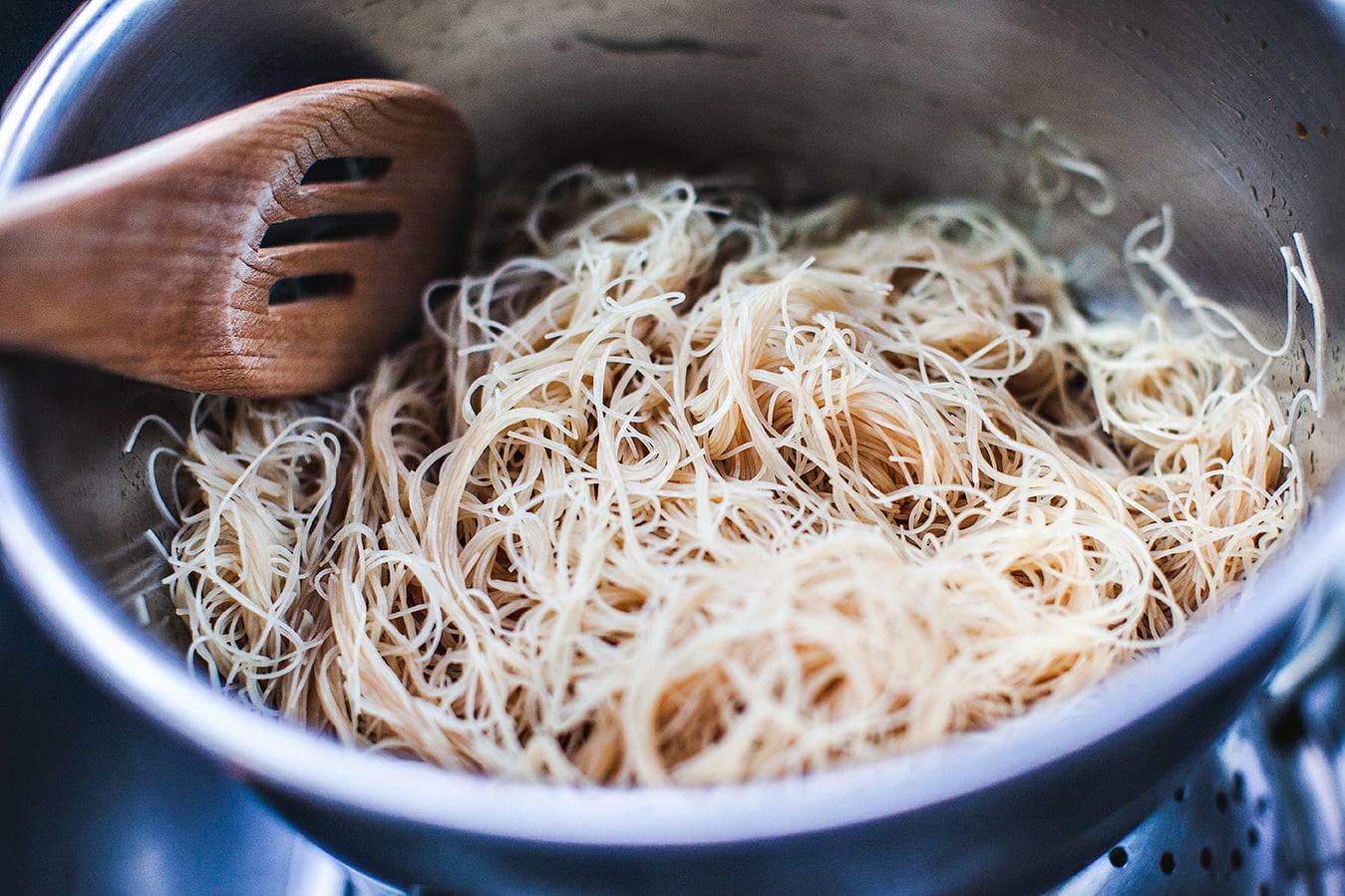 Check out the rest of the cooking steps in the recipe below. This Pad Mee recipe with Thai Rice noodles is quickly becoming one of my go to pot luck dish. It's is a great dish for making in large quantities for a party, a new mom or a family needing meals. It tastes better at room temperature too! Be careful with this Thai Rice Noodles, it's so light and tasty that it's hard to stop eating. Make sure to share it!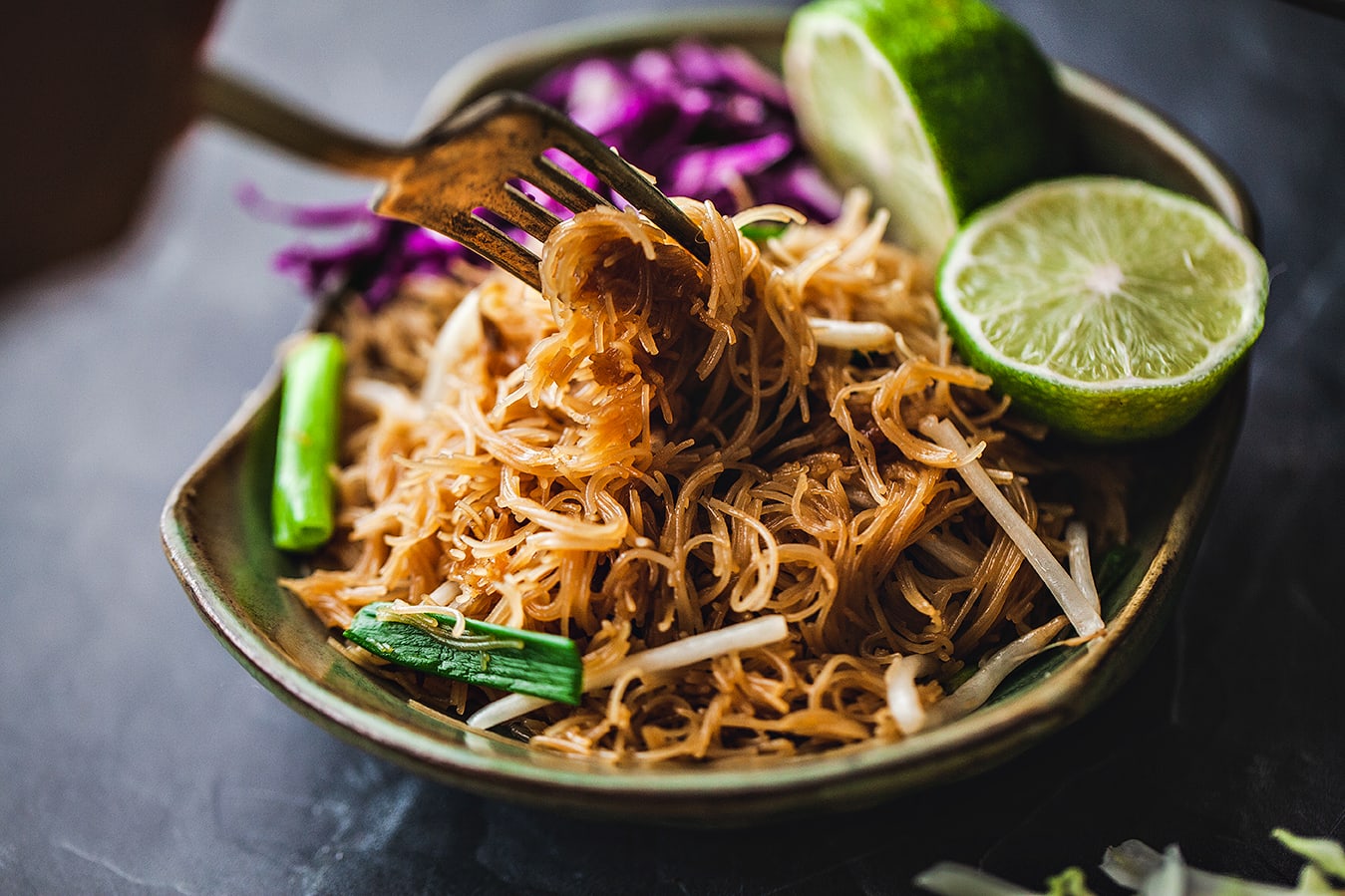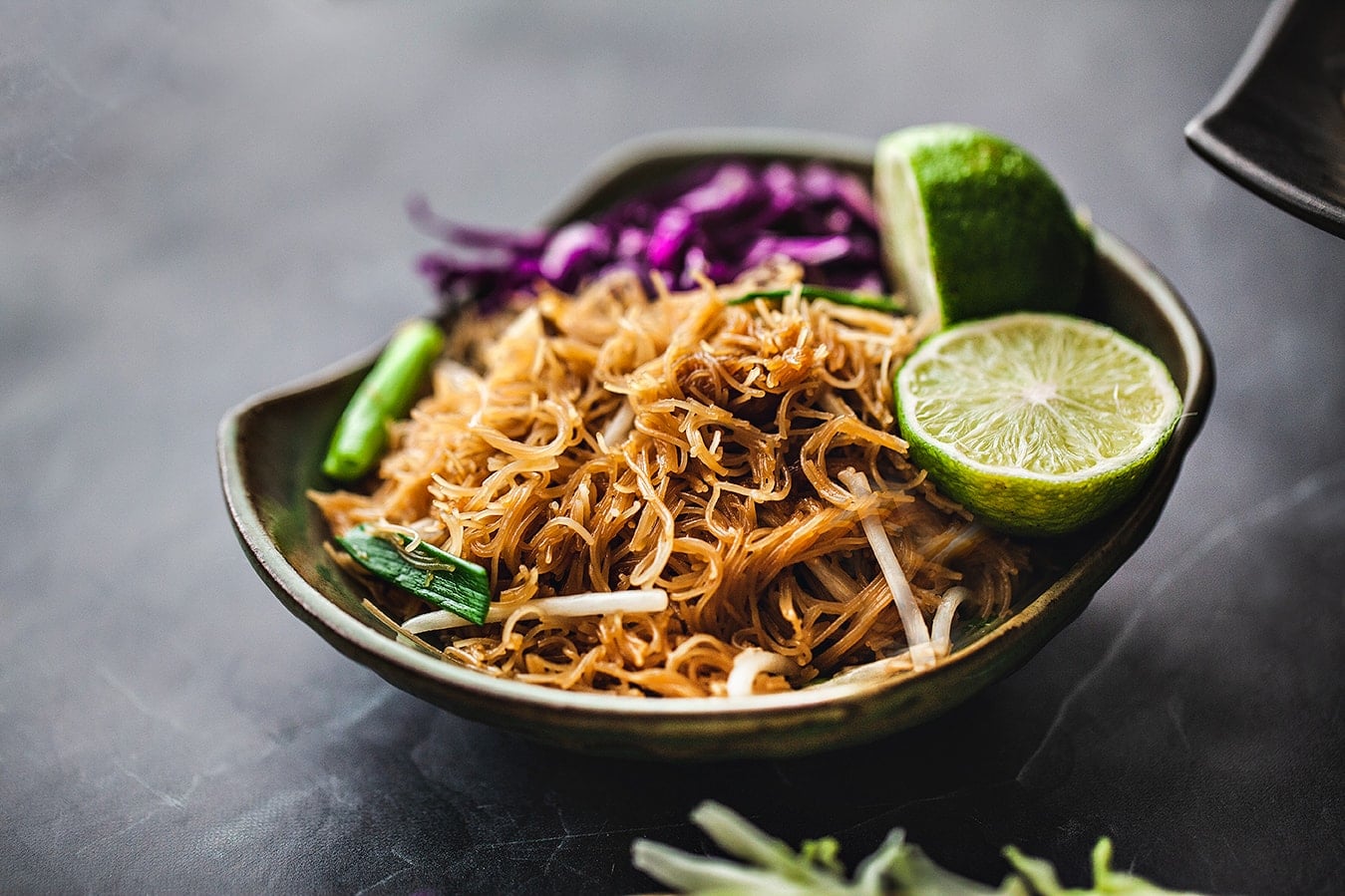 Print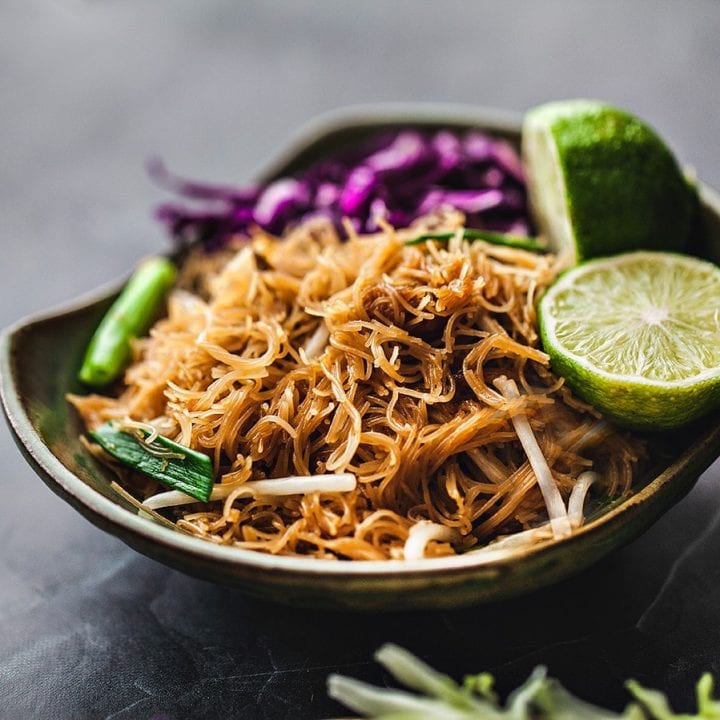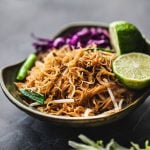 Pad Mee. Vermicelli Thai Rice Noodles
---
Author:

Suwanee

Total Time:

35 minutes

Yield:

8
Description
Pad Mee. A delicious Thai rice noodles recipe that is super easy to make. Great for a big gathering when you want something tasty but not too hard to make.
---
8 oz

dried Angel Hair Rice Noodles

2 cup

Bean Sprouts, wash and let sit

1 cup

Green Onion chopped 1 ½ inch long

4 Tbsp

Sweet Dark Soy Sauce

3 Tbsp

Seasoning Sauce (See Picture)

3 Tbsp

Light Soy Sauce

1 Tbsp

Sugar

¼ cup

Vegetable, Peanut, Grapeseed or Soybean Oil
---
Instructions
Soak the noodles for 10-15 minutes in hot but not boiling water until noodles are soft, drain, and put back in a large bowl. You can cut the noodles to 6-8 inches in length if preferred.
In a separate small bowl, combine the 3 sauces together, stir well.
Pour the sauce mixture into the noodle bowl.
Use your hands (gloved if preferred) to mix the sauce into the noodles. Kneed very lightly, making sure the sauce has not  clumped the noodles together. Let sit for 15-20 minutes and stir quickly together again before cooking, breaking up any large clumps of noodles.
Heat up the oil in a wok or large skillet on medium heat.
Add the noodles and stir together with a wooden spatula for about 10 minutes. Stir occasionally.  If the noodle is drying up in your pan, you can add a few drops of oil to the pan.
Add the sugar and stir it in for 30 seconds.
Turn the heat off but leave the pan on the stovetop, add the green onions and bean sprouts and stir together lightly. Let sit for 3-5 minutes.
Remove from stovetop and serve hot or warm, it's up to you. Both are perfectly acceptable and popular in Thailand and Laos. Check below for garnishing suggestions.
Notes
Additional Garnishing: (Optional)
Chili flakes, thinly sliced cabbage, shredded carrots and lime wedges.
Prep Time:

25

Cook Time:

10

Category:

Thai Food

Method:

Stir Frying

Cuisine:

Thai
Keywords: Pad Mee. Recipe for Thai Rice Noodles. Thai Rice Vermicelli Noodles.
That is it! So simple, right?
In Thailand and Laos, you will regularly find this dish served on a banana leaf. It's a popular delicious street food that I used to eat often outside of our home cooked meals.
If Thai food cooking seem intimidating to you, I highly recommend this dish as a starter. You will be addicted to this dish in no time. It's a great dish to bring to a party this summer as it is so light and tasty. Enjoy cooking!
Did you get a chance to cook my Pad Thai recipe I posted a couple of weeks ago? If not, you can find the recipe here.
You may also like
///
Be sure to subscribe to my email list if you haven't already. By subscribing, you'll be sure to not miss a recipe. You will receive an email update as soon as the recipe is posted from my blog!
You can subscribe at the very bottom of this blog post
///