You don't often hear a whole lot about Thai desserts, unless you mention Mango Sticky Rice. Yes, the ever famous Coconut Sticky Rice with Mango. I have yet to meet a single person who hasn't exclaimed with delight and exaggeration, "Ohhh, I LOVE Thai Sticky Rice with Mango!"   (:  I'm just as delighted now to be sharing this recipe with you! Here you go!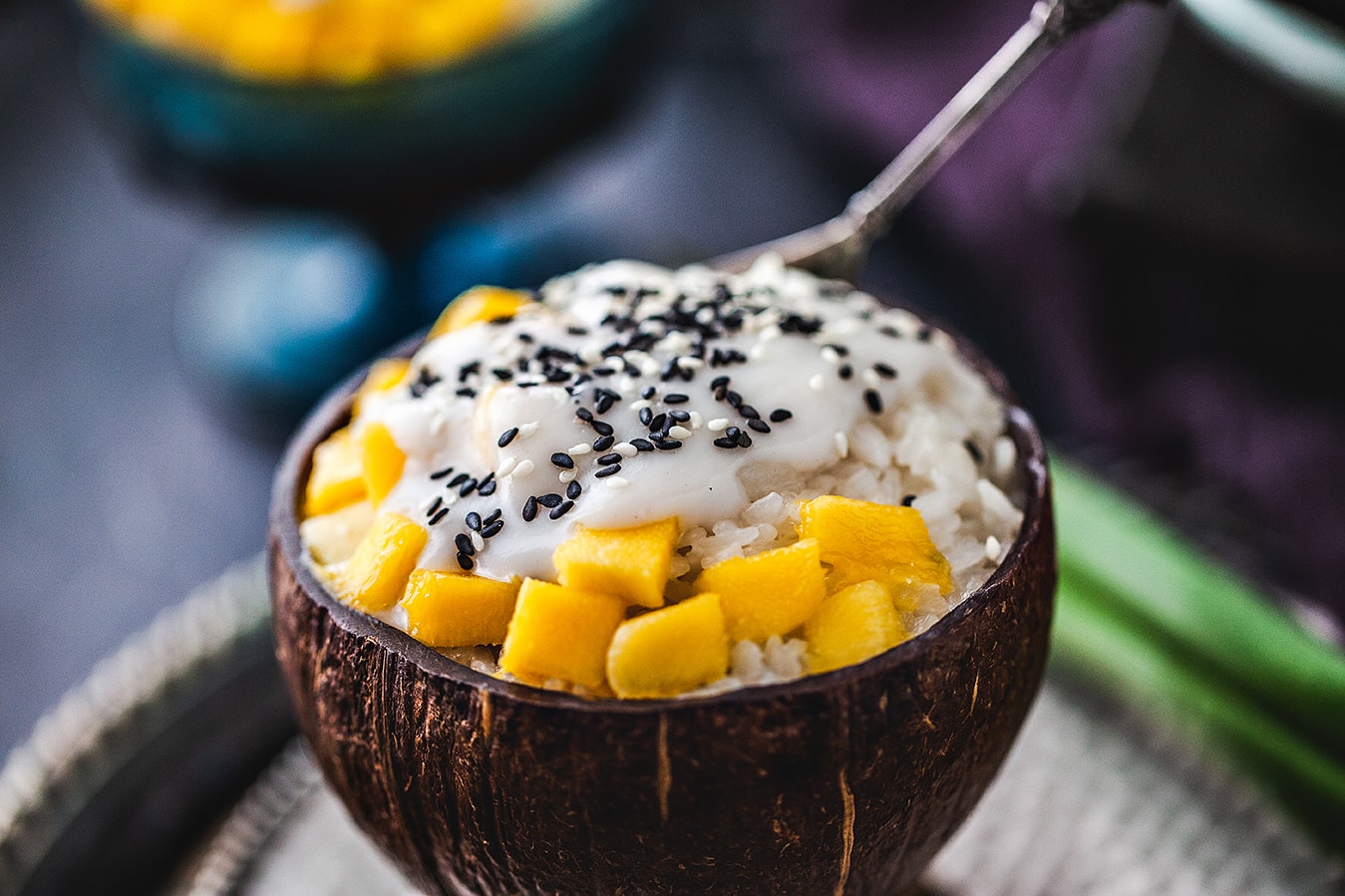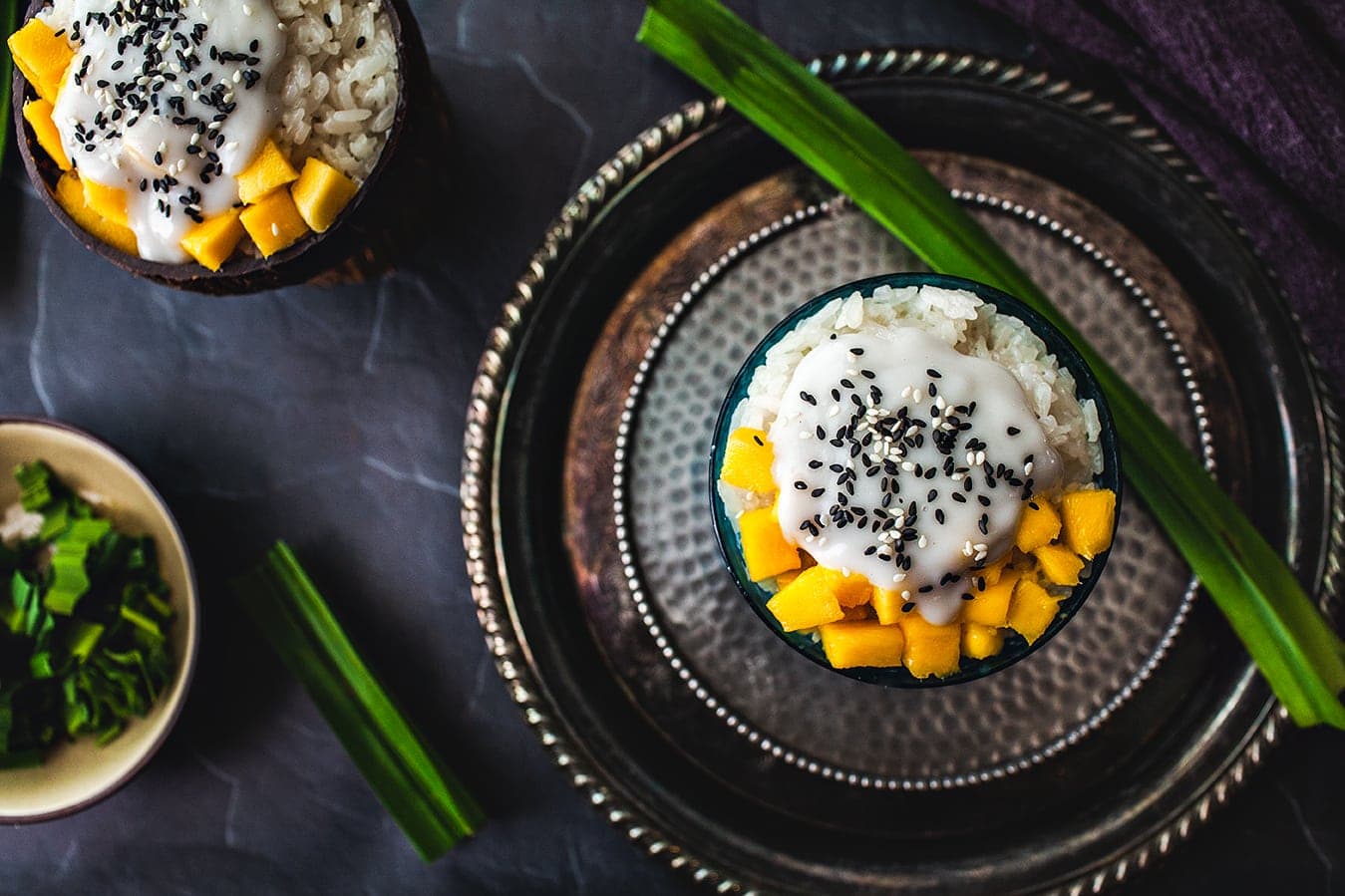 There are two parts to this Mango Sticky Rice recipe but both parts are prepared very similarly to each other. To make the Thai sticky rice, please check out this link on how to steam the Thai sticky rice properly.
I would love to hear how you did on making this Mango Sticky Rice in your kitchen! Do you have questions for me that I can help answer? Please, please don't hesitate! I would love for you to also rate this recipe for me so I can make it even better for you! Thank you and enjoy!
Print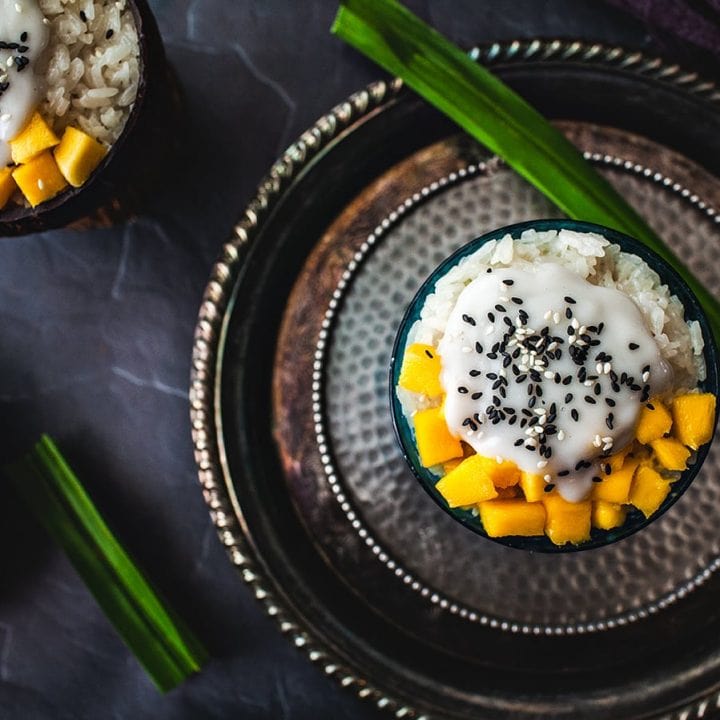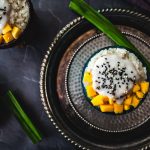 Mango Sticky Rice
---
Description
A delicious Thai coconut sticky rice with ripe mango is the perfect dessert any time of the the year.
---
First Part: The Rice & Mango
2 cups cooked sticky rice (from Glutenous rice that has been soaked over night and steamed) Recipe Here
1 ½ cups coconut CREAM (not milk)
⅓ cup sugar
½ tsp salt
Second Part: The Sauce
14 oz of coconut milk (1 can)
½ cup sugar
½ tsp salt
1 Tbsp flour
2 mangoes, the meaty part.
---
Instructions
First Part:
1.Heat a sauce pan over med heat, add coconut cream, sugar, salt and stir together till boiling, then turn the heat off.
Add cooked sticky rice into the creamy sauce and let chill for 15-20 mins to let rice soak in the coconut sauce.
Second Part:
Combine all the ingredients minus the mango in a sauce pan. Whisk together really well.
Heat up sauce pan on medium heat bring to a boil. Stirring constantly until thickens. 8-10 minutes.
Turn the heat off, remove from stove and let cool for 15 mins.
While waiting for those two parts to cool, peel the mango and use only the meaty part to serve with sticky rice. Make sure your mango is ripe.
For serving, dish 1 cup of soaked sticky rice on a plate, add half of a mango next to it, pour the part II sauce over the rice and mango, sprinkle with toasted sesame seeds and enjoy!
Serves 6
Notes
You can easily adjust the sweetness of recipe by reducing or increasing the amount of sugar until at a desired flavour. Make sure too, however, to adjust the salt. Go easy on the adjustment. Little by little is key as it's much easy to add than to subtract. Happy Cooking!