Have you ever heard of Thai Sticky Rice and wondered what it is exactly? It is a type of Thai rice that is more glutinous or sticky than the regular white or Jasmine that you are familiar with.
Below, I will teach you how to make delicious Thai Sticky Rice from your own home.
The process is quite simple, actually. The planning process is what takes a tiny bit of thinking and planning. After you've mastered the concept though, it will take you in no time to cook up delicious Thai sticky rice. The long hours of soaking is what takes a bit of time. It's important to take note that the rice is steamed.
The first step is to buy the correct type of rice. They usually come in a smaller five pound bag compared to the 10, 25 or 50 lb Jasmine rice sacks. The rice is a tiny bit thicker with milky looking grains. The bags are usually labeled "Sweet Rice" or "Glutenous Rice." See picture below.
Step 2. Thai sticky rice MUST be soaked overnight before cooking. This step is crucial. The soaking will help softened the grains before steaming. At least 5 hours of soaking is recommended for the rice to achieve the proper consistency when steamed.
Step 3. Steam it. Cooking Thai Sticky Rice in a bamboo basket with a cinched neck aluminum pot is the traditional way of making this rice. However, you don't need this particular cooking set to make the sticky rice, a regular steamer will suffice.
Pictured Above. Traditional Thai Rice Cooker. Cinched neck Aluminum Pot with a cone-shaped Bamboo Basket.
Pour water into the aluminum pot (or steamer) until about ¼ of way full and place the soaked rice inside the bamboo basket. You may use a cheesecloth to wrap the rice in, to help with easy clean up.

Turn the stove to high, cover the basket with a lid and steam the sticky rice for 30 minutes. The longer you soak the rice, the shorter the steaming time. Make sure to flip the rice by turning the entire batch upside down 20 minutes into the steaming process to help ensure that the rice is cooked evenly or the rice in the bottom of the basket will get too mushy. Be careful here as the pot is extremely hot with boiling water and the rice is piping hot.

Steam rice for 10 more minutes and turn off the stove and let the pot cool. Serve the rice hot as it will cool very quickly. My kids love to have a dash of salt sprinkled on top, then they roll the rice into balls and just eat it plain!
How to cook Thai sticky rice. Step by step picture below. Note- I'm show you how to use 2 different types of steamers.
Thai Sticky Rice pairs well with light finger food such as Satay, BBQ meat, Green Papaya Salad or Grilled fish. Enjoy cooking! Stay tuned for a delicious Mango Sticky Rice Recipe coming up next week!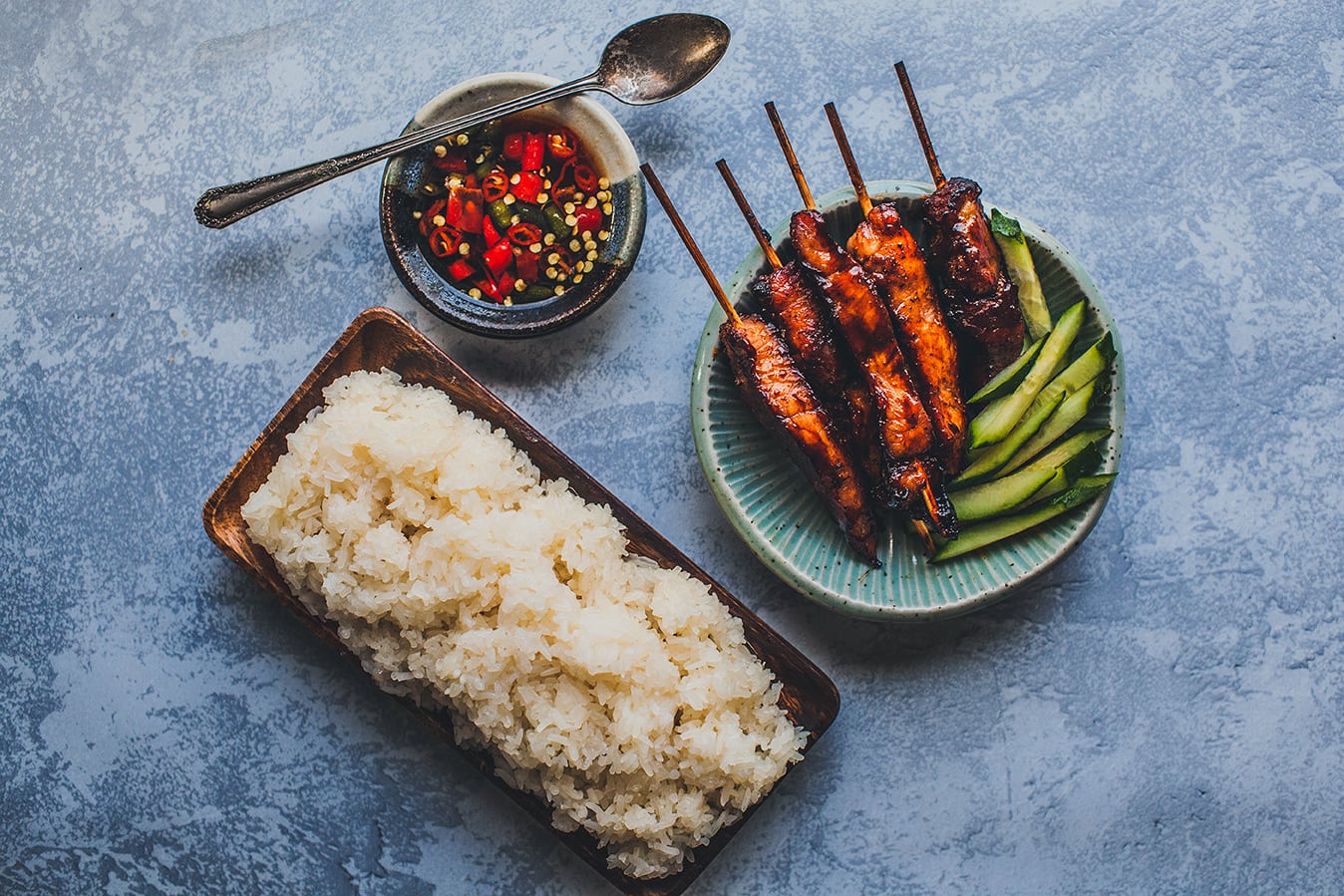 Print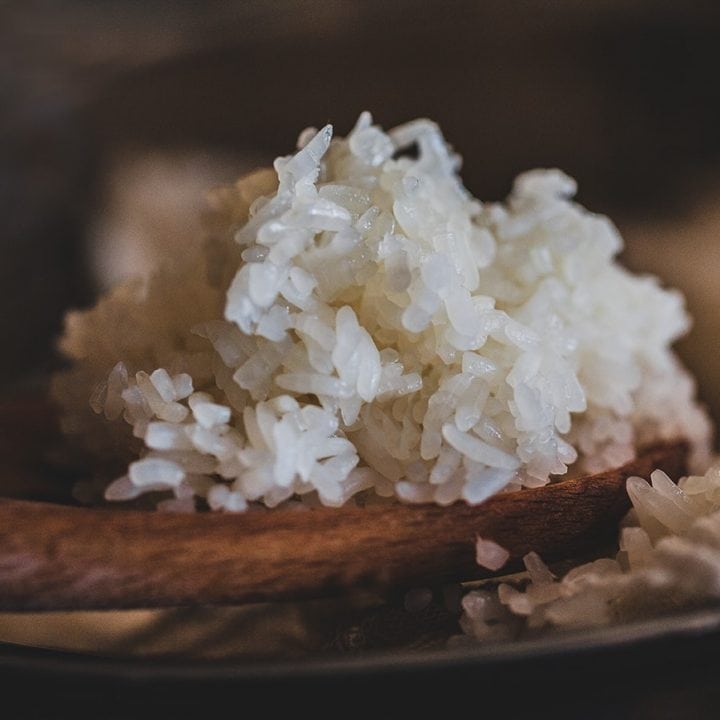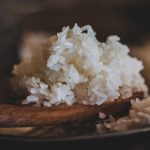 How to Make Thai Sticky Rice
---
Author:

Suwanee

Total Time:

5 hours 30 minutes

Yield:

8

1

x

Diet:

Vegan
Description
Thai Sticky Rice requires a tiny bit of a know how's in order for you to properly enjoy this delicious special type of Thai rice.
---
2 cups sticky rice, uncooked
8 cups water
---
Instructions
Rinse the uncooked rice 3-4 times in water until water is semi clear
Soak uncooked rice in a large bowl 5+ hours (Over night is best)
Steam the soaked rice in a steamer pot filled with 8 cups of water or as needed
Steam for 30 minutes. Flip the rice in the steamer upside down at 15/20 minute mark. Cook for another 10 minutes.
Turn off heat, remove the rice and serve hot!
Notes
Sticky rice is also called called sweet rice, glutenous rice. Be sure you get the right kind of rice for this. Bring a picture with you or email me if you have question. I'm happy to help!
Prep Time:

5 Hours

Cook Time:

30 Minutes

Category:

easy, side

Method:

Steamed, Homemade

Cuisine:

Thai
Keywords: Thai sticky rice, How to make Thai sticky rice, how to make sticky rice, Sticky Rice, Thai sweet rice, Thai rice, sticky rice recipe,