Thai Iced Tea, dubbed the most popular Thai drink in America, is a delicious summer drink you won't easily forget. The sweet and creamy orange iced drink is easily found all over the streets of Thailand. Have you ever had it? If not, you are in for a treat! Think, chai, black tea, spices, and bold flavors mixed with sweetened condensed milk, must I say more?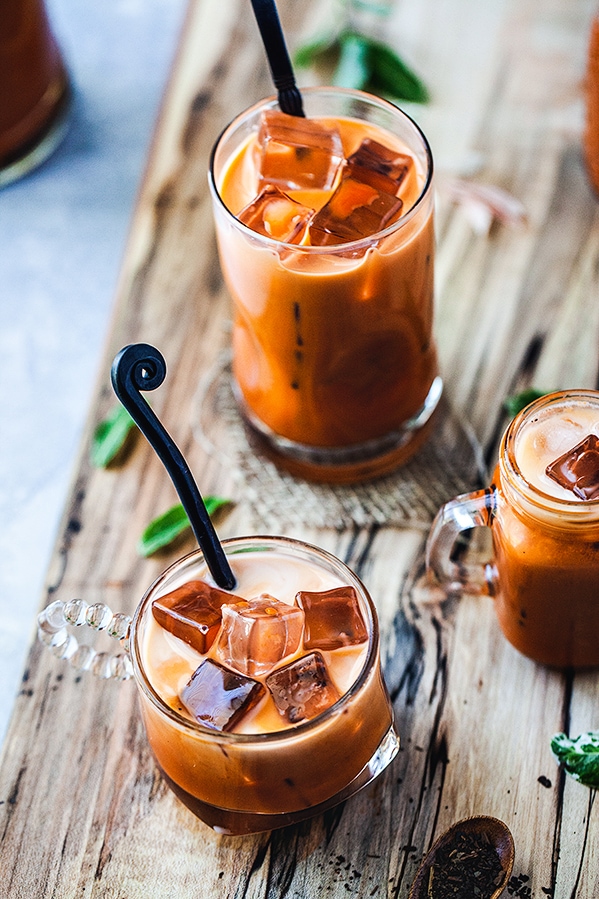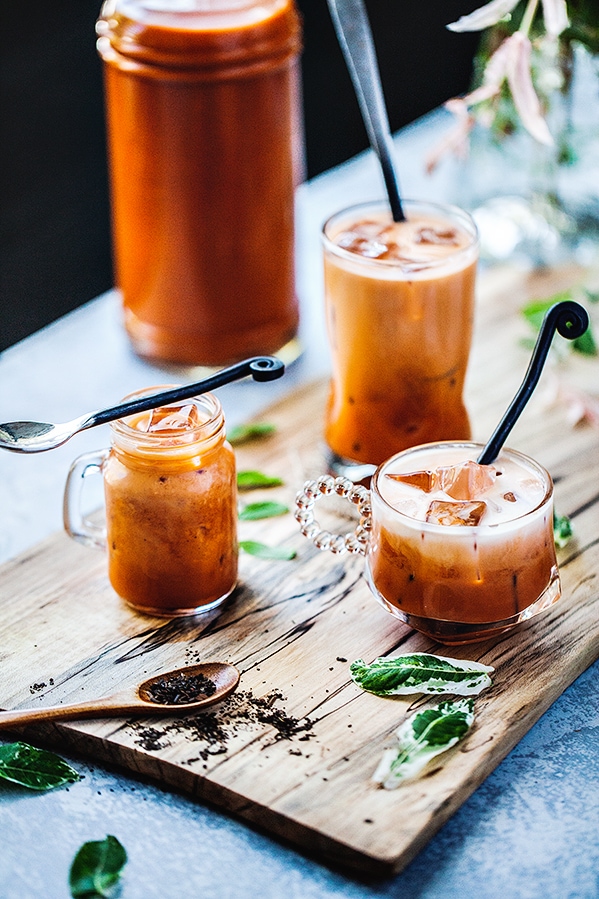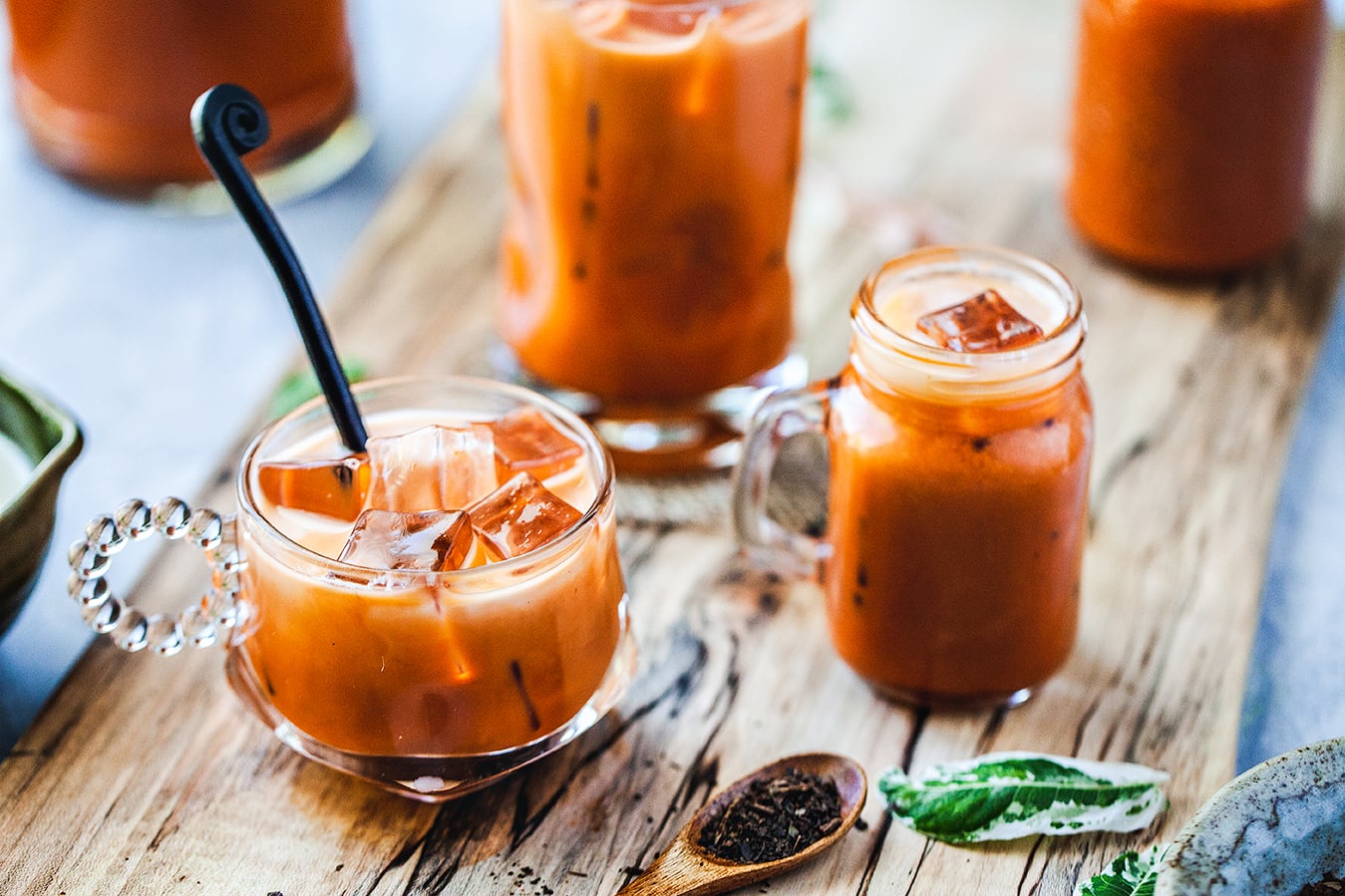 As a bonus, I have a super awesome little trick that I will be sharing with you. You will be making two different drinks in one sitting when you make my Thai iced tea recipe. However, I will separate the recipes into two different posts since each recipe requires special attention. Check back in a few days for this little neat trick I've discovered.
So gather your Thai Iced Tea mix first by buying this Thai Tea mix that I have used for years.
If you haven't noticed, I tried to make two very similar recipes in a week's time frame just so you can get used to some of the new Thai ingredients you may not be familiar with. Stay tuned, friends. Let's go started with our Thai Iced Tea recipe.
How to Make Thai Iced Tea
These are the ingredients you'll need, pictured below: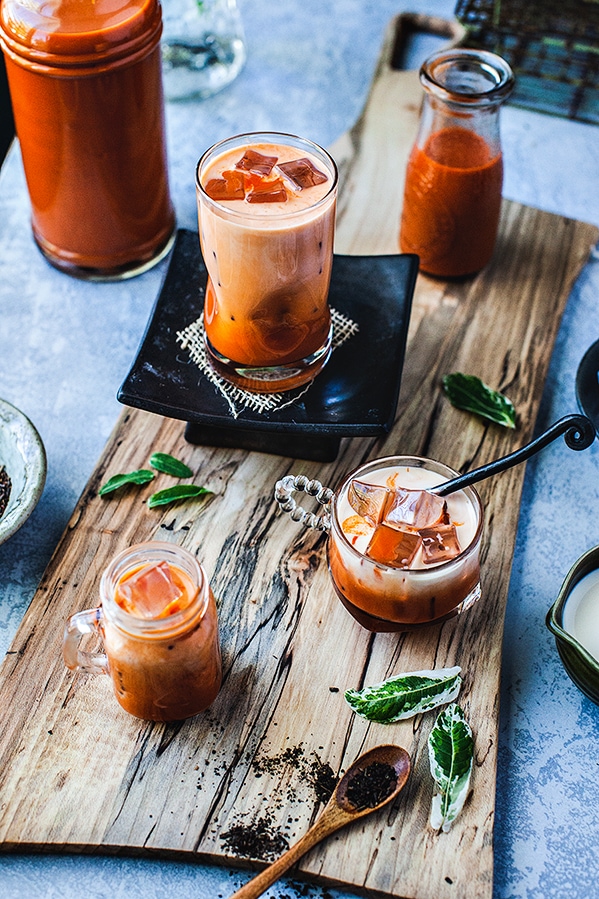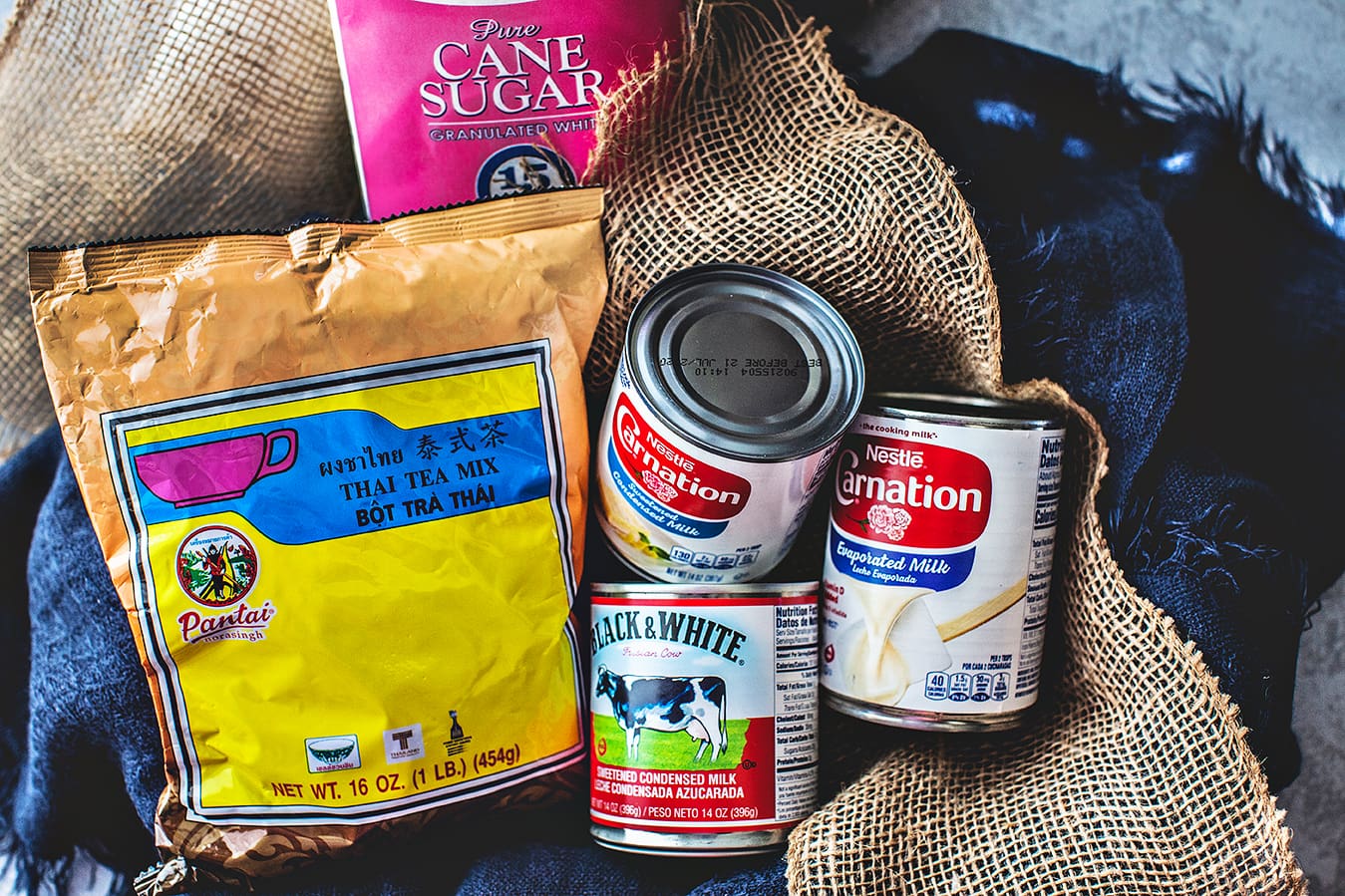 Thai iced tea is kind of a big deal around my house, especially so for my sweet loving, Mid-West husband. Ever since I've known him, (19 years), he's always ordered Thai iced tea at almost every Thai restaurant we've ever gone to. I finally started making it at home and seriously, he can finish one pitcher all by himself in a day. So be sure to share with others as this recipe will serve up to 5 people.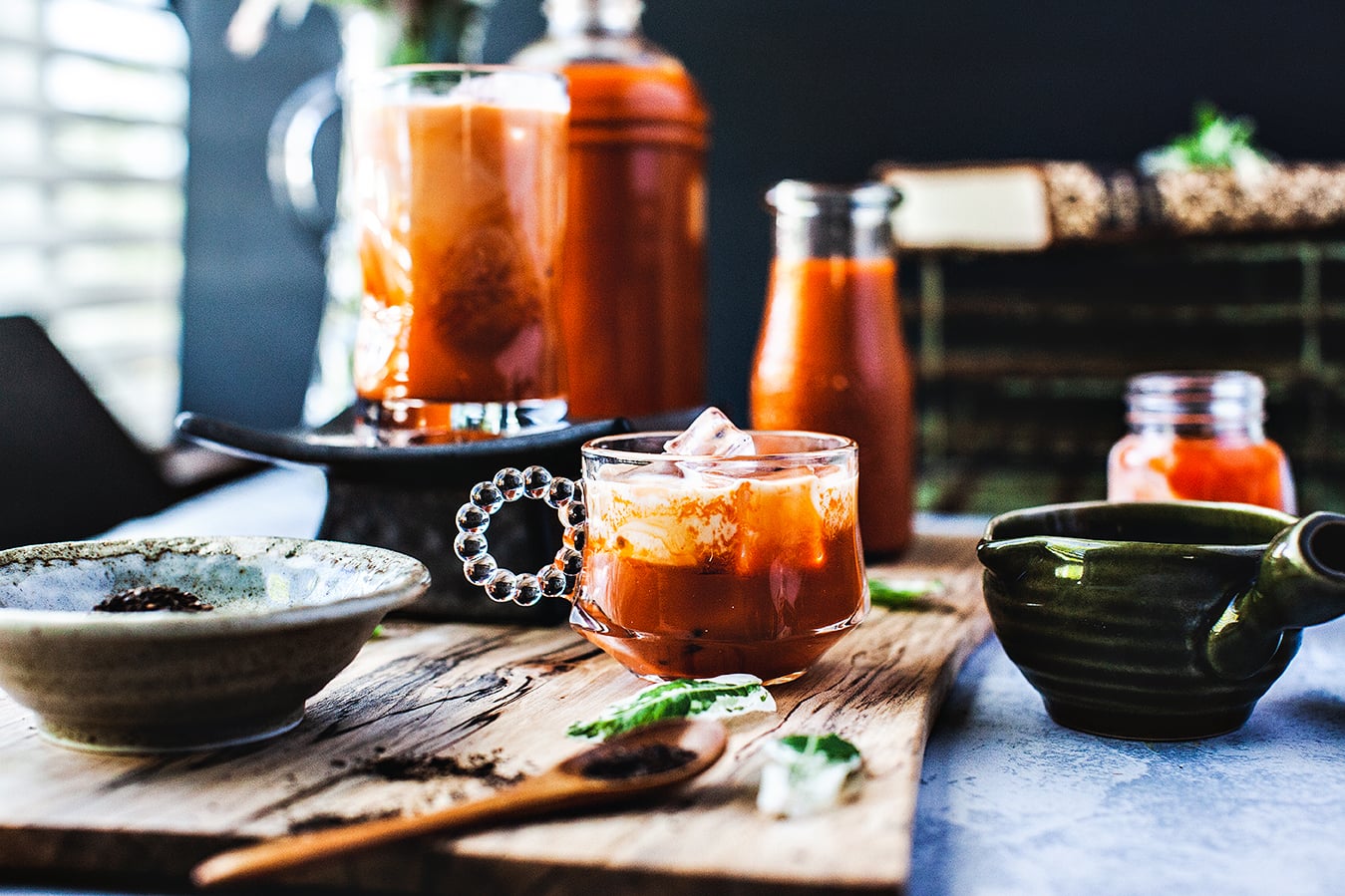 I didn't grow up making Thai iced tea very often since it was expensive for our family to afford a bag of tea and sugar. Once in a while though, when we did go into town from our small village, we would splurge on our favorite vendor selling Thai iced tea from a pushcart. They are usually sold in a plastic bag filled with crushed ice and a plastic straw. Usually, one corner of the bag is tied with double rubber bands to use as a handle. Back then it was sold for less than .10 cents (U.S $) per bag!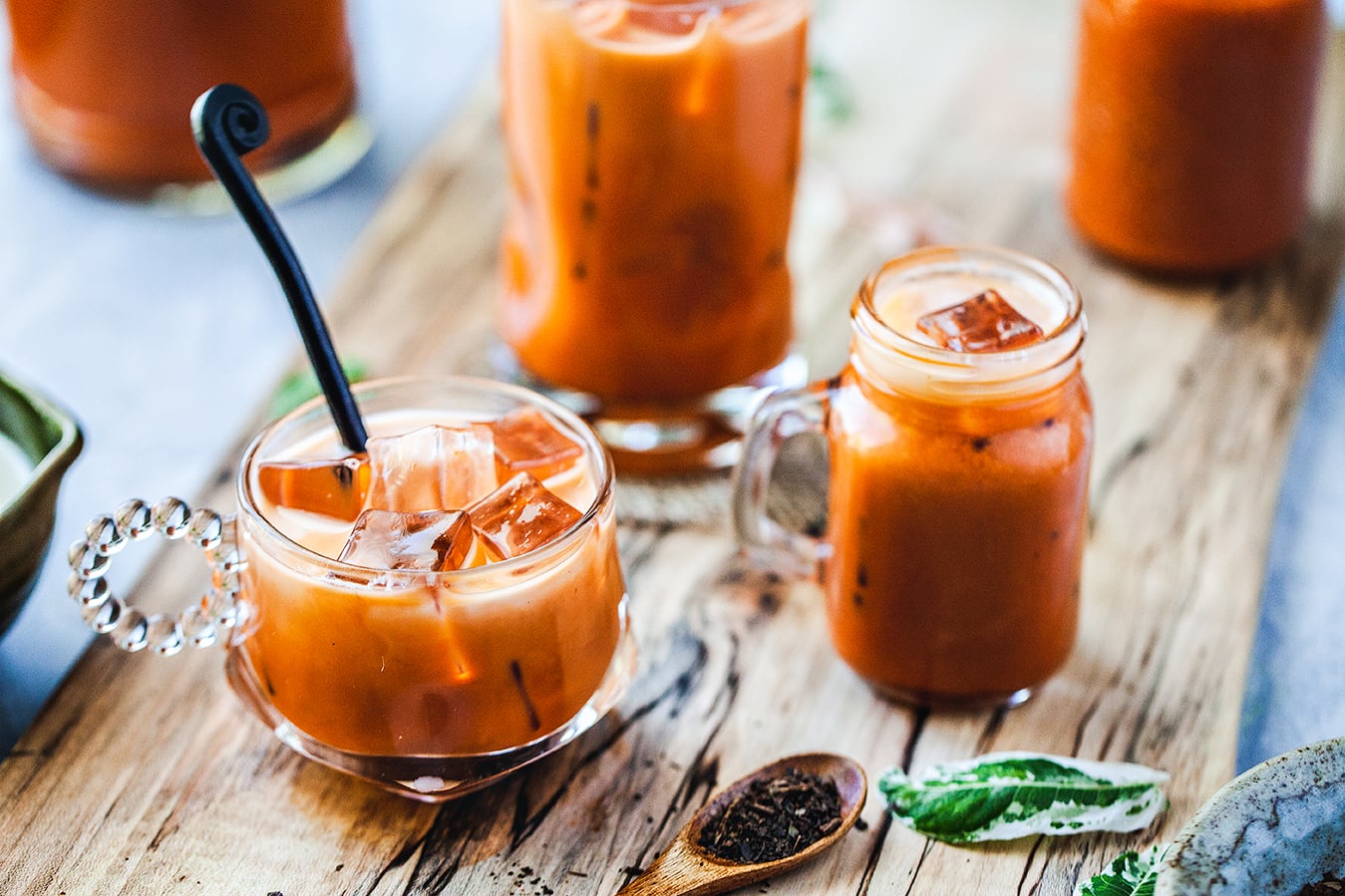 Another little trick that I've discovered over the years too is to use a French press coffee maker instead of boiling the Thai tea in a pot. I find that boiling my tea in a pot then draining it into a tea sock then using a splatter screen is extremely messy and hard to clean up because of the orange food coloring used. One day it dawned on me that my French press is not exclusive to making good coffee! (: It became my favorite little trick for making this smooth and creamy drink with minimal mess to clean up afterward. Let's get to it, shall we?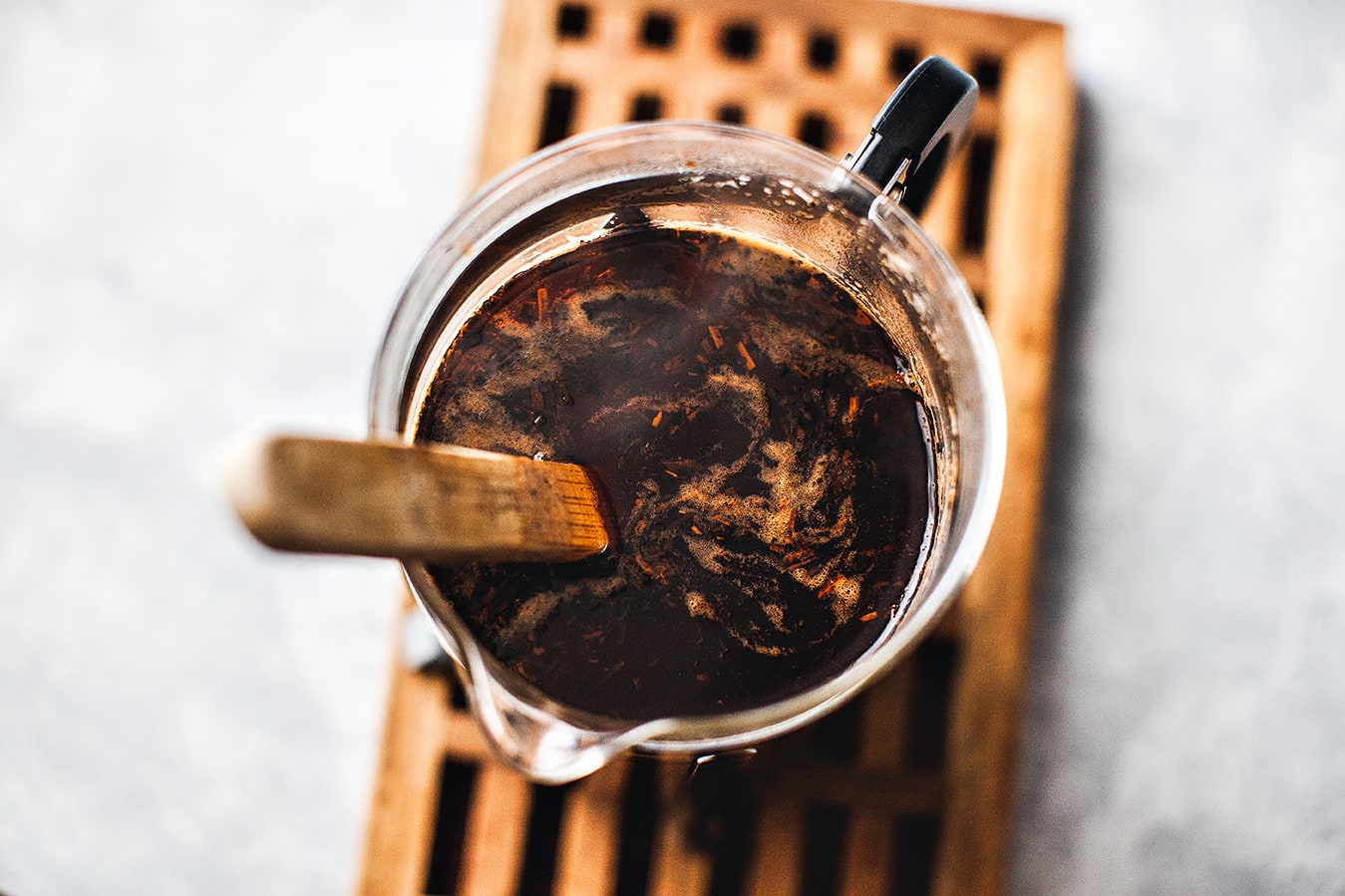 I used a 52 Oz French Press for this recipe. If you don't have a French press, use a medium-size pot. Be sure to have a fine-mesh strainer when pouring the tea. After pouring hot water into the tea mix inside the French press, stir the mixture together until all the tea leaves are submerged.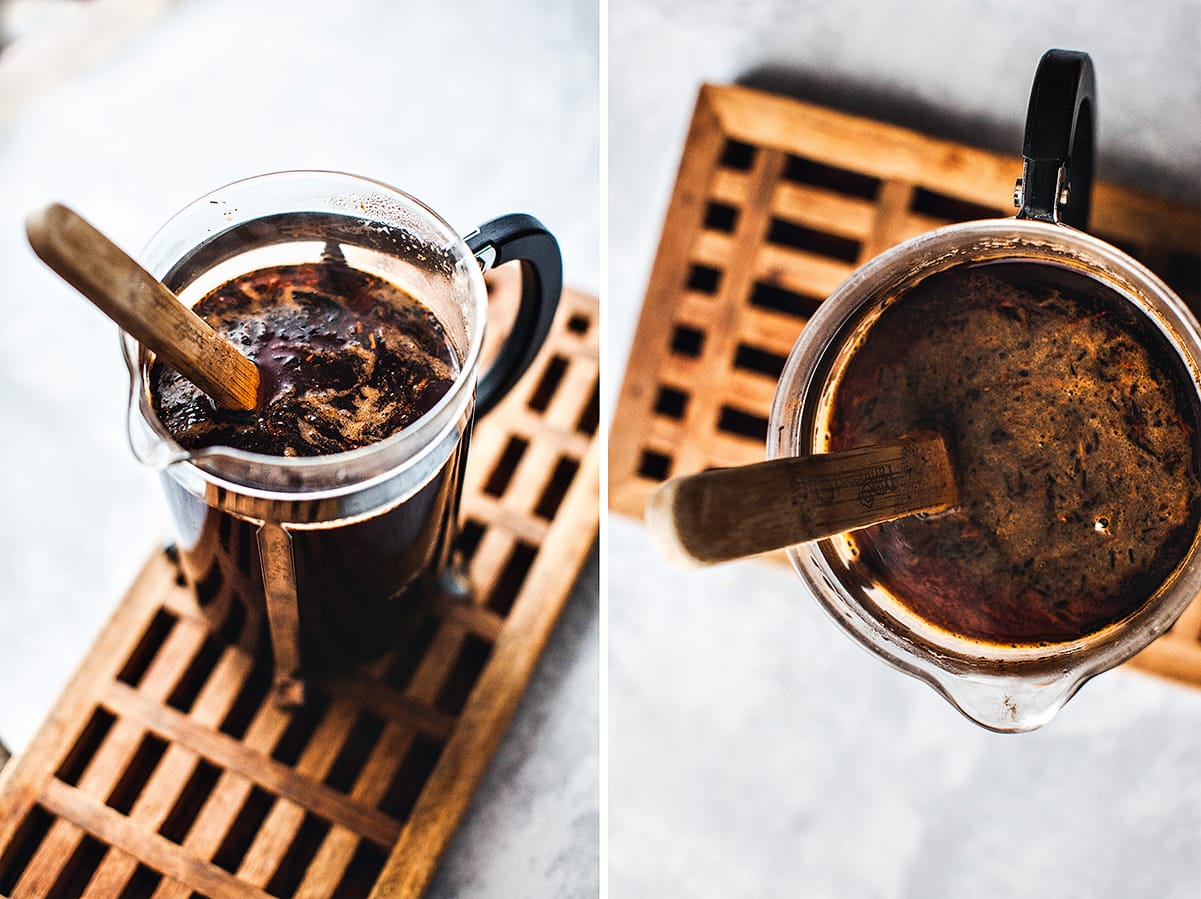 Set a timer for 8 minutes and add the sugar to a bowl while waiting for the tea to steep.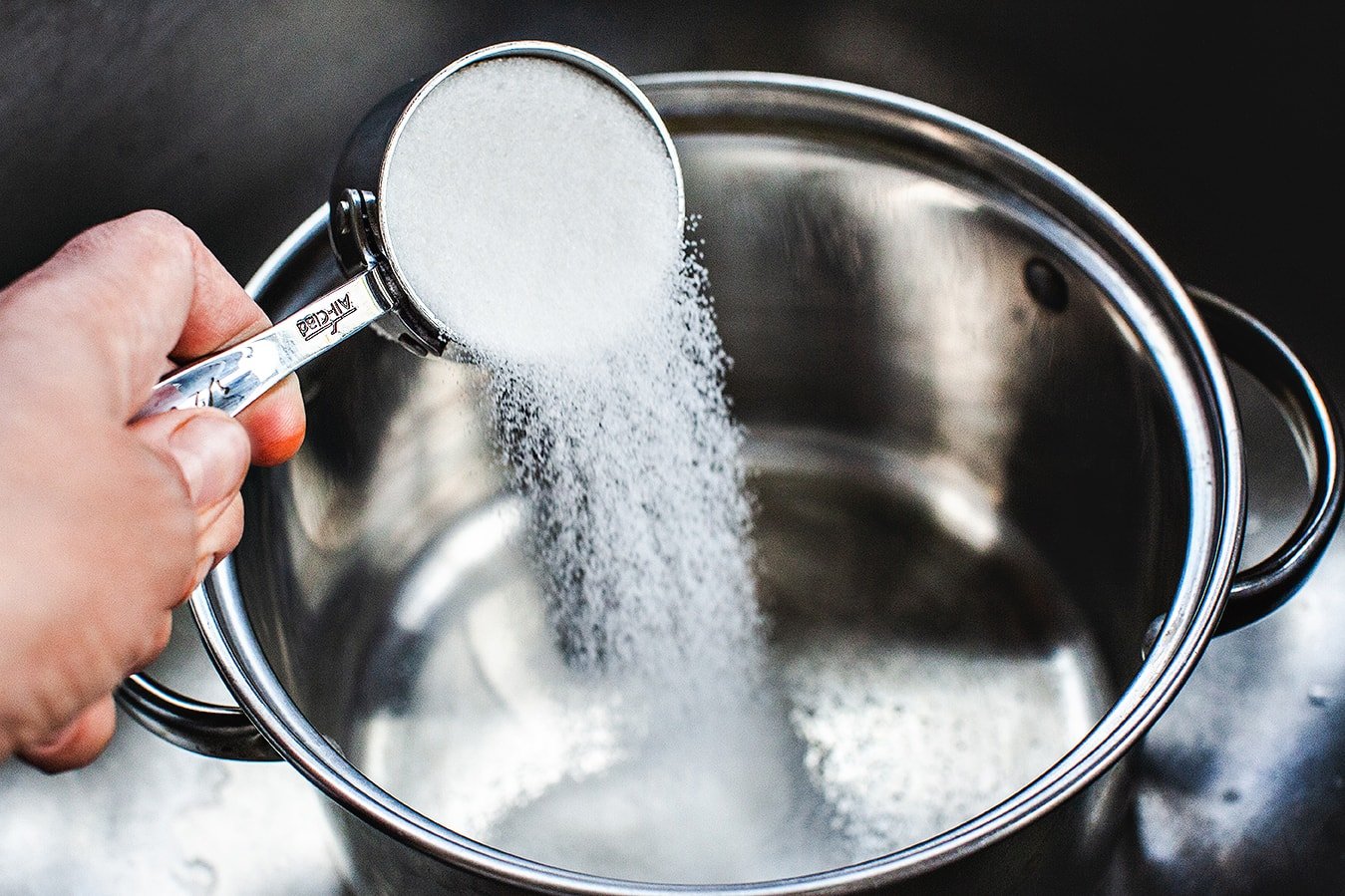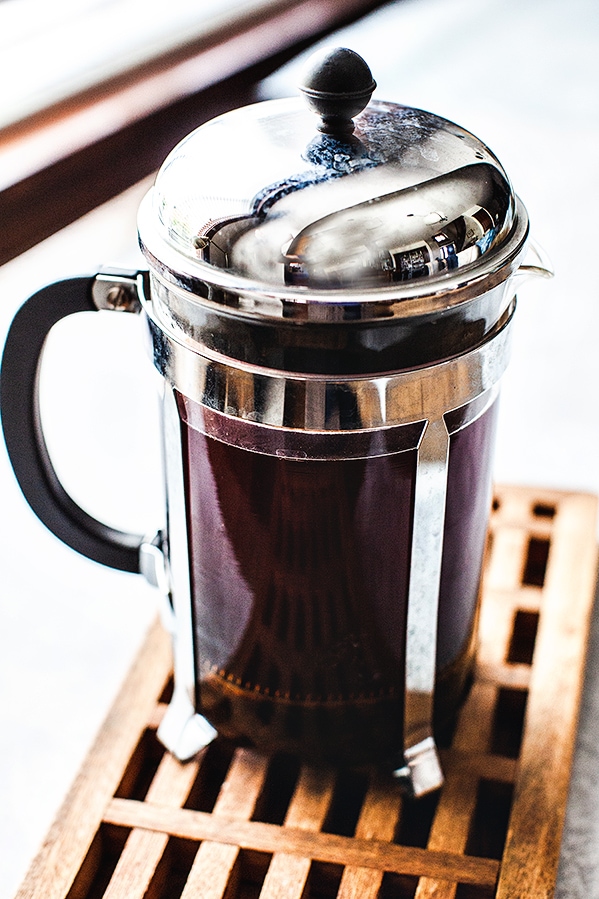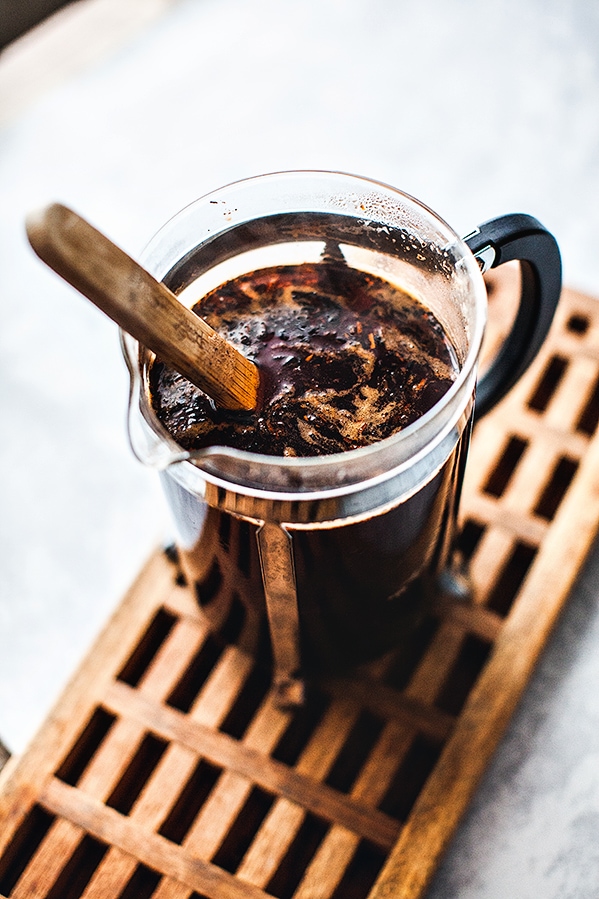 After 8 minutes, pour the tea in the French Press into the bowl with sugar in it. You can use a splatter screen to catch additional loose tea leaves.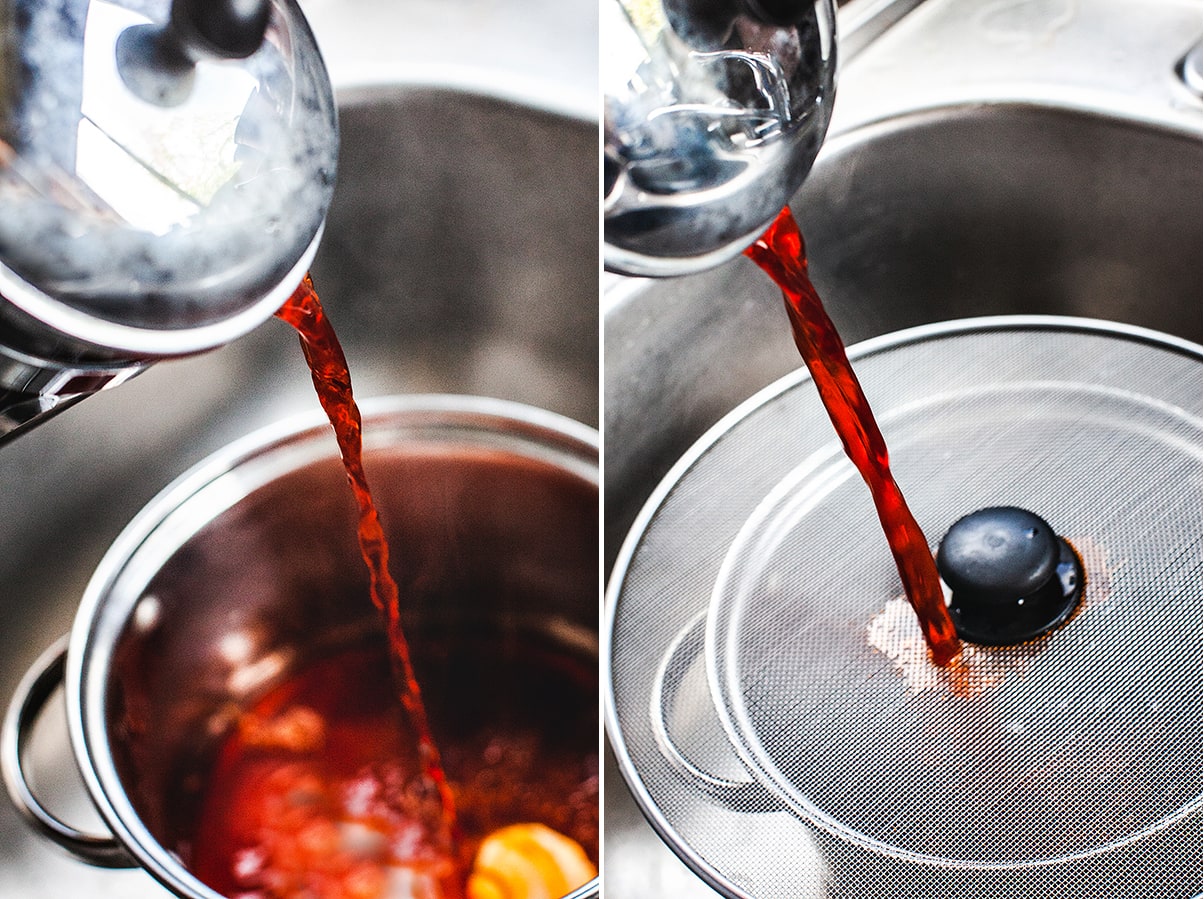 Stir the hot tea and sugar well until the sugar is dissolved. (DO NOT DISCARD THE TEA in the FRENCH PRESS YET-I'll show you a neat little trick next week with this, hang tight!) Onward to Thai Iced Tea.
Add the sweetened condensed milk to the bowl and stir some more.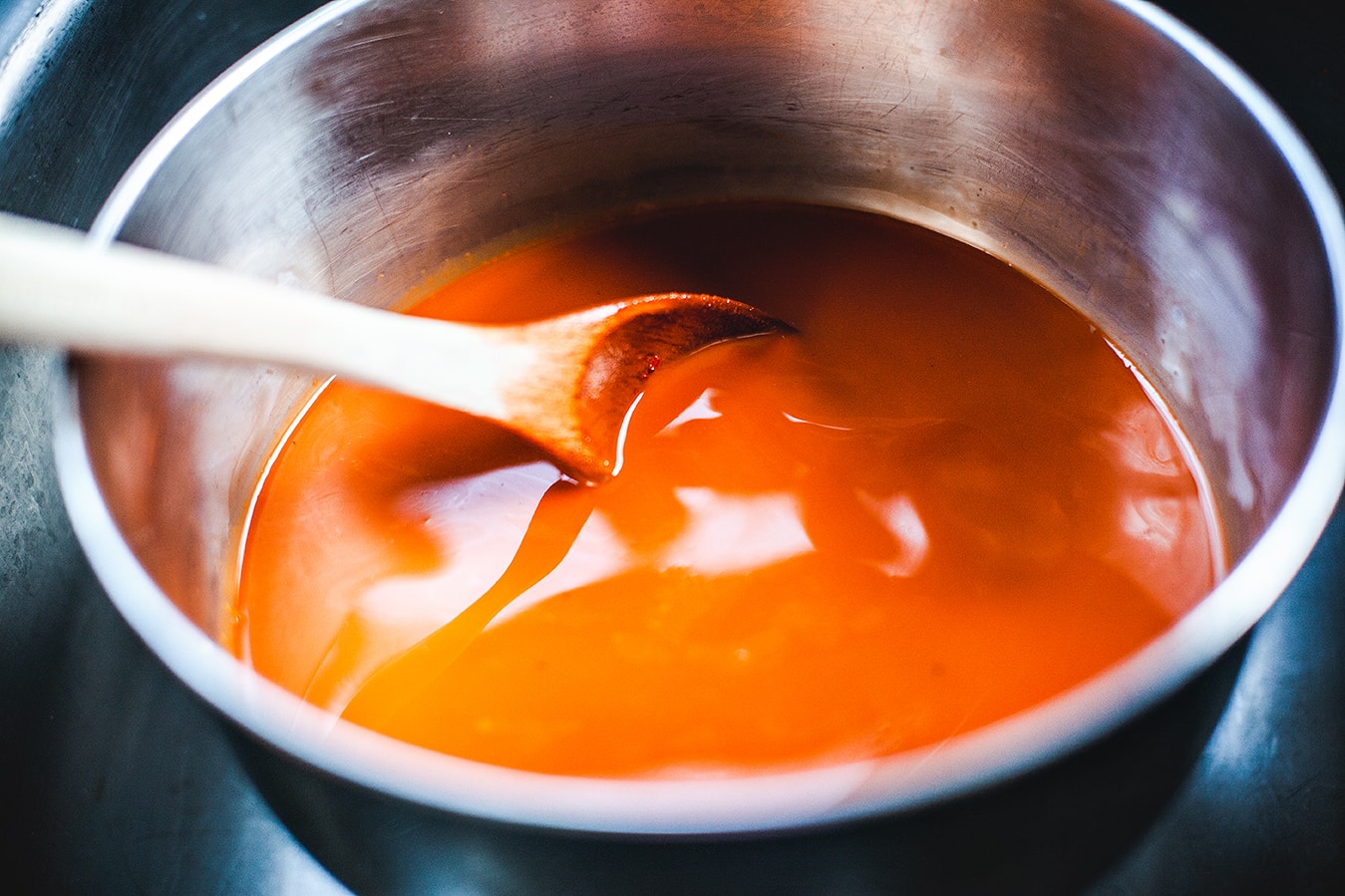 Taste the delicious creamy orange goodness, and add a small amount of sugar or condensed milk as needed according to taste. Let sit for 30-45 minutes to cool. Or placed in the refrigerator for a few hours.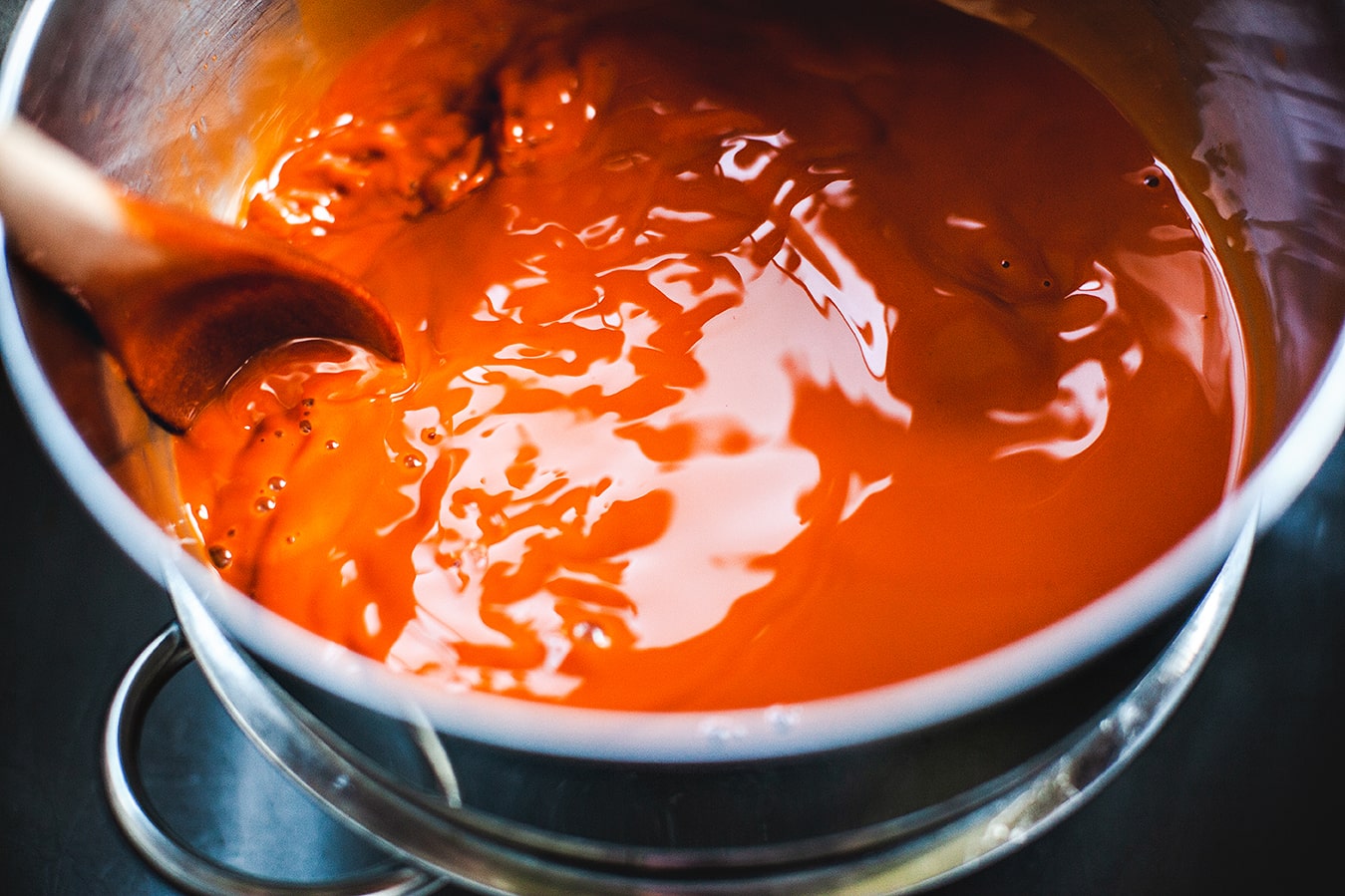 Prepare a glass with crushed iced, and leave 1-2 inches at the top.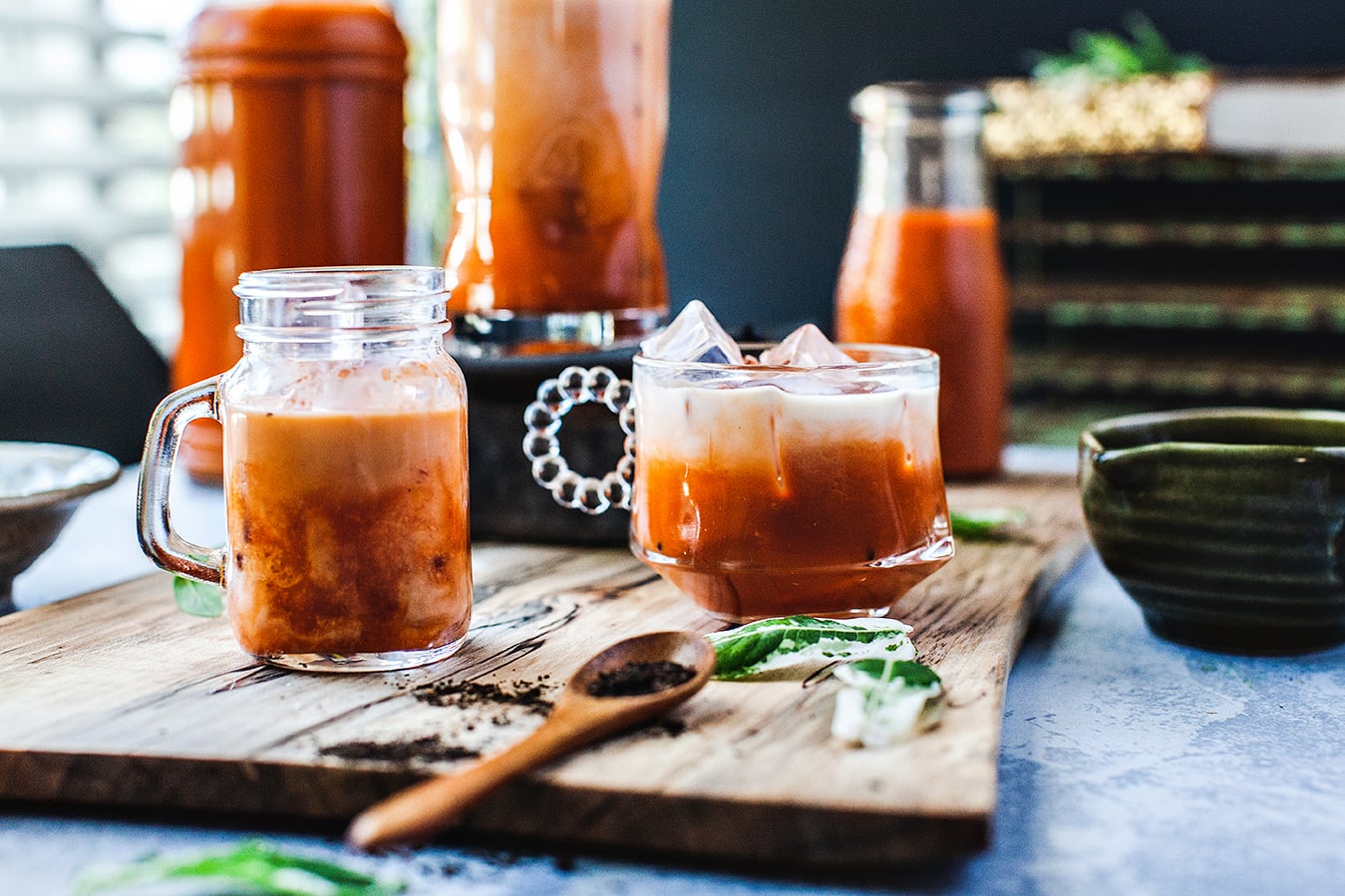 Pour in 1 cup of the finished Thai Iced Tea and 1 Tablespoon of evaporated milk. Stir well and taste the delicious and famous Thai drink filled with remarkable flavors in your mouth. Serves 5.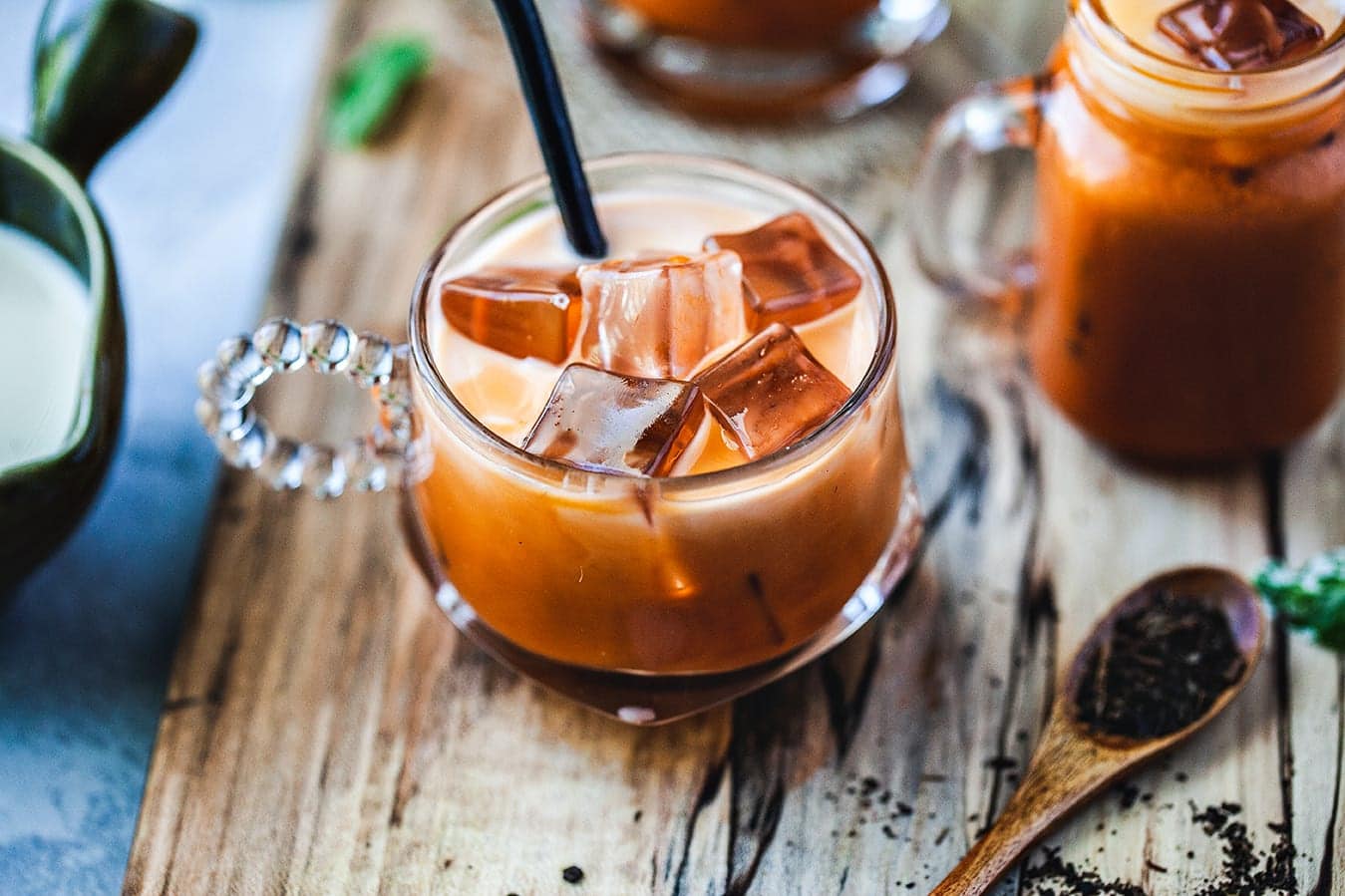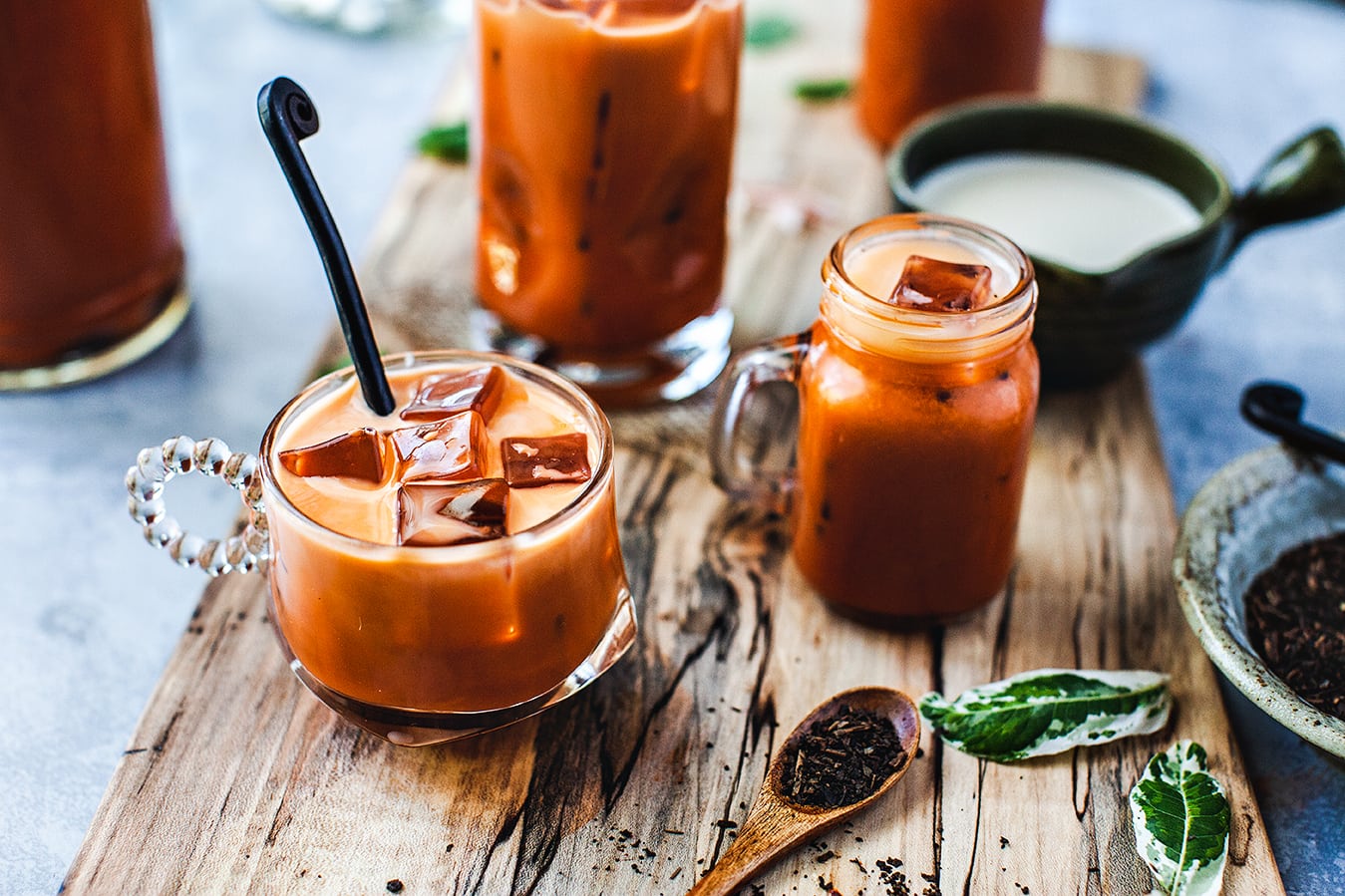 Happy Summer friends, hope you drink lots of this delicious Thai iced tea all summer long!
Print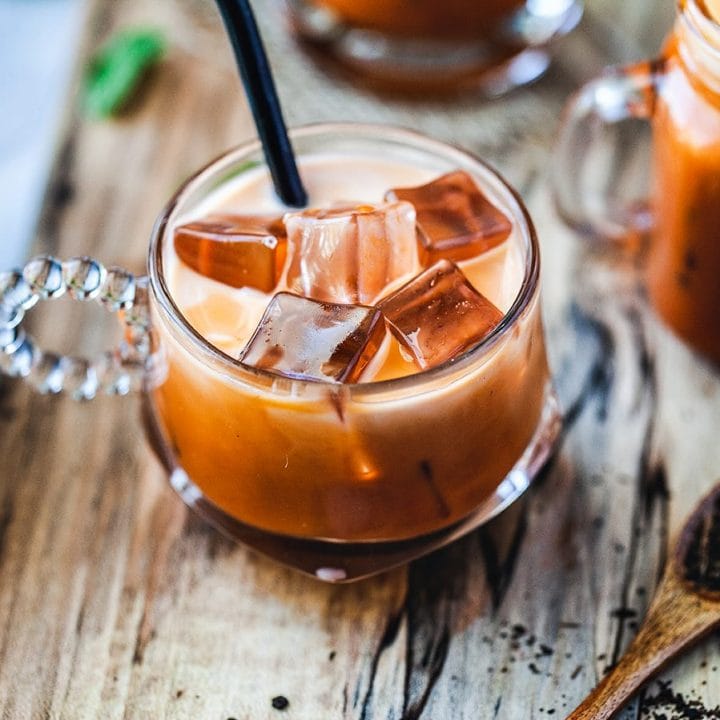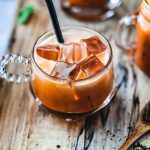 Thai Iced Tea
---
Author:

Suwanee

Total Time:

30 minutes

Yield:

5

1

x
Description
Thai Iced Tea, dubbed the most popular Thai drink in America, is a delicious, sweet and bold summer drink that will quench your thirst in the warm summer months!
---
5 cups

Boiling Hot Water

1 cup

Thai Iced Tea Mix

½ cup

Sugar

½ cup

Sweetened Condensed Milk

5 tbsp

Evaporate Milk(

1

For each serving)
---
Instructions
Pour the tea mix into a 52 oz French Press.
Boil the water until hot then pour into the tea mix in the French press.
Stir the tea inside the French Press until all the tea leaves are submerged. Set a timer for only 8 minutes.
Pour the sugar over a medium sized pot and place a screen splatter over it.
After the timer goes off, pour the French Press with Thai iced tea over the screen splatter into the pot with sugar in it. The screen splatter will help sift the tea leaves particles even more or your can use a tea sock or cheesecloth.
(DO NOT DISCARD THE TEA in the FRENCH PRESS-I'll show you a neat little trick next week with this!) On ward to Thai Iced Tea.
Pour the sweetened condensed milk into the mixture, stir until the sugar is completely dissolved and let cool for at least 30 minutes or over night in the fridge is even better.
Fill two 6-8 oz glasses half full with crushed ice or whatever ice is available.
Pour the cooled Thai iced tea over the glasses, leaving 2 inches at the top, pour the evaporated milk on top and stir in. Ready to serve! Enjoy the creamy goodness!
Notes
(DO NOT DISCARD THE TEA IN THE FRENCH PRESS-I'll show you a neat little trick next week with this!)
Prep Time:

10

Cook Time:

20

Category:

Drinks

Cuisine:

Thai Food
Keywords: Thai Iced tea. Thai tea recipe. easy Thai tea recipe.Simple Thai Iced tea
//
Do You Have a Sweet Tooth like my husband?
Check Out this Fabulous
Still Want More Thai food?
Check Out These Delicious Recipes Here:
Simple Pad Mee (Rice Noodles stir fry-Super Simple!)
//
Want Some Simple and Budget Friendly Recipes?
Grab my FREE E-Book with 10 Simple and Budget Friendly Recipes HERE