Galangal what it is and how to use it in Thai cooking! Learn about this essential ingredient used in curries, pastes, soups, and stir-fries in Thai and many other Asian cuisines. Read on to find out more about this popular ingredient!

Jump to:
The importance of Galangal
Galangal is a fragrant herb widely used in Thai and various Asian cooking. The plant has a pungent and spicy flavor, and its root is used in cooking to add flavor and aroma to dishes.
Galangal's robust taste and scent make it a popular ingredient in dishes, essential oils, teas, and beverages. Its flavor is especially great for imparting a peppery and citrusy flavor to drinks and cocktails.
Galangal is also known for its health benefits, including its ability to improve digestion, reduce inflammation, and boost the immune system. In addition to its culinary and medicinal uses, galangal is also used in perfumes, soaps, and other cosmetic products.
Different forms of galangal
These are the next best options if you can't find fresh galangal roots. The different forms of galangal are listed below. (Picture doesn't list all.)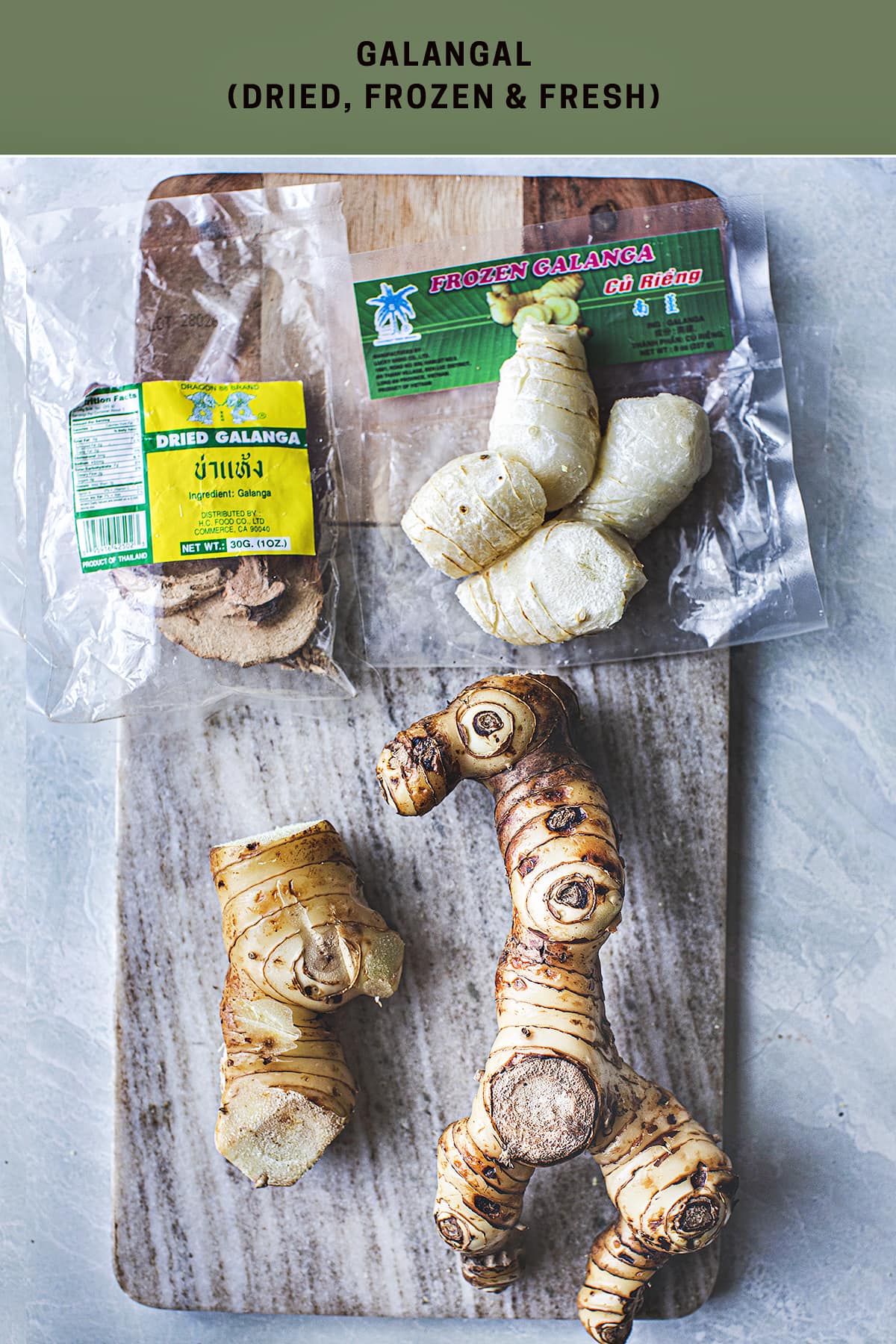 Fresh galangal roots. The fresh root is typically found in most Asian markets.
Frozen galangal. Frozen galangal is a great alternative
Dried galangal. Dried galangal is not an ideal substitute for the fresh version, but it's better than nothing. Obviously, the pungent flavor and aroma will not be close, but a little bit is better than none. Dried galangal has a longer shelf life than fresh or frozen forms. These are best used for tea or in Thai curries.
Galangal powder. Galangal in powder form has its places, and I would use it mostly in making sauces and adding some to soups.
Galangal paste. Store-bought Galangal paste usually comes in a glass jar. The best way to use galangal paste is to add an accent to various dishes in soups, sauces, condiments, and relishes. Galangal paste is best made from fresh ground galangal. See below for how to make your paste using fresh galangal.
What are the different names of galangal?
Galangal is called "Kha" in Thai, but there are other names for it as well. These are the names that galangal is called depending on what culture or cuisine it's from. Thai ginger, Siamese ginger, Chinese ginger, greater, lesser ginger, light galangal, and ginger root. The "ginger" in the name is because it's part of the ginger family, but they should not be used interchangeably in recipes.
How many types of galangal are there?
There are three different types of galangal. Each is slightly different and is used in different Asian countries.
Greater galangal. These are the most popular type of galangal used in Thai and Southeast Asian cooking. It has a tingly peppery taste when used. They are great for use in Thai soups and making curry pastes.
Light galangal. These have large knobby roots, sold in some Asian markets in the U.S. These can be used interchangeably with the greater galangal.
Lesser galangal. These are the smaller, young-looking galangal with light reddish/pinkish color. These are more commonly used in China than in Southeast Asia.
Where to buy Galangal online
And if you don't have an Asian market near you, I have good news. Many buy online at one of the stores I've used for years.
Where to buy fresh galangal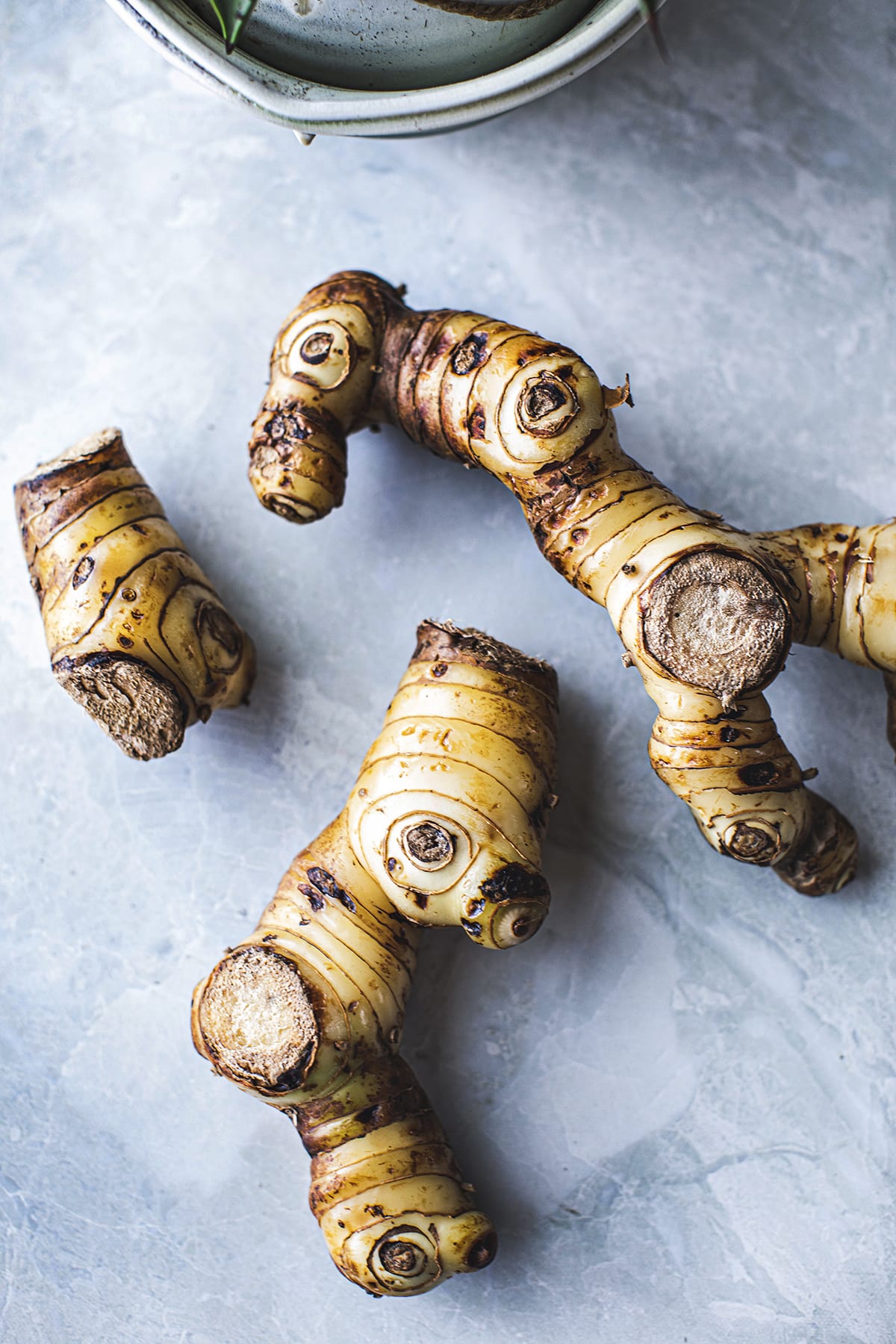 Most Asian grocery stores will carry fresh and frozen galangal. Dried and powder forms are not recommended, as those flavors will have disappeared almost entirely before you come across them. If you can't find it, omit it from your recipe rather than find a substitute.
Check with your local Asian markets. Most Asian markets sell fresh lemongrass. If not fresh, check the frozen section. If using frozen galangal, let it thaw at room temperature for at least 1 hour before slicing it. They are tough and fibrous, so they need time to soften a bit.
Farmer's markets with your local farmers. Check with your local farmer's markets for Galangal. If you find fresh ones, grab a few pieces to freeze and use for later. See below for how to store and freeze fresh galangal.
Check with your local grocery stores. Some stores take requests for grocery items, and it doesn't hurt to ask if that option is available.
Health benefits of Galangal
Galangal is an ancient herb that has a long history of being a medicinal herb used throughout history in many cultures. It is high in antioxidants, and Galangal, much like ginger, is used to help ease nausea and aid in stomach digestion issues. It also supports brain health.
Galangal is chock full of medicinal properties and has a long history of being Ayurvedic medicine. Here are some medicinal uses of galangal.
Great for digestion, especially for upset stomach or relief bloating, and treats constipation.
High in antioxidants which is great for reducing inflammation and fighting infections.
Supports skin health by reducing skin inflammations and slowing skin aging.
Galangal has powerful medical properties that help fight cancer.
It supports a strong immune system to fight off colds and flu.
To learn more about galangal's medicinal purposes, read more about it here.
What can I substitute for galangal?
The best substitute for galangal is...galangal. (: If you read my lemongrass in Thai cooking post, you know how I feel about substituting these unique Asian ingredients for something entirely different. There's no substitution, only modifications of the same thing or use it in a different form entirely. There are no best galangal substitutes. Galangal has a unique flavor that there is no great substitute for. 
What NOT to use as galangal substitutes
I have several bloggers suggesting fresh ginger as a good substitute. No. Ginger should be used as a substitute in Thai recipes. Though ginger is a close relative, it doesn't have a similar flavor profile to galangal, and it will alter your recipes entirely.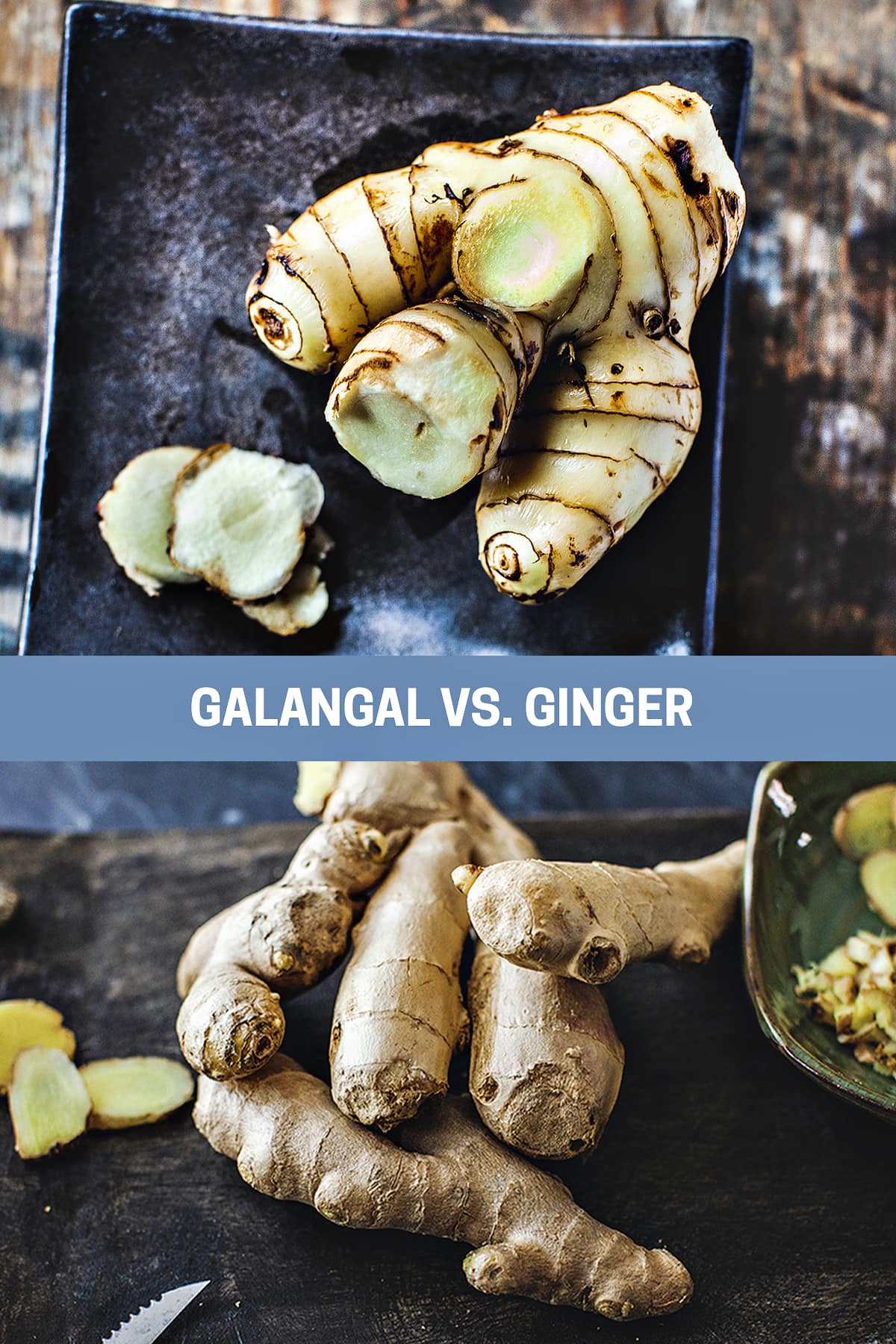 I've seen these ingredients being suggested as substitutes, don't be fooled. I will put to rest the ginger vs galangal debate, they are not the same thing, and each has different flavor profiles.  The following ingredients can not be substitutes; kaffir lime leaves, lemon juice, lime zest, finger roots, horseradish root, black pepper, white pepper, or even dried ginger.
These substitutions should not be used. If you can't find Galangal, best to omit it completely. Visit your nearest Asian market for fresh or frozen galangal. Or buy online. See below for places you can purchase Galangal online.
FAQs
Are galangal and ginger the same thing?
No. Even though they are from the same family of rhizomes, part of a plant that grows underground, they are not the same thing. They look very similar, even the leafy parts, but they taste worlds apart and should not be used interchangeably. 
What does galangal taste like?
The flavor of galangal is on the citrus notes with a hint of lemon mixed with an earthy flavor and a peppery, spicy flavor that tinkles on your tongue. The texture of galangal is similar to ginger, but it's more fibrous and tougher to cut into. The citrus flavor mixed with the mild sweetness of the herb adds a delicious desired flavor to many Asian recipes. 
What does galangal smell like?
Galangal has a pleasantly pungent aroma, like a combination of cinnamon, cardamom, and lime zest. Very fragrant with a warm and earthy aroma making it an ideal choice for tea, soups, and curries. 
What is the difference between red and white galangal?
Red galangal or greater galangal has the herb's beautiful red/pink tone. They also have a lighter, sweet flavor that adds depth to Thai food. The white galangal is larger with more mature golden brown-looking roots. White galangal is more fibrous and has a strong peppery juniper pine taste.
Can you eat raw galangal?
You can. But not recommended. Galangal has a pungent taste with peppery bites and needs cooking first to help soften the strong flavor. 
Can you freeze fresh galangal? 
Yes, you can freeze fresh galangal. They freeze quite well and keep for a long time! Prep it by washing, peeling, and trimming the skin and blemishes, chopping the herb into round pieces about ¼ inch thick. Place the cut round pieces into a glass container or a ziplock bag and freeze for up to 4 months.

You can freeze the galangal with the skin on if it's younger and doesn't look too old or dried out. Mine, pictured below, is a bit older, so I trimmed the skin and the dried spots before cutting and freezing the round pieces. 

How to freeze galangal
Freezing galangal is exceptionally easy. f you can find fresh galangal, grab it for cooking and freezing for future recipes. To freeze galangal, wash, towel dry, and chop into small round chunks of around 1-1.5 inch pieces and freeze them in a zip lock bag or a small glass container. For cooking, remove the frozen pieces one small section at a time. Let thaw lightly and use as instructed by the recipes.
How to make and freeze galangal paste
You can also turn galangal into a paste for other recipes. You process fresh galangal by chopping it into small pieces and putting them in a small food processor, then divide the paste into ice cube trays or containers with smaller sizes and freeze. When they have hardened, place them in an airtight container and return them to the freezer for future use.
When you are ready to use, remove from the tray and let it thaw for a minute or two, and use it in making curry pastes or stir-fries. The paste form is not best for soups since you want larger chunks for those recipes to maximize the flavor of the rhizome.
Simple steps to making galangal paste
Trim dried and tough patches on the skin of the fresh galangal, then chop the pieces into small round pieces around ¼ of an inch thick.
Cut the round pieces into small pieces to make it easier for the food processor to chop them into a paste.
Throw the galangal pieces into a food processor, and add just a tiny bit of water, 1-2 tbsp, just enough to help the blades turn.
Remove the paste from the food processor into an ice cube tray and freeze for up to 4 months. That's it! Super simple and easy!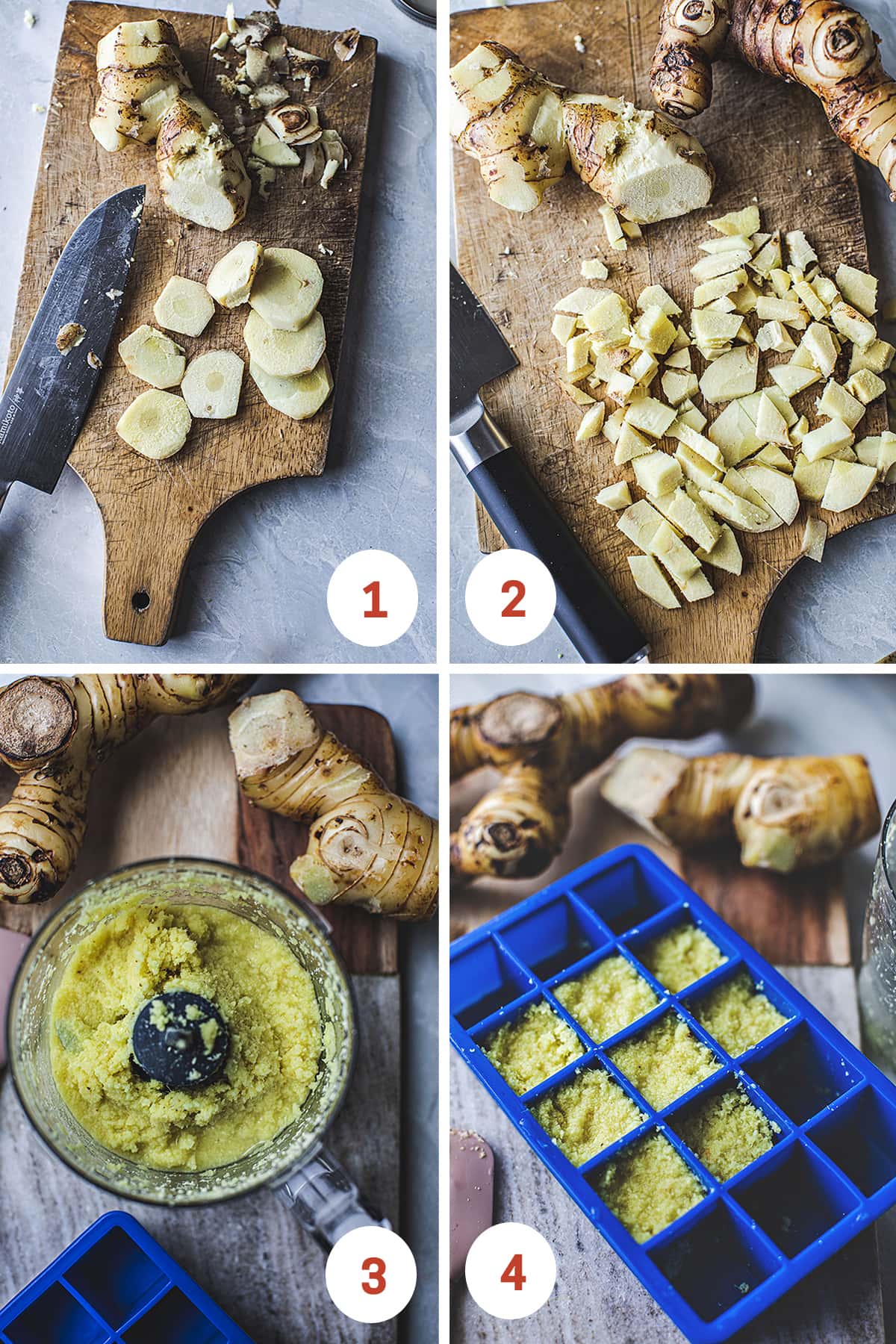 Recipes using galangal
Galangal is an important ingredient in Thai cooking, especially for many curry paste recipes. As mentioned, galangal substitutes are not recommended. Its unique flavor profiles, with bold citrusy flavor, are used in many savory dishes in Asian cooking.
Though not as common in desserts, lemongrass oil is used more as a flavoring extract in sweet dishes. Lemongrass extract is a perfect substitute for your baking extracts. You just need a small amount if used for baking. Below are delicious Thai recipes using galangal.
Find this blog post helpful? If so, please leave a 5-star rating below in the comments section further down the page. And don't forget to follow me on Facebook, Pinterest, or Instagram!