Galangal is a warming and pungent spice that grows underground and is one of the key ingredients in Thai cooking, especially in making curries, soups, and stir-fries. This article is about learning what this tropical rhizome ingredient is, its benefits and how you can use galangal in your Thai cooking.
Try these recipes that use galangal are packed full of bold and pungent flavors that will leave you craving for more. Tom Yum Recipe with Chicken. And of course, you must also try Tom Kha Gai Recipe. Read more about different Spices in Thai Cooking to learn more about the important ingredients used in Thai cooking.
What can I substitute for galangal?
Galangal has a very distinctive taste that you just can't find a close substitute for. It has become so much easier to find in the US markets and it is worth the extra effort to find it in your local Asian markets. Galangal is essential in authentic Thai and many types of Asian cooking. Most Asian markets will carry fresh and frozen galangal. Dried and powder forms are not recommended as the flavors of those will have disappeared almost entirely before you come across them. If you absolutely can't find it, omit it from your recipe rather than finding a substitute.
Are galangal and ginger the same thing?
No. Even though they are from the same family of rhizome, part of a plant that grows underground, they are not the same thing. They look very similar too, even the leafy parts, but they taste worlds apart and should not be used interchangeably.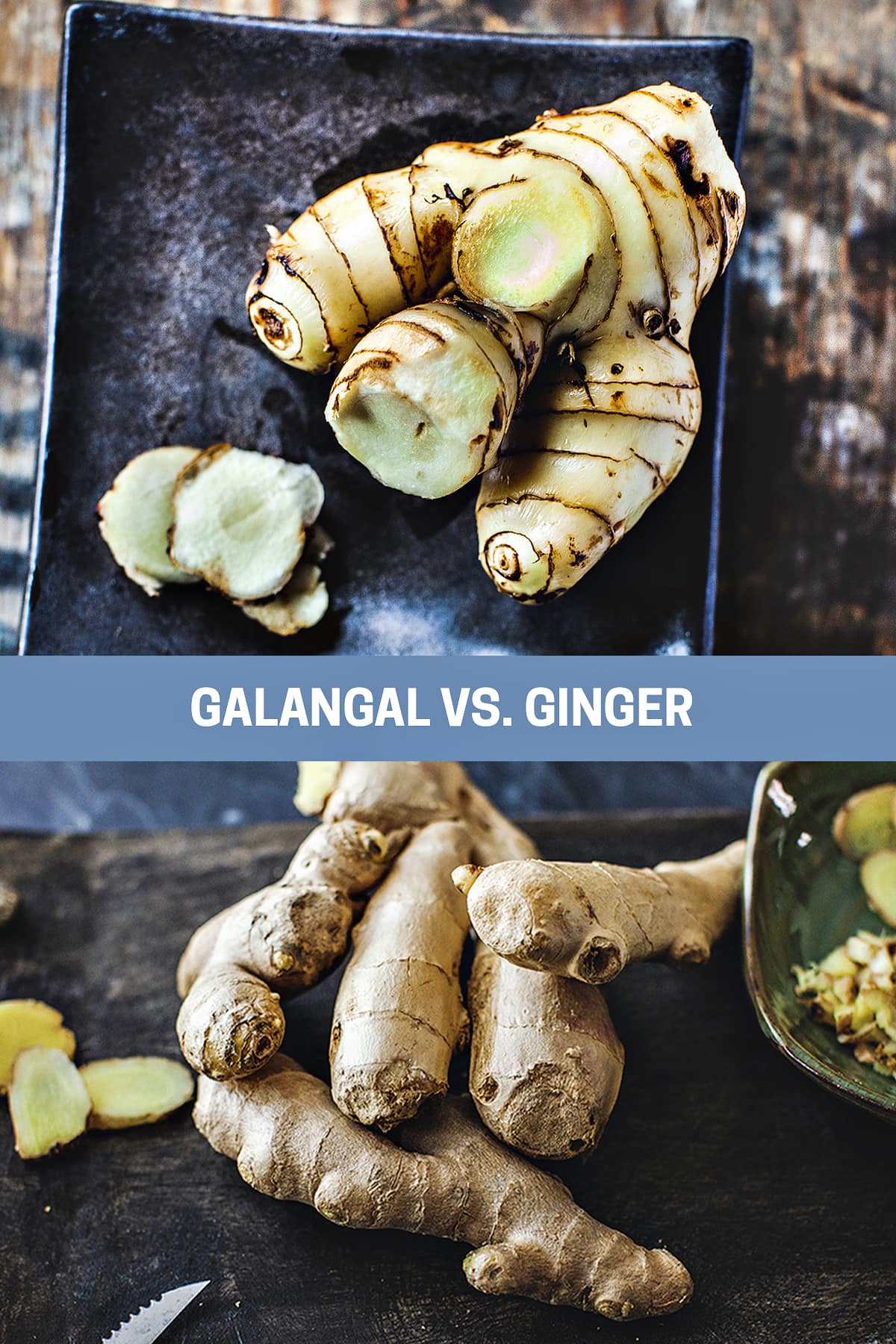 What are the benefits of galangal?
Galangal is an ancient herb that has a long history of being a medicinal herb used throughout history in many cultures. It is high in antioxidants and is great for reducing inflammation and fighting infections. Galangal, much like ginger, is used to help ease nausea and aids in stomach digestion issues. It also supports brain health.
What does galangal taste like?
Galangal has a very distinctive peppery and minty taste like a slight spicy menthol gum that tingles in your tongue for a short time. It has a refreshing and almost citrusy taste to it as well, especially the younger galangal.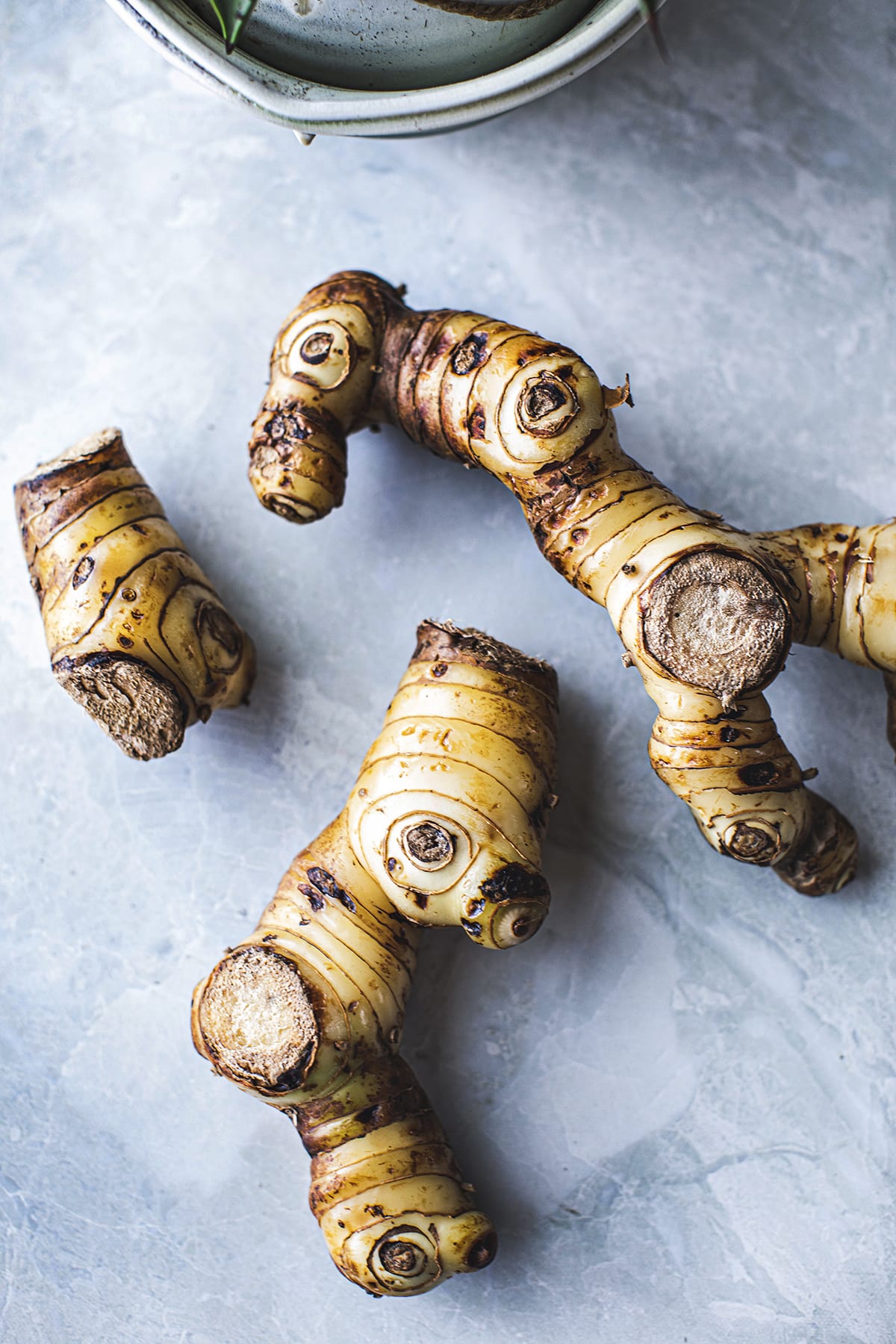 Can you freeze fresh galangal?
Yes, you can freeze fresh galangal. It freezes very well. You must first prep it by washing, peeling, and trimming the skin and blemishes, chopping the herb into round pieces about ¼ inch thick. Place the cut round pieces into a glass container or a ziplock bag and freeze for up to 4 months. Thaw the pieces just a few minutes before using. With galangal, you freeze with the skin on if your galangal is younger and doesn't look too old or dried out. Mine, pictured below, is a bit older, so I trimmed the skin and the dried spots before cutting and freezing the round pieces.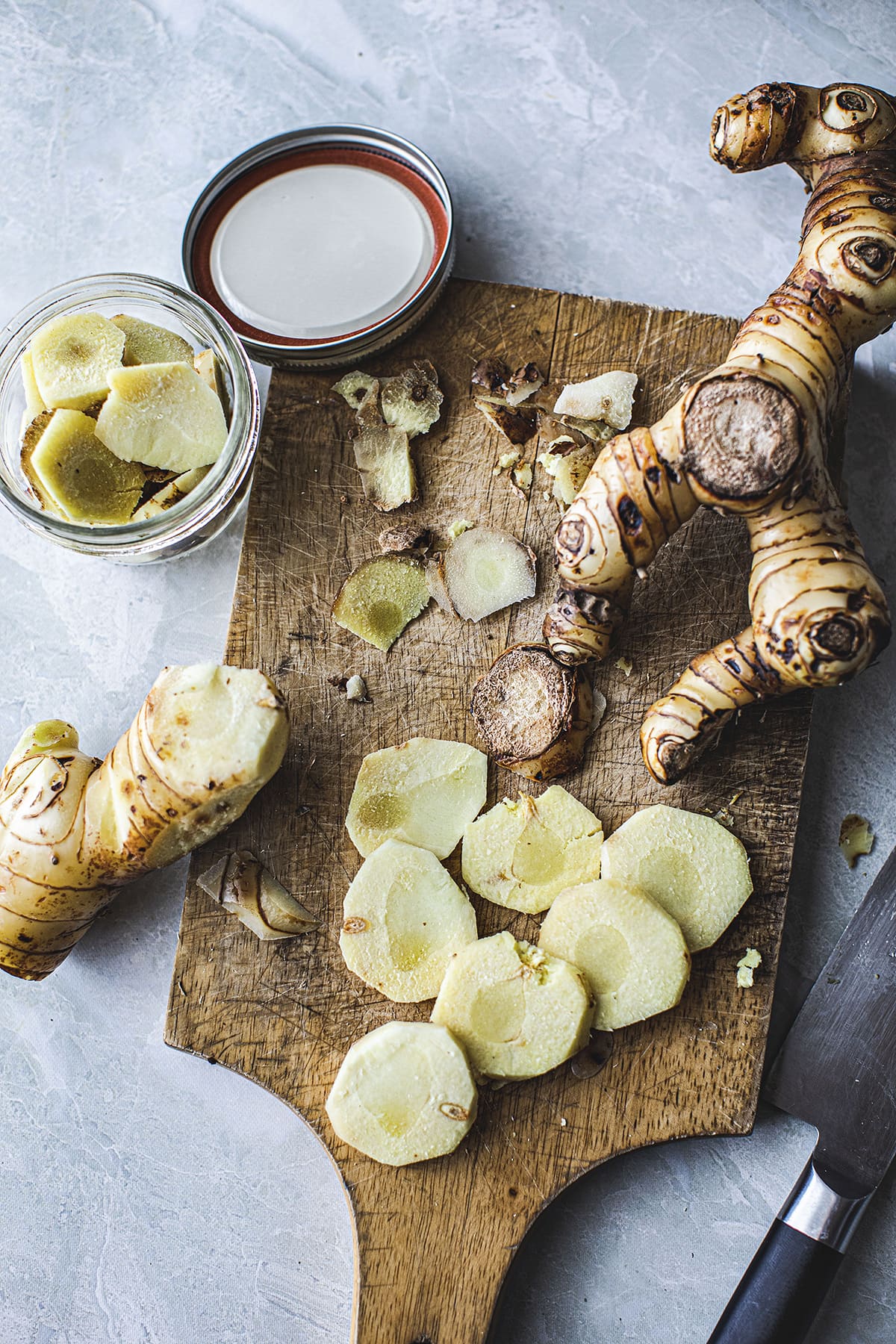 Freezing galangal is exceptionally easy and convenient. If you are able to find a tube of fresh galangal, grab it for cooking and freeze some for future recipes. To freeze galangal, you simply wash, towel dry, and chop into small round chunks of around 1-1.5 inch pieces and freeze them in either a zip lock bag or a small glass container. For use in cooking, remove the frozen pieces one small section at a time. Let thaw lightly and use as instructed by recipes.
How to make and freeze galangal paste
You can also turn galangal into a paste for use in other recipes too. You simply process fresh galangal by chopping it into small pieces and putting them in a small food processor then divide the paste into ice cubes sizes and freeze in ice cube trays. When you are ready to use, simply remove from the tray and let thaw for a minute or two, and use it in making curry pastes or stir-fries. The paste form is not best for soups since you want larger chunks for those recipes to maximize the flavor of the rhizome.
Simple steps to making your own galangal paste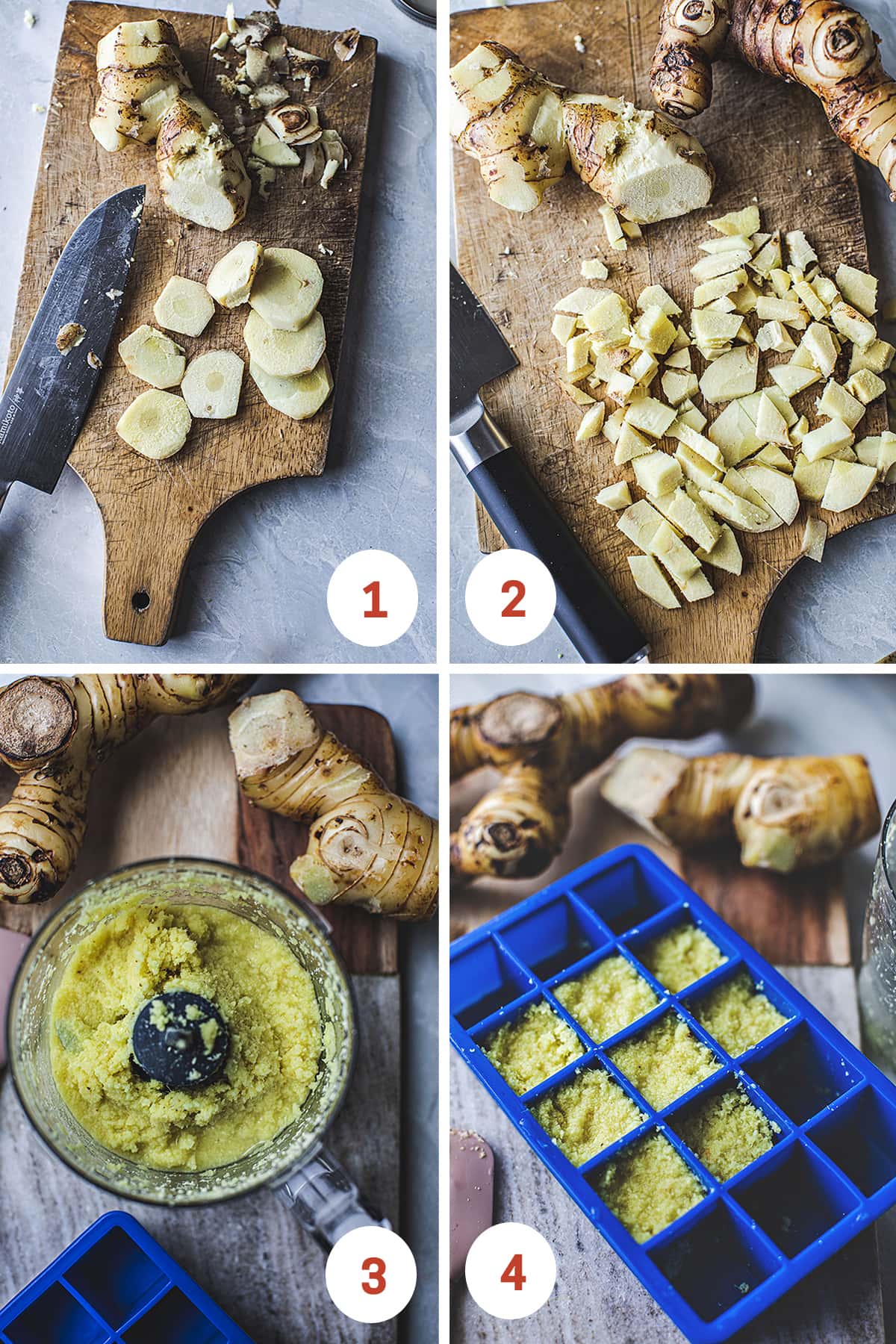 Trim dried and tough patches on the skin of the fresh galangal then chop the pieces into small round pieces around ¼ of an inch thick.
Cut the round pieces into small pieces to make it easier for the food processor to chop them into a paste.
Throw the galangal pieces into a food processor, add just a tiny bit of water, 1-2 tbsp, just enough to help the blades turn.
Remove the paste from the food processor into an ice cube tray and freeze for up to 4 months. That's it! Super simple and easy!
Where can I buy galangal?
You can find galangal fresh, frozen, dried, and even powdered form at your local Asian markets. You can purchase them fresh online as well from Amazon. I've seen some larger American grocery stores starting to carry them in certain cities now too. Depending on where you live, you should check your closest store to see if they carry them.
What are the different names of galangal?
Galangal is called "Kha" in Thai, but there are other names for it as well. In English, it's also called galanga, lesser galangal, and Thai or Siamese ginger. They also come in many forms, dried, frozen, fresh, and powder.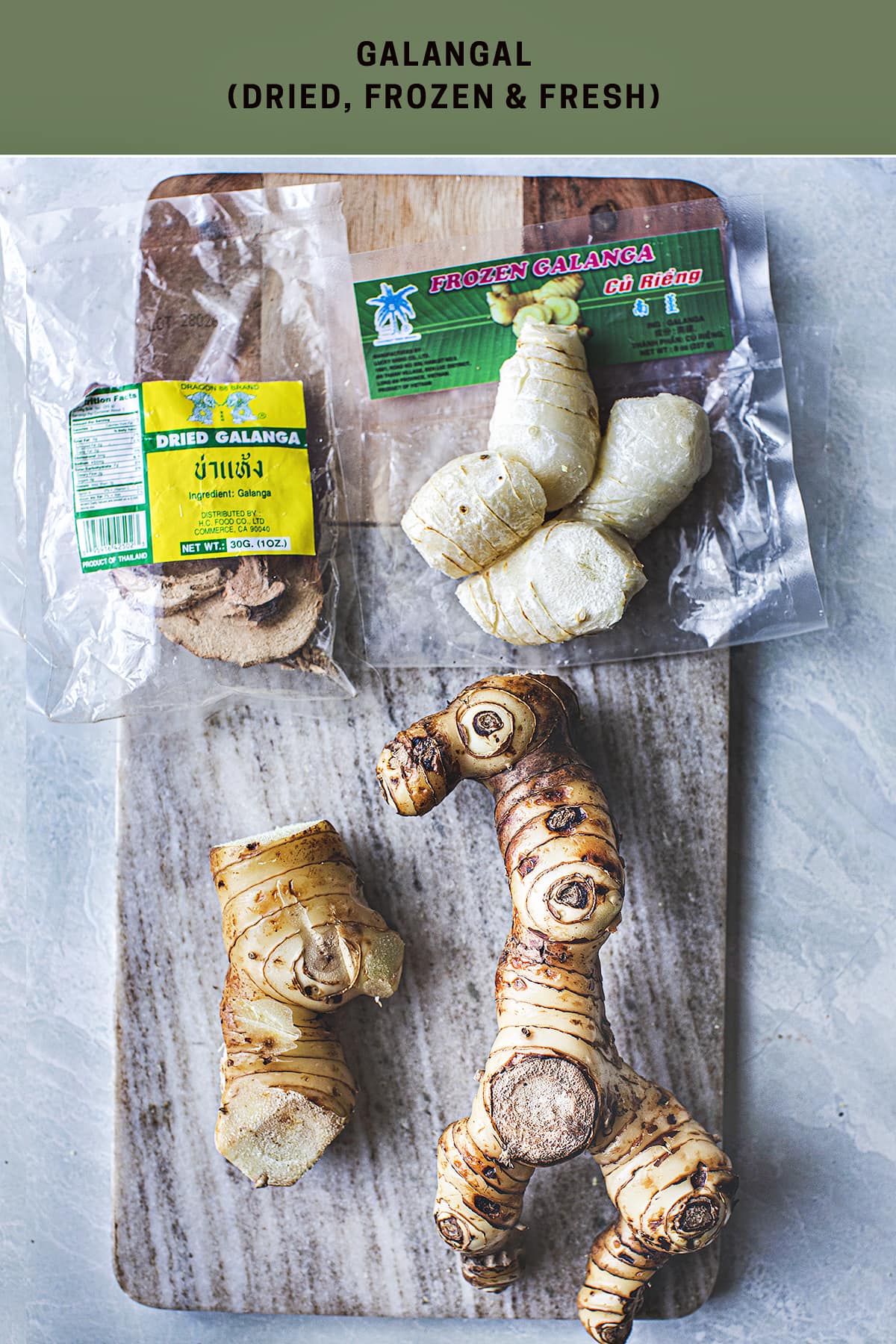 Recipes using galangal
Galangal is an important ingredient in Thai cooking. Especially for many curry paste recipes. As mentioned, galangal substitutes are not recommended. There are dried galangal as well as galangal powder, I cannot recommend those as I have never personally used them. So where can you find galangal then? Check your local Asian market in the fresh and frozen section to find it for cooking these delicious recipes:
Find this blog post helpful? If so, please leave a 5-star rating below in the comments section further down the page. And don't forget to follow me on Facebook, Pinterest, or Instagram!