Thai cuisine is renowned for its bold and intricate flavors, largely attributed to various aromatic spices, fragrant herbs, and fresh ingredients. Learn more about the Essential spices in Thai cuisine and how to use them in Thai cooking.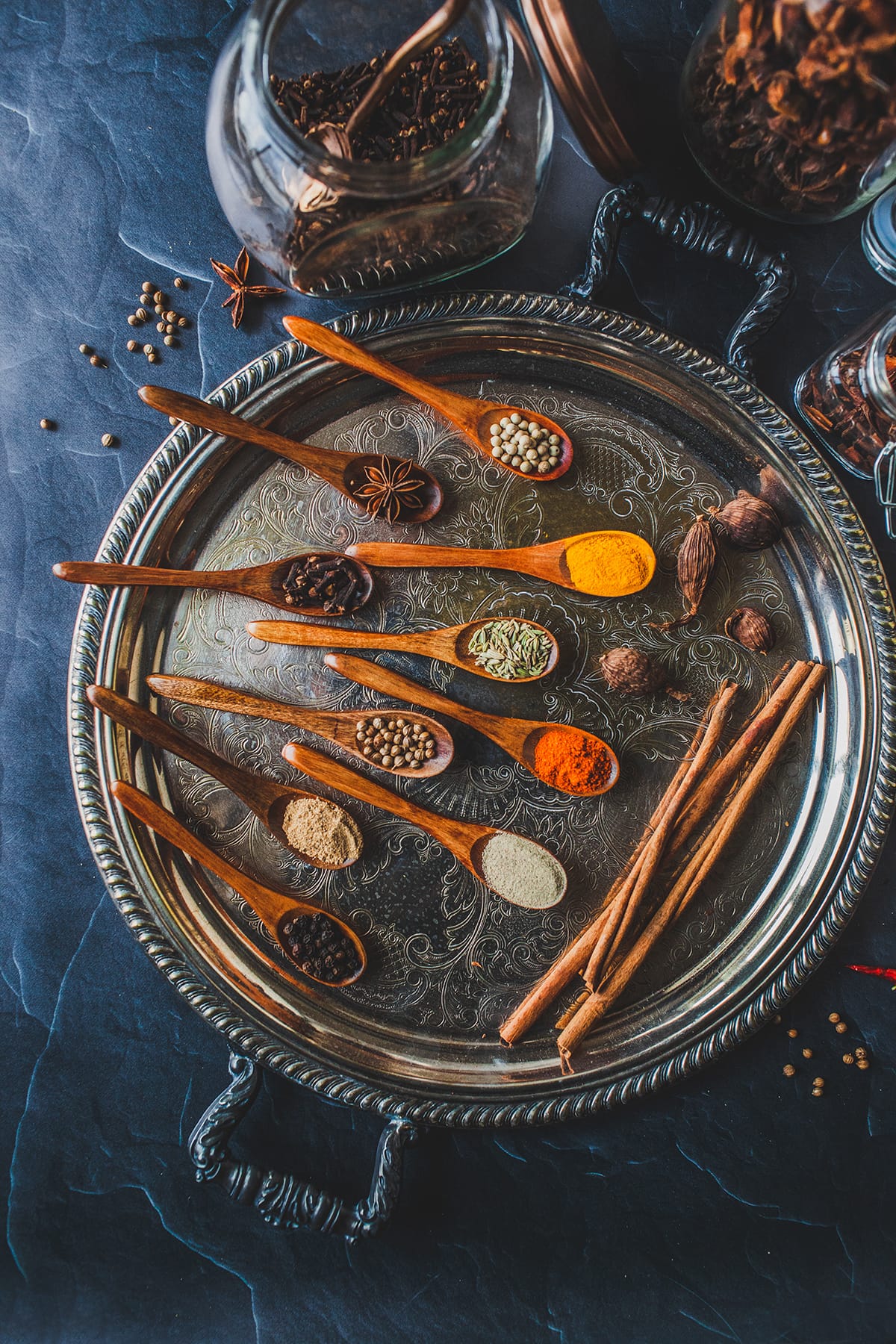 Have you ever wondered what the difference was between herbs and spices? Well, herbs are the leafy parts of a plant, while spices are from the plant's seeds, roots, and bark.
Jump to:
Must-Have Thai Spices
The spices listed below are essential ingredients used in Thai cuisine. While some are dried, others are fresh, and each type is utilized in specific dishes. Certain spices can be found at local stores, while others are exclusive to Asian markets or can be purchased online.
Thai peppers. Fresh, dried flakes and powdered peppers are used extensively in Thai cooking.
White Peppercorns. Whole and ground white pepper is well used in Thai cuisine.
Black peppers. Whole and ground pepper forms.
Coriander Seeds. Powdered seeds and roots are used in Thai cooking.
Garlic
Shallots
Galangal
Ginger
Turmeric. Fresh and powdered
Finger Roots
Tamarind
Cumin seeds & powdered forms are used.
Star anise.
Cardamom. Brown and green cardamom are used for different recipes in Thailand.
Cloves. Whole and powdered form.s
Cinnamon. Both whole and ground cinnamon are used.
The Essential Thai spices used in Thai cooking
1. Thai Chili Peppers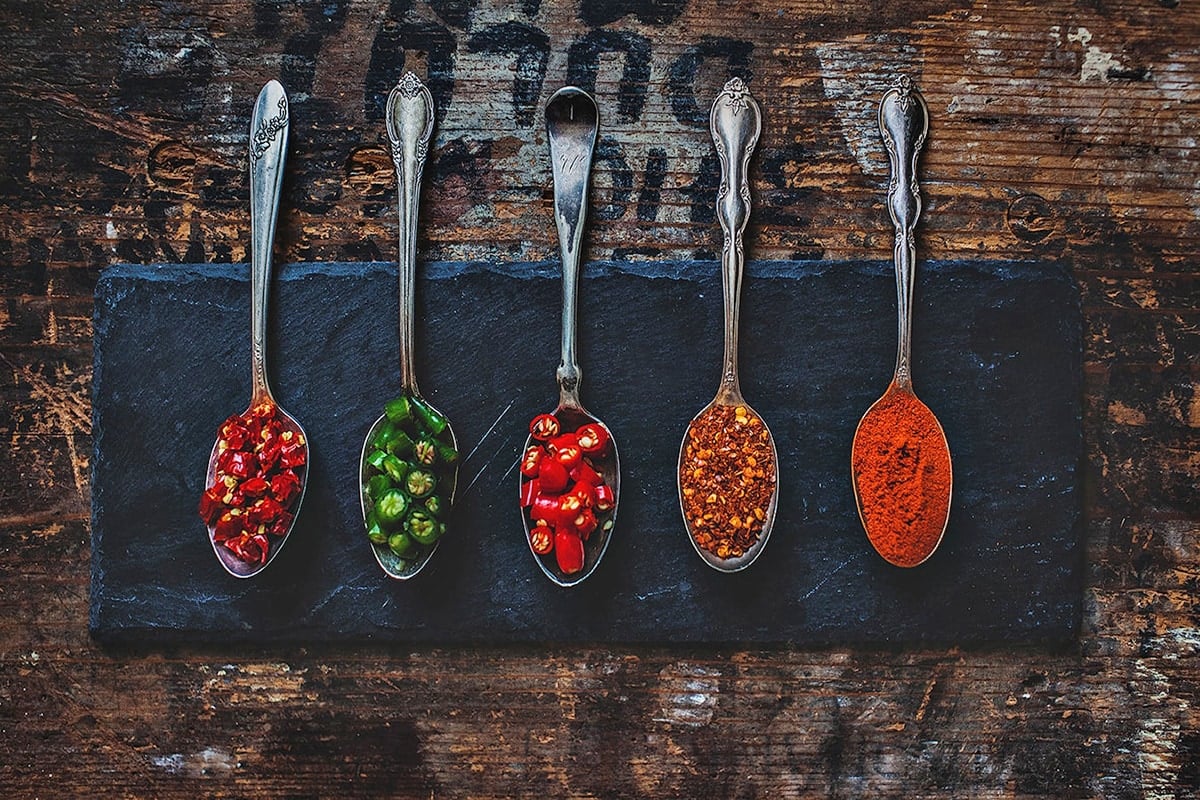 Thai food is known for the use of peppers, which are a staple spice in the region. There are various forms of Thai chilies, such as fresh, dried, or ground, and each recipe requires a specific type. The most popular peppers used in Thai dishes are the Bird's Eye chili peppers and Prik Chee Fah, which point upwards towards the sky. Purchase them fresh or frozen from a local Asian store.
Dried red chilies are also an essential spice in Thai cuisine and can be found in most Asian grocery stores, usually in a large plastic bag on the spice shelf.
It's important to note that Thai peppers are extremely spicy, so it's best to start with a small amount and adjust the spiciness level according to your taste.
It's hard to conceive of a Thai kitchen that doesn't have at least one type of hot pepper in its pantry. Hot peppers are crucial for Thai chefs, home cooks, and restaurants alike to add spice to their meals.
Although peppers are widely used in Asian cuisine, Thai people seem to relish using them more than others, as evidenced by their generous use in some Thai recipes. Of course, you can use a little or a lot as your taste buds prefer! (:
2. White Peppercorns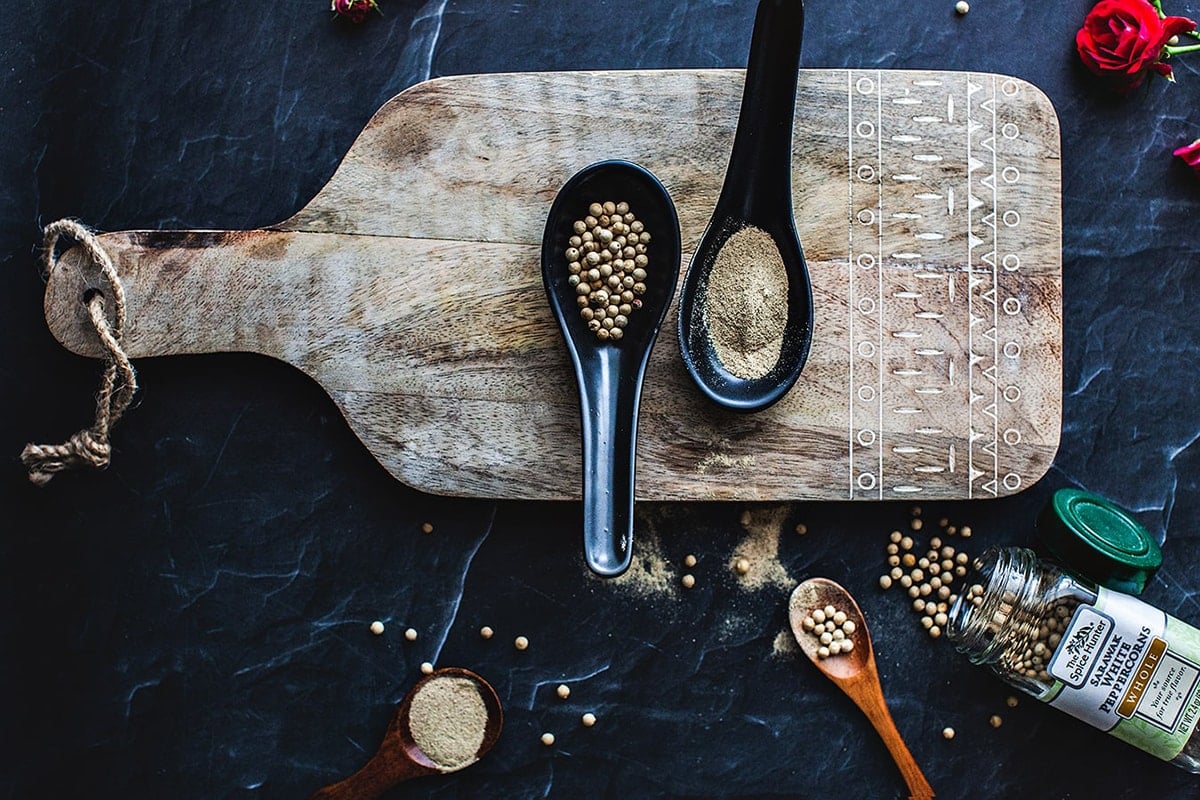 Unlike the black peppercorns commonly used in the West, Thai white peppercorns have a unique sweet and peppery aroma that makes them ideal for seasoning and garnishing various dishes. Their flavor profile is also distinct, with a spicier taste than black peppercorns.
White peppercorns are available in both ground and whole forms. Whole peppercorns are more aromatic and fresh. Find ground white pepper in your local grocery store. Whole white peppercorns are easily found in most Asian markets in large bottles. They last long in the pantry and garnish in many Thai meals.
3. Black peppers
Black peppers are a commonly used spice in Thai cooking. They add a bold, slightly spicy flavor to dishes and are often used in marinades, curries, and stir-fries. In Thai cuisine, black peppers are often paired with other spices, such as coriander, cumin, and turmeric, to create complex and flavorful dishes.
They are also commonly used in Thai salads and noodle dishes. Black peppers are a staple ingredient in Thai cuisine and are often used to enhance the overall flavor of a dish.
4. Coriander or Cilantro Seeds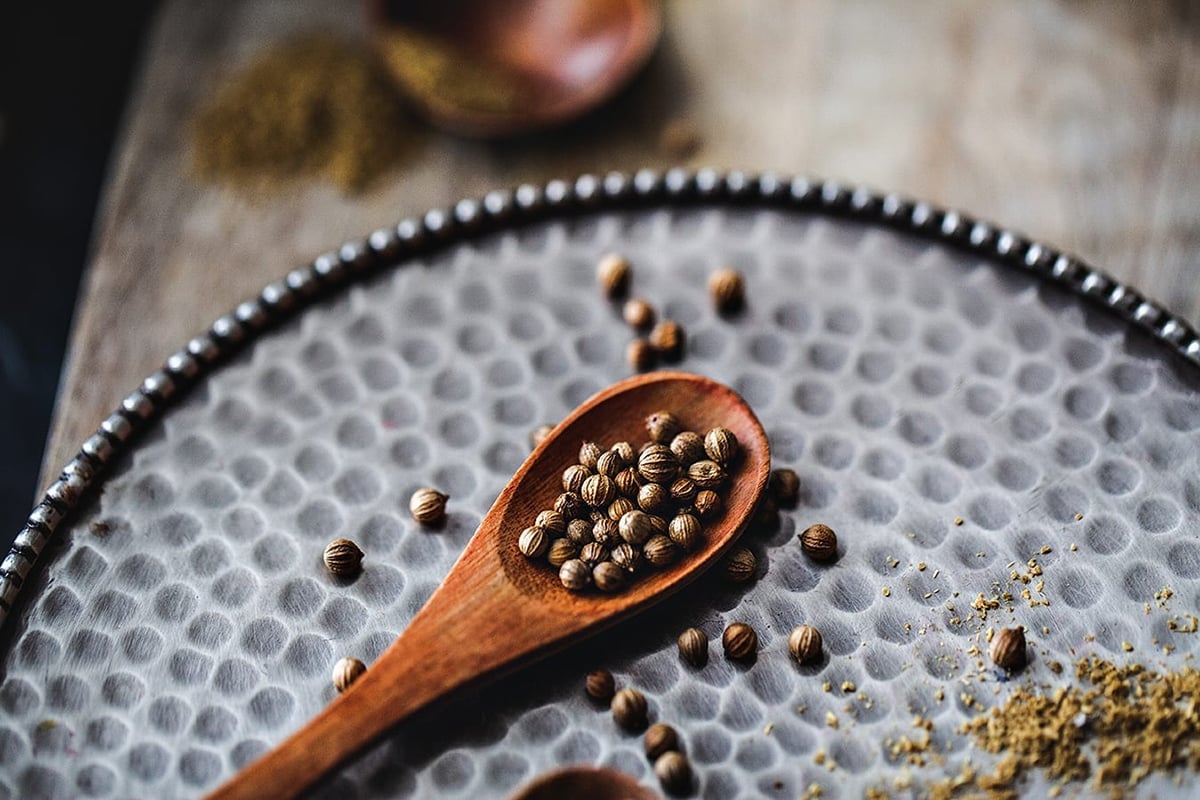 You can easily find coriander powder in most American grocery stores. Coriander seeds, however, are more difficult to find. I order mine online or buy them from the Asian Market. They keep them in a tightly sealed container or plastic bag for a while.
Coriander powder is used to spice up many curry pastes, marinate meat/vegetables, and is used in stock for flavoring and garnishing many dishes.
5. Garlic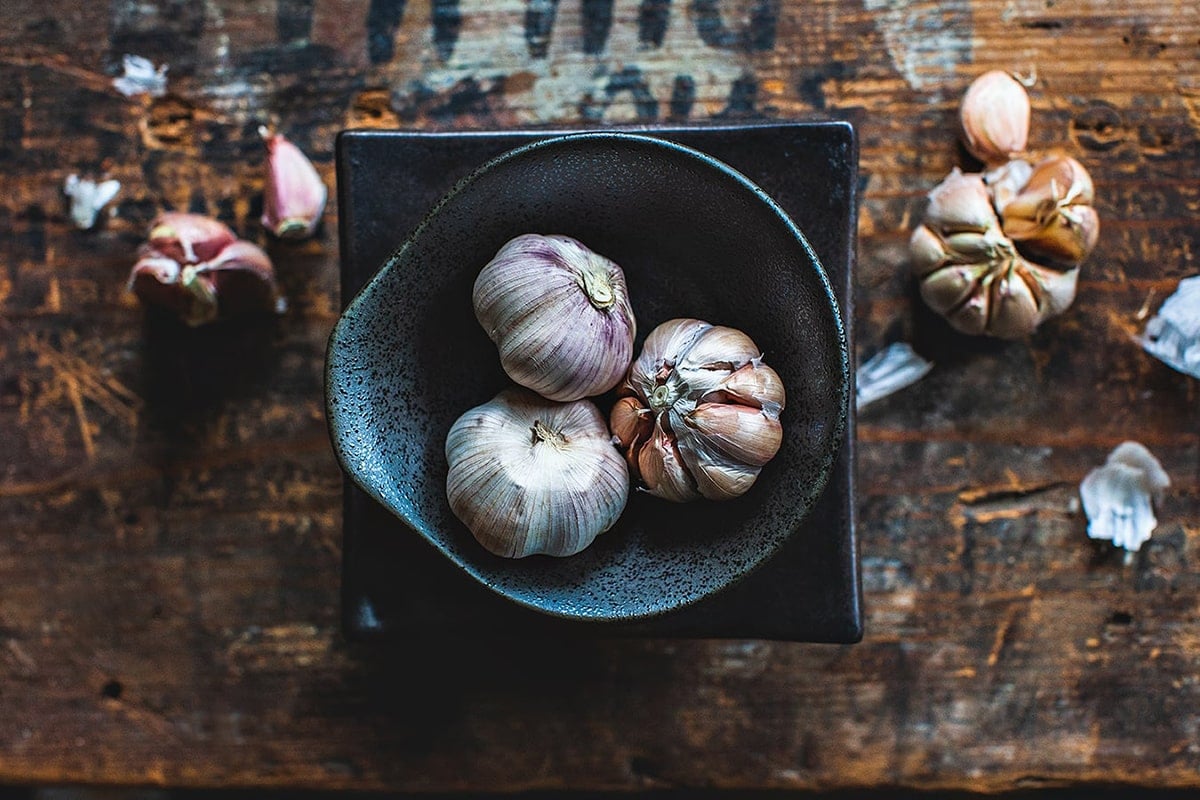 For my cooking, I always have garlic on hand - usually dried whole garlic with the peels still on. Although I sometimes opt for pre-peeled garlic, the flavors are less prominent, and I use more to compensate. My favorite is growing my own garlic, but unfortunately, it's not always feasible. I love using the leafy parts for stir-frying when I have fresh garlic.
6. Shallots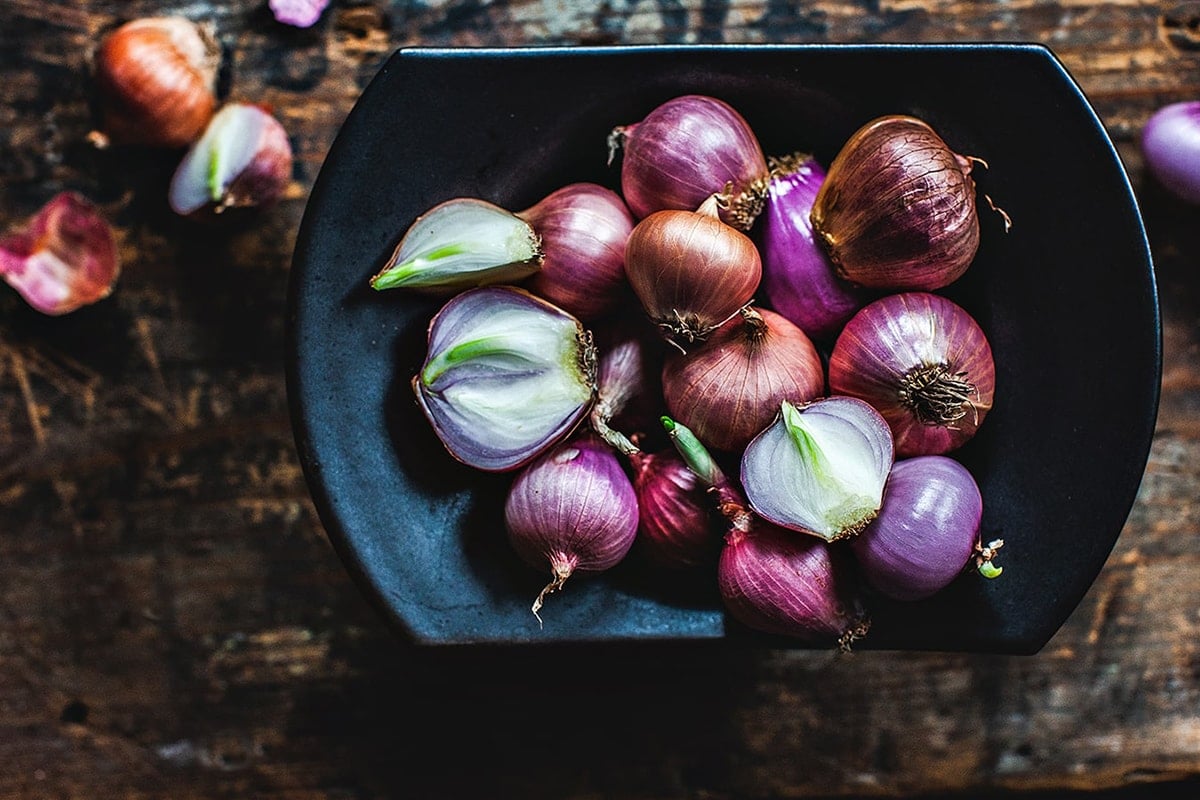 When it comes to shallots, if they're not available, small red or purple onions make for the best substitutes. While they come from the same family, shallots have a bolder flavor than regular onions.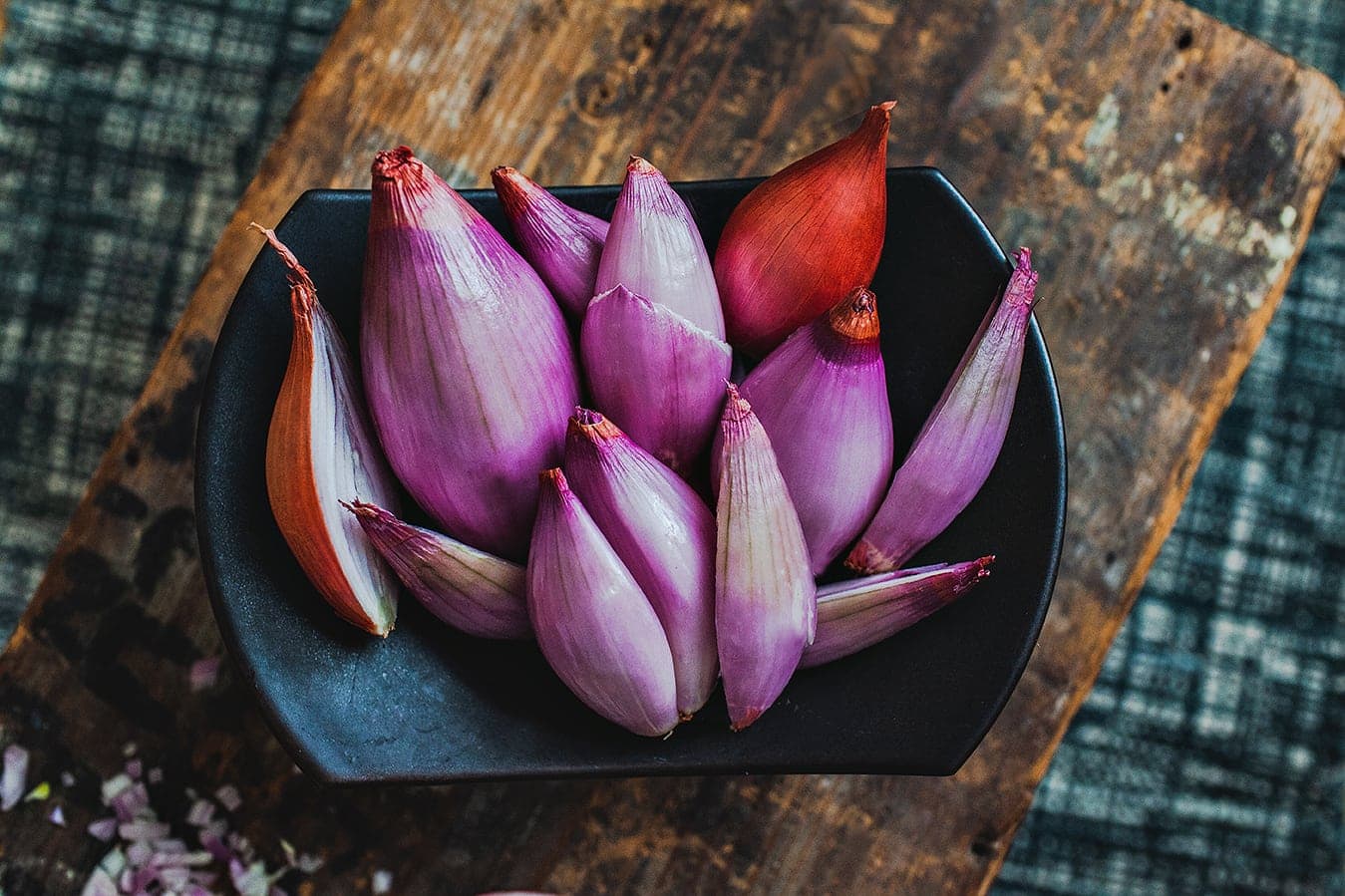 Most Western grocery stores carry shallots, but it's important to note that they may differ in size depending on where you are. For example, in Thailand, shallots are much smaller than the ones found in Asian markets in the US - as shown in the pictures above and below. Regardless of size, both types work well depending on what's available to you.
7. Galangal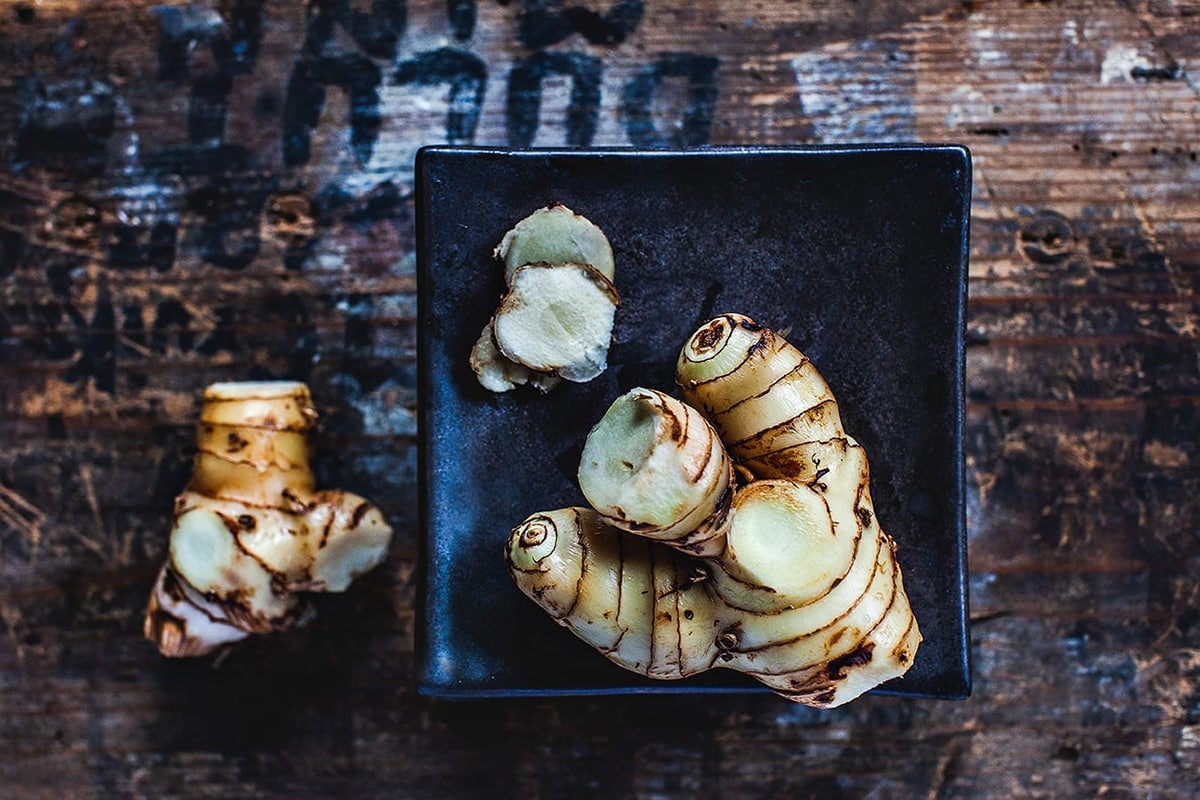 Fresh Galangal can be a hard-to-find ingredient, especially during winter. When a recipe calls for galangal, no substitute can replace its unique flavor. Although galangal is a member of the ginger family, it cannot replace galangal's distinct taste, scent, and texture. If fresh galangal is not available, frozen galangal can be used instead. However, powdered galangal is not recommended.
Galangal is used in soups and stir-fries. Galangal is essential for making authentic Thai pastes for curries, sauces, and condiments.
8. Ginger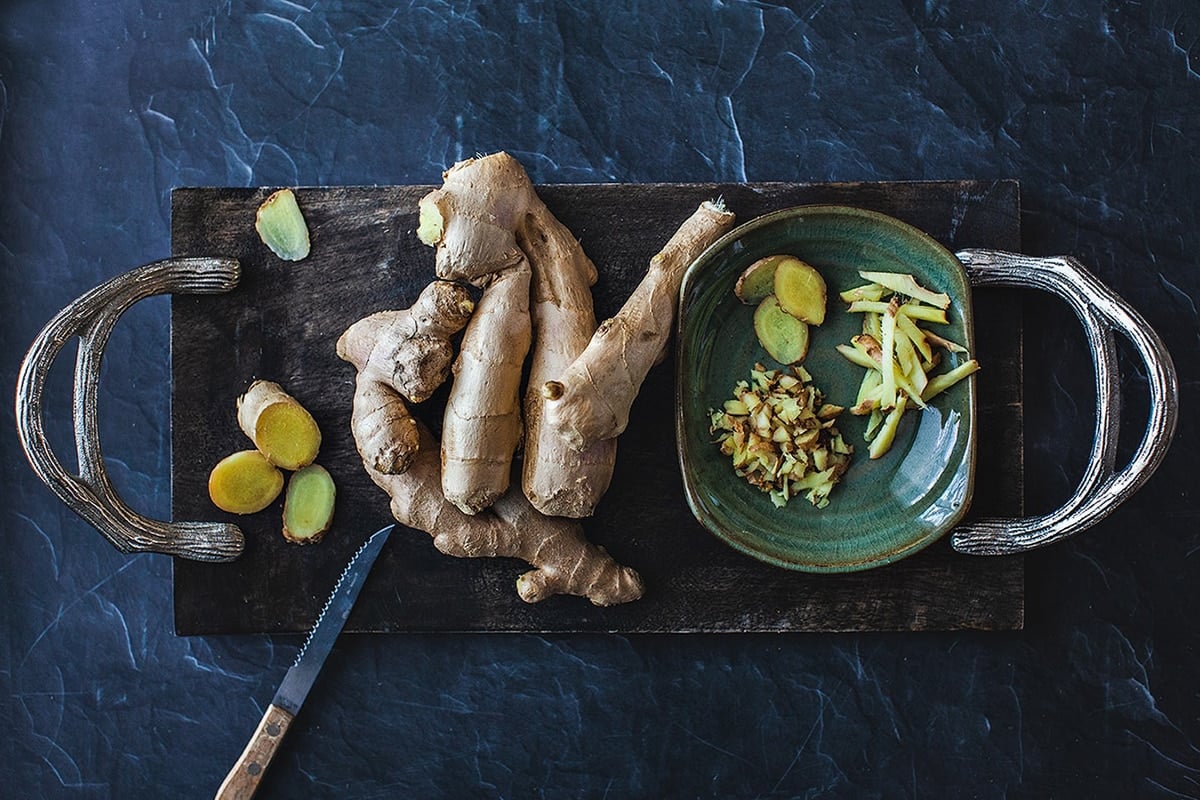 Ginger On the other hand, ginger is readily available in most Western grocery stores, but only the old ginger roots. Young ginger roots are rare, even in Asian markets, but can be found at local farmer's markets during summertime.
If you find young ginger roots, stock up and freeze them. They have pink stripes and a more pronounced aroma. Ginger is used in stir-fried dishes, soups, and making pastes.
9. Turmeric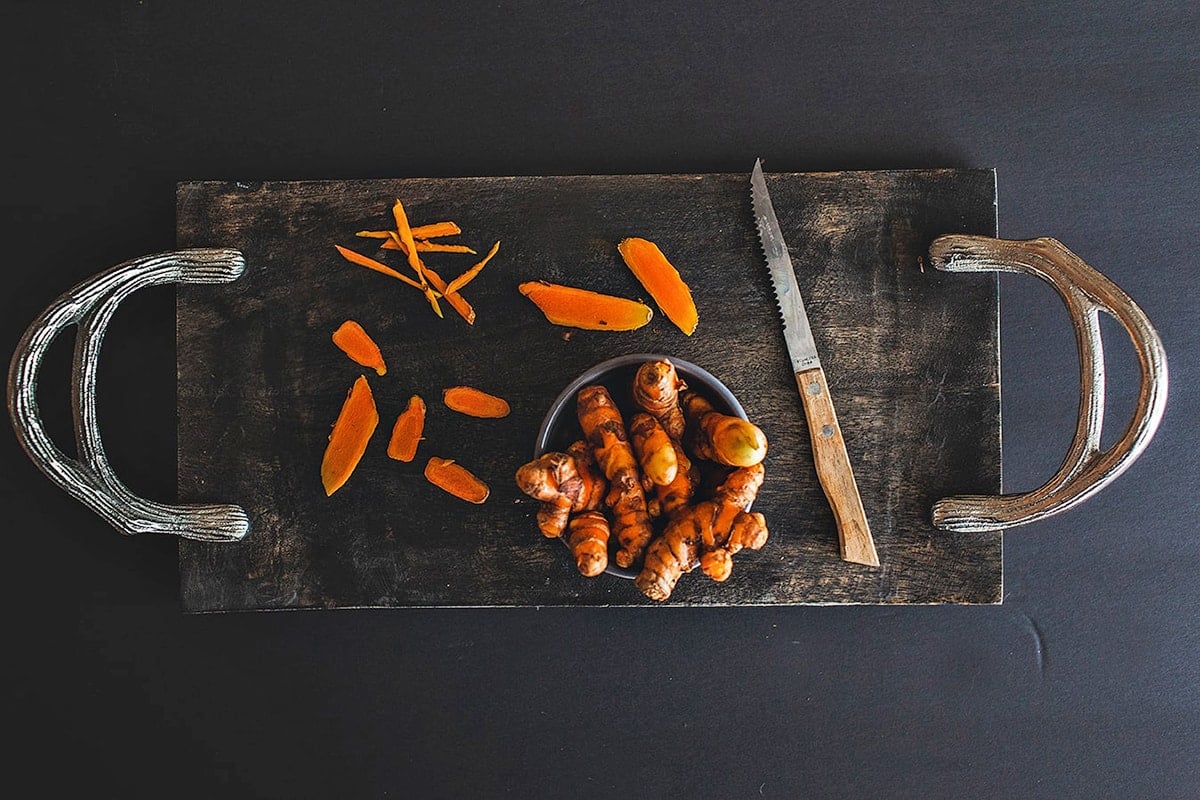 Turmeric, a member of the rhizome family, is closely related to ginger. While the fresh roots can be frozen for extended periods, the spice's powdered form is the most commonly used and readily available in most markets. It's a vivid yellow color, fresh spice, and distinctive aroma make it a main ingredient in bold dishes, including curries, curry pastes, and Western adaptations of Indian cuisines, such as Satay and Massaman curry.
10. Fingerroot or Wild Ginger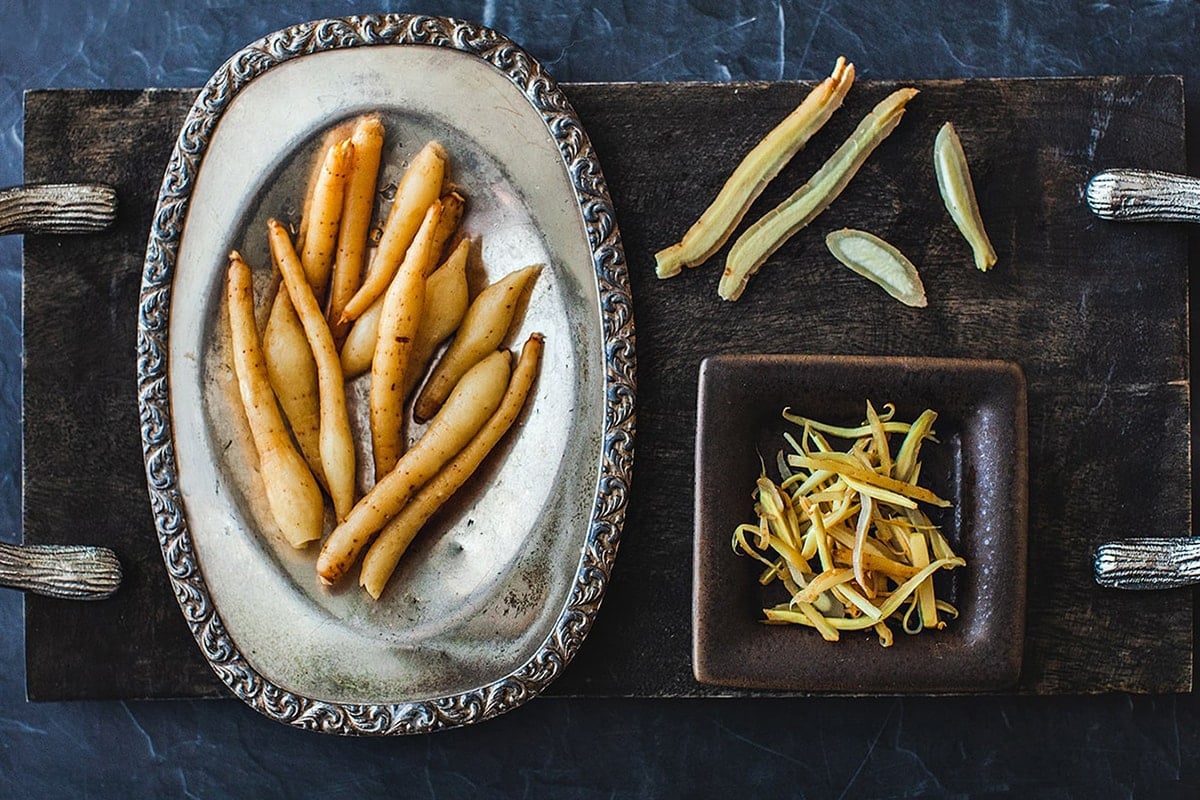 Fingerroot or Wild Ginger, also part of the rhizome family, is notoriously difficult to find fresh. The best alternatives are the frozen section or marinated versions in a brine water-filled glass bottle. Fingerroot is used to season Kanom Jeen Namya, a delicious Thai curry made with fish and coconut cream or milk.
11. Tamarind
Tamarind trees are abundant in tropical areas and bear fruit that grows in pod-like shells. The tamarind fruit can be used in various stages of cooking and eating, from the young and sour green fruits to the ripe ones sold in brown pods or as a block of paste. However, finding the young tamarind fruit can be challenging as they are not commonly sold in Asian markets.
Growing up, I enjoyed these sour and crispy young fruits with sweet, spicy, sour, and salty dipping sauces. On the other hand, ripe tamarind is commonly used in popular dishes like Pad Thai (A key ingredient in making authentic Pad Thai sauce), Papaya salad, and soup dishes.
You can make your own tamarind pulp using hot water with the tamarind blocks. Check out this recipe here on how to make your own tamarind juice.
12. Cumin (seeds and powder)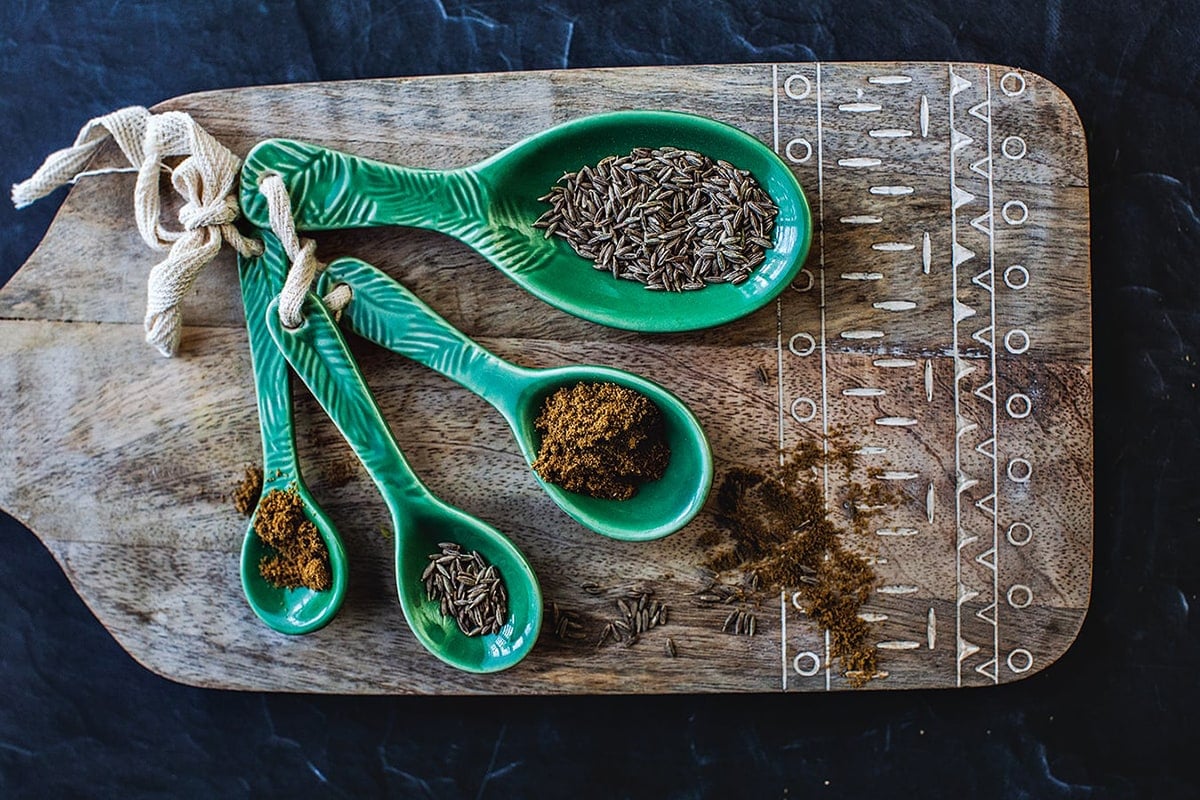 Cumin seeds and powder are commonly used in Thai cuisine, particularly in curry pastes and Southern dishes. The seeds are preferred over the powder as they have a stronger flavor. Dry roasting and grinding the seeds in a mortar and pestle will enhance their earthy fragrance and taste. While cumin powder is more widely available in grocery stores, it is less potent than seeds. These basic Thai spices are easily found in Western markets and can be purchased through the affiliate links provided.
13. Star Anise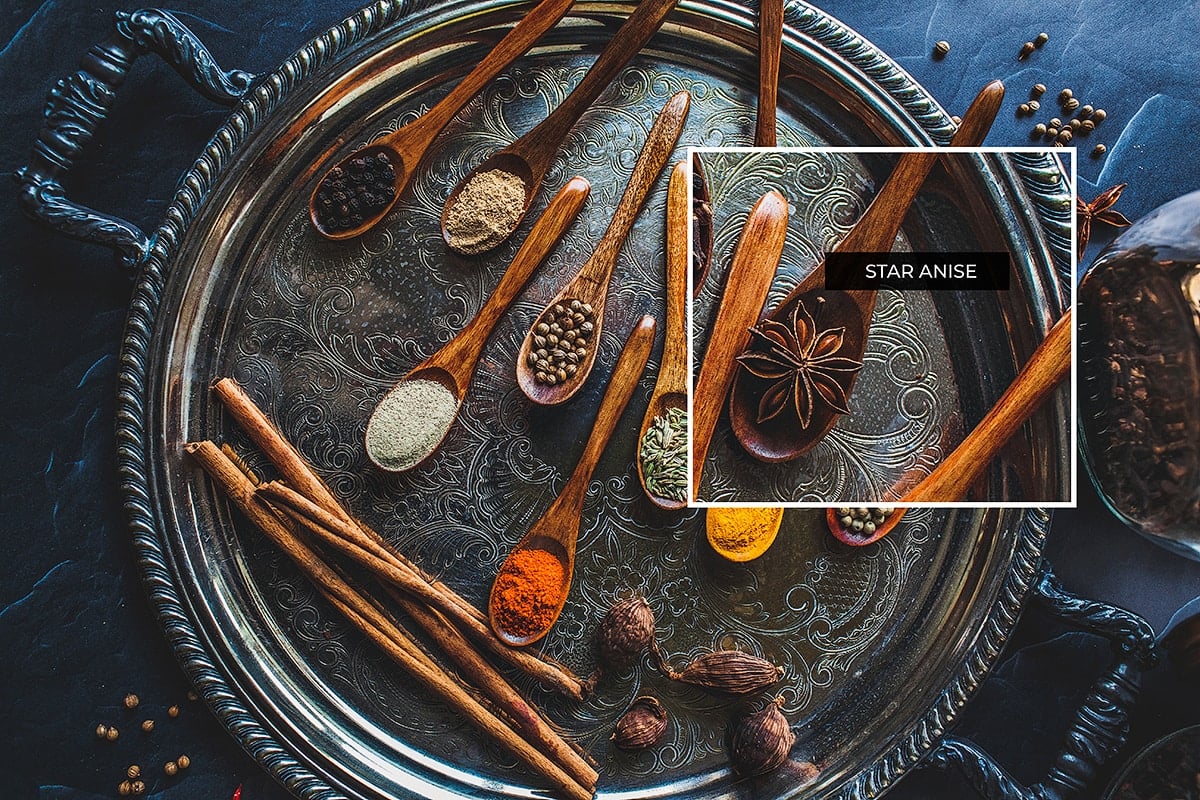 Star anise is known for its unique flavor and ability to add depth to various dishes. It is commonly used in Thai curries, soups, stews, marinades, and rubs for meat dishes. Its unique flavor and aroma make it a fragrant spice in Thai cuisine and will surely add depth and complexity to any dish it uses.
Massaman curry is one of the most well-known Thai dishes featuring star anise. This rich and flavorful curry typically includes star anise and other spices such as cinnamon, cardamom, and cumin, giving it a warm and aromatic flavor.
14. Cardamoms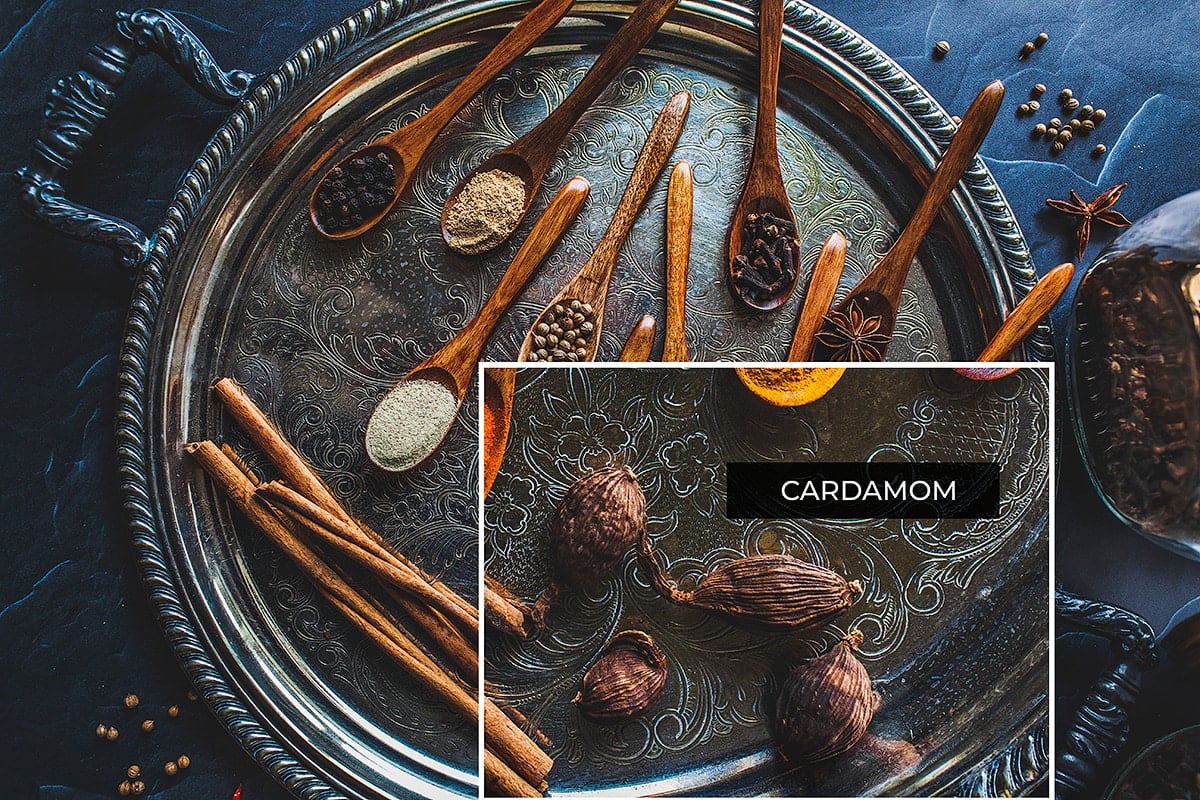 Cardamom is a spice that plays a crucial role in Thai cooking. It is widely used in Thai dishes, including curries, soups, and desserts. The sweet and spicy flavor of cardamom adds a unique taste to Thai cuisine, making it a favorite amongst food lovers.
In Thai cooking, cardamom is used in its whole and ground forms. The whole cardamom pods are often added to stews and curries during cooking, while ground cardamom is used in Thai desserts and baked goods.
Both green and brown cardamoms are available in Thai markets and can be found in specialty spice shops. They can be used whole or ground, but it's best to grind them fresh for maximum flavor. When using cardamom in Thai cooking, remember to use it sparingly, as a little goes a long way.
One of the most popular Thai dishes that use cardamom is Massaman Curry. This rich and flavorful curry is made with cardamom, cinnamon, star anise, and cloves. The cardamom adds a subtle sweetness and a floral aroma to the curry, making it irresistible.
Try these Massaman curries, Chicken massaman curry with sweet potatoes, beef massaman curry, and massaman curry paste.
Another popular Thai dessert that uses cardamom is Khanom Mo Kaeng. This traditional Thai dessert is made with glutinous rice flour, coconut milk, and sugar, flavored with cardamom, and then steamed to perfection. The cardamom adds a subtle spice to the sweet and creamy dessert, making it a perfect finish to any Thai meal.
15. Cloves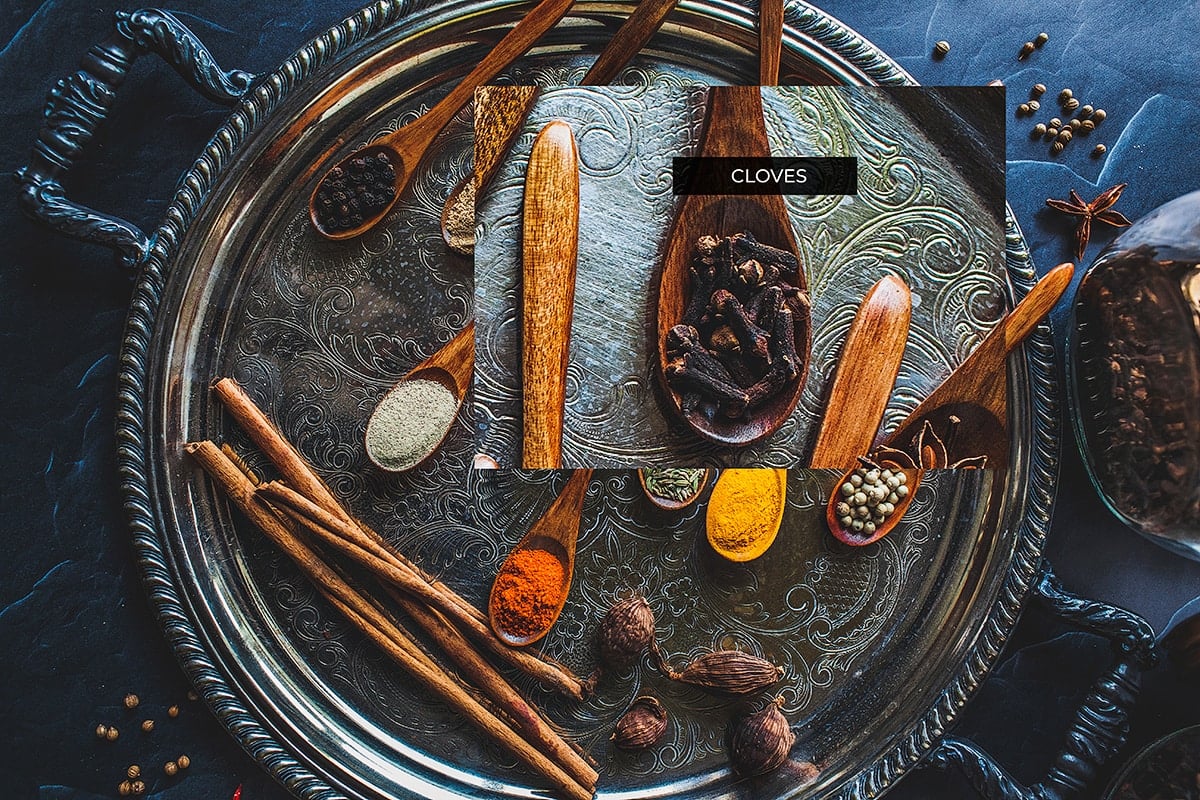 Cloves are an aromatic spice used in Thai cuisine to add a warm, sweet, and slightly bitter flavor to dishes. They are commonly used in curries, stews, and marinades, as well as in desserts and drinks. Cloves are used in Thai massaman curry pastes and curries.
16. Cinnamon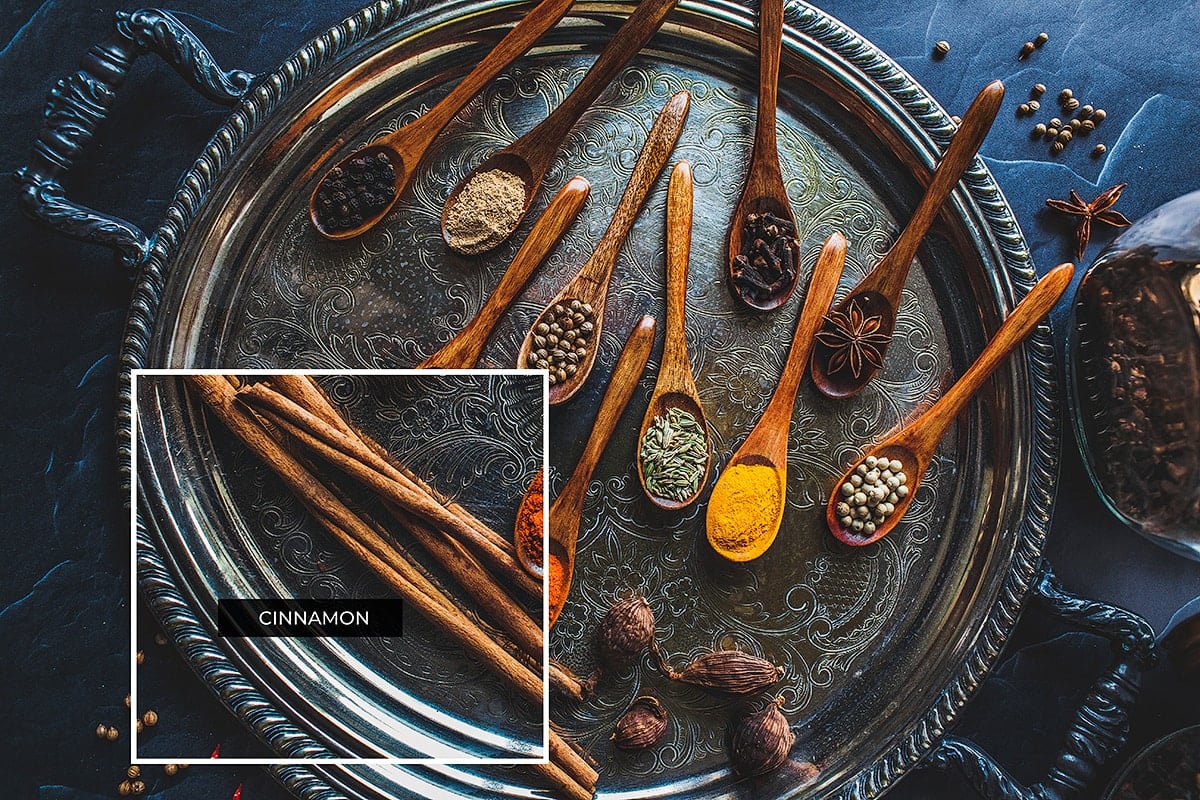 Cinnamon is sometimes used in Thai cooking, particularly sweet and savory dishes. In Thai cuisine, cinnamon is known as "Ob Choey" and is typically used in curries, soups, and desserts. It adds a warm and slightly sweet flavor to dishes and is often paired with other spices like star anise, cardamom, and cloves.
Cinnamon is used in Massaman curry and for making Massaman curry pastes.
Conclusion
Overall, using spices and herbs is integral to Thai cuisine, creating a complex and tantalizing flavor profile that is distinctively Thai. Save this guide for your reading, and I hope you make a lot of great Thai food in your own kitchen!
Helpful Resources about Thai food ingredients
Below are some helpful resources that can help you learn more about essential Thai ingredients. Understanding how these ingredients work together allows you to create flavors that transform your Thai cuisine into something special.
​** Love a recipe you've tried? Please leave a 5-star rating in the recipe card below and/or a review in the comments section further down the page. Or follow me on Facebook, Pinterest, or Instagram! **
More Thai recipes you may enjoy
** Thank you so much for visiting my blog! This is truly a passion for me. If you have enjoyed these recipes and appreciate the hard work I put into them, I would love it if you would share them with your friends! Your recommendation is the highest review I could hope for, and I'd appreciate it! **