Have you ever wondered what the difference was between herbs and spices? Well, herbs are the leafy parts of a plant, while spices are from the seeds, roots and bark of the plant.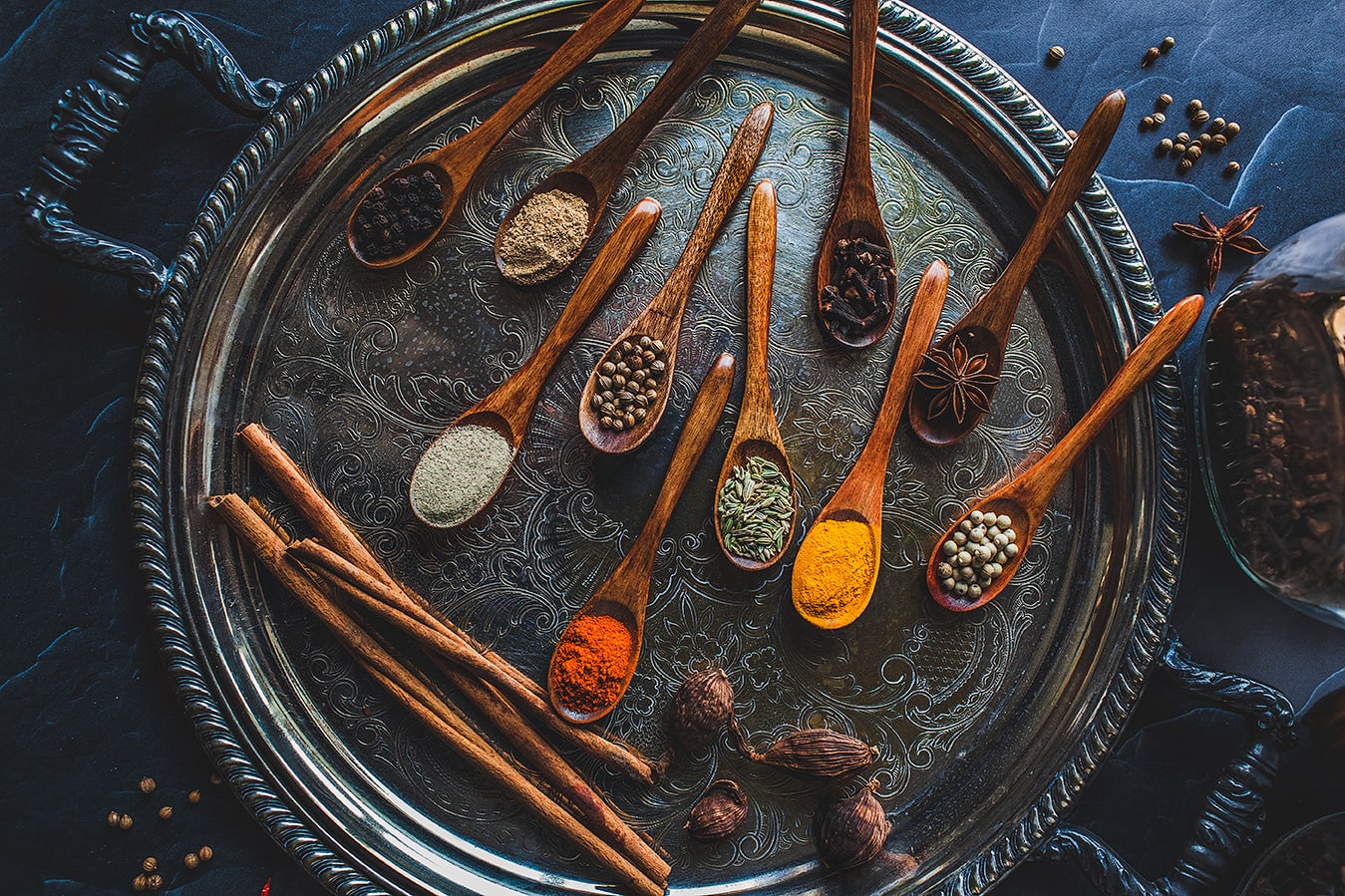 Thailand, being a very a tropical country, is rich with herbs and spices, making Thai cuisine one of the most flavorful foods in the world. Also, fresh spices easily found in Thai kitchens are rarely seen powered or frozen. However, since many of us don't have access to fresh spices all year round, ground or frozen spices are used in many local Thai recipes. There's no shame in doing so, especially since great quality products are now being offered to consumers.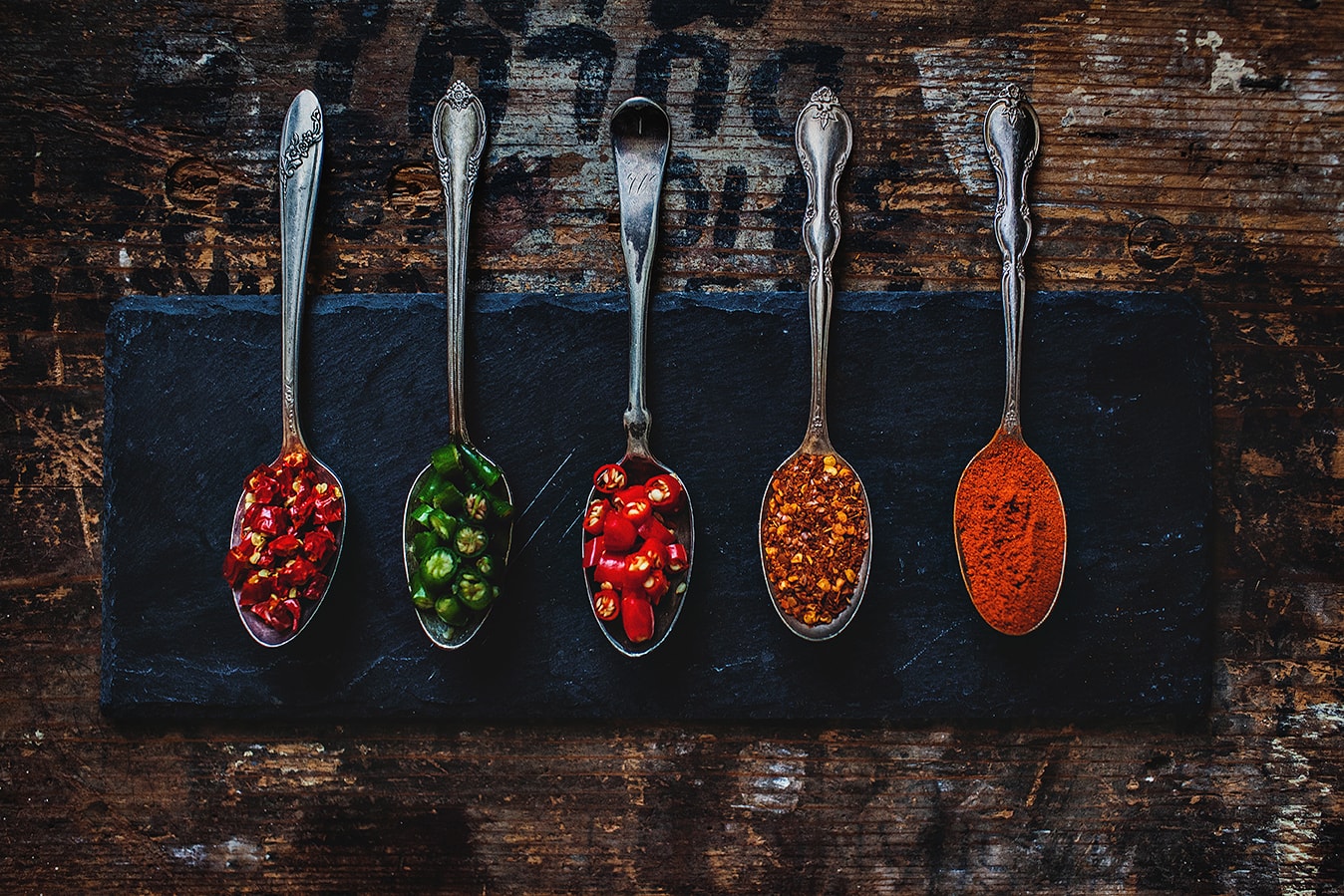 There are a few Thai spices you should have in your pantry if you want to cook Thai food regularly.
Must-Have Thai Spices
Peppers
White Peppercorns
Coriander Seeds & Roots
Garlic
Shallots
Galangal
Ginger
Turmeric & Powder
Finger Roots
Tamarind
Cumin Seeds & Powder
Important Thai Spices
Chili Peppers. Clearly, peppers are a signature spice in Thai cuisine. Thailand is known for their spicy food. The peppers come in many forms. You can use them fresh (most common), dried and/or ground. Every recipe calls for different forms. The most commonly used peppers are Bird's Eye chili peppers and the curly tailed peppers that points skyward known as Prik Chee Fah, (Prik = Pepper, Chee = Pointing, Fah = Sky.) You can find most of these chilies easily in a local Asian store fresh or frozen. They are super spicy, so lean on the conservative side when starting out cooking with these peppers. The beauty of Thai cuisine is that spiciness level can be adjusted according to your taste buds. Dried red chilies are also a must. You can usually find these on a spice shelf, mostly in a large plastic bag in an Asian grocery store.
White Peppercorns. Thai white peppercorns are different than the black peppercorns most Westerners are used to. They have a very distinctly sweet and peppery smell that is great for seasoning and garnishing many dishes. The flavor is also very different. The white peppercorn has a spicier taste than the black peppercorns. You can find them ground or whole. I prefer whole as I can toast them first before grinding to powder form, creating an even more aromatic and fresh taste.(Pictures above and below: White peppercorn powder and seeds.)
Coriander Seeds and Roots. You can easily find coriander powder in most American grocery stores. Coriander seeds, however, are more difficult to find. I order mine online or buy them from the Asian Market. They keep for a long while in a tightly sealed container or plastic bag. Coriander powder is used to spice up many curry pastes, marinate meat/vegetables and used in stock for flavoring and garnishing many dishes. Looking Coriander roots in the US. is almost like looking for unicorn! (: The roots are where all the flavors come from and many recipes call for this but the only substitutes are the stems of the coriander. More About coriander roots in the next blog post about herbs used in Thai cooking. Stay tuned! (Pictured above and below: Coriander seeds and powder.)
Garlic. I always have garlic on hand for my cooking. Dried whole garlic with the peels still on. I sometimes use pre-peeled garlic. However, I find the flavors are a bit subdued and have had to use extra to compensate for the lack of flavor. My favorite, of course, is growing my own, but it's not always possible. When I do, I love using the leafy parts for stir-frying.
Shallots. If you can't find shallots, the best substitutes are small red onions or purple onions. They are of the same family but shallots has a stronger flavor than typical onions.Shallots can be found easily in most Western grocery stores. (Pictured above and below: In Thailand shallots are much smaller in size than the ones found in Asian markets in the US. You can use either or depending on what's available to you. You can see the differences in sizes in both pictures.)
Galangal. Galangal is one of those rare ingredients that can be hard to find fresh, especially in the winter months. If a recipe is asking for galangal, there is no substitute for this spice. I've seen ginger being used as a substitute and it's not the same. Though they are from the same family of rhizome, the taste, smell and texture are completely different. If fresh galangal aren't available, use frozen ones instead. Powder version is not recommended.
Ginger. Ginger is easily found in most Western Grocery stores. The old ginger roots, that is. The young ginger roots are nearly impossible to find, even in Asian markets. However, I've found some at my local farmer's market in the summertime. Stock up and freeze them if you can find the young ginger roots. They have the pinkish stripes with a much more distinct fragrance. Better yet, plant them in a plant pot and you will have the most beautiful, fragrant leafy plant. (Ginger, pictured above)
Turmeric. Turmeric is from a rhizome family related to ginger. The roots of the plants are used fresh and can be frozen for a long period of time. However, the powered spice is most popular and can be found in most markets. It's distinct smell and bright yellow color makes it a popular dish in stronger dishes like curries, curry pastes and many Indian inspired dishes like Satay and Massaman curry in the West.
Fingerroot or Wild Ginger. Fingerroot/Wild Ginger, called Kra Chai in Thai, are also from the rhizome family and are extremely hard to find fresh. You can get them in the freezer section or second best option is to get them marinated in a brine water in a glass bottle. If you ever find these fresh, make sure to replant them in a plant pot and freeze what you don't use.
Tamarind. Tamarind is a type of fruit tree grown in tropical climates. The tamarind trees produce tamarind fruit that grows in

a

pod-like shells holding tamarind meat inside. The fruit can be used at all stages in cooking and eating. In the U.S. tamarind are mostly sold as ripe fruit in brown pods or in a block of paste that you can squeeze out the tamarind juice for cooking. The very young and pewtered green fruits are difficult to find. I grew up eating the extremely sour and crispy young tamarind with sweet, spicy, sour and salty dipping sauces. These are rare to find in Asian Markets. The ripe tamarind is used in cooking in dishes such as Pad Thai, Som Tum Isaan, and many soup dishes. To make your own tamarind paste, please CHECK OUT THIS POST.
Cumin Seeds. Cumin seeds are used often in curry pastes and many Southern dishes in Thailand. Seeds are preferred to the powder since they are more potent in flavor. Dry roasting the seeds then grinding them up in a mortar and pestle will bring out the earthly fragrance and flavors. Cumin powder is more widely known and offered in most grocery stores.And there you have it, a good start for some of the most basics of Thai spices you'll want to know to use for cooking Thai food. Most of these spices are not hard to find in a typical Western markets. I'm including links to some of these spices for you so that you can easily purchase them and store them in your pantry for months to come. Please know that these recommended items include affiliate links. If you choose to purchase these items, I will receive a small commission to help with the upkeep of my blog. You will not pay extra when purchasing these items.