Thai Pork skewers recipe, a popular grilled pork on a stick. A Thai street food with herb, spices, sauces and coconut milk that has a sweet and salty flavor that is a summer favorite summer grilled food.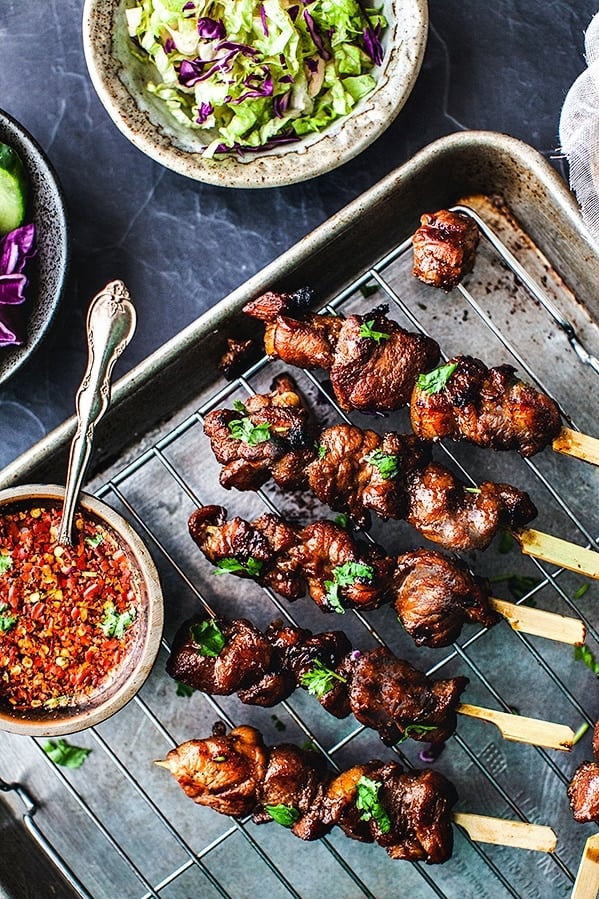 Thai Grilled Pork, or Moo Ping, is one of my all times favorite recipes for Thai street food (Moo = pork, Ping = grill). This is a great recipe to try out this summer. It's perfect for graduation parties, summer BBQ's, birthday's, dinner with friends, etc.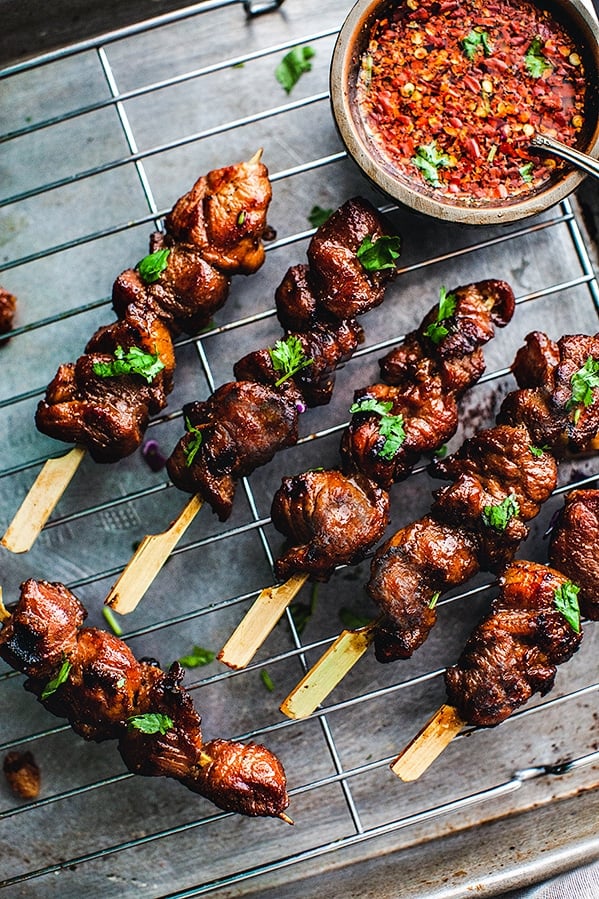 I became slightly obsessed with Moo Ping (Thai Grilled Pork) when I lived in Thailand for a year for my study abroad program. During the last semester, I taught English and almost every morning my breakfast was freshly grilled Moo Ping with freshly made sticky rice. All for 10 Baht (25 cents) per stick. I would eat my breakfast standing right where I handed my Thai baht over to my favorite Moo Ping vendor.
I'm sure it was an interesting sight for him to see. There I was chewing passionately on the perfectly seasoned pork meat on a stick while shoving warm sticky rice into my mouth as fast as I could. I'd try to get every bit of the thin meat from the tiny grilling sticks. My fingers and mouth were smeared with the caramelized sweet dark soy sauce. There I was, shamelessly standing and eating my food, wondering how I could live on this delicious combination breakfast duo for the rest of my life. The vendor, who knew me as a regular for those few months, would always offer me his son to marry if I was ever truly serious about dining on his breakfast for the rest of my life. His shy son and I would comically glance and smirk at each other while awkwardly laughing. But apparently, it was not awkward enough for me, as I kept going back for my daily breakfast routine.
Then, after my tasty breakfast, I would hop on a motorcycle taxi to get to my school to teach on a fully satisfied belly and happy taste buds. For months, Moo Ping was my breakfast staple.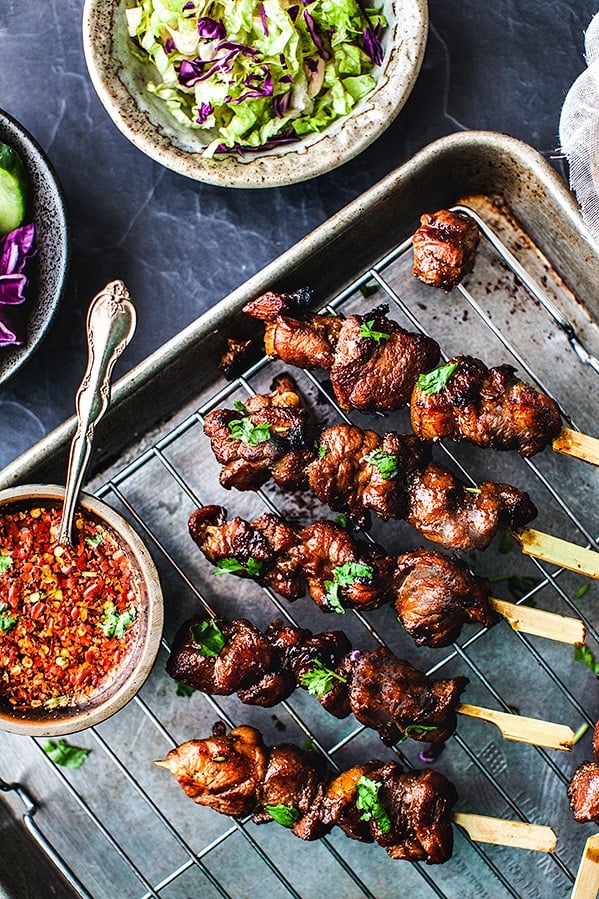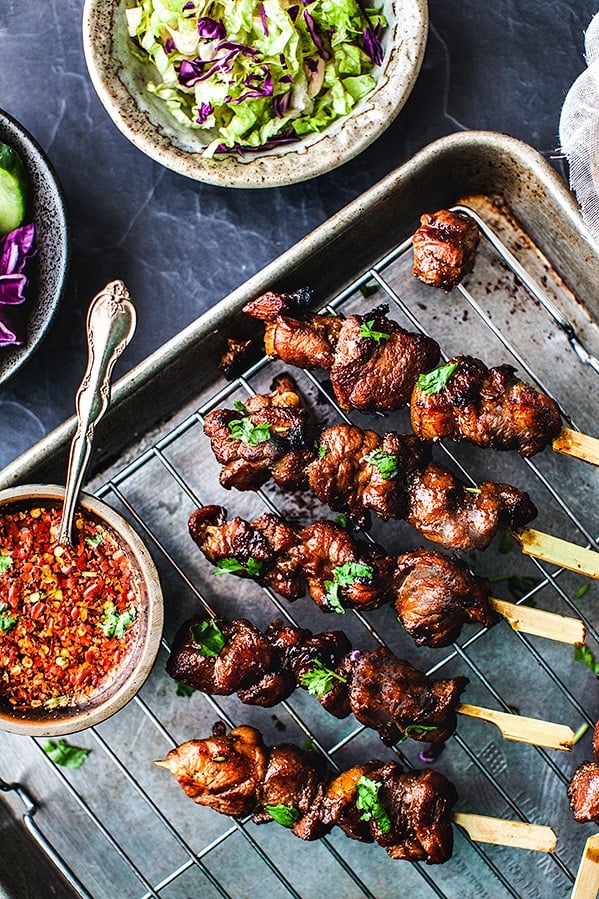 I left Thailand, graduated, got married, and cook mostly Thai food. Moo Ping was always on my mind and, finally, I learned how to make it. Today, I want to share my delicious Thai Grilled Pork recipe with you. I hope you try this incredible recipe. Who knows, this recipe might lead to a marriage proposal of your own! Though I cannot guarantee that 100%. As for the proposal? The situation worked itself out seamlessly. I was able to continue my breakfast habit without the awkward laughs. One day I overheard my Moo Ping vendor propose to another customer, for his son, who still rolled his eyes and laughed awkwardly at his father's relentless proposal attempts. (:
Let's grab our ingredients and get going with this deliciousness, shall we? The ingredient list may seem exhaustive, but once you have these in your pantry, you can use them for other dishes, as well. Or just use them for this Thai Grilled Pork recipe over and over again. I sure am this summer! ALSO, be sure to check out the bottom of this post for a few of the ingredients listed. You can purchase those items online and have them delivered right to your front door.
How to make Thai grilled pork, Moo Ping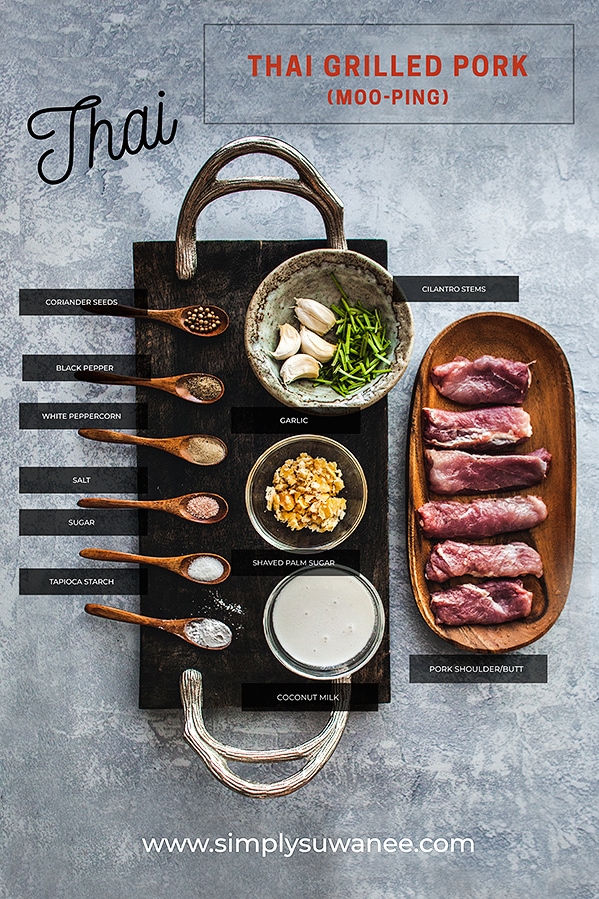 Here are the steps to making Thai grilled pork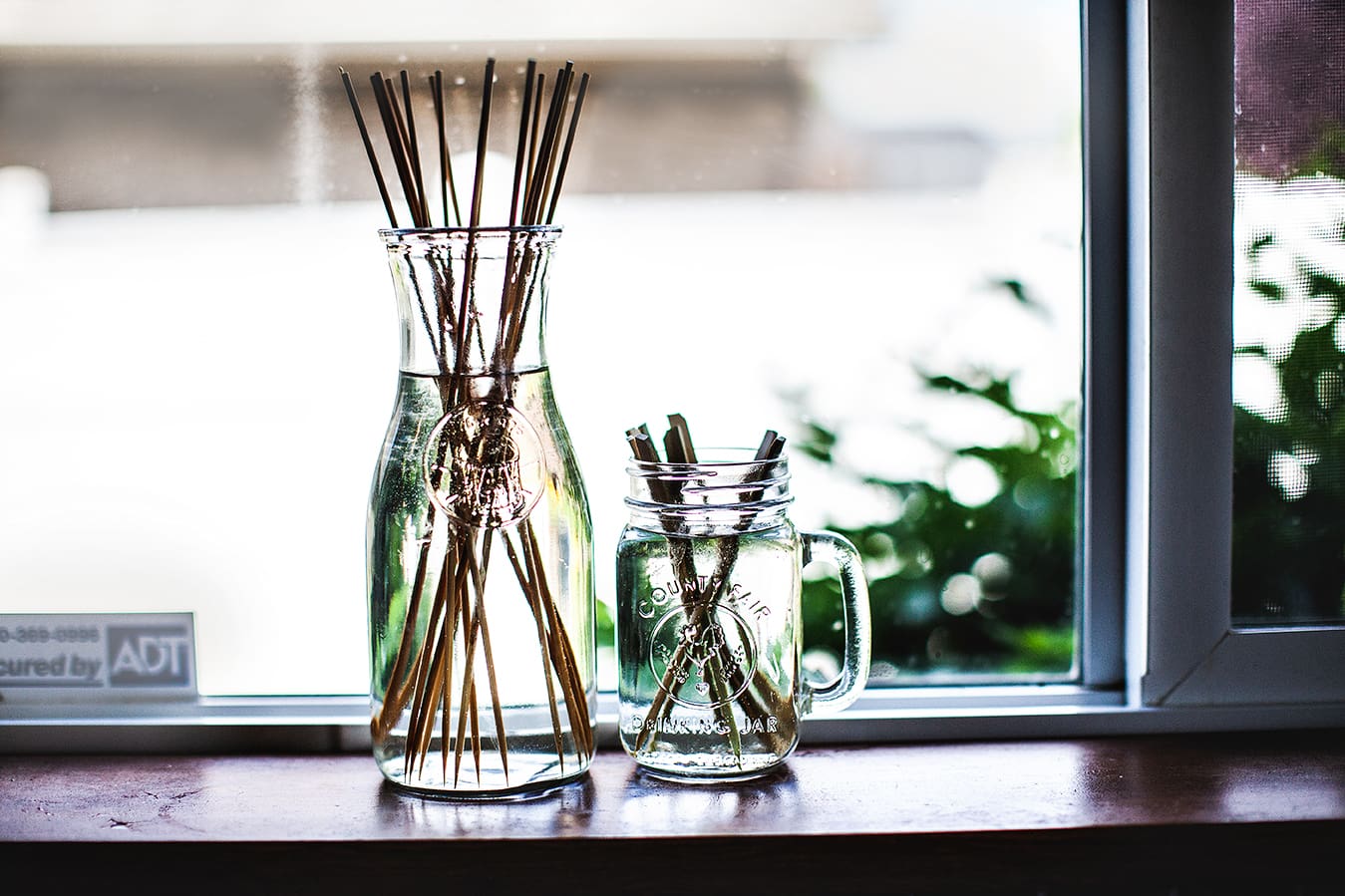 Always soak the skewers in water first for a few hours so you don't lose them to the grill. (: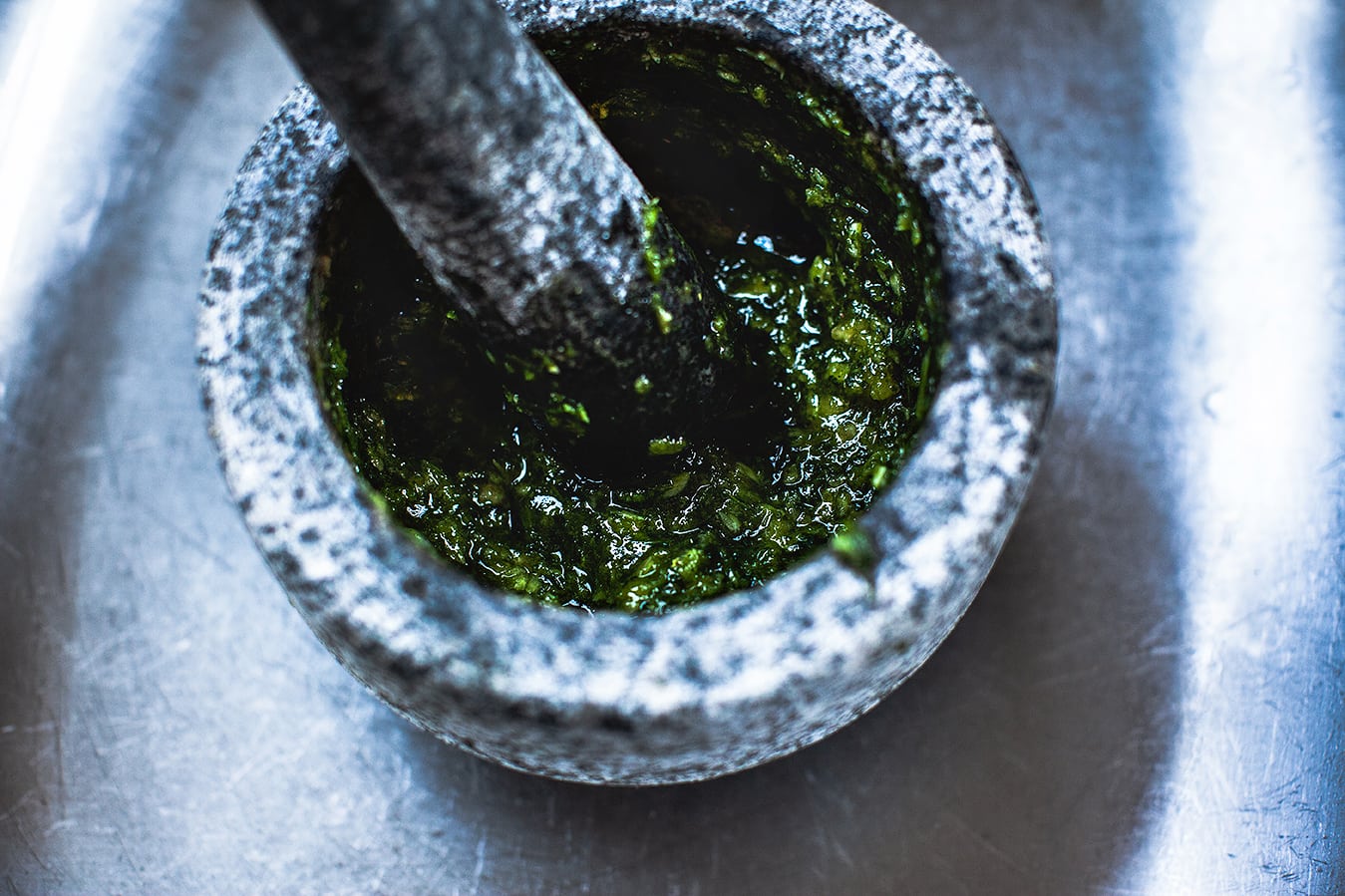 Pound the garlic, palm sugar, cilantro stems and the coriander seeds together in a mortar and pestle until the ingredients turn into a paste-like mixture. You can use the food processor, too.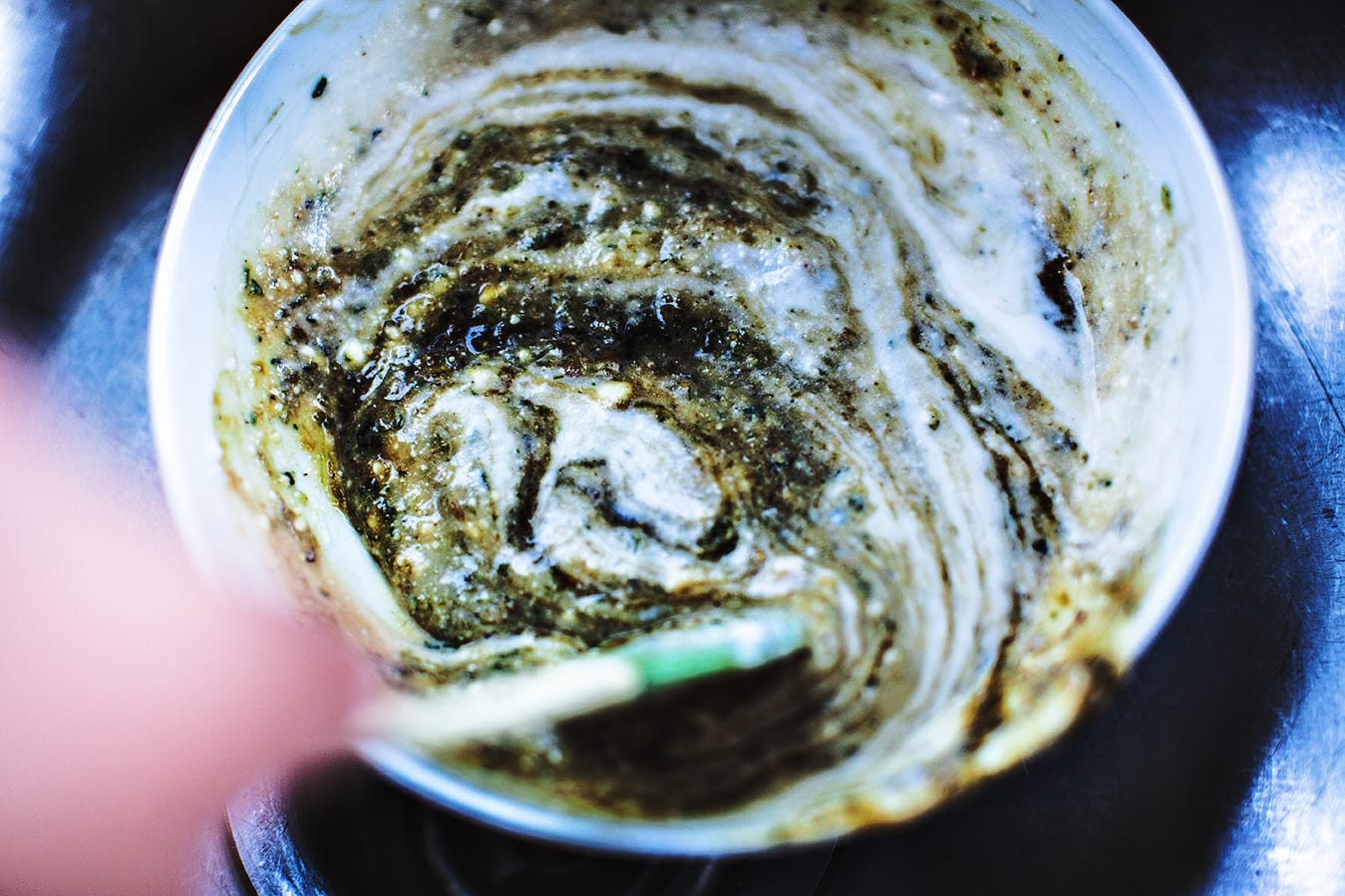 Pictured above: Adding coconut milk to the mixture.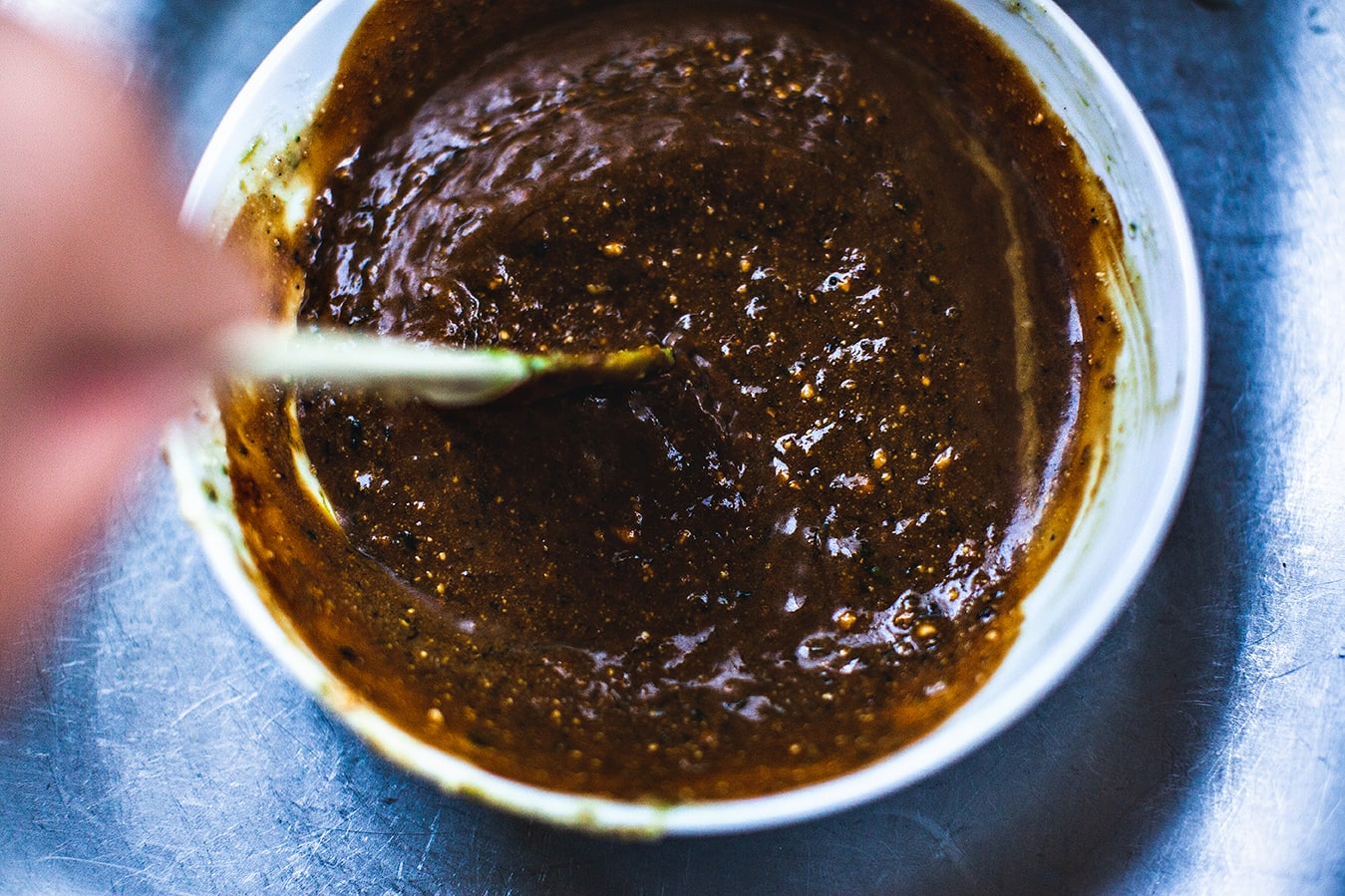 How the marinade mixture will look after adding all the sauces to the bowl.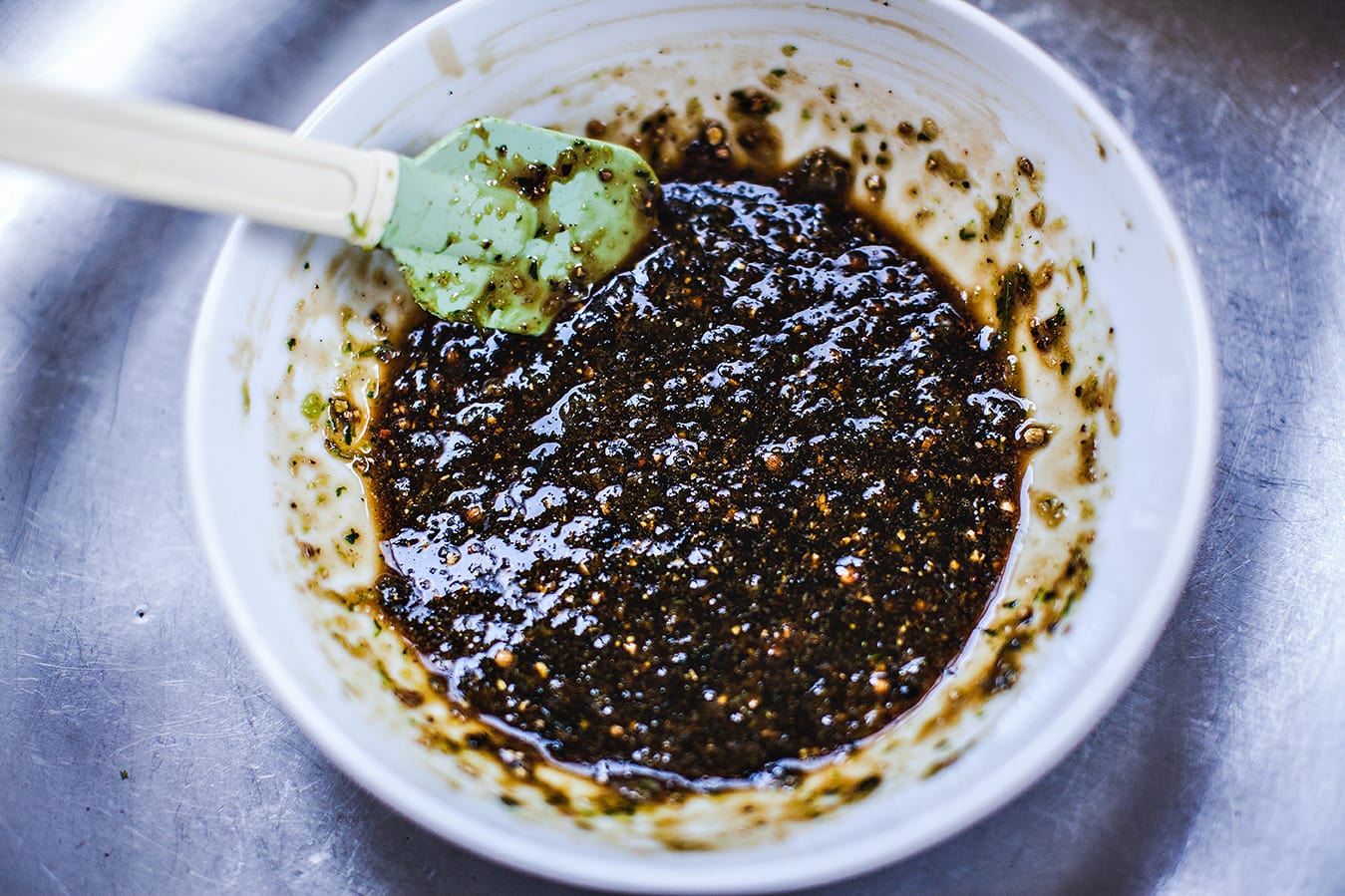 Taste the mixture and adjust to your taste. After doing so, pour the entire sauce into a ziplock bag with the sliced pork meat. Marinate the meat for 4-5 hours in the refrigerator in a ziplock bag. Remove the meat from the refrigerator and thread the skewers through the marinated meat, making sure to slightly bunch up the meat to help hold in the flavors while grilling.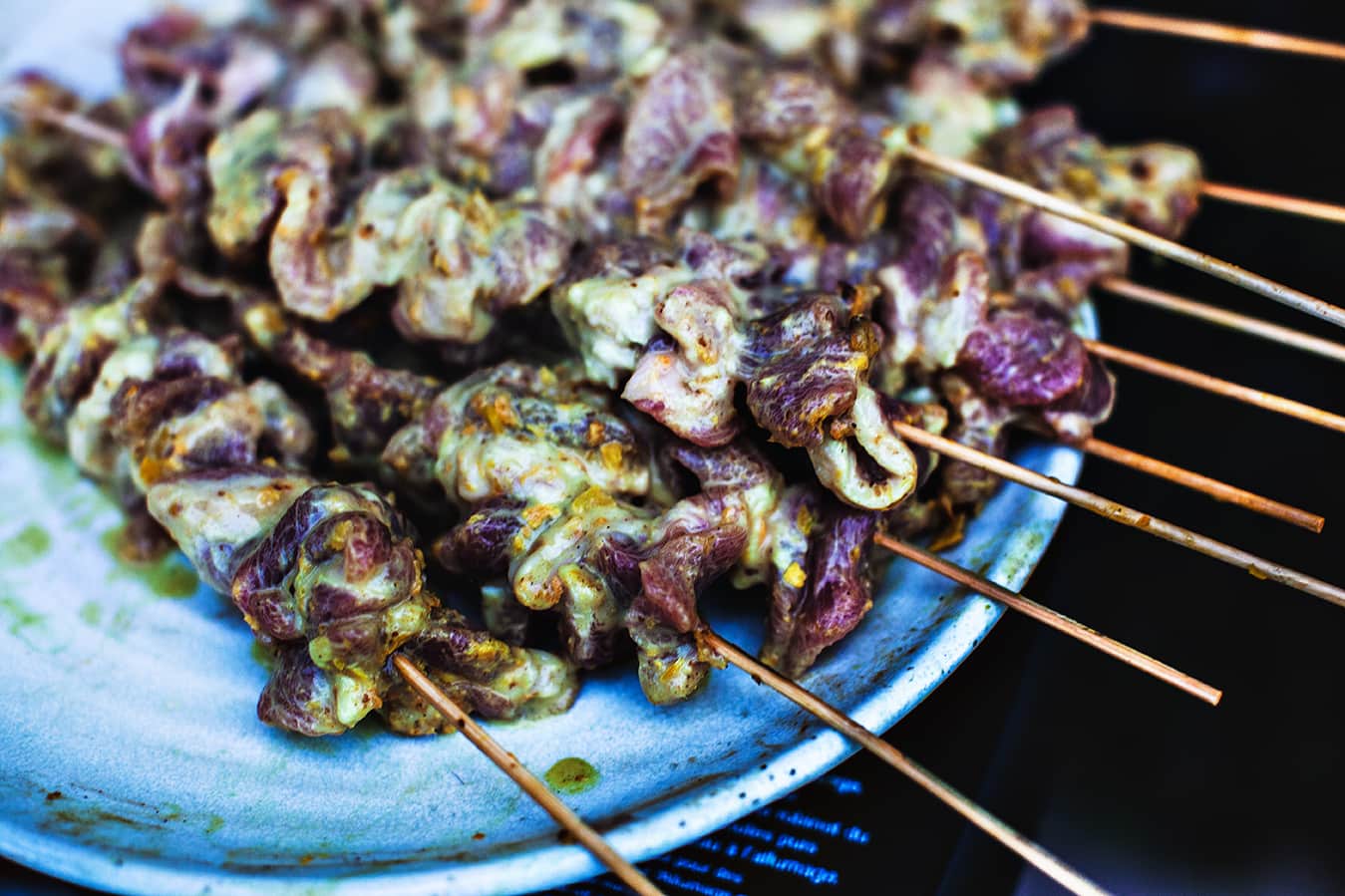 Turn the grill to medium heat when ready and place the meat on the grill. I left my cover open the entire time to make sure the meat doesn't burn.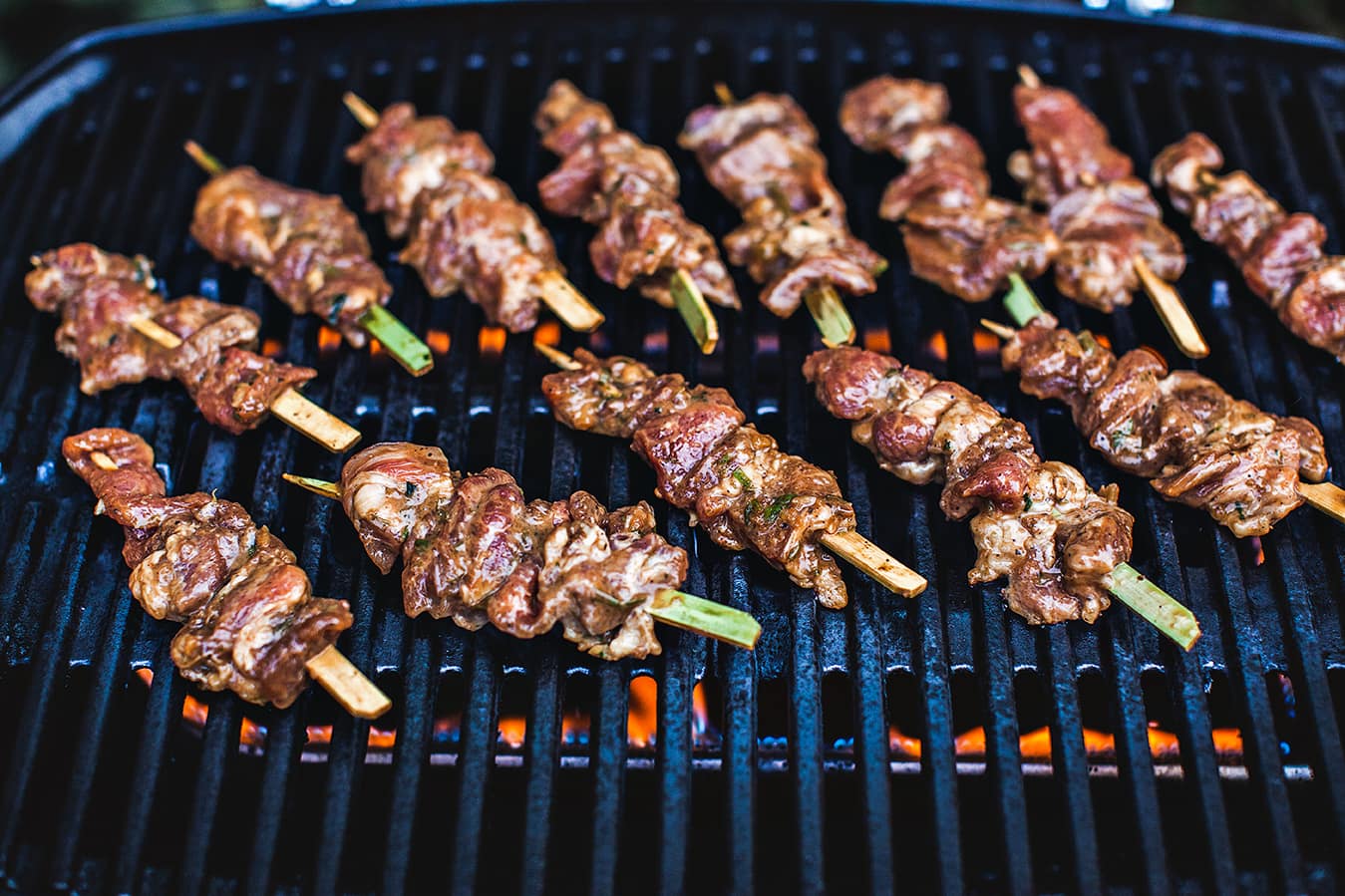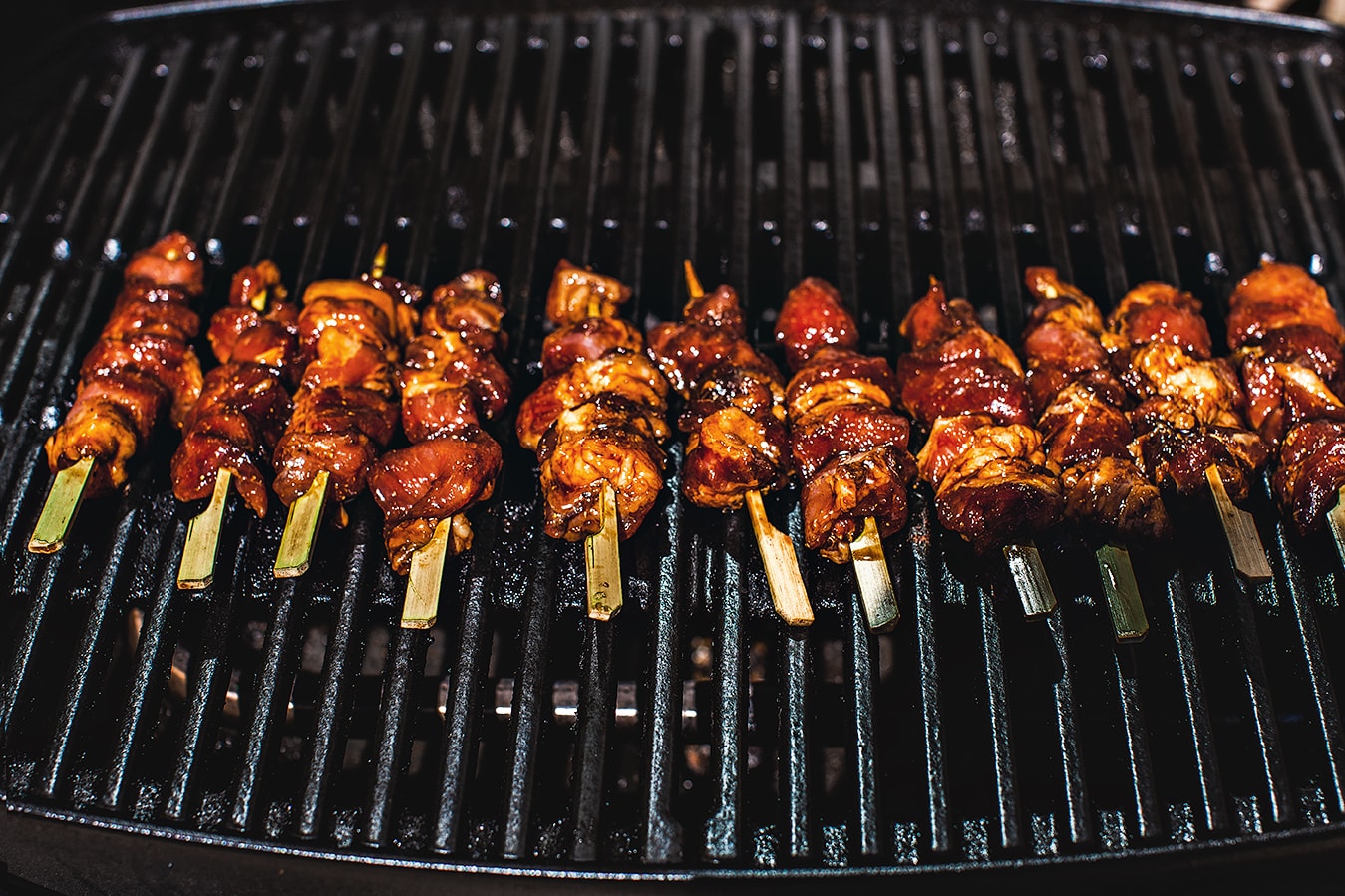 Cook the meat on the grill on medium heat for 3-4 minutes on each of the 4 sides.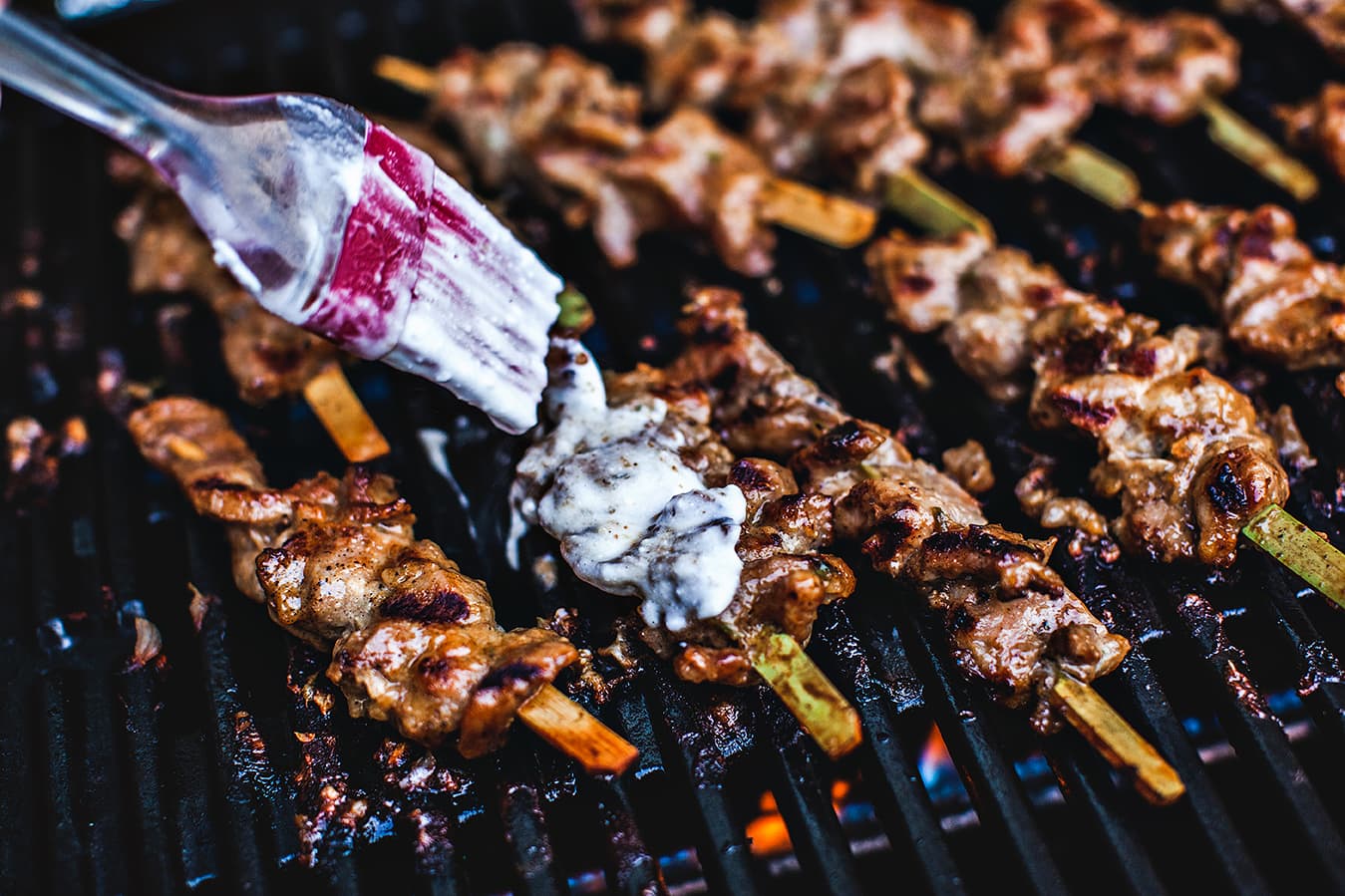 Use a cooking brush to brush the coconut milk on each side after flipping the meat. Repeat a couple of times if the meat looks dry.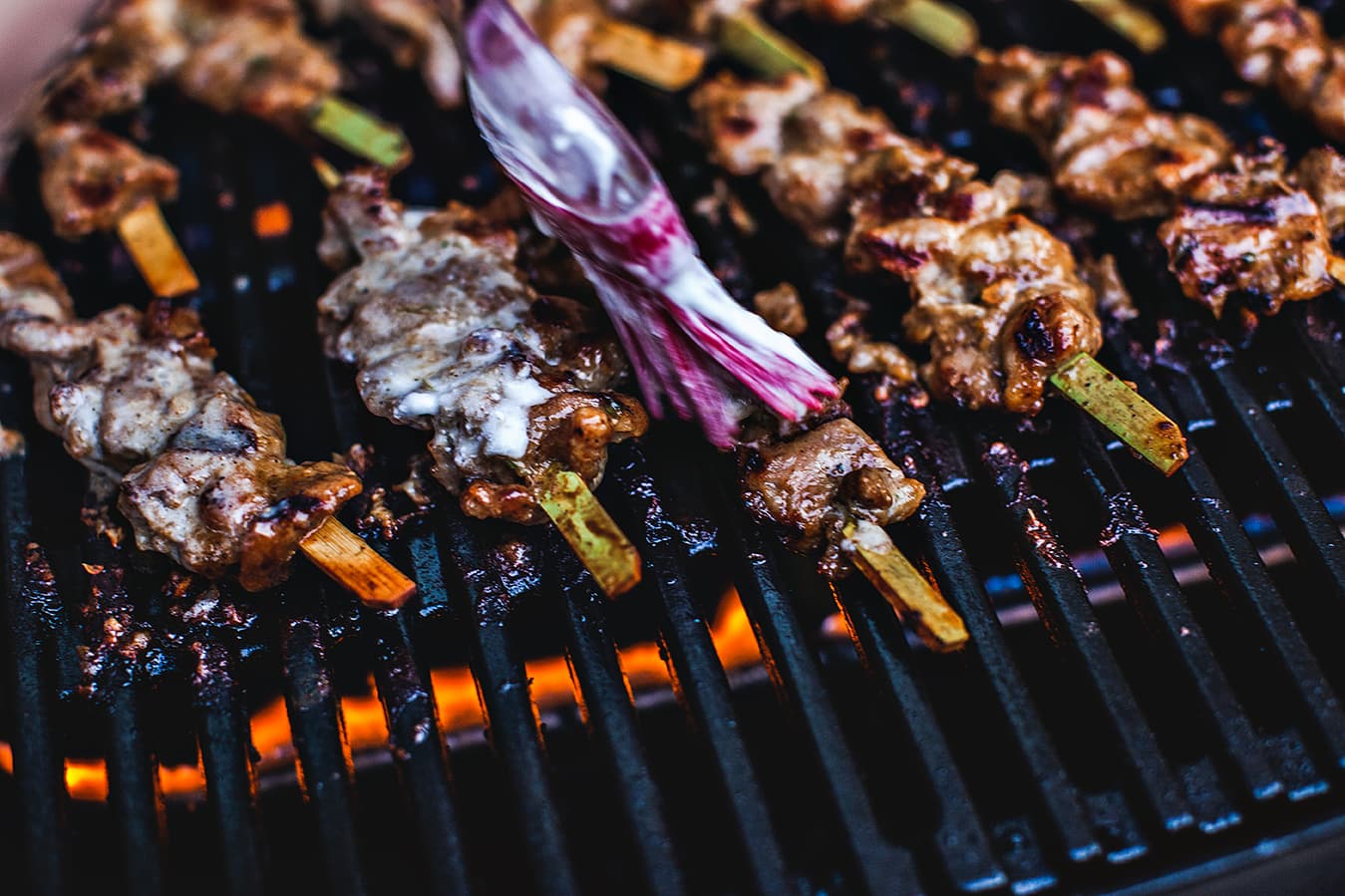 Adjust the heat if necessary, especially towards the end of the grilling as the meat will cook and char easily.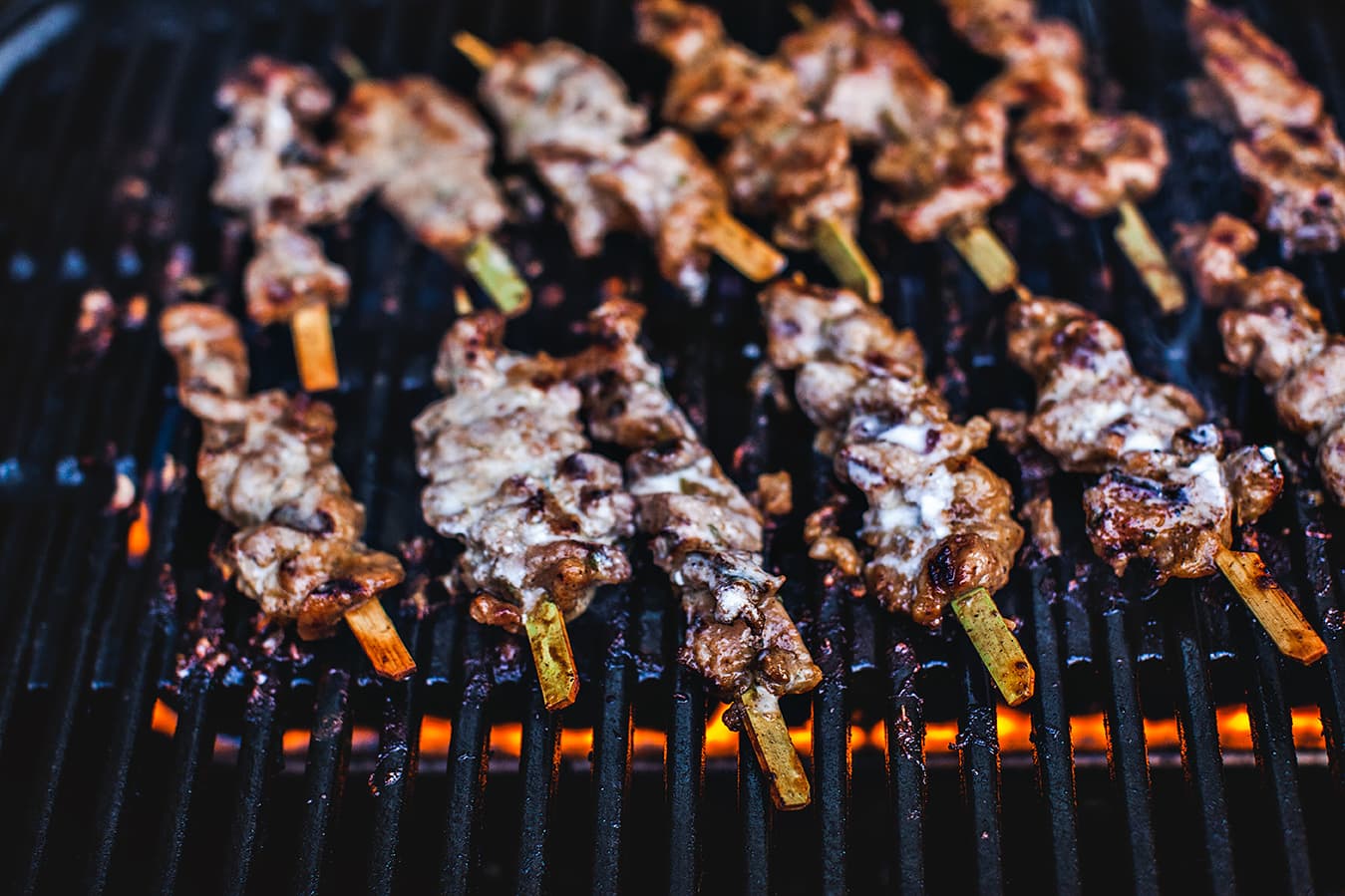 Trim off the blacked pieces if you get some of those. Use tongs to pick up the pieces and serve on a plate. The meat is tastiest served warm. Enjoy it as appetizer or a full meal alongside freshly made sticky rice. You can find the recipe for the sticky rice HERE.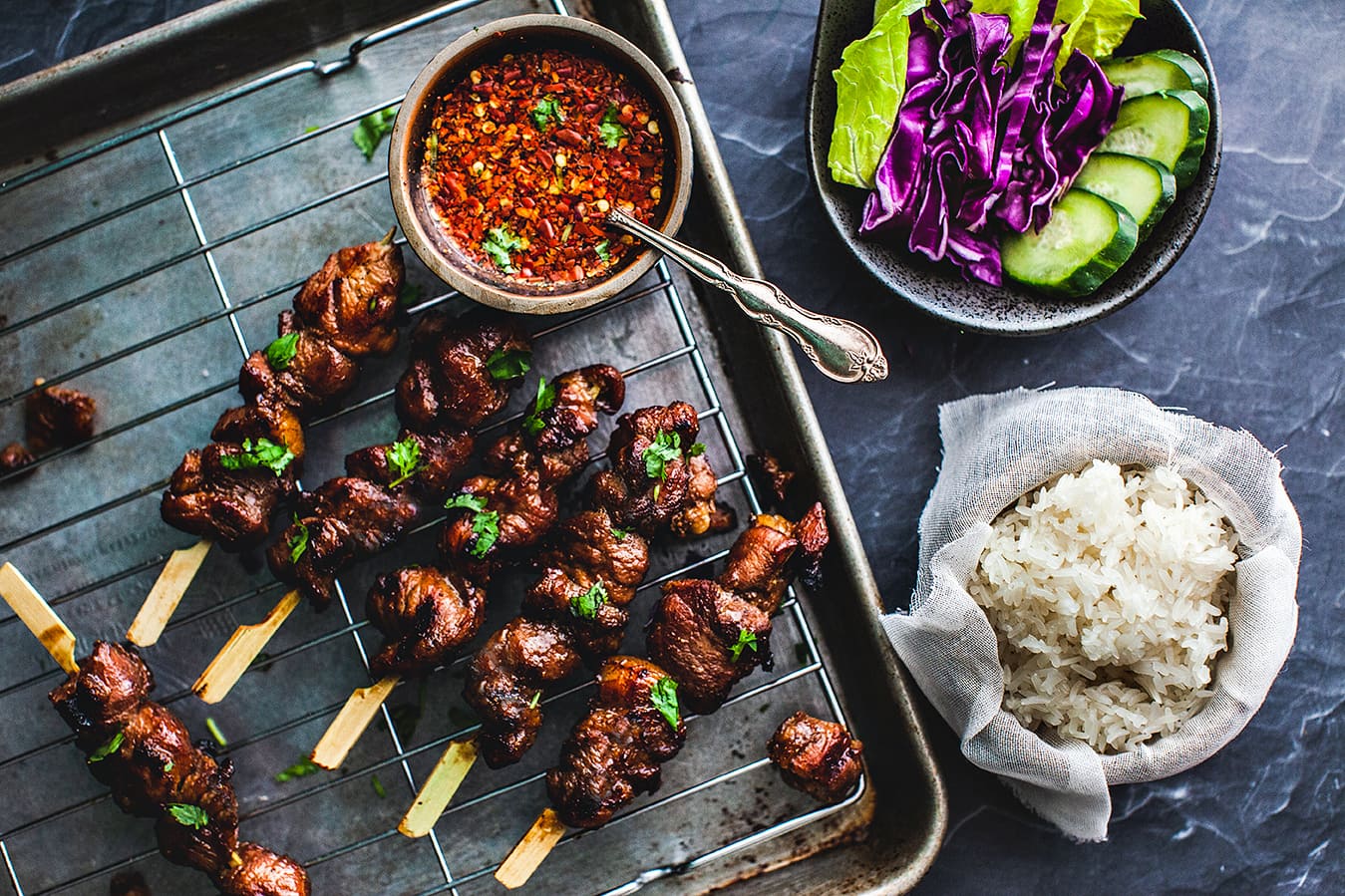 Print
Thai Grilled Pork (Moo Ping)
---
Author:

Suwanee

Total Time:

45 minutes

Yield:

3

-4

1

x
Description
A delicious grilled meat on a stick full of flavor and spices, a perfect recipe for your summer BBQ's.
---
---
Instructions
Grind the garlic, cilantro stems, palm sugar and coriander seeds in a mortar and pestle until mixture turns into paste.
Put the mixture from mortar and pestle into a bowl and add all the spices and sauces together.
Add the coconut milk and tapioca starch and stir well.
Taste the marinading sauce and adjust the sweetness and saltiness accordingly. Set aside for a minute.
Add the sliced pork into a ziplock bag and add the oil. Massage pork in the oil then add marinading mixture.
Seal the ziplock bag and massage in the sauce until the meat is evenly covered. Put the bag on a flat platter and refrigerate for 4-5 hours.
After marinating, place all the meat on the skewers and place the coconut milk, oil, and a cooking brush next to the grill.
Start the grill, I used a gas grill. Turn the heat to medium and once the grill is hot, place the pork skewers onto the grill.
Brush each side of meat with the coconut milk and cook for 3-4 minutes each side 2-3 times or until meat looks fully cooked.
Flip the meat and repeat step 10 until the meat is completely cooked through.
Some parts of pork might be slightly burnt, just trim off the burnt part and enjoy a taste of heavenly explosion in your mouth. (: Serve with fresh sticky rice and a side of vegetables, if desired.
Prep Time:

25

Cook Time:

20

Category:

Appetizer

Method:

Grilling

Cuisine:

Thai
Keywords: Thai Grilled Pork. Moo Ping. Thai Moo Ping Recipe. Thai street food.