This easy chicken Satay recipe is a great summer appetizer to whip up together for a quick and delicious meal. The fragrant spices combined with creamy coconut milk and sweetened condensed milk bring all the exotic flavors making this Thai chicken satay recipe extra delicious! It can also be eaten as a meal too, just add some cucumber, lettuce, toast, or rice and you are set!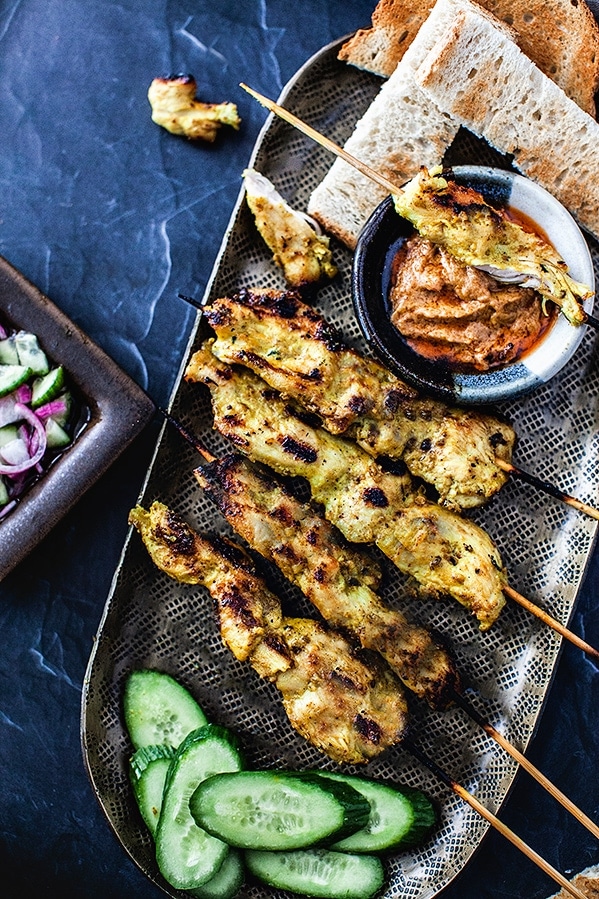 Just like all recipes out there, there are many ways to make one dish. Satay is one of them. I've developed a quick and easy recipe that had helped me to make satay more often than not.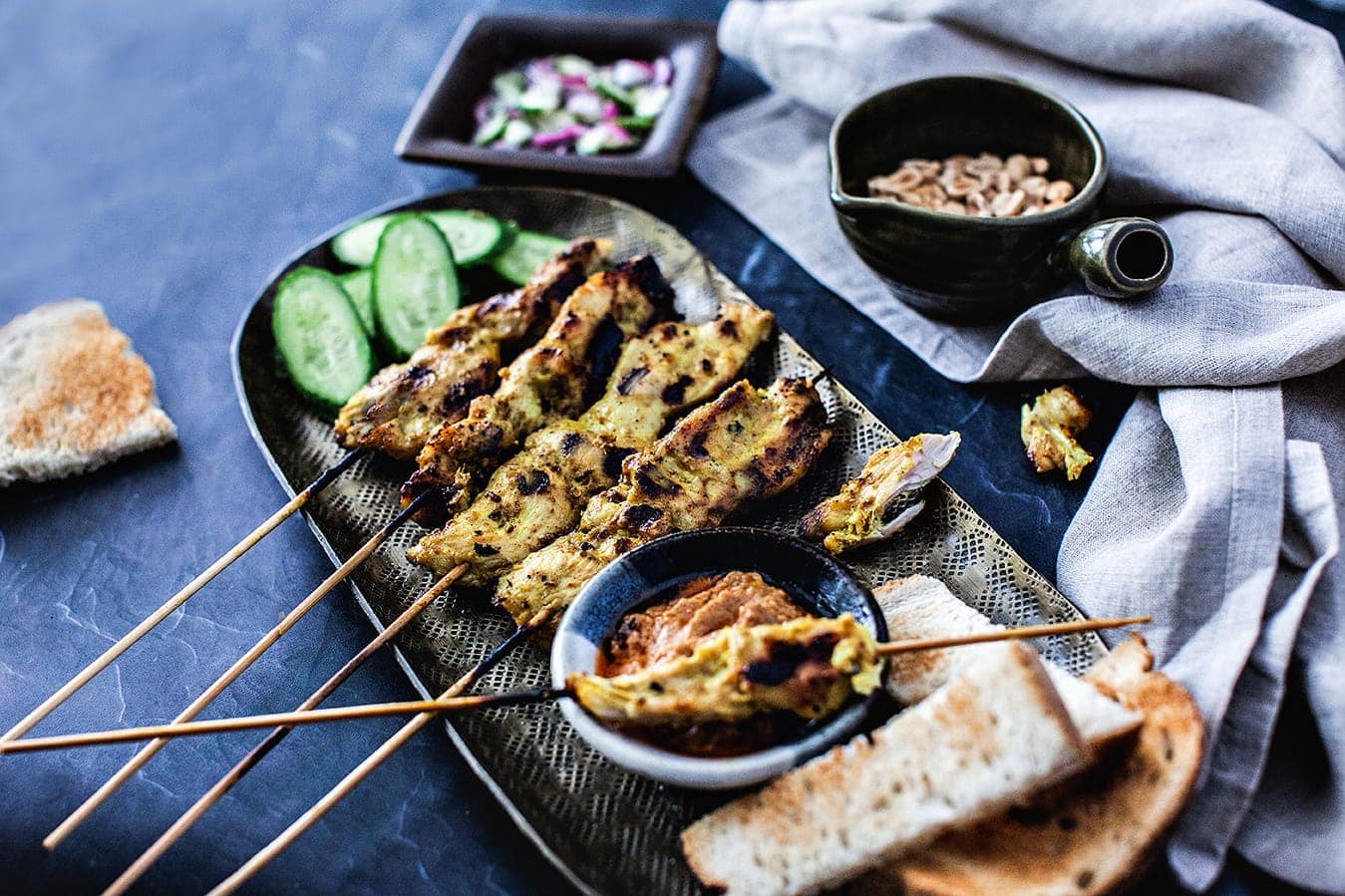 Clearly, making Chicken Satay in America is not the same as if I was in a Thai kitchen. If you are anything like me, I've lived in cities, towns, countries, and even islands that require a bit of thinking and planning ahead when I want to cook Thai food. Especially when I want to make Satay, due to the nature of the multiple spices used to make fresh satay and sauces. But luckily, dried spices aren't as difficult to find.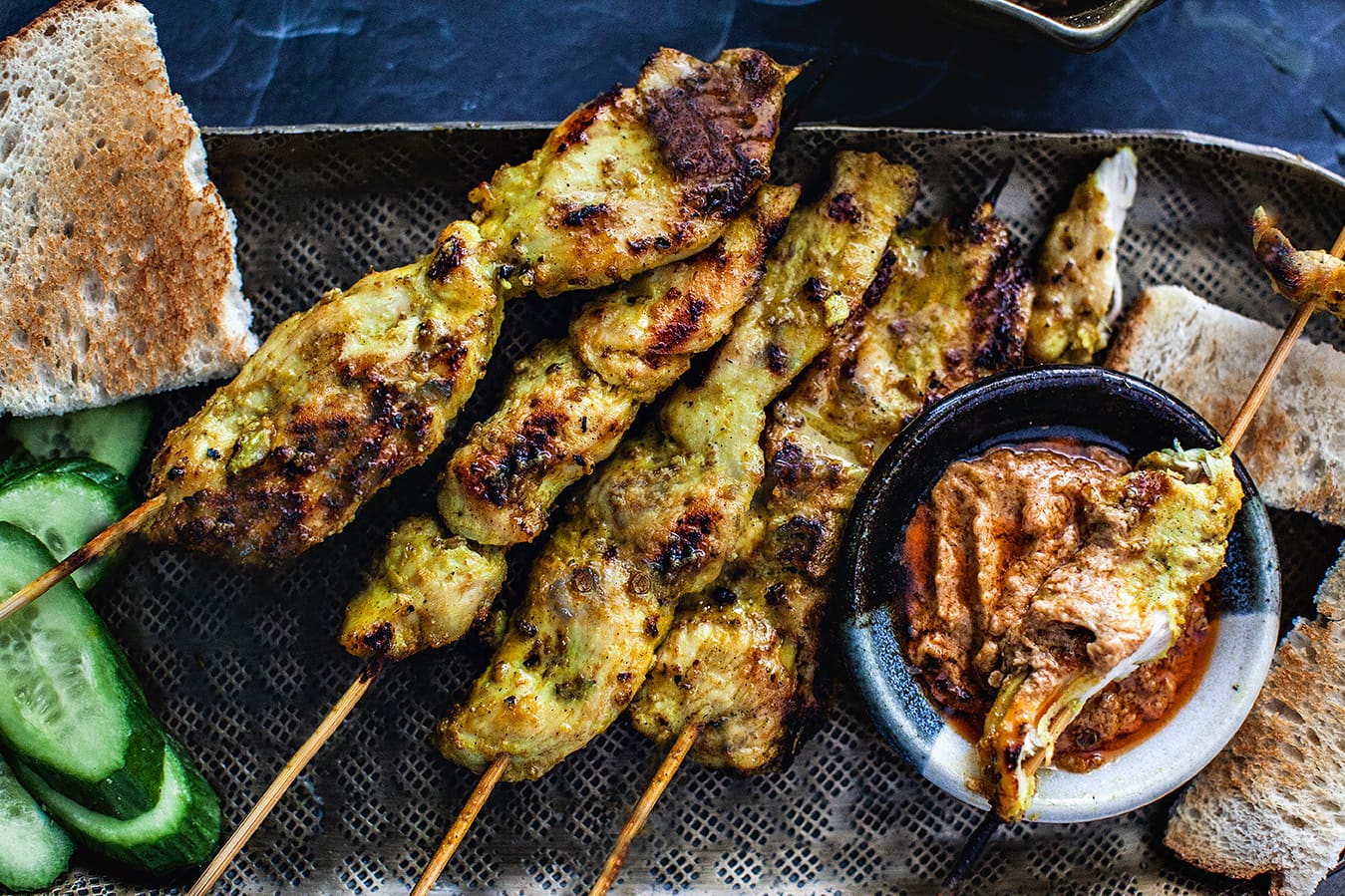 This Easy Chicken Satay recipe is organized in a way to help me want to make more Satay knowing it will not take me a whole half-day to prep, marinate, and grill the delicious skewers of meat. Let's get to it, shall we?
How to Make Easy Chicken Satay
Here is the ingredient list in pictures for you. You should be able to find most of these items in your local grocery store or at your local Asian Markets. You can also scroll down to the bottom of this blog to purchase these ingredients directly from Amazon. (Please note, these are affiliate items, you will not pay extra).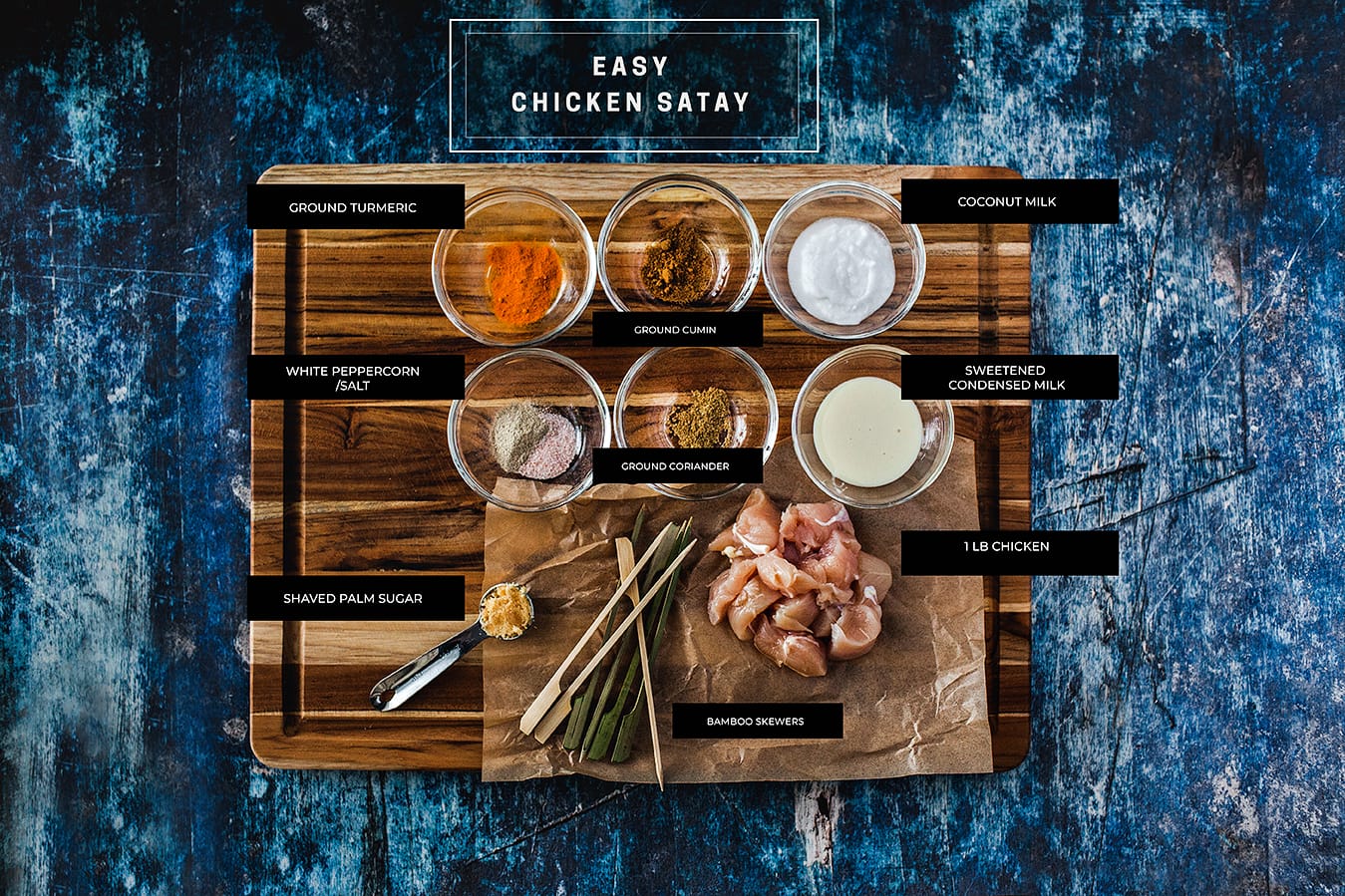 Cut the chicken into small cubes, around 1 ½ inches thick. Mix all the ingredients together then add the chicken and let it sit and marinate for 2-4 hours.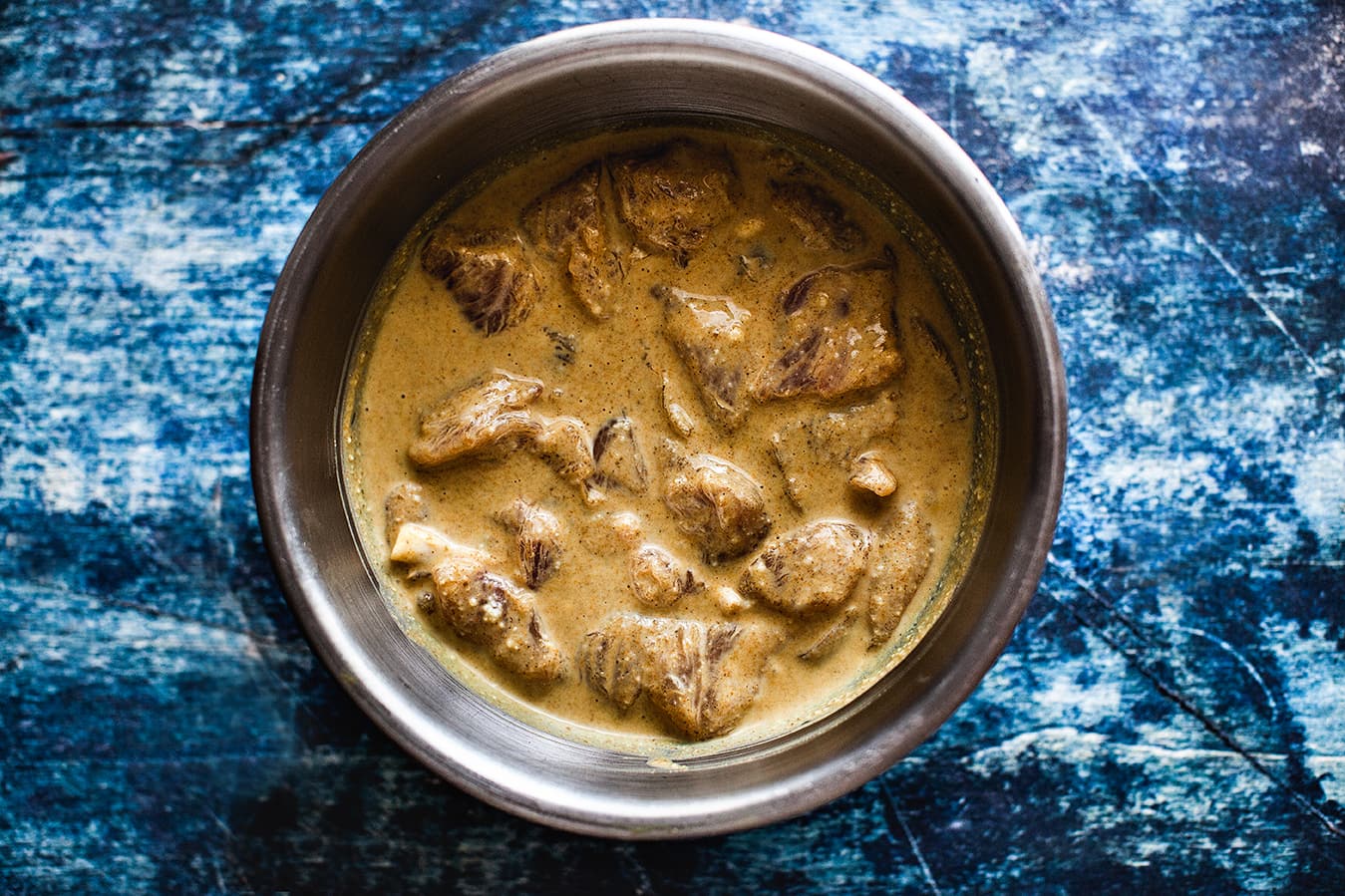 After 2-4 hours, skewer the meat onto the soaked bamboo sticks and place it on a medium-high heat grill.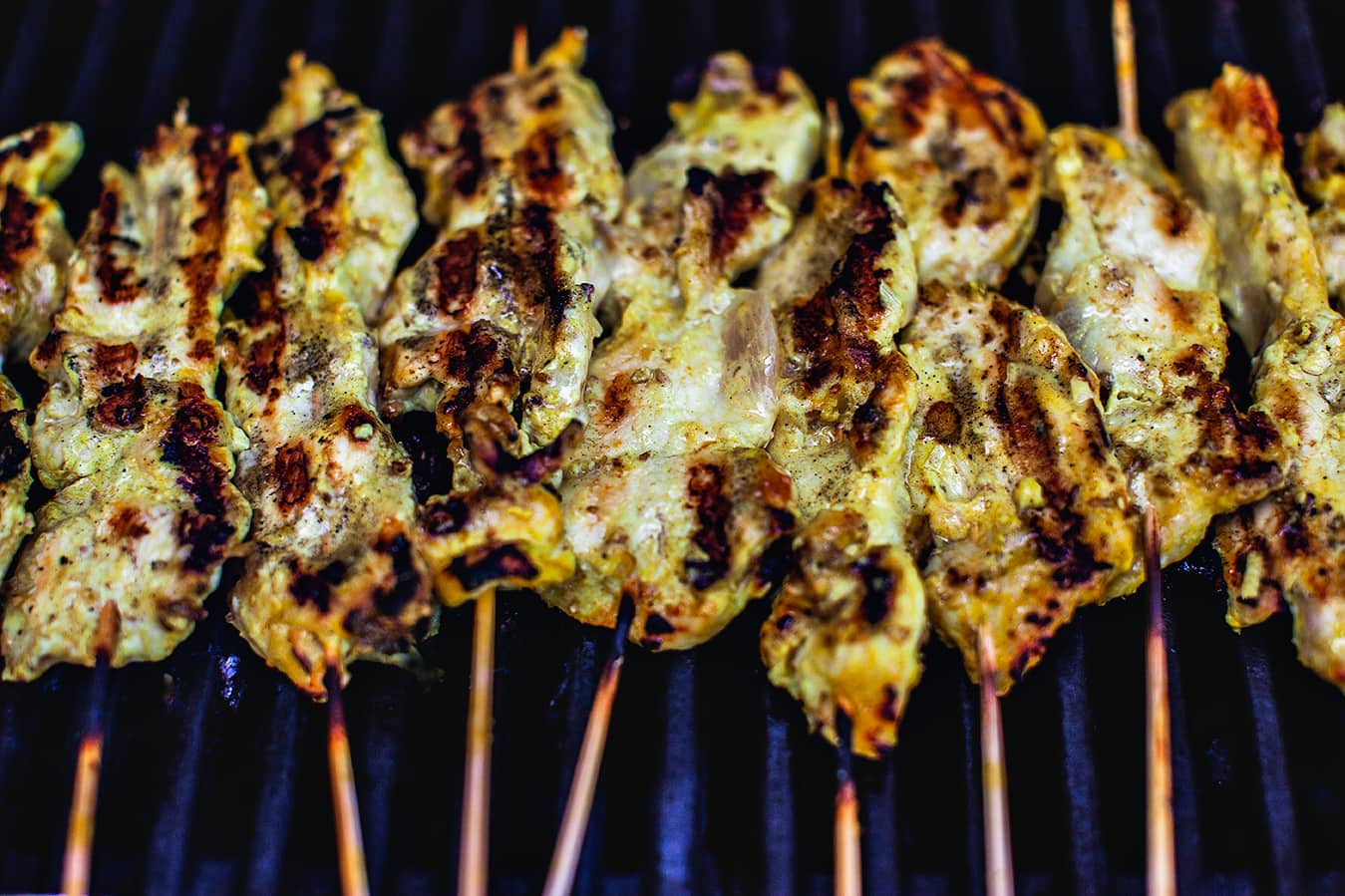 Here are two little tips to help prevent the bamboo skewers from burning. 1). Soak them in water for at least 30 minutes before skewing the meat. 2.) Place aluminum foil on the grill at the bottom part of the skewers- as shown in the picture below.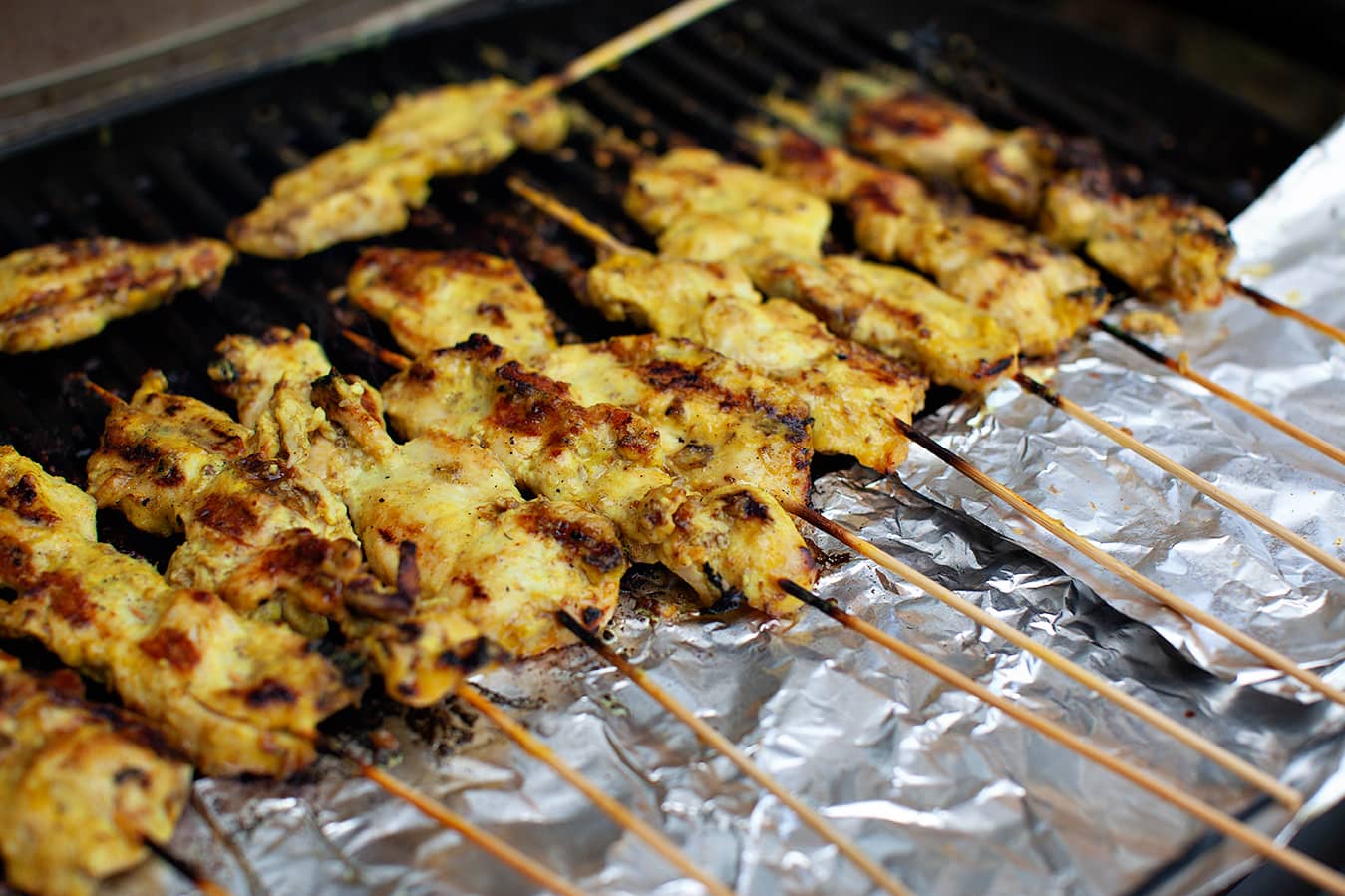 Grill the meat for 3-4 minutes on each side 2-4 times until the meat is completely cooked. Make sure to have your grilling mixture and supplies ready. Please check the recipe note at the bottom.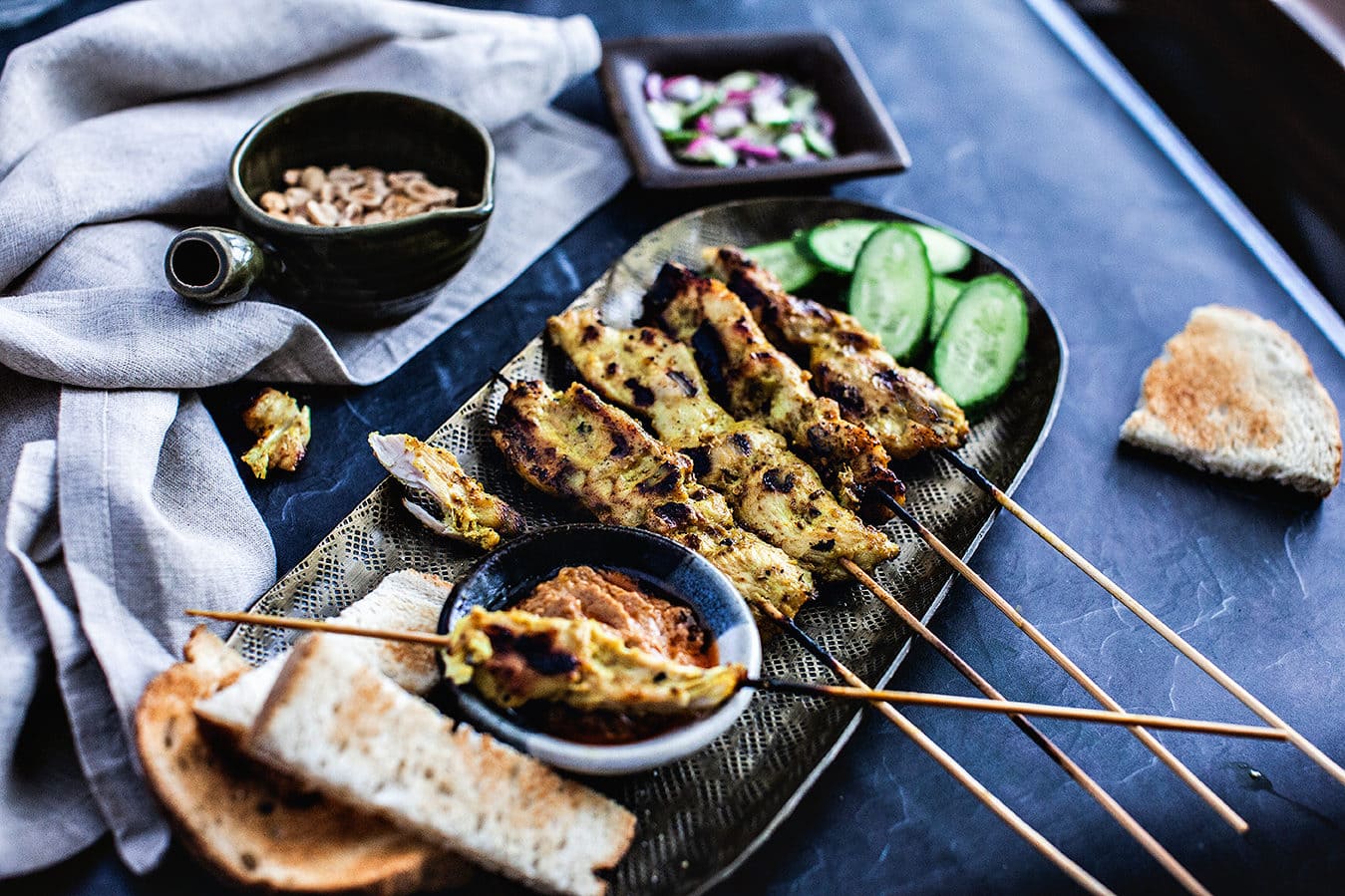 In restaurants or sit-down food stalls, Satay is typically served with spicy curry peanut sauce, toasted white bread, and a side of relish made up of lightly pickled shallots and sliced cucumbers. On the streets, however, sauces aren't necessary. Part of the fun of eating Thai street food. Fresh and hot off the grill!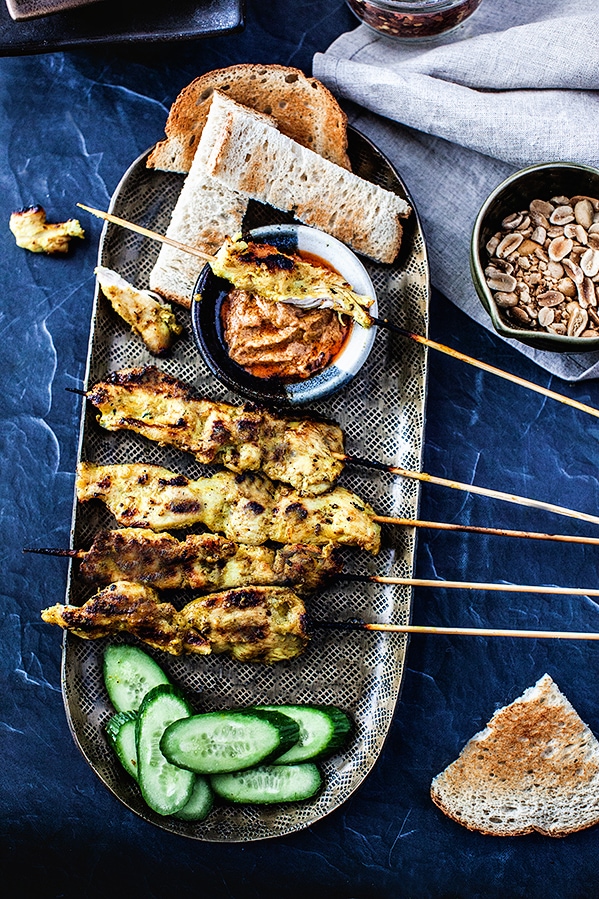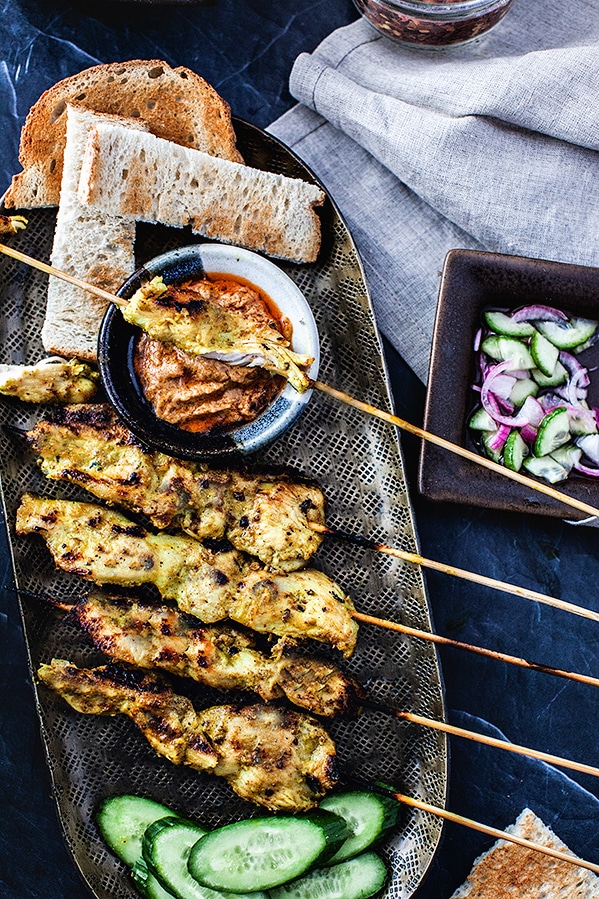 I absolutely love this easy Chicken Satay recipe so much as it is so simple and quick to whip up together for my family or friends as a starter. Please let me know how you like this recipe after you thoroughly enjoy it. I would love to have you review it for me right at the bottom of this site and let me know how I can make it better for you and other readers. Happy grilling and happy 4th of July!
Print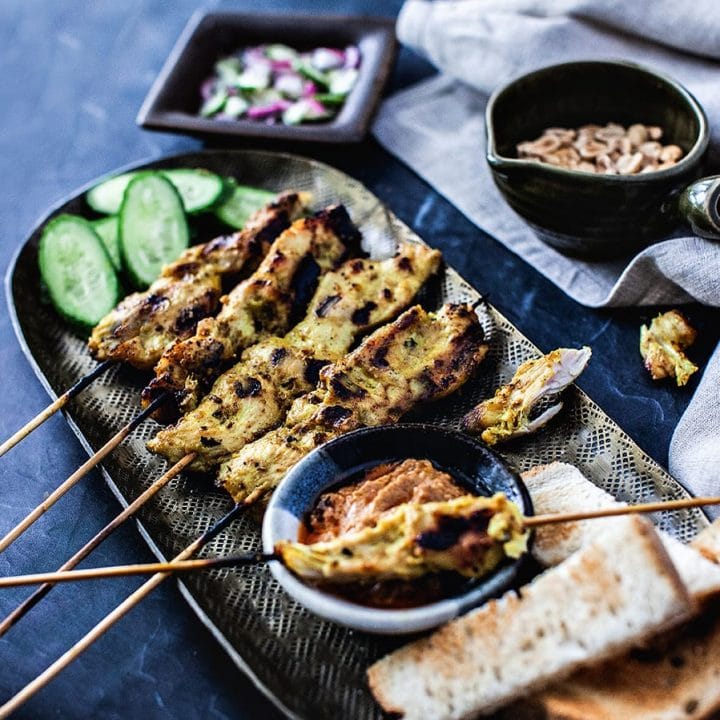 Easy Chicken Satay Recipe
---
Author:

Suwanee

Total Time:

2 hours 10 minutes

Yield:

4

1

x

Diet:

Gluten Free
Description
An easy Chicken Satay recipe that is so simple to put together yet tastes so extremely delicious. A popular Thai street food that is a must if you love grilled food.
---
1

lb chicken meat, cut into

1 ½

inch cubes

1 tsp

cumin powder

1 tsp

coriander powder

1 tsp

turmeric powder

1 tsp

palm sugar shaved

1 tsp

salt

½

-

1

tsp ground white pepper (as preferred)

¼ cup

sweetened condensed milk

¼ cup

coconut milk
1 Tbsp vegetable oil

10

-

12

bamboo skewers, soak in water for at least 30 minutes
________________________________
For the Grill:
Grilling Mixture:
• 2 Tbsp coconut milk
• 1 tsp vegetable oil
• All the leftover marinating sauce
* Mix all 3 above ingredients together in a small bowl. Set it near the grill to use for brushing the meat before and during grilling.
2. Helpful Grilling Tools:
• A basting or pastry brush
• Tongs for handling the hot skewers
• An extra plate for cooked meat
• Lots of paper towels (Don't mess with turmeric stains!)
---
Instructions
1. Mix all the ingredients (minus the chicken) together in a bowl for the marinating sauce.
2. Add the cubed chicken to it, and use a wooden spoon to mix the chicken and the marinating sauce. Cover the mixture and let it marinate anywhere from 2-4 hours.
3. After marinating, use gloves for this part. Place the marinated cubed chicken on the skewers.
4. Turn your grill to medium heat and wait for the grill to warm up.
5. Before placing your skewers on the grill, brush each side with the grilling mixture.
6. Cook the Chicken Satay for 3-4 minutes on each side, flip, brush, and grill. Repeat 3-4 times until the meat is cooked.
7. Remove the skewers with tongs and turn your grill off.
Notes
* Kitchen gloves and an old apron are a must for this recipe especially during the skewering step. The bright yellow turmeric color will stain your fingers and nails for days if not weeks afterwards.
* Before grilling, be sure to have all the items ready and set near the grill as you don't want to leave the grill unattended for long. The brushing of the grilling mixture is an important step to keep the meat moist and extra tasty.
Prep Time:

2 hours

Cook Time:

10

Category:

Appetizer

Method:

Grilling

Cuisine:

Thai
Keywords: Easy Chicken Satay Recipe. Thai Chicken Satay. Chicken Satay. Chicken Satay Recipes.