What is tamarind? How is it used? Tamarind is a tropical fruit used as a sour agent to flavor dishes like soups, salads, and sauces for dipping or stir-frying. The sour fruit has many levels of sourness, and some are even sweet and tart.
Thai recipes using tamarind are Pad Mee Korat, Nam Jim Jaew Recipe without sugar,.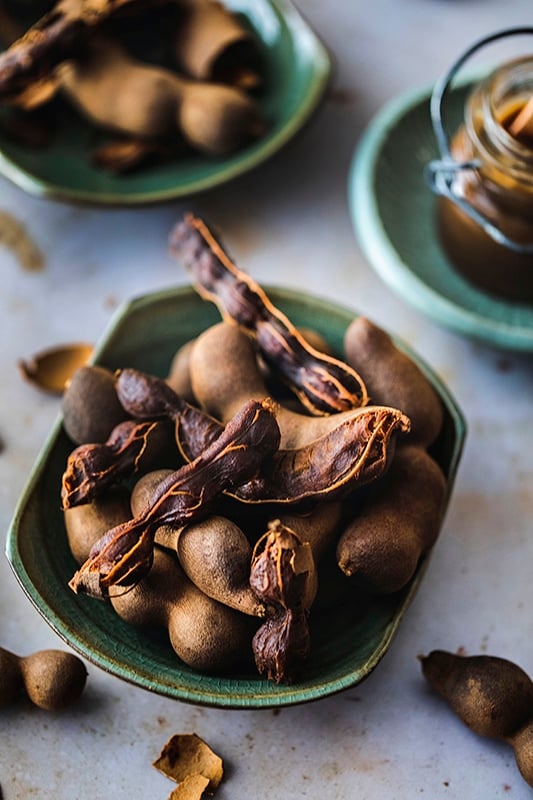 How is Tamarind Used?
The large tamarind trees produce small pod-like fruit that is used in cooking many cuisines around the world.
Tamarind fruit can be eaten or used at all stages of its growth. The young, crispy, sour fruit offers a fun dipping snack in this Thai spicy sauce, which is often eaten by children. It was one of my favorite fruits used for dipping in this extra spicy sauce!
In the middle stage, before the tamarind completely matures and softens into the paste-like texture in the pods, the fruits are mostly used as tamarind concentrate in recipes for soups and salads such as tom yum soup, bamboo sour soups, and crispy tamarind salad. Tamarind juice, a delicious and refreshing drink, is also made from the extracted tamarind paste.
The mature fruit has an outer brown crispy shell surrounding the dark brown flesh that also covers the seeds of the tamarind. Tamarind paste is extracted from this ripe stage of the fruit, which is known in Western kitchens as tamarind paste or tamarind juice.
(Pictured above, mature tamarind pods.)
(Pictured above, the interior part of a peeled tamarind pod.)
The young leaves of the tamarind can also be used for cooking, though this is not as common as the usage of the ripe fruit. My family in Thailand often used the young, yellow-green tips of tamarind leaves in our soups when tamarind fruit was not in season. It gives a slightly sour taste and a soft texture from the thin long leaves. It is a very pleasant taste in comfort foods like sour soups!
You can read about how to make your own tamarind paste here.
What Does Tamarind Taste Like?
Tamarind fruit can be eaten at all stages, including the young leaves at the very tip of the tamarind tree branch! The tender leaves are slightly sour with a soft leafy texture from the tiny oval-shaped leaves. This part is used in soups to add texture. In the next stage, the sage-colored young tamarind is thin and can be anywhere from 1-2 inches long. It is usually crispy and sour. The seeds inside are white but soft, and the fruit can be eaten raw at this stage. It has a very sharp and sour taste if eaten raw, very much like the flavor of limes. You will often find younger people or children eating the young tamarind with a spicy chili dip as a mid-day snack. The next stage is the full-grown tamarind, which is chalky green in color and can range in size from 2-6 inches long with shells still attached to the fruit. At this stage, the seeds are not quite hardened or mature. This is the most sour stage of the tamarind and, if used in cooking, the fruit must be slightly pounded or crushed to extract the sour taste. The texture of full-grown tamarind is like that of a pear: slightly chewy and grainy but VERY sour. These mature tamarinds are great for pickling in sugar and vinegar to strip the sharp, sour taste and offer a very unique pickle-like snack, which is often sold in fruit carts on the streets of Thailand. Finally, the last stage of tamarind is the ripe fruit, which is the most well known and used part of tamarind. The dark brown pods have semi-fragile shells that cover the ripe pulp of the fruit. At this stage, the tamarind has a perfectly blended taste of sweet and sour in a soft texture that offers a very unique and pleasant flavor profile used in many Thai recipes. This is the one "must-have" ingredient used for Pad Thai sauce to make authentic Pad Thai.
Tamarind benefits
Tamarind has amazing nutritional benefits for our bodies. Tamarind is actually a legume (edible seed or pod) that has polyphenols, anti-oxidant, and anti-inflammatory properties. It is the perfect food to use for supporting healing! Tamarind paste that comes in a square block is easy to store at room temperature and keeps for a few months. It's a pantry must that I highly recommend you have in your stock of essential ingredients to use for many recipes.
Tamarind concentrate/Tamarind juice, Tamarind Recipes
Tamarind is used in Pad Thai, Tom Yum soup, papaya salad, tamarind juice, sour soups and many more. I have also had tamarind salads made from young or fully grown tamarind; it is a dish made similar to the Thai green papaya salad. This is a very boldly flavored salad that is not for the faint of heart. The crispy tamarind is also great for dipping in spicy chili sauce. Just be careful not to consume too much of the raw fruit as it can cause some unpleasant digestive issues due to the extra acidity of the fruit.
Tamarind Substitute
Tamarind is a good substitution to stock up on as a sour agent for food flavoring. In these uncertain times when fresh produce seems harder to find in Asian markets, tamarind is a great ingredient to have in your pantry just in case you can't find lemons or limes for your cooking. They come in many different forms, but two I highly recommend are in a square block of actual tamarind paste or the tamarind juice concentrate in a jar.
I also prefer making my own tamarind paste. I find the flavor more intense and fresh rather than using the concentrate from the jar. But, I know it's more convenient to use the jar version, just be sure to use slightly more than a recipe calls for since the concentrate from the jar seems a bit more watered down. You can find my recipe for making your own tamarind paste HERE.
I grew up with a large tamarind tree next to our house and each season as the fruit started to grow, we looked forward to picking the tiny, young fruit for eating and snacking. The large, solid tree was strong and fun to climb. Eventually, we had to cut it down for building a new house but the tree provided us many great memories and also many, many delicious meals for our family.