What is tamarind and how to use it in cooking? Ever wonder what makes Thai food so flavorful and addictive? Well, the secret is one of the most useful fruits in Thai cuisine. Tamarind! With its unique tangy/sour taste, Tamarind is an essential ingredient in Thai cuisine and many other Asian dishes.
Learn how to make your own tamarind paste from pulp using this easy recipe here.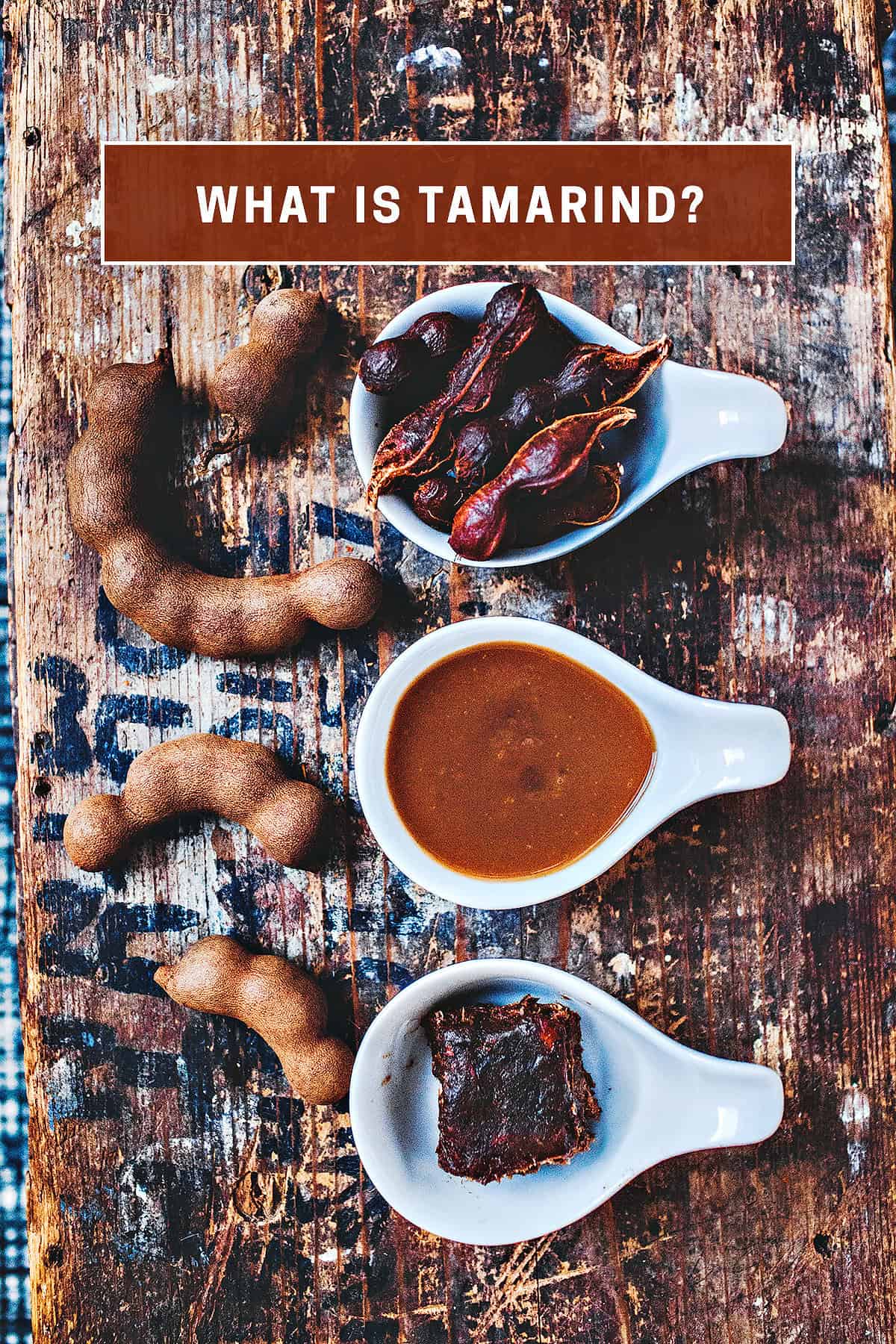 More tamarind recipes you'll love. How to make the best Pad Thai sauce, tamarind dipping sauce, 10-minute Tamarind iced tea, authentic Shrimp Pad Thai recipe, and Pad Mee Korat.
Let's learn about tamarind and explore its taste, uses, benefits, and tasty recipes using this well-loved ingredient.
Jump to:
Popular Thai recipes using tamarind
Thai recipes using tamarind are Pad Mee Korat, Easy Thai tamarind dipping sauce, Thai swimming rama, Nam Jim Jaew Recipe without sugar, Authentic shrimp Pad Thai, easy tom yum chicken with chicken, and authentic creamy shrimp tom yum soup.
What is tamarind?
Tamarind is a tropical fruit that grows on the tamarind tree, native to Southeast Asia and Latin America. Its edible pulp inside the sticky fruit makes tamarind sauce, tamarind concentrate, and tamarind pulp. This versatile ingredient offers a sour flavor and a hint of citrus, making it a favorite in Thai cuisine.
How to use tamarind
Tamarind is used in various savory dishes in Thai cuisine. It is a key ingredient in making the addictive sauce in classic Thai recipes like Pad Thai and Pad Mee Korat, where tamarind sauce adds a savory and tangy twist.
To make tamarind paste, soak tamarind pulp in hot water and then strain it through a fine-meshed strainer. Tamarind paste or tamarind puree is then used to add a sour note to curries, noodle soups, and stir-fries.
You can read about how to make your own tamarind paste from pulp here.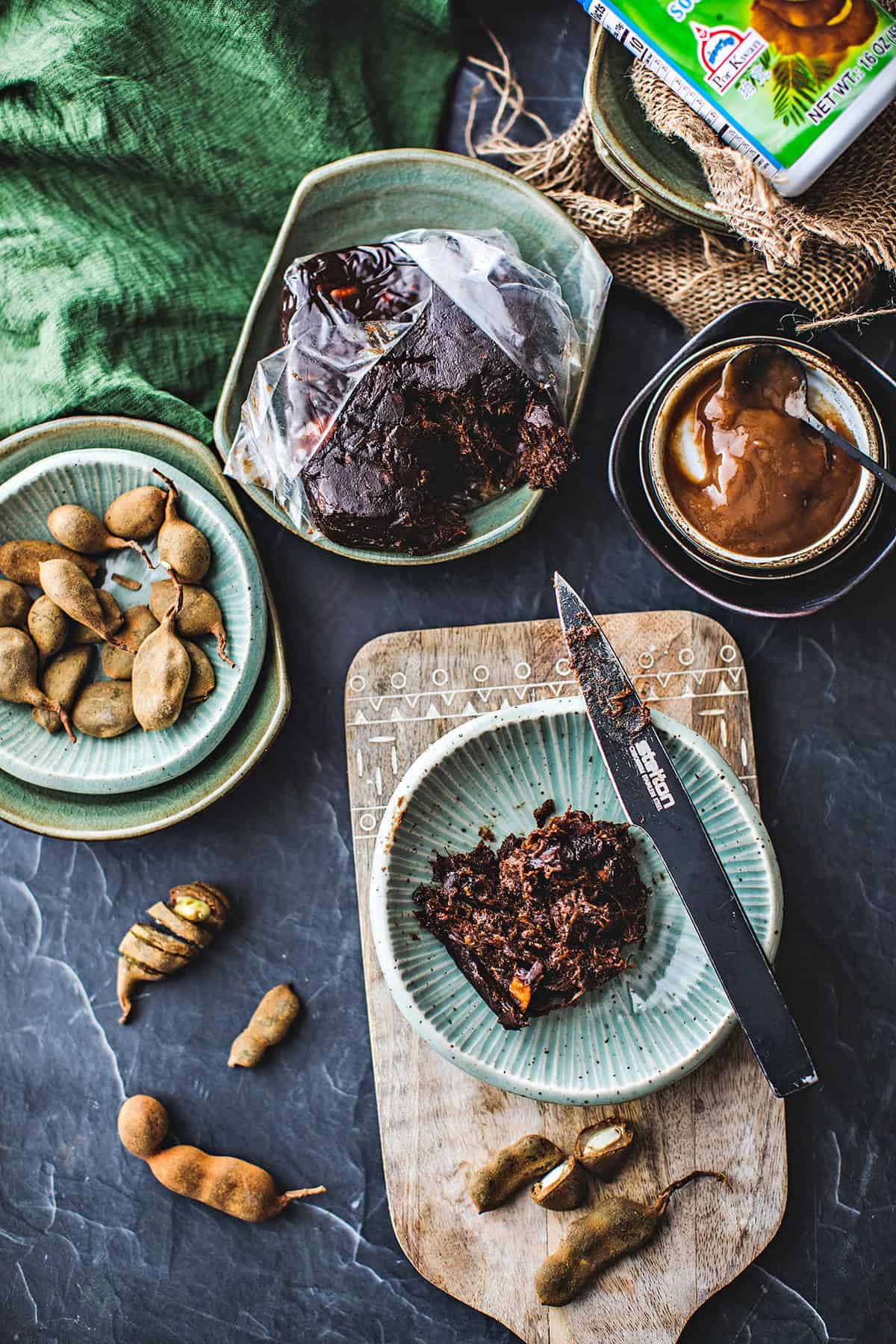 Thai recipes using tamarind
Below are some of the most famous Thai recipes that showcase the exquisite flavor of tamarind.
The first recipe is the ever-popular Pad Thai, a stir-fried noodle dish bursting with authentic flavors. Tamarind sauce, fish sauce, palm sugar, and lime wedges perfectly balance sweet, sour, and savory notes.
Another delicious recipe worth mentioning is Som Tum, also known as green papaya salad. This vibrant dish combines shredded green papaya, fish sauce, lime juice, and a tamarind mixture, resulting in a refreshing and tangy salad with a hint of heat.
Tamarind paste in Tom Yum soups. The famous Thai sour soups are incomplete without tamarind as the souring flavor.
What are the different types of tamarind?
There are many types of tamarind in the markets, and it's important to understand the differences between these tamarind-based products.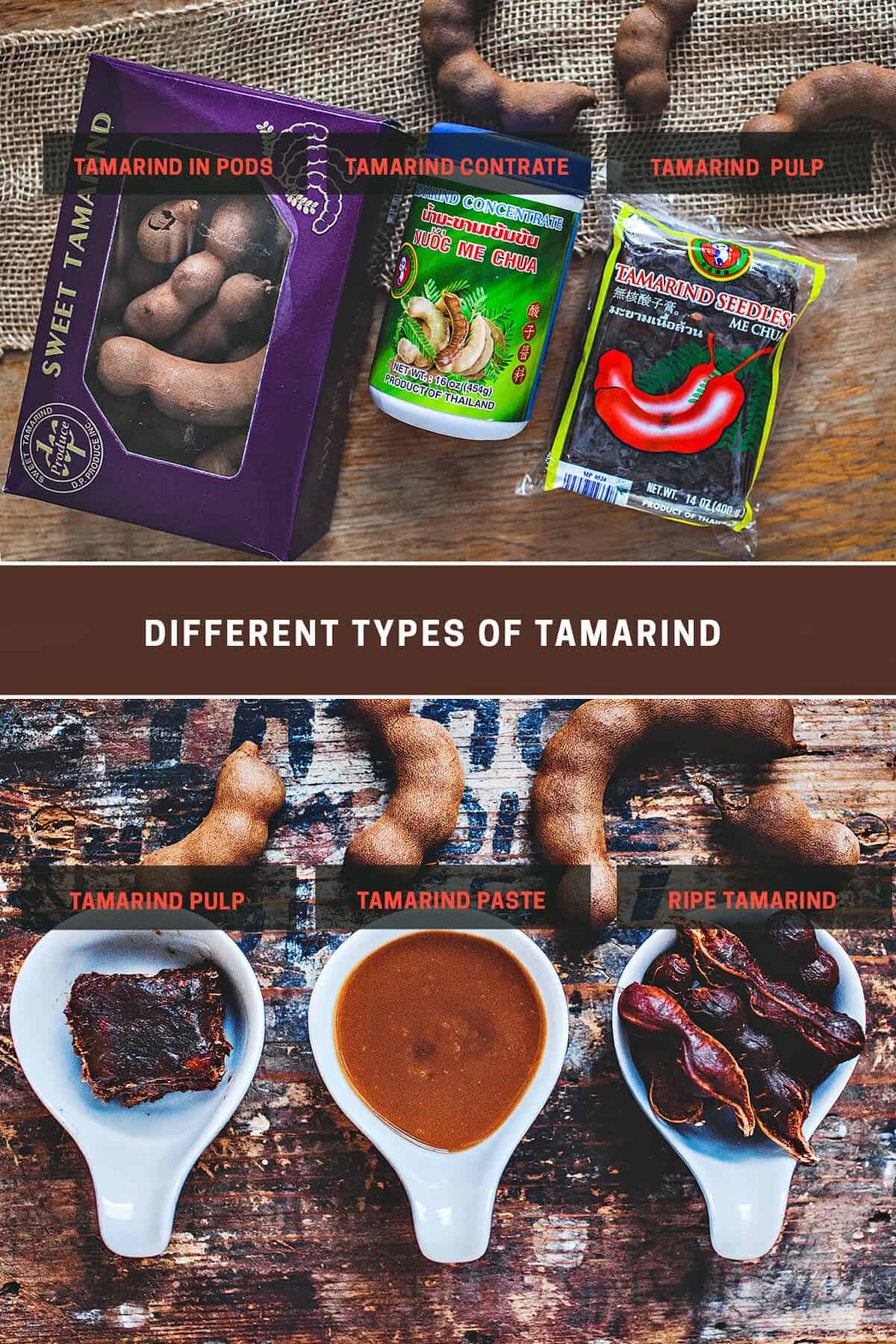 Tamarin pulp is extracted from ripe tamarind fruit with a thick dark brown consistency. They are usually sold in square blocks in plastic wrap at most Asian markets. They have the consistency of a paste, but it's called pulp. (Confusing, I know.)
Tamarind paste is a saucy, tangy sauce made by mixing hot water and the pulp (or the tamarind fruit pods) to prepare a sauce-like paste for cooking.
Tamarind concentrate is a concentrated form of tamarind used to add sourness to dishes. They are the same thing as the tamarind paste and are usually sold in plastic jars labeled "tamarind concentrate."
Tamarind pods are ripe fresh tamarind fruits in thin brown shells with black seeds inside the meaty part of the tamarind fruits.
On the other hand, tamarind sauce is a prepared sauce in a recipe that uses tamarind as one of the main flavors. These sauces are Nam Jim Jaeow and Thai tamarind dipping sauce.
Tamarind juice, made from extracted tamarind pulp, is mixed with sugar to sweeten the flavors and used as a refreshing drink. (Not shown in the image above).
Different ways to use tamarind
Tamarind is a fruit commonly used in cooking, especially in Asian and Latin American cuisines. It has a sweet and sour taste and is often used as a natural souring agent in dishes. Here are some ways to use tamarind.
Tamarind paste. Tamarind paste is made by soaking tamarind pulp in water and then straining it. It can add sourness to curries, soups, and stews. Tamarind paste is sold either in blocks (for making the paste from scratch using warm water to dilute the paste) or in bottles with the pre-made tamarind sauce ready to use in cooking.
Tamarind juice. Tamarind juice is made by diluting tamarind paste with water. It can be sweetened with sugar or honey and served as a refreshing drink.
Tamarind chutney. Tamarind chutney is made by cooking tamarind paste with sugar, spices, and herbs. It can be served as a dipping sauce for snacks like samosas and pakoras.
Tamarind rice. Tamarind rice is a popular dish in South India. Cooked rice is mixed with tamarind paste, spices, and peanuts to create a flavorful, tangy dish.
Tamarind candy. Tamarind candy is made by mixing sweet fruit with sugar and shaping it into small balls. It is a popular snack in many parts of the world.
Sweet vs. sour tamarind
Tamarind comes in various types, each with its own distinct taste. The sweet variety is commonly enjoyed as a snack or used in candies rather than cooking.
On the other hand, sour tamarind is perfect for creating tangy pastes, sauces, or pulps. In my Thai recipes and on this blog, I use Thai tamarind paste made from the sour variety, as it adds a delightful sour note to the dishes.
What does tamarind taste Like?
Tamarind's taste varies depending on the tamarind type and its growth stage. The sweet tamarind breed has a mild sweet taste with a slight tanginess. These are used mainly for candy and snacking rather than for cooking.
Now, the sour tamarind. The Young tamarind leaves and fruit taste slightly sour, while fully grown tamarind offers a balanced combination of sweet and sour flavors. The mature fruit is often described as having a tanginess similar to that of limes, adding a delightful zing to dishes.
The different stages of tamarind and how it's used in food
Let's explore how tamarind is used at different stages of its growth and discover its taste, benefits, and substitutes.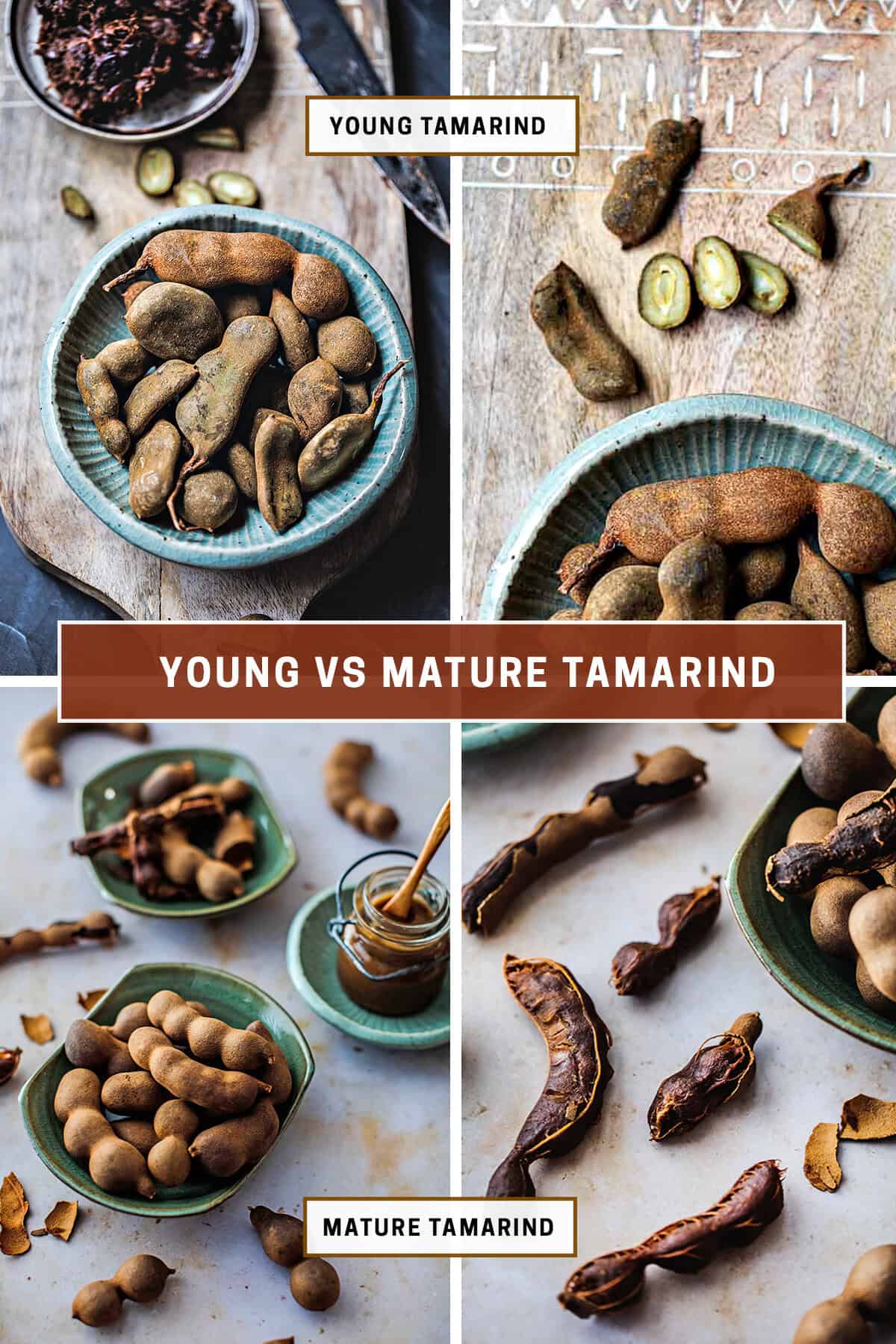 Young tamarind. In its early stage, the fresh tamarind fruit is sour and crispy, making it a popular snack for children. It pairs well with Thai spicy sauce, adding a tangy kick to the palate. As the fruit matures, it develops a paste-like texture and is commonly used as tamarind concentrates in recipes such as soups, salads, and refreshing tamarind juice.
Ripe tamarind. The fully grown tamarind fruit features a brown, crispy shell encasing dark brownish-red tamarind flesh and seeds. At this stage, the pulp is extracted and turned into the tamarind cooking paste used in many dishes. The ripe fruit, with its soft texture and balanced sweet-sour flavor, is one of the key ingredients in authentic Thai recipes like Pad Thai sauce and Tom Yum soups.
The leaves of tamarind. Apart from the fruit, the young leaves of the tamarind tree can be used in cooking, although it is less common than using ripe fruit. Young tamarind leaves add a slightly sour taste and a soft texture to soups, making them a delightful addition to comfort foods.
The taste of tamarind at different stages
At the early stage, the tender leaves offer a slight sourness and a soft leafy texture. As the fruit develops, it becomes sour and crisp, resembling the flavor of limes. Younger individuals often enjoy eating the young tamarind with a spicy chili dip as a mid-day snack. The leaves are used for seasoning soups in many Isaan dishes.
The full-grown tamarind is the most sour, requiring slight pounding or crushing to extract its tartness. The texture is slightly chewy and grainy, resembling a pear.
Finally, the ripe tamarind fruit perfectly balances sweetness and sourness, providing a unique and pleasant flavor profile for many Thai dishes.
Tamarind Substitutes
Tamarind is a unique ingredient used in Thai cuisine. Below are some suggested substitutes if you can not find tamarind.
Fresh lime juice. Lime juice is the best substitute for tamarind flavor. The juice is slightly more tangy than tamarind and should be used in ⅓ of tamarind in recipes. You can always add more if needed.
Vinegar. White vinegar or apple cider vinegar can be used as a substitute for tamarind. Use ⅓ tablespoon of vinegar for every tablespoon of tamarind paste.
Amchur (mango powder). This is a common ingredient in Indian cooking with a tangy flavor similar to tamarind. Use 1 ½ tablespoons of Amchur for every tablespoon of pure tamarind paste. Check your local Asian stores or grab it online here.
Pomegranate molasses. This thick syrup has a sweet and sour taste that can replace tamarind in some dishes. Use one tablespoon of pomegranate molasses for every tablespoon of tamarind paste. Check your local Asian markets or buy it online here.
Worcestershire sauce. This sauce has a tangy and slightly sweet taste that can substitute for tamarind as a last resort. Use one tablespoon of Worcestershire sauce for every tablespoon of tamarind paste.
Tamarind benefits
Beyond its culinary uses, tamarind offers several health benefits. Here are some of the benefits of consuming tamarind.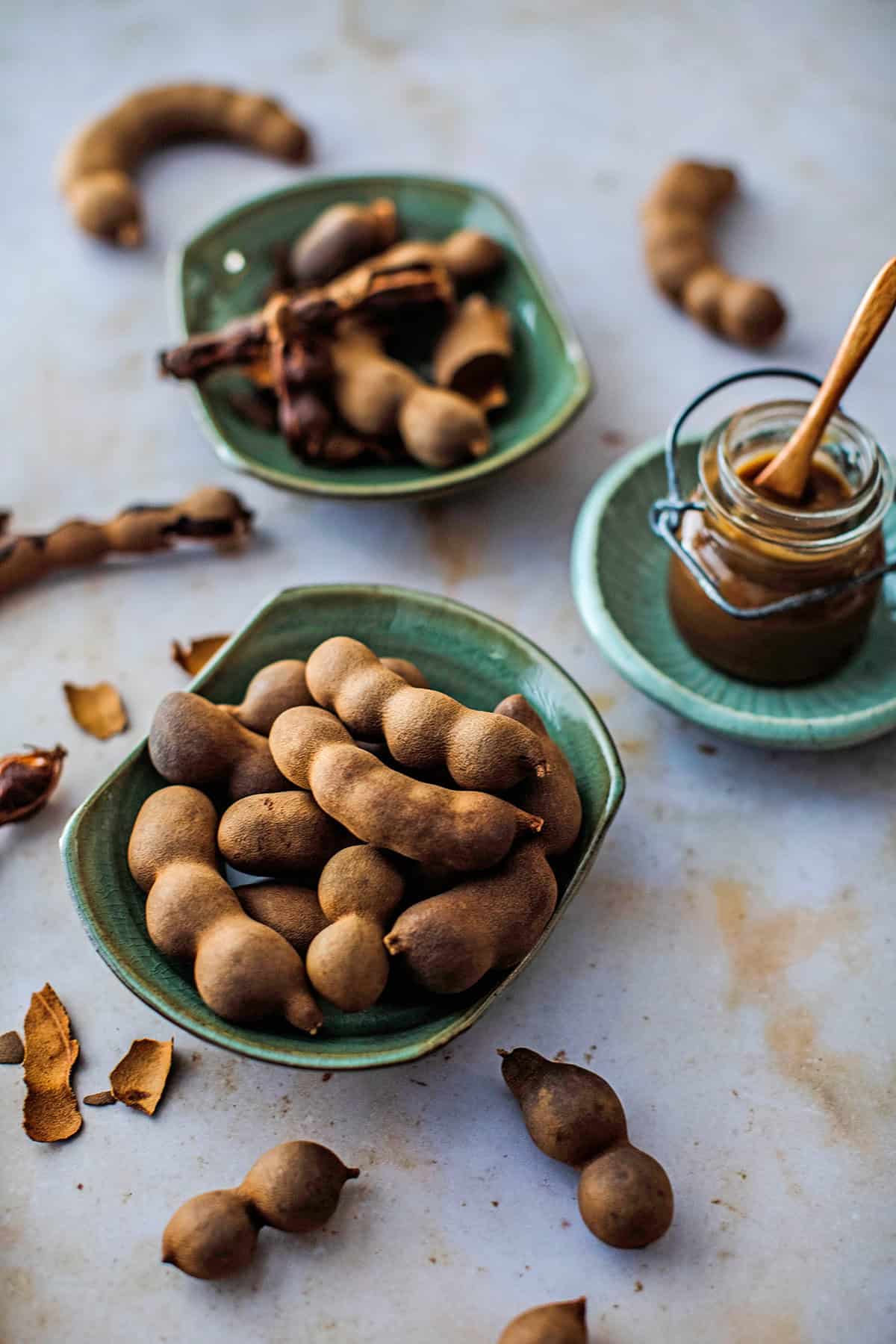 Rich in nutrients. Tamarind is packed with essential nutrients, including vitamins A, C, E, and B vitamins like thiamin, riboflavin, and niacin. It also contains minerals like calcium, iron, potassium, and magnesium.
Antioxidant properties. Tamarind is a good source of antioxidants, such as polyphenols and flavonoids. These compounds help protect the body against harmful free radicals, reducing the risk of chronic diseases and supporting overall health.
Digestive aid. Tamarind has natural laxative properties and is often used to relieve constipation. It contains dietary fiber that promotes healthy digestion by improving bowel movements and preventing digestive issues like bloating and indigestion.
Weight management. The fiber content in tamarind can help promote feelings of fullness and reduce appetite, making it a beneficial addition to a weight loss or weight management plan.
Heart health. Tamarind contains potassium, which is essential for maintaining heart health. Potassium helps regulate blood pressure, reducing the risk of hypertension and cardiovascular diseases.
Anti-inflammatory effects. Tamarind contains compounds with anti-inflammatory properties, such as polyphenols and flavonoids. These can help reduce inflammation and alleviate symptoms of inflammatory conditions like arthritis.
Immune system support. The high vitamin C content in tamarind helps boost the immune system, enhancing the body's ability to fight infections and diseases.
Blood sugar control. Tamarind has positively impacted blood sugar levels. It contains compounds that can help regulate glucose metabolism and improve insulin sensitivity, potentially benefiting individuals with diabetes.
Conclusion
Tamarind is a remarkable ingredient that enhances the taste and authenticity of Thai cuisine and other dishes across Asia. Its diverse applications, unique taste, and health benefits make it an essential pantry item for home cooks and a must-try ingredient for those seeking delightful and flavorful recipes.
So, whether you're cooking up a delicious authentic Pad Thai, making Thai Tom Yum soup, or exploring other Thai delights, embrace tamarind's distinct flavors and unlock a world of culinary possibilities.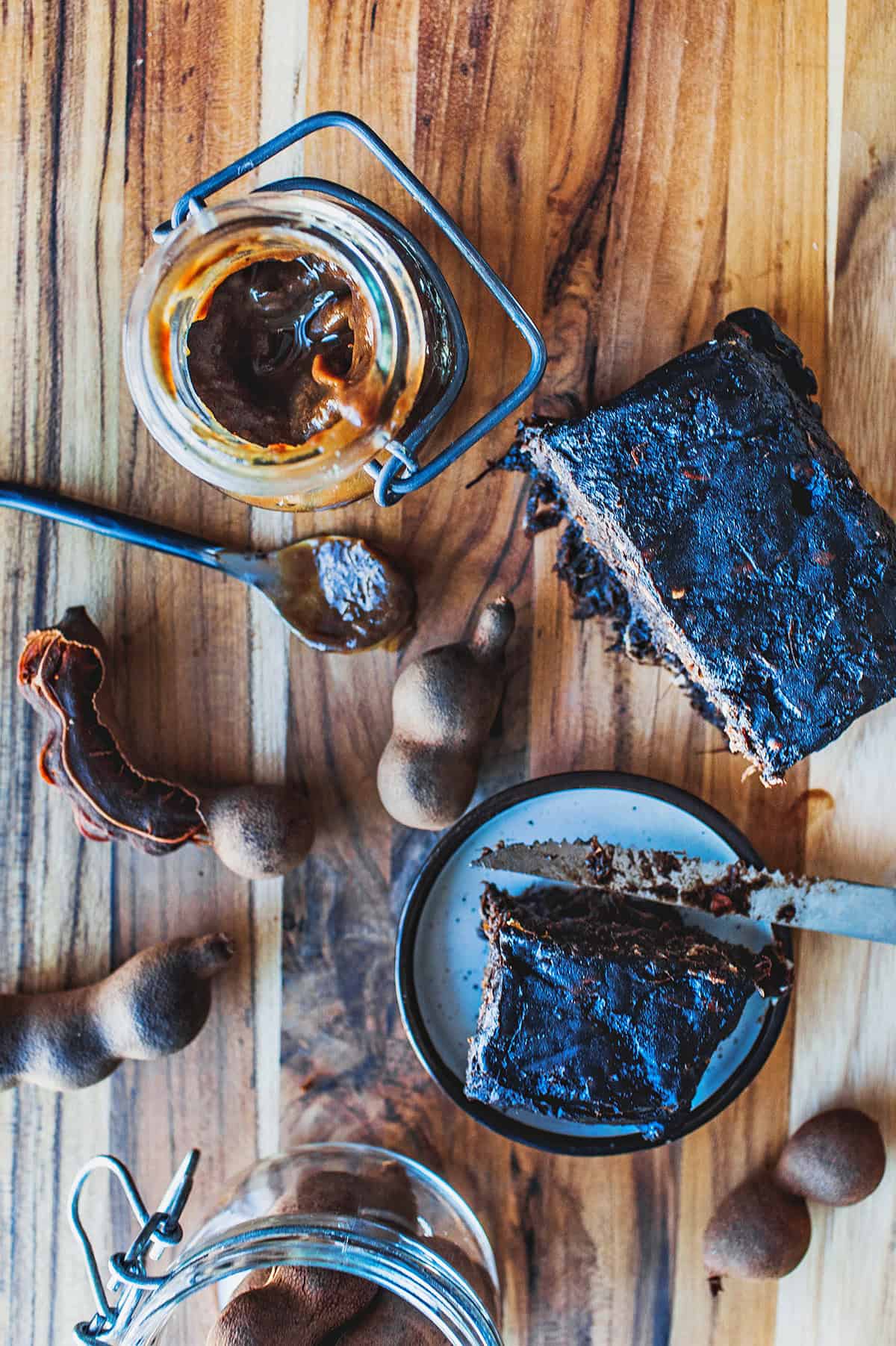 More readers' favorite recipes using tamarind
Frequently Asked Questions
Does tamarind reduce body heat?
Yes. Tamarind is renowned for its natural cooling effect on the body, thanks to its abundance of antioxidants and anti-inflammatory properties. This is one good reason to use tamarind more often in the summer months to help reduce the chances of heat stroke in those vulnerable to high heat, especially in tropical regions.
What flavor is tamarind similar to?
Tamarind has a sour and tangy flavor, similar to lime or lemon juice. It also has a sweet undertone, like light brown sugar with hints of caramel. When it's ripe, it may taste more like a dried date, with a tangy flavor of lime. The texture of tamarind is also similar to dried dates, soft, fibrous, and slightly pasty.
Is tamarind good or bad for health?
Tamarind has great health benefits (it has polyphenols and flavonoids,) the two medical properties that can help lower bad cholesterol and raise good cholesterol. This means it can lower the risk of artery-clogging. The dried pulp can also help lower blood pressure.
* Love a recipe you've tried? Please leave a 5-star ?rating in the recipe card below and/or a review in the comments section further down the page. Or follow me on Facebook, Pinterest, or Instagram! **
More Thai Recipes using Tamarind
More Helpful Thai Kitchen Resources