Easy Thai Larb Gai salad recipe. A fresh, tangy flavor with a slightly crunchy texture from the toasted rice. A fresh and delicious Thai chicken salad. Light yet full of bold and memorable flavors of summer salad.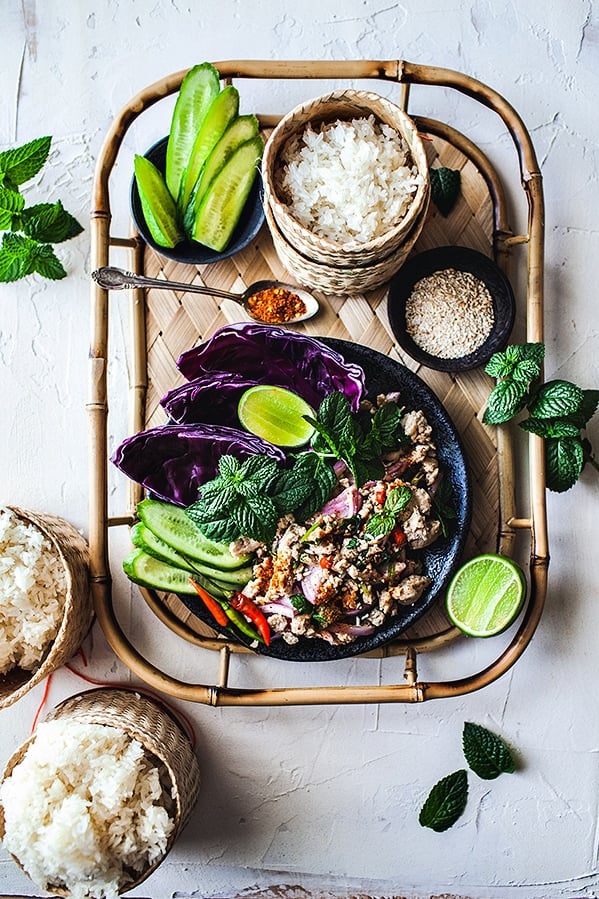 It's pronounced "Lab", please, not Larb with the r sound in the pronunciation. Please, please, please omit the "r" from the name, I cringe hearing people say, "LAR-AB". (Insert cringe emoji here!) Just plain Laab, short, sweet, and choppy sound. (:
Ok, now that part's out of the way! This easy recipe is a simple and slightly modified version of the traditional Thai Larb Gai recipe. Before I had children, I'd search high and low for hard-to-find ingredients. I feel super loyal to the traditional flavors of Thai food and it's hard for me to veer away from it. Maybe it's perfection. But I'd like to call it art creation. To me, cooking, prepping, and presenting food, especially Thai food is an art form. I still look for hard-to-find ingredients but since becoming a mom, quick and easy take precedents. However, I will not sacrifice the flavors or the healthy option. So over the years, I've been modifying some of my Thai recipes a bit for simplicities sake while not willing to give up the healthy and tasty flavors.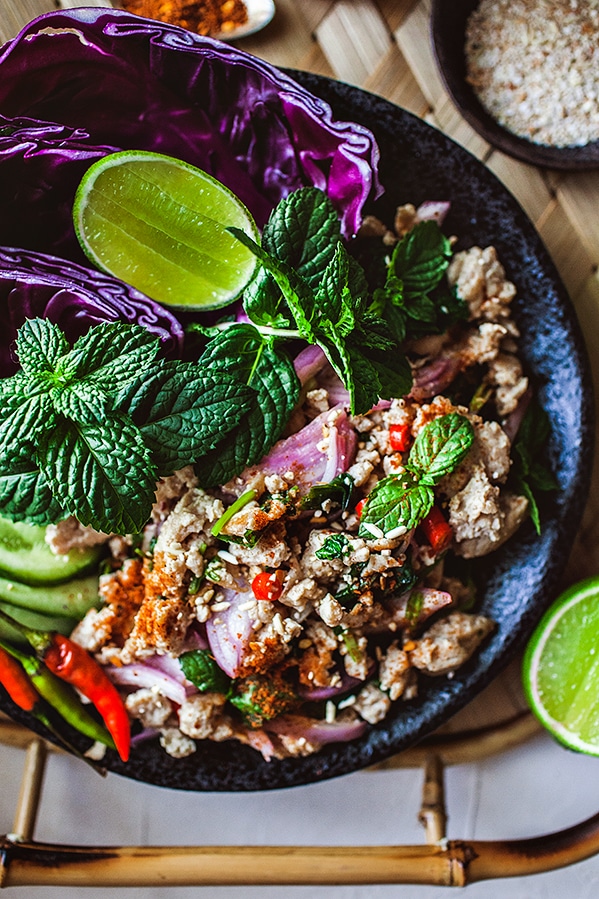 This recipe is so easy that you will not even need to go to the Asian Market for any of the ingredients! You can find all these items at your local grocery store. Give it a try, I think it will easily be your new favorite easy Thai Chicken Larb recipe. A more traditional and not-so-easy recipe will come later. For now, this dish was my go-to dish for many of my food prep meals. Just leave the dry roasted rice out in an air-tight container until you are ready to have the salad again or the rice will expand and get soggy.
How to Make Thai Chicken Salad, (Larb Gai)
These are the fresh ingredients you'll need for this easy Larb Gai, Thai Chicken Salad.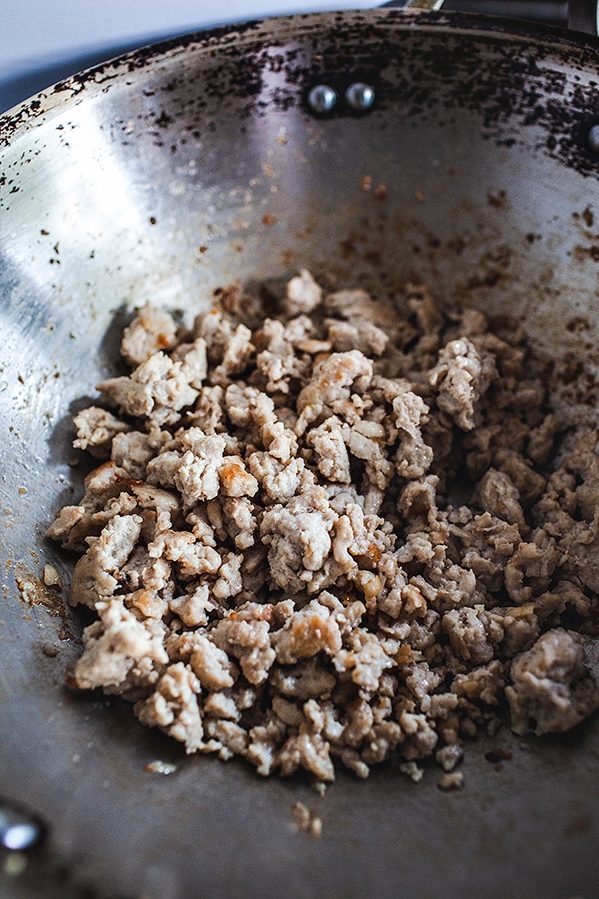 Start by pan-frying the garlic in the oil over medium heat on the stove for a minute. Then add in the meat for about 15-20 minutes until the meat is slightly golden brown. If your meat starts to dry up to quickly, you can a couple of tablespoon of water to help bring the moisture back. Let the meat cool for 15-20 minutes after you are done cooking it.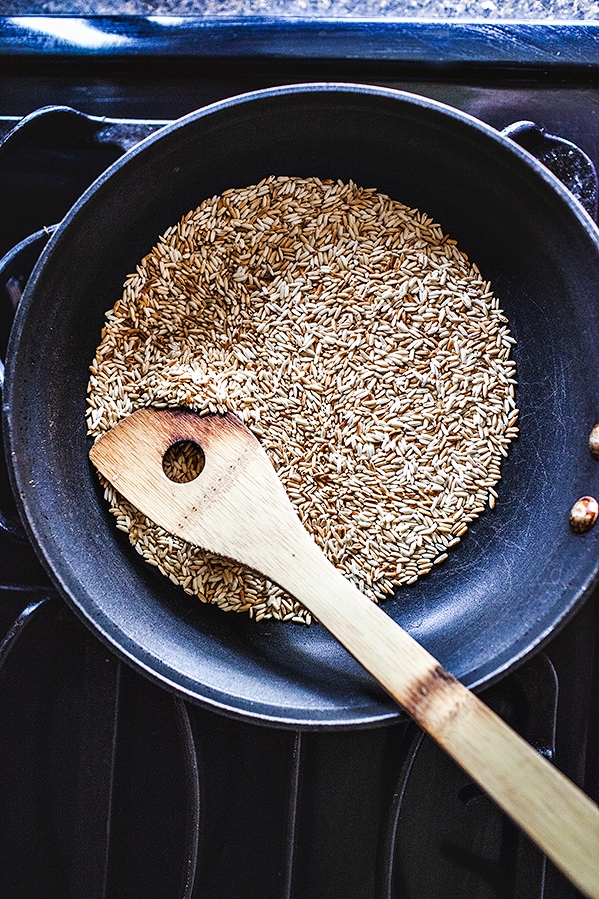 You can toast the uncooked rice after the meat is done or simultaneously, but I prefer to work on both at the same time.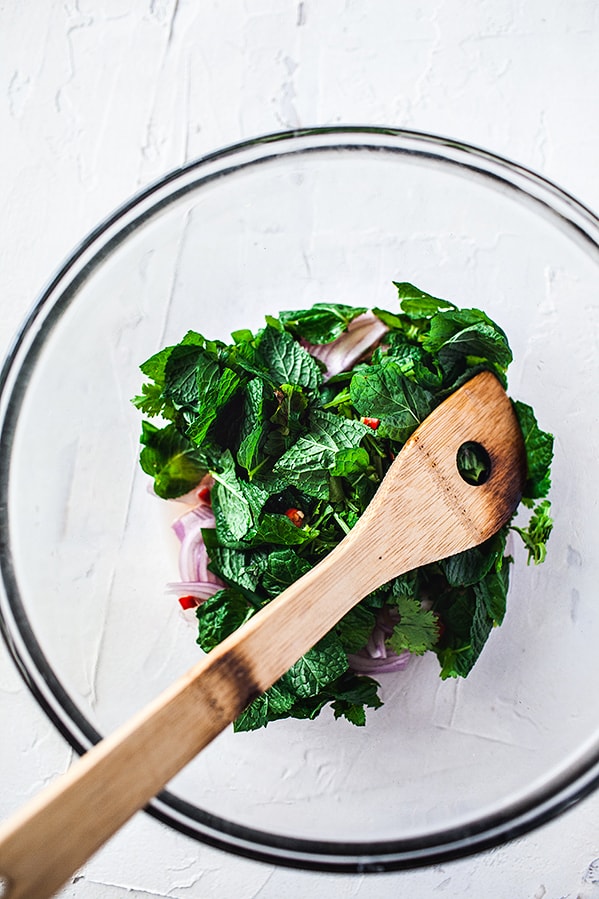 Now, while the rice and meat are cooling, chop up the herbs into a bowl, add the sauces and mix in well.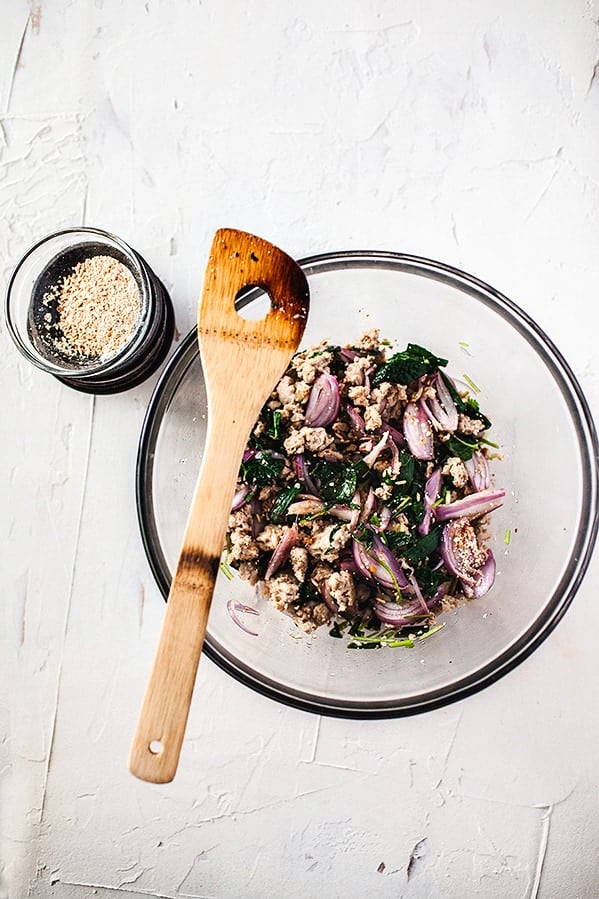 Add in the meat and chili flakes and stir again. Adjust the taste here, you can add more fish sauce for salt or more lime for the fresh and tangy taste. Add the toasted rice last. Lightly stir it all together and serve. Note here* The toasted rice will soften and get soggy after some time. What you can do is add the rice into your individual serving bowl and save the rest for your leftovers. Enjoy!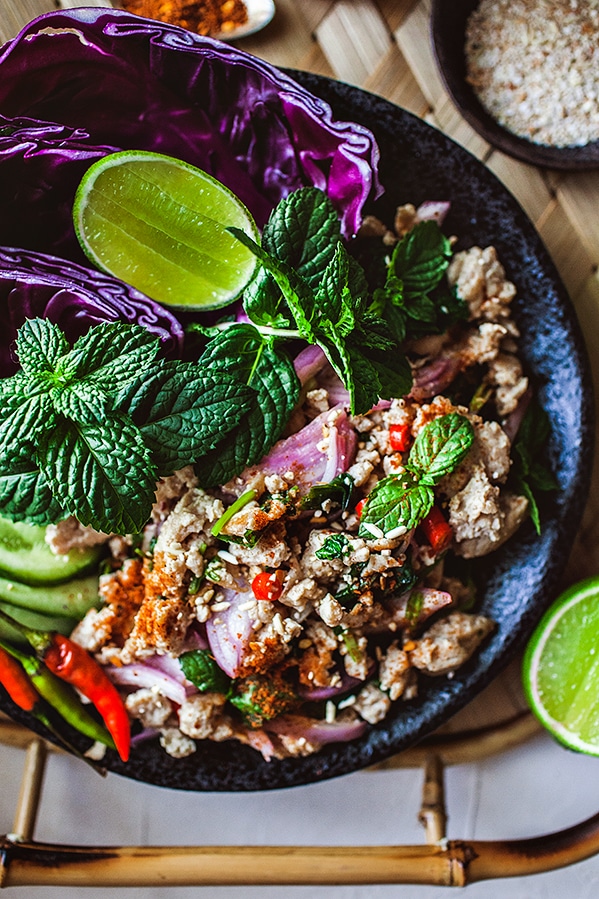 This larb has been a family favorite for years. It keeps well the next days, too, for leftovers. Just make sure to leave out the roasted rice until right before serving or it will get soggy.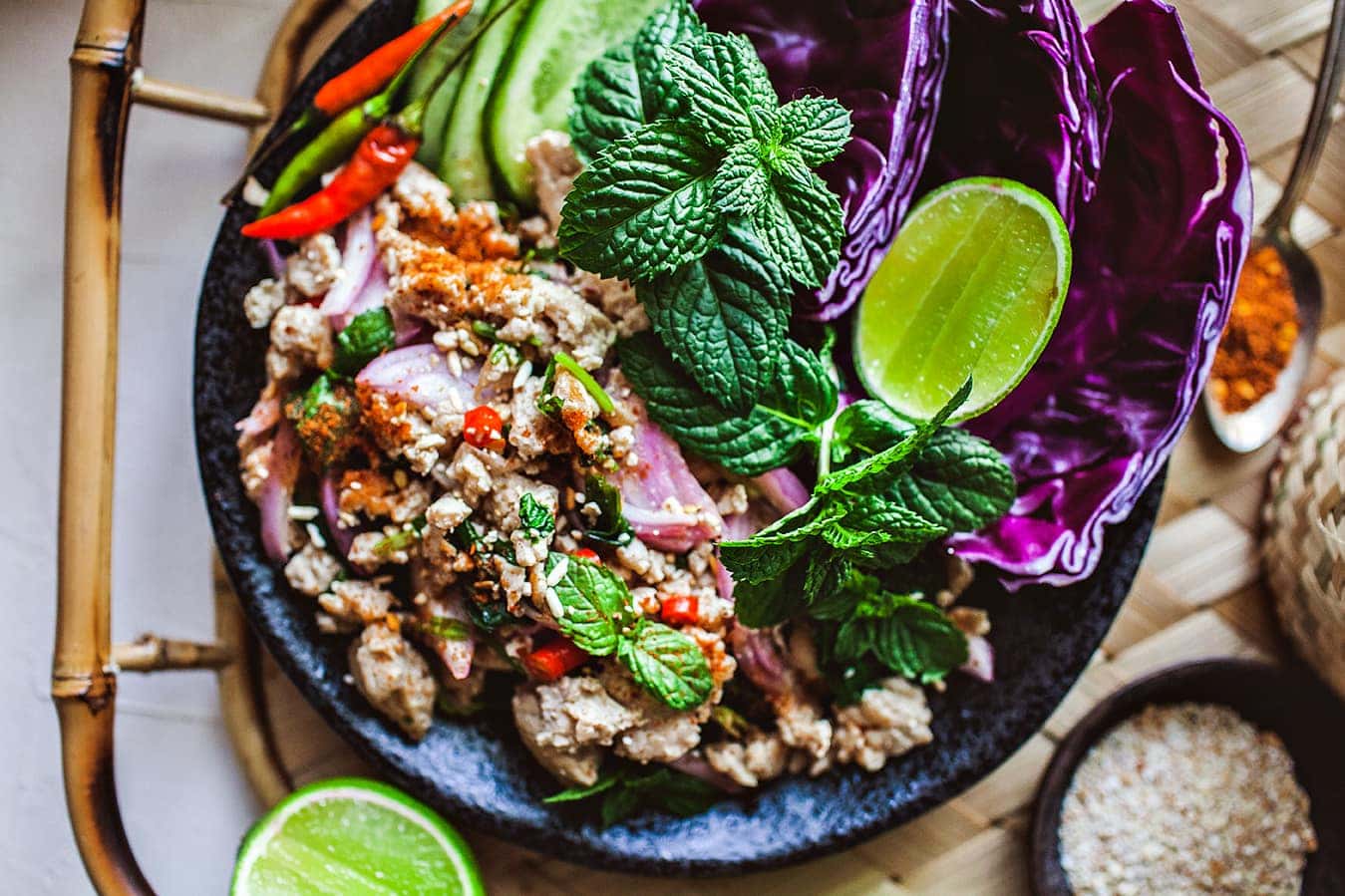 The traditional Larb Gai made by my Thai family is usually made from uncut chicken breast and the meat will then be chopped up very well with a butcher knife or cleaver to mince the meat. It's then boiled for a few minutes before letting it cool. My easy Thai chicken larb recipe version, however, is quite a bit easier and will cut down on cooking time by at least 20 minutes.
So here we go.
Print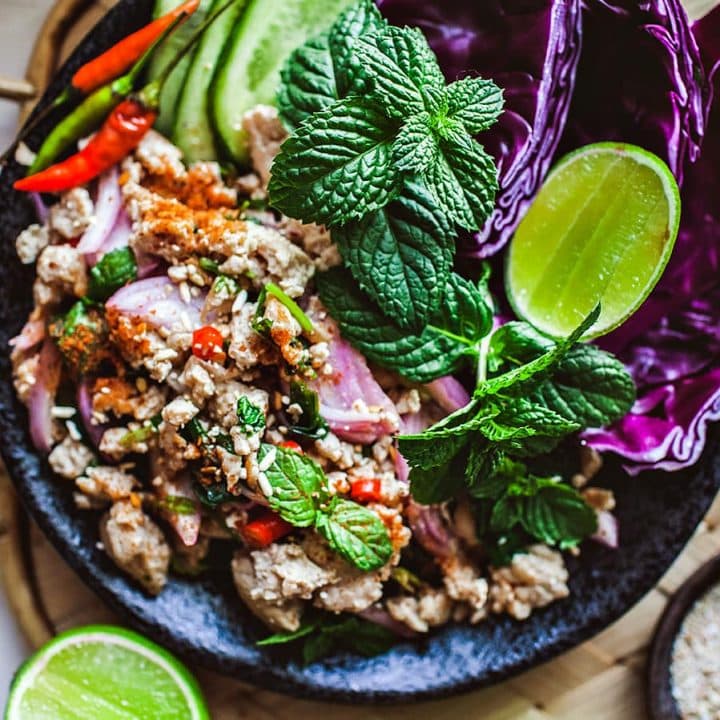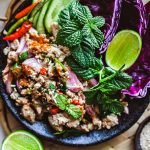 Thai Chicken Salad
---
Author:

Suwanee

Total Time:

30 minutes

Yield:

4

1

x

Diet:

Low Calorie
Description
Easy Thai Larb Gai salad recipe. A fresh, tangy flavor with a slightly crunchy texture from the toasted rice. A fresh and delicious Thai chicken salad. Light yet full of bold and memorable flavors summer salad.
---
1 lb ground chicken
3 cloves garlic, thin slices
2 Tbsp vegetable oil
⅔ cup shallot or substitute red onions, chopped in long and thin slices
⅓ cup cilantro, chopped in chunky pieces, lightly packed
⅓ cup mint leaves, torn into large pieces, lightly packed
⅓ cup green onions cut ½ inch in length, lightly packed
1-3 Thai Bird's eye chilis (adjust your spiciness level here)
½ teaspoon chilis, ground, or flakes (can adjust spiciness level here)
2 ½ Tbsp fish sauce (Use 1 Tbsp for cooking and seasoning the meat and the rest on the salad)
3 ½ Tbsp cup fresh limes juice
2 Tbsp toasted rice. *(I usually toast ½ cup or more each time for leftovers as the rice will expand and get soggy. The fresh sprinkle gives me the earthy-crunchy taste, larb is known for.)
2-3 tablespoon stock or water (optional, only if meat is too dried out)
---
Instructions
1. Heat a medium skillet pan or wok over medium-high heat. Wait until the pan is slightly hot, add oil and wait until it's hot, add garlic and cook for 30 seconds or less.
2. Add the ground meat, break up the meat chunks and stir with a wooden spoon, let cook until the meat is golden brown, About 15 minutes.
3. Make sure the meat is not too dried out, if so, add 2-3 tablespoon of water or stock. Add 1 tablespoon of fish sauce right before turning off the heat to season the meat. Remove from stove and let sit for 15-20 minutes to cool off.
4. On the 2nd stove burner, dry roast the uncooked rice on medium heat for 8-10 minutes or until the rice is golden brown. Notice the glorious aroma of the dry roasted rice! Note * Remove from the heat immediately and let cool. Do not leave the rice in the pan as the rice will continue to cook and will get to dark and will release a bitter flavor. Once cooled, grind the rice, not fine, rough texture for some crunch. You can simultaneously cook the meat and rice at the same time, as I usually do, but keep a close watch, especially on the rice.
5. While the meat and toasted rice are cooling, prep the salad.
6. Add all the vegetables and herbs together in a large bowl, and add the rest of the fish sauce, lime juice, and chili flakes. Mix well with a wooden spoon or spatula.
7. Add the meat to the salad bowl, stir well and adjust flavors with more lime juice or fish sauce, or chili flakes as needed. I tend to favor the tangy lime juice flavor on my Thai larb.
8. Add the toasted rice, stir well and let the salad sit for 5 minutes until the mint leaves are starting to wilt slightly.
9. Mix well one last time before plating. Scoop up the salad into the lettuce leaves and/or cooked Jasmine rice and enjoy it fresh!
Notes
* Serve with cabbage, romaine, or butter lettuce for use as wraps-optional for low carbs option.
* This Thai chicken salad is good for leftovers for another meal, but beware that the toasted rice will get soggy. Just add a little sprinkle from the extra rice you made earlier.
*You'll need 1 pound of ground chicken for this recipe. You can also use ground turkey or pork or beef. My favorite protein used for this recipe is ground chicken and pork. Everything else seems to be too dry. You can add extra broth to the more lean protein if choosing to do so.
*This recipe is gluten-free, dairy-free, Keto and Paleo-friendly.
Prep Time:

15

Cook Time:

15

Category:

Salads

Method:

Stove top

Cuisine:

Thai
Keywords: Laab Gai. Larb gai recipe. Authentic Larb Gai Recipe. Thai chicken salad. Isaan food.