Do you use tapioca in your cooking? What is tapioca starch (and how it's used in Thai cooking)? Tapioca starch or tapioca flour is made from the starch of the root of a tuber vegetable called Cassava. The soft and powdery flour is often used in Thai cooking as a thickening agent for recipes like gravies, sauces, desserts, stir-fries, and soups.
Jump to:
Tapioca is a fascinating and versatile ingredient that has gained popularity across the globe, particularly in Thai cooking. Derived from the cassava root (Manihot esculenta) native to South America, tapioca starch is extracted and processed into various forms, including pearls and flour.
This unique ingredient is a thickening agent, adding a chewy texture to sweet and savory dishes. In this blog post, I'll delve into tapioca, understanding its origin, benefits, and prominent role in Thai cuisine.
What is Tapioca Starch Made From?
Tapioca starch, or tapioca flour, is derived from the cassava plant's root. Cassava, a tropical plant found in South America, is harvested and processed to obtain starchy liquid. The liquid is then dried and processed to form tapioca starch in fine powder or pearls.
What is Cassava?
Cassava is a root vegetable and an essential food crop in many African countries and South America. Also known as manioc or yuca, cassava is a highly versatile ingredient in various dishes worldwide.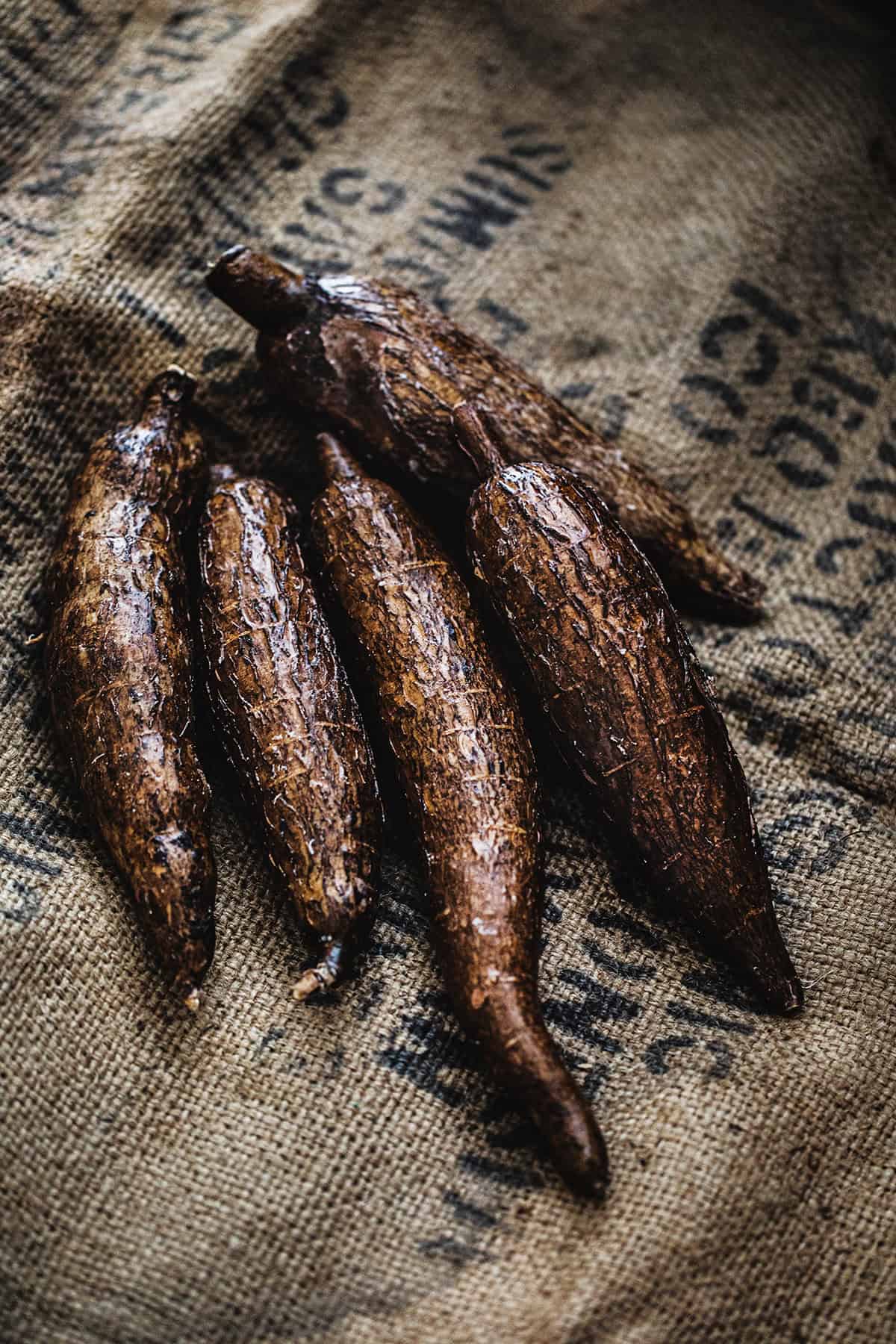 Benefits of Cassava
Cassava, the root vegetable from which tapioca is extracted, offers numerous health benefits. It is a staple food in tropical climates and provides a valuable source of nutrition in low-nutrient soils. Cassava is rich in carbohydrates, offering a good source of energy. It is also gluten-free, making it an excellent alternative for those with celiac disease or gluten intolerance.
Tapioca Starch VS Tapioca Flour
Tapioca starch and tapioca flour are often used interchangeably in cooking. However, there is a slight difference between the two. Tapioca starch is extracted from the cassava root and processed to remove impurities. It is then finely ground into a smooth powder.
Tapioca flour, on the other hand, refers to the whole root that has been ground into a flour-like consistency. Both can be used as thickeners in recipes, but tapioca starch is preferred for its smoother texture and ability to create a glossy finish.
Tapioca Starch in Thai Cooking
Tapioca starch (แป้งมันสำปะหลัง) plays a crucial role in Thai cuisine as a thickening agent. This 3-elephant Erawan tapioca flour starch brand is commonly used in many Thai kitchens, mine included. It adds a chewy texture to popular dishes and desserts, enhancing their overall taste and appeal.
From savory dishes to delectable desserts, tapioca starch is an essential ingredient in traditional Thai recipes. It's one of those ingredients that other flours can substitute if you cannot find some in your local grocery store.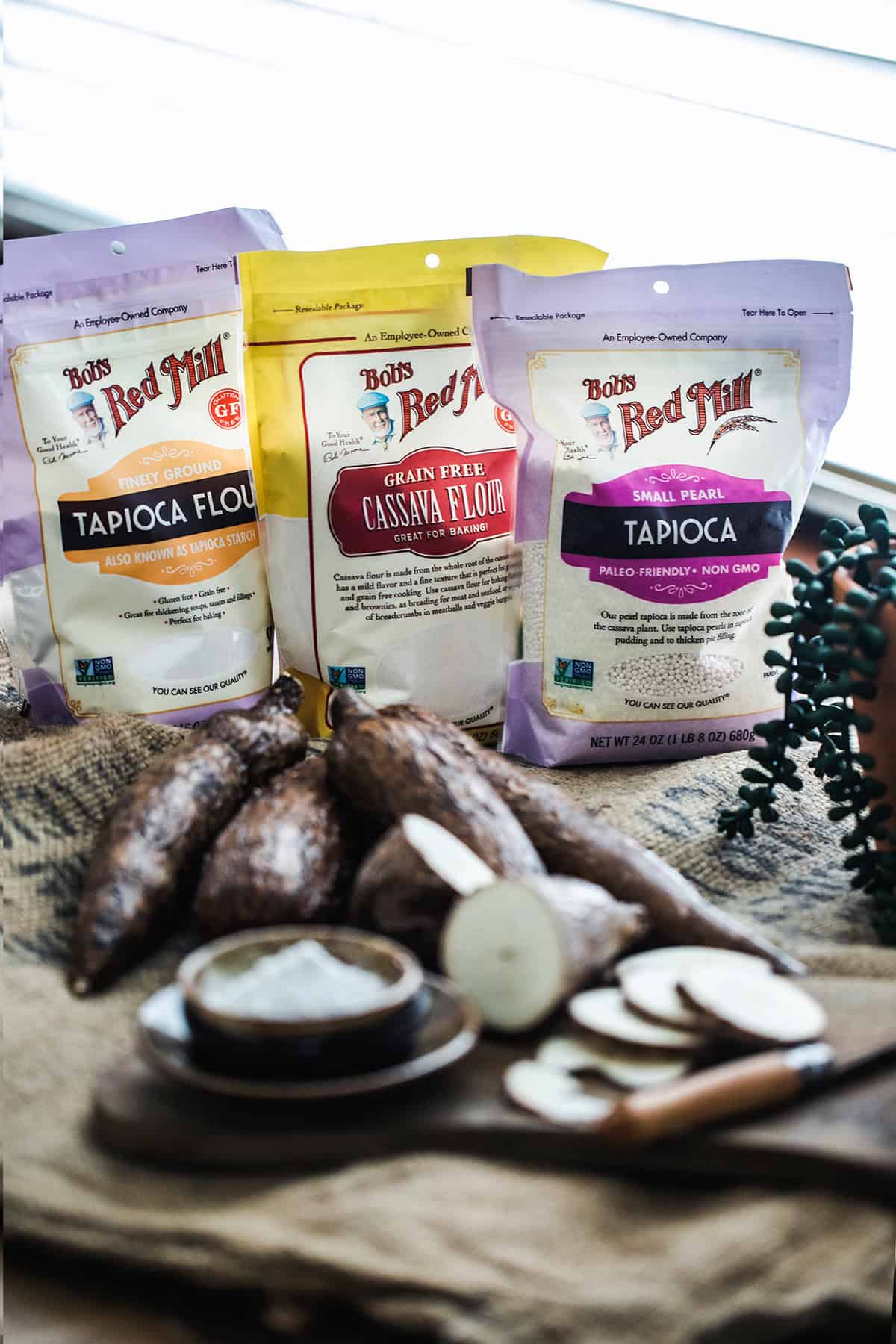 How to Use Tapioca to Thicken Food
Mix tapioca starch as a thickening agent with a small amount of cold water to create a slurry before adding it to hot liquids. Cook over medium heat while stirring until the desired thickness is achieved.
Is Tapioca Starch the Same as Cornstarch?
While tapioca starch and cornstarch serve as thickening agents, their sources and properties differ. Tapioca starch is extracted from the cassava root, while cornstarch is obtained from corn kernels. While they can be used interchangeably in some recipes, their textures and thickening abilities vary.
Tapioca starch and cornstarch are both gluten-free starches used as thickeners. Tapioca imparts a chewy texture, while cornstarch yields a smoother result.
Tapioca Starch Substitutes
What's a Good Tapioca Starch Substitute? If you cannot find tapioca starch, there are a few good options for you to find in your local grocery stores. Here are some good options if your recipe calls for a tapioca starch substitute. These ingredients have similar thickening properties and can be used as a 1:1 recipe replacement.
Tapioca Starch in Baking
Tapioca starch is an essential ingredient in gluten-free baking, adding a chewy texture to baked goods and acting as a thickening agent.
What are Tapioca Pearls
If you have ever had bubble tea, then you have had tapioca pearls. Those are the round pearls at the bottom of your drink. Also, if you have eaten tapioca pudding before, the small pieces and soft round lumps are cooked tapioca pearls.
Tapioca pearls are also made from the roots of the cassava plants. They are just formed into pearl-like pieces, thus the name tapioca pearls. A word about tapioca pearls.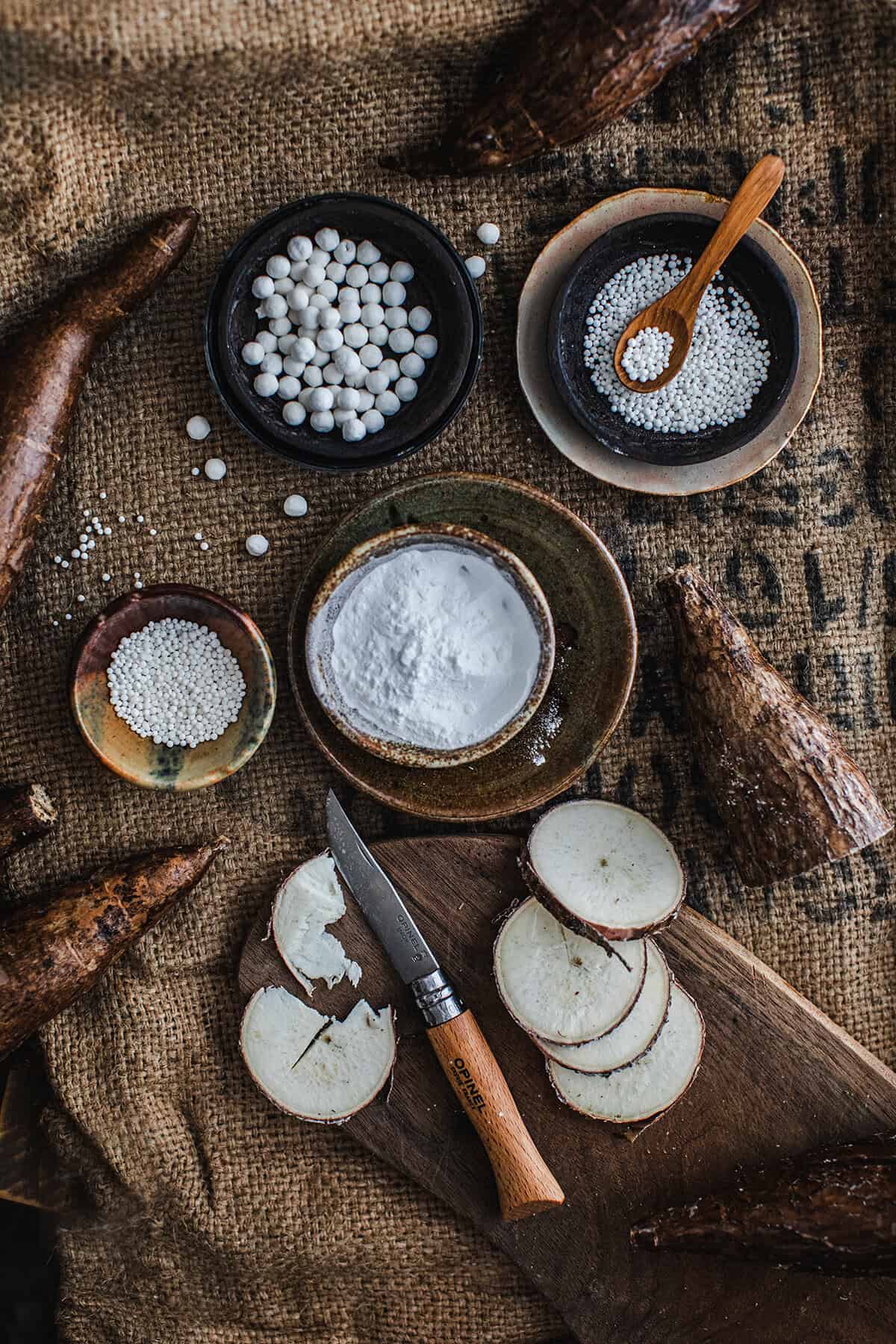 Tapioca Pearls. These chewy little balls are made from tapioca starch. They are often used in a popular dessert called boba tea, a sweet treat enjoyed by many people with a sweet tooth. Tapioca pearls come in different sizes, such as large and small.
Different sizes of tapioca pearls. These different sizes are because some prefer larger pearls, while others prefer tiny tapioca pearls. The larger pearls are sometimes called tapioca balls, a key ingredient in boba tea. They add a fun texture to the drink and make it more enjoyable to sip.
Cooking tapioca pearls. If you ever come across a cup of dry tapioca pearls, don't worry! You need to cook them in water until they become soft and translucent. This process is pretty quick, especially if you use instant tapioca pearls, and soon you'll have delicious tapioca pearls ready to be used in your favorite desserts or drinks.
Different names for tapioca pearls. Interestingly, tapioca pearls go by different names in various cultures. For example, in some places, they are called boba; in others, they are called sago.
The different colors of tapioca pearls. Tapioca pearls come in various colors, like little bursts of joy. Some are white, like tiny moons floating in a sea of milk tea. Others are black, resembling tiny orbs of darkness that add a mysterious touch to your drink.
Then there are the colorful ones, like vibrant rainbows dancing in your cup, bringing a playful twist to your taste buds. No matter the color, each tapioca pearl adds a delightful surprise to every sip.
Check your flour aisle the next time you go to your grocery store. I was able to find the small pearls in mine. When you get a chance to go to your Asian market, look for them, also. You will find them in all different shapes, sizes, and colors!
Thai dishes with Tapioca
Tapioca starch can be used in various recipes, from puddings and pies to savory dishes and ice cream.
Is Tapioca Healthy?
Tapioca can be a healthy source of carbohydrates and energy when consumed in a balanced diet. However, like any food, moderation is key.
Tapioca starch is a good energy source due to its high carbohydrate content. Additionally, it is naturally gluten-free, making it suitable for those with gluten intolerance or following a gluten-free diet.
Where to Buy Tapioca Products?
Tapioca starch, flour, and bubbles are widely available and can be found in most local grocery stores or online. They are also sold in Asian markets.
Frequently Asked Questions
Is Tapioca Starch Gluten-Free?
Yes, tapioca starch is naturally gluten-free, making it a safe option for those with gluten intolerance or celiac disease.
Tapioca Benefits and Side Effects
Tapioca provides a good source of carbohydrates and is gluten-free. However, excessive consumption may increase caloric intake and potential digestive discomfort.
Is Tapioca Starch the Same as Tapioca Flour?
Yes, tapioca starch and flour are the same and can be used interchangeably.
Is Tapioca Starch Inflammatory?
No, tapioca starch is not inherently inflammatory. It is well-tolerated by most individuals, including those with food sensitivities.
What is Tapioca Pudding Made Of?
Tapioca pudding is a classic dessert made with tapioca pearls, milk, sugar, and sometimes coconut milk. It is cooked until the pearls become transparent and the mixture thickens into a creamy, delectable pudding.
What are tapioca pearls made from?
Tapioca pearls, also known as boba pearls or chewy balls, are popular in bubble tea, a trendy beverage from Southeast Asia. These small pearls are made from tapioca starch and are cooked until chewy, then infused with various flavors such as sugar syrup, coconut milk, or fruit juices.
Conclusion
Tapioca starch, derived from the cassava root, is crucial in Thai cooking, providing a unique chewy texture and a versatile thickening agent. With its gluten-free nature and numerous culinary applications, tapioca starch has become an essential ingredient in many dishes worldwide.
So, the next time you indulge in a delicious tapioca pudding or savor the chewy boba pearls in your bubble tea, take a moment to appreciate the wonders of tapioca and its culinary magic in Thai cuisine and beyond.
Tapioca recipes you will love
These popular tasty Thai recipes use tapioca to thicken, enhance and elevate the flavors and texture of the food. Give them a try! They are some of the readers' favorites here on the blog!