I get asked about where to buy Asian groceries online often. My answer to that question is this—multiple places. Well, I've finally put this full guide together, and here you are with a list of online stores and some suggestions for places to look for your favorite Asian Ingredients.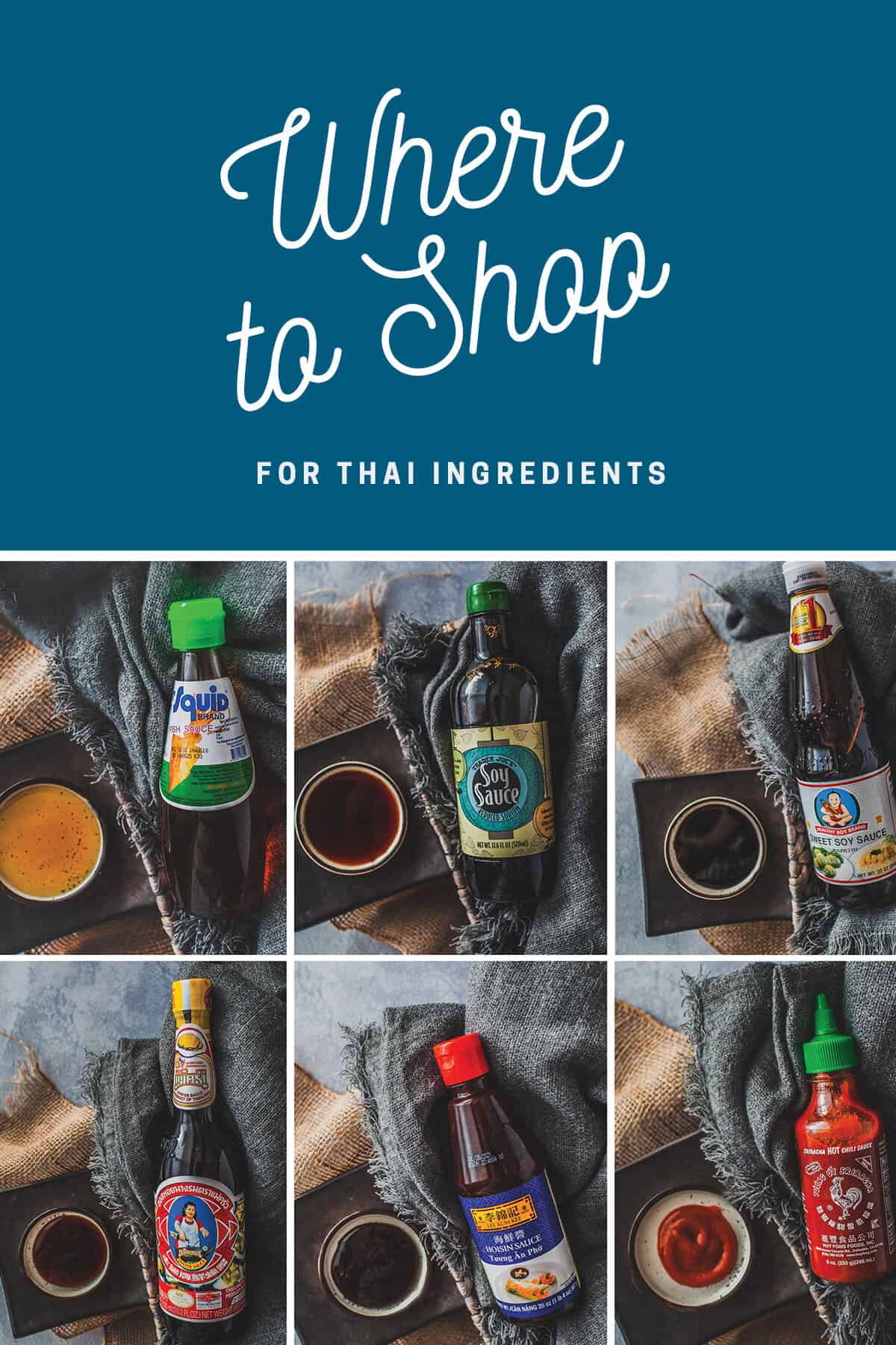 This list will be an ongoing list of stores, markets, and places to grab Asian groceries. Check at the bottom of the post to see how you can participate in this fun project!
Go here to check out all my helpful blog posts on Thai and Asian kitchen essentials. A wealth of resources, information, and detailed photos await you there. Go. (:
Online Shopping for Asian groceries
Shopping online is convenient and easy, especially if you live in an area that doesn't have Asian markets. My favorite online shopping resources are listed below.
Sarap Now is an excellent online grocery store specializing in Asian snacks and food products. With a wide range of items, Sarap Now caters to seasoned cooks seeking specific ingredients and curious food explorers looking to try new flavors. The site's curation ensures that customers can find the right products easily, making it a great option for new and long-time customers.
H Mart, a renowned brick-and-mortar Asian supermarket chain, has embraced online shopping, offering nationwide delivery of fresh produce, pantry items, and specialty ingredients. Their online store boasts a broad range of Asian groceries, including Korean ramen, Japanese snack box subscriptions, and ready-made sauces. With its reputation for good prices and great customer service, H Mart is a favorite among many Asian food enthusiasts.
3. Yummy Bazaar: A Global Culinary Adventure
Yummy Bazaar takes online grocery shopping to a new level by offering a wide range of Asian brands and products alongside items from around the world. This site's curation allows customers to explore unique global foods and discover new items to excite their taste buds. With a freshness guarantee and risk-free freshness policy, Yummy Bazaar ensures customers receive the best quality products at their doorstep.
4. Weee! Largest Asian and Hispanic Online Grocery store
An international grocery store with delivery service. A full and comprehensive online store with many grocery options worldwide.
5. Bokksu Market: Elevating Japanese Snacks
Bokksu Market is the ultimate online destination for Japanese snacks and treats fans. Founded by Genki Ito, the founder of Behave Candy, Bokksu Market offers a delightful assortment of Japanese Kit Kats and other delicious snacks. With single servings of these delectable treats, customers can indulge in some of Japan's snacking culture without leaving their homes.
6. Xiao Chi Jie: Your Source for Chinese Dumplings
Xiao Chi Jie is the perfect online store for those craving authentic Chinese dumplings. They offer a range of traditional Asian cuisine, including delectable dumplings, Vietnamese coffee, and other Asian grocery items. With nationwide delivery, Xiao Chi Jie ensures customers can enjoy these savory delights no matter where they reside.
I've been a customer of Import Food for decades. My first order was when I lived in Okinawa, Japan, as a newlywed to my Air Force husband on our first assignment. I thought I wouldn't have trouble finding Thai ingredients to cook my Thai food, but shockingly, I did.
A small Japanese island, it proved hard to find Thai ingredients. So I grew many of my own herbs like lemongrass, ginger, galangal, basil, shallots, and cilantro until I discovered Importfoods! They are extremely professional and have many ingredients you can load up on for many of the dishes you find here on my blog.
I've ordered some items from here and have been very happy with those purchases. They are also very professional, and I highly recommend ordering from them. They are very thorough on their FAQ page about how to place orders. I find it comforting that they put such care into putting their customers at ease with ordering online. Go check them out!
I haven't had a chance to order from them yet, but their website and products look professional and clean, and their friendly-looking staff runs it! They are located in Thai Town in NYC and specialize in Thai products and ingredients.
They offer Thai ingredients, groceries, cookware, and household and hard-to-find items in Los Angeles, California.
An online shopping site offering Thai and Asian food products.
Good old Amazon! I ordered from Amazon quite a bit, especially when I lived in Portugal for one year, from 2017-2018. We lived on a tiny island with zero Asian grocery stores. I listed a few items on Amazon that you can order and have delivered straight to your door.
Costo surprisingly has a few quality Thai items with Thai brands too! Their bulk buying is especially handy when I'm meal prepping, cooking for a large party, or want to stock up for a few weeks.
World Market is a fun store to shop and discover a few Thai and Asian items on their shelves. Their list of products has increased over the years. It's always a delight to see new Asian products there.
15. Your Local Farmer's Markets
I love nothing more than going to a farmer's market in the summertime. I usually bee-line for booths with Asian vendors and try to connect and ask questions about their products. Make a connection and see if you can do a special produce order you may need! I love looking for my cilantro roots there and have had major success with a few farmers!
16. Friends connections
Not everyone has this option, but I also do this since you asked. (: When I can't find a specific ingredient, I text my Thai and Asian friends living all over the US and ask if they have some in their area. If not, they usually refer me to their friends who have some, and I usually get a few things this way. I offer to pay for postage, and it's worked out a few times this way for me!
You can also ask your local Asian markets or your farmer's markets if you can place special orders with them. If they require a large order, you can always split the cost with a friend or two and have a Thai cooking party using my yummy recipes!
17. Your Local Asian Markets
Your local Asian Markets will provide most ingredients you need to stock your Thai pantry. My best suggestion is to Google "Asian Markets" or "Asian Groceries" or "Asian Store" or Asian Grocery Store" and go check out the ones that pop up. I know not each town will have one but hang tight. I have some online resources for you too.
Asian Grocery Stores Near You: Spokane, Washington
The following list is for my local hometown Asian foodies!
This list will be an ongoing list of Asian grocery stores I've visited as I travel and want to cook Thai and Asian food. I'll start locally and will build from there. I would love for you to participate and send me addresses, pictures, and recommendations of your favorite Asian grocery stores in your area or where you are visiting! It'll be a fun and helpful project for your Asian food-loving community!
Oriental Market: 3919 E. Trent Avenue, Spokane, WA 99202, United States
Asian World Food Market: 3314 N. Division St, Spokane, WA 99207, United States
​Best Asian Market: 2022 E Sprague Avenue, Spokane, WA 99202, United States
Canna Market Spokane: 9606 N Newport Hwy, Spokane, WA 99218, United States
Lieng & Phane Oriental Market: 13124 E Sprague Ave a, Spokane Valley, WA 99216, United States.
Saw Oriental Market: 1601 N Division St, Spokane, WA 99207, United States
International Food store: 3021 E Mission Ave, Spokane, WA 99202, United States
Conclusion
Online Asian grocery stores have revolutionized how we shop for Asian ingredients and products, bringing the rich flavors and cultural heritage of Asian cuisines to our fingertips. From traditional pantry staples to exciting new items, these online stores offer various choices for every palate.
So, the next time you're in search of authentic Asian flavors or embarking on your next exciting food adventure, look no further than these top-notch online Asian grocery stores. With the convenience of online shopping, you can now enjoy the diverse and delicious world of Asian cuisine from the comfort of your home.
Frequently Asked Questions
Are groceries cheaper at Asian markets?
Groceries can be cheaper in Asian markets because they often offer various affordable products.
Which online platform is best for grocery?
The best online platform for grocery shopping may vary depending on personal preferences, location, and availability. Some popular options include Amazon Fresh, Instacart, and Walmart Grocery.
Who is the biggest online grocery retailer in the US?
The biggest online grocery retailer in the US is Amazon, with its Amazon Fresh and Whole Foods Market services.
Why shop at Asian markets?
Shopping at Asian markets can offer unique and authentic ingredients, a wide range of spices, sauces, and produce that may not be easily found in regular supermarkets. It also allows you to explore and try new flavors and dishes.
How to find Asian grocery stores near me?
To find Asian grocery stores near you, you can use online search engines or apps like Google Maps, Yelp, or specific Asian grocery store directories. You can also ask locals or friends who may be familiar with the area.
How to find an Asian grocery store in a new town?
You can follow the abovementioned methods in a new town to find an Asian grocery store nearby. Additionally, you can ask for recommendations from locals, join local community groups or forums, or even check with nearby Asian restaurants for suggestions.
How to find an Asian grocery store in a new country?
Finding an Asian grocery store in a new country can be more challenging. However, you can start by searching online for Asian communities or neighborhoods in the country you're in.

These communities often have Asian grocery stores nearby. You can also inquire at local Asian restaurants, embassies, or cultural centers, as they may be able to provide information or recommendations.
** Thank you so much for visiting my blog! This is truly a passion for me. If you have enjoyed these recipes and blog posts and appreciate the hard work I put into them, I would love it if you would share them with your friends! Your recommendation is the highest review I could hope for, and I'd appreciate it! **
Thai Kitchen Resources
Check out these comprehensive guides on Thai kitchen resources. Learn about herbs, spices, sauces, rice, noodles, and more about all the key topics of Thai cuisine! Beautiful photos are included for your reference! (: