Last fall, I posted a Kabocha Squash recipe and have had a lot of good feedback from you. Thank you for making my chicken red curry recipe! To follow up with a few questions about the Kabocha Squash, I thought I'd share a bit more about it in detail. More specifically, what you can do with the Kabocha Squash left over from making my red curry chicken recipe. So, here we go!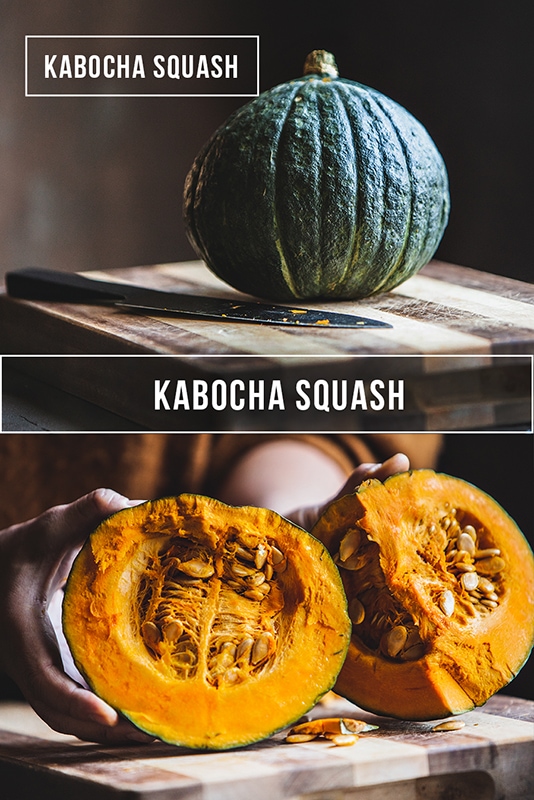 What is Kabocha Squash?
Kabocha Squash is a type of pumpkin that you can find in most grocery stores near all the other types of squash and pumpkins. The external skin is green, very similar to the common orange pumpkins. The meaty part of the Kabocha Squash is bright, deep yellow with a sweet and starchy taste. Once cooked, the meat turns silky and creamy, much like soft-boiled potatoes. The core and seeds are in the middle and do require that you scoop all that out and scrape the soft layer before getting to the meaty part of the Kabocha Squash.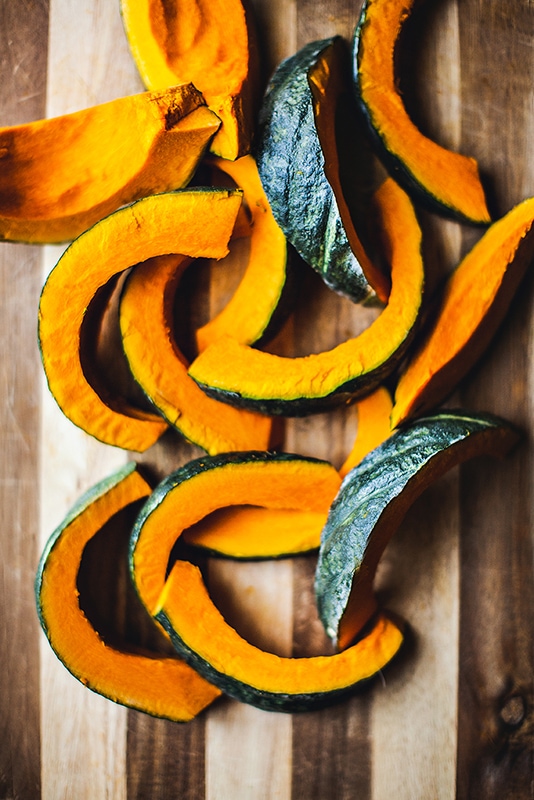 How to Cook Kabocha Squash on the Stove?
You may be new to Kabocha Squash and wonder, "How can I cook Kabocha Squash on the stove?" Well, you cut the squash in half, remove the seeds and pulp of the squash, slice the squash into 2 inch long pieces, put them in a medium large pot, add water until all the pieces are covered then cook on the stovetop for 20 minutes on medium high heat.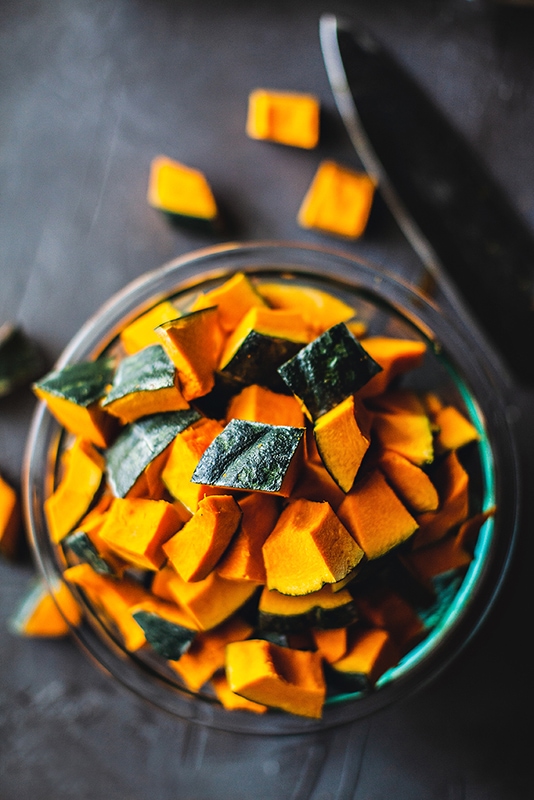 Where is Kabocha Squash from?
Kabocha Squash is believed to have its origin from Asian countries like Japan and Cambodia. Some stories have also been told that the Portuguese traders brought it to Asia with them from Europe. Wherever its origin is from, Kabocha Squash is one of the most delicious pumpkins out there. You can normally find it more easily during the fall when they are in season.
How Healthy is Kabocha Squash?
This little powerhouse is more than just a green pumpkin. Kabocha squashes are rich in beta carotene, which your body turns into Vitamin A. This is good for many things, such as supporting healthy vision and stronger immune response. Kabocha squashes taste similar to sweet potatoes but have a lower glycemic load than both sweet potatoes AND pumpkins. The best part? They keep for weeks on your kitchen counter (at room temperature) and are very versatile for soups, stews, and curries. Even the seeds can be roasted for a snack!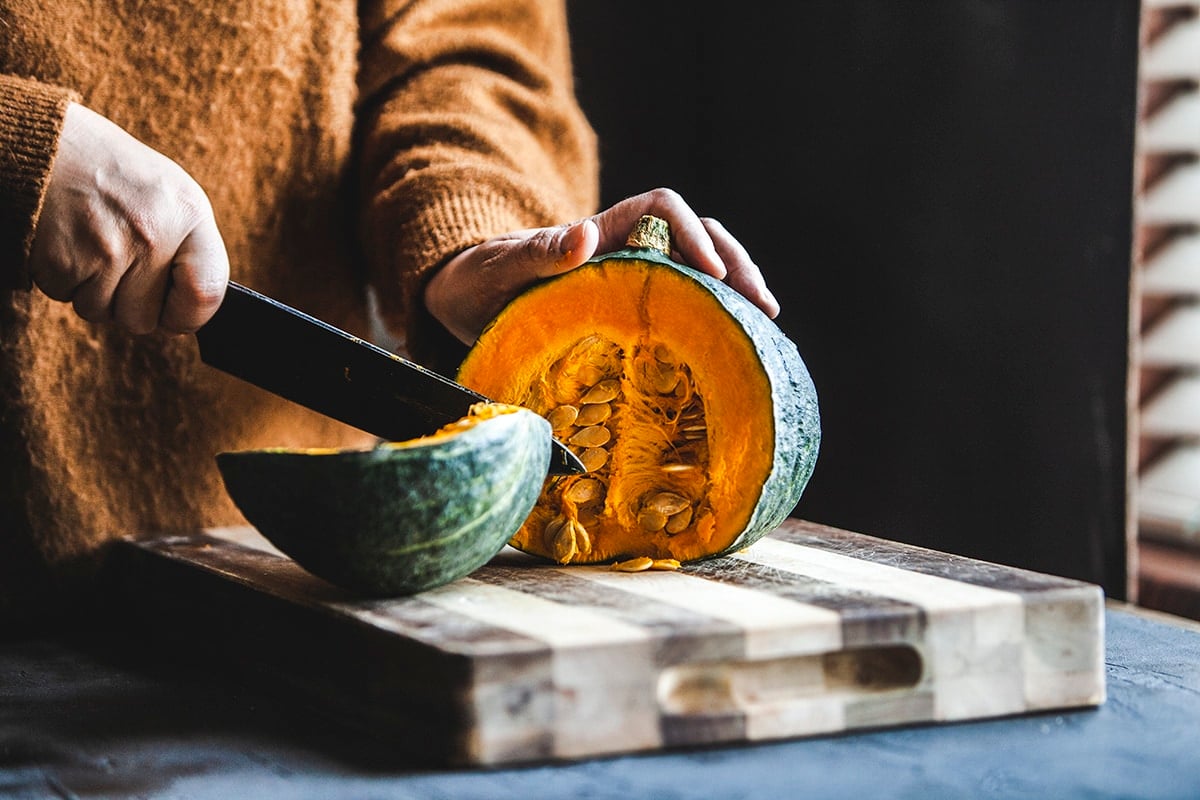 What to do with Stovetop Cooked Kabocha Squash?
There are a few things you can do with your cooked Kabocha Squash. 1. Eat it plain with nothing on it all since it is so sweet and creamy. 2. You can spread a small amount of butter or coconut oil over the cooked squash and sprinkle ground cinnamon with it. 3. Puree it and use it for that extra creaminess and healthy benefit in Mac & Cheese. It is delicious this way and my kids can't even tell!
What does Kabocha Squash Taste like?
Kabocha Squash has a very distinct, starchy and sweet taste. The skin makes it even more distinctive with a tiny dash of crunch. Once cooked, the Kabocha meat is extremely creamy with an even sweeter flavor. It's a taste combination of orange pumpkins and sweet potatoes in one.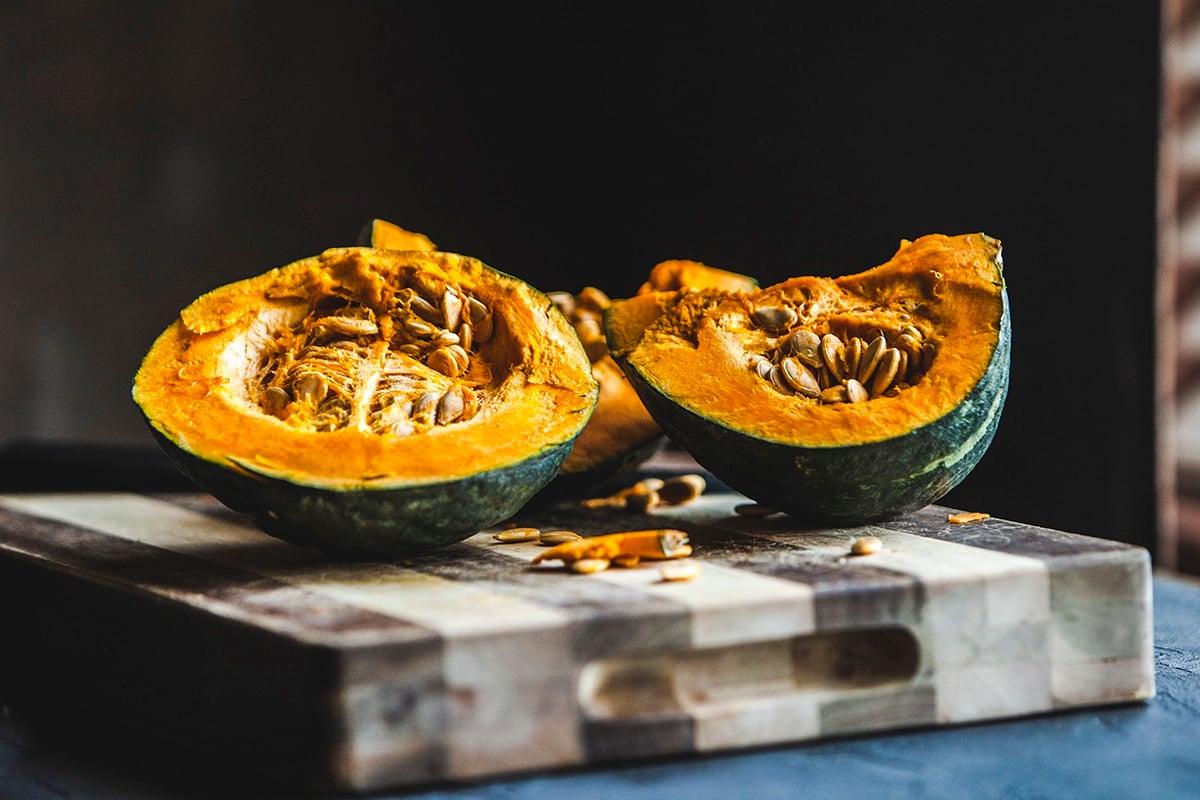 Can you Eat Kabocha Squash Skin?
Yes, absolutely! You can eat cooked Kabocha Squash skin. The skin of the squash is not tough once cooked, so it's quite edible. In fact, the skin holds the creamy meat of the squash together perfectly. Just be sure to scrub the squash well before cutting and cooking it.
Where Can you Find Kabocha Squash?
Kabocha Squash can easily be found in most grocery stores as well as Asian markets. I found mine at Trader Joe's and my local Asian market. You can spot them in the un-refrigerated produce section near all the other squash and pumpkins. They are more readily available during the fall when they are in season. Like all produce, I try to pick from the freshest selection possible. To choose your Kabocha Squash, look for the least dry stems on top of the squash, if possible. Another way to know if the squash is fresh is to look for the soft, round and more shiny texture on the skin of the squash. To test this method, gently dig your fingernail into the skin and see if you can scratch through to see how fresh or young the squash is.
How do you Cut Kabocha Squash?
Cutting the Kabocha Squash can be tricky for the first time. Make sure to be extra careful with the sharp, sturdy knife needed for cutting the thick squash. I've put together a step-by-step process in photos for you, to show you how to cut and prepare the squash for cooking. Please be sure to check out the photo tutorial first if you are unsure of how to start cutting the squash.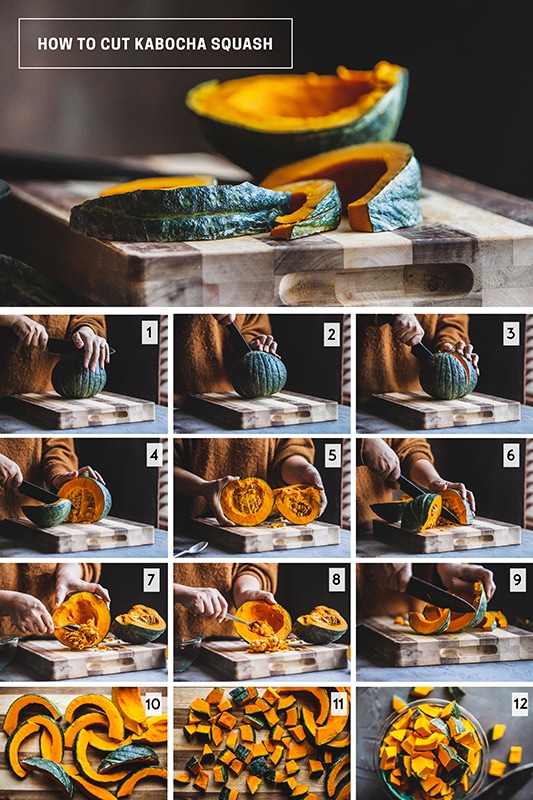 Here are step by step pictures on how to cut and slice the squash. Once all done, be sure to make this extra delicious red curry using your Kabocha Squash.
I hope this post has been helpful to you. Please leave a comment for me below if you have further questions.