What is Kabocha squash? Learn about this amazing Japanese pumpkin, a gem among winter squashes, cherished for its vibrant flavors and numerous health benefits. Its bright orange flesh, sweet flavor, and rich flavor profile have become a favorite in many Asian cuisines and beyond.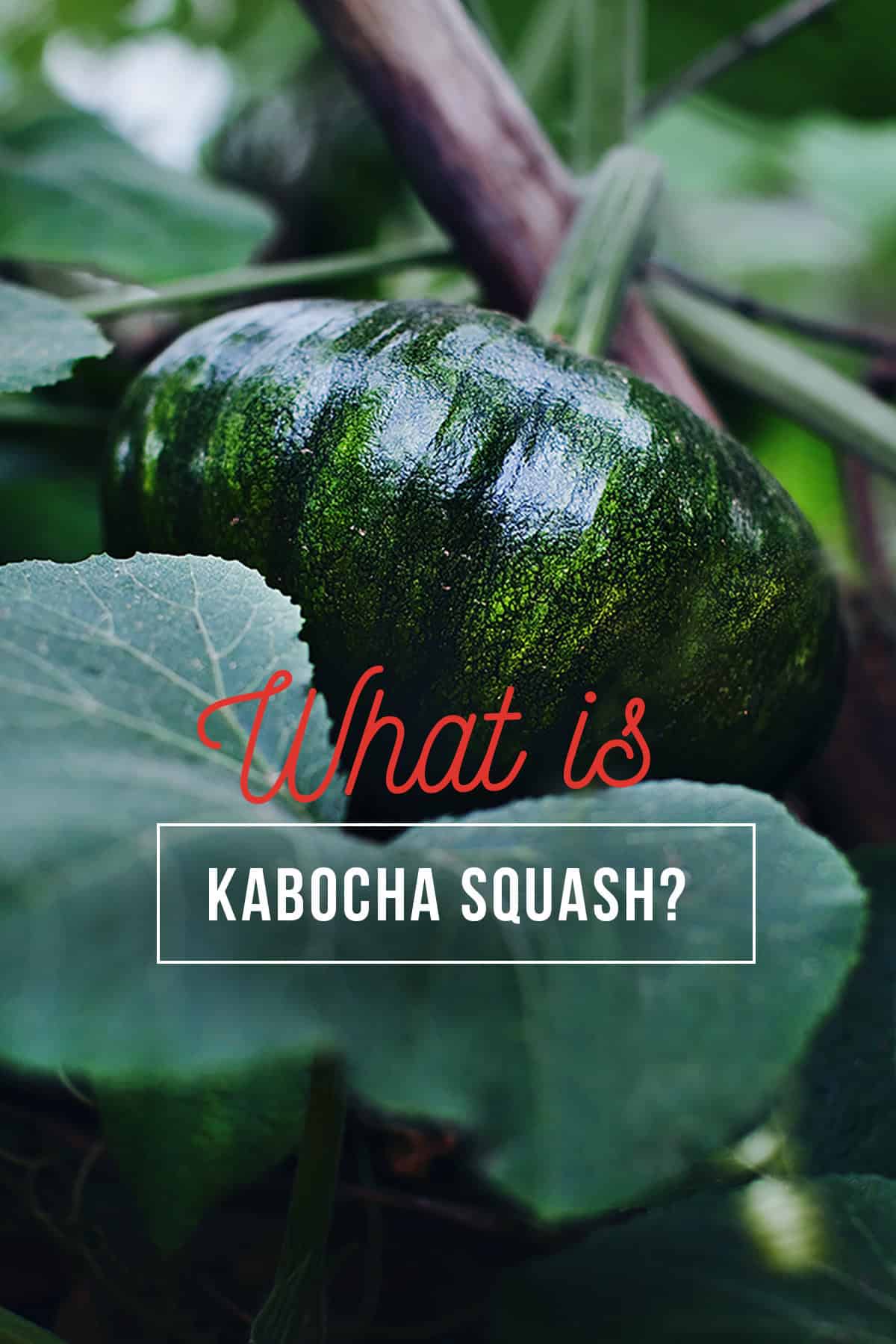 In this blog post, we'll explore the wonders of kabocha squash, its versatility in cooking, its health benefits, and how to use it in different ways.
What is Kabocha Squash
Kabocha squash is a type of winter squash that is similar to pumpkin. It has green or orange outer skin and sweet, dense, creamy orange flesh inside. It is commonly used in various dishes, like soups, stews, and desserts. Kabocha squash is delicious and packed with vitamins A, C, and fiber. It is easy to cook and can be enjoyed in many different ways.
History of Kabocha
Kabocha Squash - A Culinary Gem: Kabocha squash, scientifically known as Cucurbita maxima, has been enjoyed in Japanese cuisine since the mid-16th century when Portuguese traders from South America introduced it. Since then, it has become a staple in many Asian cooking and is celebrated for its unique taste and versatility.
Another theory is that Portuguese traders found Kabocha squash in Cambodia and named it Kabocha squash. In the Cambodian language, the word for Cambodia is Kam-Pu-Chia, which sounds like Kabocha when pronounced by people from other countries. As time passed, the squash from Cambodia started being spelled and said as Kabocha.
What Does a Kabocha Squash Taste Like?
Kabocha squash has a sweet and nutty flavor with a creamy texture. Its taste is often compared to a mix of sweet potato and pumpkin, making it a delightful addition to savory and sweet dishes.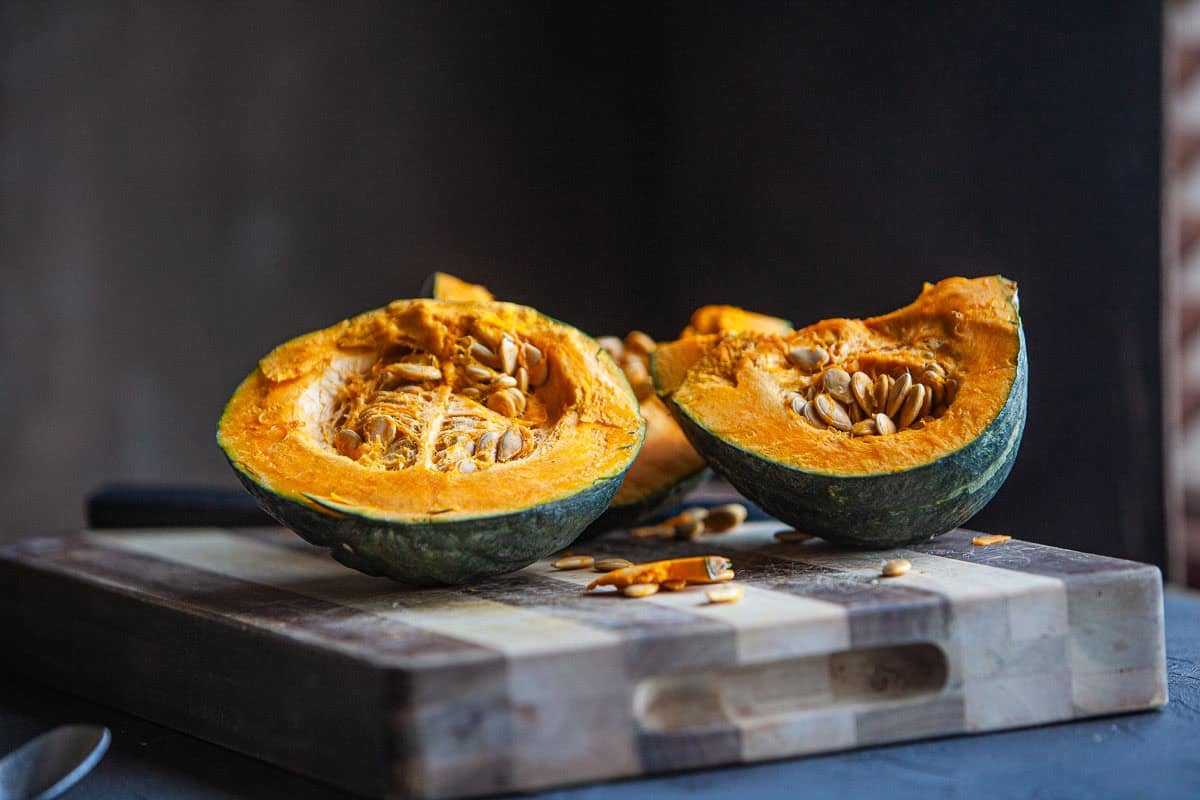 How to Cook with Kabocha Squash
Kabocha squash can be used in a variety of ways in your cooking. Roast it for a delicious side dish, puree it for soups or sauces, or add it to curries and stews for a hearty and nutritious meal. Its versatility makes it a perfect addition to your favorite winter recipes.
Kabocha squash in Thai cooking
Kabocha squash is a delicious and versatile ingredient commonly used in many savory dishes in Thai cuisine. It has a sweet, nutty flavor and a smooth, velvety texture that adds depth to various dishes. These are some delicious kabocha squash recipes in Thai cooking.
One popular Thai dish featuring kabocha squash is "Gaeng Kari," a flavorful curry. The squash is typically cut into cubes and simmered in a rich and aromatic coconut milk base, along with other ingredients like Thai curry paste, kaffir lime leaves, and fish sauce. The result is a comforting and hearty dish that pairs perfectly with steamed rice. This red curry recipe is one of the readers' favorite recipes on the blog!
Kabocha squash can also be used in stir-fries, soups, and desserts. Its natural sweetness balances well with savory flavors and spices, adding a unique touch to any dish. To create a colorful and nutritious meal, Thai cuisine combines it with other vegetables, such as bell peppers, onions, and mushrooms. Try this easy and delicious Stir fry Kabocha recipe.
Thai coconut Kabocha squash dessert is a delicious and creamy sweet treat that combines the flavors of coconut and squash. It is made by cooking Kabocha squash until it becomes soft and tender. Then, the squash is mixed with coconut milk to create a smooth and luscious texture. The dessert is sweetened with sugar or honey for a perfect balance of flavors. It is usually served chilled and garnished with toasted coconut flakes or a sprinkle of cinnamon.
Health Benefits of Kabocha Squash
Rich in Vitamins and Minerals. Kabocha squash is an excellent source of vitamins and minerals. It is exceptionally high in vitamin C, which supports the immune system and promotes healthy skin. Additionally, kabocha squash is packed with beta carotene, a powerful antioxidant that converts to vitamin A in the body, contributing to eye health and immune function.
Low in Calories, High in Fiber. For those seeking a nutrient-dense, low-calorie option, kabocha squash is an excellent choice. With its high fiber content, this squash can aid digestion, support weight management, and promote a healthy gut.
Supports Heart Health. Kabocha squash contains potassium, which is crucial in maintaining proper heart function and regulating blood pressure. Including kabocha squash in your diet can contribute to heart health and cardiovascular well-being.
Regulates Blood Sugar. The fiber in kabocha squash helps slow down the absorption of sugar, making it a favorable option for those looking to regulate blood sugar levels. Its low glycemic index makes it suitable for individuals with diabetes or those aiming to manage blood sugar spikes.
Read more about the health benefits of Kabocha squash here.
Kabocha Squash Varieties
Kabocha squash comes in different varieties with unique characteristics and flavors. The most common variety is the green-skinned kabocha, known for its vibrant orange flesh and sweet taste. Other popular varieties include the red kabocha, which has a deep red skin and an even sweeter flavor, and the gray kabocha, recognized by its slightly drier texture.
Substitutes for Kabocha Squash
If you cannot find kabocha squash or prefer alternatives, several substitutes can provide similar flavors and textures. Sweet potatoes, butternut squash, and acorn squash are excellent choices that can be used in various kabocha squash recipes.
How to Peel Kabocha Squash
Peeling kabocha squash can be a bit challenging due to its tough skin. The easiest way to peel it is to use a sharp knife and a stable cutting board. Slice off the top and bottom of the squash, then use a rocking motion with the knife to pierce through the skin. Once you've cut the squash into wedges, use a paring knife or vegetable peeler to remove the skin.
Kabocha Skin
The dark green skin of kabocha squash is thick and tough, making peeling challenging. However, the skin becomes tender once cooked, adding a lovely texture to your dishes.
How to Peel the Skin of Kabocha
To peel the skin of kabocha squash, use a sharp knife to slice off the top and bottom of the squash. Then, use a rocking motion with the knife to cut the skin away in large strips. Alternatively, you can use a vegetable peeler for a smoother and quicker process.
How to Cook Kabocha on the Stove
One of the best ways to cook kabocha squash on the stove is to simmer it in a pot of water until it becomes tender. Cut the squash into large wedges and remove the seeds. Place the wedges in a pot, cover them with water, and add a pinch of sea salt. Bring the water to a boil and then reduce the heat to a simmer. Cook the squash until it is easily pierced with a fork, drain the water into a heat-safe bowl, and let it cool before serving.
DO NOT throw away the water. Use it like vegetable stock for cooking. There are a lot of nutrients in the kabocha squash water.
What to Do with Stovetop Cooked Kabocha Squash?
Once you have stovetop-cooked kabocha squash, enjoy it as a simple side dish seasoned with a drizzle of olive oil and a sprinkle of sea salt. You can also add it to salads, soups, or stews for an extra boost of flavor and nutrition. In Japanese cuisine, kabocha squash is often used in tempura or simmered in a flavorful broth.
Store It Right for Longer Freshness
Whole Kabocha squash. Store your kabocha squash fresh and delicious in a cool, dry place like a pantry or cellar for two or more weeks. They stay at room temperature even longer in winter for up to 3-4 weeks.
Large pieces. If you've already cut into the squash, the best way to store the large pieces, like the halves or quarter pieces, is to use plastic wrap to cover them tightly, then store them in the refrigerator for up to 3-4 days.
For the thick slices or small pieces, best to store them in an airtight container in the refrigerator for up to 3-4 days.
Incorporate Japanese Squash Into Your Diet Today
With its incredible health benefits and versatile culinary uses, kabocha squash is a vegetable worth adding to your diet. From simple mashes to elaborate Asian-inspired dishes, this nutrient-packed vegetable can enhance the flavors of your meals and introduce you to the delightful taste of Asian cuisine.
My absolute favorite way to sneak some nutrients into food for my kids is to make pumpkin puree and use it in mac and cheese, spaghetti, or smoothies. The sweet squash adds richness to any dish used with it.
Whether you're a seasoned kabocha enthusiast or trying it for the first time, this squash's unique flavor and texture will undoubtedly become a favorite addition to your culinary repertoire. Explore the vast world of kabocha squash and savor the delectable flavors it has to offer.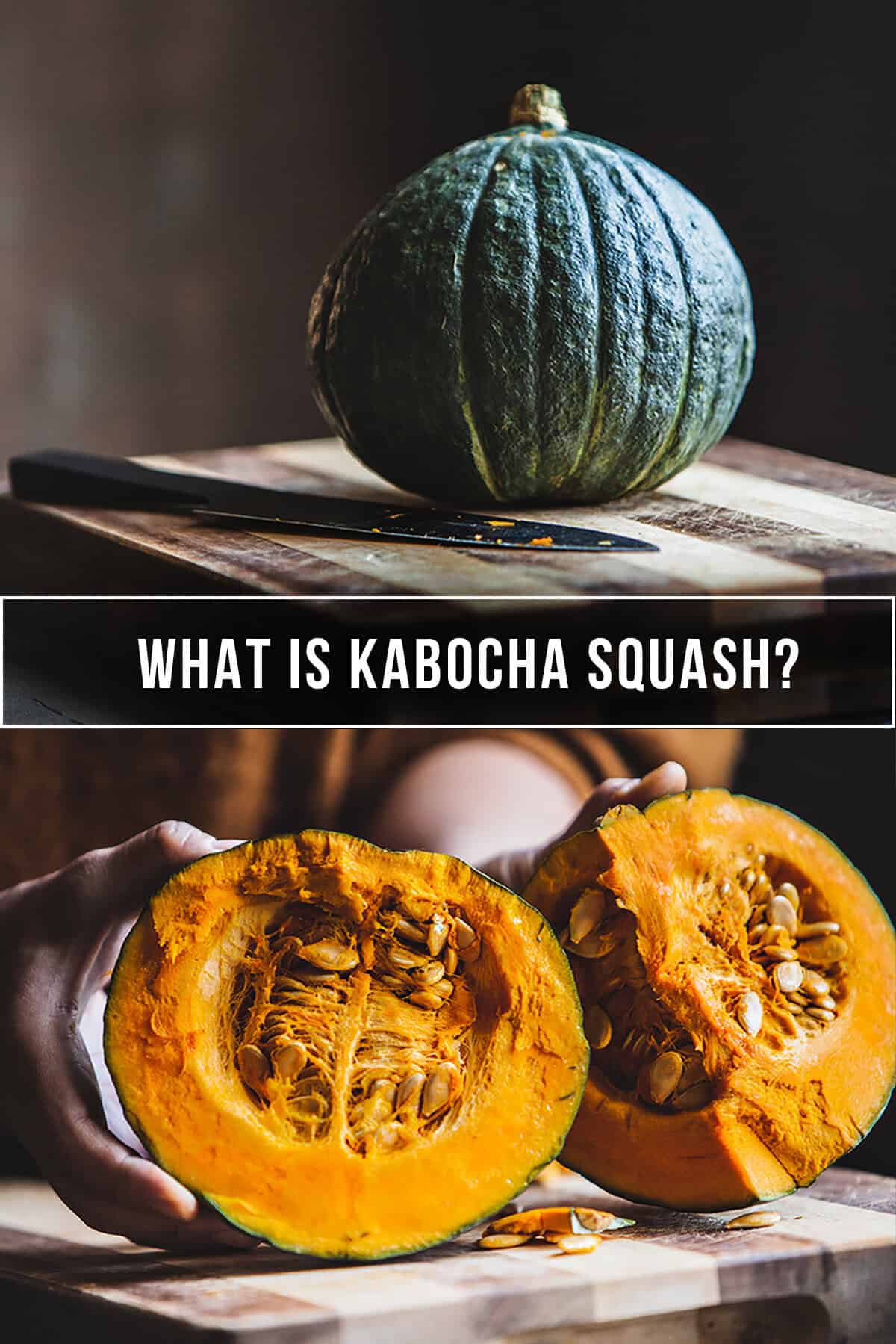 Frequently Asked Questions
What Is the Difference Between Kabocha and Pumpkin?
While kabocha squash and sugar pumpkin belong to the squash family, they have distinct differences. Kabocha squash has a sweeter flavor and denser texture than sugar pumpkins, often used for traditional pumpkin pies.
What Is the Difference Between Kabocha and Butternut Squash?
Kabocha squash and butternut squash have different taste profiles and textures. Kabocha squash has a sweeter and nuttier flavor, whereas butternut squash offers a creamier texture with a subtle sweetness.
Can You Eat Kabocha Seeds? 
Absolutely! The kabocha squash seeds are edible and can be roasted like pumpkin seeds. Dry the seeds, toss them with a little salt and oil, then roast them in the oven until golden brown and crunchy.
Do You Eat the Skin of Kabocha Squash?
Yes, the skin of kabocha squash is entirely edible, especially when cooked. However, if the skin is too tough, peel it before cooking.
Where can I find kabocha?
Kabocha squash is available in the late summer or early fall and winter. Find them at most regular grocery stores, Asian markets, pumpkin patches at orchards or 

Conclusion
Kabocha squash is a culinary gem with delightful flavors and impressive health benefits. From its ease of cooking to its versatility in various dishes, this Japanese pumpkin is a winter squash worth adding to your culinary repertoire. Whether you simmer it in stews, roast it in the oven, or deep-fry it for tempura, kabocha squash will elevate your dishes with its natural sweetness and nutty flavor.
So, the next time you visit your local grocery store or farmer's market, don't miss the chance to bring home this exceptional type of winter squash and embark on a culinary adventure with kabocha squash.
** Thank you so much for visiting my blog! This is truly a passion for me. If you have enjoyed these recipes and blog posts and appreciate the hard work I put into them, I would love it if you would share them with your friends! Your recommendation is the highest review I could hope for, and I'd appreciate it! **
Delicious Thai recipes you'll love