Thai coconut ice cream dessert made with coconut milk and coconut cream, a very easy but delicious Thai dessert made with minimal ingredients. This recipe will show you in pictures, step by step processs in how to make this well loved Thai dessert that is eaten with soft white bread or hot dog buns.
This Thai coconut ice cream was one of my favorite childhood treats during those humid days in the Northeast of Thailand. We couldn't afford much growing up but when the ice cream truck came by with a blaring hand-squeezed horn, our ears perked. I say ice cream truck but here's what I mean- a wrapped foamed ice cooler with a metal lid tied to all 4 corners of a wooden cart that was attached to the back of a small scooter. (: We stopped whatever we were doing and ran barefoot straight to the sound of the horn. We almost always forget our money, but in our childlike minds, getting to the ice cream cart as fast as we could would somehow give us bragging rights to the deliciousness of the Thai coconut ice cream.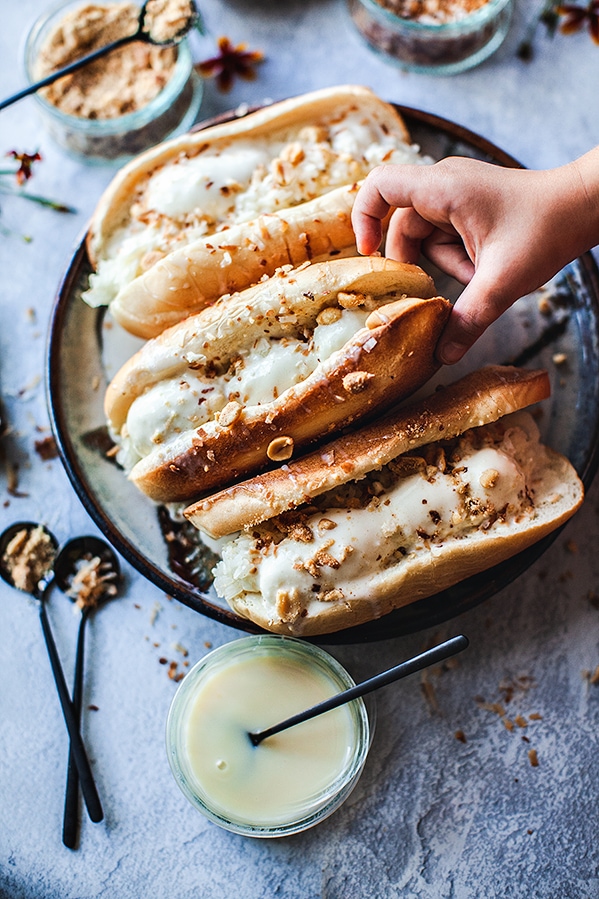 For us, just to stand on and around the ice cream cart felt like a glorious treat. Some moms would run after the kids with a few coins for their kids to buy ice cream. Most of us didn't and were just hoping for a lick or two of the treat from a generous friend. The ice cream man was always so patient with all us swarming kids standing and hanging on to his tired old cart. When he did open the lid of his cooler, all the little heads would peer in to peek through the tiny freezer opening, hoping for a whiff of the freezer vapor. The gloriously distinctive aroma of coconut was enough of a treat in itself for us. On days when we did have coins to buy the ice cream, it was a very delicious day. Usually, it was when we had visiting relatives from out of town or during special holidays when we'd often get a few extra coins. Somehow, the ice cream man just seemed to know when we had cash and he'd show up with his squeaky cart and blaring horn. On those rare occasions when we had the extra money, we'd splurge on the deluxe version of the Thai coconut ice cream. The deluxe version had an extra scoop of coconut ice cream piled on top of sticky rice inside soft hot dog buns. Yup. You read that right. Coconut ice cream + sticky rice + hot dog buns. Oh yes, and top that off with a generous drizzle of sweetened condensed milk and crushed peanuts on top. Sounds like a bizarre combination I know, but seriously, if you haven 't had it, be prepared for your world to be turned upside down. (: It's that good!
How to Make Thai Coconut Ice Cream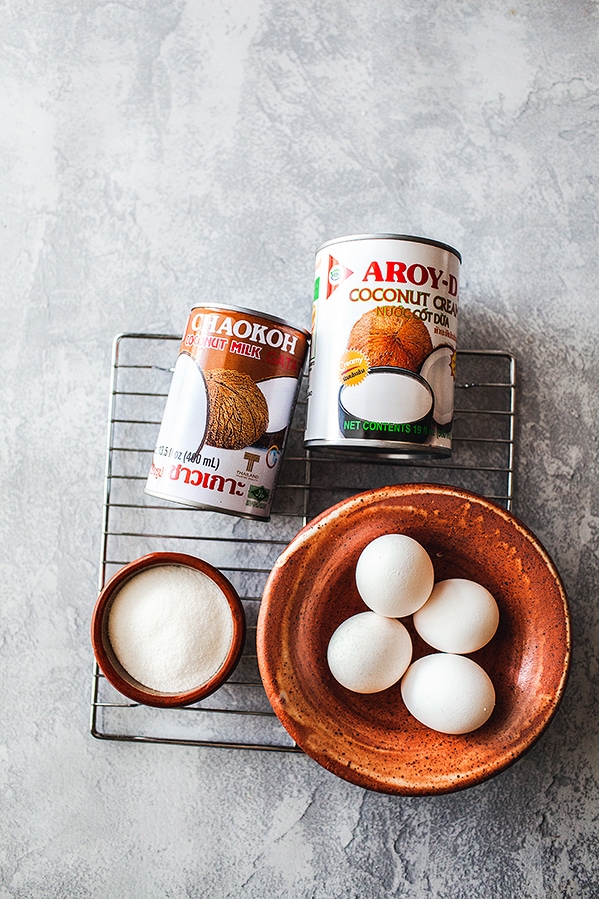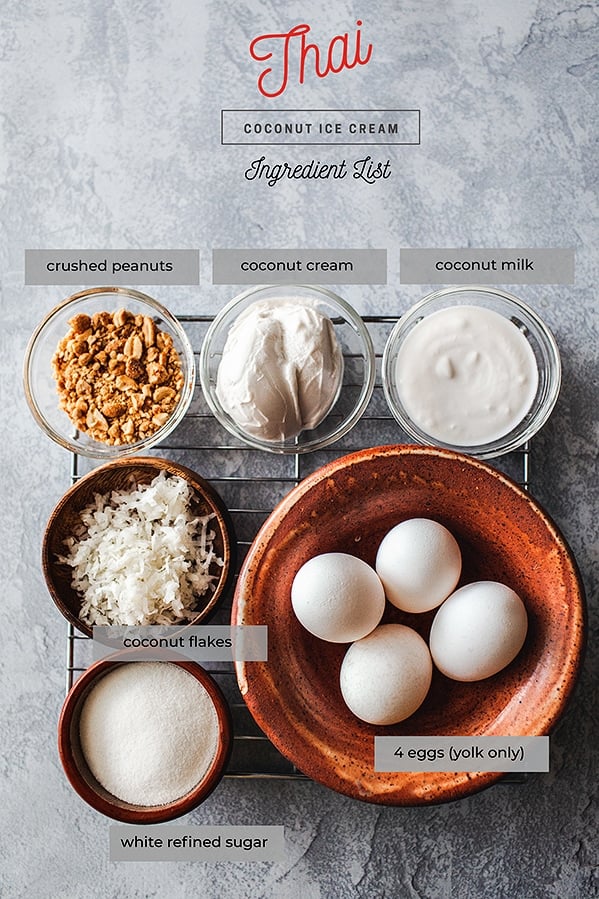 This Thai coconut ice cream recipe requires only 4 major ingredients. Sugar, egg yolks, unsweetened, full fat coconut milk and unsweetened, full fat coconut cream. Toppings are optional but highly recommended-coconut flakes, crushed peanuts and sweetened condensed milk (not pictured).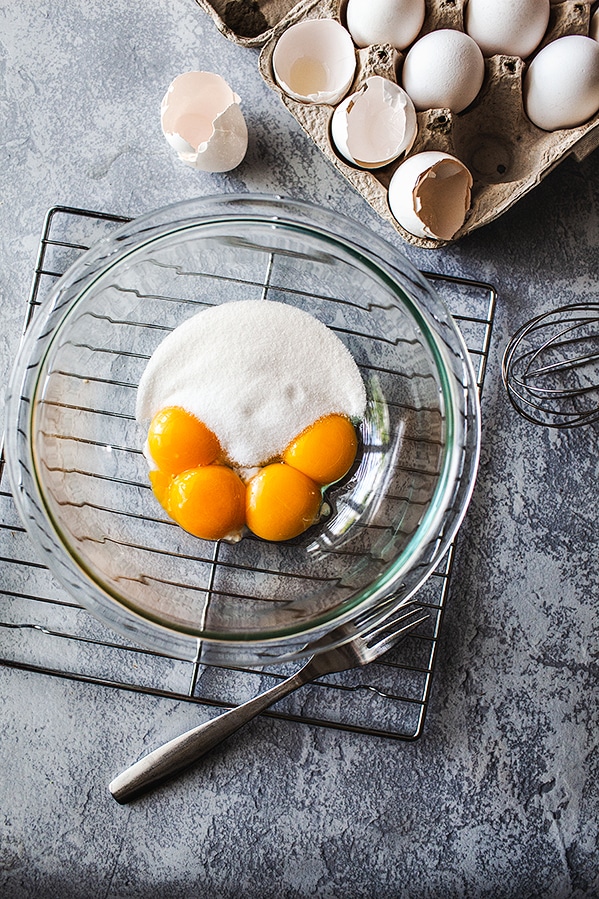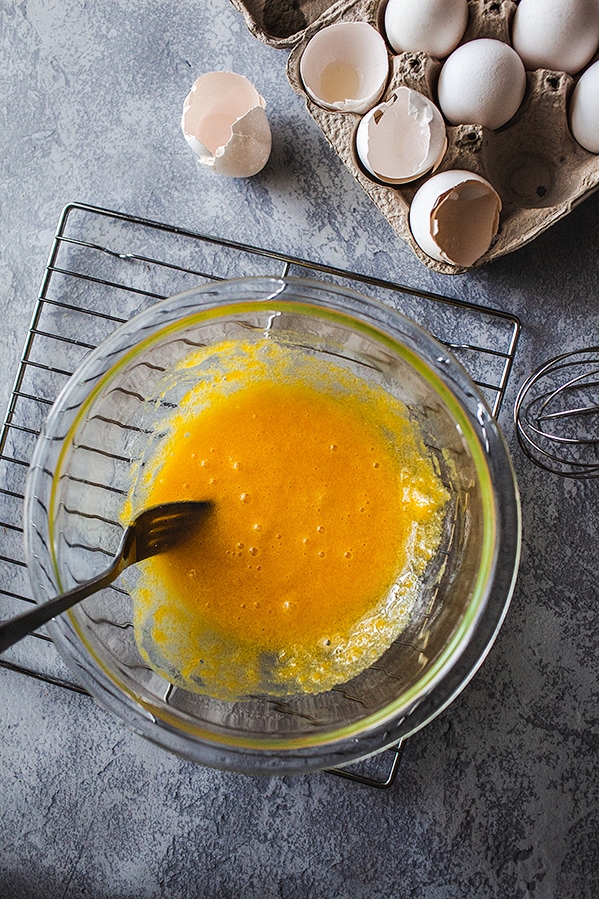 In a separate bowl, whisk together the egg yolks and sugar, set aside until the coconut milk is ready and has cooled off a bit.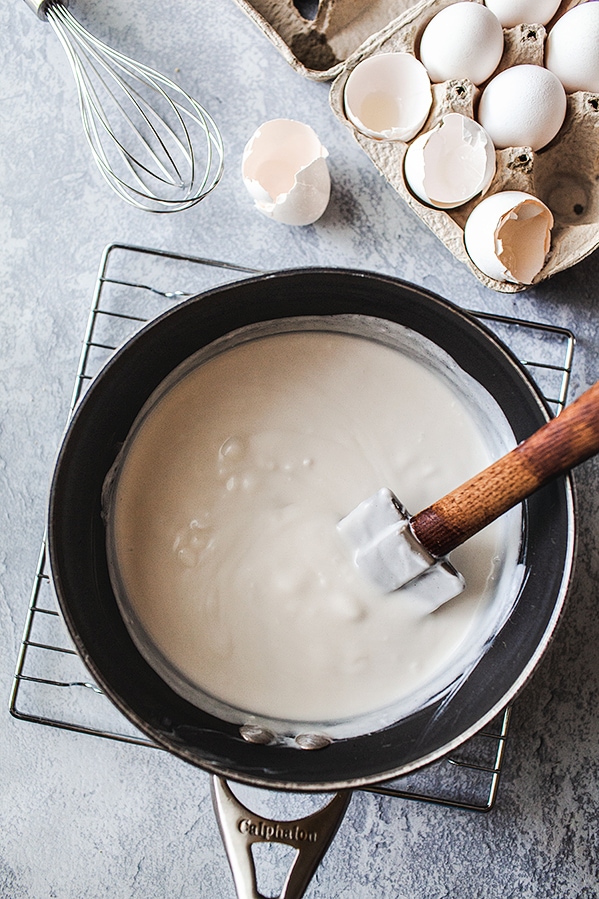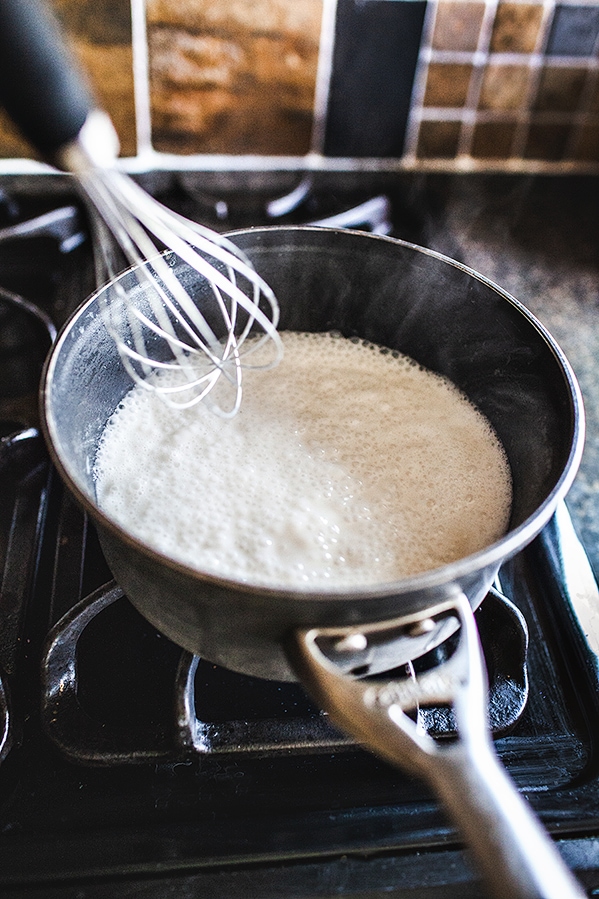 While waiting for the coconut milk and cream to boil and thickens slightly, I toasted the coconut flakes on medium-low heat for 10 minutes. Keep a close eye on both!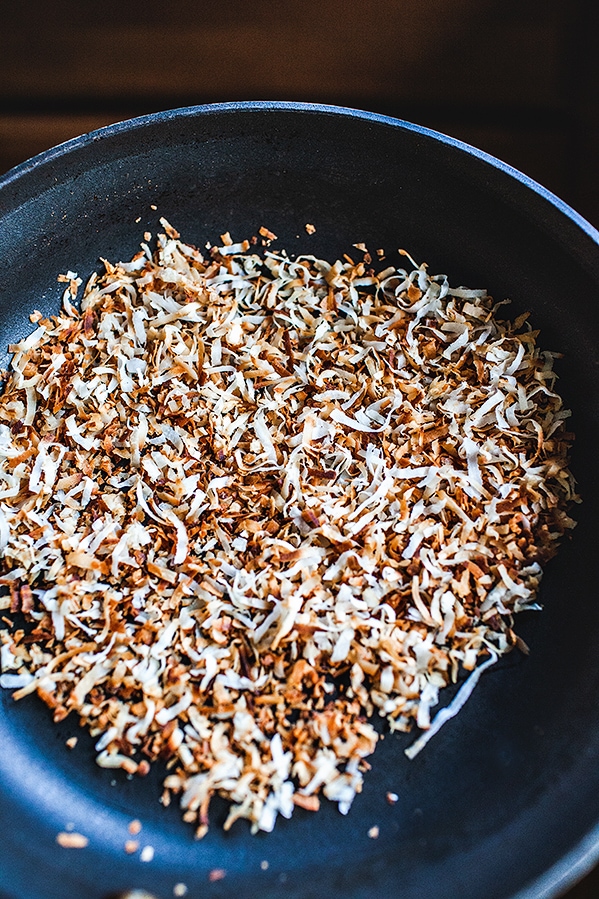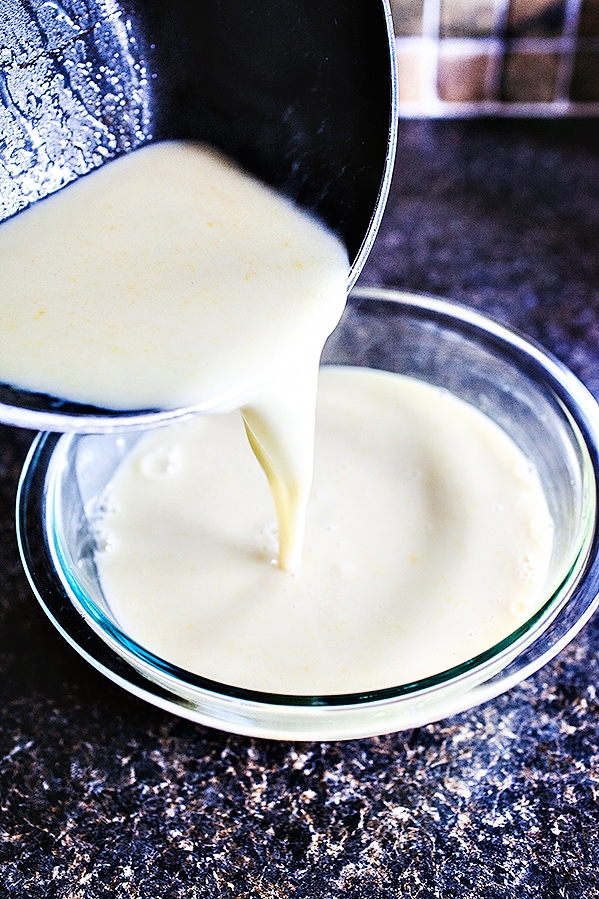 Once boiled, turn off the heat, remove the mixture into a glass bowl and let cool for 15 minutes. Add the egg yolk mixture and whisk until the eggs are near impossible to see.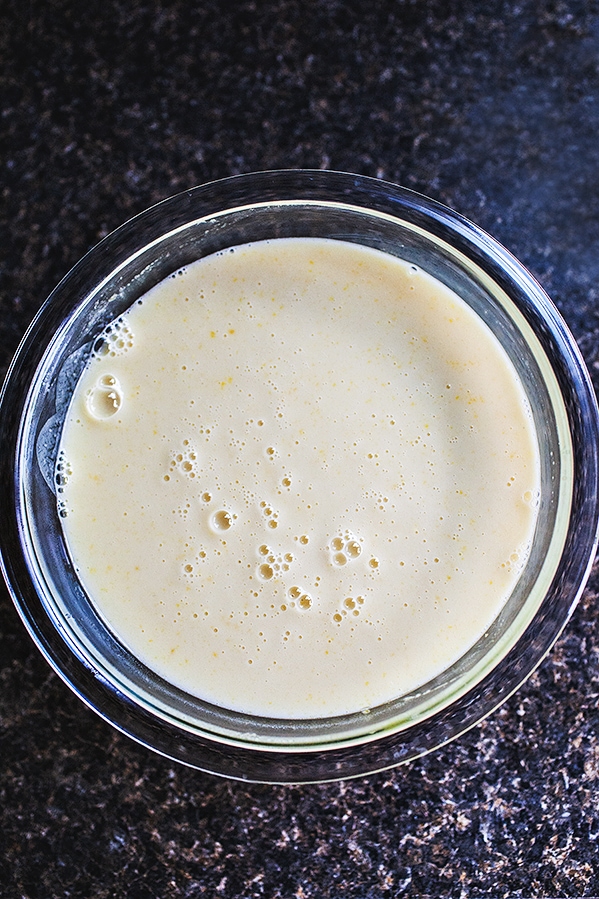 Cover the mixture and place it in the freezer for 4-6 hours and check every 2-3 hours.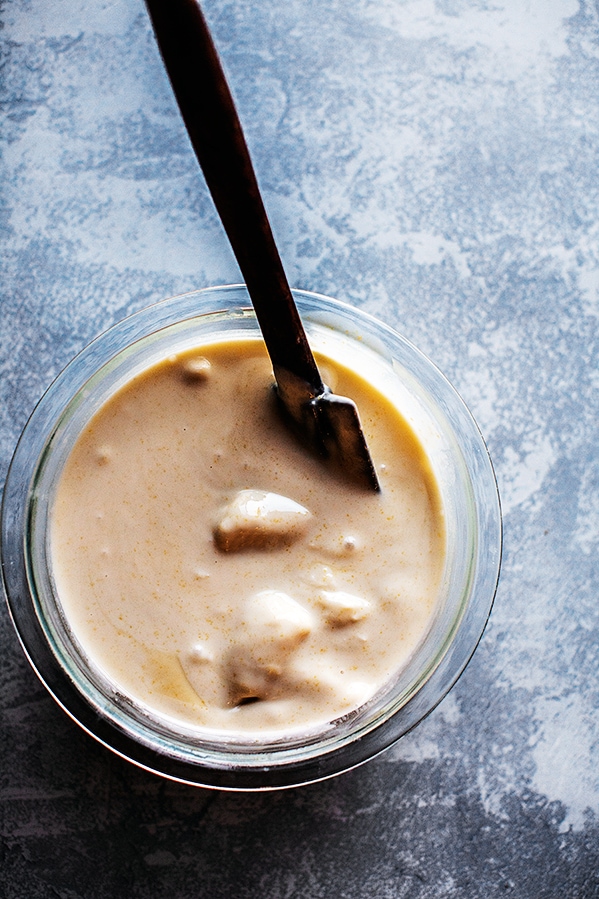 Above: After 4 hours of freezing and I put the rest in an ice cream maker to churn for 20 minutes.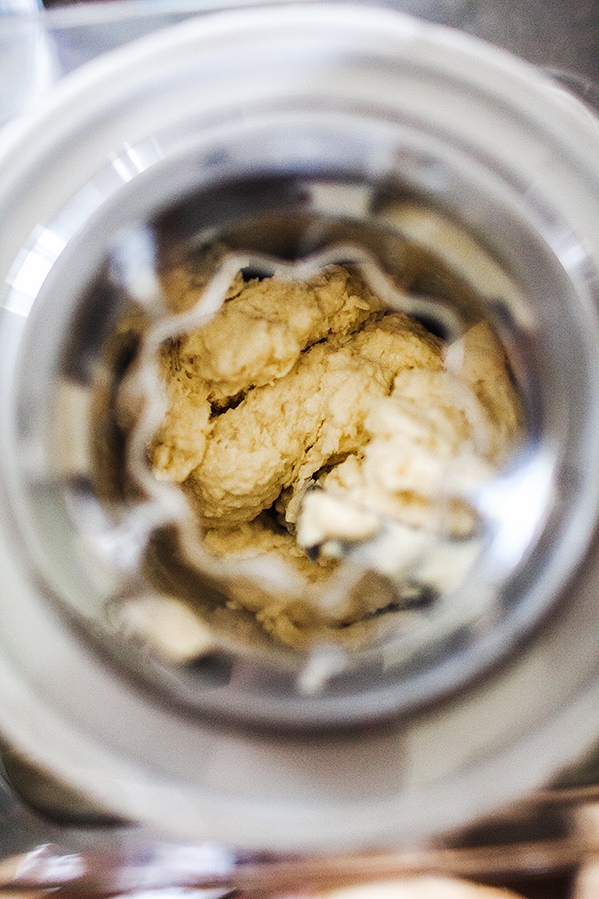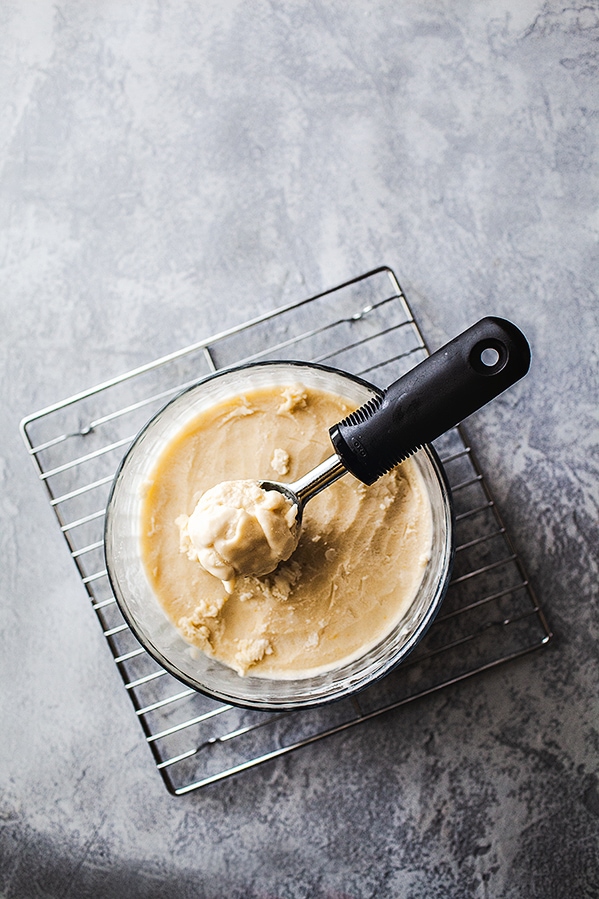 With this recipe, you do not have to churn the ice cream if you don't have an ice cream machine. Simply freeze the ice cream mixture in the freezer 6 plus hours and serve once hardened.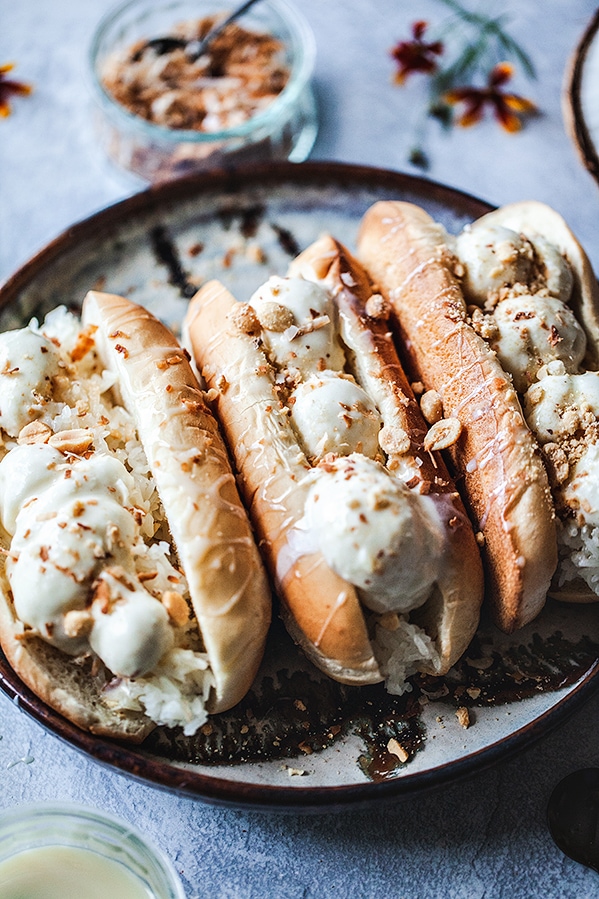 The original way of eating Thai coconut ice cream, with very soft hot dog buns. Or you can just scoop out the ice cream with no fillings. Just be sure to garnish with delicious toppings!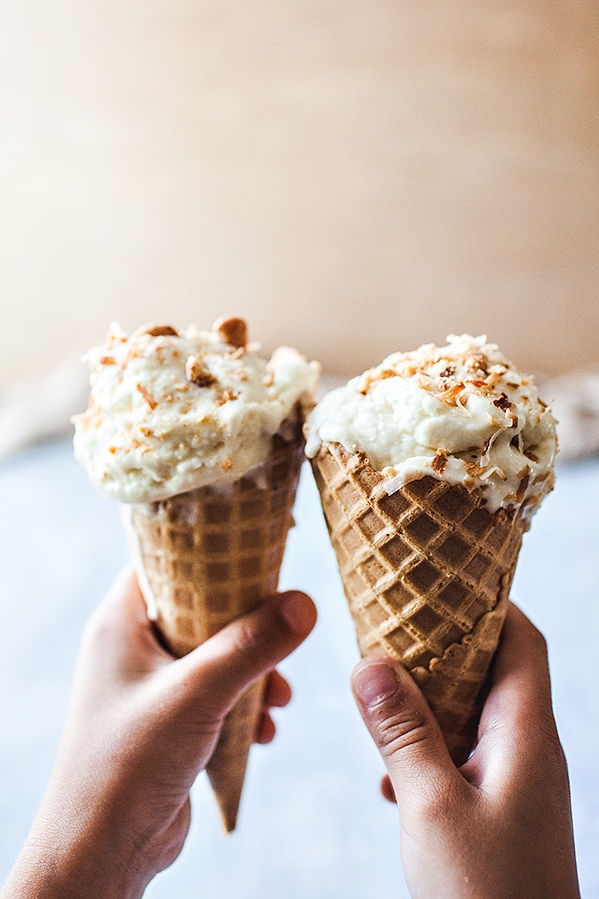 Print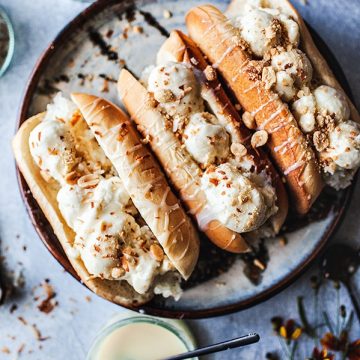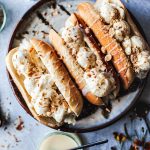 Coconut Ice Cream Recipe
---
Author:

Suwanee

Total Time:

4 hours 10 minutes

Yield:

6
Description
A delicious home made Thai coconut ice cream made with 4 ingredients. A simple yet delicious recipe that is sure to please all.
---
2 cups unsweetened and full fat coconut cream
1 cup unsweetened and full fat coconut milk
⅔ cup sugar
In a separate bowl
4 egg yolks
⅓ cup sugar
Garnish: (Optional, but highly recommended)
Sweetened condensed milk
Crushed peanuts
Toasted sweetened coconut flakes. (Dry toasting in a pan for 10 minutes on med heat until flakes hardened slightly).
---
Instructions
1.Mix coconut milk, coconut cream and sugar together in a sauce pan. Turn the stove to med high and bring the mixture to a boil stirring often for 10 minutes.
2.In the mean time, separate the egg yolks from egg whites in a separate bowl and mix the ⅓ cup of sugar and 4 egg yolks in a small bowl. Whisk until smooth.
3.Back to the stovetop. After the coconut milk in the pot starts to boil and the sugar melts, turn the stove off and remove the pot. Let it cool for 10-15 minutes.
4.Add in the egg yolk mixture to the pan and stir well and then let the entire thing sit for 10 more minutes. Pour into a bowl, cover and put in the freezer for 3-4 hours.
5.You can churn the ice cream in an ice cream maker (according to your machine, mine was for 20 mins). If you don't have an ice cream machine, wait for at least 6 hours for the ice cream to harden. Check it every 2 hours to see if you need to churn by hand with a spatula. 
6.Once ice cream is at your desired consistency, line your buns with 3-4 small scoops of sticky rice. Recipe HERE. Pour a thin spread of sweetened condensed milk over the rice and then sprinkle toasted coconut flakes and crushed peanuts. 
7.Add 3-4 scoops of the coconut ice cream on top of the rice and repeat with drizzled sweetened condensed milk, coconut flakes and crushed peanuts.
That's it! Eat immediately as the ice cream will melt or disappear fast!
Prep Time:

10

Cook Time:

4 hours

Category:

Dessert

Method:

Stove top & Freezer

Cuisine:

Thai
Keywords: Coconut Ice Cream Recipe, Thai coconut ice cream, thai ice cream, coconut ice cream