What is a pomelo and how to cut it? Pomelo is a tropical fruit from the citrus fruit family and looks very similar to grapefruit just slightly larger in size. Their outer skin is light green with a thick fibrous peel that makes it difficult to cut. Today, I'm going to show you how to cut a pomelo so you can enjoy this sweet, tangy, and nutrient-rich fruit!
Once you learn what a pomelo is and how to cut it, you absolutely need to make my super easy Pomelo Salad. Thai Pomelo Fruit Salad. It is one of the best Thai salads in my opinion!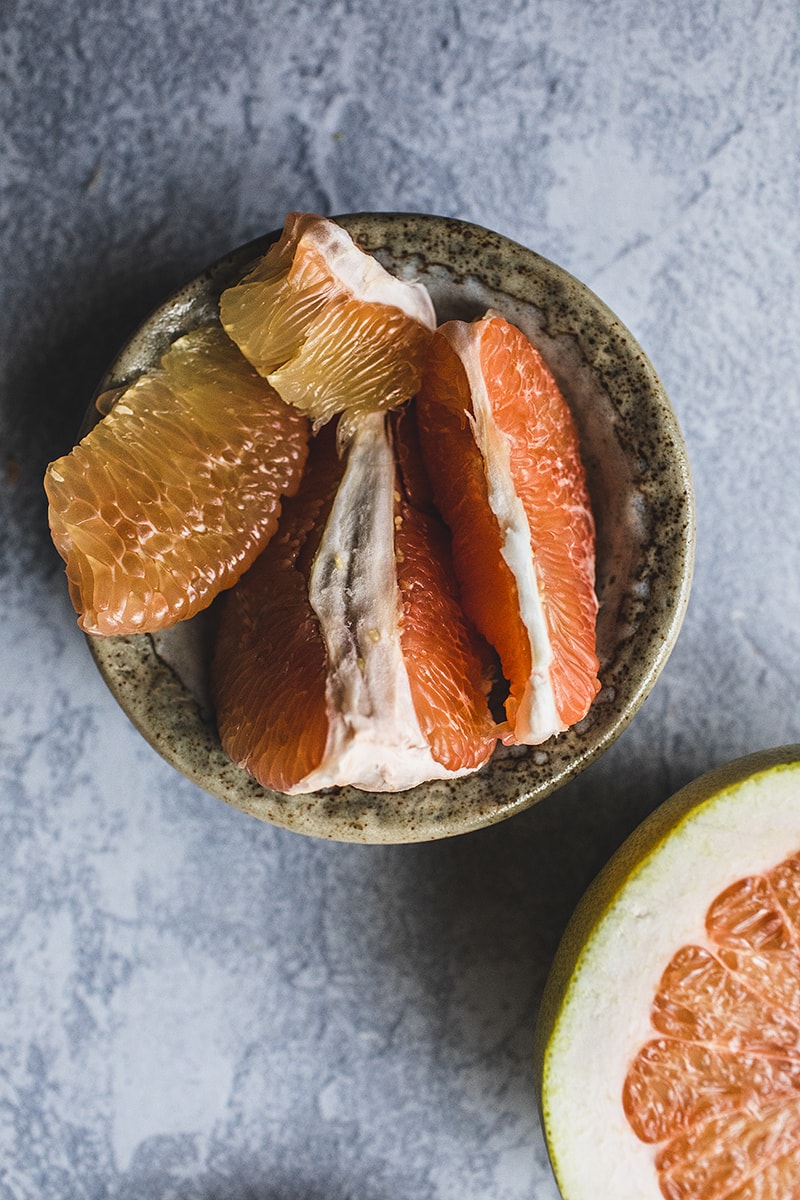 What are the benefits of pomelo?
Pomelo not only tastes great, but it's also full of healthy benefits. Like all citrus fruit, pomelo is high in Vitamin C, which is good for helping boost the immune system to fight off sicknesses. Additionally, pomelos are rich in antioxidants, aids with digestion, reduce cholesterol, and help with inflammation with their antibacterial properties. You just can't go wrong with adding more pomelo to your diet!
Is a pomelo the same as a grapefruit?
Pomelo vs grapefruits, how are they different? Pomelo and grapefruit are very different. Though both are from the same citrus family fruit, they are not the same. They are more like distant cousins. Pomelo has pinkish/salmon-colored meat, and the outer and inner peel is much thicker than the grapefruit. The actual meaty part that you eat is also larger, making pomelo easier to eat by hand than grapefruit.
What does pomelo tastes like?
So how do you eat pomelo and what does it taste like? Well, pomelo also has a sweeter and slightly less acidic flavor than grapefruit. A slight tinge of bitterness just like the taste of the grapefruit, but hardly noticeable once you take the first bite. The perfect combination of sweet and sour quickly makes you forget the tiny bitter taste. Pomelo is very common in many Asian countries because they prefer the hot and humid temperature to grow in.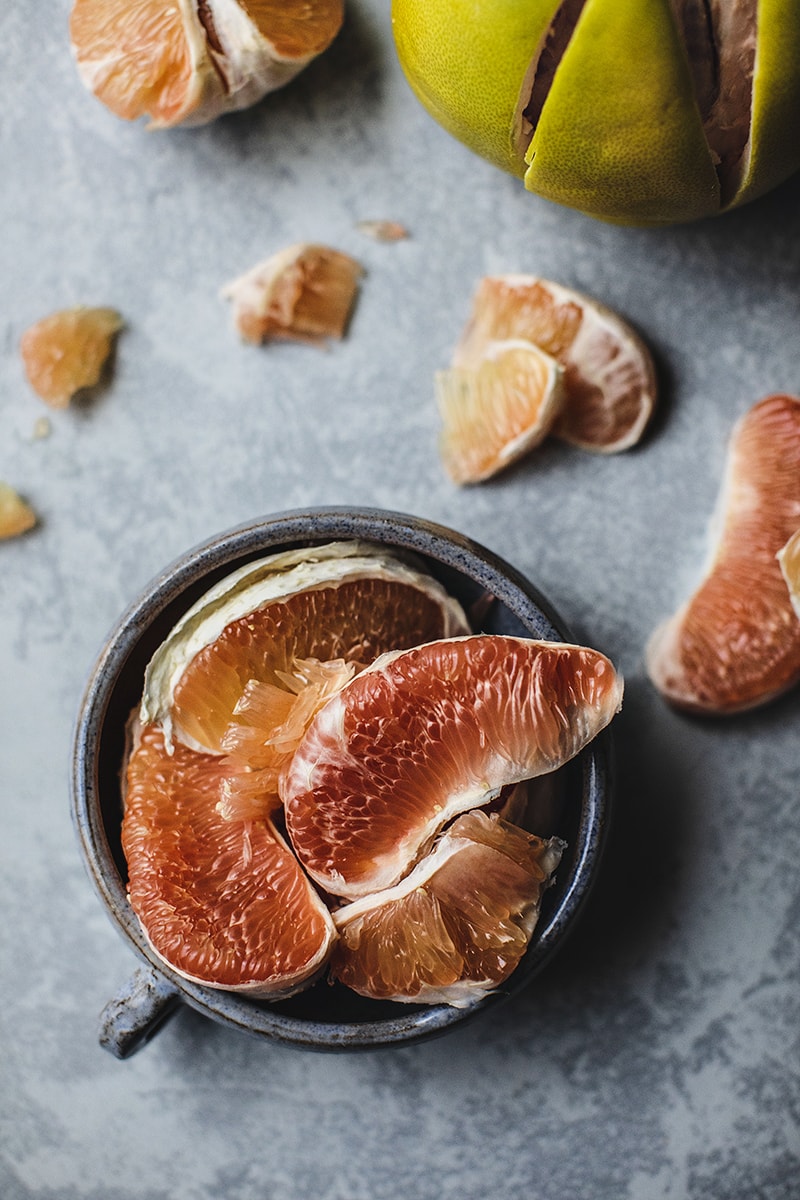 Where to buy pomelo?
Right now all the citrus fruit are in season, so that means it's pomelo season as well. You have a very good chance of finding pomelos in your local grocery store. Also, since they are in season, will they not only be reasonably priced, but they will taste great too. I found my pomelos at Traders Joe and my local Asian markets. Check your local grocery stores in the produce section near the oranges. They are most likely the largest citrus fruit on the shelf and look for the greenish/yellow fruit that looks like grapefruits.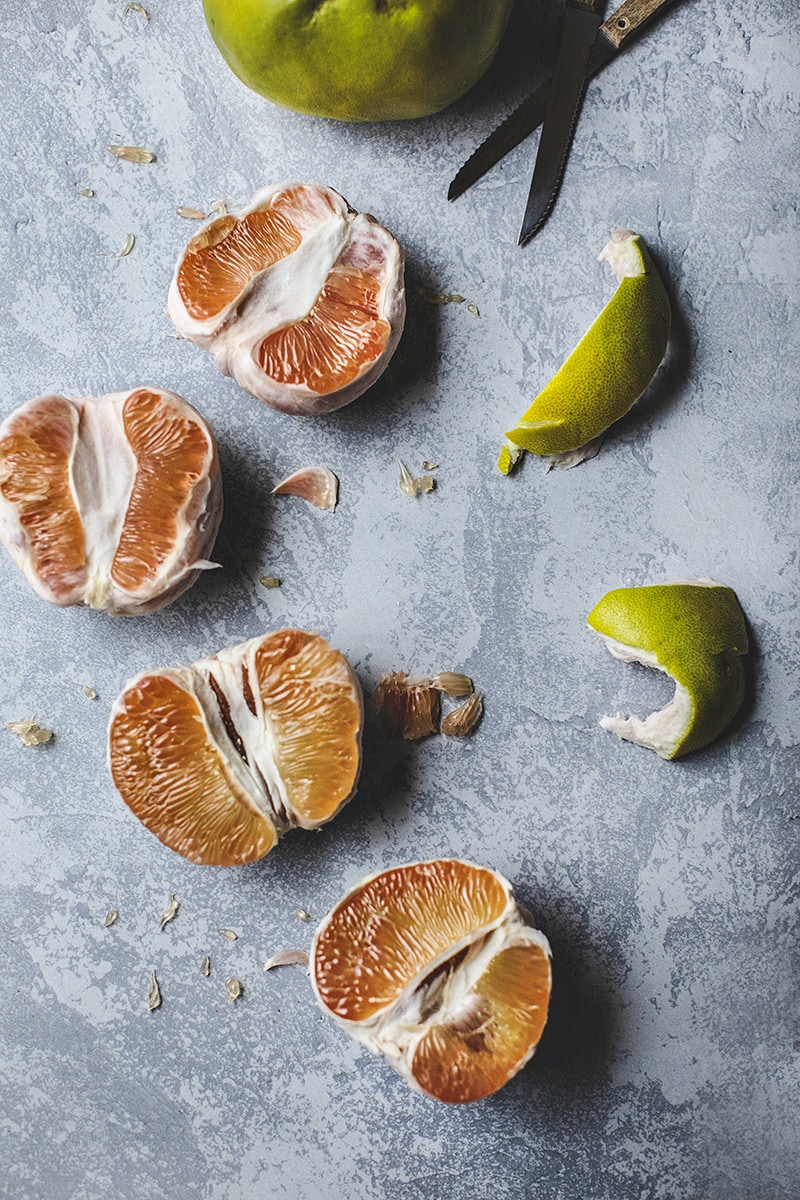 How to cut a pomelo?
Pomelo has a very thick rind and can be tough to peel. The first step to take is to slice off the top part with a sharp knife. The easiest way to peel the rind is to use a sharp knife and slice the outer peel from the top down all the way to the bottom. Score the rind into four quarters then half the quarter pieces to make it easier to peel. Use your fingers to pull off the rind piece by piece. Also, the pith, (the membrane-like white part) can be thick, so use your fingers to peel off large pieces. Break the fruit in half if it's not already partially opened in parts. Eat only the meaty flesh and enjoy the full fresh flavor of this exotic fruit! You can eat it alone or use it in salads if you'd like. (See pictures below for step by step process of cutting a pomelo!)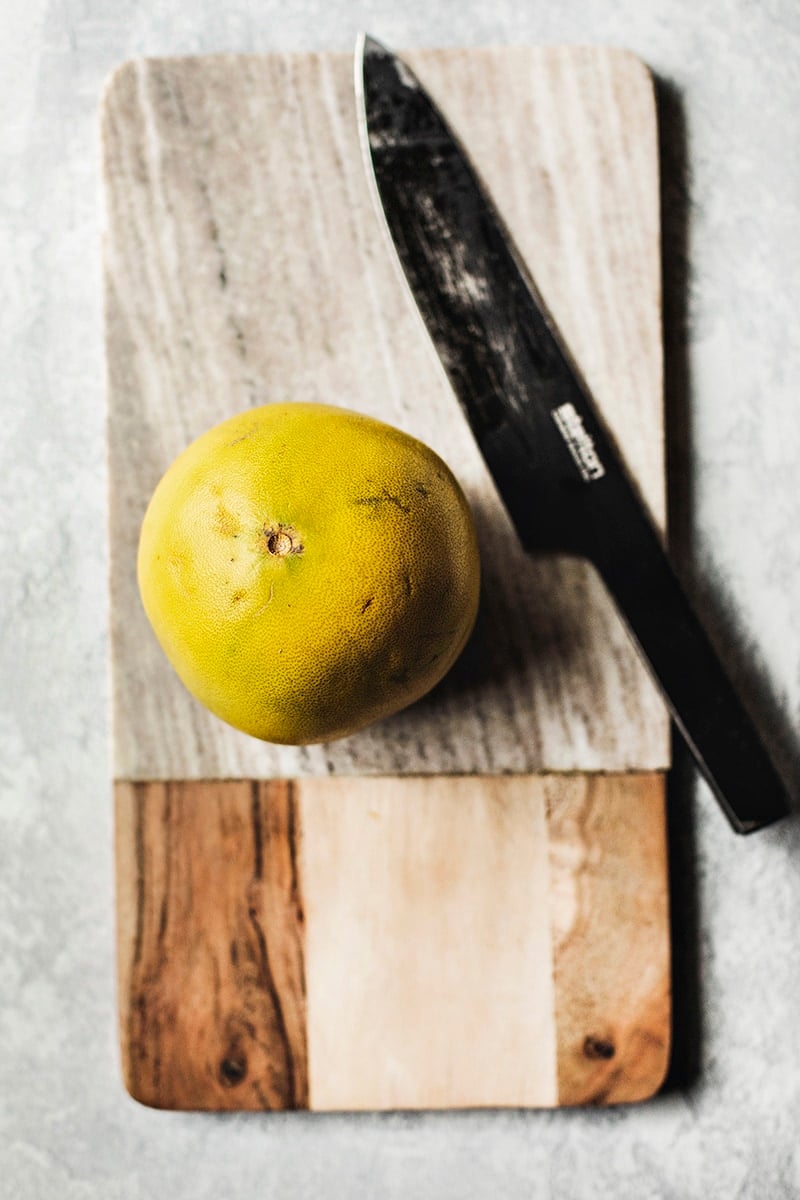 (Pictured above). Place the pomelo on its bottom on a cutting board. Find a sturdy sharp knife to use for cutting.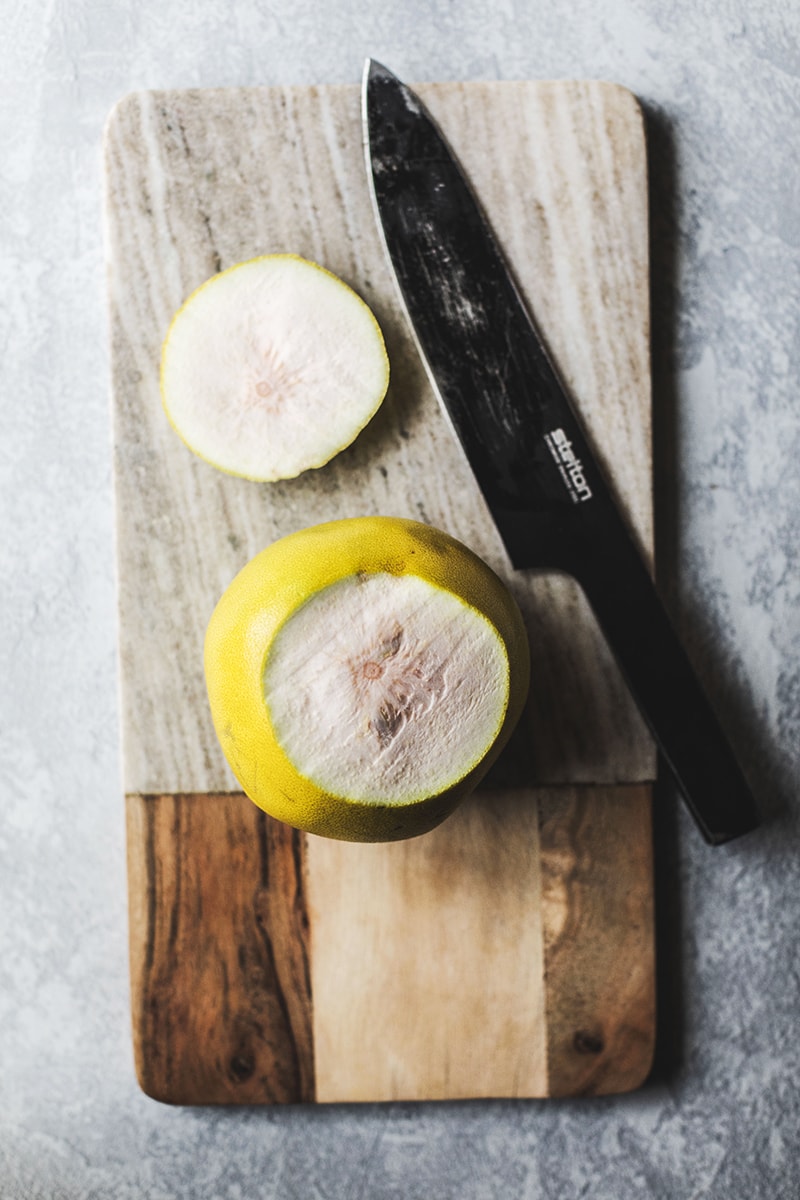 (Pictured above). Place the pomelo on its bottom on a cutting board. Slice the very top part of the fruit off like the image above.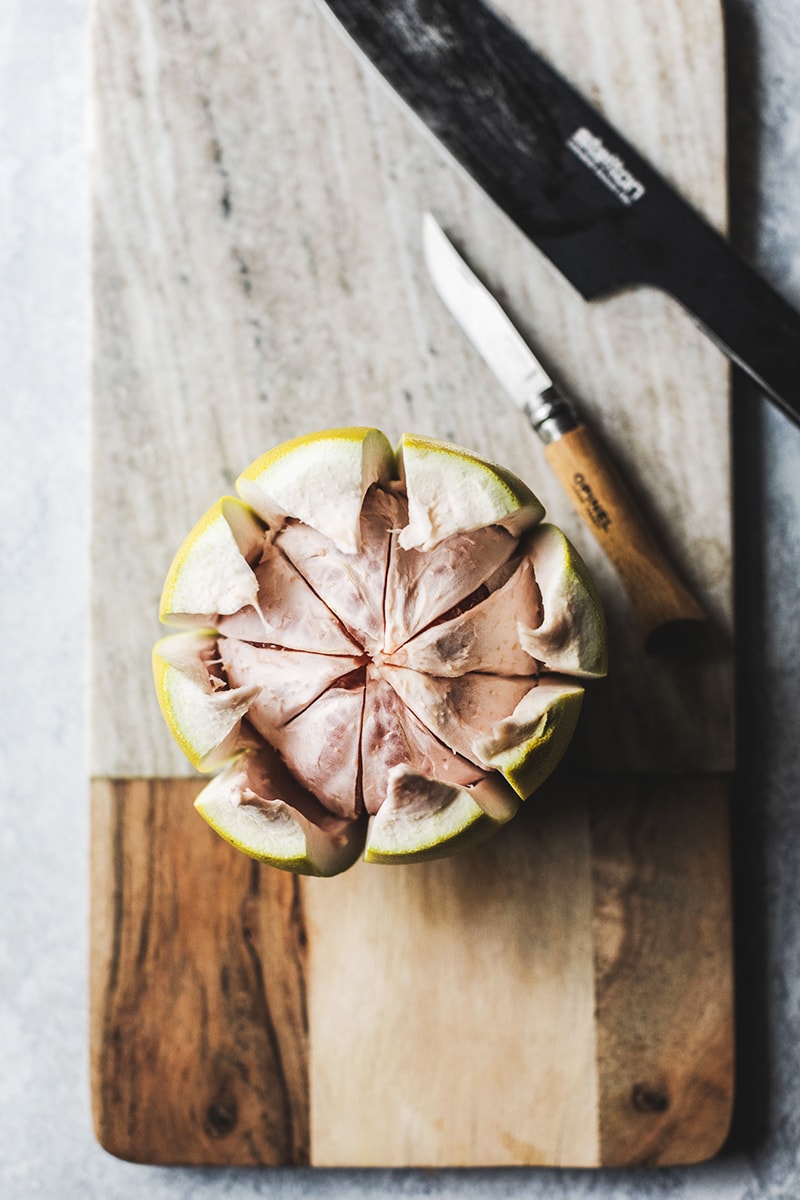 (Pictured above). Use a smaller and sharp knife to score the pomelo peel into small sections so you can peel off easily with your fingers.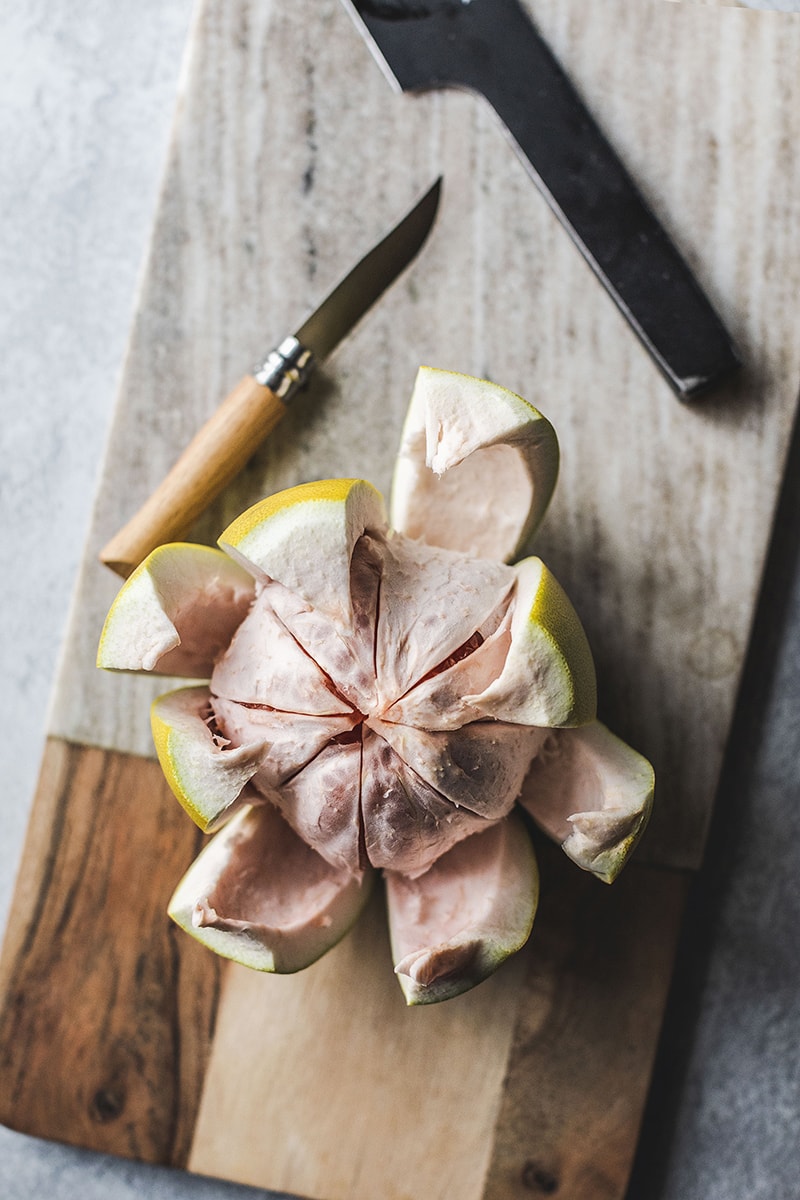 (Pictured above). There's no need to use a knife after this. Pull off the sliced parts until all the peel is gone.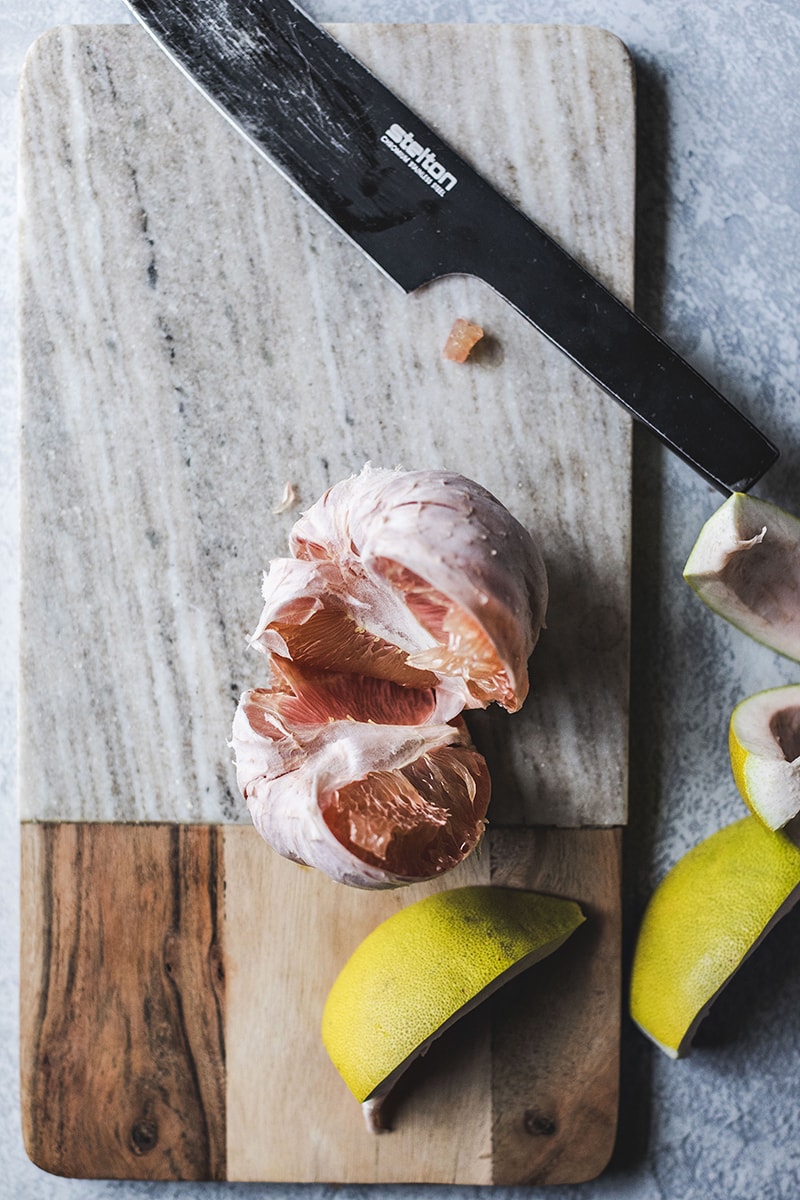 (Pictured above). There's no need to use a knife after this. I find it so much easier to use my hands to firmly break the fruit in half.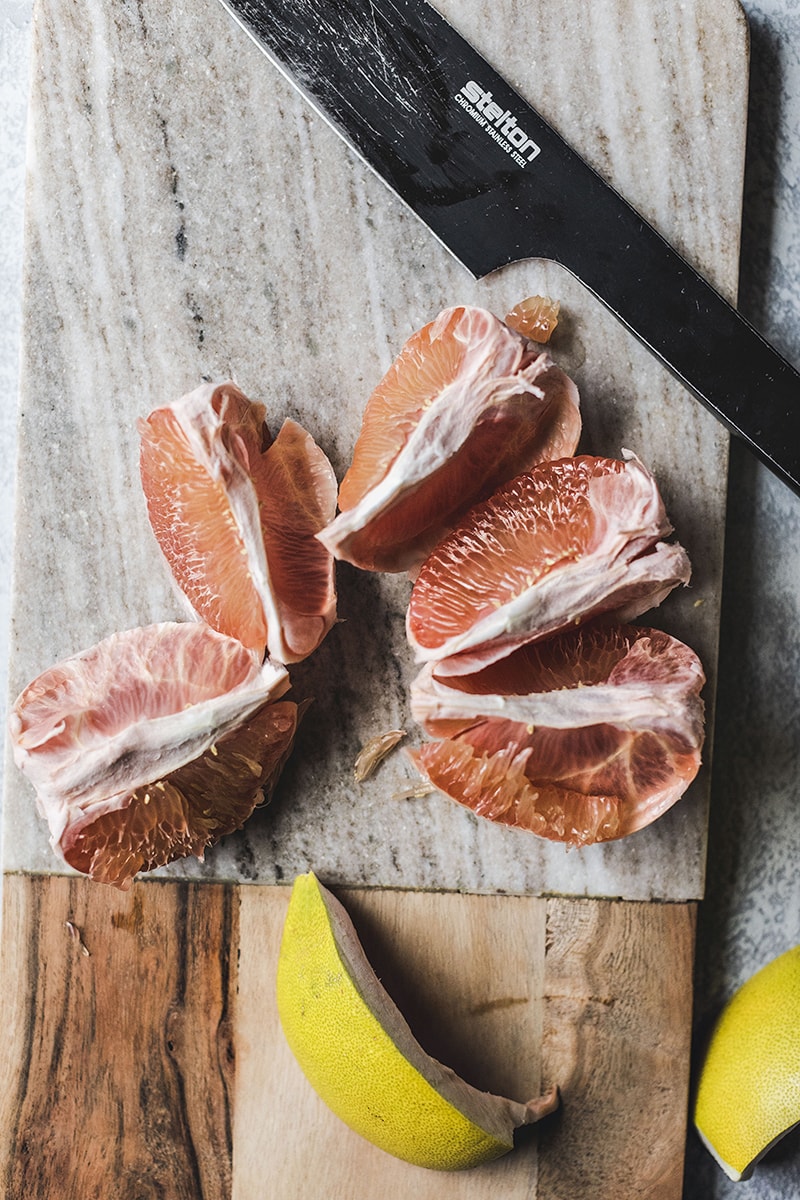 (Pictured above). Break the fruit into smaller pieces and watch how the grapefruit-like flesh easily comes off the wrapper.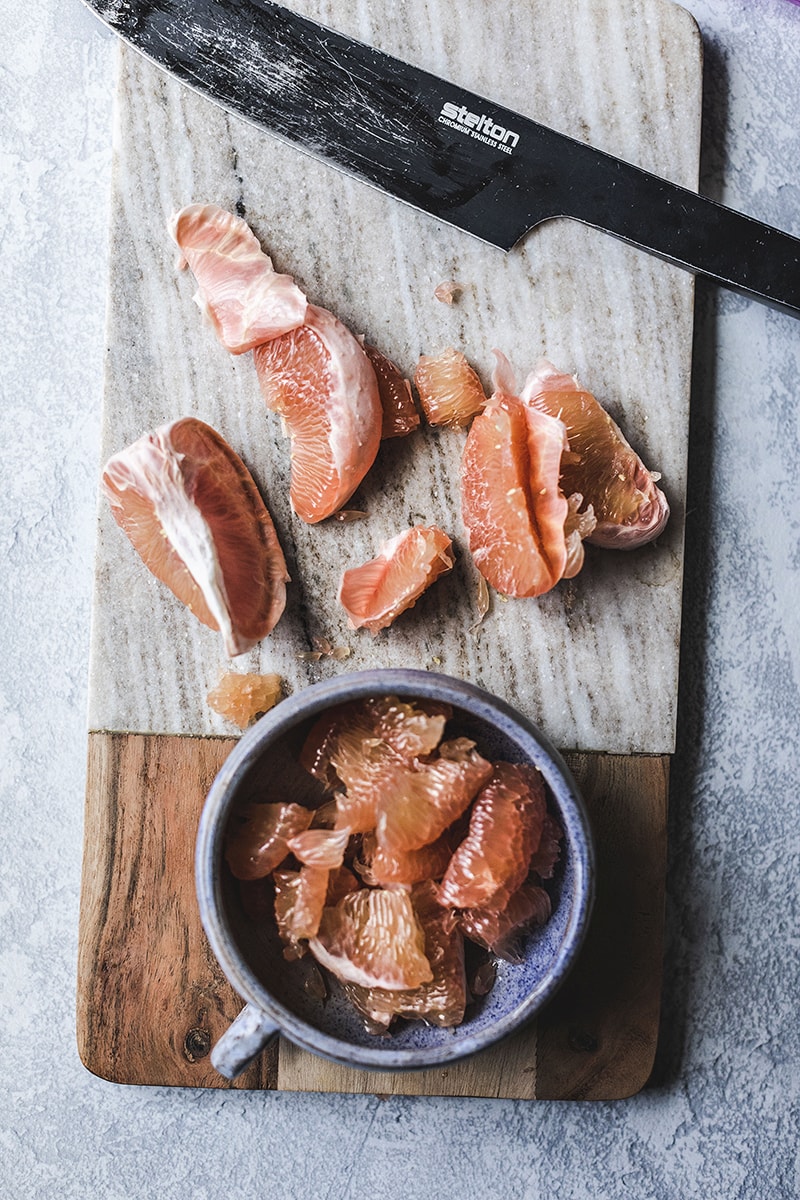 (Pictured above). Peel off the wrap around the flesh of the pomelo and that's it! Eat it plain or use it in a salad.
That's it! Enjoy your new favorite citrus fruit!
Related Recipes
Be sure to check out my refreshing and healthy recipes you will love!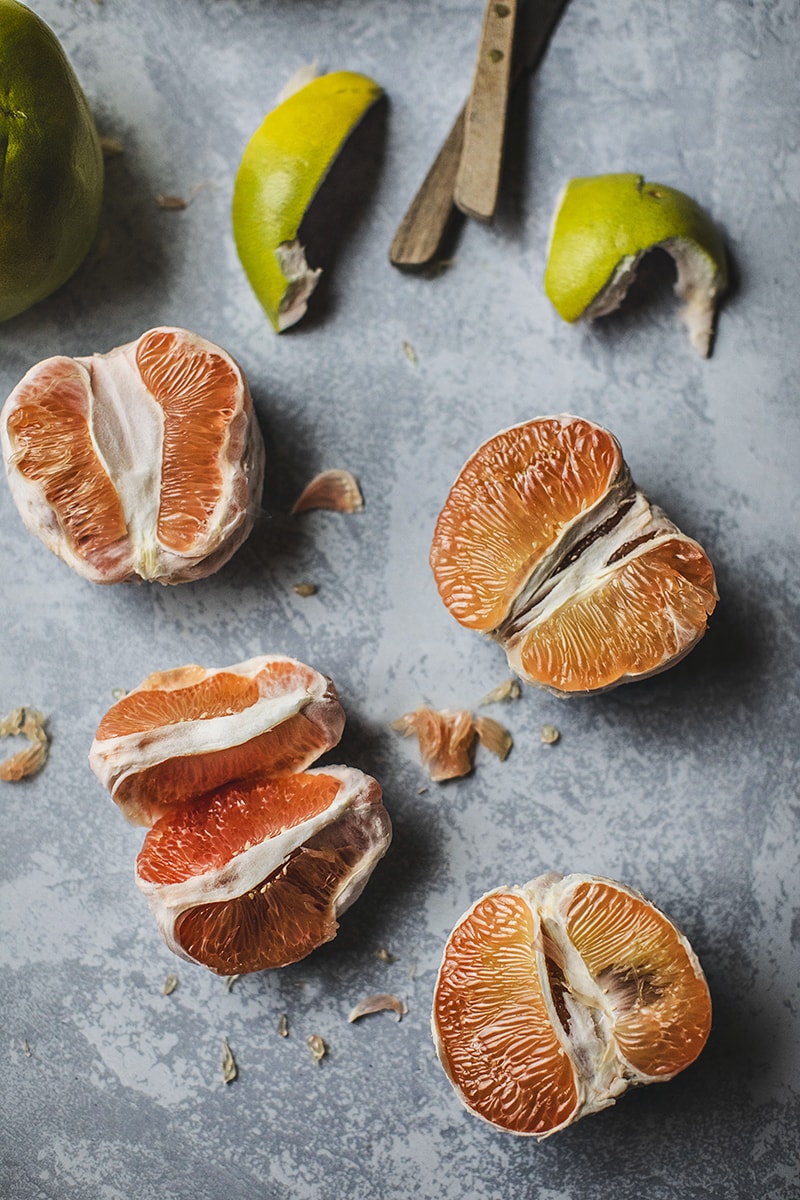 Love a recipe you've tried? Please leave a 5-star 🌟rating in the recipe card below and/or a review in the comments section further down the page. Or follow me on Facebook, Pinterest, or Instagram!