Earlier this week, I posted a Thai pomelo fruit salad recipe using dried shrimp. You can check out the recipe here. You can also find what a pomelo fruit is and how to peel and use it for the salad here. Today, I'm going to tell you about a very common Thai ingredient. Dried Shrimp. Are you familiar with this ingredient?
As I'm sharing more Thai recipes on my blog, I realized something. A lot of you are intimidated by Thai cuisine. From feedback and the messages I've been getting, a lot of you aren't familiar with a few specific ingredients used in many of those Thai recipes. I'm listening to you, friends, so I'm going to switch gears just a little bit with my blog. I'm going to do a series of blog posts about ingredients that are unfamiliar to you. All in the hope of helping you get more comfortable in the kitchen cooking delicious Thai food. Also, these posts will help you identify those hard-to-find ingredients in your local Asian market.
What is Thai dried shrimp?
Dried shrimp is fresh shrimp that's been soaked, cooked in salt water and then left to dry out in the sun for an extended amount of time. Usually for days until the cooked shrimp shrink and dry out completely. Once the shrimp's been dehydrated, shells are either left on or peeled off and packed up for sale to consumers. I prefer the shells off dried shrimp, and the larger the dried shrimp pieces, the tastier they are! There are a few different sizes of dried shrimp. They are usually labeled on the bags. I also always have a couple of different sizes of dried shrimp in my fridge or freezer as my pantry stable.
How do you use sun-dried shrimp?
Since dried shrimp has been dried out in the sun for many days and hours, the finished products are slightly tough and chewy to the taste. Before using them in a recipe, they are normally soaked in warm water for a few minutes, to soften them up a bit, before being chopped, ground or used whole depending on what dish you are using them for. Dried shrimp typically need to be soaked in warm water to re-hydrate them and to bring a little bit of softness back to life before use in cooking.
What do they taste like?
Since salt is added during the dehydrating process, dried shrimp have a bold, salty and sometimes fishy flavor. They add a very distinctive umami, a savory, meaty and full flavor to any dish that calls for it. You can also eat them plain as a side dish or snack, as well. They are a great source of protein!
Where to buy dried shrimp near me?
You can find dried shrimp in the refrigerated section of most Asian markets near you. You can also purchase them online HERE or HERE. But I highly recommend you make a visit to your local grocery store and buy from there rather than online because they are most likely cheaper. The package usually comes in a 3 oz sealed bag and you most likely will not use it all in one dish. Be sure to seal the bag tight and refrigerate the rest. It should keep for at least two months after opening. You can also freeze dried shrimp after usage in a sealed tight glass container. It will keep for a year or longer in the freezer!
What can I use for substitute?
Dried shrimp can be substituted with shrimp paste, though that is not recommended. Shrimp paste has a more concentrated and paste-like texture. You can also find shrimp paste found at the Asian market. You'll need to use less of the shrimp paste than dried shrimp. In my pomelo salad, if dried shrimp is not available, I either omit it completely from the recipe OR I cook my raw large shrimp a few minutes longer to dry out the shrimp just slightly for the chewy texture similar to dried shrimp. Below is a picture of the shrimp paste (In the plastic container).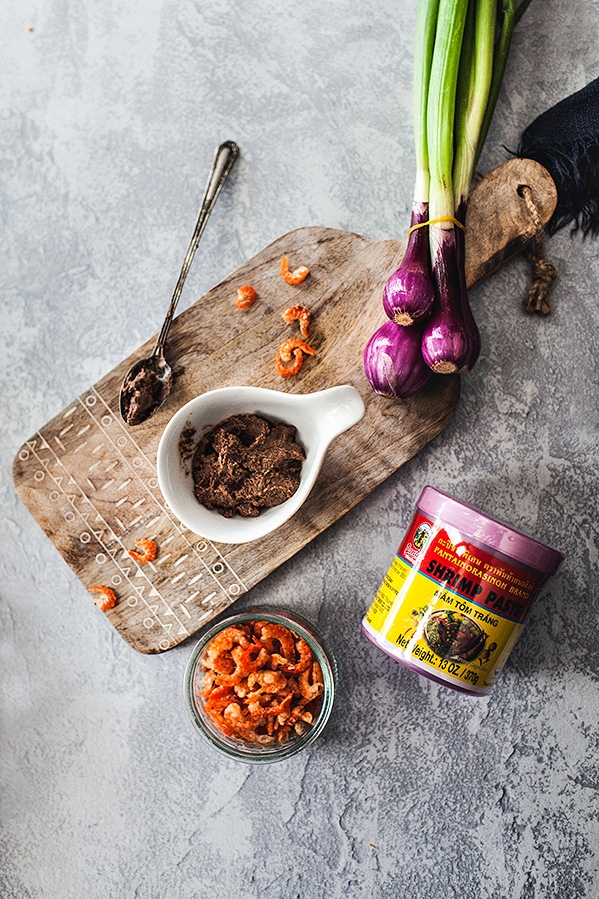 What are some recipes that call for dried shrimp?
Dried shrimp is used extensively in many Asian countries like Thailand, Vietnam, Laos, China, Korea, Malaysia, Indonesia and many other countries around the world. In Thai cuisine, dried shrimp is used extensively dishes to add a unique umami flavor. You will most likely find them in fried rice, soups, salad, curries, and stir fried dishes.
If you are somewhat familiar with Thai cuisine, chances are you've had some dried shrimp on your Thai food before, whether, you knew it or not. Here are some of my recipes that call for dried shrimp. So, go on a little adventure to your local Asian market and grab a bag or two of the dried shrimp and try them out!