Dried shrimp, a delicacy packed with flavor, is a versatile ingredient that adds a burst of umami flavor to various dishes. Learn more about dried shrimp (how to use it and its best substitutes)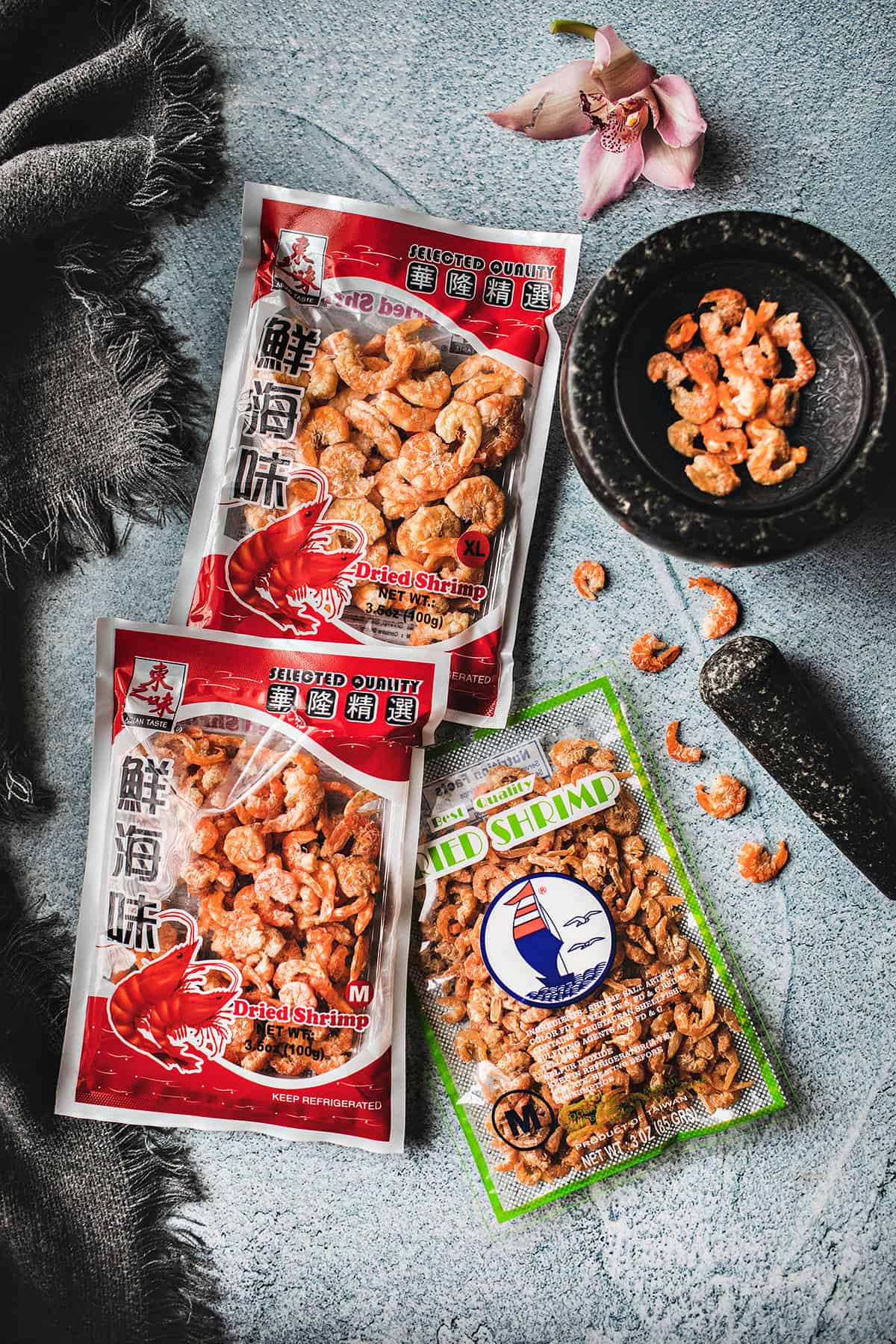 Dried shrimp enhances the taste of sauces, dips, and condiments, providing an umami boost that takes your culinary creations to new heights.
Thai recipes using dried shrimp are Thai pomelo fruit salad recipe, Authentic Shrimp Pad Thai, Yum Woonsen glass noodles salad with chicken, and Nam Prik Pao, a Thai roasted chili paste.
Jump to:
What is dried shrimp?
Dried shrimp is made of fresh shrimp that's been soaked, cooked in salt water, and then left to dry out in the sun for an extended time. Usually, for days until the cooked shrimp is completely dried and shrink into hardened tiny shrimp pieces.
Once the shrimp's been dehydrated, shells are left on, peeled off, and packaged for sale to consumers. These tiny crustaceans are widely used in Asian cuisine, particularly in Southeast Asian and Chinese dishes.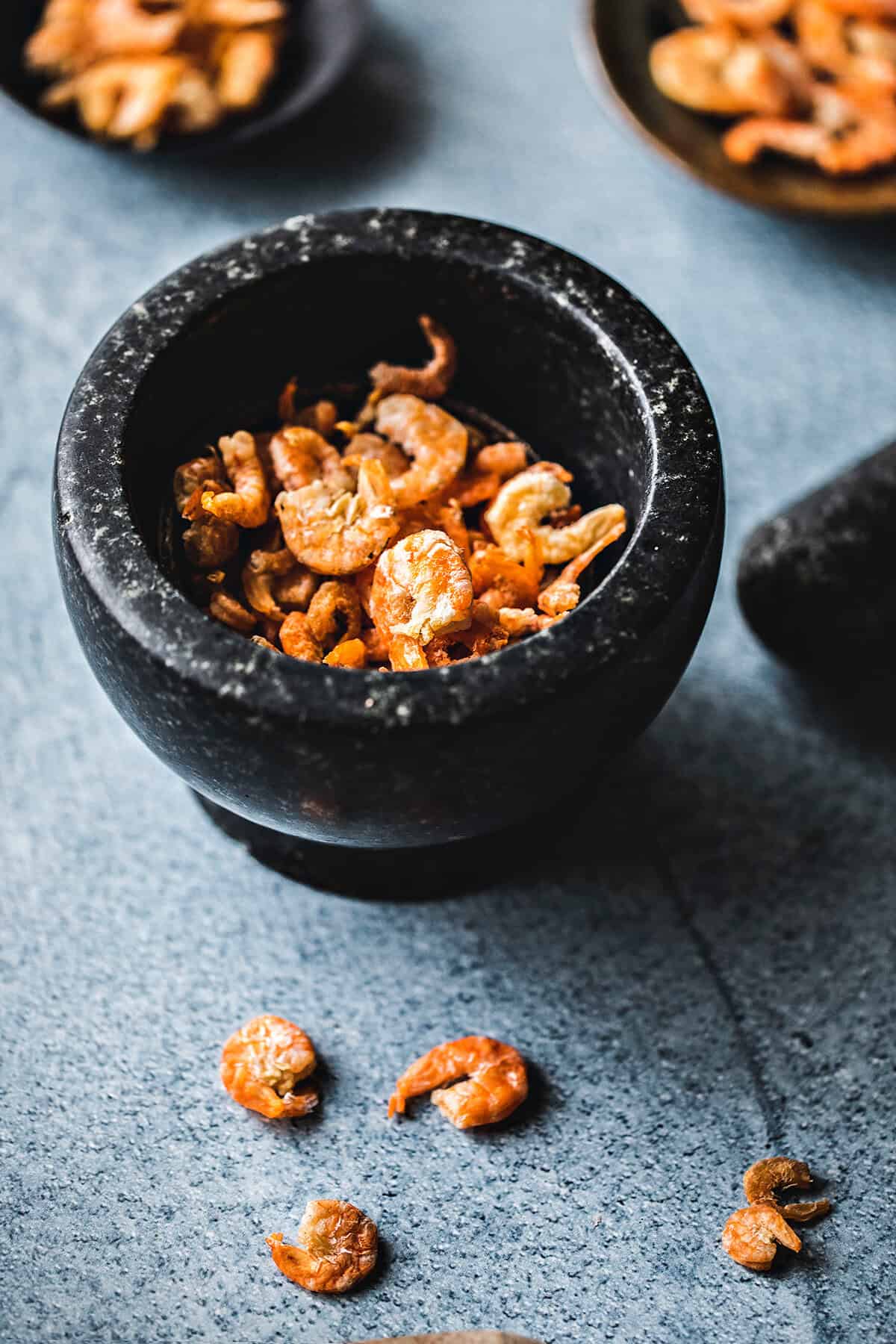 What Does Dried Shrimp Taste Like?
Dried shrimp boasts a concentrated flavor that is distinctly salty and briny. Its taste is robust, savory, and slightly sweet. Drying enhances the natural umami notes, producing an intense seafood flavor. The texture of dried shrimp is firm and chewy, satisfyingly contrasting with other dish ingredients.
Best Substitutes for Dried Shrimp in Asian Cuisine
Fear not if you find yourself without dried shrimp or need a substitute due to dietary restrictions or preferences! Let's explore some of the best shrimp substitutes below. Specific recipes will need the actual dried shrimp. The substitute options below can provide a similar taste and texture to dried shrimp. Check each recipe further to see if they can be substituted.
Dried Anchovies. Dried anchovies are small fish preserved by removing their moisture, the same way dried shrimp are made. They are commonly used in various cuisines as a flavor enhancer due to their intense umami taste. These tiny fish add a unique flavor to dishes, whether used in soups, stews, stir-fries, or even as a topping for salads. Despite their small size, dried anchovies pack a punch of savory goodness that can elevate the overall taste of a dish. It is a good vegetarian substitute if fish is in your diet.
Shiitake Mushrooms. Known for their umami-rich flavor, dried shiitake mushrooms can be an excellent substitute for dried shrimp. Soak the mushrooms in hot water to rehydrate them, then chop or slice them to use in stir-fries, soups, or rice dishes. They offer a meaty texture and impart a depth of flavor reminiscent of dried shrimp.
Vegan Shrimp. If you follow a vegan or vegetarian lifestyle, you can opt for vegan shrimp as a substitute for dried shrimp. These plant-based alternatives are often made from ingredients like konjac flour or soy protein and have a texture similar to real shrimp. They are available in some Asian grocery stores or online retailers specializing in vegan products. Cook them according to the package instructions and use them in your favorite Asian recipes.
Fish sauce. Fish sauce, or Nam pla, has many flavors similar to dried salted shrimp. Fish sauce is
Oyster Sauce. While not a direct substitute in terms of texture, oyster sauce can provide a similar umami flavor that dried shrimp imparts. It is a popular ingredient in many Asian dishes and can be used in stir-fries, marinades, or dipping sauces. The oyster sauce adds a savory and slightly sweet flavor to your recipes.
Shrimp Paste. Often used in Southeast Asian cuisine, shrimp paste (also known as "Kapi" In Thai and "belacan" or "terasi" in Malay) can be an excellent substitute for dried shrimp. Made from fermented shrimp, shrimp paste has a pungent taste and adds a distinct flavor to dishes like curries, stir-fries, and sambals. Use the salty paste in small quantities due to its strong flavor, so start with a little bit and adjust according to your taste preferences.
Vegetarian Stir-Fry Sauce. Consider using a stir-fry sauce if you need a vegetarian alternative to dried shrimp. These sauces often combine soy sauce, mushroom-based seasonings, and other flavorful ingredients to create a sauce that can mimic the umami taste of dried shrimp. Look for vegetarian stir-fry sauces in Asian grocery stores or larger supermarkets.
King Oyster Mushrooms. King oyster mushrooms, also known as "king trumpet mushrooms," have a texture similar to that of dried shrimp when cooked. Slice them thinly or chop them into small pieces, then sauté or stir-fry them to bring out their springy texture. King oyster mushrooms absorb flavors well, making them a great option to replace dried shrimp in dishes like stir-fries, rice porridge, or Thai curries.
Golden Mountain Sauce. Widely used in Thai cuisine, Golden Mountain Sauce is a versatile seasoning that can substitute for dried shrimp. This sauce is made from fermented soybeans and offers a rich, salty, and slightly sweet flavor. It can be used in marinades, salad dressings, stir-fries, or as a dipping sauce to add depth to your dishes.
Kelp stock. Kelp stock can be a great substitute for dried shrimp in recipes. This stock is made from dried kelp and adds a unique umami flavor to dishes like dried shrimp. It is perfect for enhancing the taste of soups, stews, stir-fries, and even sauces. Just soak the dried kelp in water, boil it, and strain out the liquid to get the flavorful kelp stock. Not only is it a good vegan substitute, but it also provides essential nutrients like iodine and minerals.
Miso paste. Miso paste is a fermented soybean paste with a rich, umami flavor. It can add depth and complexity to your dishes, just like dried shrimp minus the soft texture of the shrimp. Red miso is a good dried shrimp substitute due to its stronger umami flavors. Mix a small amount of miso paste with water to create a thick paste, then add it to your recipe.
Where to Buy Dried Shrimp
You can find dried shrimp at Asian grocery stores, specialty food markets, or online retailers that offer a wide range of international ingredients. Look for packages labeled "dried shrimp" or "dried small shrimp." It's worth exploring local stores and online options to find the best quality and variety of dried shrimp for your culinary endeavors.
You can also purchase them online at Amazon here. (Affiliate link)
How to Choose Dried Shrimp
When picking out dried shrimp, look for a light pinkish color, and avoid dark or dull shrimps. Check the texture. It should be firm and slightly pliable, not too hard or brittle. Smell it for any unpleasant odors.
Different sizes of Dried Shrimp
Dried shrimp can be small or big, depending on how big the shrimp was before it dried. The smaller ones are soft and not too strong in taste, while the bigger ones are chewier and have a stronger flavor. Find the size of dried shrimp on the package, so pick the right size for what you want to cook.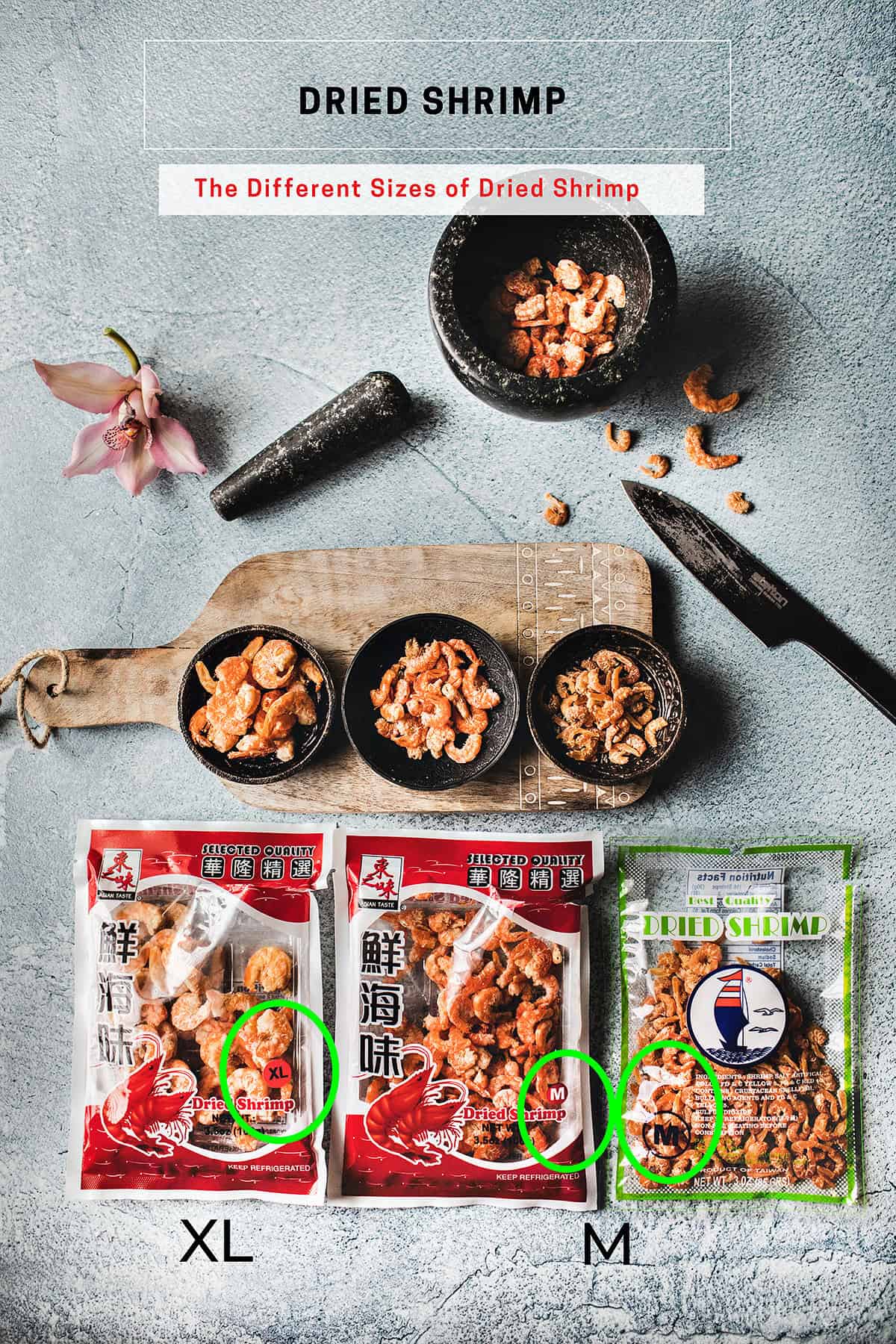 How to Store Dried Shrimp
To maximize the shelf life and maintain the quality of dried shrimp, follow these
Keep it airtight: Transfer the dried shrimp to an airtight container or sealable plastic bag. This prevents exposure to moisture, which can cause the shrimp to spoil.
Store in a cool, dry place: Keep the container in a cool pantry or cupboard away from direct sunlight and heat sources.
Helpful Kitchen Notes
Soak dried shrimp in warm water for about 10 minutes before using them in recipes. This helps to rehydrate the shrimp and soften their texture.
Be mindful of dried shrimp's saltiness when adding salt to your dishes. Adjust the salt level accordingly to avoid overwhelming the flavors.
Experiment with different sizes of dried shrimp. Smaller shrimp tend to have a stronger flavor, while larger ones offer a more prominent texture.
Don't throw away your shrimp water after soaking it for a recipe. Reuse the water in place of stock or water. Dried shrimp has extra savory and umami flavors. Once soaked in water, all that flavors are released into the water, creating a mini-stock for your recipes!
Frequently Asked Questions
What Is Dried Shrimp Used For?
Dried shrimp finds its way into a wide range of dishes, elevating the flavors in Southeast Asian and Chinese cuisines. It is a popular ingredient in stir-fries, soups, stews, and noodle dishes.
Is Dried Shrimp Ready to Eat?
Dried shrimp is typically used as a cooking ingredient and requires rehydration before consumption. It is not typically eaten as is but incorporated into recipes to impart its distinctive flavor and texture. However, if you enjoy the intense umami taste of dried shrimp, you can snack on them as a savory treat.
Are Dried Shrimp Healthy?
Dried shrimp can be a nutritious addition to your diet. They are an excellent source of protein, vitamins, and minerals. However, they are also high in sodium, so individuals watching their sodium intake should consume them in moderation.
What Is the Best Substitute for Dried Shrimp?
If you cannot find dried shrimp or prefer an alternative, anchovies, fish sauce, and shrimp paste are viable substitutes that mimic the umami flavor profile. However, remember that each substitution may result in a slightly different taste, so adjust the quantities accordingly and experiment to find your preferred substitution.
Thai Recipes Using Dried Shrimp
Yum Woonsen. Enhance the flavors of Thai glass noodles salads by incorporating dried shrimp. Soak the shrimp to soften, then add them to the salad for a burst of umami goodness.
Pad Thai. A classic Thai dish, Pad Thai benefits from adding dried shrimp. The shrimp intensifies the overall umami taste and provides a delightful texture.
Pomelo salad. Add a handful of chopped dried shrimp to this elegant Thai Pomelo salad. The shrimp infuses the dish with a delightful umami flavor and a satisfying crunch.
Nam Prik Pao. Nam Prik Pao is a classic Thai chili sauce in other iconic recipes. Dried shrimp is an important ingredient that makes this chili paste unique and flavorful.
**Find this blog post helpful? Please share, like, and follow me for more Thai food and yummy recipes! Find me on social media platforms at Facebook, Pinterest, or Instagram!**
Authen Thai recipes you'll love